Choosing the right wall color that goes with dark trims helps define a room's overall style. Dark trims are often seen in traditional interiors. However, they are now fast becoming trendy in contemporary spaces as they can transform the room's design.
But if you want your dark trims to compete with the wall color, you must select the right palette to grab attention. When doing so, here are some essential questions to ask oneself before pairing dark trims with the wall paint color:
What mood are you trying to create? When selecting a wall color to go with dark trim, you must decide between whether you want a bright and light interior or a dark and moody color combination.
What about undertones? You must take extra care when selecting a wall color with undertones. For example, some yellow or orange shades will clash with black trim and make it look muddy. Such colors should only be considered with dark brownish-red trims.
Most homeowners tend to pair dark trims with white walls, as this is the safest option. However, you can bring out the true beauty of your interior wood trims by painting the walls a refreshing color.
Whether you're into a vintage or mid-century modern vibe, you can add much warmth to your interior by painting the walls a complementary color to go with your dark trims. Let's take a look at some examples below:
Wall Paint Colors to Complement Dark Trim
Light Yellow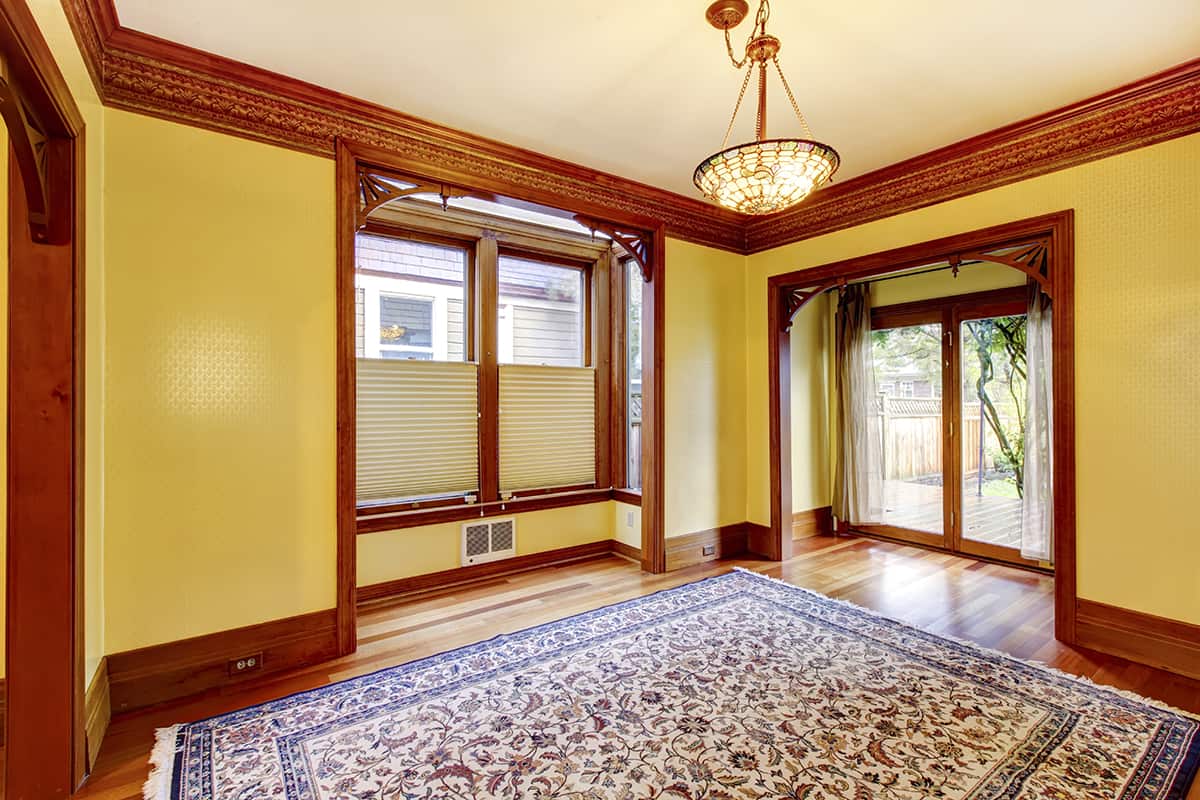 Light yellow is a top choice for pairing with dark wood trims, as this color mimics the warm tones in the wood. A pale yellow shade brightens up the living room and creates a welcoming vibe.
This restful color combination is ideal for small, farmhouse-style living rooms as the pale yellow walls help make the small room appear larger. Both yellow and dark brown are warm-toned colors, thus an excellent choice for traditional style interiors, as shown here.
Beige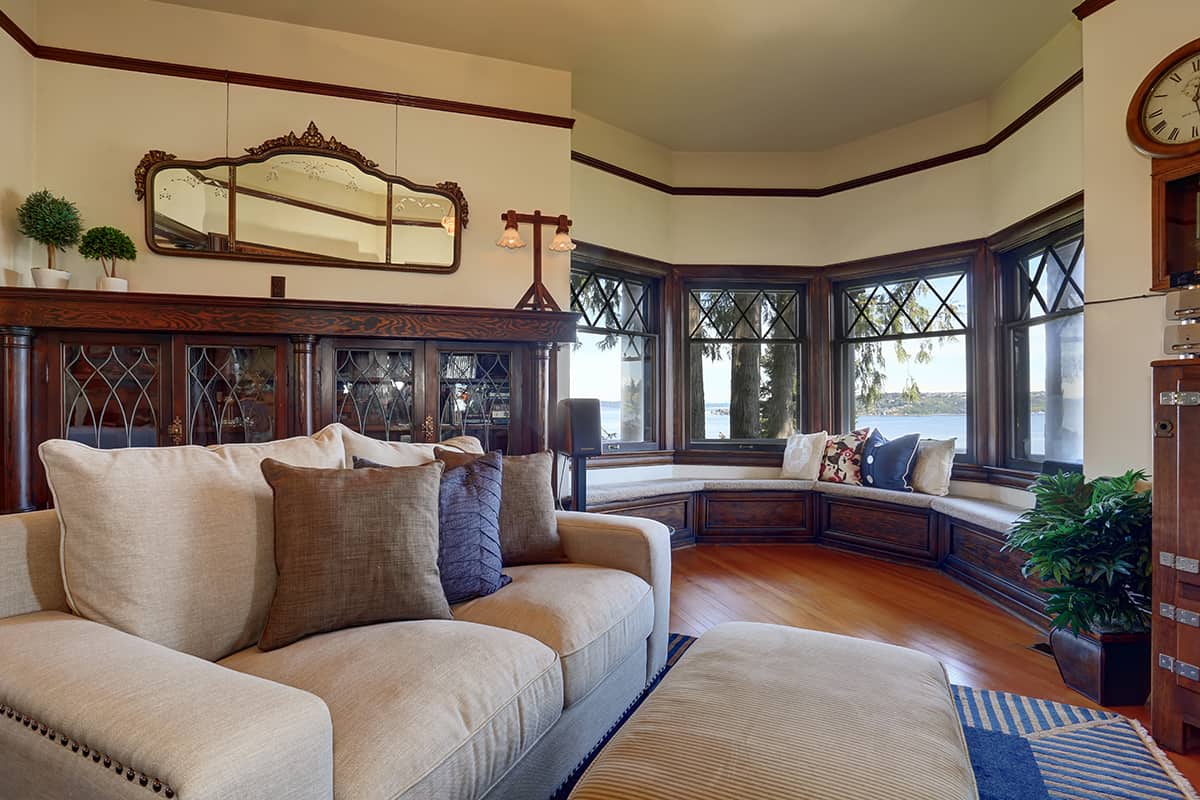 While some people see beige as a bland color, it can actually look great next to dark brown trims. This is because beige and brown are in the same color family, so when paired together, they can bring a natural and fresh look to your living room. In rustic or vintage-style interiors, this color pairing can look especially great, as shown here.
Light Blue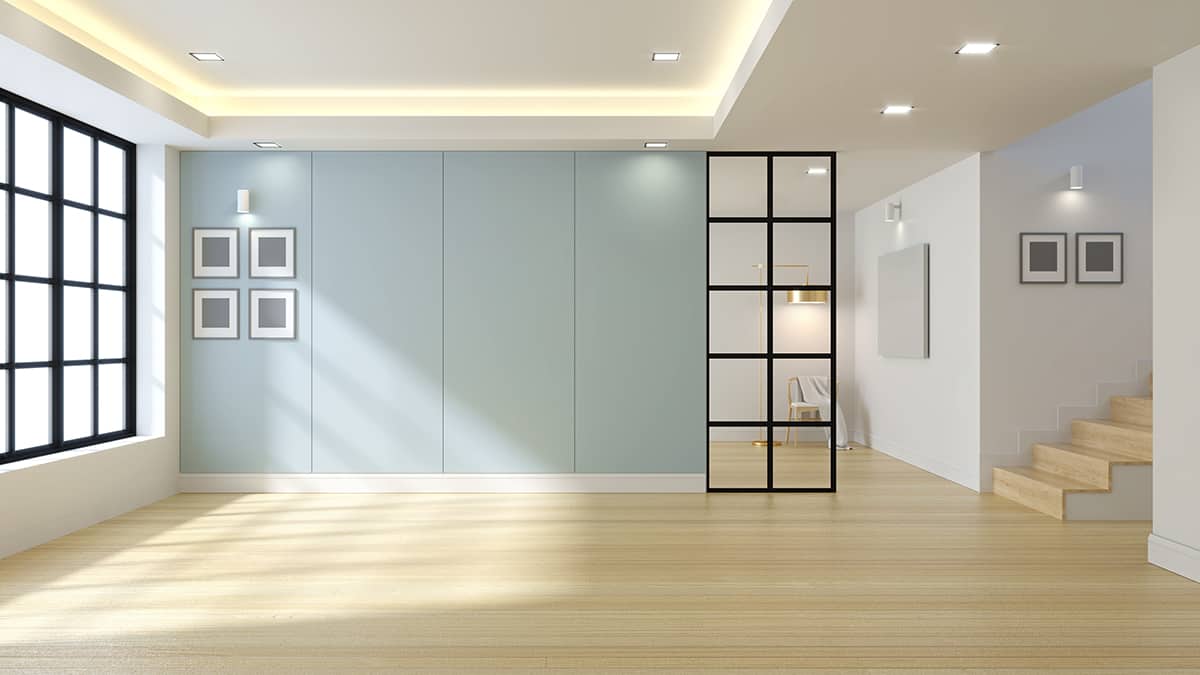 This is a unique choice for the wall color and ideal for those seeking a modern vibe for their living or sleeping space. Light blue walls can be matched with black trims for a cool-toned combination.
Adding a crisp blue touch to your dark-trim interior can create an eye-catching effect without darkening the space. This vibrant color livens up the room while bringing harmony to the dark trim. Pale blue is the ideal wall paint color for modern interiors, as you can see here.
Green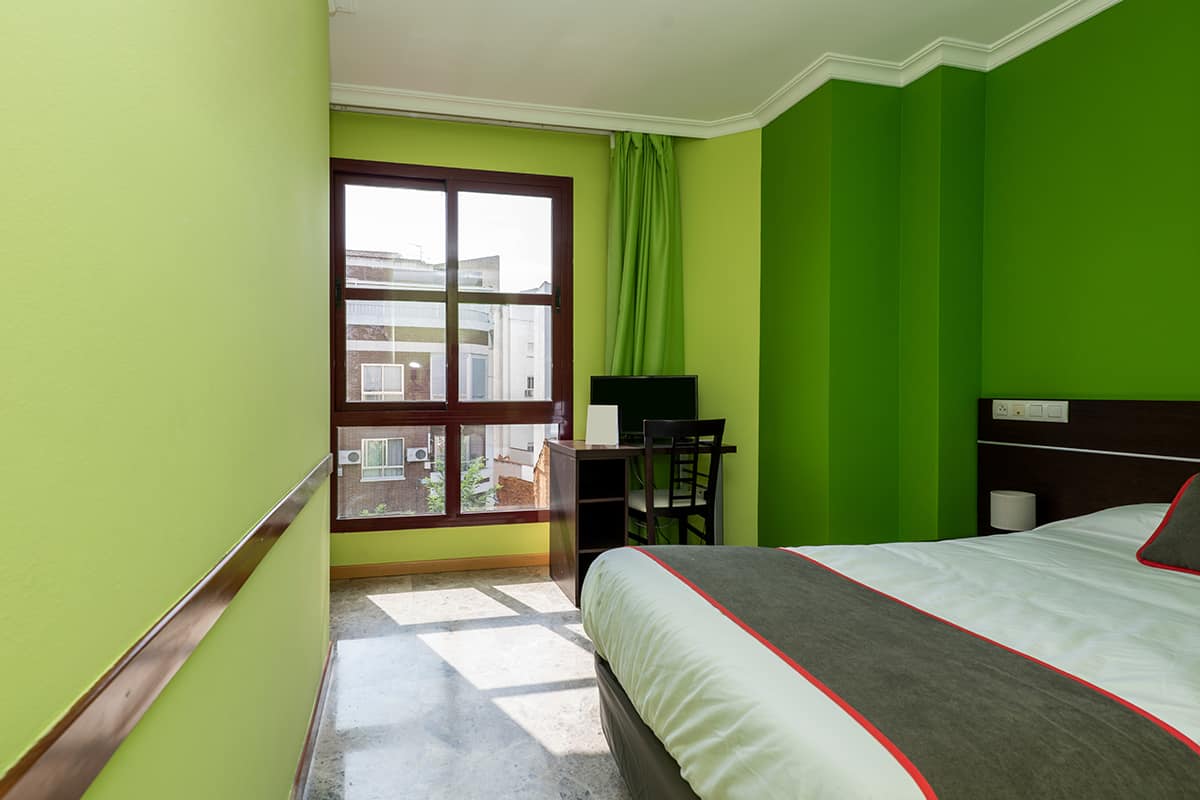 To make your bedroom or living room more earthy, you may want to paint the walls an attractive shade of green to pair with your dark trims. This creates an organic feel, especially if you select the right shade of green.
One of the biggest advantages of pairing green walls with dark brown or black trims is the warmth you can bring to your space. See how cozy this small bedroom feels, thanks to the bright green walls and dark window frames.
Light Gray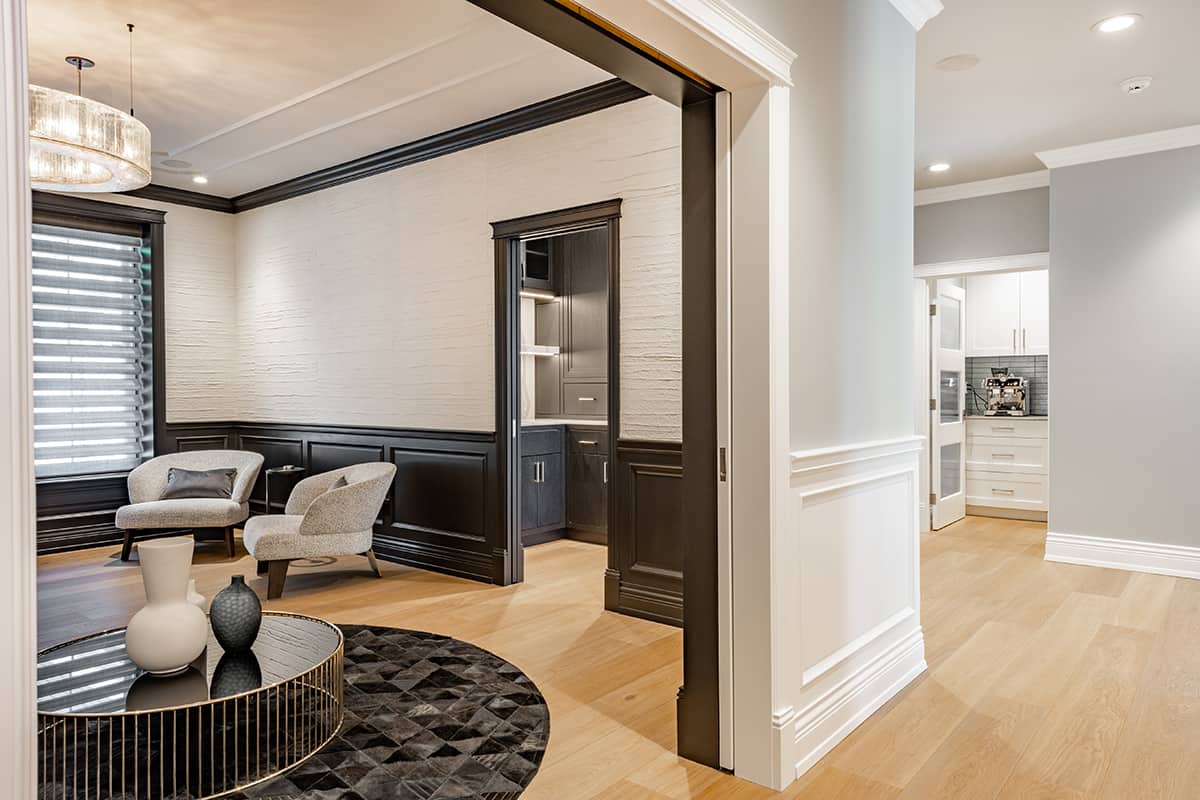 One of the best neutral wall colors for a room with dark trim is pale gray. This serene color adds a contemporary touch to a living room. With light gray walls, you can give your interior a bright and airy vibe.
Together with dark brown trims, this cool-toned, trendy color is a versatile option that goes with any other color flooring and decor color palettes. Gray wall also works well with other trim colors, including white, blue, and wood.
Cream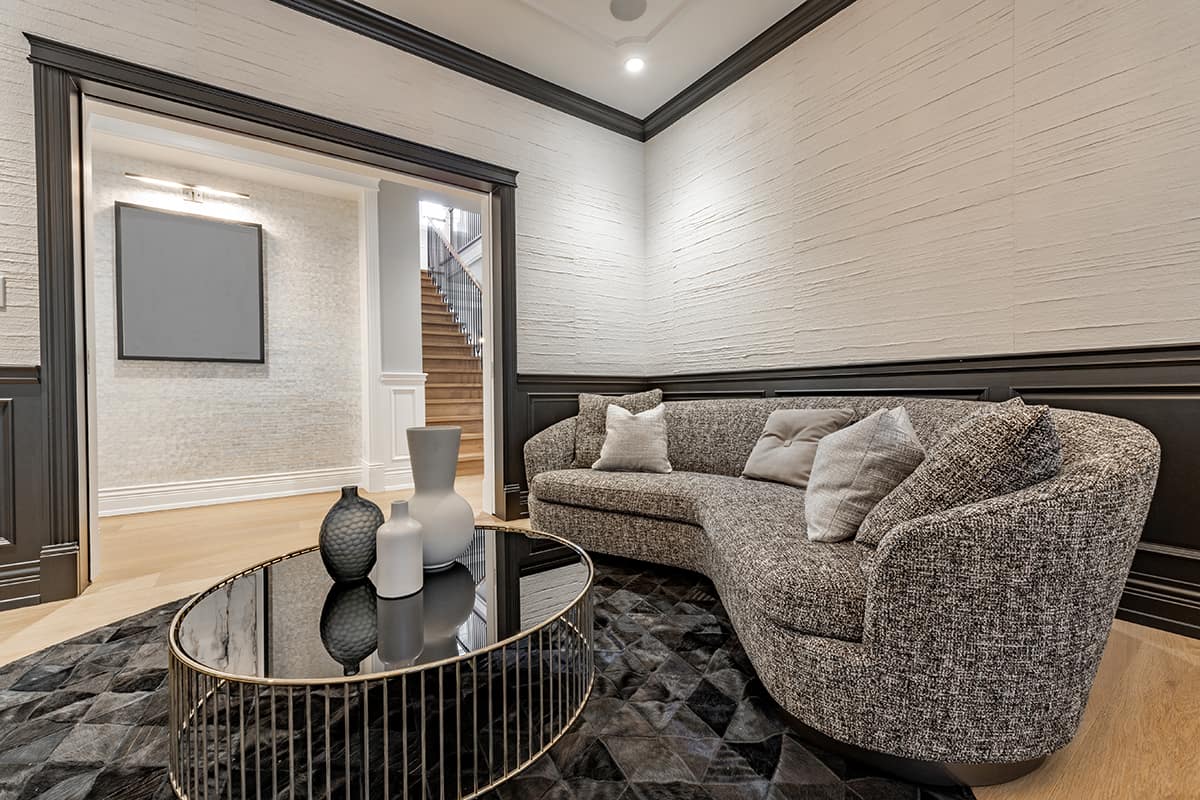 If you're still unsure what color walls go with dark trims, cream is another classic that complements dark brown and black. This classic look never goes out of style and is perfect for rustic interiors. Whether you choose cream walls for your bedroom or living room, dark trim color (whether it's black, charcoal gray, or brown) will go nicely with this warm-toned neutral hue.
Having dark trim, especially when it's wood, can make any room feel luxurious. When it's paired with cream walls, the beautiful backdrop can make the trims stand out as you can see in this example.
White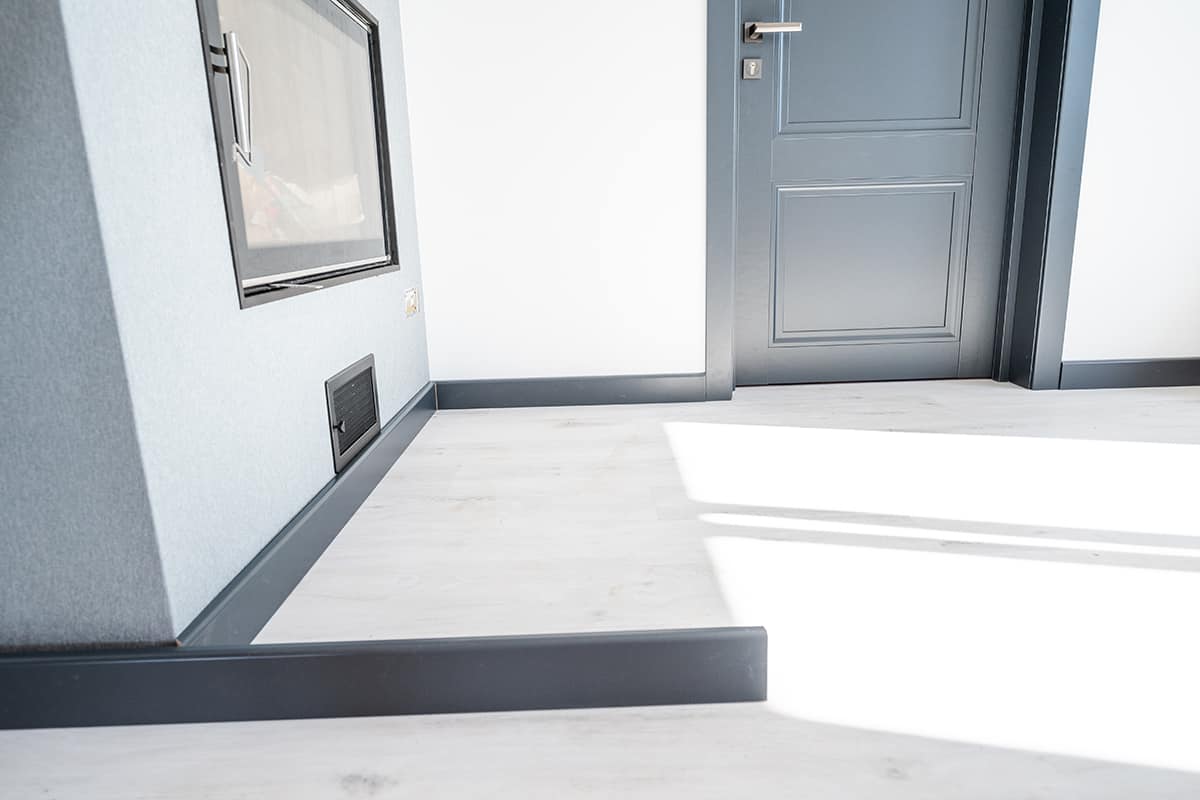 White is without a doubt, the safest and cleanest wall paint color for any trim color. This crisp neutral is a great way to bring luxury to your home. When your dark trim is around the windows and doors, you can achieve a clean, fresh look by painting all the walls around them a light, neutral color.
White gives a cohesive look to dark brown or black trims. This classic combination will look good in any room. White walls next to dark trims brighten up the space while adding elegance. This combo goes especially well in large rooms with high ceilings and plenty of natural light. The crisp white walls act as a contrasting backdrop and make the large modern room feel cozier.
Can Wall Color be Darker than the Trim?
The answer to this question depends on personal taste. Some people prefer lighter wall colors to make their dark trims pop, while others want to keep their room light and airy by pairing light trim with light wall colors. That said, there is no reason why trim can't be darker than the walls and vice versa.
Ultimately, it is a personal choice, but if you have trouble deciding, it is always wise to go with a lighter wall color than the trims. After all, you don't want your wall colors to clash with the trim!
While it's true that finding the perfect color combination for your interior can be a tough job, obtaining paint color samples from your local home improvement store can help you make the right decision.
Good to Know
Not all interior wood trims are brown. Dark tones can be anything from black to dark espresso and even charcoal gray. There are some wall paint colors that don't look as well next to dark trims. For example, if your wood trim has a shade of yellow as its undertone, it can work very well with tan or beige walls. This combination brings a warm, inviting vibe to your interior as well as softens the room. See some inspirations of these combinations in our post 'Paint Colors that Go with Oak Wood Trim'
In kitchens and laundry rooms, interior designers tend to recommend yellow walls with dark brown trims. But if you want to use a paint color with cool undertones, go with gray or blue walls to nicely contrast the dark trims.
In addition, you will also want to consider what kind of ambiance your room should have. In order for the living or sleeping space to feel cozier, pair warm colors with your dark trims. On the other hand, for dining rooms, you'll want a more formal look; thus opting for cooler tones will work best.
Colors to Avoid with Dark Trim
By now, you should have a good idea of the best wall colors that go with dark trims. But there are some combinations that are best avoided. Steer clear of dark browns and deep reds, as they won't bring enough contrast next to dark trims. In fact, such dark colors will visually shrink your room or make it appear gloomy, especially if the room lacks an abundance of natural light.
If your dark trim has red undertones, consider going for a light-toned wall paint color like cream or white as this gives a minimalist and natural feel to the space. The idea is to open up the space rather than shrink it by keeping the focus on the dark wood trims.
To Wrap it Up
No matter what wall color you select for your dark trims, make sure the combination works with the rest of your interior decor. After all, you'll be living with this color scheme for a long time, so it's important to choose the pairing that suits your taste.
Whether you prefer cool or warm-toned paint colors, it is important to make sure they work in harmony with your dark interior trims. Our above ideas will hopefully inspire you to make the right decision.