Cherry wood furniture looks graceful and stylish in any formal or informal room. The dark reddish hue deepens with age thanks to its natural oxidation process. When choosing the best colors that go with cherry wood furniture or cabinets, you must consider your furniture items' grain pattern characteristics as well as color.
Of course, a personal style also comes into play when picking the right hues to pair with your cherry wood. But to avoid making your space busy or cluttered, you must think carefully about the color arrangement. In this post, we will show you how to coordinate your wall, floor, curtain, and accessory colors with your cherry wood furniture. So let's get started now!
The Walls
Figuring out which wall colors work best with cherry wood furniture can be a little overwhelming. As a rule of thumb, go with a shade lighter than your furniture to keep the focus on the furniture items rather than the walls.
Conversely, if your cherry wood furniture is a lighter color, you may opt for painting your walls a darker shade. Here are some examples with images to give you a better idea:
Light Colors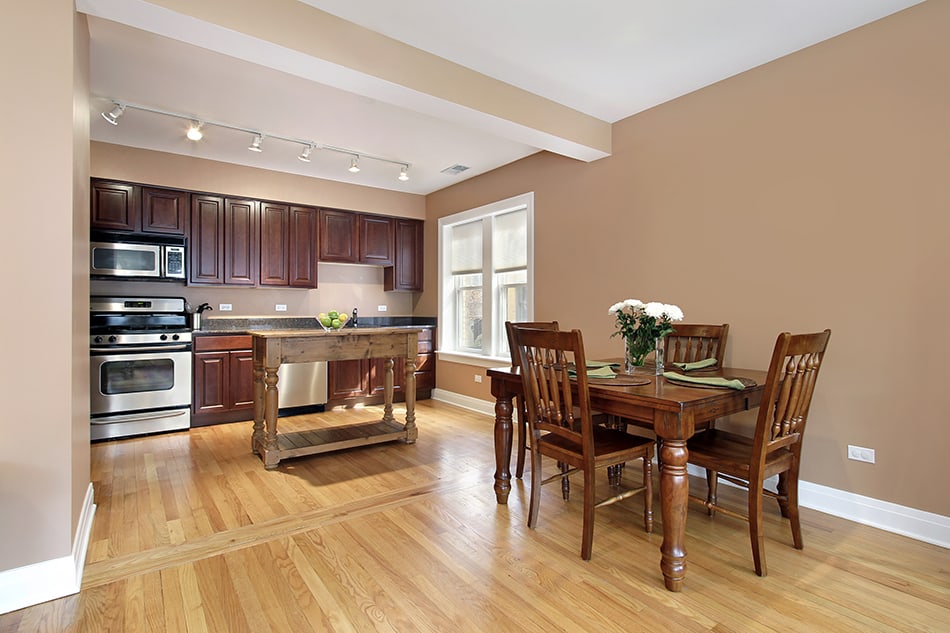 Darker color cherry wood looks great when contrasted with lighter tones. Beige walls, for example, are ideal for highlighting your dark cherry wood. This color contrast between light walls and dark furniture will look even more striking as the cherry wood darkens with age.
Other light wall colors, such as grey undertones, creamy ivory, light yellow, and light caramel, will also create a high contrast that makes the furniture stand out.
Dark Colors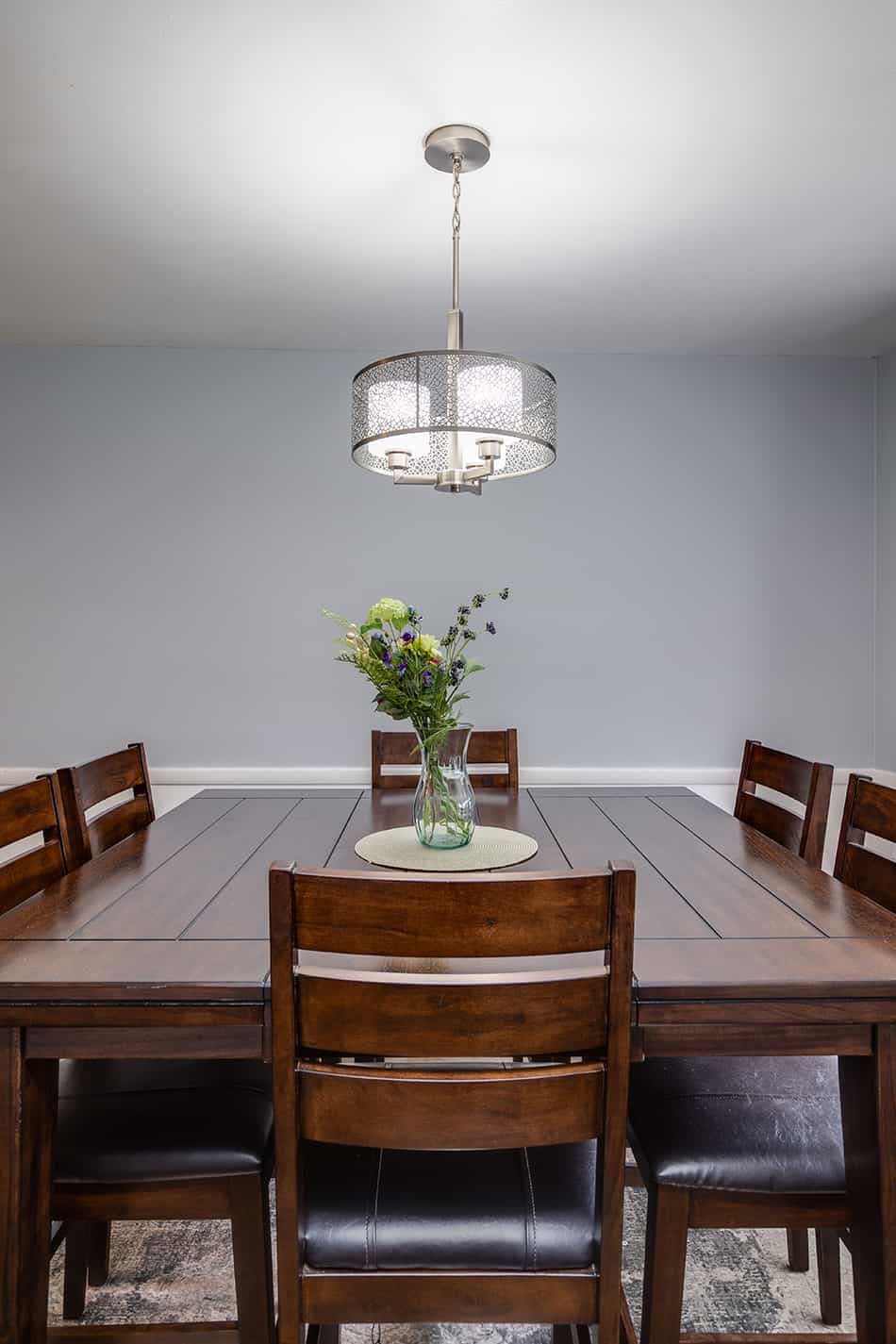 Since cherry wood is an intense color, you can pair it with dark wall colors like hunter green or royal blue in order to harmonize the furniture color with the walls.
The low contrast allows the cherry wood to blend in rather than stand out. Purple or blue walls work best next to dark cherry wood furniture as shown here. A room with such wall colors won't appear small or feel closed in thanks to the dark wood furniture being the centerpiece of the room.
Earthy Colors
When we mention earthy colors, brown is the first color that may pop to mind. But did you know pastel greens will also bring a casual formality to your dining room's cherry wood furniture? This refreshing yet subtle earthy hue will give a modern touch to traditional wood furnishing.
You may also consider adding wood trim to your pastel-green walls for a more elegant look. The green color paired with dark brown will indicate a strong presence of cherry wood furniture in the formal dining room.
The Floors
To keep the furniture cohesive with the rest of the room's interior, you must think about the color of your flooring. To pair your walls and cherry wood furniture with the floors, take a look at our following examples:
Dark Colors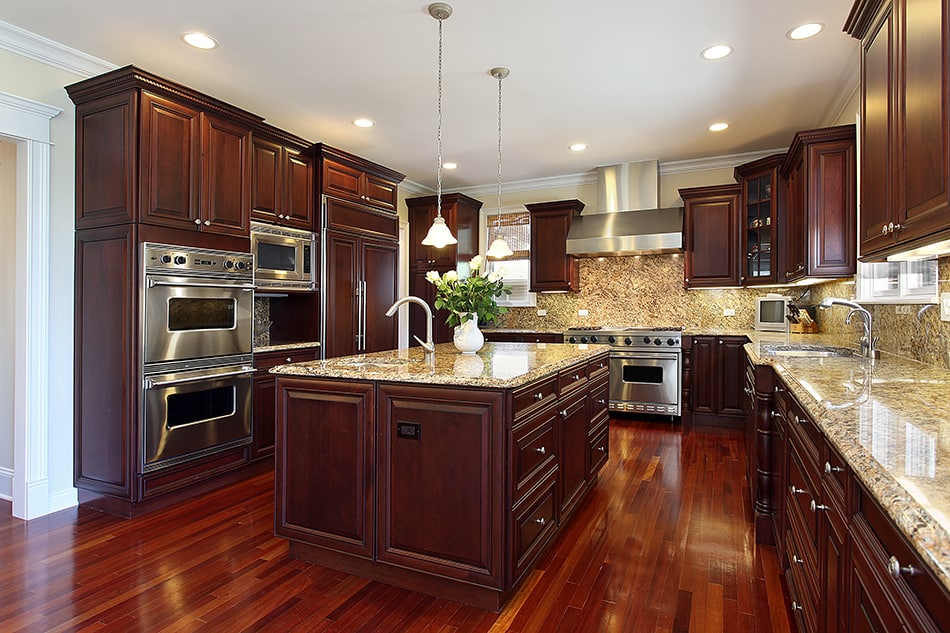 Dark color flooring is an excellent choice for a kitchen with cherry wood furniture or cabinets.
It is worth considering solid wood or laminate flooring as an elegant and graceful touch to improve aesthetics. Laminate is easy to maintain, and when it's in a dark color, it will effectively hide blemishes.
Light Colors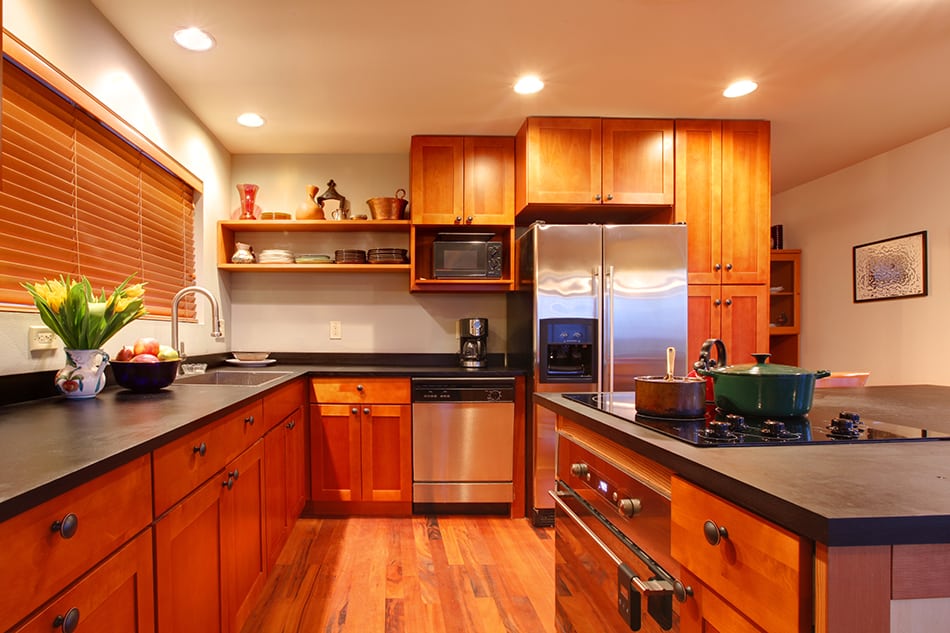 Now, if your kitchen furnishing or cabinets are of lighter color cherry wood, a good choice would be to match them with light color flooring. You may either go with the same color hue or one shade lighter than the cabinets.
Window Treatments
Layered drapes add style and texture to a room with cherry wood furniture. Shades in natural colors can enhance your bedroom or living room's cherry wood furniture, thanks to their earthy texture. To create a stylish appearance, hang your curtains in front of the furniture. Select medium tones to white sheers to brighten up the room.
Even muted window treatments will heighten the cherry wood's elegant appeal as long as you choose a luxurious fabric like silk or velvet. Here are some examples:
Off-White Sheer Curtains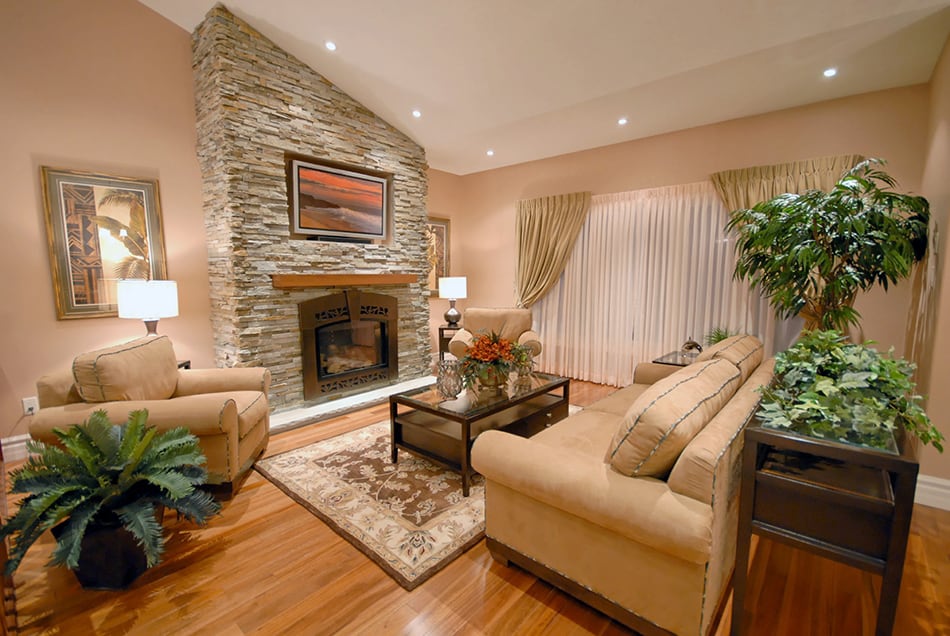 Sheer curtains are soft and semi-transparent, bringing a warm glow to any room. Off-white sheer curtains make the room feel airy and allow natural light to enter.
The cherry wood tables in this inviting living room look stunning next to creamy sofas and off-white sheer curtains. The interior design of this room looks incredibly regal, thanks to the combination of creamy white and cherry wood.
Floral Curtains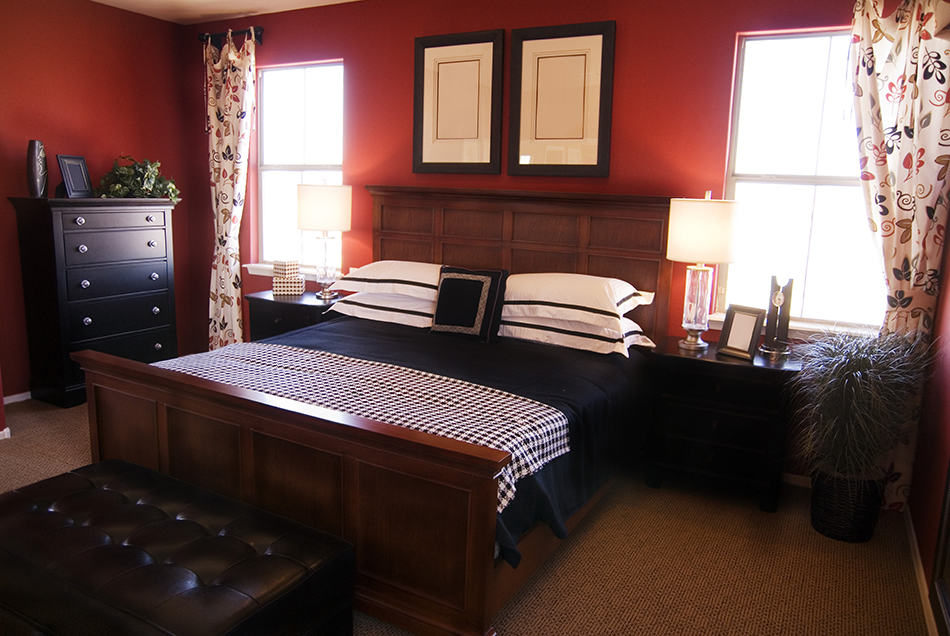 We've already shown you light color curtains in a living room with cherry wood furniture, but how about a cozy bedroom with rich, deep cherry wood furniture? In this instance, floral curtains with a white base will work best. The floral patterns will soften the look of dark cherry wood without distracting the attention from the furniture.
In this bedroom example, the dark cherry wood, red wall, and floral curtains have created a warm and cozy vibe, making this space feel utterly luxurious.
Green Silk Lined Valances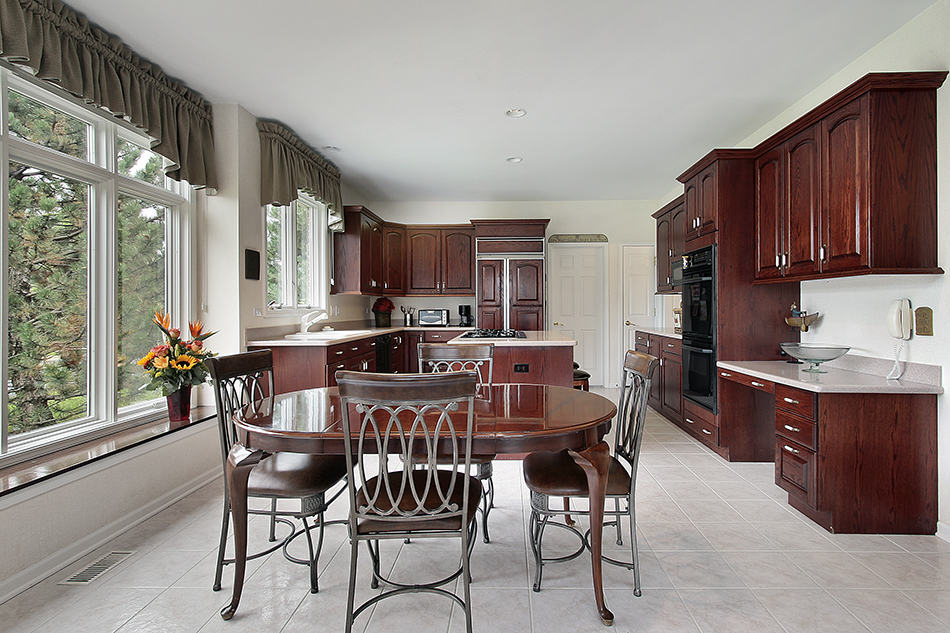 Valances lend a regal feel to any room. In kitchens and formal dining rooms, silk valances allow maximum light to enter the room. A muted shade of green will pair beautifully with dark cherry wood furniture. This color will add enough contrast to a luxury interior while allowing the dark color of the furniture to shine through.
See how elegant this kitchen looks with its dark cherry wood cabinets and furniture paired with silk-lined valances.
Accessories
Too many accessories in the room can take the focus off the cherry wood furniture if you're not careful. Cluttering the room with too many decorative accessories will cause a visual distraction that can make the space disorganized. To avoid this, place some indoor plants close to the cherry wood furniture to freshen up the space.
Complementary colors like green bring the outdoors in and illuminate the natural aesthetics of cherry wood drawers, tables, or dressers. Add a few metallic table lamps on the cherry wood side tables to brighten the room, with colorful pillows and a large wall hanging. These accessories are enough to complement your light or dark cherry wood furniture and complete the look.
Is Cherry Wood a Dark or Light Color?
Unstained cherry wood has a light, pink-toned hue before its oxidation process, which turns the light-colored wood into a medium-dark, reddish wood. This is due to the wood's exposure to sunlight. To prevent or minimize your cherry wood furniture from oxidation, make sure you stain it thoroughly.
Cherry wood is considered to be a warm color, which tends to evoke coziness and warmth in any room. It is often associated with fire, which includes yellow, orange, red, and brown hues as variations of cherry wood. All cherry wood colors contain light or dark red undertones, so this is important to consider when selecting contrasting or coordinating colors that go with your furniture.
Does Taupe Go With Cherry Wood Furniture?
Yes, any neutral shades like greys and beiges can coordinate well with cherry wood cabinets and furniture, so taupe is no exception. In fact, dark cherry wood goes beautifully with light neutrals as the color combo will prevent your space from appearing smaller than it really is.
Is Cherry Wood a Good Choice for Furniture?
Cherry wood is a versatile type of wood that comes from the cherry tree. The wood of this tree is known for its durability and unique beauty. Classified as hardwood, cherry wood is widely used for interior design and furnishing. And since cherry wood is a hardwood, it is heavy, which is why it is so durable.
Heavy furniture items can benefit from cherry wood, which will remain strong for many years. Another great advantage of cherry wood is its capability to ward off fungi and insects.
The stylishly elegant properties of cherry wood are one of the main reasons for its popularity in furniture making. This type of hardwood is ideal for attaining an antique or vintage look.
So if you want to add an aesthetically appealing feel to any of your rooms, consider choosing cherry red furniture. The red tones of this hardwood create an attractive, unique glow. So the answer to the question: is cherry wood a good furniture choice, is an absolute YES!
Conclusion
Our examples of wall, flooring, window treatment, and accessory colors that go with cherry wood furniture should give you some ideas on the best color combos for your rooms.
Cherry wood furniture is strong and durable, but the longer it is exposed to sunlight, the darker it becomes. For this reason, you must pick the complementary colors carefully, as your furniture will gain a deeper red tone reflecting its aging process.