If you are planning the layout for your home or would like to install a new coat closet, then you'll need to know the typical dimensions that coat closets take. While there is no 'one-size fits all' measurement for a coat closet, there is a range of coat closet sizes that fall into the 'standard' bracket.
The size of the coat closet you build is going to depend on a number of factors, such as the number of people living in your home and, therefore, the number of coats you are likely going to need to store, as well as the size of your home and how much available space you have to create a coat closet.
Here we look more closely at coat closet sizes and break down the various measurements and dimensions.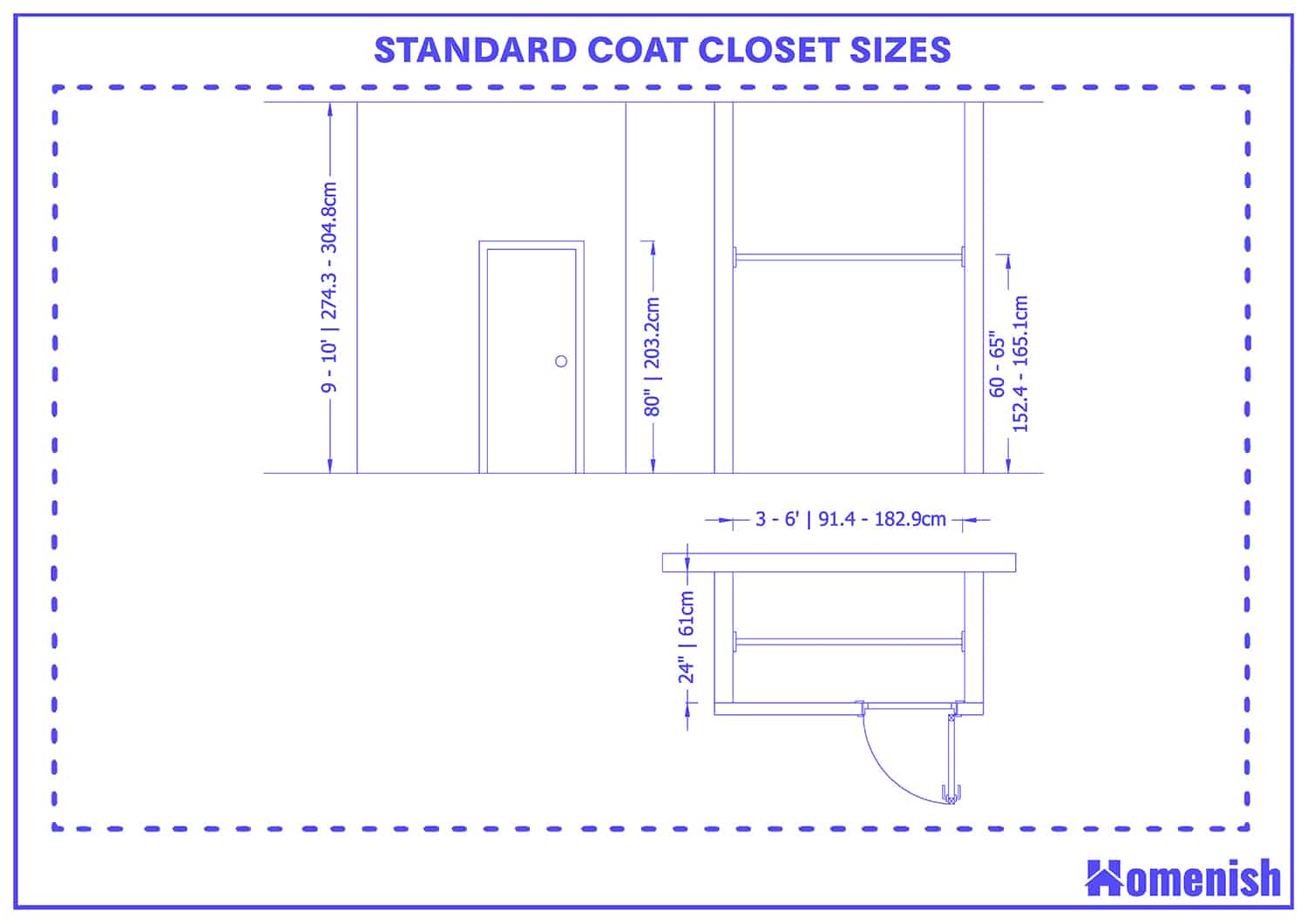 Height of a Coat Closet
The interior height of a coat closet is going to be the same as the height of the ceilings in your rooms. The normal ceiling height is between 9 and 10 feet,so if your home has standard dimensions, then the interior of your coat closet will also have a ceiling height of between 9 and 10 feet. This makes it easier to build a coat closet because you only need to create the side walls and won't need to worry about the top of the closet.
Maintaining the regular ceiling height in a coat closet is also great in terms of storage because it means you will be able to create a high shelf where you can keep lesser-used items. The height of the door on a coat closet should match the height of all of your other interior doors to ensure a sense of continuity throughout the home. This will also prevent the coat closet from looking out of place or like an afterthought compared to the rest of the property.
A standard interior door has a height measurement of around 80 inches, so this should also be the height for your coat closet door.
Depth of a Coat Closet
The depth of a coat closet is something you can customize so that it perfectly suits your requirements. The absolute minimum depth of a coat closet should be 24 inches, which is the same depth dimension as a standard closet. This will allow you to fit in average-sized coat hangers on a rail across the width of the closet.
However, if you have bulkier coats such as parka coats or ski jackets that you want to store in your coat closet, then you should opt for a more generous depth. A better depth size for a coat closet is between 26 and 36 inches. This will allow enough space for coats to be hung in the closet without their arms being flattened against the back wall or the closet door.
If you have plenty of space, then you could create a walk-in coat closet with rails at either side to hang coats on, rather than a rail across the width of the closet.
In this instance, you could have a depth of as much as 5 or 6 feet, but this is unusual except for in extravagant or luxury homes.
Width of a Coat Closet
The average width of a coat closet is between 3 feet and 6 feet, but the width of your coat closet can be chosen based on how much room your home has to spare and how many coats you anticipate needing to store.
In one foot of width space, you should be able to hang 5 jackets or thin coats, so in a home where 3 people live, a 3-foot wide coat closet will allow them to store 5 jackets each. Winter jackets will take up more space, and you should account for around 3 to 4 winter jackets taking up one foot of space.
You can customize the size of your coat closet to the number of people living in your home and the number of coats you have. A family of 4 people who each have 6 jackets will need 5 feet of width space, while a family of 6 people who each have 5 jackets will need a width space of 6 feet.
Rail Height in a Coat Closet
The rail height is the measurement taken from the floor of the closet to the rod or rail which coat hangers will be hung from. The rail will go from one side of the closet to the other, attaching to both side walls, and is usually made from metal but can also be made from plastic or wood.
The height of the rail should be easy to reach while also allowing enough vertical space for overcoats and trench coats to hang without draping on the floor. A typical height for a rail in a coat closet is between 60 and 65 inches.
This should be accessible for most people to comfortably reach, and it will also leave plenty of space between the rail and the ceiling where you can install some shelves for hats, gloves, or even shoes and miscellaneous items.
If you don't own any long coats, then you may be able to hang two rails, one at a lower height and one above it, therefore being able to effectively double the capacity of the coat closet. To make the most of your coat closet and ensure you are able to hang all of your chosen items, put two of your coats on coat hangers and hold them in place where the potential rail would be in the closet.
If they comfortably fit one above the other, then installing two rails is achievable. You may have to sacrifice a shelf that is higher up in order to fit the rails in, and you may also forgo the possibility of keeping shoes and boots on the floor if the coats hang very close to the floor. Weigh up your options before installing your rails as to what will suit your storage needs best.