Air hockey is a hugely popular game amongst adults and children, which is played on a tabletop surface by two players at a time. Each player has a handheld disc which they use to shoot the plastic puck to their opponent's side of the table in hopes of scoring a goal.
Air hockey tables have tiny vent holes which push air out, creating the puck to hover in the air just above the table's surface. Air hockey was once a game only played in bars and arcades, but it has become increasingly available for the general public to purchase for at-home use, for those who can't get enough of the game.
If you are looking for an air hockey table for your home, you'll need to consider which size you want or are able to fit into your space. Here we look at the dimensions of various sizes of air hockey tables.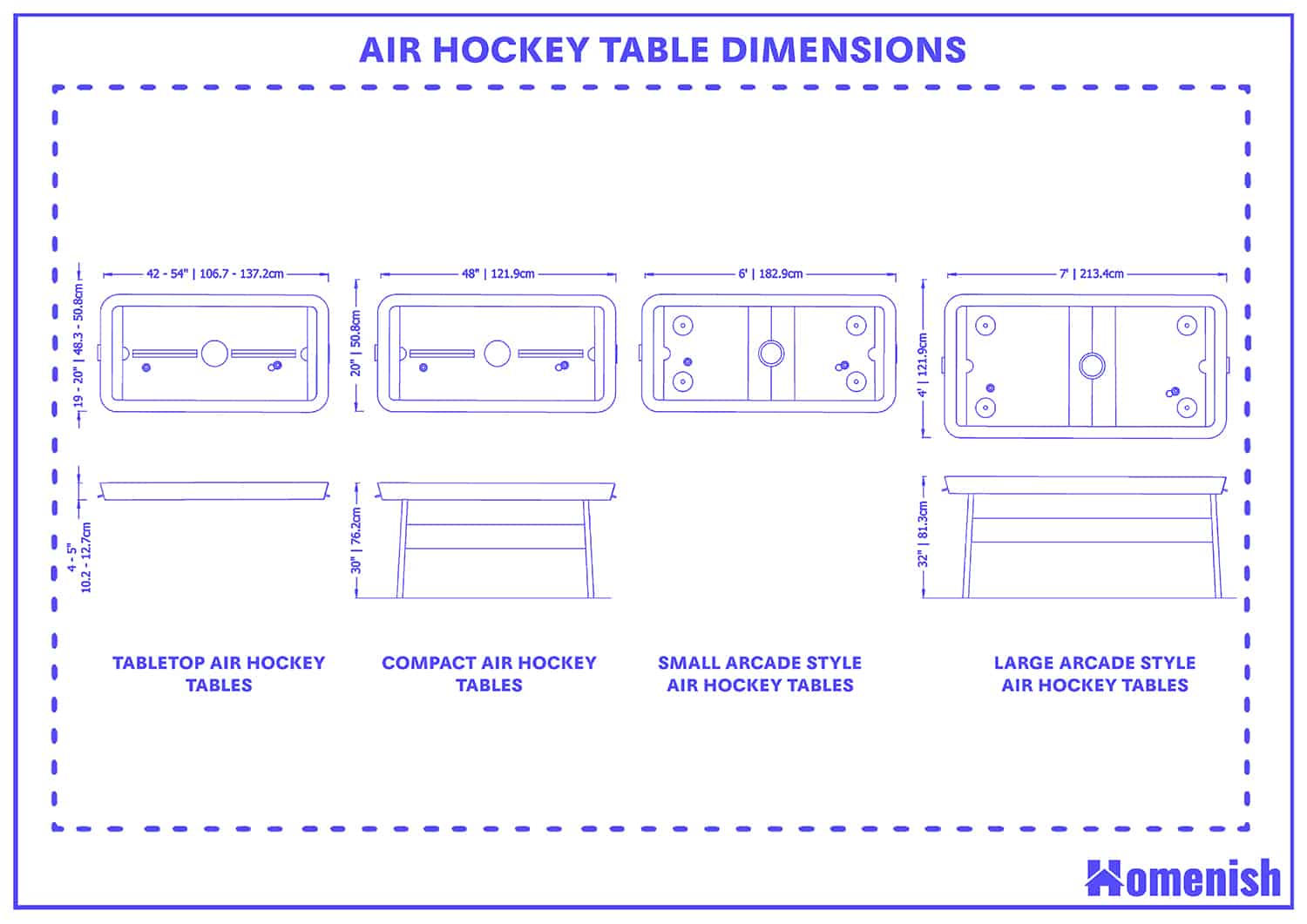 Tabletop Air Hockey Tables
Tabletop air hockey tables do not have legs, and instead are a flat surface that you could use on the floor, or on a table in your home such as a dining table or coffee table.
These are great if you have limited space because they do not need to be kept out on display all the time, and instead can be stored away when they aren't being used.
The flat nature of tabletop air hockey tables means they can slide under a bed for easy storage, or be stored standing upright in the back of a closet. Tabletop air hockey tables come in a variety of sizes so if this is the type of table you are after you should be able to find one which will be compatible with a table you have at home.
The smallest type of tabletop air hockey table will typically have a length of 42 inches, and a width of between 19 and 20 inches. The height will be in the region of 4 or 5 inches, making it a great size for storing away. This is an ideal table size for young children who are learning how to play the game; however, as they grow and become more competitive you can expect that they will need a larger table.
Bigger tabletop air hockey tables are available in lengths as long as 54 inches, which provides adequate space for older children to play, or for younger children to grow into so the table can be enjoyed by the family for longer.
Compact Air Hockey Tables
Air hockey tables which have legs for support can come in compact sizes to suit small spaces. These are ideal for children to play air hockey in rooms that don't have enough space to accommodate full size air hockey tables. Air hockey tables in this compact size also tend to be made from more inexpensive materials so they are lightweight, and cost less money to buy.
Compact air hockey tables will typically have a length measurement of 48 inches and a width measurement of 24 inches, and a height measurement of 30 inches. They tend to have plastic legs and a particle board surface, which means they are easily portable and can be moved to the side of a room when they are not in use. Compact air hockey tables of this size can be picked up for around $200 to $300.
Small Arcade Style Air Hockey Tables
If you want a sturdier and long-term option made from real wood rather than plastic and particle board, but you don't have quite the right amount of space to accommodate a full sized table, then a small arcade style air hockey table is a good choice. This size of table will typically be 6 feet in length, which is just one foot less than the regulation size air hockey tables.
This size will be easily big enough for children and adults to play on, and you shouldn't feel too much of a difference in play between this size and the larger size table. The slightly smaller measurements will enable you to have more body space around the edge of the table.
Large Arcade Style Air Hockey Tables
Large arcade style air hockey tables will be 7 foot in length and 4 foot in width. This equates to 84 inches by 48 inches. This size of table is the same size as regulation air hockey tables, so it's the ideal size table to practice on for tournaments and get a feel for the table used in competitions. Many air hockey tables of this size have been intentionally designed to be used for competitive play.
The regulation height is 32 inches, which is a comfortable playing height for most people. This table will be suitable for children players to use at around age 7, right through to adult players. This means if you have young children and like to play as a family, then this size of table will represent a good investment.
You can expect this full size table to set you back several thousand dollars, but it could last your family for decades. Before buying a full size air hockey table, always make sure you have enough space to house it, including room to move around every side of the table.
Commercial Air Hockey Tables
Commercial size air hockey tables are even bigger than regulation size tables. They are found in large venues like arcade halls and bars, with oversized dimensions of 8 feet in length and 5 feet in width.
The height of tables of this size is usually around 32 inches for comfortable game playing. This size of table is rarely available to purchase for home use, since there is minimal demand for it.
Most people will not have space to accommodate an air hockey table this large, and people who do have space and are serious about air hockey will opt for a regulation size table so that they are experienced in the correct size for tournaments.