Deciding on a color for your new bathroom cabinet is a big decision because this is a costly piece of equipment that you won't want to replace again anytime soon.
Therefore, it's vital that you make the right choice and buy a bathroom cabinet that fits all of your practical requirements as well as your style requirements.
Here we look at some of the best colors of bathroom cabinets in modern interior design.
White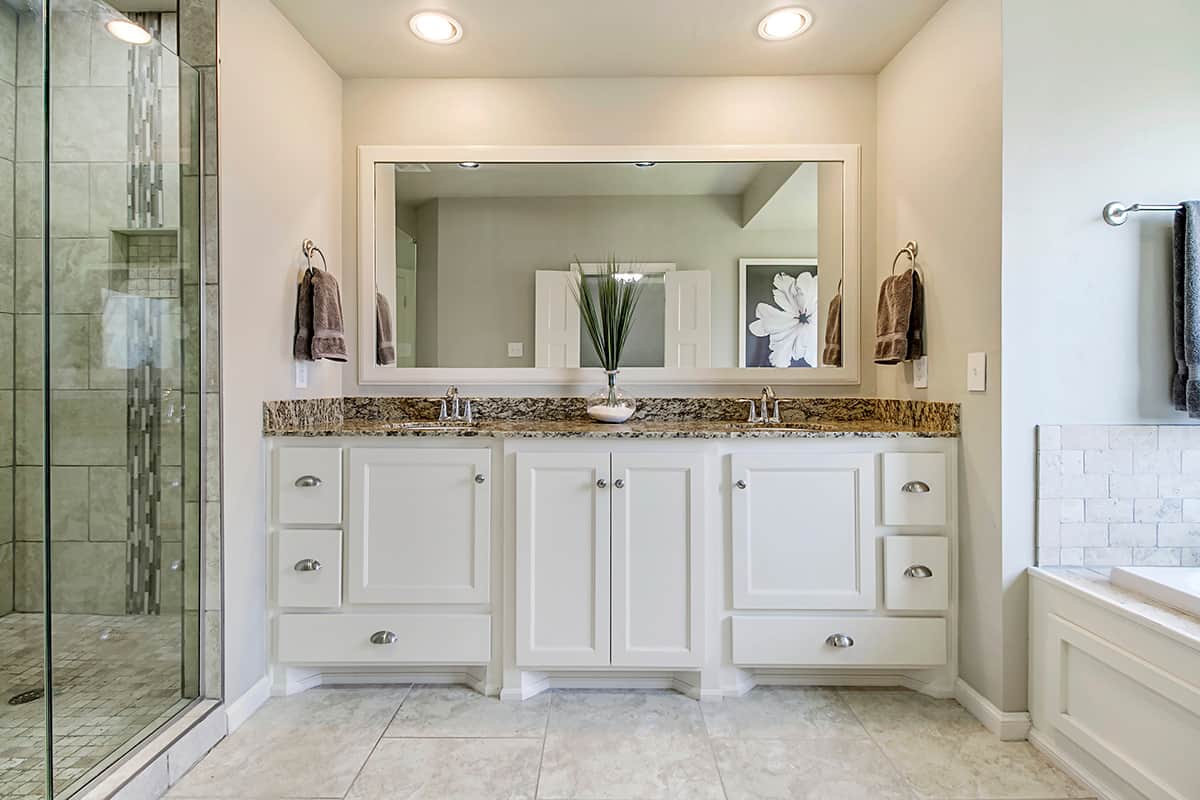 If you have a dark bathroom, then having white cabinets can be a good way to lighten up the space. This is because white reflects light and can make a space feel brighter and bigger than it really is. White cabinets can also work nicely in well-lit bathrooms to achieve a bright and breezy feel.
White cabinets are great for achieving a clean and sleek look, which can be great for creating a minimalist or modern style bathroom that you might expect to see in a high-end luxury hotel.
If you have white painted walls in your bathroom, then you may think that white cabinets are not an option as the room would look too flat; however, if you select white bathroom cabinets with a glossy finish, this can add an extra dimension to the space and make for a truly contemporary style.
As a pure neutral shade, white is neither warm nor cool, but you can create a warm feeling in a bathroom with white cabinets.
To do this, simply add a warm shade on the walls, for example, beige or tan, or use warm light bulbs in your light fittings, as this will create a warm glow and be reflected in white cabinets.
One key benefit of white cabinets is that they are usually the most inexpensive of all bathroom cabinet colors, so if you want to keep your budget to a minimum, then white cabinets could be the way to go.
Beige
If you want your bathroom to feel warm and classic, then beige is a good cabinet color choice. This is a neutral color that comes in a variety of shades that can work for both small and large bathrooms.
Dark beige bathroom cabinets can add drama to a space and make it feel more intimate, while paler shades of beige can create a warm yet uplifting feel. Beige bathroom cabinets can look very chic with white walls. Tie in the beige cabinets with the rest of your color scheme by adding beige accents such as towels, soap dispensers, or candles.
If you have a predominantly brown bathroom, then beige cabinets can create a nice contrast without being too stark or bold.
If your bathroom is quite small, then consider painting the walls the same color as your cabinets, as this will help the cabinets to fade seamlessly into the background rather than stand out. This visual trick can create the look of a larger bathroom, even in a small space.
Light Gray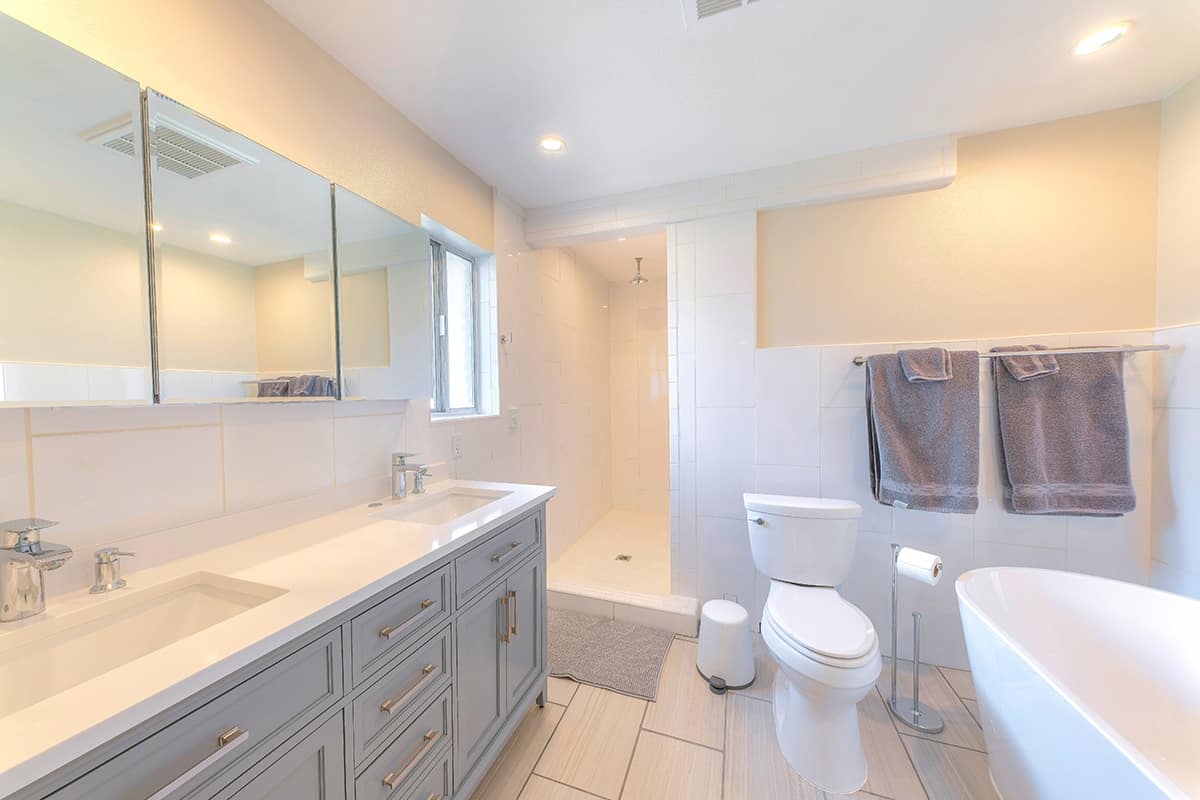 Pale shades of gray are contemporary and subtle. If you want to ensure that your bathroom has a modern vibe, then a pale gray bathroom cabinet will achieve this.
For a casual style, paint your walls in white or a shade of off-white and then create a subtle contrast with light gray bathroom cabinets. This can create a very laid-back and relaxing look in a bathroom which can help you unwind at the end of a long day.
If you would prefer a more moody look in your bathroom, then pair light gray bathroom cabinets with dark gray walls in deep and saturated shades such as slate or charcoal gray.
Gray is such a versatile color when it comes to interior design as it can go well with almost any style and a variety of other shades. Light gray can be used to tone down a bright bathroom or add a classic feel to a more simple style bathroom.
Gray presents a more modern take on neutrals, so if you want to bring the style of your bathroom up-to-date, then choose a light gray cabinet over warm neutrals like beige or brown.
If your bathroom does not get a lot of natural light, then this may be the one time where you want to avoid using light gray in your interior design color scheme.
This is because despite being a neutral color, gray typically has cool undertones, which can make a space feel unwelcoming and clinical if it lacks natural daylight.
If you have your heart set on gray cabinets despite having a dimly lit bathroom, you can opt for a warm shade of gray. This will be a gray color that has brown, orange, or yellow undertones. Use warm shades of light gray for your bathroom cabinet and coordinate it with shades of taupe, brown, or green.
Dark Gray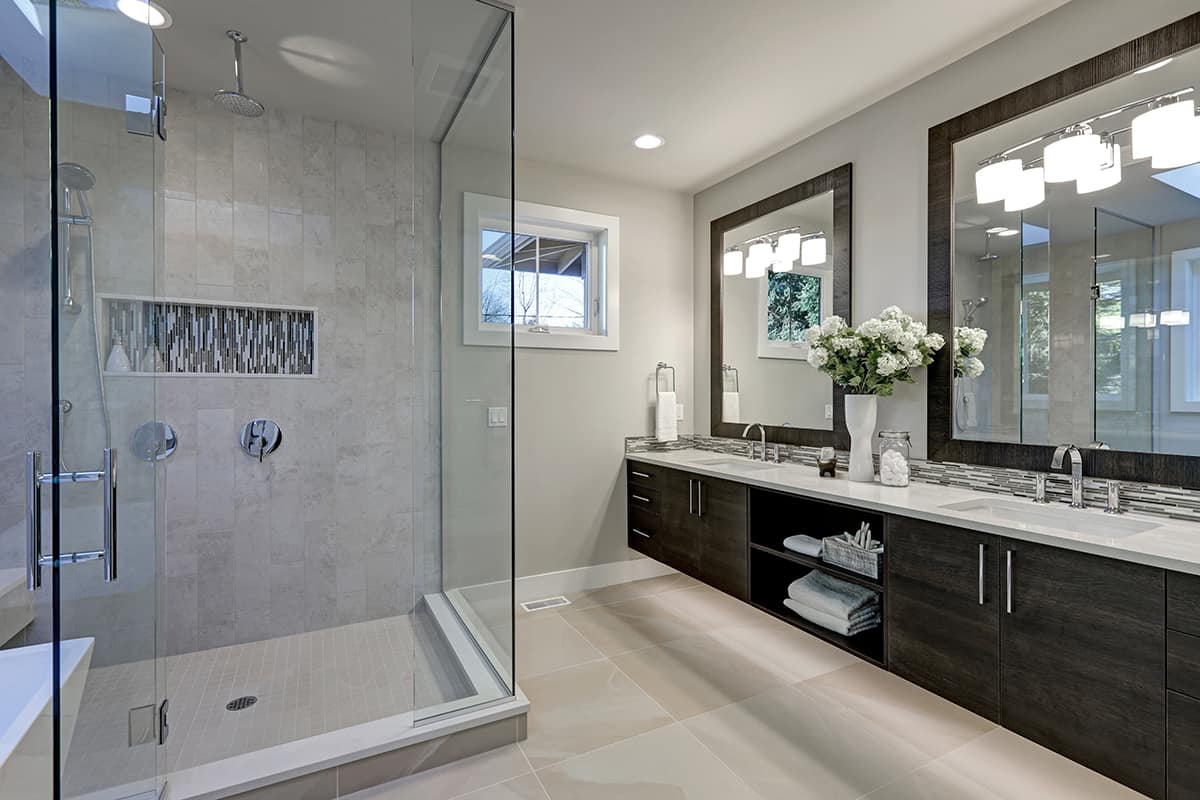 Dark gray provides a safer option to black cabinets while still achieving depth and a bold impact. Dark gray we'll work well with a wide range of colors, including yellow, copper, gold, white, green, blue, and orange.
Blue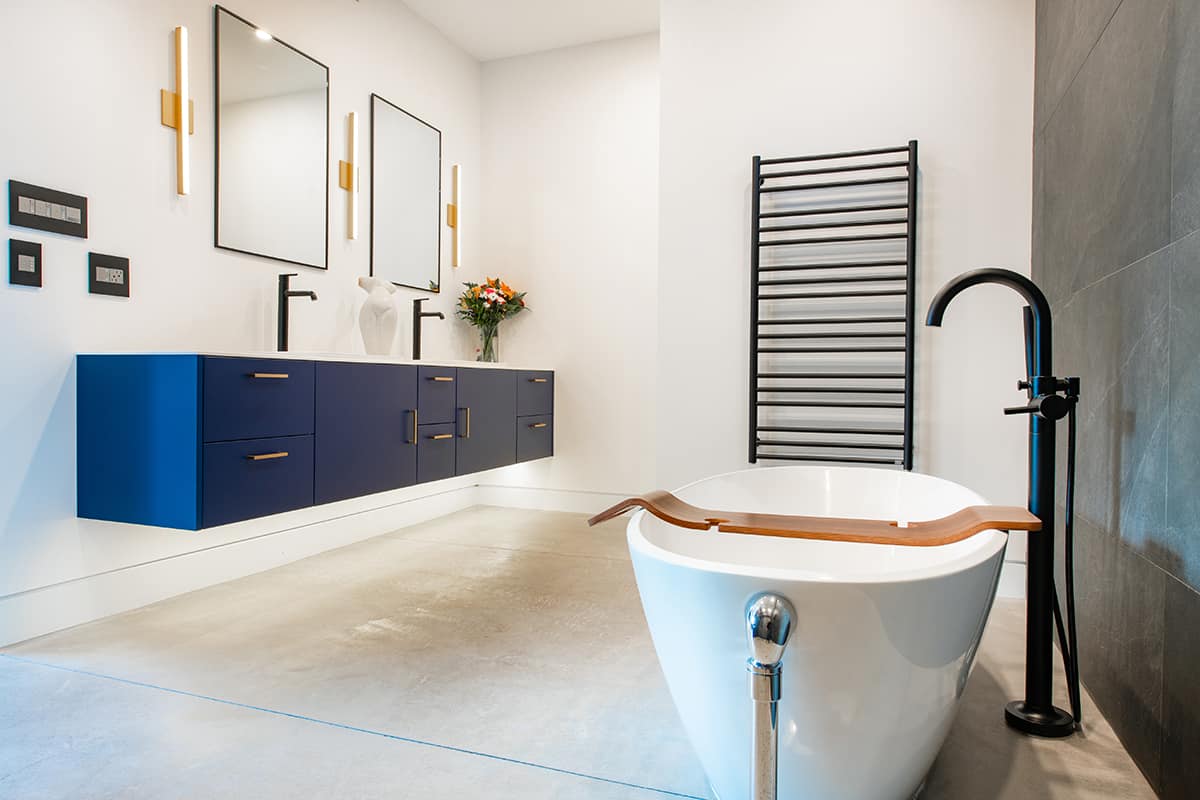 Bathroom cabinets look great in various shades of blue because this is a soothing and calming color that is conducive to relaxation.
Blue is a color that is synonymous with coastal styles and laid-back beach vibes. This link to the ocean seems to go hand in hand with bathroom decor as bathrooms feature water and relaxation match like the beach.
You can create a nautical or coastal theme in your bathroom by pairing blue cabinets with white walls and blue and white striped towels. Blue bathroom cabinets can also work really well in more modern and contemporary styles such as industrial looks and mid-century modern styles.
Choose a navy blue or peacock blue bathroom cabinet for a more high-end luxury vibe or a soft cornflower blue or sky blue to achieve a country cottage style.
Green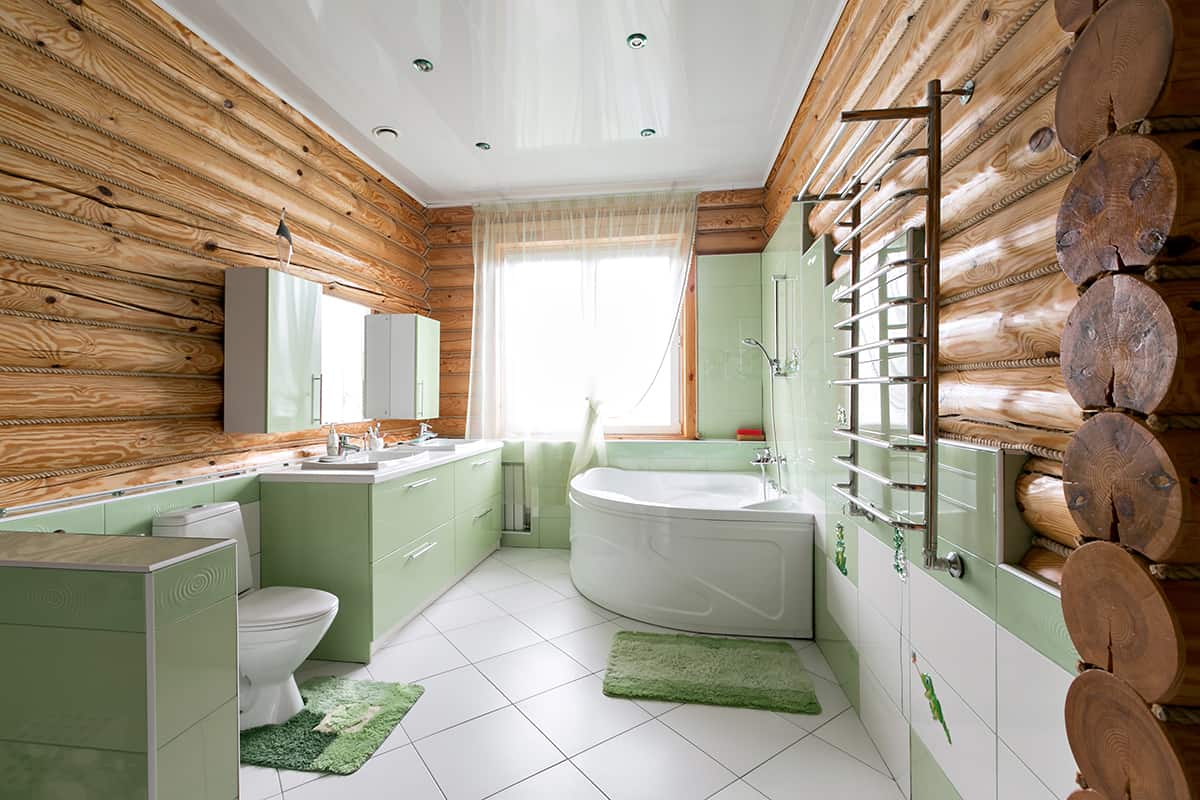 Green has been making big headway in the interior design world over the last year, and this also extends to bathroom decor. As green is such a common color in nature, it brings a natural vibe to interior design that is hard to achieve with any other color.
In this way, green can almost be seen as a neutral, and therefore it is a good color choice if you want to bring a touch of color to a space but are not confident with brighter or bolder shades.
In a pale gray bathroom, consider sage green or olive green cabinets to create a fresh yet soothing feel. For a more dramatic appeal, find bathroom cabinets in matte emerald green and highlight the luxury and decadence of this color by using herringbone Carrera marble tiles for your backsplash.
Black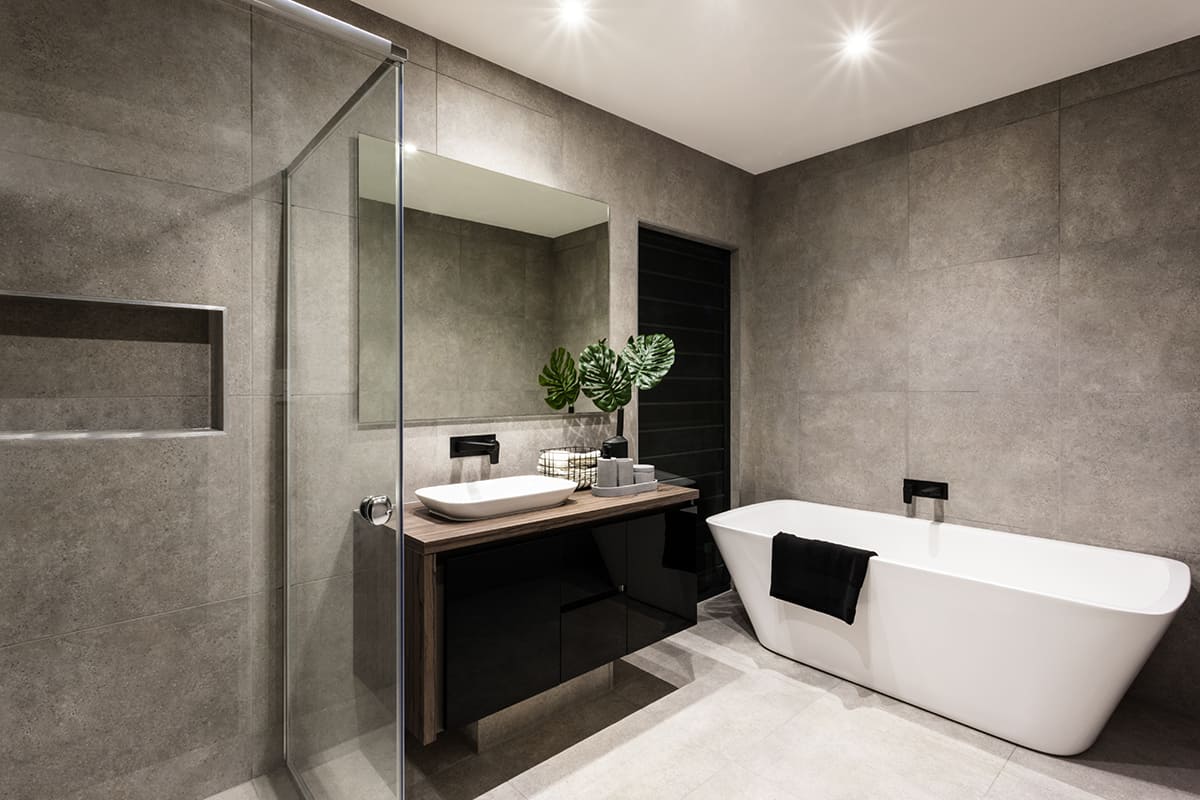 black bathroom cabinets are a sleek yet bold choice in a bathroom. This color of a cabinet can help to create a sleek or edgy look depending on the style and shape of the cabinet itself.
If you have black bathroom cabinets, consider painting your walls in a shade of white or off-white for a sophisticated monochromatic effect. Alternatively, you could paint the walls pale gray for a modern take on monochrome.
Black bathroom cabinets are a good long-term choice because if you want to change up your style, you can simply repaint the walls in a different color and switch up your towels and accessories to create a completely new look without having to purchase and install new bathroom cabinets.
Black is a classic color that will never go out of style. Opt for a matte black finish to your bathroom cabinets for a look that is elegant and timeless.
Mirrored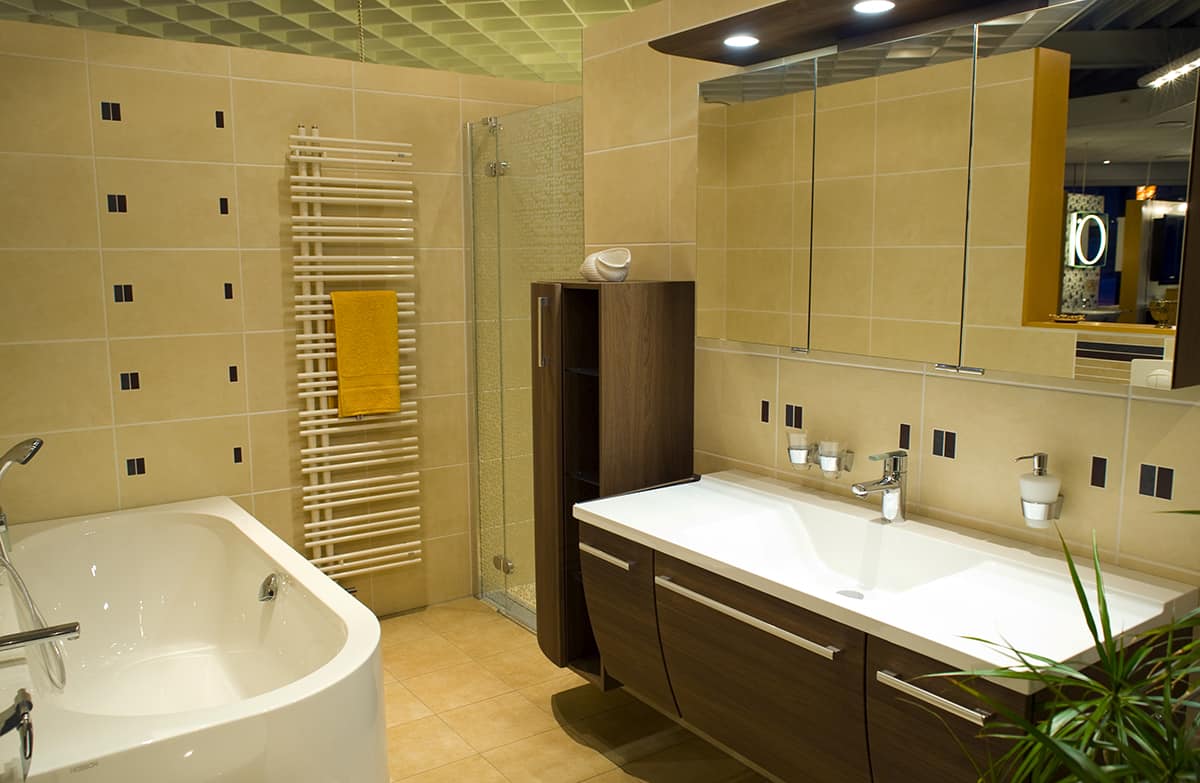 bathroom cabinets which have mirrored doors once very on-trend however some people now find that they look dated or old-fashioned. However, mirrored bathroom cabinets can be very functional and practical.
If you have a bathroom cabinet at head height above your sink where you store your toiletries and toothbrushes, then having a mirrored door means that your cabinet will double up as a reflective surface for you to get ready.
Mirrors also reflect light and can make a space feel much bigger than it really is. Mirrors add additional depth to a room which can be extremely useful in small bathrooms.
Wooden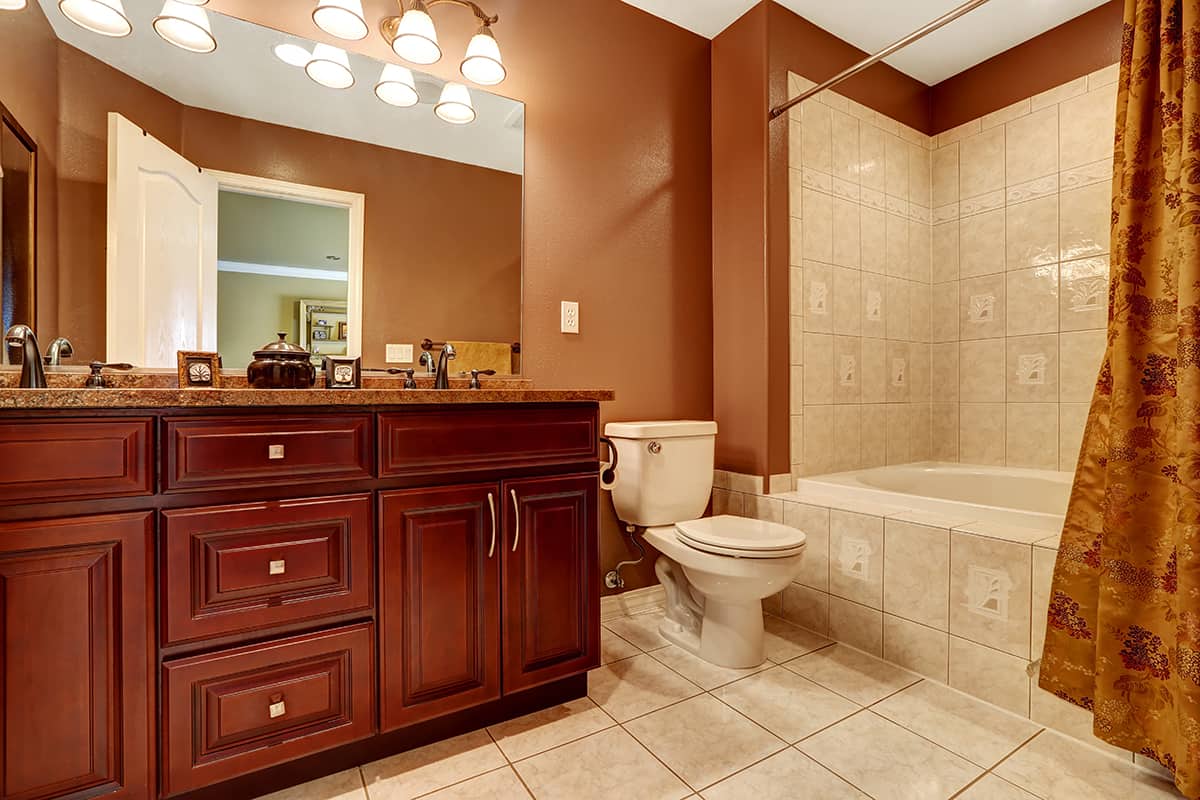 Bathroom cabinets with wood front doors or panels can add real warmth and character to a space. If you find that your bathroom feels cold or uninviting, then adding wooden textures can really improve this dramatically. Types of wood with warm undertones such as oak and walnut will instantly bring a sense of comfort to a bathroom.
However, you can also add wooden cabinets in cooler tones to your space, and the impact of the wood grain will add texture and warmth.
Wooden bathroom cabinets can look traditional or modern, depending on your styling. Avoid trying to match types of wood in your bathroom and instead opt for a tile or vinyl floor over a hardwood flooring surface in a room with wood-fronted cabinets.
Read also: