Gutters and downspouts are an essential exterior design component of any house to increase its resale value and curb appeal. Modern gutter designs come in a variety of colors and styles to suit the exterior details of a home.
But aside from the practical role that gutters offer, their color also influences the image of the home. But when it comes to selecting the best gutter color for a brick house, you must pay attention to the undertone of your brick exterior before choosing a specific color.
For example, if your brick house has an orange or red undertone, it goes best with brown or copper gutters. White brick can be paired with white or cream gutters, while brown brick works with brown or black gutters.
To show you some examples of gutter colors for a brick house as well as share useful tips on how to select the right gutter colors for brick homes, take a look at the following ideas:
Best Gutter Colors for a Brick House
Copper Red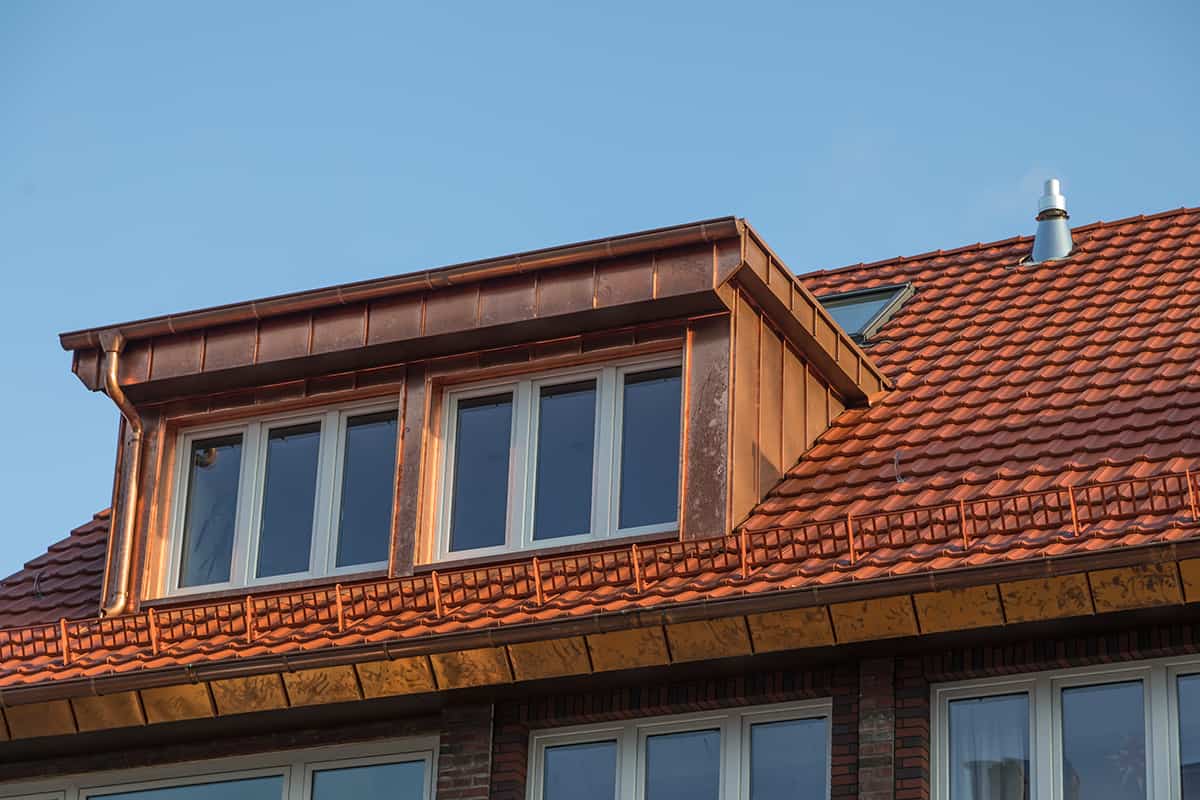 Aside from brown, copper gutters are the closest you can get to match your brown or red brick exterior. This option is perfect for those who want a seamless exterior look.
The best thing about copper gutters is they can easily be repainted using metallic paint so you won't have to worry when they lose their color after a few years.
Brown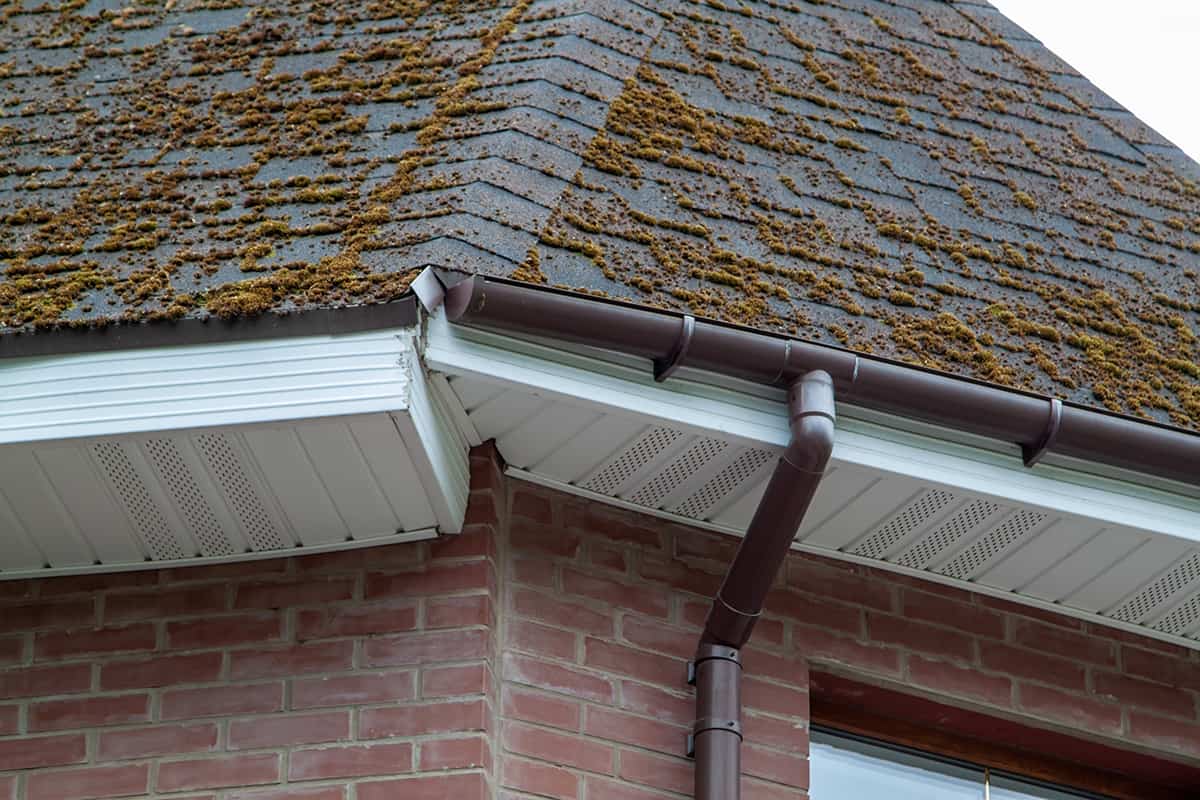 Brown vinyl gutters are closely related to copper, but they are much cheaper in comparison. So if you don't have the budget for copper, opt for brown gutters instead for your brick house.
Brown is such a flexible color and complements most brick undertones, thus an ideal choice for gutters.
White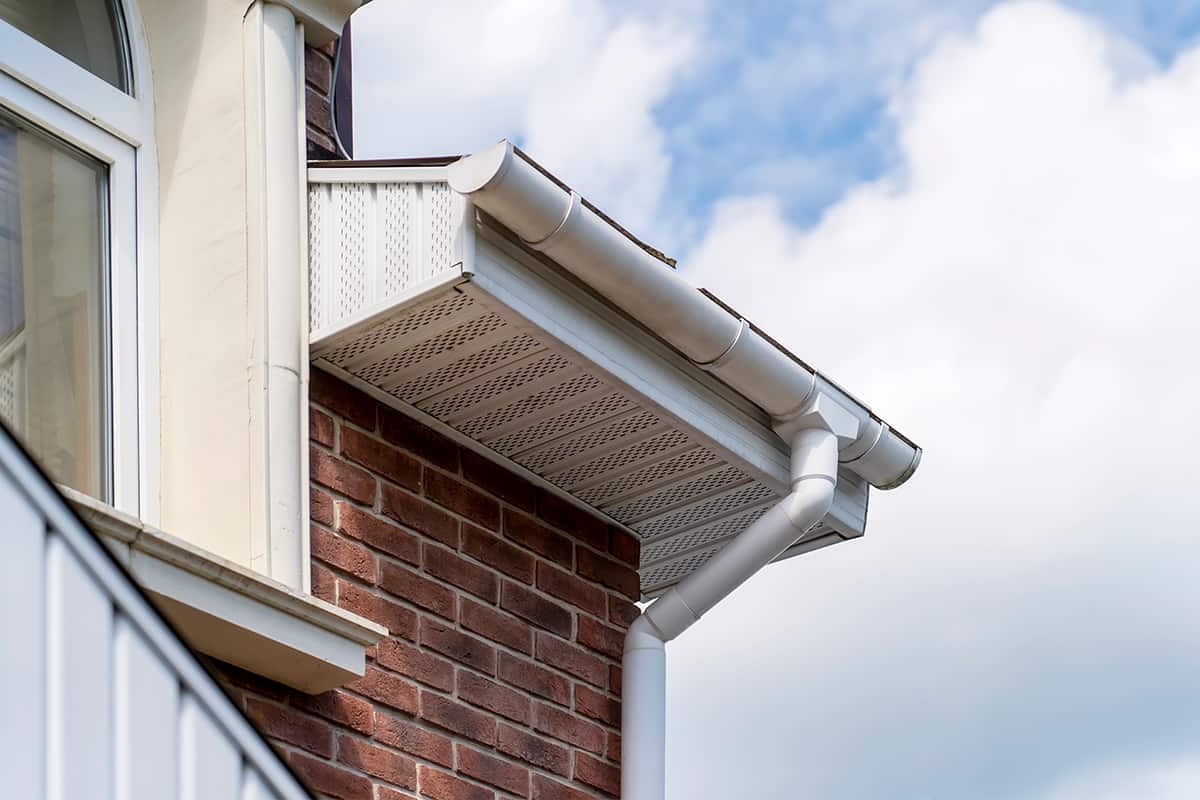 White gutters offer a unique aesthetic appeal to any modern or traditional brick house. This neutral color is the best way to introduce a clean, seamless, and attractive look to a white or red brick home. White vinyl is an especially beautiful choice for light or dark brick exteriors.
White or cream gutters provide a finished look to any exterior, so no wonder it's such a popular color for gutters.
Black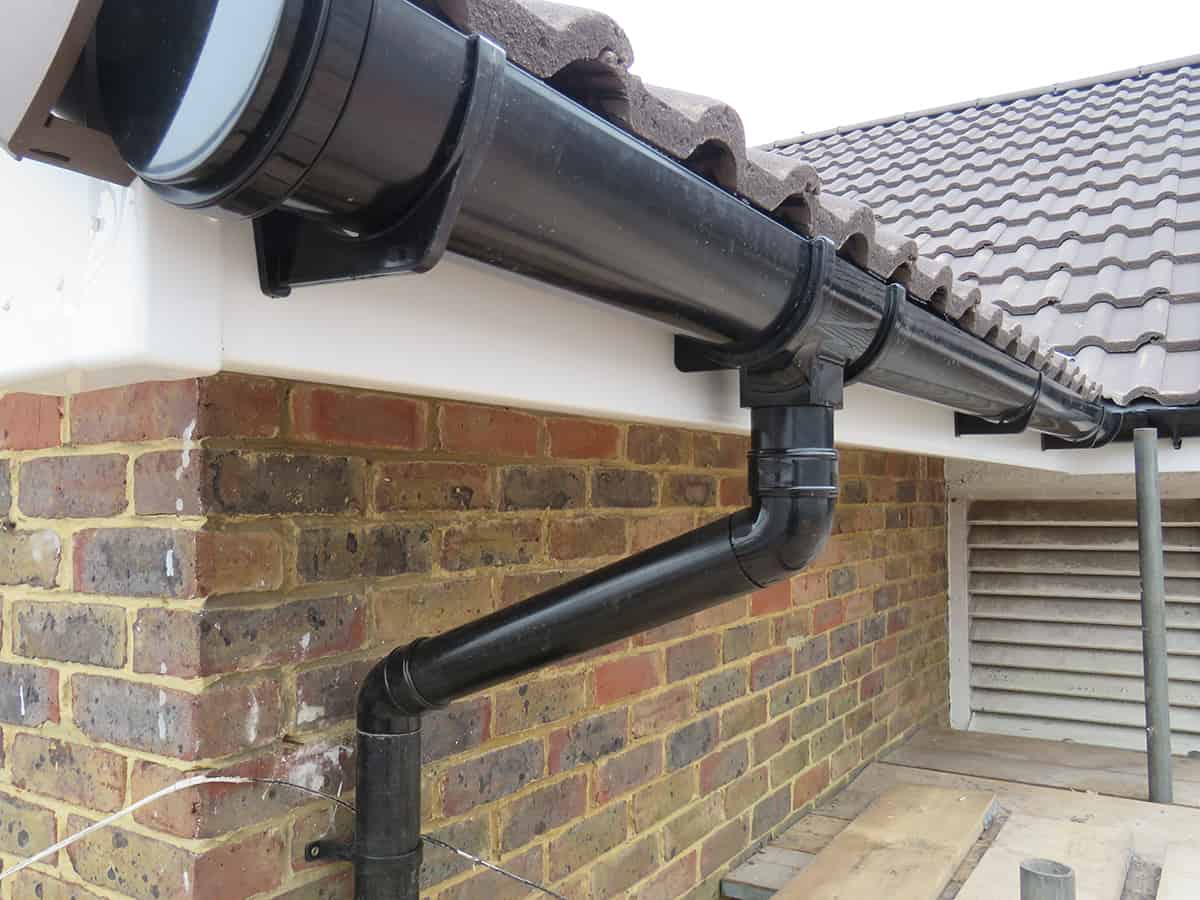 For a more traditional color option, go for black gutters. This will give your brick home a framed and complete finish that highlights the cleanliness of the design. Black gutters work especially well with black trim and brown brick exteriors.
Whether you choose vinyl or metal, black gutters are sure to add a luxurious feel to your brick home. For contrast, you may pair your gutters with white shutters or other accents to add a stunning color combination to your home's exterior.
Tips on Gutter Color Selection for Brick House
When deciding on the best gutter color for your brick house, you should consider whether you want the gutters to stand out against your brick siding or your roof color.
Gutters can enhance the curb appeal of a brick house just as much as the trim or roof shingle colors.
So if you're still stuck on picking the right gutter color for your brick home, here are some useful tips to take on board:
Blend it in with the Brick Color
For those who want their gutters to go unnoticed, simply blend them in with the brick exterior. While you might not find the exact color match that goes with your brick's undertone, you can get the gutters as close to the siding color as possible.
The easiest option is to opt for a neutral gutter color as it blends in with almost any other white or gray brick exterior.
Match it to the Trim Color
If your brick home has trim, consider matching the gutter color to the trim or fascia. White or gray shutters, for example, will blend in beautifully with white gutters. You may consider painting the vertical lines of your gutter or downspouts the same color as your trim to complement the same lines.
This helps make your trim and gutters stand out against the brick exterior as well as give some dimension to your home. A monochromatic exterior color scheme not only boosts curb appeal but it also detracts attention from the brick exterior and onto the trim instead.
Match it to the Roof Color
Not all brick homes have trim, especially contemporary or modern ones. In that case, the best way to blend in your gutters with your brick home's exterior is to match them with your roof color. This is a highly popular option as most roof colors are neutral or in standard shingle colors, thus making the task of using the same gutter color super simple.
If, however, your roof shingles are non-standard colors like white or green, you can still pick a matching gutter color to seamlessly blend in with your roof. So, for example, a gray roof can be paired with white or off-white gutters, while terra cotta roof shingles will work with copper or brown gutters.
Can Gutters Be the Same Color as the Brick Exterior?
Yes, gutters and roof colors can be the same color as your brick home in order to blend in seamlessly with the exterior. So if you have a red brick house, you may pair it with copper guttering.
On the other hand, if you want your gutters to match the trim instead of the siding, they can stand out as functional and visually appealing features. If you go for seamless gutters, they can be an excellent choice for brick homes.
Whether you choose to match your gutter color to your brick or trim, they can serve as a subtle addition to the exterior of your home. But this doesn't mean you can't select a contrasting gutter color.
For instance, a white brick house and any white house can be paired with black gutters as a striking contrast that stands out. So as you may have realized by now, there is nothing wrong with either matching the gutter color to your brick exterior or choosing a contrasting color.
Is it a Good Idea to Paint Gutters?
While most people don't consider painting their gutters, this doesn't mean you can't. Old gutters that are worn out should be repainted – provided you select the right paint finish. For example, copper gutters can be repainted after a few years once they lose their original color.
But you must make sure the paint finish you choose sticks well to the surface of the gutter. A rust-proof, UV-resistant, high-quality gutter paint can go for many years without peeling.
Tip: to ensure your chosen paint lasts for as long as possible, use a primer first before applying the two coats of paint. Bear in mind the most difficult types of gutters to paint are vinyl, while aluminum and copper are the easiest.
What Kind of Paint Can I Use on Gutters?
There are many different paint finishes you can use for your gutters. Latex paint is one such example that can be used on various gutter materials. But remember to use the right type of primer first to ensure a long-lasting quality result.
A good quality primer for aluminum gutters is oil-based or clear acrylic. To apply the primer, make sure the gutter surface is completely dry and clean. Apply the primer evenly and wait for at least 4 hours for it to settle and dry.
Whilst latex paint is the best type for gutters, for added shine, you may want to choose satin or semi-gloss. However, for the primer, avoiding latex with ammonia as a clear acrylic bonding is a better option.
This is because primers with ammonia can cause a reaction when they come into contact with the oxidized aluminum gutter. This may result in bubbles forming underneath the primer, so it's best to opt for a clear acrylic finish instead.
In Summary
A brick house can have a number of trim and gutter colors to either contrast or match the brick's color. The trick is to decide whether you want your exterior or the gutters to stand out. In any case, if your brick home has red or brown undertones, you can incorporate dark gutter colors to match the brick.
On the other hand, if you wish to create contrast, use white or black gutters. These neutral yet striking colors blend beautifully into the background of a brick house, thus smoothing out the brick's texture.
In fact, black or white gutters can be paired with any brick exterior – regardless of whether the brick undertone is orange, brown, red, or white. We hope our above examples and tips on how to choose the right gutter colors for your brick house have helped you decide what's best for your home.