When you're planning to furnish your home office, you may be experimenting with different desk colors and styles to find the right one for your taste. The one question you might be asking yourself is, what color desk should you get?
The best desk color largely depends on personal preference and your home office's color scheme. There is also color psychology to bear in mind when choosing the best desk color, but more about this topic later.
While bold colors can boost productivity, neutral hues promote calmness, so it depends on the mood you're looking to create as well as how the color might affect your energy whilst you're working.
In this post, we will give you the best desk color ideas that you're likely to use at your home office. Keep reading until the end to learn more about why color psychology is important when choosing a desk color. Let's get started!
Desk Color Ideas for a Home Office
White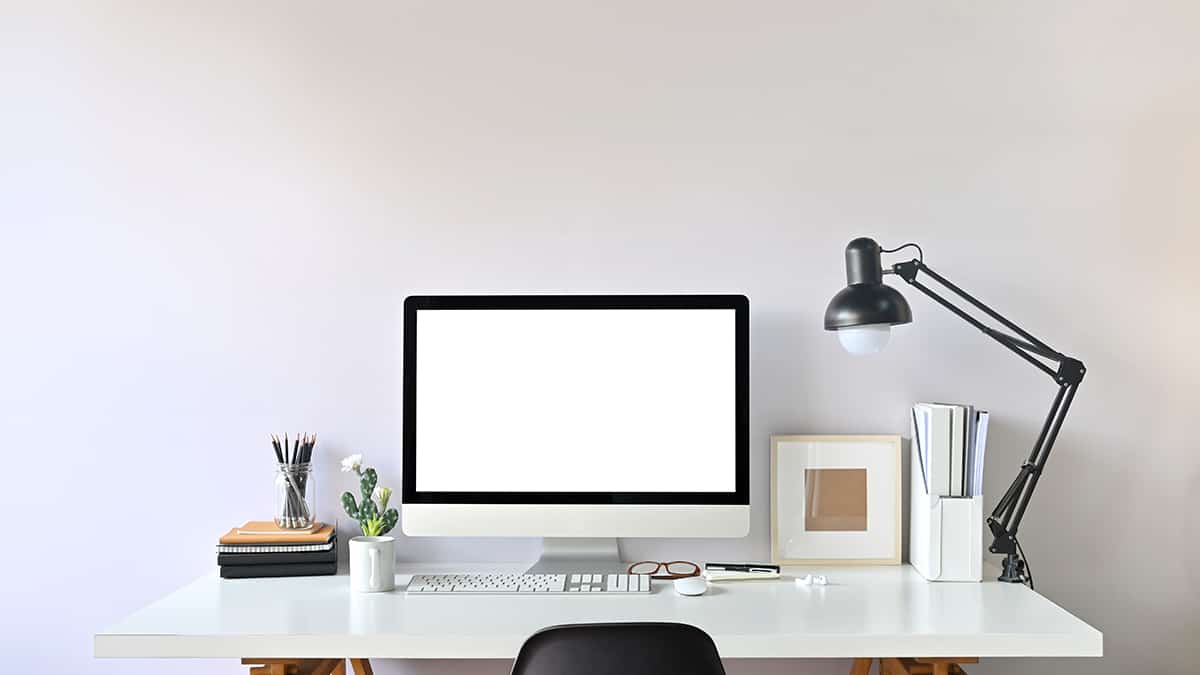 For a contemporary and clean look, consider a white desk for your home office. This idea works especially well in minimalist spaces with a white monochrome color scheme.
White gives an open and airy feel to a small room as it visually brightens up the space. In a home office, you're likely going to spend a lot of time working behind your desk, so it makes sense to opt for this color. What's more, white is a timeless color so you won't have to worry about your office furniture going out of style.
In color psychology, the color white can boost productivity thanks to its clean foundation. This color won't distract attention or appear too overpowering, thus making your work environment comfortable.
Blue

If you want to give your home office some color, consider adding a blue desk. This soothing color helps boost concentration and wards off stress. In fact, blue is an incredibly popular color for home offices thanks to its numerous shades to choose from.
After white, blue is the most productive color and is highly recommended by interior designers, thanks to its calming and relaxing vibe. This stimulating color helps you focus on your task and appears as a top choice in color psychology.
Black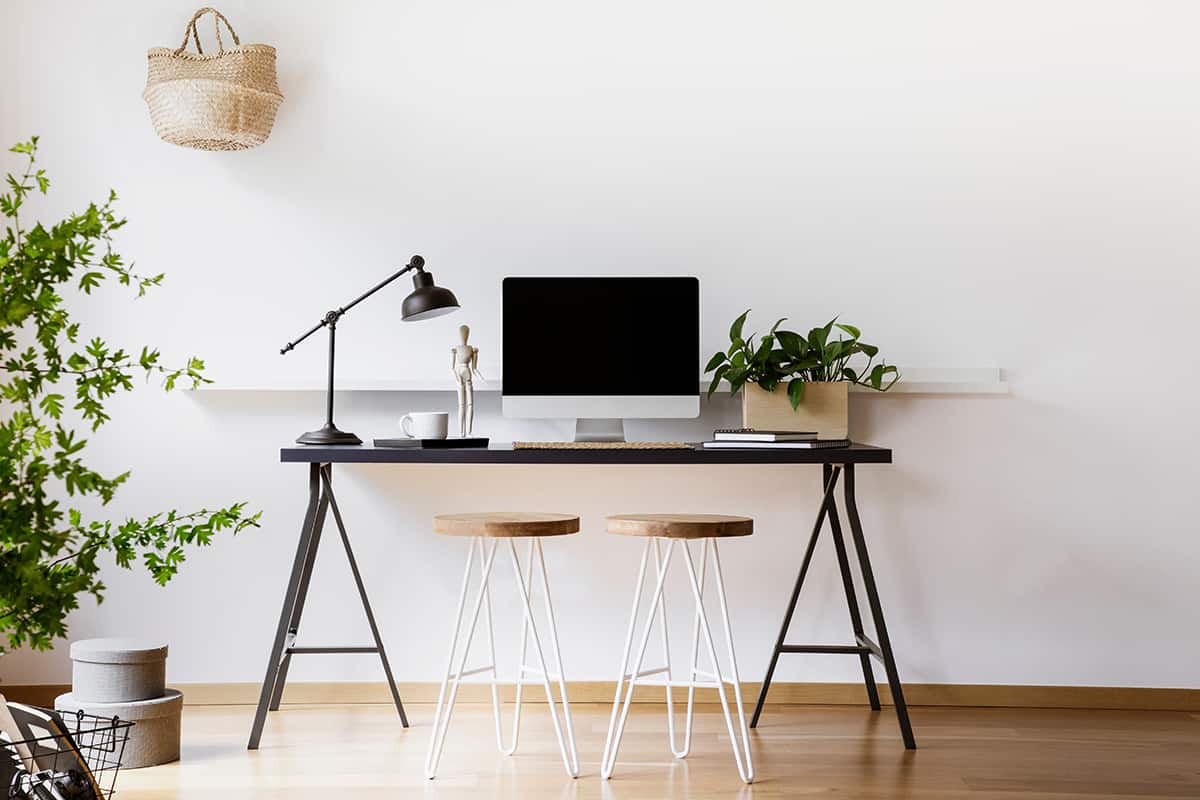 For a bit of dark luxury in your home office, opt for a black desk. This is a classic color that never goes out of style and works with any other color. A black metal desk, for example, can easily be paired with other neutrals for a refreshing and relaxing vibe.
Although black is a highly popular color for a desk, it doesn't increase a person's productivity. In color psychology, this hue is often seen as an overwhelming and oppressive color. But nevertheless, as a desk color, it can be a stylish choice, especially when paired with white.
Red
Red is one of those interesting colors that not many people think of when choosing a desk. As a vibrant hue, red adds a lot of excitement and energy to a home office.
This is a good option for those whose work requires a lot of mental activity. In color psychology, red is associated with higher energy levels and mental stimulation, so it allows you to carry out your tasks with eagerness. Therefore, a red desk is sure to boost your productivity and keep you feeling energetic throughout the day.
Brown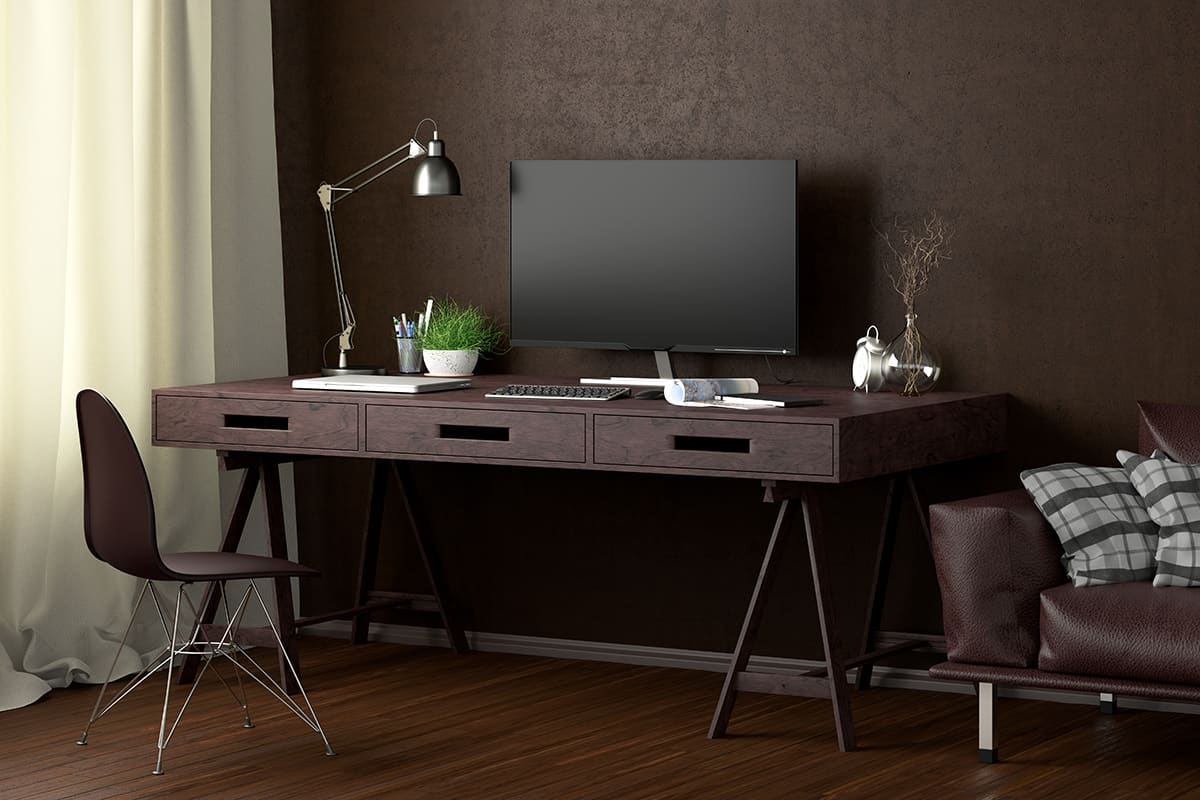 As a home office desk, brown is a commonly used color as it oozes authority and strength. A brown desk can make your home office look professional.
Although it doesn't reduce stress, this color helps keep you focused on your task. Besides, in a traditional or rustic style home office, a brown desk is the ideal color to use. A dark shade for the desk generally works best with light flooring and matching walls.
Gray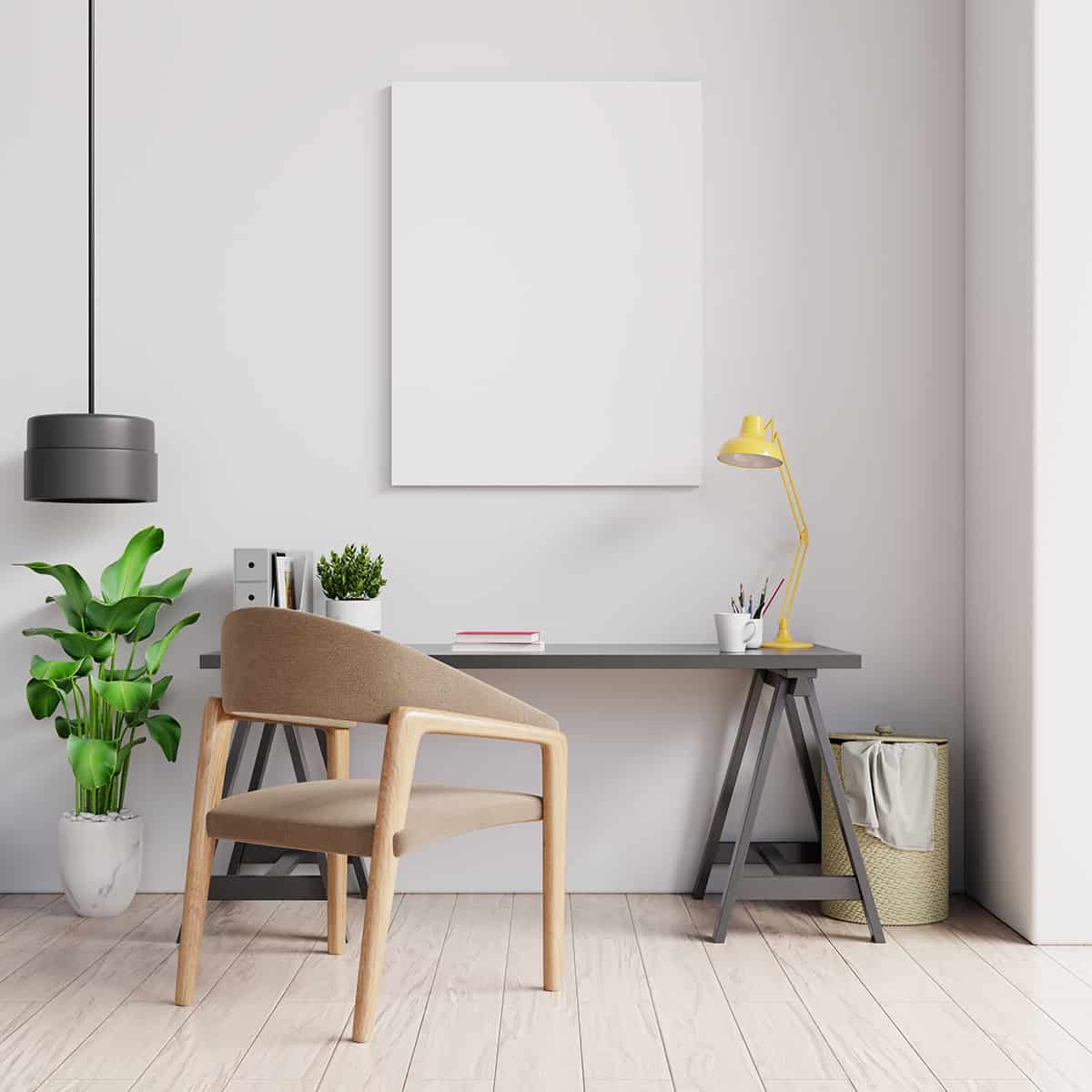 The classic gray is as soothing as white as it creates the same clean feel. Although this neutral doesn't help much with energy, it doesn't mean you can't use it in your home office. Just like black and white, gray represents strength, so you can easily use it in a minimalist home office.
When choosing a gray desk, go for one with a blue undertone to enhance your productivity in the workspace. This neutral can be paired with other vibrant colors for a calming vibe.
Pink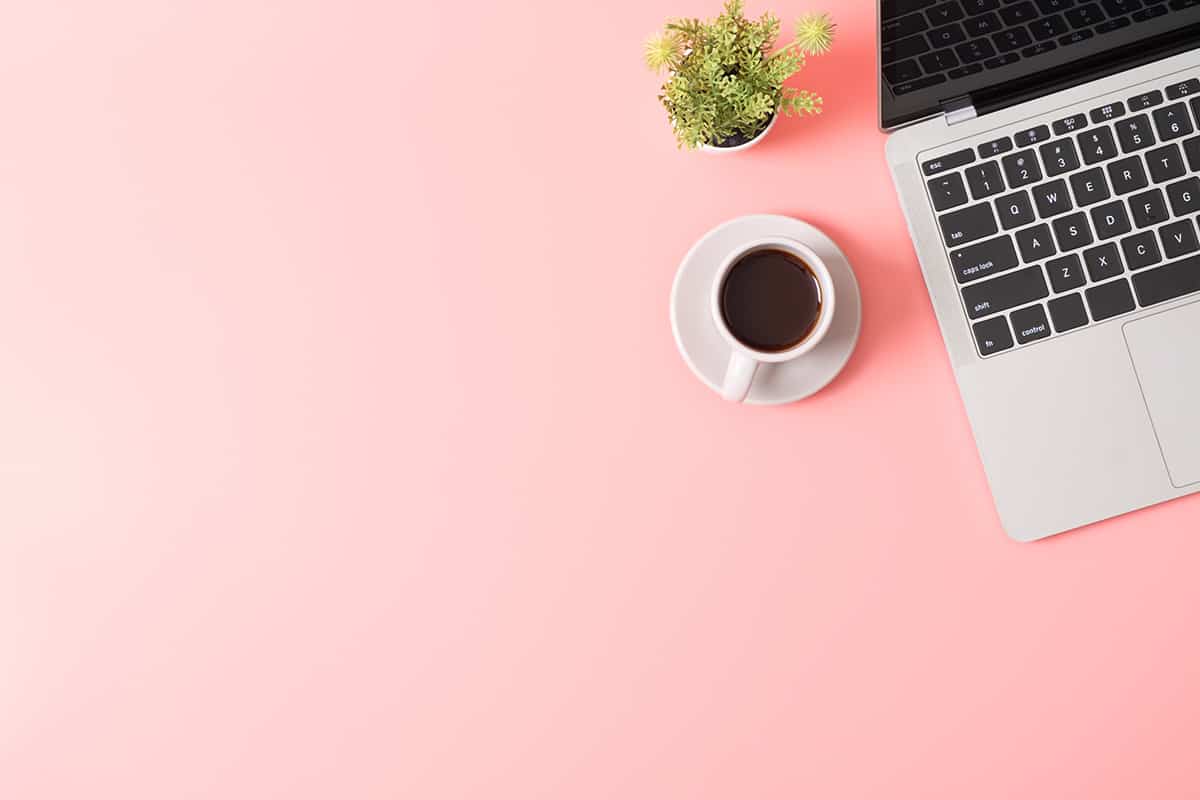 As a lively, vibrant color, a pink desk can reduce stress levels at work. This color is popular for feminine home offices and a great option for women whose work is related to arts and crafts.
Any shade of pink can boost creativity as the color relaxes the mind. This stimulating, eye-catching desk color gives any home office the much-needed energy, so you feel positive at work. When utilized well, a pink desk can make your home office feel lighter and airier, but be sure to use a softer shade for maximum effect.
Natural Wood Tones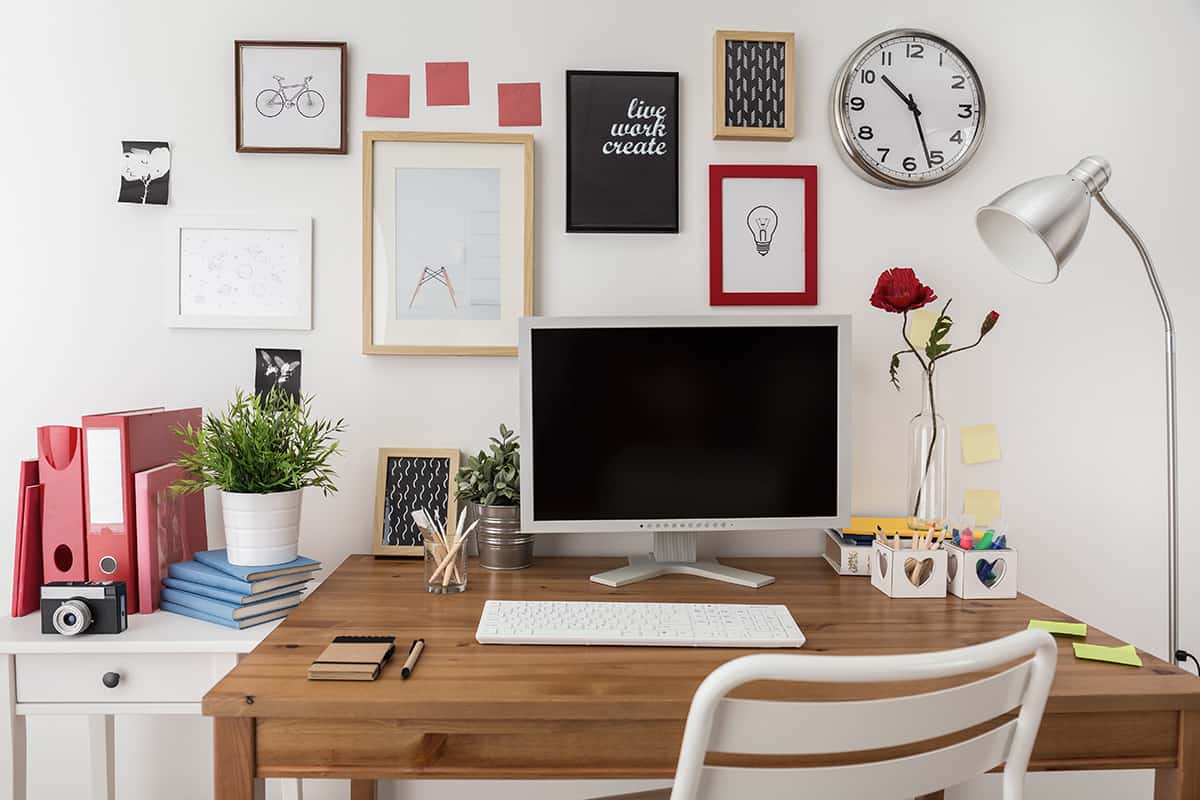 Another common desk color for a home office is natural wood. Whether you go for a light pine or walnut desk, the earthy feel of this color has a calming effect.
A natural wood desk is a solid choice for any modern or traditional home office. But if you have a tight budget, you can always choose faux wood instead. Natural wood finishes come as warm or cool-toned hues, but when you're furnishing your home office, consider warm-toned wood in order to reduce stress levels.
Light wood tones include pine, ash, and maple, while darker hues are cherry wood and walnut. Any of these desk color options will give a soothing, earthy feel to your home office.
Does Color Psychology Matter?
Some people may not be familiar with color psychology or have never used it in their home or work environment, so before we discuss why it matters, let's learn more about this topic.
Color psychology is the analysis of how different colors affect human mood, emotions, and behavior. There are some hues that evoke different emotions in people as they associate those colors with various events or situations.
Color psychology isn't always about what you see but how you see it. It can influence our emotions and taste of food in certain situations. This is why you should take your surroundings into account when choosing a desk color for your home office.
As mentioned earlier, the colors we see around us have a big impact on our emotions and moods. In interior design, the colors chosen by expert designers are carefully thought out as they can have a powerful effect based on their tones.
For example, purple is associated with authority, while red is a fiery, energizing color. But these colors have positive or negative psychological reactions in different people.
When furnishing your home office, there are many desk colors you can choose to help you feel more productive. The desk color you go for shouldn't just look good, but it must also work with your home office's overall theme or design. There are certain colors that have proven to reduce stress (blues and greens), while some promote creativity (pink and red).
What is the Best Desk Color for Productivity?
To create a more productive environment in your home office, go for black, blue, green, or red. These are ideal colors for boosting concentration and promoting calmness and creativity. That said, white desks are also a preferred and popular choice. This is because white is often seen as a blank canvas to adorn with other colors.
But despite the trendy vibe of this color, there are some drawbacks to it. White can feel overpowering and steal the spotlight from other colors, so if you are thinking of using this color in your home office, it's best paired with a contrasting color like black.
In a home office setting, boosting your productivity should be a top priority. Therefore, clean, simple colors like white, gray, and black reflect order, which is beneficial for brain health, especially if you work long hours behind a computer.
Bold desk colors are also great for productivity as they make your workspace more modern and aesthetically appealing. These include reds, and blues.
However, you must consider the overall design of your home office before choosing such desk colors. If in doubt, stick to neutral or earthy hues like browns, grays or whites as they go with any setting. In terms of design aesthetics, neutrals are the best option as they stand out from other hues without being distracting.