Gray is a versatile color that can stand out on its own thanks to the many hue variations it comes in. If you have a gray tile bathroom and are wondering what color walls will work best, you'll be surprised to know all your options.
Pairing gray with pops of bold colors will add depth to a bathroom space, but the trick is to use the right combination of colors that go with gray.
While most palettes work with gray, it is best not to blend more than one color for a calming effect. The current trend is to use a vibrant color alongside a shade of gray, as it will sing in harmony against a neutral backdrop.
By painting your bathroom walls a bold color that goes with gray tiles, you'll create a rich and contrasting look that's still coordinated and harmonious.
Giving your bathroom walls a fresh coat of paint is the easy part, but choosing the right wall colors that go with gray tile bathroom can be a little challenging.
Since gray can be paired with tons of colors, you might want to take a look at our selection of the best color combos first before getting your paintbrushes out this weekend!
11 Wall Colors that Work With Gray Tile Bathroom
1. Gray Tiles With Pale Gray Walls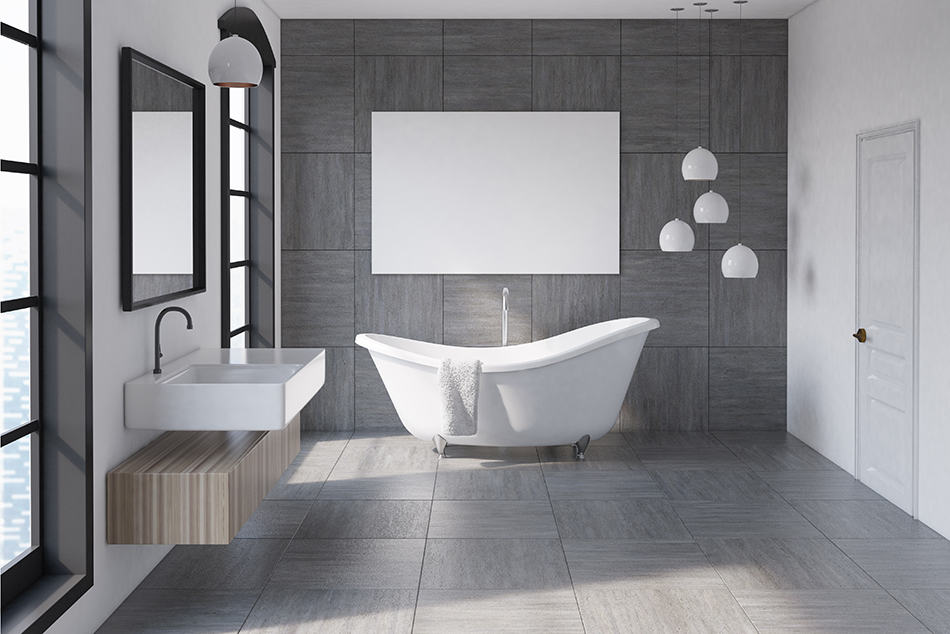 If you're looking for a traditional and soft look for your bathroom, then it makes sense to opt for pale gray walls. This soothing shade of gray creates an elegant and restful atmosphere next to white and gray tiles.
One of the hottest trends in interior design is to use white fittings in gray tile bathrooms. When you pair two shades of gray in a large bathroom, a striking combination comes to life, as seen in this example.
2. Dark Gray Tiles With Off-White Walls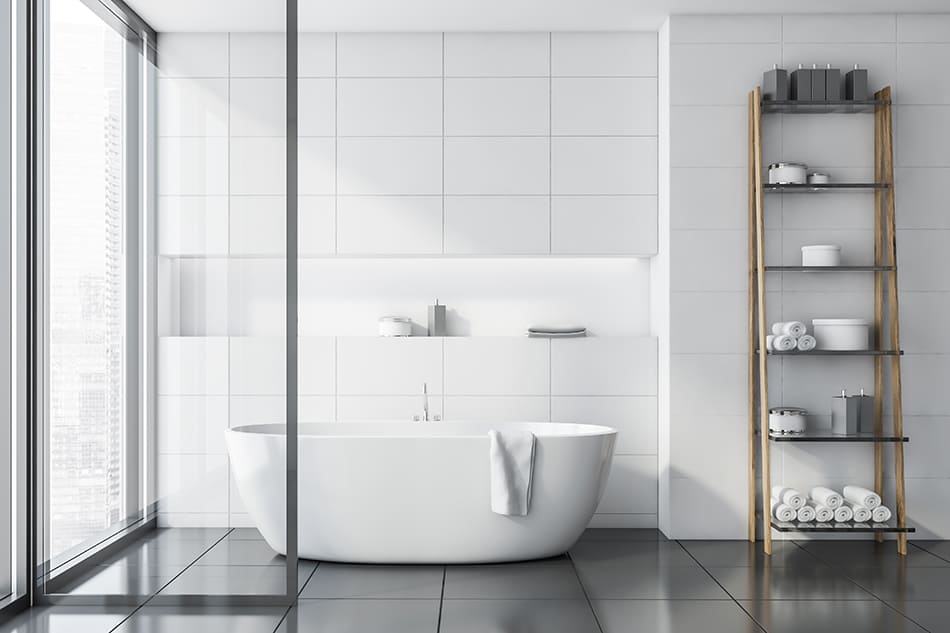 Gray doesn't have to be all light and fluffy. If your bathroom floor is of dark gray tile, you can create a moodier style by going for off-white walls.
This contrast of dark gray floors with off-white walls can be used with a lot of variations in the form of the fittings you choose.
A good tip is to consider how much natural lighting your bathroom gets before painting one or several walls in an off-white shade. Subtle white hues can bring out other colors, and when paired with dark gray, they create a relaxing vibe.
3. Light Gray Tiles With Bright White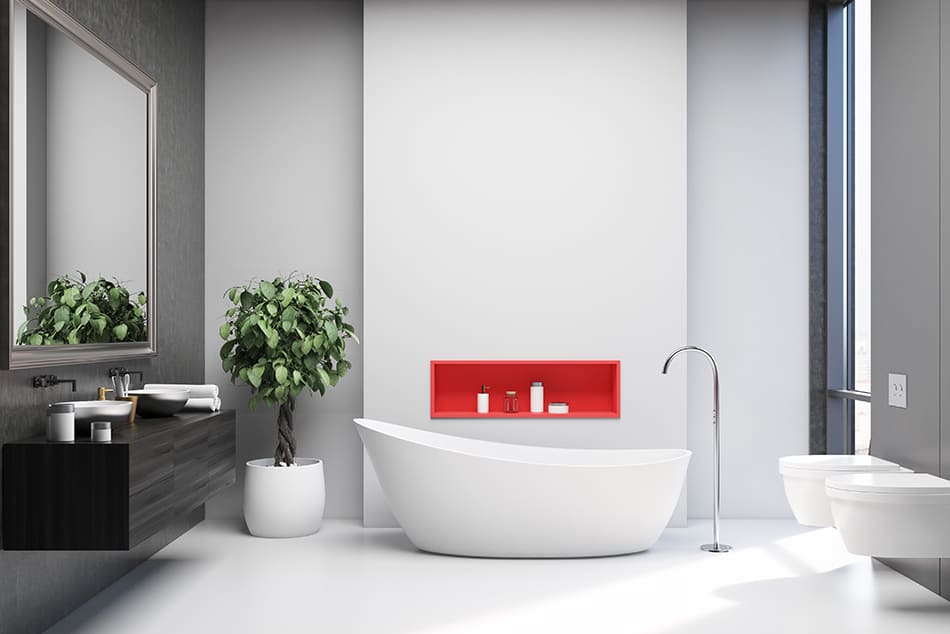 A crisp and clean white bathroom is the ultimate style that pleases most tastes. With bright white walls in a simple interior design, you can create a sophisticated and striking look.
To enhance your light gray bathroom, try larger tile shapes on the floor with crisp white walls and white accents. In this example, the gray bathroom's atmosphere is warmed up with a large plant and wood fittings. But if you want to keep it bold, you can always go with brighter color accessories instead.
4. Light Gray With Creamy White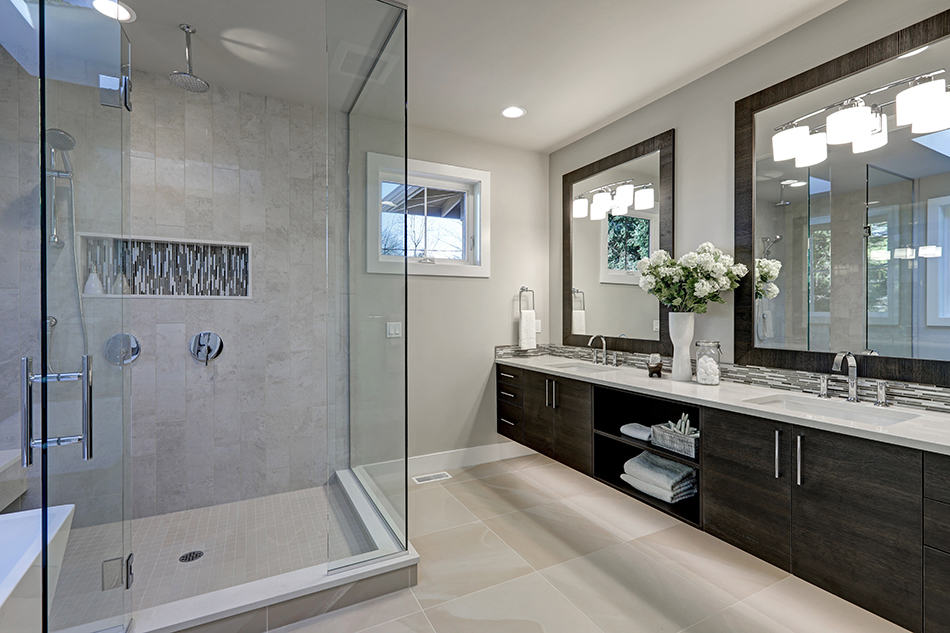 Staying on the same color palette, how about creamy white walls with light gray tiles? Not everyone is keen on sharp white, as the shade may be a little too intense.
To add some warmth to this classic version of white, you can always opt for a beige or creamy white tone with dark color fittings. This neutral pairing is a great choice for a classic bathroom, especially if the space is larger than average.
5. A Mix of Gray Shades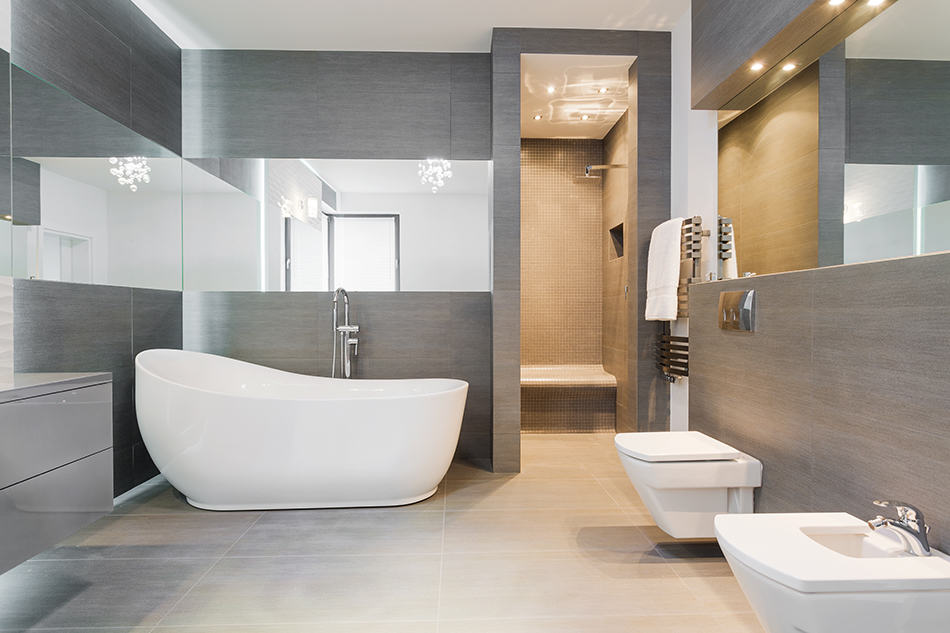 We previously talked about pairing two shades of gray, but now we're going for a more dramatic look by trying soft, dark, and medium grays. This idea is a sophisticated alternative to using just two shades of gray, especially when your fixtures and fittings are in white.
The warm elements of white and soft gray, together with a darker shade, makes the space quite versatile. See how cozy and cohesive the bathroom in this image comes across. It has a contemporary edge and pairs well with wood tones for a very chic yet stylish space.
6. Charcoal Gray Tiles With Soft Blue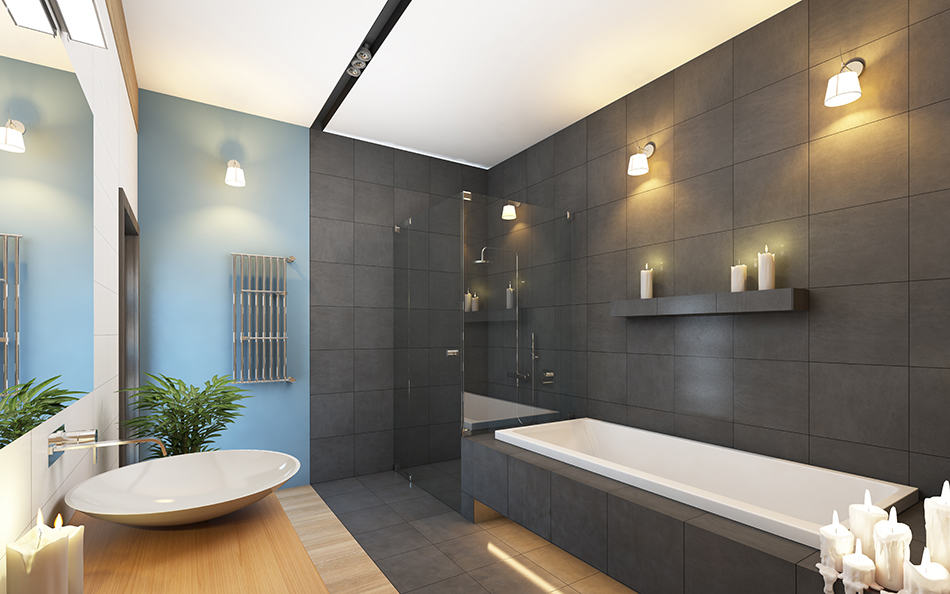 For those who like dark gray shades like charcoal tiles throughout their bathroom, soft blue is a great color to use on one wall of the room. Blue doesn't overpower the space. It will give the dark tile bathroom a touch of color and personality. When you're having a bath and look up at the dreamy blue hue, you can't help but feel relaxed.
Using this hue as your wall color gives a spa-like feeling, but you can also use it on as an accent wall. While sky blue is the perfect match with any tile color, for a slightly more muted version that provides you with a tranquil feeling, always use this hue with a darker gray shade, as shown here.
7. Gray and Pistachio Green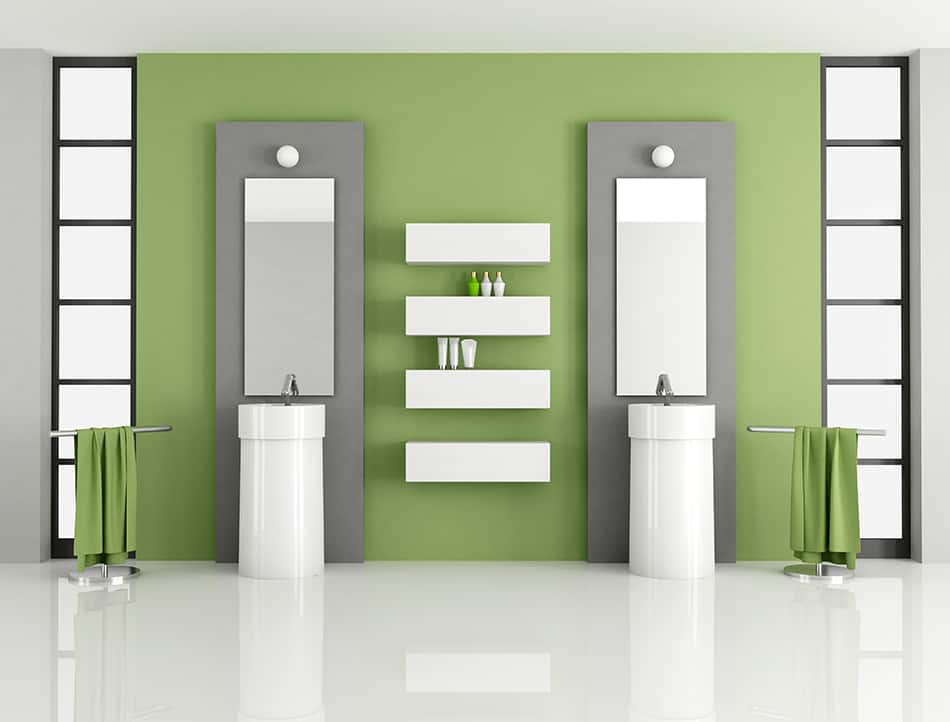 Another contemporary interior design idea is to paint your walls pistachio green to create the feeling of bringing the outdoors in. Green is a very calming color that has a cooling effect in bright bathrooms. This shade goes well with earthy and neutral tones that are inspired by nature.
You can experiment with any shade of green to go with your gray tile bathroom, but for a little more vibrance, we recommend pistachio green. This shade is one of the most popular hues that provides a burst of energy without overwhelming the space.
It pairs perfectly with any shade of gray to create a sleek bathroom style. If you want to tone it down a little, you may want to add natural wood or brown fittings for a more earthy vibe.
8. Dark Gray With Bright Pink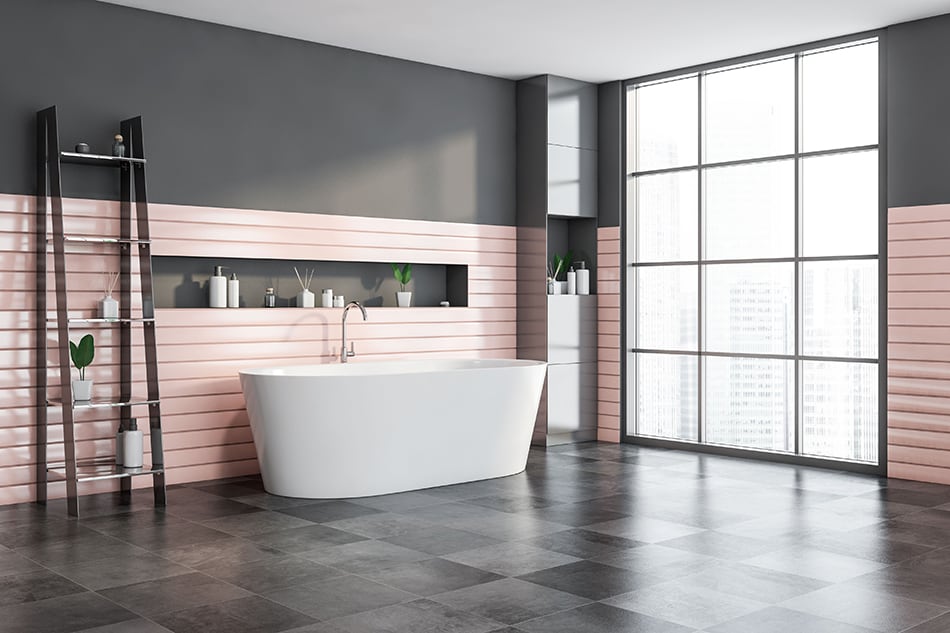 Besides green and gray for a large bathroom, we love gray tiles with pink walls. These two shades go perfectly together no matter how light or dark your room is.
With pink and gray, you can create a soft, romantic feel, especially if you go for dark charcoal tiled flooring. In this image, we particularly love the floor-to-ceiling window with the blend of charcoal and bright pink walls in this minimalist design bathroom.
9. Gray Tiles With Taupe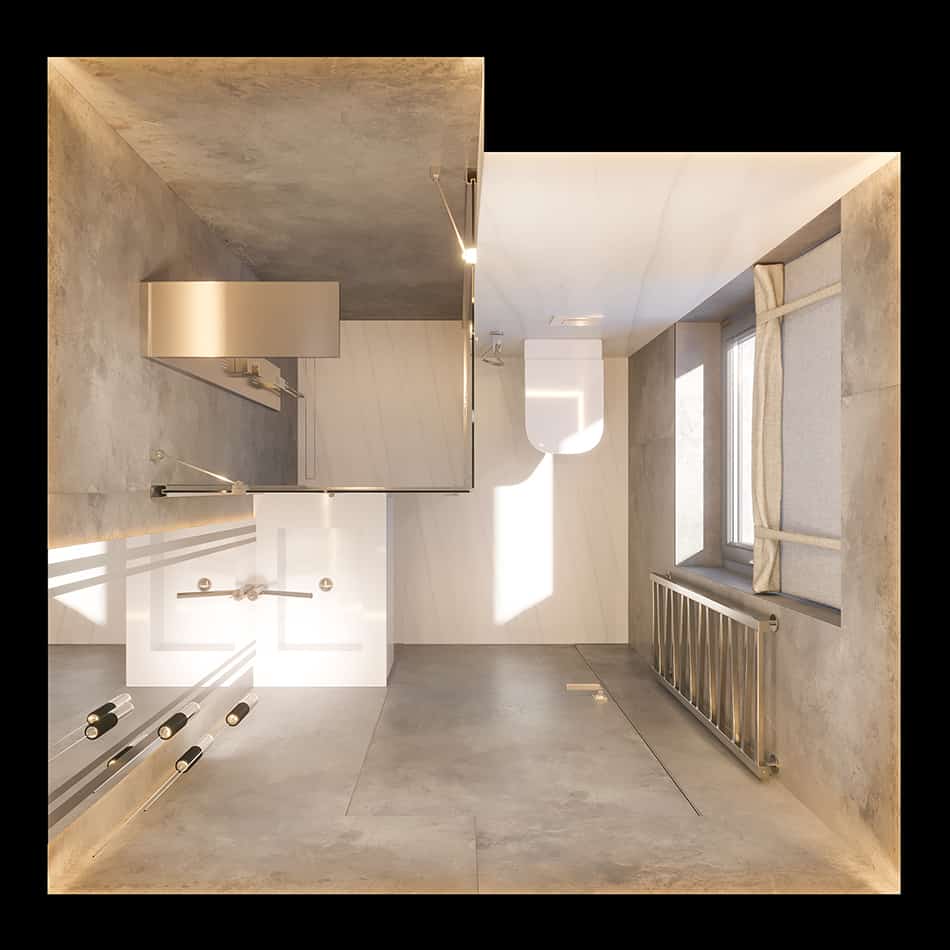 For those who want to go with a neutral feel without the traditional white and gray combination, our suggestion is to use taupe for some warmth.
This brownish-gray shade is classic with a modern twist. Taupe comes with several variations, each lending a different feel to the bathroom.
If you like the brown-heavy type of taupe, it will go perfectly with light gray tiles, while darker gray against light-brown taupe will create a moodier and more modern feel. All in all, any shade of taupe will work with gray tiles, so feel free to experiment.
10. Gray Tiles With Light Brown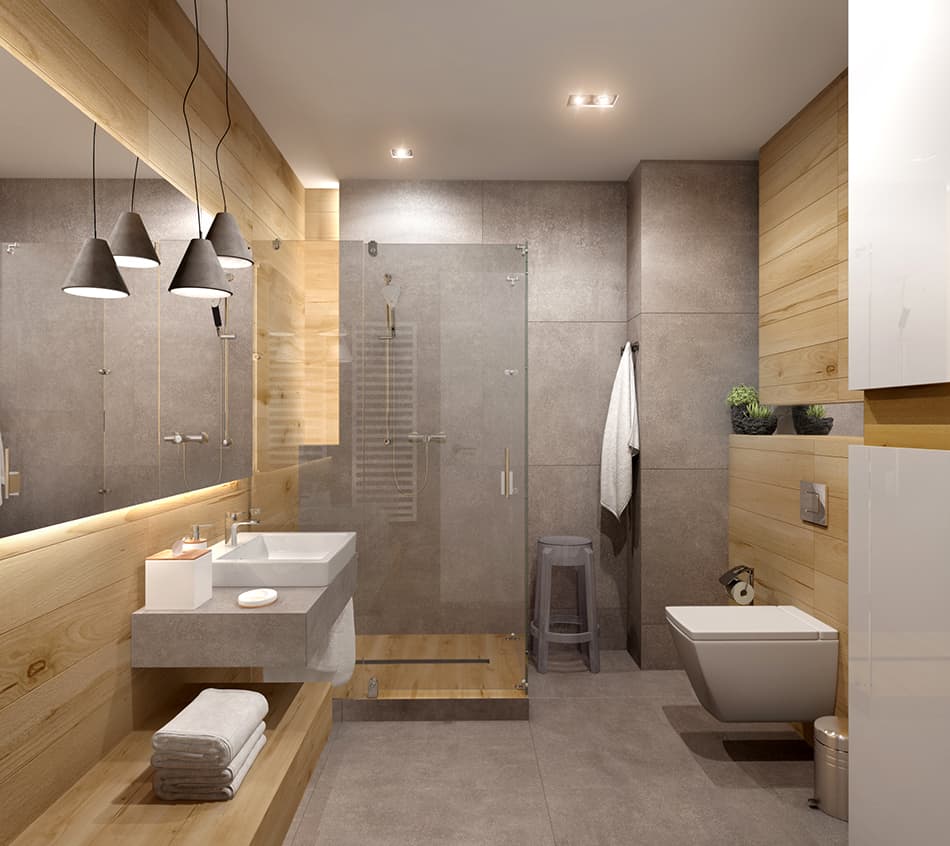 For a very calming and earthy look, brown is the answer. This natural color creates a relaxing atmosphere, and when paired with any shade of gray, it will emit a dramatic feel. In small bathrooms, light brown walls create a neutral backdrop against gray tiles.
You can choose different shades of browns, like cream or chocolate, as any of them work well with gray tiles.
11. Gray With Black Walls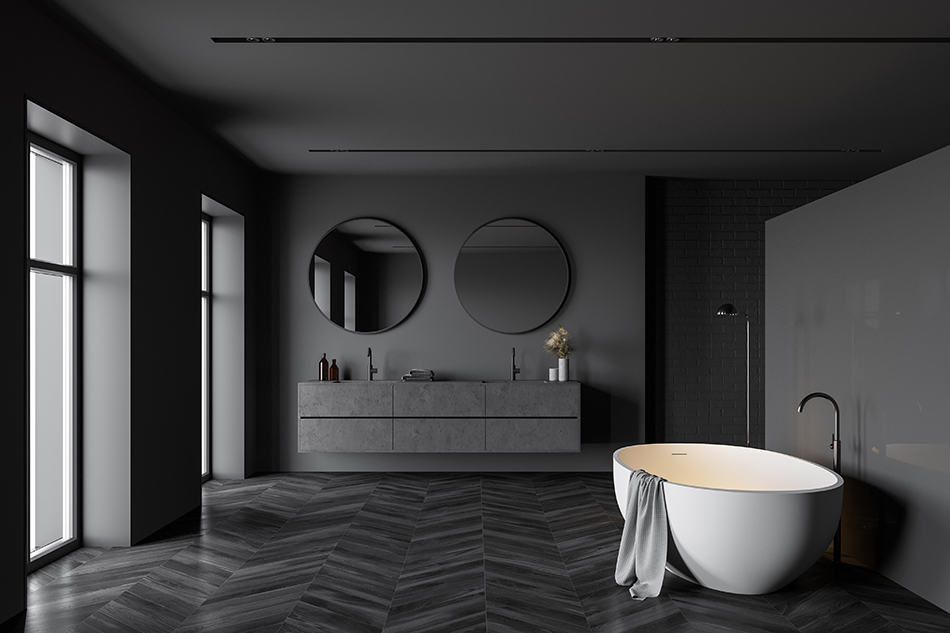 We bet you never even considered painting your bathroom walls black. But did you know black is a bold, timeless color that never goes out of style?
It works especially well in large bathrooms. In this example, you can see how gray and black color combos have made a big statement to create a cool and relaxing ambiance.
FAQs
How do I choose the best wall color for my gray tile bathroom?
If you are planning on repainting your bathroom walls, choose colors that evoke emotions. For gray tile bathrooms, your walls are like blank canvases that can either be painted with a bright and cheery tone or a subtle shade that goes with gray tiles (refer to our above list for the best color combos).
The main idea is to enhance the mood of the space by painting the walls with a complementing color. However, make sure you also take into account the color of your bathroom fittings.
What is the best wall color for a small gray tile bathroom?
A small gray tile bathroom needs wall colors that make it appear open and spacious. Use brighter colors that reflect natural light. The best colors for small gray tile bathrooms are white, light brown, and taupe.
What is the best wall color for a large gray tile bathroom?
For large gray tile bathrooms, you should choose wall colors that make the space feel cozier and warmer. Colors, such as brown, pink, green, and blue, will help create the desired effect.