The use of neutral colors in a bathroom appeals to many potential home buyers and interior designers. A black and white tiled bathroom, for example, works in both traditional and modern homes. As a backdrop, the contrasting color scheme allows for a number of wall colors to be combined with it.
So what color walls go with black and white tile bathrooms? Generally, any paint colors will work, whether they are neutral or bold. That said, there are some colors that make a greater impact than others. To give you some ideas, take a look at our following examples below:
Wall Color Ideas for a Black and White Tiled Bathroom
White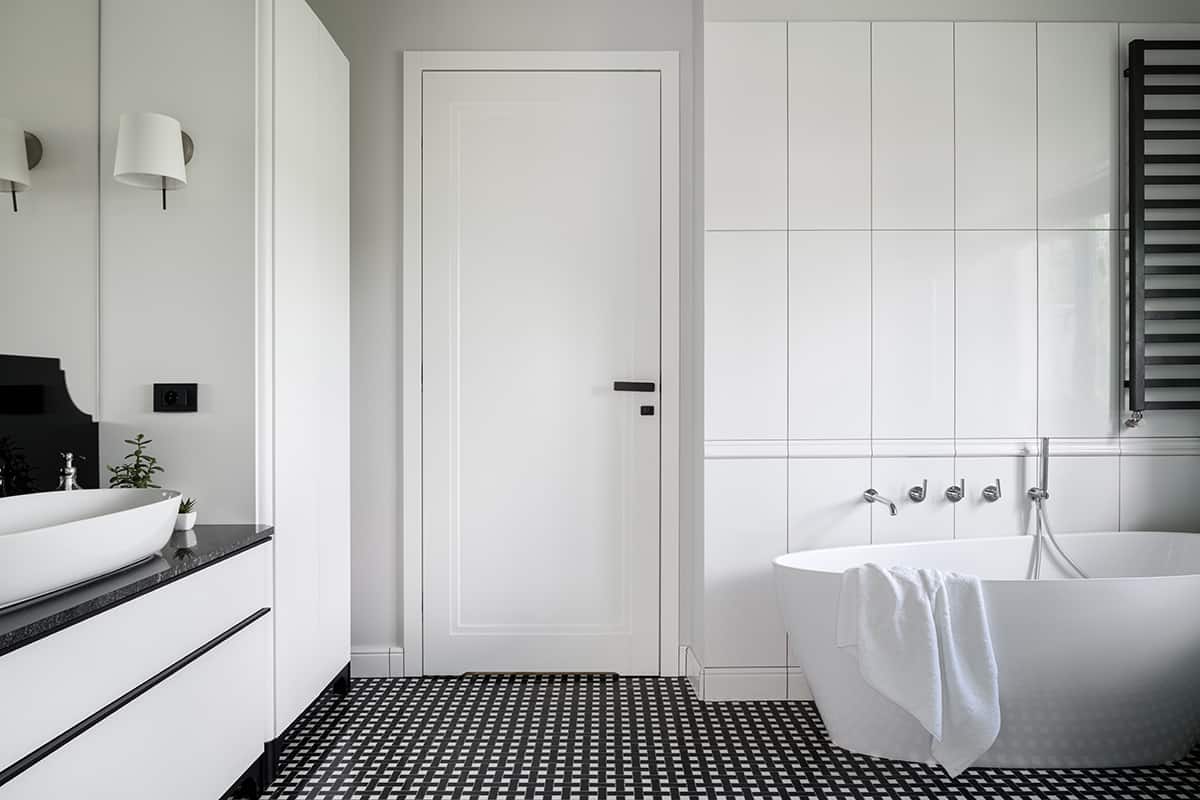 Choosing a crisp, white paint color for your bathroom walls will create a clean look next to black and white tiles. White walls allow the black and white tiles to stand out, regardless of whether these tiles are on the floor or the walls.
There are various shades of white finish you can use to highlight the tiles. If you decide to pick this paint color for your bathroom walls, go with two different shades in warm tones and incorporate them in two sections for the upper and lower parts of the wall.
In this luxury black and white tiled bathroom example, the small mosaic tile flooring is beautifully color-matched with the bathroom's accessories and vanity. We love the simple yet stylish black and white color coordination, which makes the space feel brighter and larger than it actually is.
Black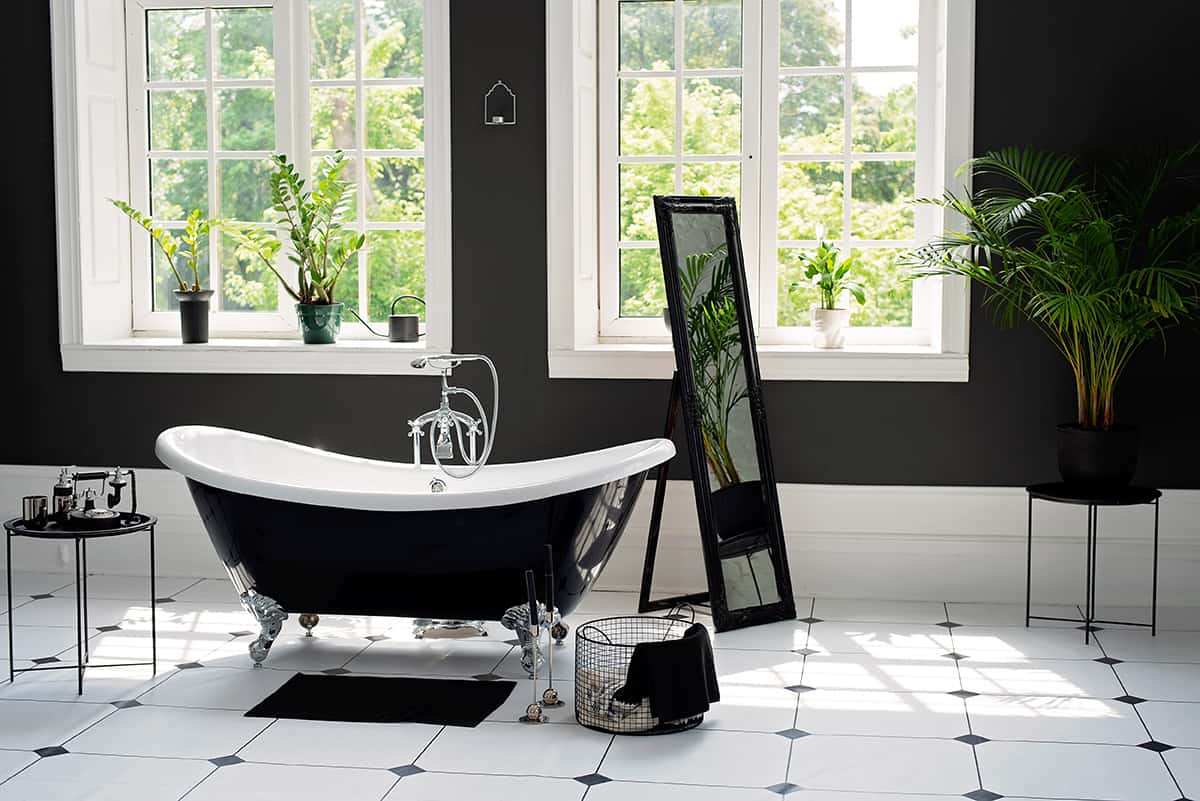 Black walls can bring a dramatic look to any bathroom. The reason we like black is because it goes with any light or bold color. In a bathroom with black and white tiled flooring, a rich black wall can look incredibly sophisticated.
But in case you're worried about black walls making your space darker, you can easily combine them with white or silver fixtures for a seamless look. In fact, such a color scheme can appear completely integrated with the rest of the room's furnishings as black walls will serve as a backdrop to the lighter colors.
For depth, consider black and white subway tiles for the floors, combined with one black wall and one white wall for a bold effect. This combination is suitable for those who worry about all-black walls darkening their bathroom and making it appear gloomy or closed in. Tip: paint the wall closest to the window a rich, glossy shade of black in order to balance the darker side of this color.
In this example, the black walls paired with the black and white tile flooring look anything but gloomy thanks to the abundance of natural light that enters through the large windows.
Gray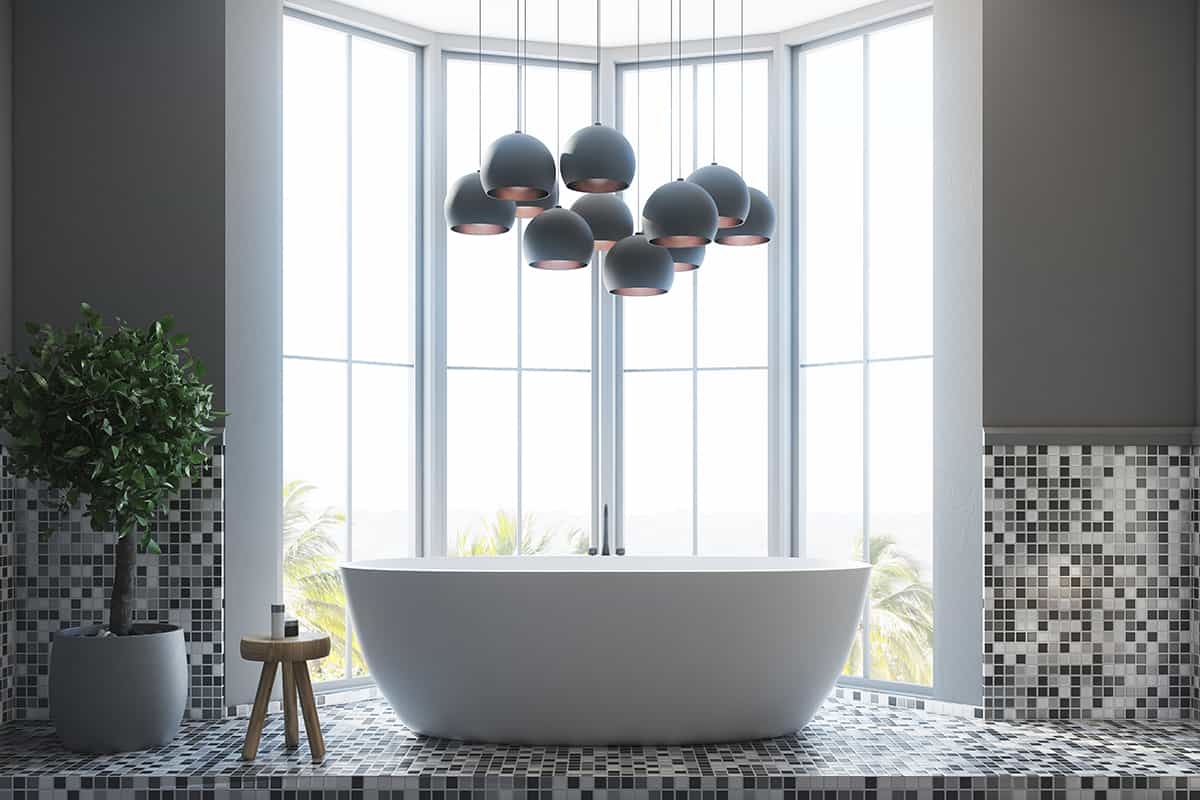 When you mix the colors black and white, what you'll get is either a light shade of gray or a dark one, depending on how much more black or white is added.
Therefore, choosing gray walls to pair with your black and white tile bathroom will look amazing. Gray is a trendy color for any wall of the house, especially in a neutral bathroom. With this color combination, consider adding more white than black to the mix and painting your walls a light or soft gray shade. Add bold accessory and fixture colors for a little contrast.
Gray gives a sense of coziness to any space, but when it is paired with black and white tile flooring, it won't overpower the bathroom. It doesn't matter what gray shade you pick for your bathroom walls. Even a dark tone will create a cozy ambiance as you can see in this example.
Yellow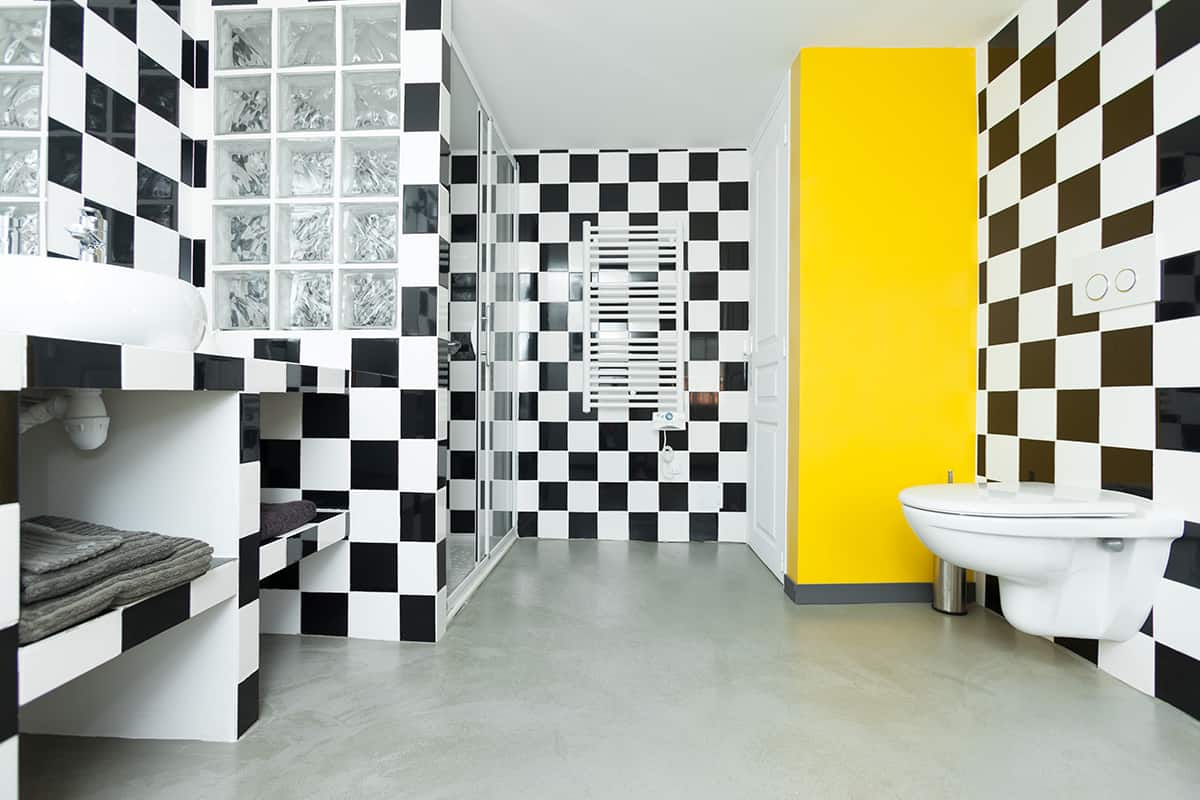 As a bright and cheery color, it makes sense to paint one of the walls of your bathroom a sunny shade of yellow. This color will look daring next to black and white tiles. If, however, you're not keen on a bright shade of yellow, consider a toned-down version like bumblebee or mustard.
Black and white tiles next to a muted shade of yellow will give a contemporary feel to a modern bathroom. Pal yellow shades don't look washed out next to neutral colors, but the brighter the yellow, the greater the contrast.
Here, the checkered black and white tiled walls look smart next to the bold yellow wall. The floor of this bathroom is a light gray shade, which also goes well with the rest of the color scheme.
Vibrant Red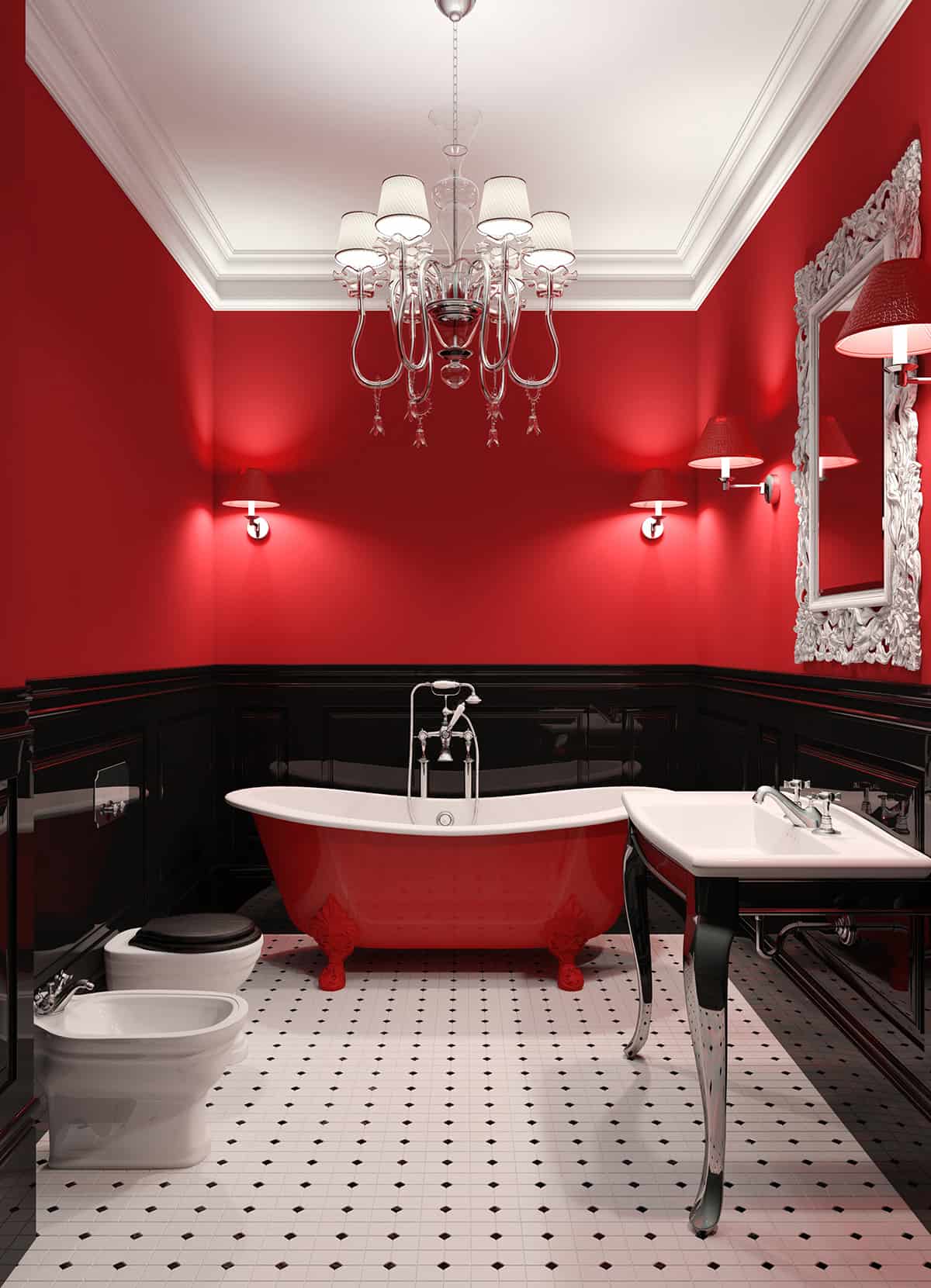 Another splash of color for the bathroom walls is a high gloss, vibrant shade of red. This brings a sharp contrast to a black and white tiled bathroom. Although a bold shade of red doesn't appeal to everyone, it is an ideal choice for contemporary and stylish bathrooms like the one shown in our example.
That said, you should first consider your bathroom's size before painting your walls all red. This daring color won't work in small or narrow bathrooms as it can shrink the space.
The bathroom image you can see here has a high ceiling with luxury fixtures, which works beautifully with the red walls and black and white tile floors. The style of this bathroom reminds us of baroque interior design, which features a lavish black and red color combination.
A Combination of Green and Blue
Adding a calming shade of green to your bathroom walls in combination with blue can bring a touch of color to your space. In a black and white tiled bathroom, light green and soft blue walls make a dramatic statement, especially in larger bathrooms. Pastel greens and bold blues also work well in bathrooms with black and white tiled floors.
However, if you're going to add these darker shades to your walls, make sure your bathroom has large windows so as not to close the space. For a more subtle effect, opt for sage green and turquoise wall paint. We think these green and blue color schemes will look great with black and tiled floors, especially in bright and airy bathrooms.
What Grout Color Works with Black and White Bathroom Tiles?
The grout color you choose for your black and white bathroom tiles must be carefully thought out as it plays an important role in highlighting the tile.
To create contrast, black grout will make the tiles pop while choosing white grout will have the opposite effect. However, the safest choice is to go with light gray grout for additional color. In general, neutral grout colors like beige, gray, cream and white work best for black and white tiles.
Any Grout Colors to Avoid with Black and White Tiles?
Since black and white are both neutral colors, they can work with almost any grout color to help highlight their bold appearance. However, it's always best not to use dark grout colors like browns, charcoal, or red, as they run the risk of clashing with black. What's more, these colors tend to bring a heavy, overpowering vibe to a black and white tile bathroom, which some people may find depressing.
Stick with light and neutral grout colors like the ones we mentioned in the previous paragraph. This way, your black and white tiles will always remain as the main highlight of the bathroom.
Are Black and White Bathroom Tiles in Style?
Black and white tiles are increasingly becoming popular for modern bathrooms. Whether you use this color scheme for the walls or floor of your bathroom, they are often installed in checkered or geometric patterns, which add visual interest to the room.
There are also small black and white tile designs like mosaics that make a classic choice for traditional bathrooms. Such options make a worthwhile investment and can easily be paired with matching accessories for a cohesive look.
Black and white bathroom tiles have stood the test of time since they were first made popular in the early 20th century. In minimalist and baroque interiors (which are the exact opposite of one another), the simple black and white color scheme became very trendy, together with a blend of rustic and retro styles that also included this color pairing. With this combination, there is no need to add any other pattern or texture to the bathroom, no matter if your interior style is cottage, modern, or boho.
So if you're wondering if black and white bathroom tiles are in style, you should know that potential home buyers and professional interior designers will be pleased to see this color scheme used in not just modern bathrooms but also kitchens and laundry rooms thanks to their interesting and versatile pattern options.