The history of windows is also the history of architecture, said Le Corbusier, one of the pioneers of modern architecture and design.
It is no wonder it is so. Windows have been used for centuries, ever since houses were enclosed, as essential openings that allow light and air to get into a home. And we all know that there can't be a good life without fresh air and light.
Brief History of Windows
The earliest windows had no cover. Over time, people started to use various materials to cover them, such as cloth, wood, or animal horns. The Romans were the first known to use glass for windows.
During the Middle Ages, glass became more available in Europe. Thus, a fixed sash on windows became more frequent. By the 15th century, the windows began to be made as a hinged sash.
The window, as we know it today, was invented in France during the late Renaissance. It was made as a large casement window, either as a vertical sliding sash window or a double hang one.
Types of Windows
There are plenty of architectural styles for windows that were used throughout history, and many of them are still in use.
In this article, we will take a quick look at some of them.
Sash Window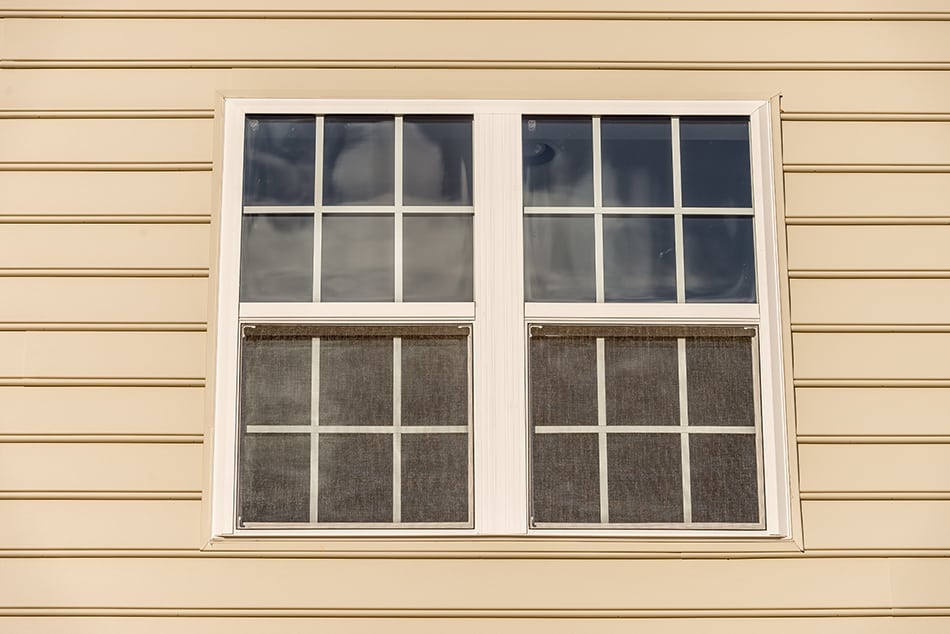 It is not sure whether the sash window was first designed in England or the Netherlands. Nevertheless, the sash window is one of the most common home windows in the US and UK and a regular feature in Georgian and Victorian architecture around the world.
There are two forms of the sash window – the single-hung sash, and the double-hung sash
Single-hung Sash Window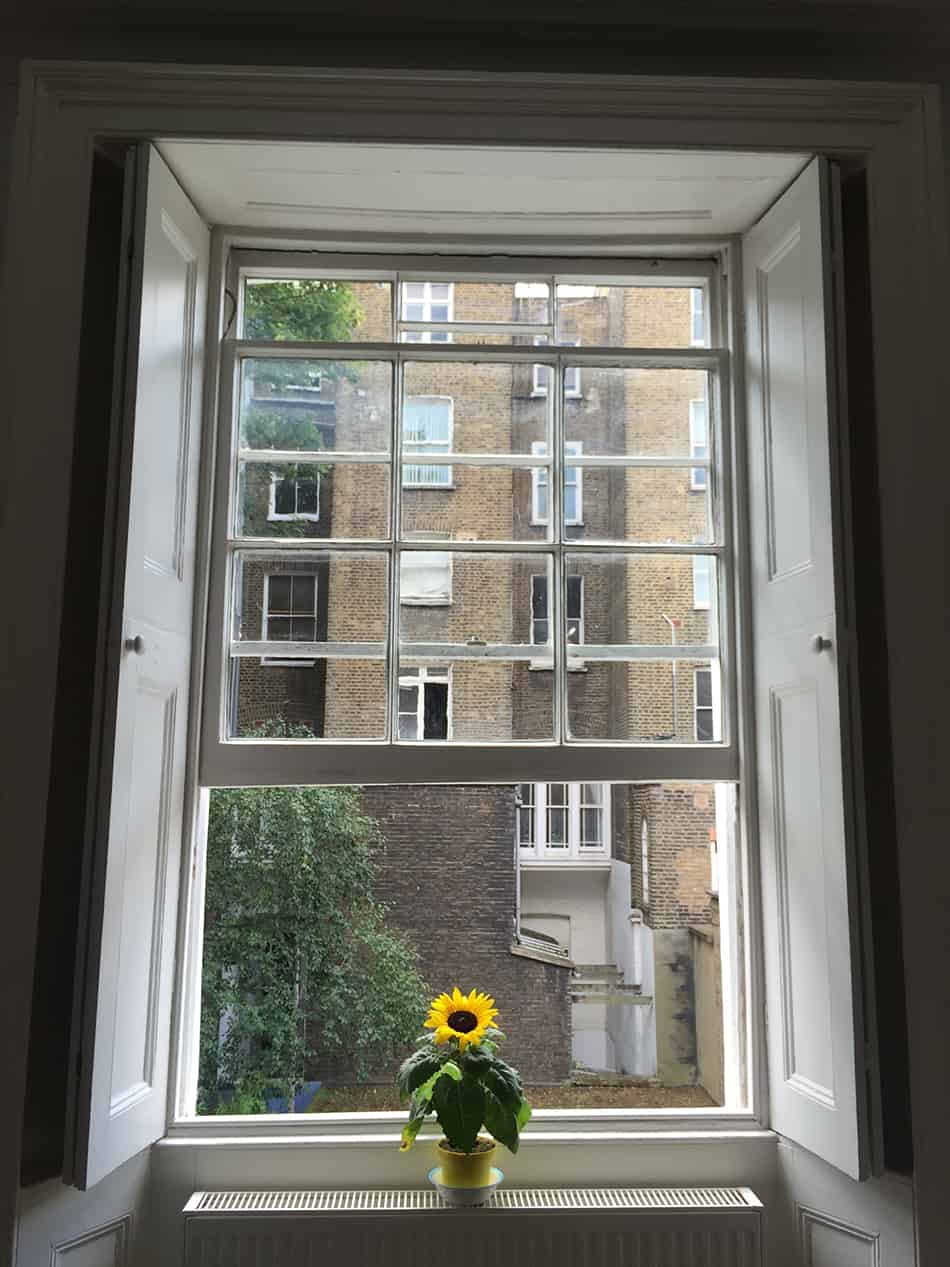 The single-hung sash window usually has one part that is movable and the other one stationary.
They open vertically, in a way that the lower sash moves up and down, while the upper sash remains fixed.
Double-hung Sash Window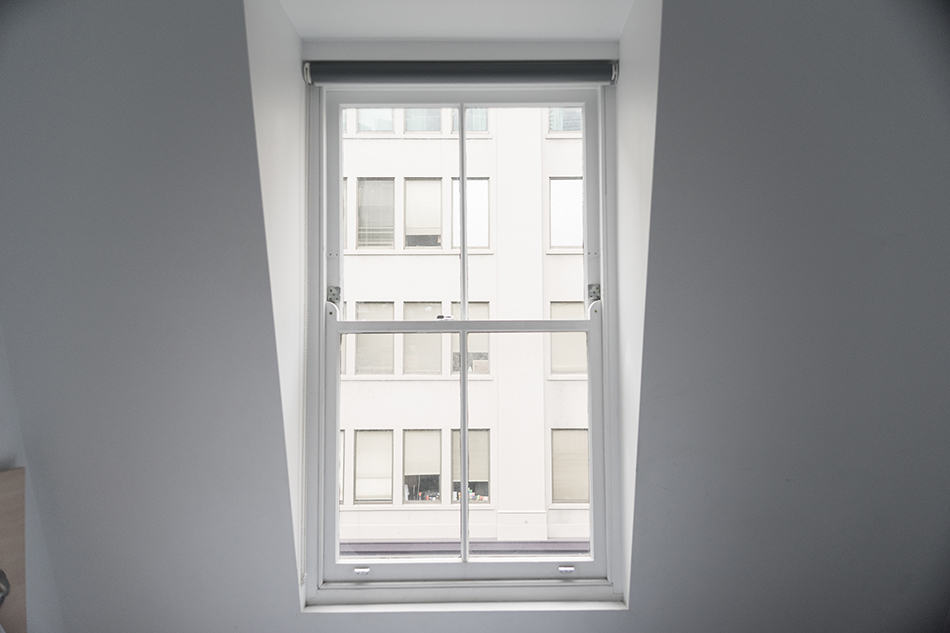 Double-hung sash windows are the more expensive alternative to single-hung sash windows. Both of the sashes on such a window operate and move up and down. They can also be tilted out for maintenance and cleaning.
Sliding Window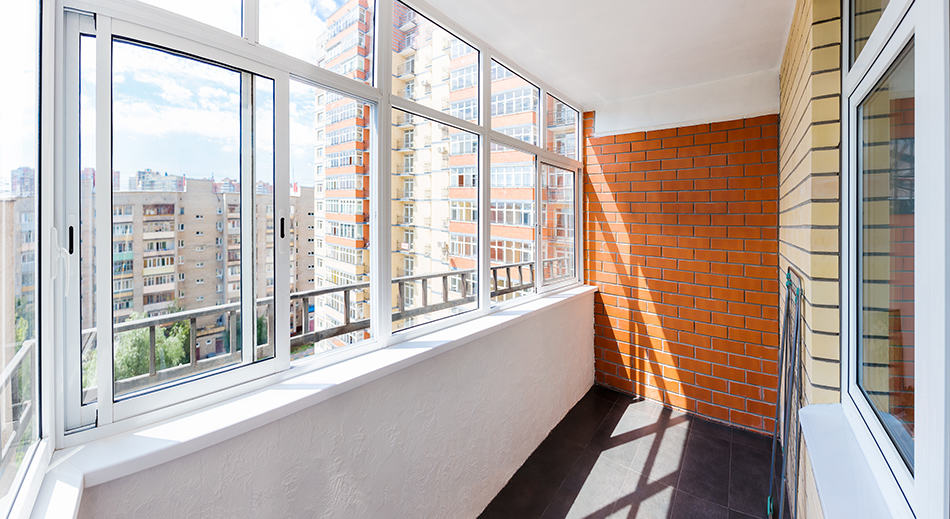 A sliding window is similar to the sash window. The only difference is that it does not open up and down, but side to side. Sashes on a sliding window glide in both the left and right direction in a single frame.
They can be a two-lite and three-lite construction.
The two-lite sliding window has two flexible sashes that slide left to right, while the three-lite one has two flexible and one fixed centered sash.
Sliding windows are used when we want to get an unobstructed view of the outdoors, or in case we need maximum ventilation. They are also a good option for spaces that are difficult to reach since they are easy to open.
Such windows are usually constructed to carry large spans of heavy-duty glass, which makes them very stable and protective. Therefore, sliding windows are useful in high wind areas.
Modern architecture prefers sliding sashes in building windows, especially when the window itself has large proportions. Therefore, sliding windows are a common solution in designing glass doors, especially for access to the patio.
Casement Window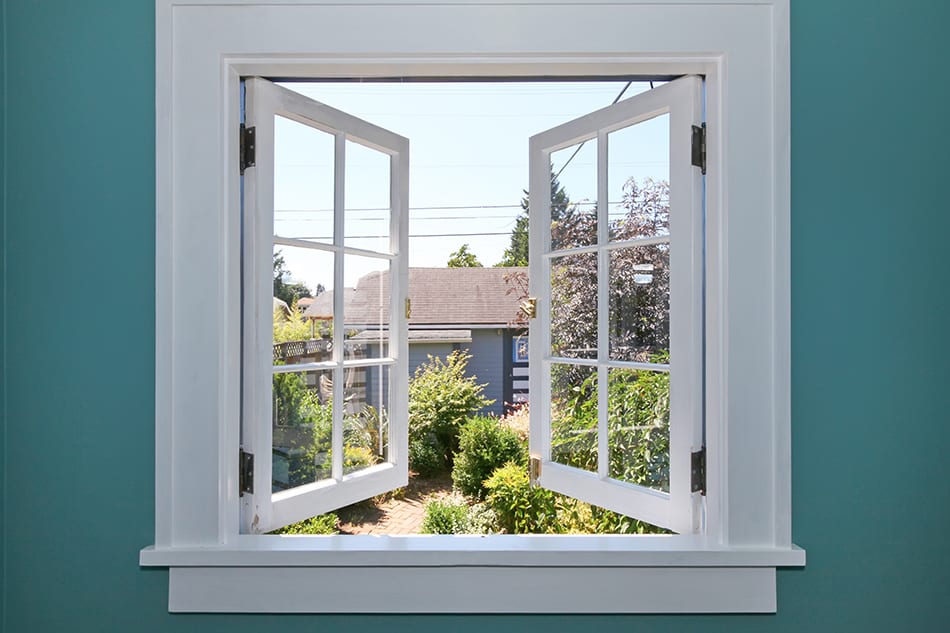 The casement window is believed to be one of the earliest forms of a movable window, used since medieval time.
This type of window consists of one or two sashes, vertically fixed by pivots on a frame. The sashes move separately inward and outward – like a door – using a mechanical lever or crank. That is why the casement window is sometimes called a crank window.
Each sash has a hinge that enables it to be opened and closed.
The casement window can be left-handed or right-handed. In the left-handed version, the hinge is located on the left. In the right-handed variant, the hinge is placed on the right, and the locking mechanism is on the opposite side.
French Casement
French casement is another popular form of this window. It consists of two separate casement windows that open from the center, without a vertical pillar between them, offering a clear view.
Awning and Hopper Window
Awning and Hopper windows types of windows are similar to the casement windows. They are ideal for a small place, in case you want to save space when the window is open.
Awning Window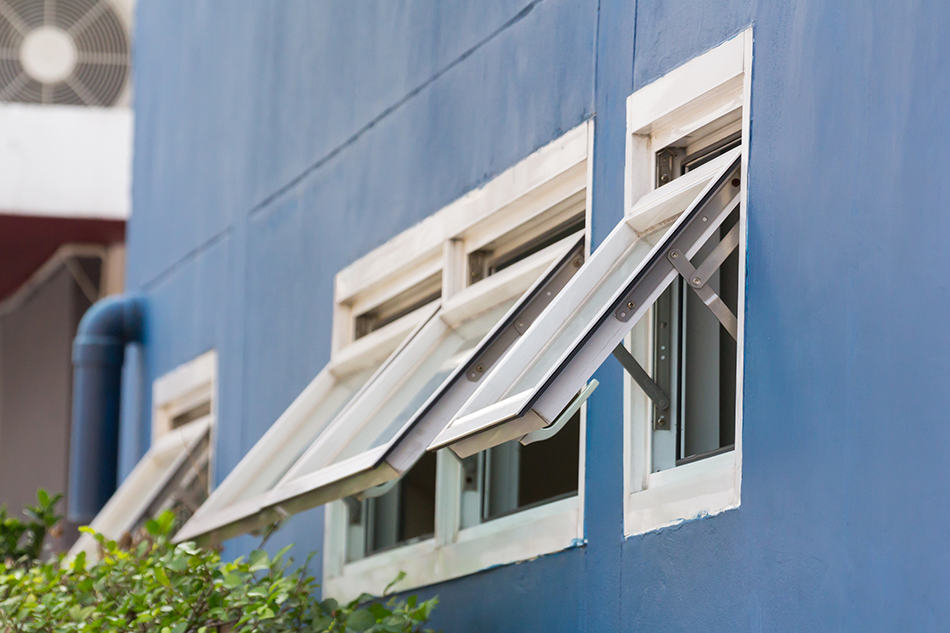 If the pivot of the sash is located on top of it, we call such a window an awning window. It allows fresh air into a home while keeping the rain out of it. For this reason, its primary purpose was air conditioning.
The design of the awning window was derived from the awning fabric that was used in ancient Egypt. Fabric awnings were used for shading markets and homes in this country with hot sun and dry climate.
Hopper window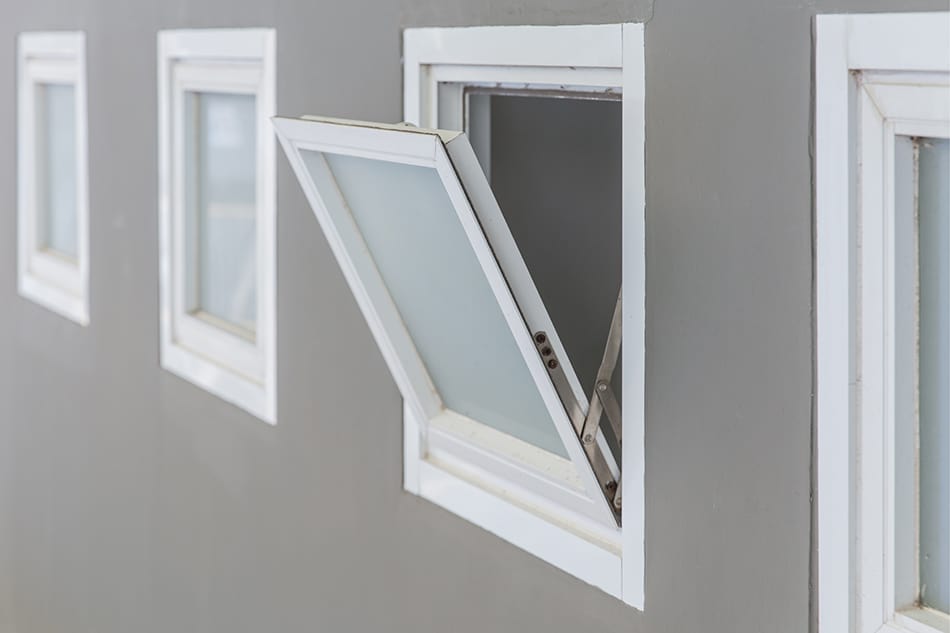 Hopper window, on the other hand, opens inward, into the building. Its pivot is located on the bottom of the sash, making it the exact opposite of the awning window.
It was invented in the 19th century, in the era of industrialization, to prevent dirt and debris from entering the house but still to allow some light and air in it. That is why this design is widely used today in basements and bathrooms – it is a space saver, but still provides the room with ventilation and lighting.
Arched Window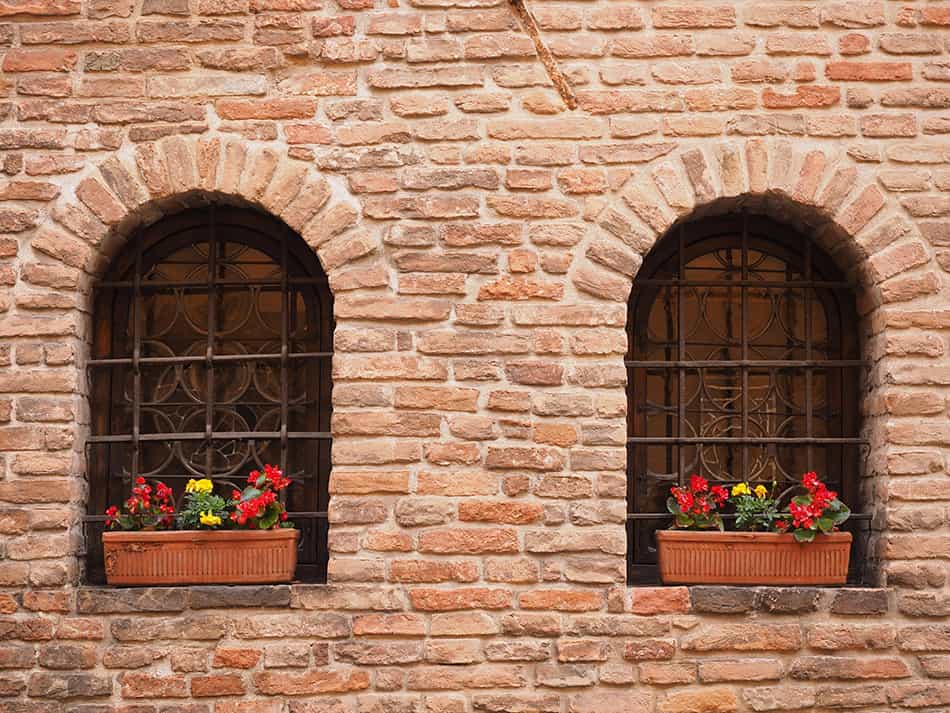 Arched windows are usually related to the architecture of the epochs of Baroque, Rococo, and Art-Nouveau, having been used in religious buildings and grand residential homes. Consequently, even today, they are associated with luxury – they evoke the aesthetic of romanticism and exclusivity.
However, the variations of arched windows allow even ordinary citizens to incorporate some form of such a window into their home design. Small arched windows can be added above the entrance door or just below the roof. Their construction and implementation are far less challenged now than it used to be, which made them affordable to the majority.
There are numerous arch window design solutions, including full circles, half-circles, quarter-circles, ovals, and elliptical shapes. Likewise, there are custom options for dividing lite, as well as interior and exterior finishes.
Cross window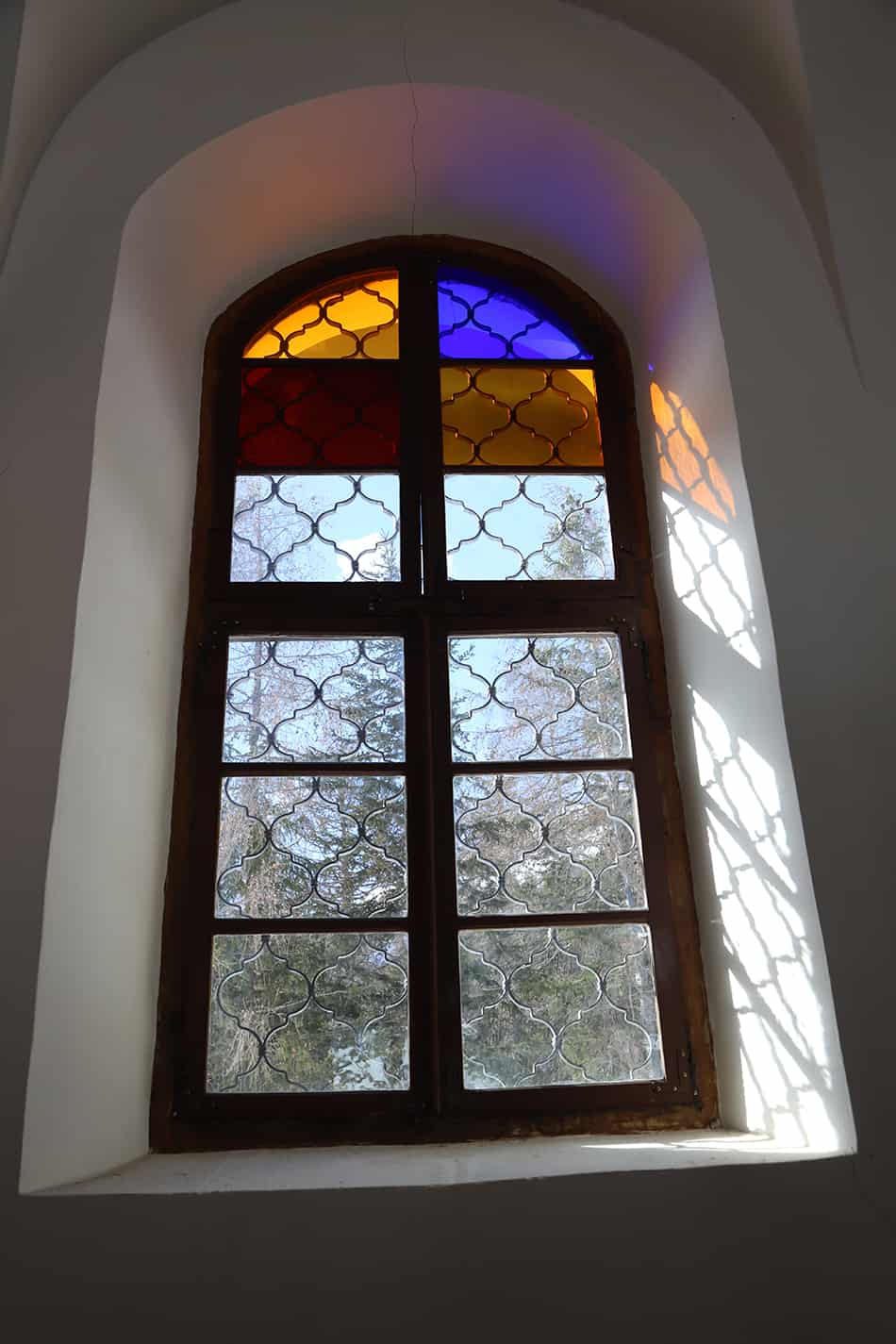 The cross window has a rectangular shape. It is made of a vertical bar and a transom between the panes of glass. The final shape forms a Latin cross. The upper panes are smaller and can be opened separately.
Traditionally, cross-window was introduced in the architecture of churches and cathedrals. It replaced the arched window in the 14th century when the late Gothic architecture took primate in the building of religious structures. It became one of the trademarks of this era. During the Renaissance, such windows were frequently decorated with cornice and pediment.
There are many variations of cross-shaped forms that are in wide use in the architecture of windows nowadays, usually as a detail in the window design.
Transom Window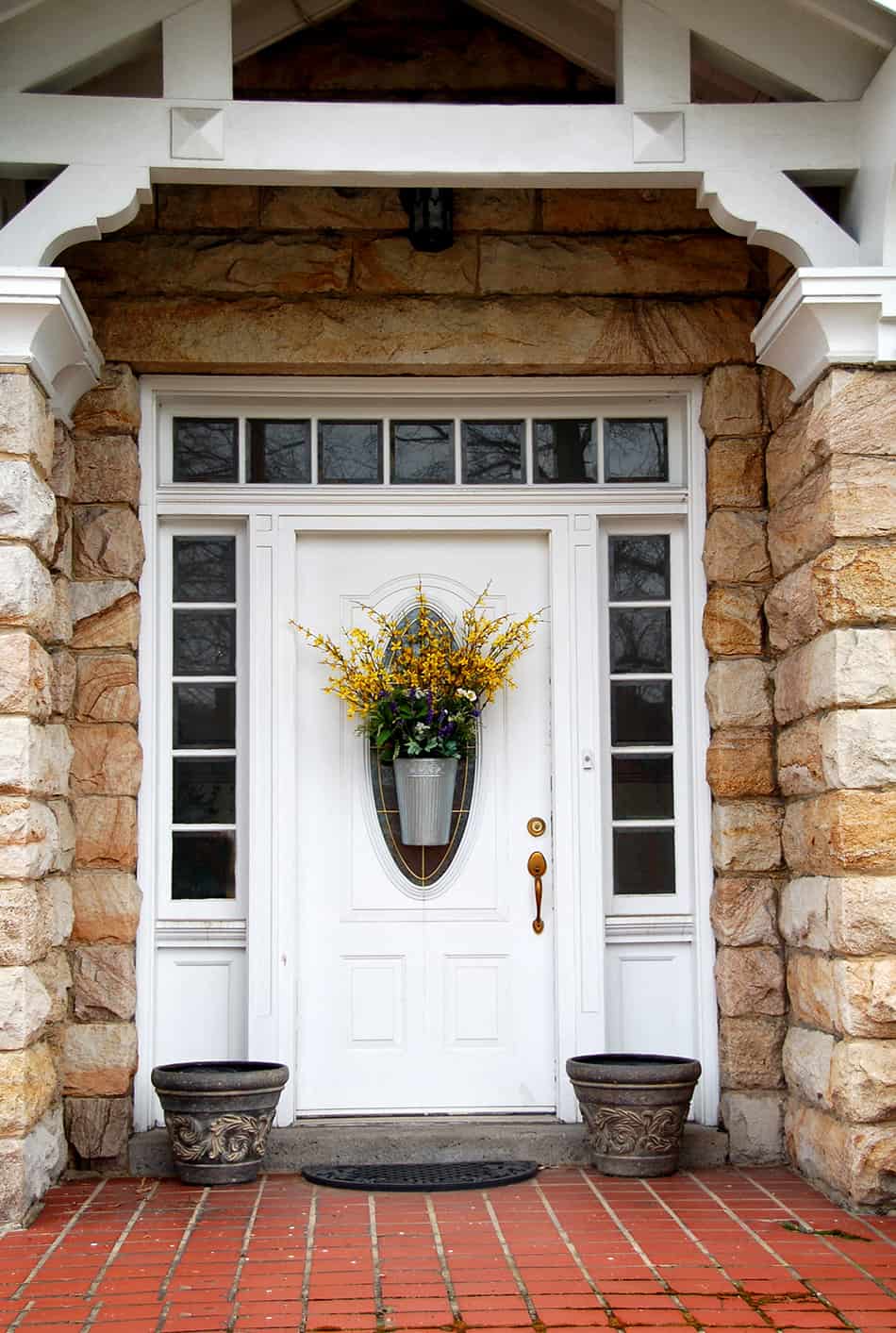 A transom window is positioned above the other window or the doorway. It is often semicircular or semi-elliptical. In the UK, it is usually called a fanlight. When placed above the door, its function is to allow additional light and air circulation.
Historically, air conditioning was the transom window's primary purpose, though nowadays it is often added as an ornament only – the modern version of it usually doesn't open at all.
Their most recognizable styles are semicircular and rectangular shapes.
Similar window construction, called Ranma, can be found in Japanese architecture as a design detail placed above doors. It is modeled as a wooden carving of various traditional shapes.
Shoji-style Window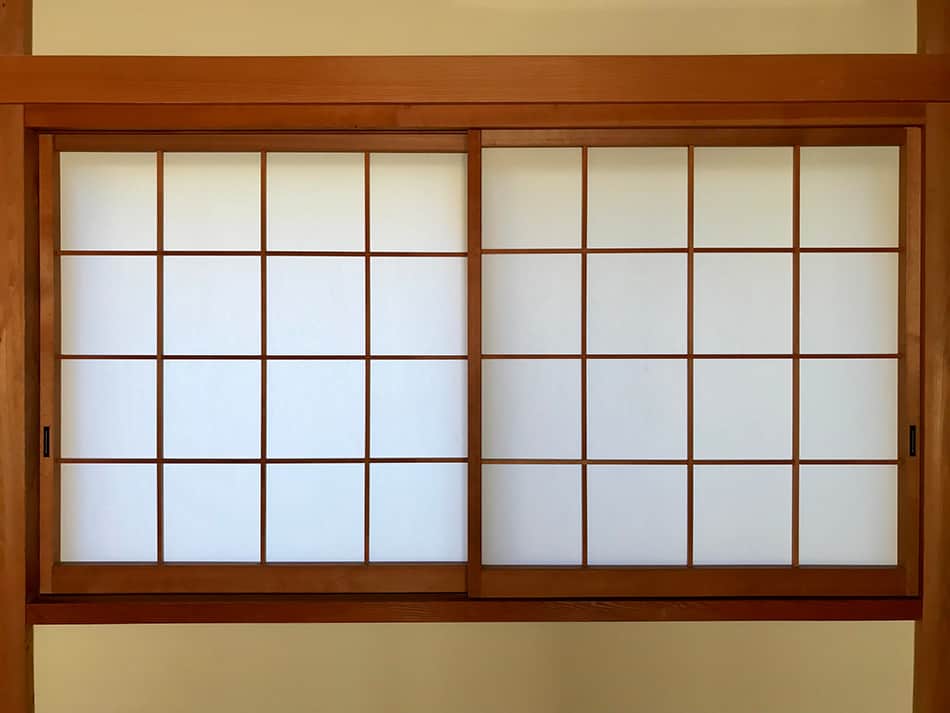 In Japanese architecture, doorways and windows have always had diverse and multiple roles. Lighting and ventilation were the most obvious, but not the only ones.
The Japanese culture of enjoying nature found its way into window design since one of the most important roles of a window is to provide a (preferably bright and beautiful) view. The window view has the role of an artistic painting or another decorative image. That way, it gives both the exterior and the interior the final and the most exquisite touch.
There are several types of Japanese windows.
The most famous is called Yukimi Shoji or a "snow window." Its purpose is to help the viewer to concentrate specifically on the scene of falling snow since it cuts out the sky above it.
The circle window is called "the window of spiritual enlightenment," and it originates from the philosophy of Zen Buddhism.
One of the features of Japanese window architecture is to make a composition of several pieces of windows side by side, each showing another part of the same outdoor scene.
Palladian Window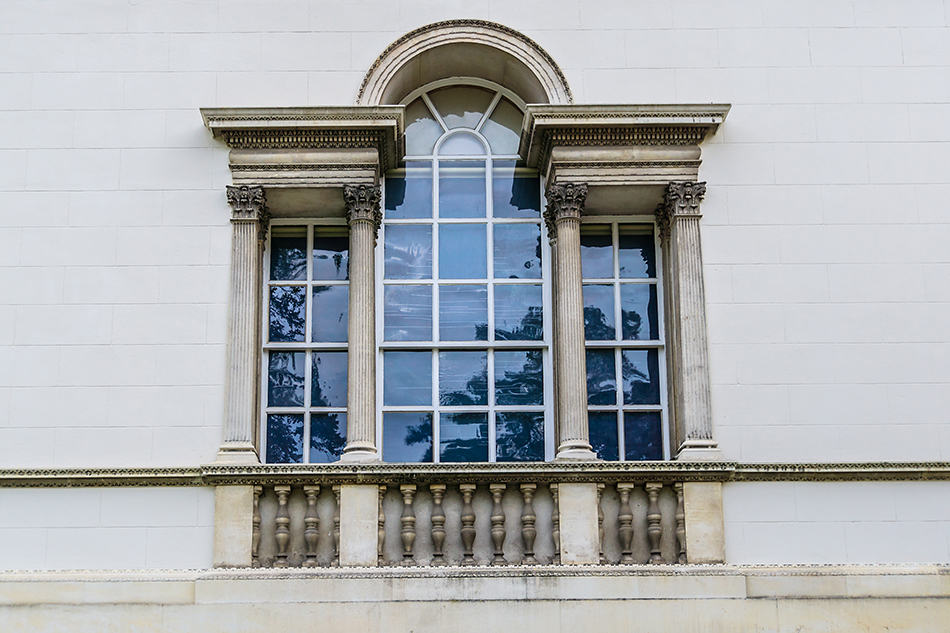 The Palladian window is a large, three-section window. Its center section is arched, higher and wider than the other two. The other two sections are rectangular.
Palladian windows were common in the architecture of the Renaissance and are characteristic of neoclassical style. They were initially used in Italy, especially in the architecture of Venice – which is why they are also known as "Venetian windows." They had spread across England in the 17th century.
The name for this type of window comes from Andrea Palladio, a famous Italian architect of the Renaissance, who revived the classical Greek aesthetics of the arched openings.
Bay Window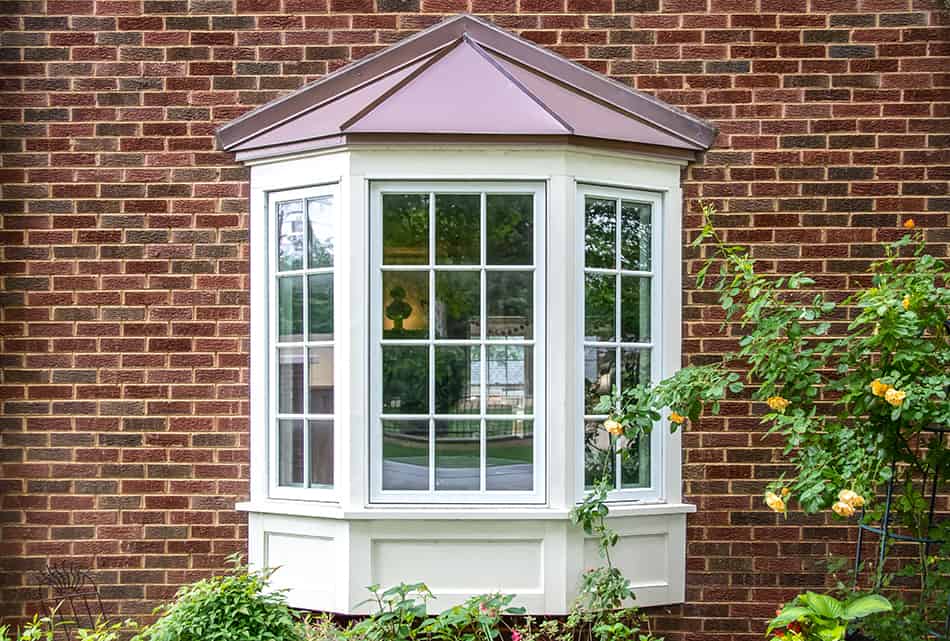 This window structure extends from the wall of a building, forming "a bay" in the room. Its purpose is to maximize both the amount of light and space inside the house.
Bay windows come in a range of designs – box, circle, square, and polygonal. They usually have three openings, as casement constructions, in angled projections.
The origins of bay windows can be found in Renaissance England. They were later widely used in Victorian and Baroque architecture for the reason that such constructions were able to fulfill two main rules of Baroque architecture: the abundance of light and the importance of decoration and ornaments. For some bay window inspirations, see our post on bay window living room layouts (with floor plans)
Bow Window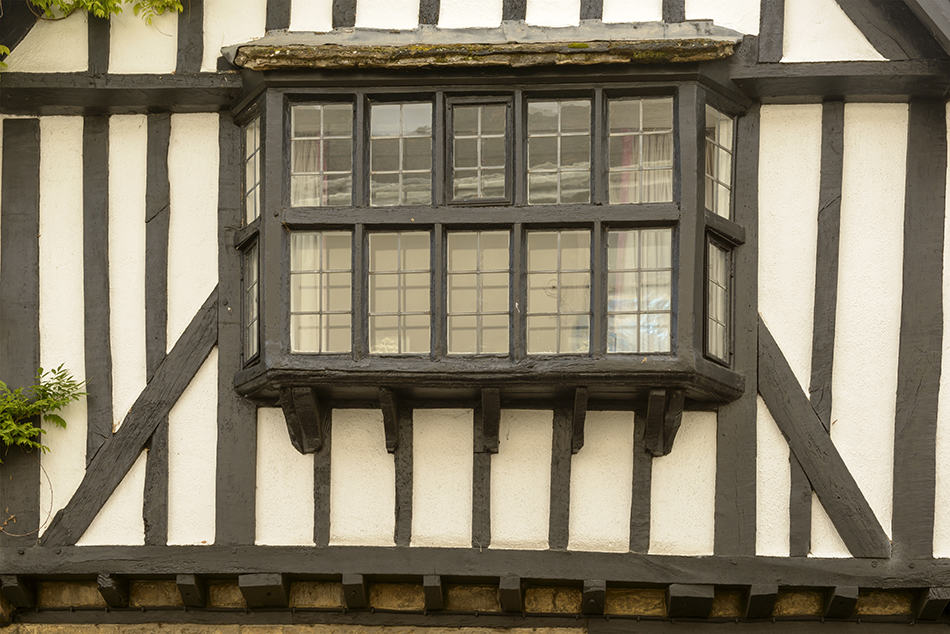 Bow windows are a more complex variation of the bay windows. Their construction is curved, creating a rounded appearance on the outside of the building.
While bay windows consist of three sashes, the bow windows have four or more elements in the form of an arch. That is why they allow more light into the house.
With their Victorian-era looks, bay windows' appearance is somewhat classical. Because of their curved shape, they have found their modern use on the corners of buildings, allowing a view from two different sides of the room.
Roof Window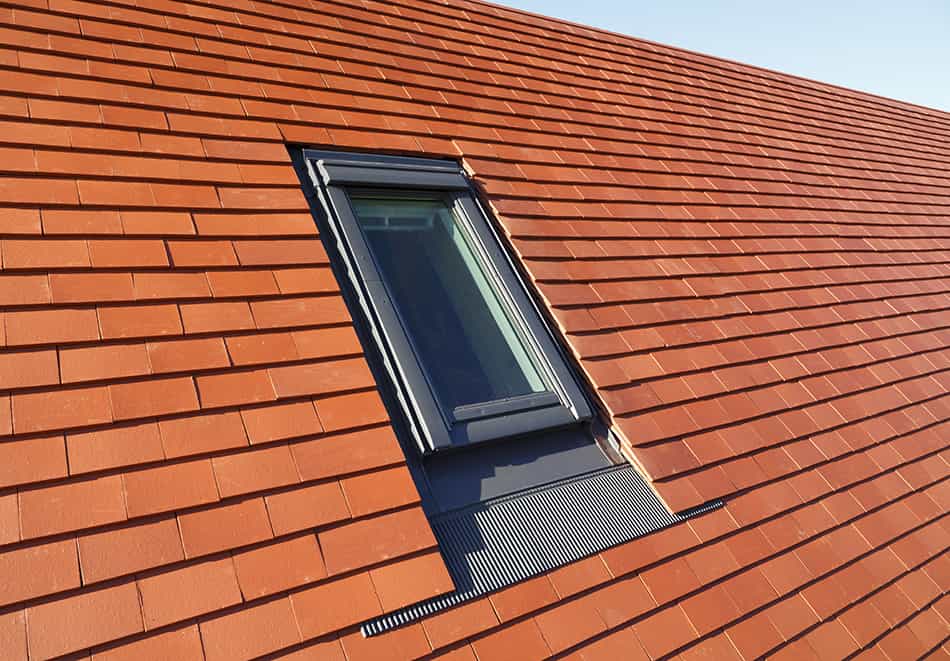 This type of window is part of the roof construction. It usually has an outward opening, because its purpose is not only lighting but also ventilation.
A skylight is a window that is stationary, which means it cannot be opened. Its function is merely lighting.
The usage of roof windows is especially important in attics and lofts, where the roof construction takes over the role of walls, thus needs to be used for window installation besides its primary purpose.
There are plenty of design options in building a roof window. If you need to save space, they can be top-hinged. There is also a center-pivot roof window, ideal for a room with high humidity like bathrooms and kitchens. For easy roof access, there is a left or right-handed sash roof window.
Probably the most specific among them is the so-called "Cabrio" roof window. Not only does it add extra light and fresh air, but it also provides access to the outdoors. Once you open it, because it has a stylized fence around it, it lets you use the roof space like a terrace or a balcony.
Circular Window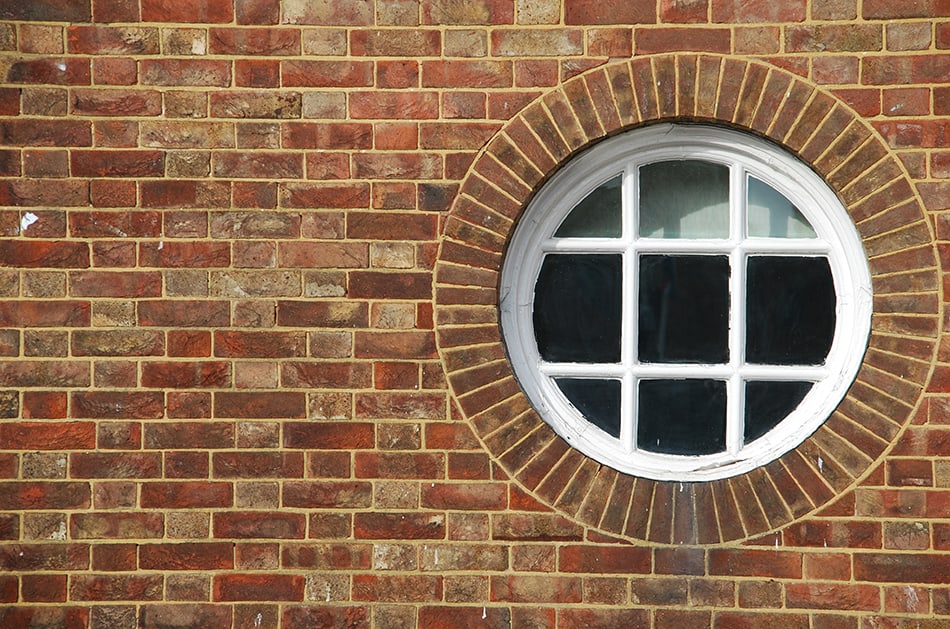 Famous for their use as the portholes of ships, but also as a common feature in dormers of French classical architecture, circular windows have been in use since the 16th century.
They are Gothic in origin – rose windows were used in the building of churches. The most famous among them is the rose window of the Notre Dame Cathedral in Paris, France.
In modern architecture, circular windows are used whenever there is a need to give a final, elegant, and unique touch to the interior design.
Because of its circle-shaped frame, this type of window has limited types of opening mechanisms. On the other hand, because of the shape of the frame and the absence of corners, a circular window requires less space.
Conclusion
Windows have always been one of the vital elements of a building. It is only their design and material that were changing through time.
Home renovation can be quite a challenge. We always want to meet a multitude of criteria, whether they are related to cost-effectiveness, sustainability, or energy efficiency. However, the style should not be neglected. As you see, the history of architecture provided us with a myriad of approaches that could enrich and romanticize our living space.
Have you learned anything new and unexpected about windows by reading our article? What is your favorite window style? Drop a line in the comments and let us know!