For cleaning indoor floor surfaces, brooms offer a good alternative to vacuums, as they aren't noisy, don't require electricity or batteries, and are lightweight and easy to use.
They also take up less storage space than vacuums and can be used on outdoor surfaces too. Learn all about the many types of brooms here.
Angled Broom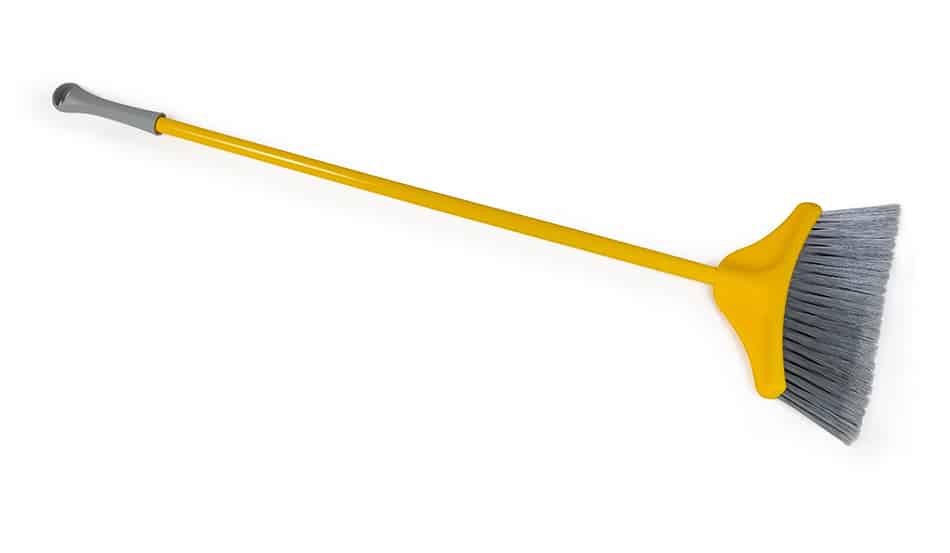 This is a common type of broom used for cleaning kitchen and bathroom floors in homes, and it has gained popularity rapidly over the last decade. The angled broom has bristles that are longer on one side and shorter on the other side, giving them an angled effect.
The angled bristles make the broom much more capable of sweeping dust or dirt out from corners that a regular broom wouldn't be able to reach. The corners on the floor tend to be where a lot of debris gathers, so an angled broom is great for thoroughly cleaning hard floors in these instances, and it will also work well for cleaning flat open surfaces where angled bristles aren't needed.
Angled brooms typically have bristles that are made from plastic so that they are firm enough to effectively scrape dirt out from tight angles, though in some cases, angled brooms with rubber bristles are available.
Angled brooms come in a variety of sizes and are most appropriate for sweeping indoor floor surfaces. They are not particularly useful for sweeping outside because backyards rarely have corners or tight angles which need sweeping, therefore rendering an angle on a broom redundant.
Push Broom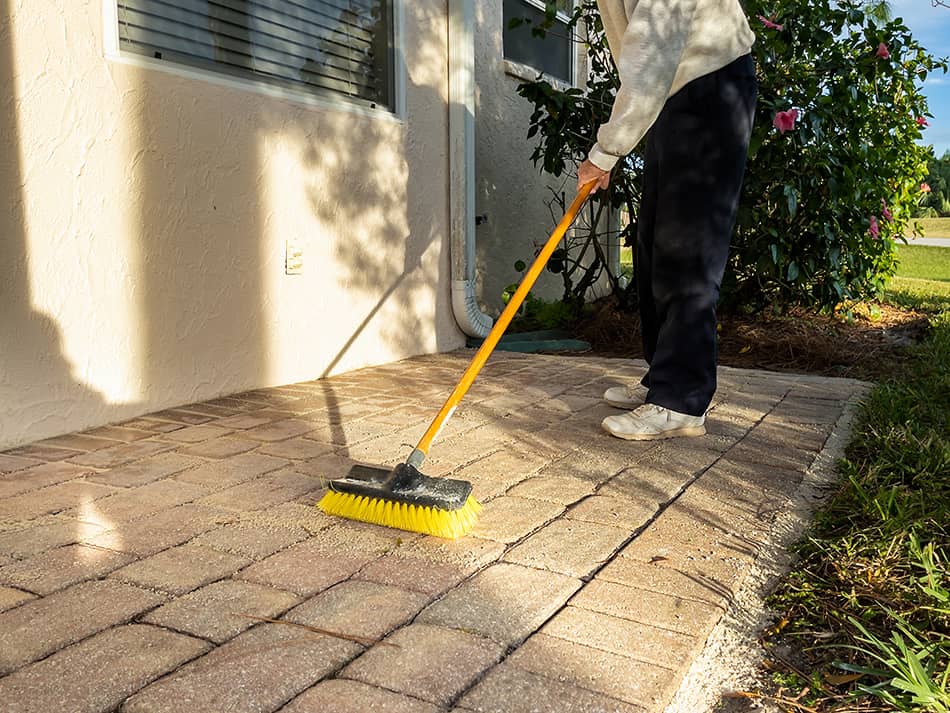 A push broom is so-called because of the way it is intended to be used. It will have a long handle and a very wide base where the bristles attach. Standard brooms tend to have a brush head measuring around 12 inches across, whereas a push broom should be at least double this size, ideally 24 inches or more.
It should be used in a pushing movement to sweep dirt and debris off the ground in a direction away from the user, unlike some other types of brooms, which can be pushed and pulled. The brush head will be tilted at a slight angle so that the bristles will be in the correct position on the floor while the handle is held at a diagonal position.
These brooms make light work of clearing the ground of large areas because the pushing motion is less strenuous than the side-to-side action required for standard brooms. This results in less stress on the body of the user, making it a more pleasant experience. Push brooms tend to be heavy-duty style brooms which are ideal for sweeping loose debris and leaves off of decking and backyard patios or for sweeping up the garage floor.
They are good for tackling heavy debris such as loose rocks and gravel, soil, or a light layer of snow. The wide brush means that you can clear up quite a hefty amount of materials from the floor in a short space of time. The bristles on these brooms will be made of a stiff material, making them sturdy and suitable for heavy-duty use; this could include natural or manmade types of bristles.
Old-Fashioned Broom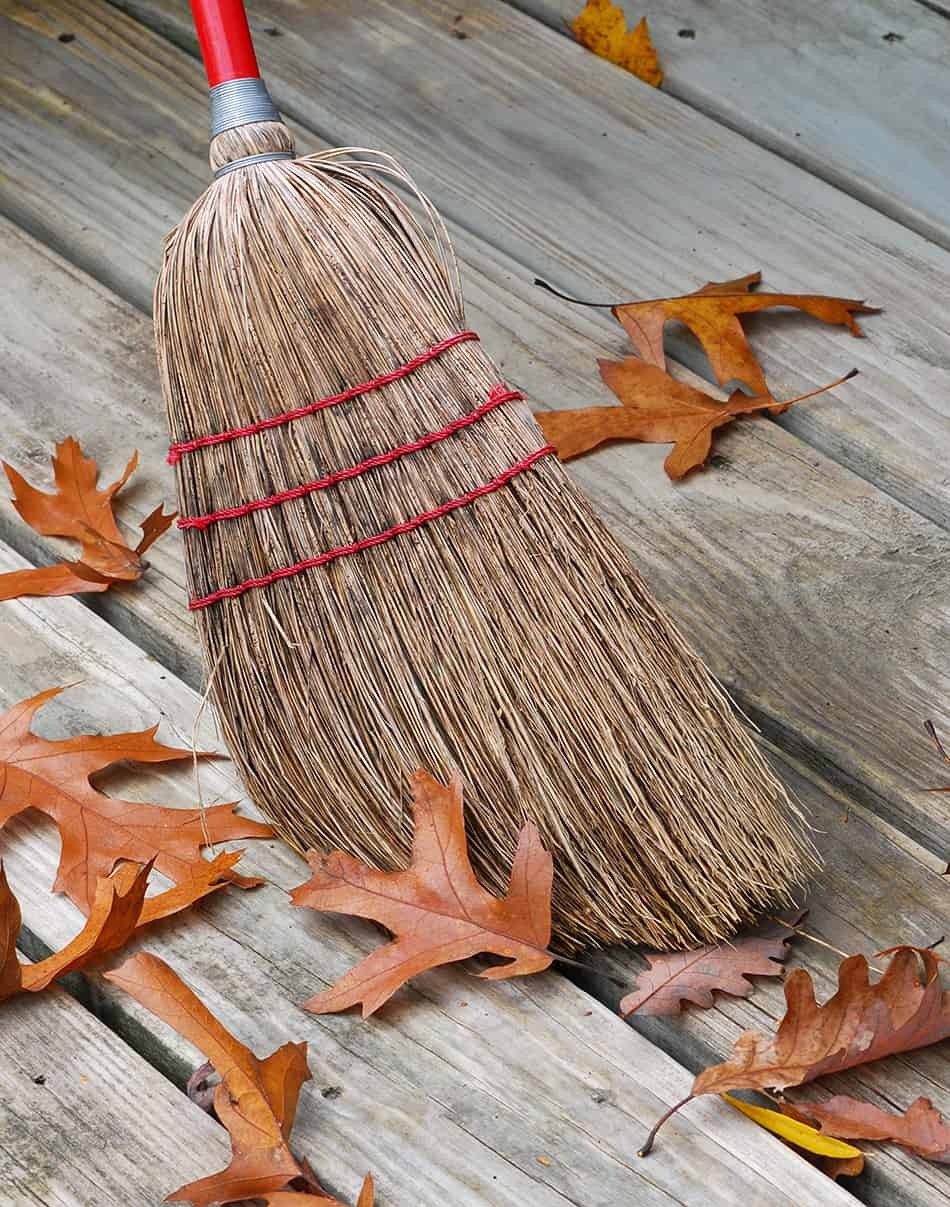 Old-fashioned brooms are usually made from natural materials such as straw or corn husks. These brooms are also commonly referred to as 'corn brooms' or 'soft brooms,' although their bristles tend to be quite stiff and suitable for more heavy-duty sweeping. An old-fashioned broom will have bristles that are spread out in a fan shape.
Some people prefer these types of brooms over more modern style brooms, as they have a more earthy look and are made from natural, sustainable materials. Old-fashioned brooms are typically quite stiff at first, but with use, the bristles become more flexible. Over time you can expect the bristles to snap and break or bend to make them less effective at sweeping up dirt than they once were.
Old-fashioned brooms are suitable for using both indoors and outdoors, but they should not be left outside as moisture will cause the natural bristles to break down. It is for this reason that you should also avoid cleaning up wet spills with this type of broom.
Standard Broom
Standard-sized brooms have a long handle with an average brush head size of 12 inches. They can have bristles made from various materials, including plastic, rubber, or natural fibers. These are the most common types of brooms, and they are best suited to handling indoor sweeping, but they can also be used outside. You can pick up cheap standard brooms made from plastic at a dollar store or heavier standard brooms from hardware stores.
These types of brooms are intended to be used in a slight side-to-side pulling motion, moving your arms in a movement similar to if you were rowing. For this reason, lightweight standard brooms are best for sweeping indoor floors of large rooms in order to avoid fatigue.
Spiced Broom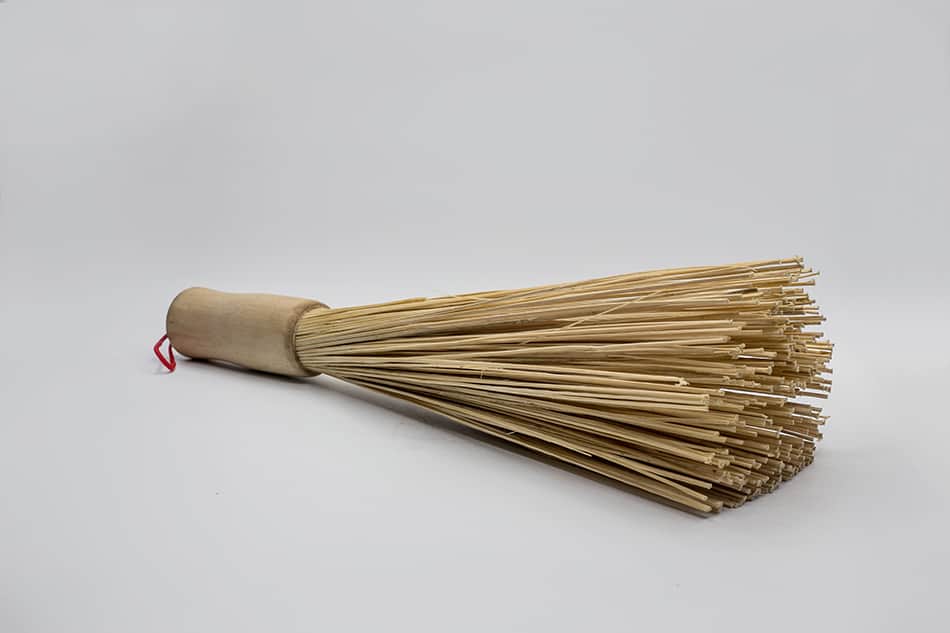 Spiced brooms are not used for sweeping and instead are decorative items that help to scent a room. They are also referred to as 'scented brooms' or 'cinnamon brooms.' They are most commonly scented with cinnamon, which provides a warming and comforting scent in the home and is especially popular during fall and winter.
These brooms come in various sizes, from miniature to full-sized, and can be hung on the wall as decoration or positioned by the side of a fireplace or in the corner of a room. Technically they could be used to sweep the floor, but it would be a waste of an artisan-crafted broom.
Water Broom
A water broom is most commonly seen in commercial use for cleaning outdoor floorings, such as the tiling around swimming pools or hotel patios. The broom handle attaches to a hosepipe, and water then flows through the handle to the brush head, where it is squirted out of numerous small jets.
This addition of water means that a flooring surface can be wet cleaned at the same time as being swept with the broom bristles. The water helps to loosen any stuck-on dirt on the ground, and the brush bristles can then dislodge it and sweep it away.
Hand Broom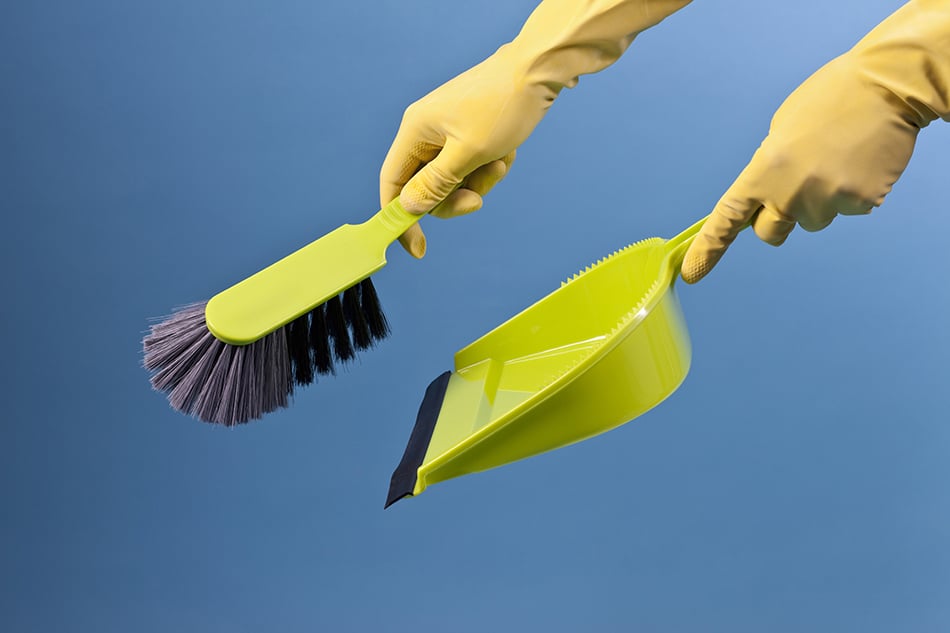 A hand broom is a handheld version of a broom. It will have a short handle, and the bristles will be positioned along the lower length of the handle, making it look more like a hairbrush than a broom. Hand brooms usually come as a two-piece set with a dustpan, as they are generally used as a duo.
These types of brooms can be used in conjunction with a full-sized broom; after you have swept the floor with a broom and have a pile of dirt and dust, you can use the hand broom to sweep it all into the dustpan so it can be easily disposed of.
You can also use this type of broom by itself, for instance, when a full-sized broom would be overkill, for example, if you've spilled some crumbs on the floor and just need to clean up a small area. Hand brooms are generally made with plastic handles and plastic bristles.
Despite being inexpensive and fairly cheaply made, hand brooms tend to last quite a long time because they are only used for light cleaning. For the sake of ease, it's worth keeping one hand broom upstairs and one downstairs so that you never have to go very far to quickly grab it to sweep up a small mess.
Wedding Broom
These types of brooms are used in some wedding ceremonies, where the couple getting married carry out an act known as 'jumping the broom,' which literally involves them both jumping over a broom to signify their commitment to each other. This is a tradition that dates back hundreds of years and means different things in different communities.
In some parts of Europe in the 1700s, certain couples who were not allowed to marry in church chose to 'jump the broom' as a sign of their union, while in the USA, jumping the broom has ties to slavery, where slaves would jump over a broom in front of witnesses as an alternative to legal marriage, which they were not allowed to do.
Some couples now choose to have a wedding broom which they jump over during their ceremony as a nod to their ancestors. The wedding broom will usually be made of natural materials and decorated with bows or ribbons to match the color scheme of the wedding decor. The broom can then be displayed in the home of the couple as a keepsake and memento from their special day.
Besom Broom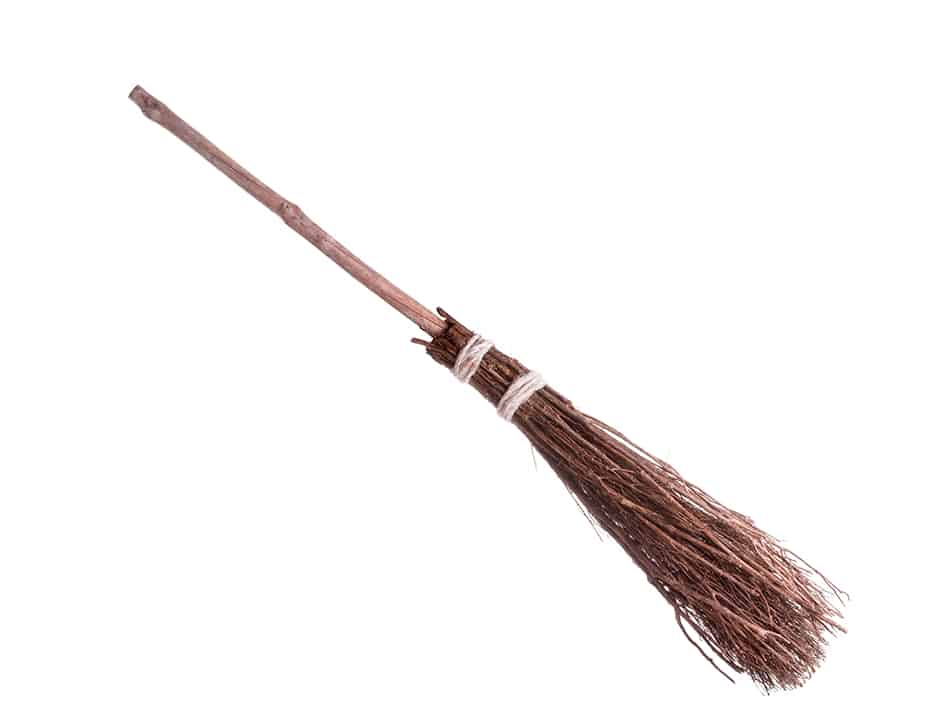 This is a type of broom you might see being used as part of a costume or decoration during Halloween because it is the type of broom that is associated with witches and used as a broomstick to fly on. Besom brooms are made from a bunch of twigs that are tightly tied together and secured to a wooden handle using twine. The handle is enveloped by the twigs, which surround the bottom of it entirely.
These types of brooms were originally used for sweeping, but today they are more commonly used for decoration because they are not as strong or effective at cleaning as other types of brooms.
The twigs of the broom are stiff, but they can snap easily and leave gaps in the bristles, which allow dust and debris to be missed. The bristles on a besom broom are commonly dyed in various colors to give them a more decorative look, and some people like to display them around the home.
Broom Handle Materials
Metal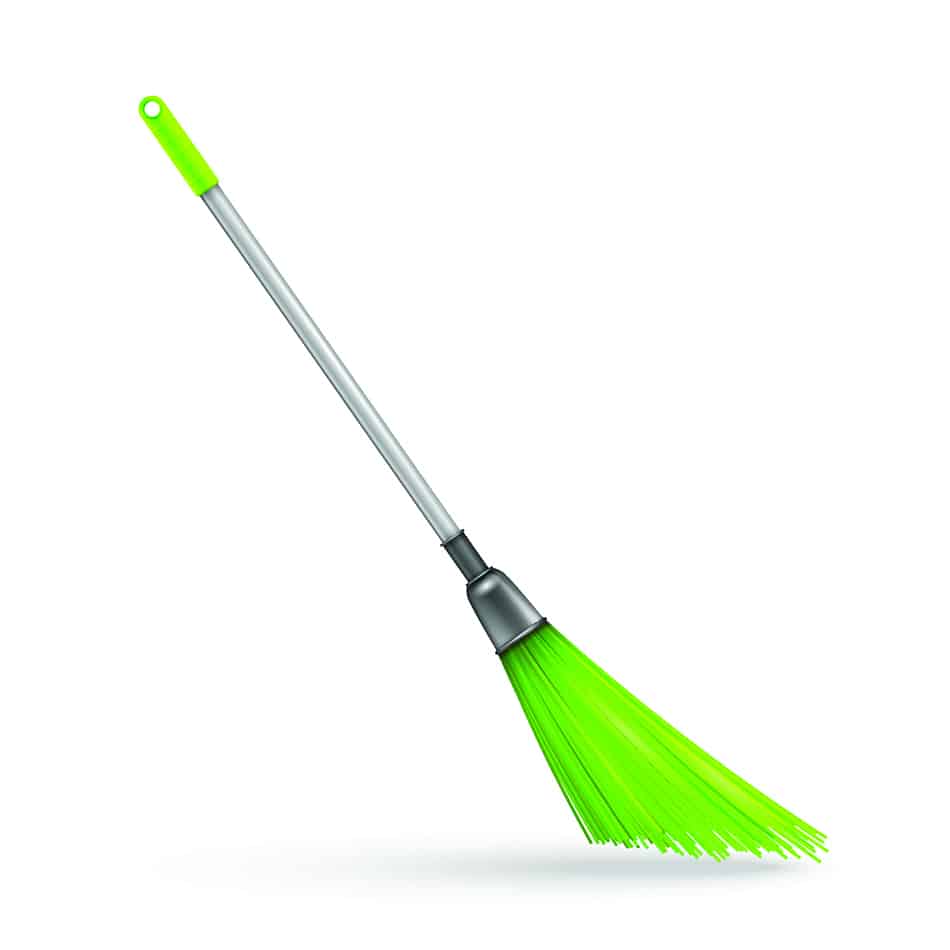 Broom handles made from metal will typically be aluminum, but they may also be made from steel. They will be hollow, like a long and thin tube, which makes them lightweight and, therefore, easy to use. In spite of not being made from solid metal, metal handles are considered to be strong and sturdy and suitable for heavy-duty use.
Metal handles for brooms are common for outdoor brooms, such as push brooms. They will not snap under the weight of sweeping as some other types of brooms might, but they can snap off from the head under pressure, so be sure to select one with strong fittings.
Wood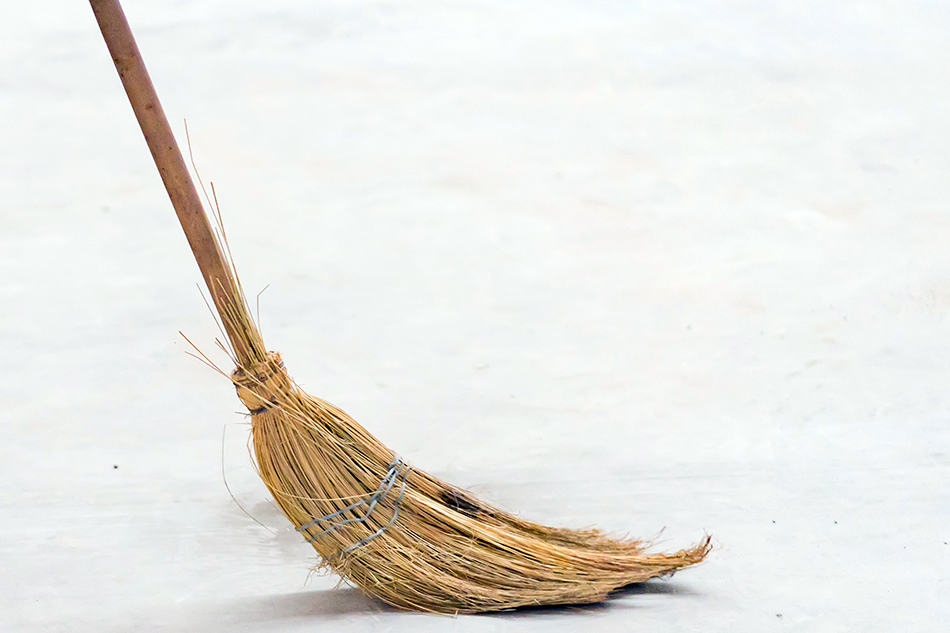 Wooden handles for brooms are a popular choice for numerous types of brooms, including push brooms, standard brooms, old-fashioned brooms, and decorative brooms. Wooden handles are ergonomic and, therefore, the most comfortable type of handle to grip. Wooden broom handles are made from solid wood and can usually be relied upon to perform well for many years.
They are strong and sturdy, though they can snap under a lot of pressure. These broom handles are suitable for indoor and outdoor use but should be stored somewhere dry to prevent the wood from swelling, cracking, or rotting. In order to avoid splinters, make sure the wooden handle has been sanded to a very smooth surface.
Plastic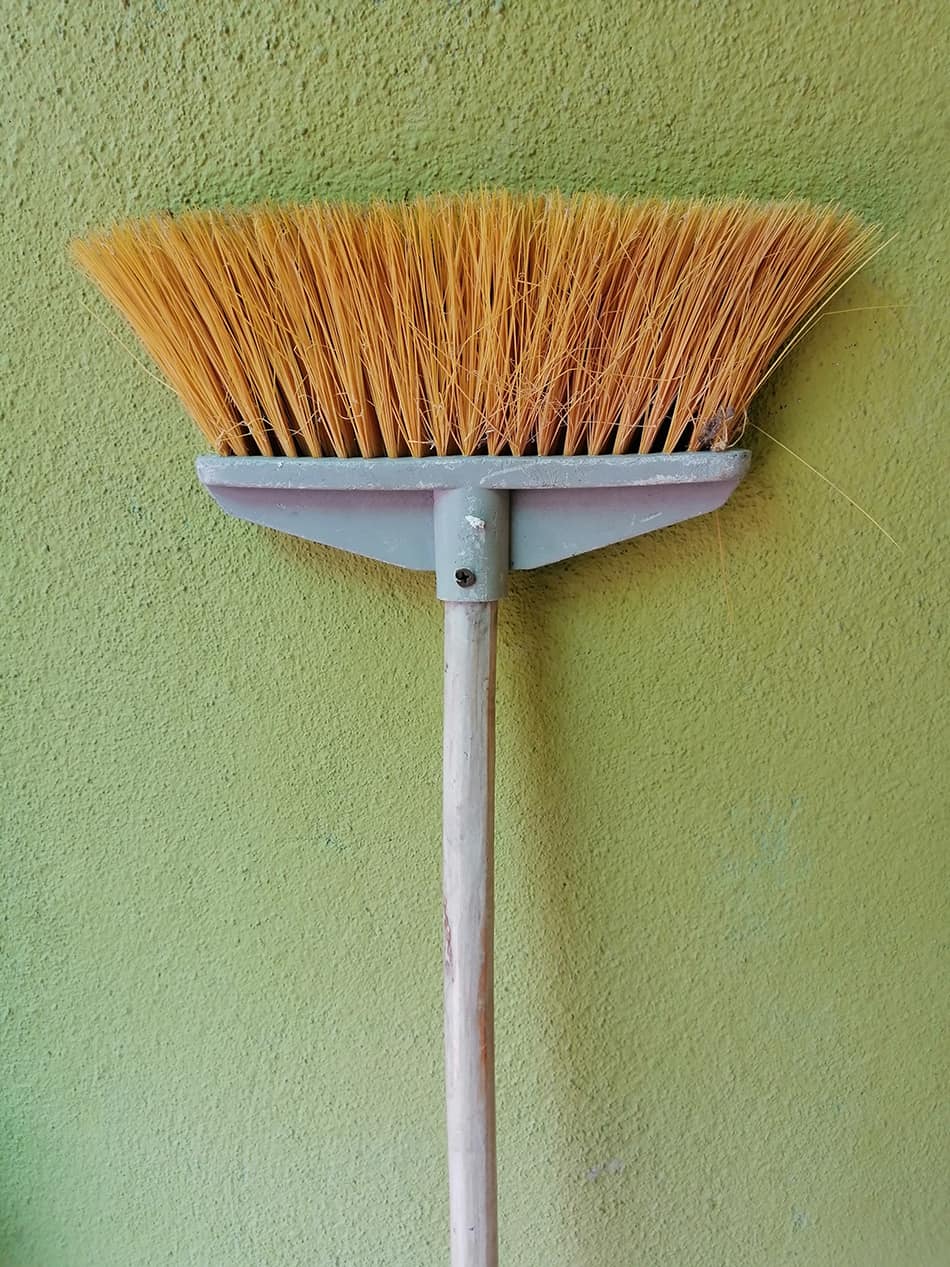 If you're looking for a budget broom, then you will most likely end up with a broom with a plastic handle. These are the least expensive types of brooms to buy and also the most lightweight. The handles do tend to snap fairly easily, but they are so cheap to buy that most people who use these brooms don't worry about having to replace them at the dollar store occasionally.
The fun thing about plastic-handled brooms is that they are usually coated in a brightly colored wrap, often with patterns on. They should be stored indoors because cold temperatures can cause the plastic to become brittle and snap more easily.
Bamboo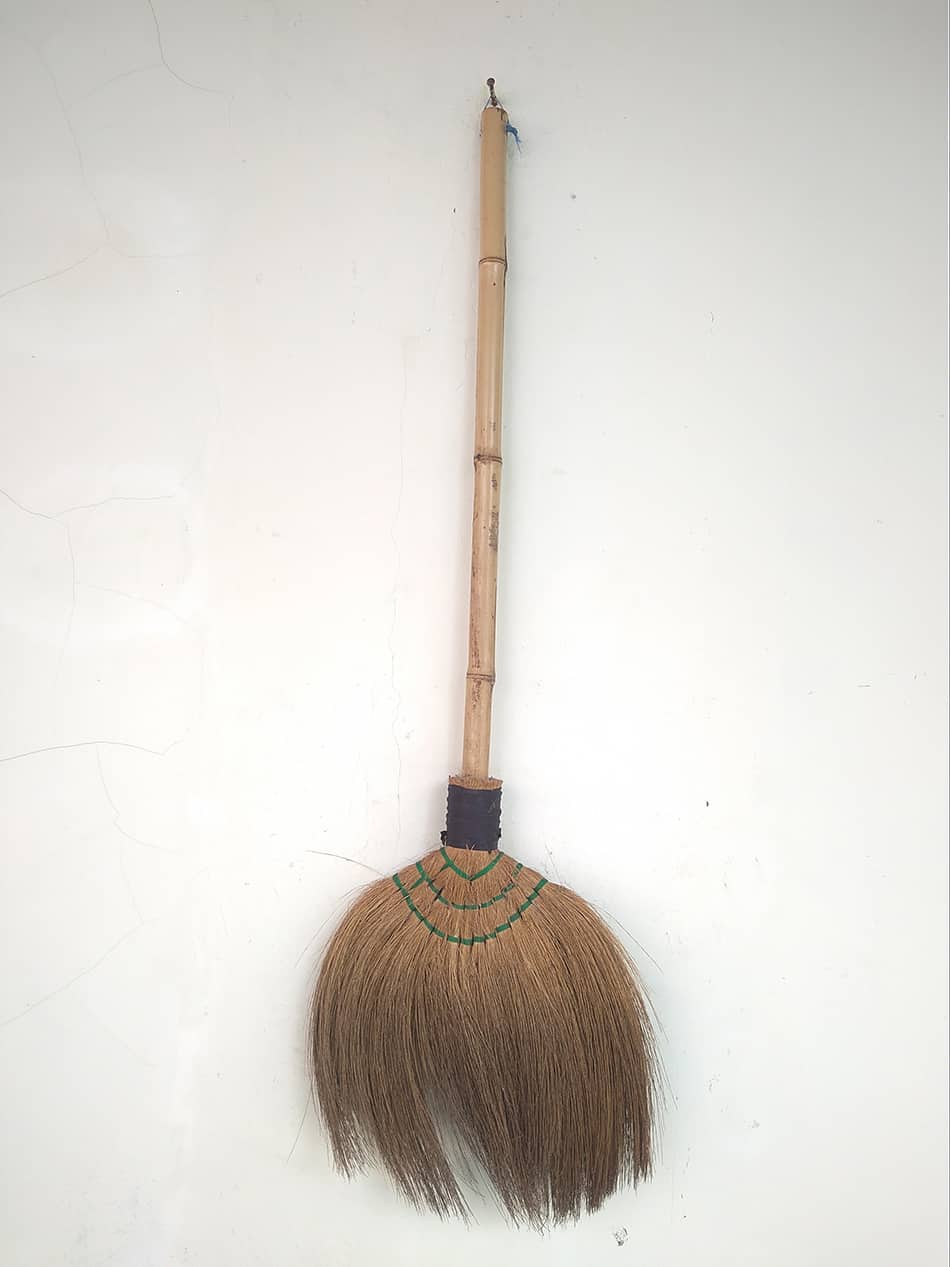 Bamboo is a material that is rapidly growing in popularity as people become more aware of environmental concerns. Bamboo grows very quickly and therefore is an extremely sustainable natural product.
A bamboo broom handle will be strong and suitable for heavy-duty use. Bamboo is also lightweight, which makes it an ideal material for use as a broom handle as the broom will be easy to maneuver and use.
Fibreglass
Top-of-the-range brooms might feature a fiberglass handle, which will last longer than any other type of handle. Fiberglass handles are extremely lightweight, making them a breeze to use, but they are also very strong and almost impossible to break. These handles are comfortable to hold, with no risk of splinters or snapping.
Due to their superior qualities, brooms with fiberglass handles tend to be expensive, but if you are looking for a broom to last a lifetime, then they are a good investment.
Broom Bristle Materials
Polypropylene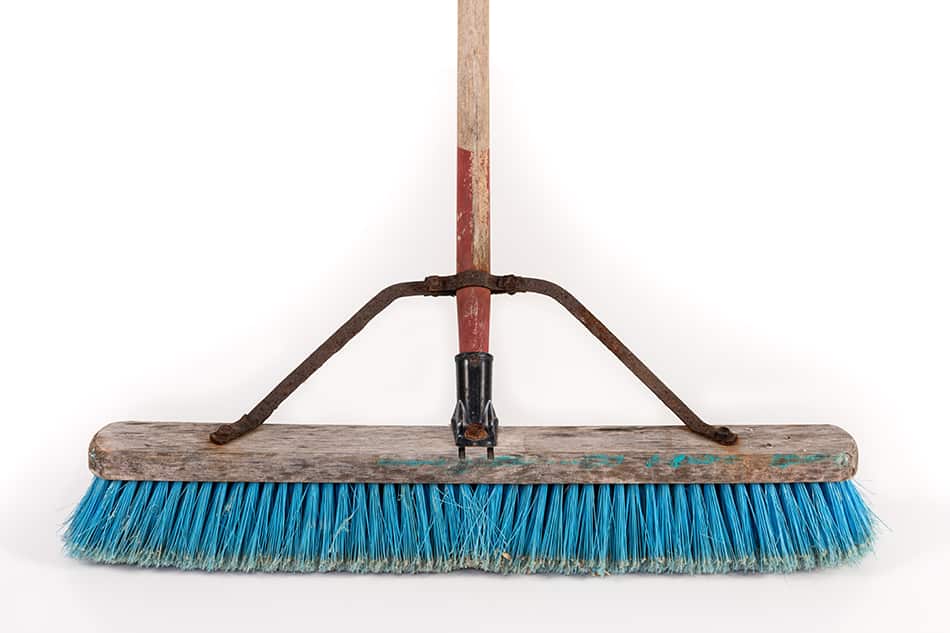 These manmade fibers are smooth and soft, making them ideal for use on interior flooring. Commonly, each fiber will be split at the tip to make it even finer and, therefore, great for sweeping up tiny particles of dust and debris.
Corn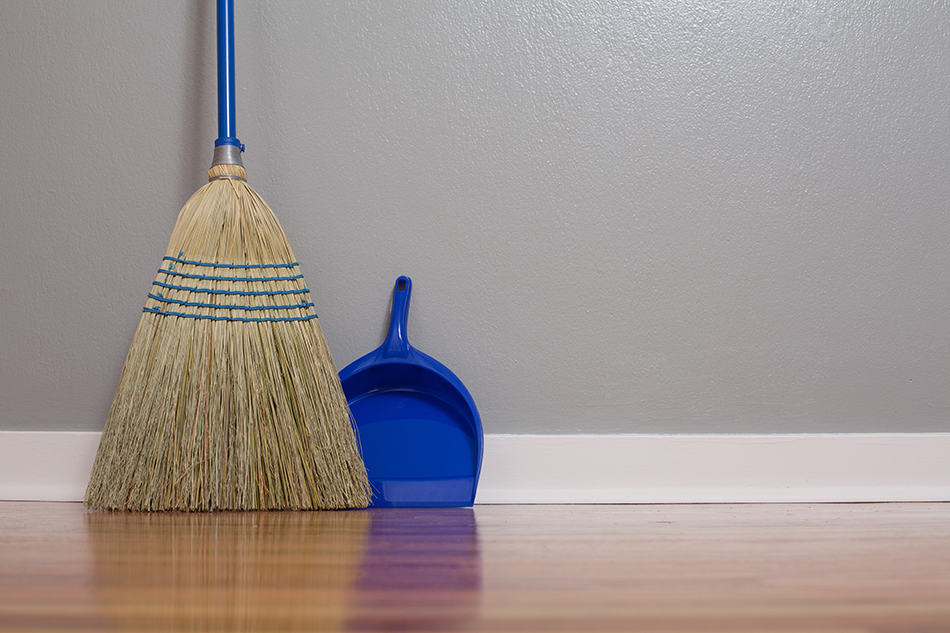 Corn is a popular choice for bristles on brooms because it is strong and sturdy but will become more flexible with use. The straight bristles are good at collecting small pieces of dirt, which makes them suitable for use indoors in most rooms. These types of bristles are quite inexpensive and easy to find.
Palmyra
Palmyra is a natural fiber that comes from the leaf stalks of a type of palm tree that grows natively in India. They are stiff and abrasive and, therefore, best suited for use on heavy-duty outdoor brooms such as push brooms. Palmyra bristles are extremely tough and can withstand quite a bit of abuse.
These bristles are not fine and therefore are not effective at sweeping up fine dirt and instead should be utilized for moving gravel or fallen leaves.
Rubber
Rubber or silicone bristles on a broom are effective in a wide range of cleaning scenarios. They attract dust and hair, which makes them great for general home sweeping, but they can also be used to clean up spills such as a blocked overflowing toilet or a dropped glass of milk because they are water-resistant.
Unlike some other types of bristles, rubber bristles will not snap or bend, and instead, they keep their shape. They can be easily cleaned, and some types of brooms with rubber bristles are designed so that the head can be unscrewed from the handle and thrown in the washing machine to be cleaned.
They are also quick-drying. Rubber bristles are hard-wearing and do not damage surfaces; however, they are not as stiff as some other types of bristles and are, therefore not the best choice for sweeping up the backyard.
Horsehair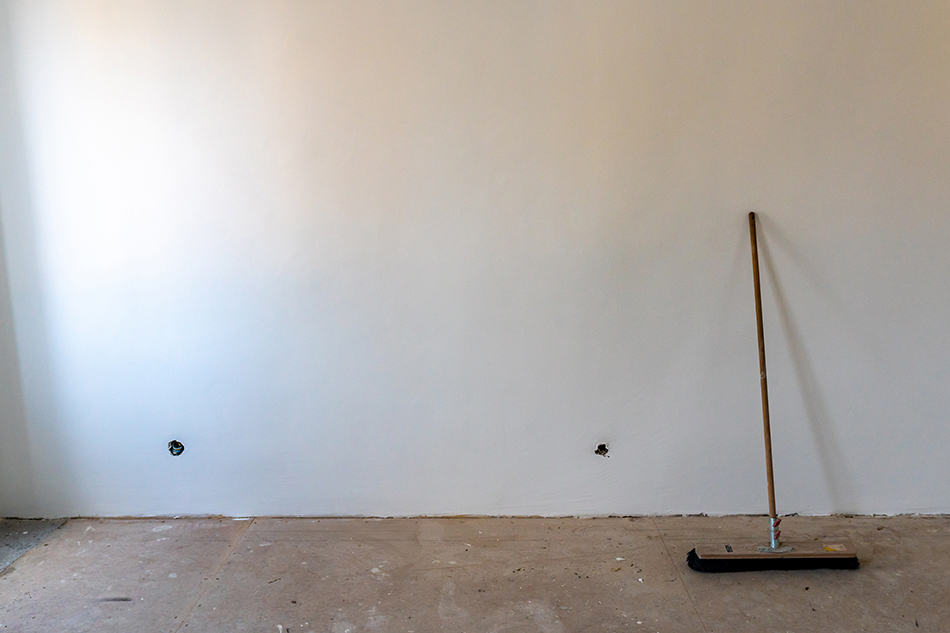 Horsehair is generally not used alone on brush heads because it is too soft; however, it can be mixed in with tougher bristles. Horsehair is fine, and therefore when teamed with another type of fiber, it helps to catch the small fragments of dust while the other bristles catch the larger bits of dirt.