Tiles make up a big part of the bathroom's walls and flooring so extra considerations must be taken when choosing them. There are several types of bathroom tiles that come in various sizes, colors, shapes, and designs. To help you decide on the most suitable option, here are the most popular types of bathroom tiles I've selected for the walls and flooring including the pros and cons of each one. 
1. Ceramic Tiles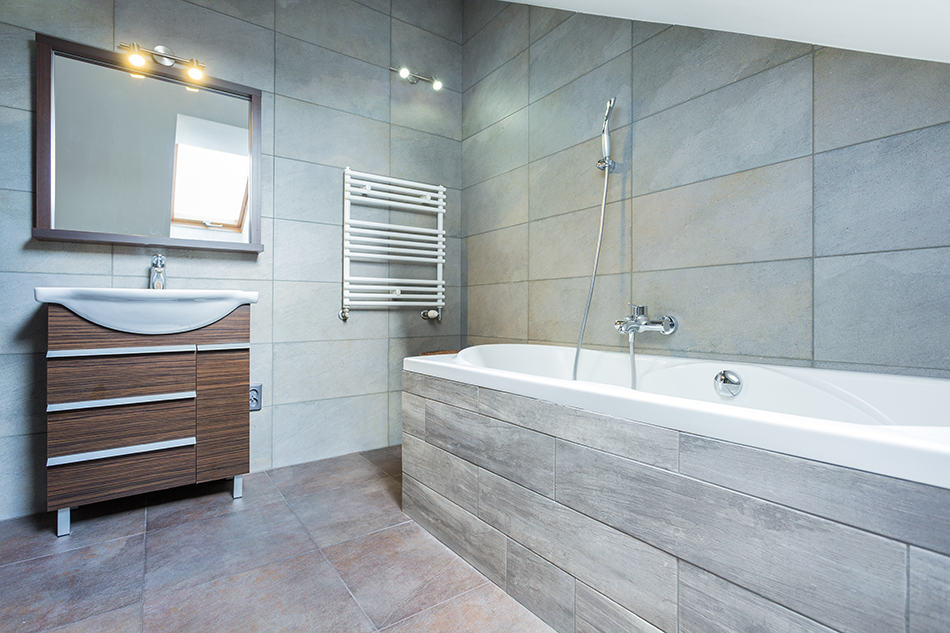 Ceramic tiles are baked in a kiln and made of water, clay, and minerals. These tiles are varied in colors and styles but can be porous and fragile if unglazed. Ceramic tiles are a popular bathroom wall and flooring option because of their easy-to-maintain and moisture-resistant properties. These tiles help the floor stay cool in summer and warm in winter. 
      Pros:
Highly versatile in design

Easy to clean

Very durable
      Cons:
Can be slippery when wet. Place a bath mat on the floor to avoid slipping

Very heavy

 
2. Terractota Tiles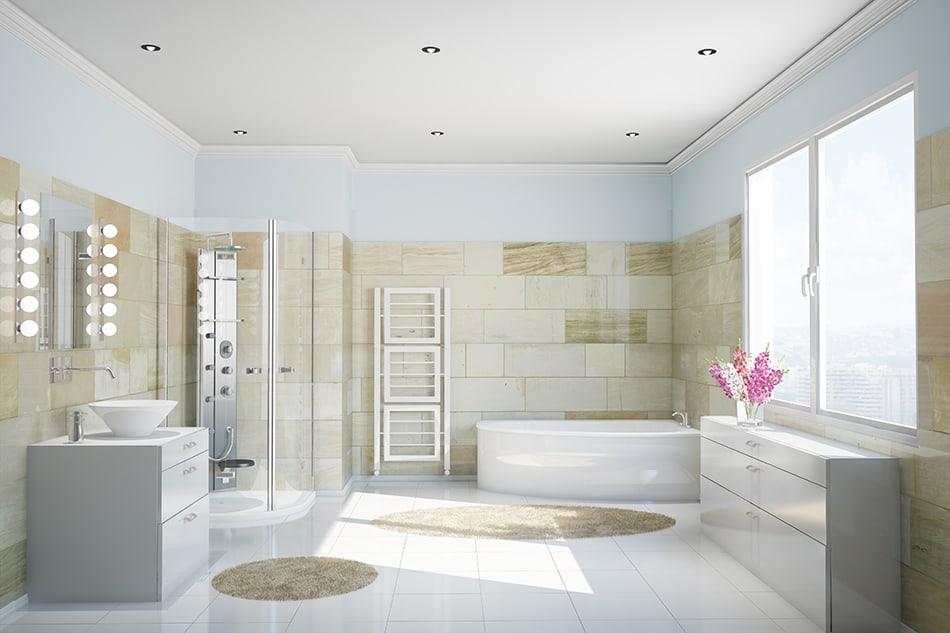 Terracotta tiles create a delightfully old-worldly ambiance in the bathroom. They are made of red or earthy clay and ideal for traditional or rustic bathrooms. The aesthetic beauty and earthiness of these tiles are what make them stand out and you'll often find the red clay designs in Mediterranean-style homes. In terms of maintenance, you'll need to seal the tiles every two years in order to protect them from damage. 
      Pros:
Naturally resistant to mold and bacteria growth

Unlike ceramic which gets cold, terracotta feels warm to the touch

Highly durable. Will last for decades if properly maintained

Excellent option for creating a rustic look in your bathroom 
      Cons:
Very porous and can absorb water quickly, thus you must seal it every few years

High maintenance
3. Porcelain Tiles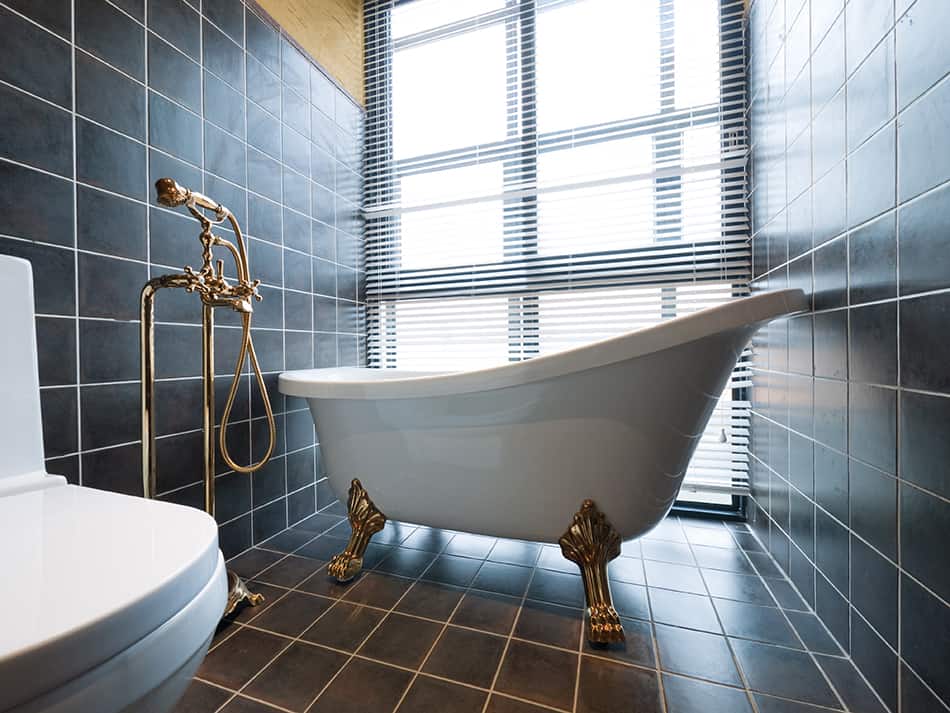 Porcelain tiles are similar to ceramic tiles, but they are longer-lasting and more durable because of their high density property. Furthermore, porcelain is made at higher temperatures than ceramic, thus making it tougher and scratch resistant. Porcelain is a popular choice for bathroom thanks to its less porous and greater water-resistance qualities. These types of tiles are highly versatile in design so you won't have any trouble finding the right style for your bathroom. 
      Pros:
High-quality tile that can increase the value of your home

Very easy to clean

Scratch, moisture, and stain resistant

Doesn't fade after heavy use
      Cons:
Not a DIY installation job as the tiles are difficult to cut

Very slippery when wet
4. Limestone Tiles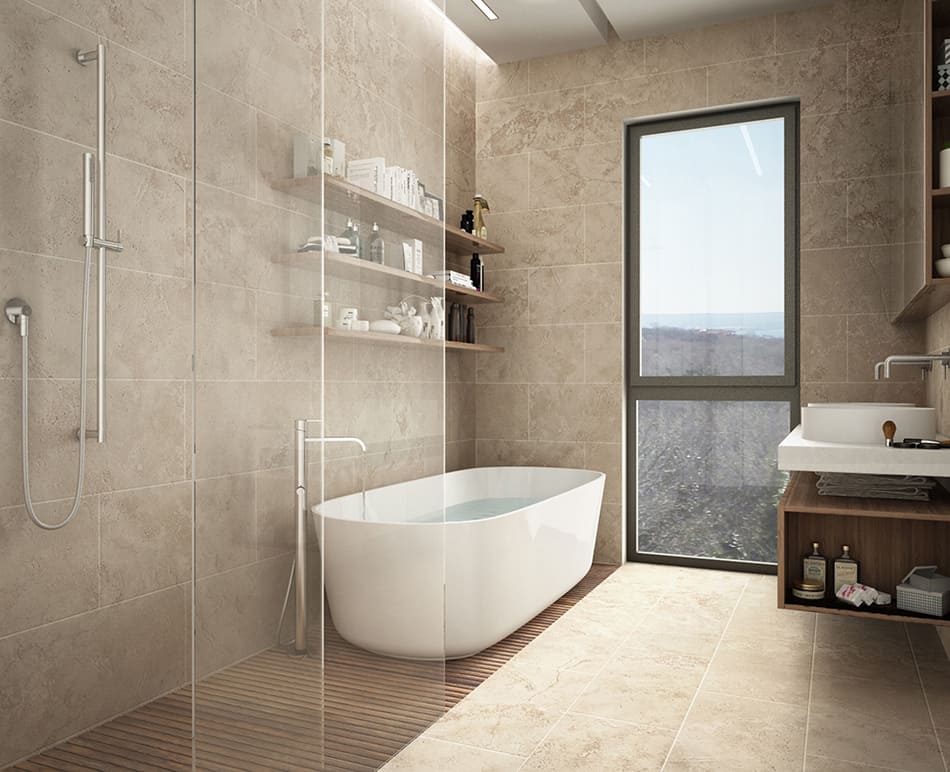 Limestone tiles are natural materials made of calcium carbonate salt. They are ideal for any bathroom decor thanks to their vast variety of patterns and shades. The visual appeal of limestone is what makes it highly popular in modern bathrooms. This is due to the fact that limestone provides a warm and earthy tone to the bathroom floor. When properly sealed, limestone will last for many years. And as for installation, you may want to leave the task in the hands of professionals since limestone tiles are very heavy.   
      Pros:
Extremely durable

If properly sealed, limestone will last for a long time without showing signs of wear and tear

In the event of a chip or crack, the tile can easily be removed and replaced  the tile chips

One of the most affordable bathroom tile options for those who prefer natural materials
      Cons:
To preserve the quality of the tile, you'll have to maintain it every few years

Medium durability compared to marble

Heavy and difficult to install
5. Granite Tiles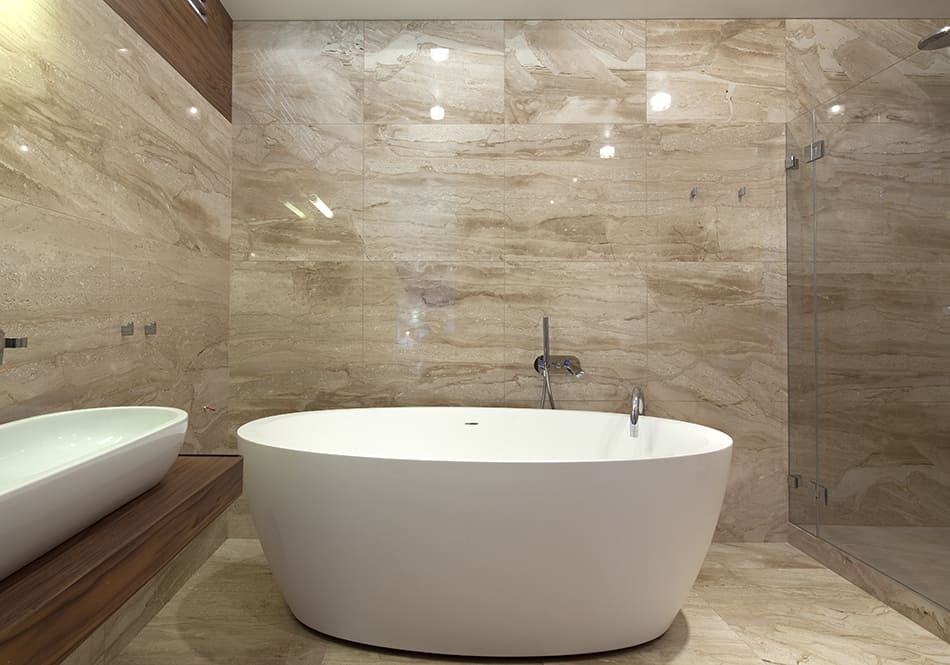 You may think that granite is only used for kitchen countertops, but this natural stone is just as popular for the bathroom because of its low porous property. Granite's incredible durability is a feature that stands out among natural stone tiles. And best of all, it is chip and scratch resistant so you can rely on it for many years.  
     Pros:
Highly durable natural stone material 

Resistant to scratches

Very strong and dependable

Can increase the value of your home
      Cons:
Rather heavy to use as flooring so make sure your subfloor can support the weight of the tiles

Maintenance is very time consuming because granite is sensitive to chemicals
6. Mosaic Tiles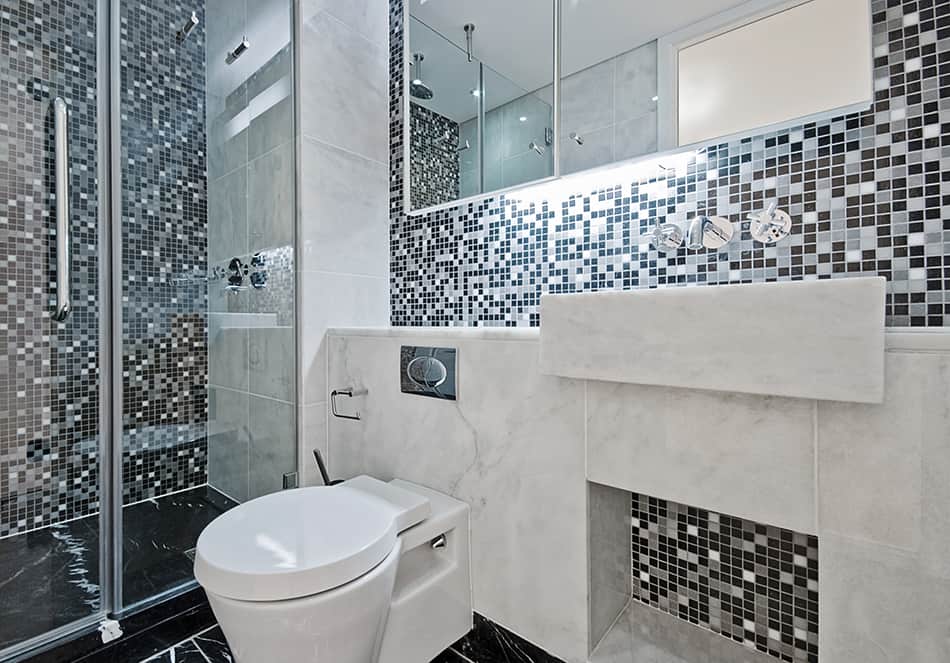 Mosaic tiles can be made from any material, such as tile, stone, or glass. But what makes these tiles stand out is their small size and beautiful patterns that are incredibly hard wearing. Mosaic tiles can last for many decades and are highly resistant to water damage. They bring elegance and style to modern bathrooms.
      Pros:
Highly versatile and flexible in designs, patterns, and colors

Mosaic is cheaper to install than ceramic and marble

Easy to clean and hard wearing against cleaning chemicals
      Cons:
Since mosaic tiles are smaller in size, they are more susceptible to damage

Mosaic tiles as the flooring tend to be prone to cracks, especially if you drop larger items on them

If the tiles are installed on the shower room's floor, they will become slippery when wet

 
7. Marble Tiles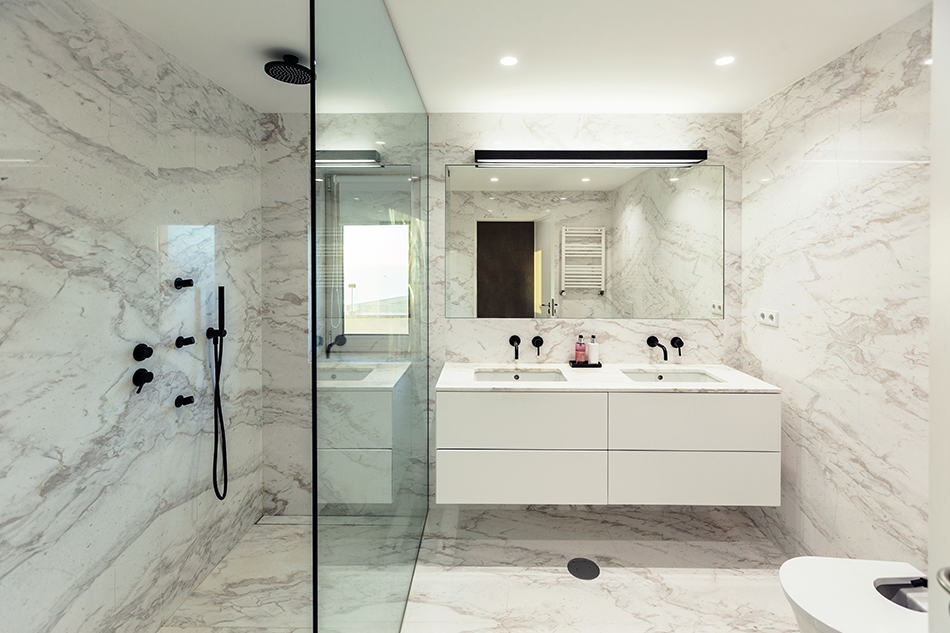 Marble tiles are simply stunning! These natural stone tiles are available in a range of colors and patterns so no two marble tiles are the same. In fact, you can even find multi-colored marble tiles with beautiful aesthetic features that can be matched to any bathroom decor. The waterproof property of marble makes it ideal for bathroom flooring as it can keep water at bay. This type of tile is perfect for classy bathrooms that ooze elegance.
     Pros:
Marble tiles enhance a bathroom's decor style. You can incorporate different colors and create an attractive color scheme thanks to the versatility of these tiles

The look of natural stone is highly appealing to homeowners. Every piece of marble tile has unique vein-like patterns that make it visually stand out
      Cons:
Marble is highly porous so it needs to be properly sealed during installation

Marble is prone to scratching and cracking. It's best to buy extra tiles in case any replacements are required

Just like other stone tiles, marble is both soft and hard. Its structure can get dented after heavy use, therefore, make sure you tightly seal the tiles during installation

Marble is more expensive than other natural stone tiles
8. Slate Tiles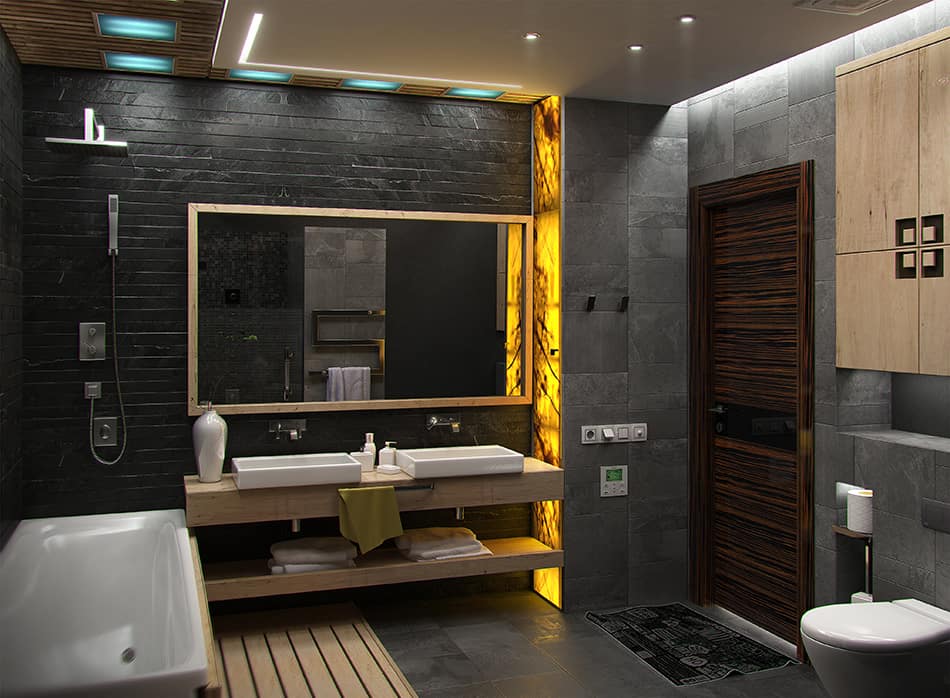 Slate tiles are another natural stone material with superior durability and aesthetic appeal. These tiles are metamorphic rocks that are cut into flat shapes. If you're seeking a unique and durable tile for your bathroom floor and walls, then slate makes a great choice.
      Pros:
Highly durable and extremely hard wearing

Resistant against dents, scratches and scrapes, and water

Slate is low maintenance. All it requires is a quick sweep using a damp cloth or mop

The rough texture of slate makes it an ideal anti-slip flooring for the bathroom

Slate hides dirt, especially if you choose grey tiles
      Cons:
Quite expensive compared to synthetic tiles

Not very comfortable to stand on barefoot for long periods of time because of the rough surface of the tile

 
9. Glass Tiles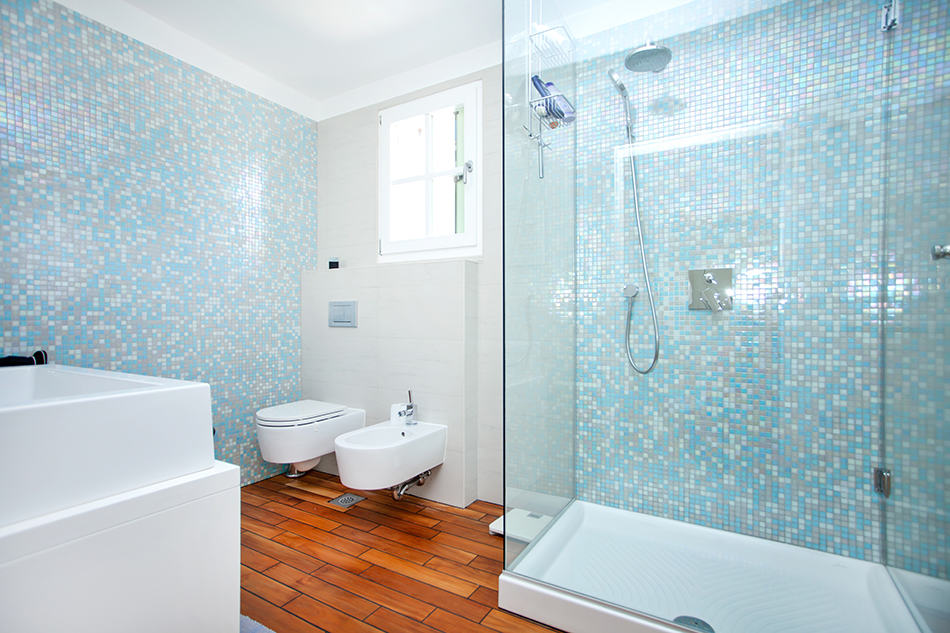 A unique way to make your bathroom stand out is to use glass tiles. These types of bathroom tiles can be stained in different tones and shapes in order to create authentic designs. The visual appeal of glass tiles is their biggest attraction. You can find many customized styles to fit the design of your modern or traditional bathroom.
      Pros:
Glass tiles are translucent and offer endless color varieties that make them perfect for the bathroom walls

Dirt and stains are easy to clean with a simple wipe

Mold and mildew resistant

Glass tiles don't absorb water, thus making them perfect for the bathroom
      Cons:
Installing glass tiles isn't a DIY job so you'll want to leave this task in the hands of professionals

Can be slippery when wet. It's best to use these tiles for the walls only 
10. Pebble Tiles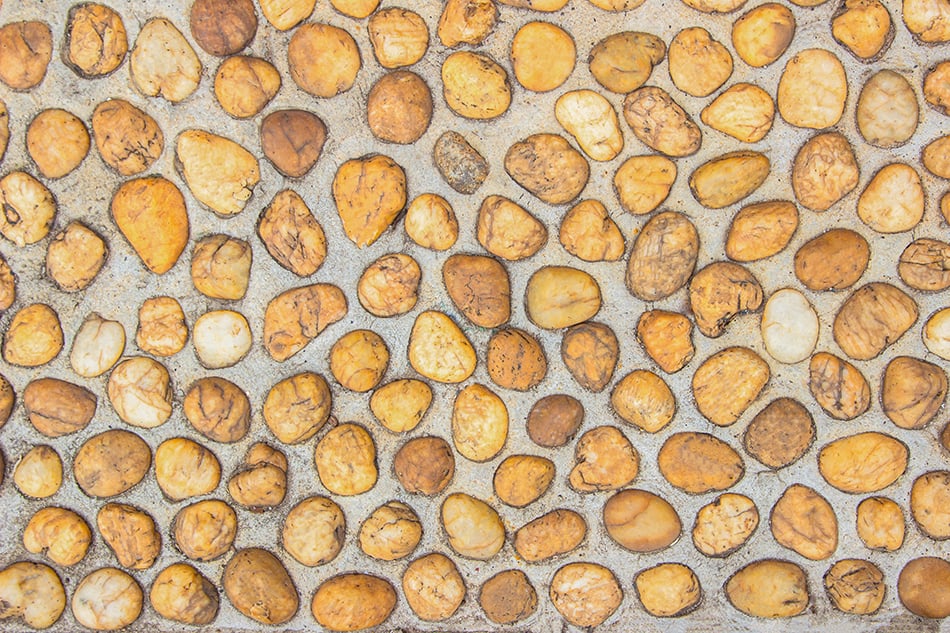 Just as the name suggests, pebble tiles are simply a collection of rock pebbles that mimic nature. These relatively durable types of tiles don't have a flat surface like other natural tiles but for those who want to bring the outdoors into their bathroom, pebble tiles make a good choice.
      Pros:
Pebble tiles look unique

Water won't stain or damage the pebbles

Pebble tiles are ideal for indoor and outdoor shower flooring.   
      Cons:
Frequent sealing is required in between the pebbles

Some people don't like the feeling of standing barefoot on pebbles. In this case, it's best to choose flatter pebbles

Pebble tiles are difficult to clean as the tight spaces between the stones are hard to sweep or mop.