Adding a further washroom to your home can increase the value of the property and also make it more functional for a growing family.
Here we look at minimum toilet room dimensions as required by the building code in the US.
Why You Need to Know Toilet Dimensions
There are many reasons why you may need to know the minimum required dimensions for a bathroom or toilet room.
A common problem in a family home is as the family expands with the addition of more family members, whether that be the arrival of babies or older relatives moving into the property, the amount of toilets in the house becomes inadequate. Many families will find themselves arguing with each other in the morning when everybody wants to get ready for the day and shower at the same time.
As small children become potty trained, you might find that you need more toilets available so that they have use of one as soon as they feel the urge to go, or if teenagers are spending increasingly lengthy periods in the bathroom, you may decide it's time to multiply the number of toilets in your home.
Minimum Toilet Dimension Requirements
United States building code dictates that bathrooms and toilet rooms have to be of a minimum size in order for them to be safe and fit for purpose. If you are creating a new space for a toilet, you will need to ensure it meets the minimum dimension requirements so that you aren't breaching the building code.
Any renovations which do not meet the building code could be an issue when it comes to selling your property in the future, or you may be forced to remove the upgrades and return the room back to its original state. Check out the dimensions of the common bathroom and toilet rooms below together with understanding the standard toilet dimensions; then you'll be able to know how to set sizes for the toilet room.
Full Bathroom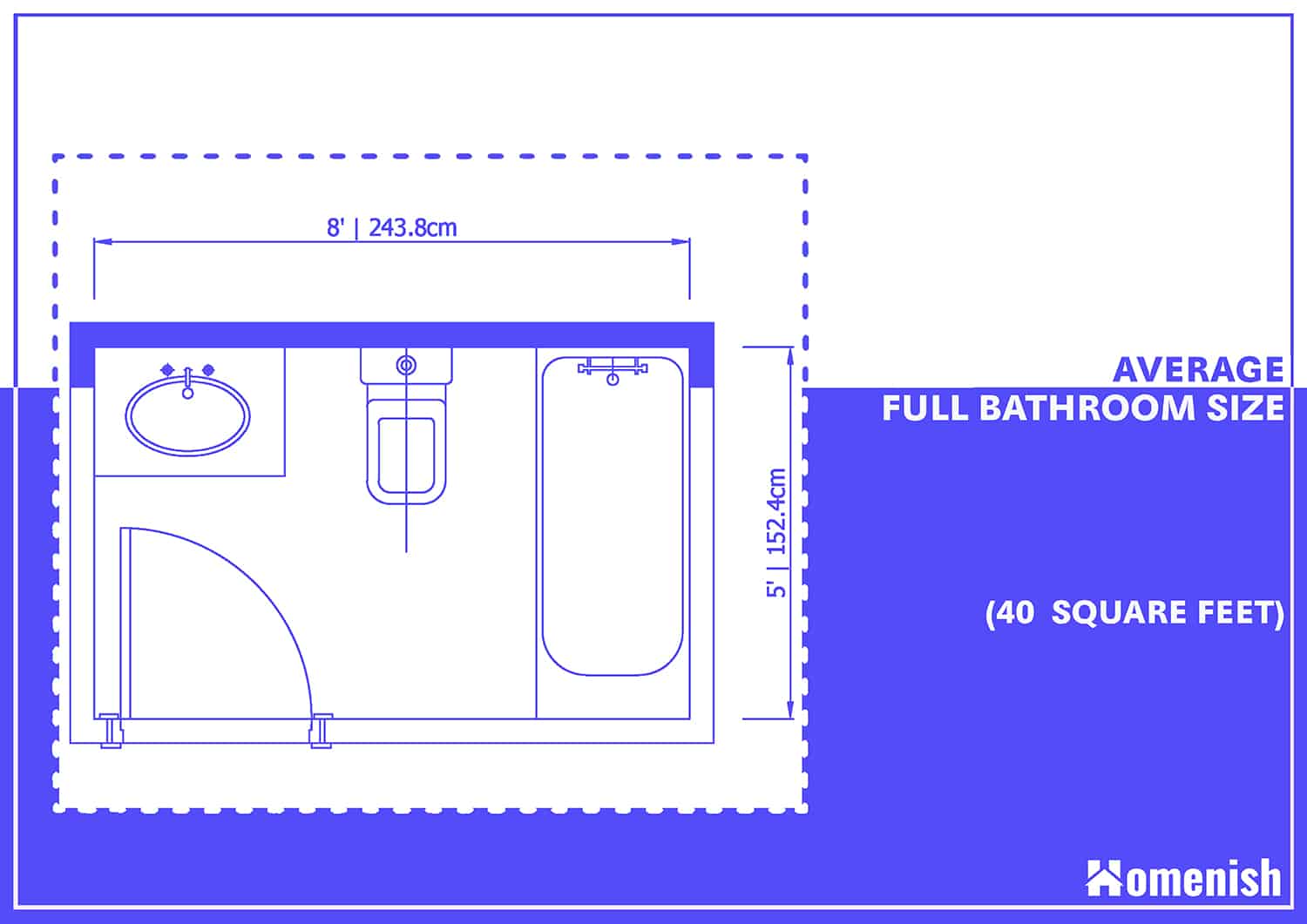 In the US, a full bathroom is one that includes a toilet, a basin, and a bathtub or bath shower combination. It is recommended that this type of bathroom should have minimum dimensions of 5 feet by 8 feet.
To achieve this, you will need to use the minimum size of bath available. If you would prefer to include a longer tub than the minimum standard size, then the size of the room would need to be increased accordingly.
Shower Room (Full Bathroom)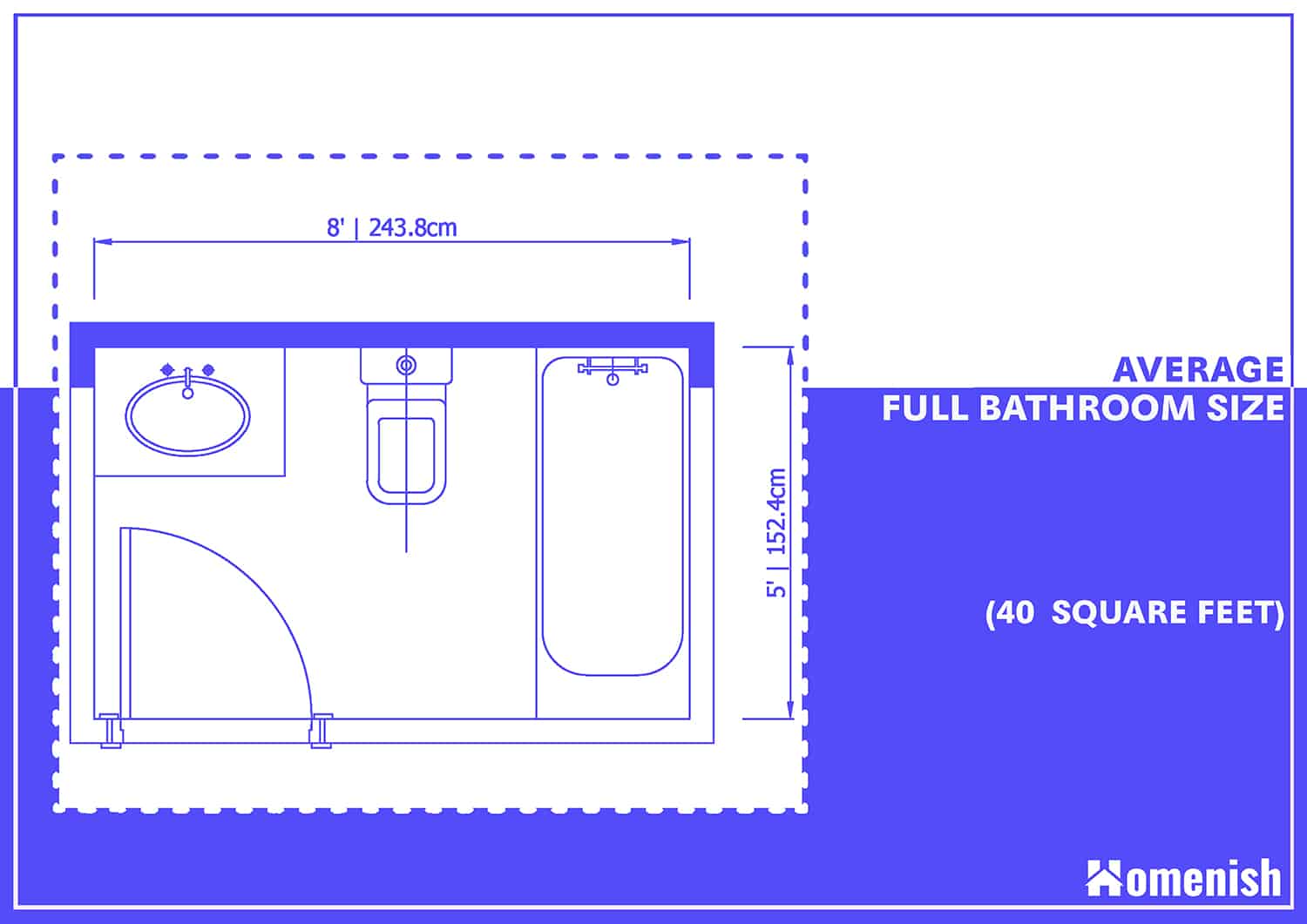 A shower room, sometimes known as a small full bathroom, is one that contains a toilet, basin, and shower. The shower might be a walk-in shower, a corner cubicle, or a wet room shower. The minimum measurements for this type of room are 6 feet by 6 feet.
Half Bathroom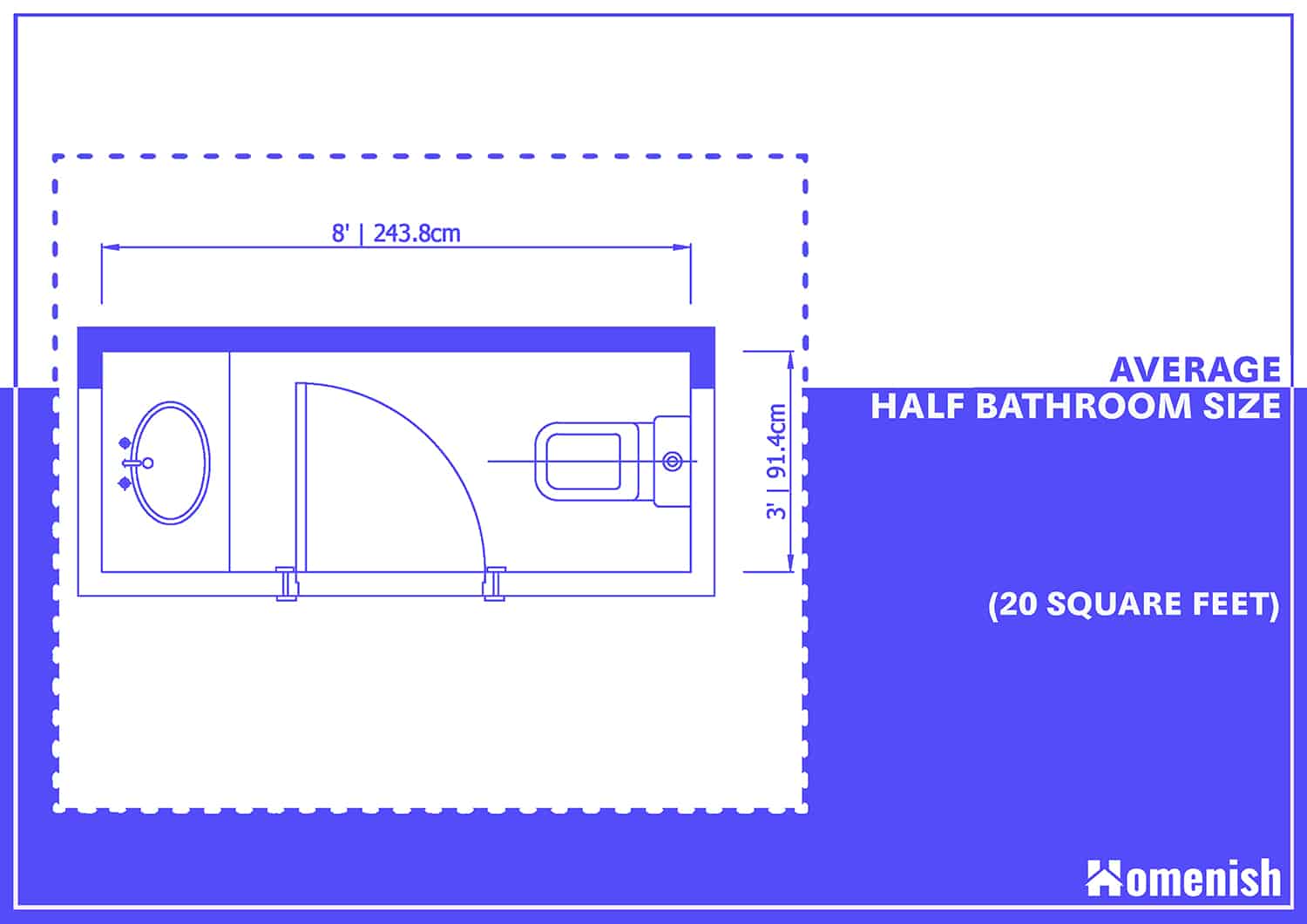 A half bathroom, also known as a washroom or toilet room, will contain just a toilet and a basin. These are most commonly found on the ground floor of homes, preventing people from having to go up and down stairs just to use the bathroom during the day. These are great for if you have guests visiting in the day because it means you won't have to allow them to enter the upper, more private levels of your home.
The minimum size for a half bathroom should be 5 feet by 2.5 feet, though most will be a minimum size of 5 feet by 3 feet as these extra few inches give the user better clearance. To make these minimum dimensions work for a bathroom, you will need a pocket door or a door that opens outwards into another room.
If you have a door that opens inward into the toilet room, it is highly likely it will bang into the toilet or basin and create a struggle for anyone trying to enter or exit the room. Most commonly, in this setup, there will be a toilet against one of the narrow end walls and a basin facing the toilet on the opposite end wall. This makes the best use of space and is also the most functional and practical layout for the user. A corner basin can also work well.
UK Code
If you live in the UK, then there is currently no minimum dimension requirement for toilet rooms, giving you greater flexibility when it comes to transforming closets into toilets or creating en-suite bathrooms. Under stair closets in the UK can be converted into toilets to create a downstairs washroom in a home where one does not already exist.
These closets tend to be fairly small, but by using small toilets and wall-hanging basins, you can create a functional space. At an absolute minimum, the space would need to be 4.2 feet by 2.2 feet in order to fit both a toilet and sink in the room and also allow for leg clearance when sitting on the toilet. For a more comfortable fit, 4.6 feet by 2.6 feet would be better, and this is achievable in many under stair storage spaces.
These dimensions would allow for a toilet measuring 25 inches in length and a basin that protrudes from the opposing wall by 15 inches. The empty floor space remaining between the two units would amount to a little under 14 inches, which is an acceptable amount of clearance for someone to comfortably use the room.
Ceiling Height
If you're squeezing a bathroom into an old closet area or into the eaves of your home, then you'll need to be mindful of ceiling height. Bear in mind that in a toilet room, you will, at the very least, need to be able to stand without hitting your head, so the ceiling will need to be a greater height than your average person.
The recommended ceiling height in bathrooms is a minimum of 6.8 feet. In a bathroom where you are also installing a shower, you will need the ceiling height to be slightly higher.
This is to allow for the height of the shower tray when you are standing on it, as this can be several inches high. You will also be able to want to raise your arms slightly over your head to wash your hair though if you have taller members of your family using the bathroom, then this minimum may need to be increased.
Create En-Suite Toilet in a Bedroom
If you are lucky enough to have a spacious master bedroom, then you may consider sacrificing some of that space to gain an en-suite toilet.
You can install stud walls in the corner of the bedroom to create a private bathroom area, providing you have access to plumbing and drainage from nearby. This will be possible if your bedroom is situated close to another bathroom or if it is on the floor above a downstairs kitchen or laundry room, as the pipes can be extended upwards through the floor.
If the lack of available toilets is the issue in your house, then you could minimize the amount of bedroom space you would lose by installing a small washroom with a toilet and basin. Alternatively, consider adding a shower or bath to the room and create a full bathroom if you want to maximize the property value of your home and make it more appealing to prospective buyers.
Of course, you could add an en-suite to any bedroom in the home which has adequate space available and suitable plumbing, such as a new en-suite bathroom in a teenagers bedroom to give them more privacy.
Create Toilet in Under Stairs Space
Some houses, older properties, in particular, lack a downstairs toilet. If you don't have the means to extend your home to create a bathroom, you can get creative with hidden and underused areas of the house. One popular way that many people are gaining an additional toilet on the ground floor of their home is by converting the under stairs space.
This is a small area that is often used as a closet or for storing toys or cleaning supplies. Make better use of the space by installing a small toilet and basin, creating a home that is better suited to your family's needs. To find out if your under-stair space is big enough to accommodate a toilet, you'll need to know about minimum toilet room dimensions.
Convert Spare Bedroom into Bathroom
If you have a small spare bedroom or a dressing room that isn't serving any use, you may want to convert it into an additional bathroom to provide more areas where your family can wash and get ready for the day. This will be an easier task if the spare bedroom backs onto an existing bathroom so that the plumbing can be extended easily.
Add Extension for a Bathroom
If you are building an extension to your home, whether it be a ground floor extension or a double-story extension, you could include an additional toilet room or bathroom in your plans.
Extensions are a costly and time-consuming project, with every extra square foot you add costing big bucks, so it's essential to understand the minimum dimensions required to plan your extension effectively.