Trash cans are measured by volume as opposed to dimensions, and there are a variety of sizes available to fit different areas of the home. Within this variety, there are standard sizes that correlate with trashing liner sizes so that users get a good fit.
This article will look at the standard sizes for different types of trash cans, what their dimensions are, and where these are best suited to within the home.
Small Trash Cans (1.2 – 2.6 gallons): Ideal for bathrooms, under kitchen sinks, or in small spaces. Typically 10-15 inches high and 7-10 inches wide. Perfect for food waste or small-scale recycling.
Medium Trash Cans (5 – 15 gallons): Versatile for kitchens, offices, and corners. A common size for residential use is 13 gallons, usually about 28 inches high and 14 inches in diameter.
Large Trash Cans (15 – 30 gallons): Suitable for kitchens, laundry rooms, pantries, or garages. A 20-gallon can measures approximately 29 inches in height, 16 inches wide, and deep. A 30-gallon can is similar in height but wider and deeper, around 22 inches.
Common Trash Cans – Size Chart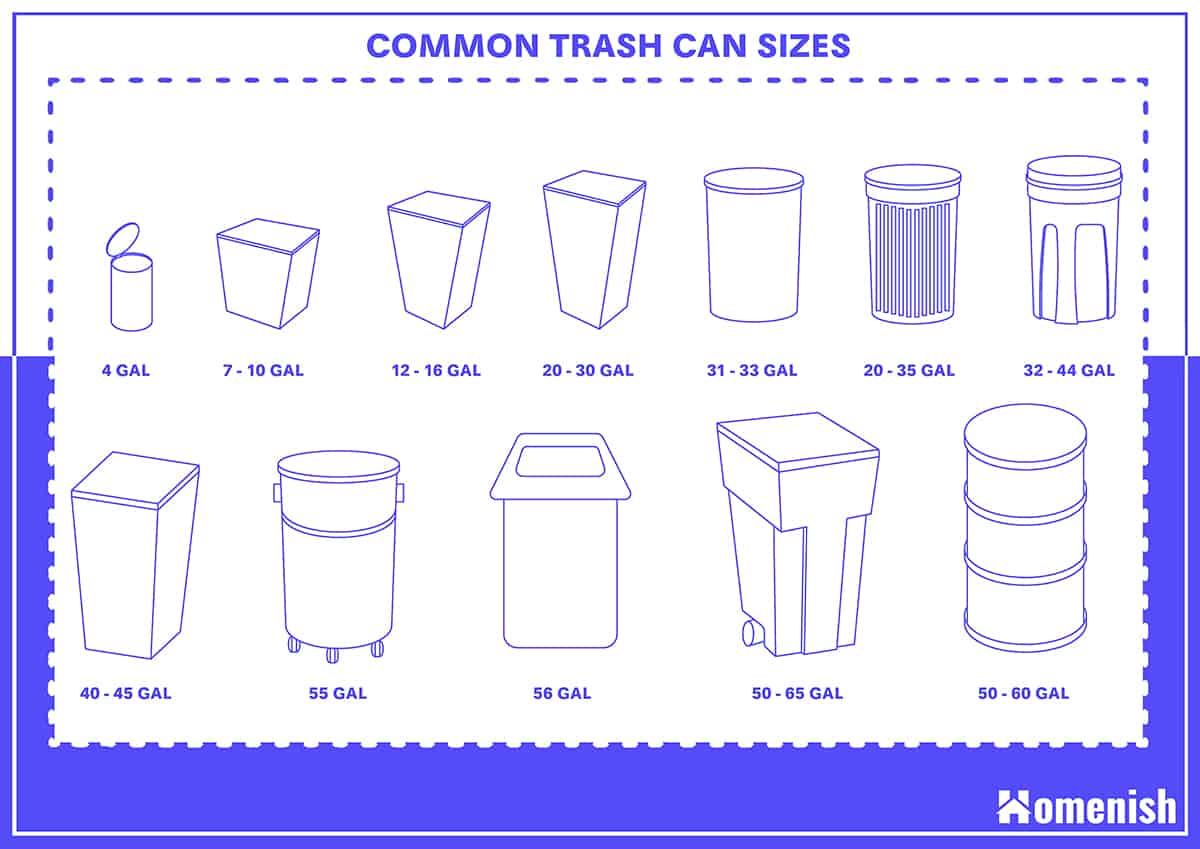 Find below the most common types of trash cans with their size and capacity.
Small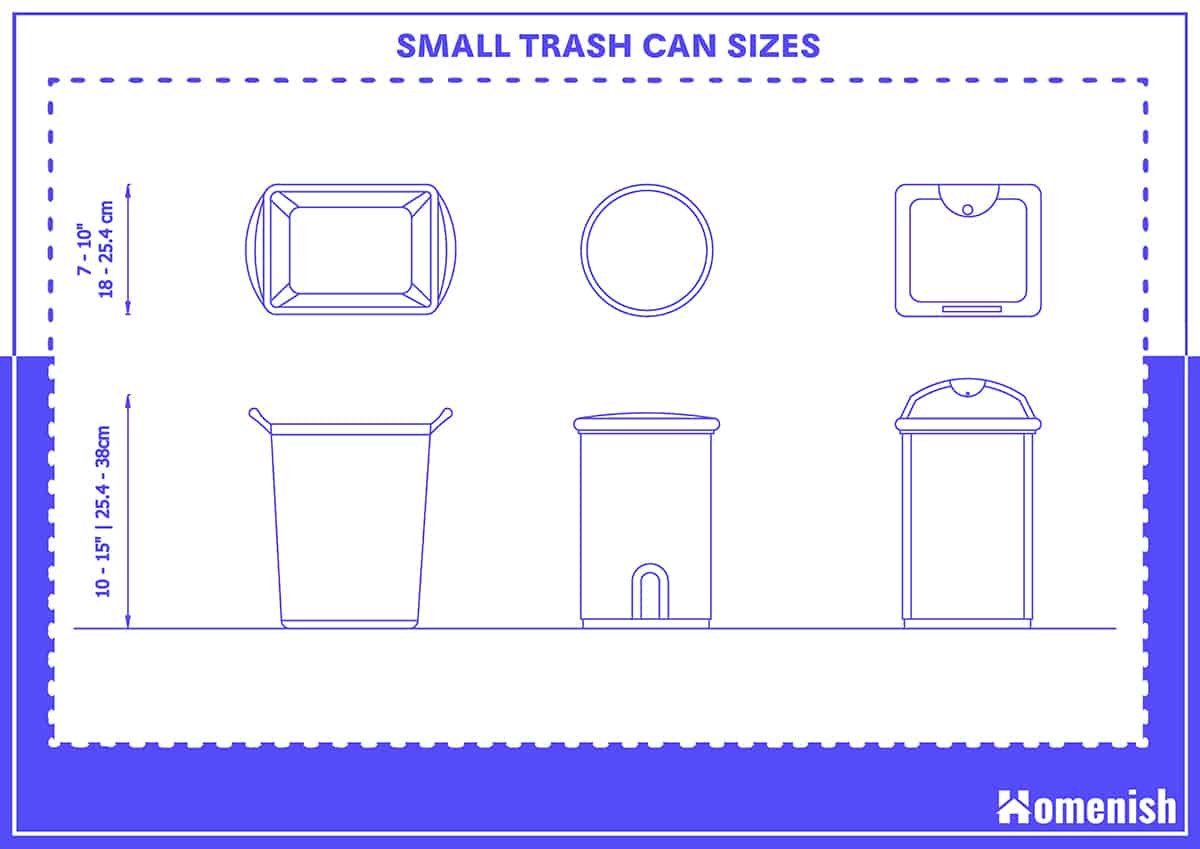 Small trash cans tend to be a good size for keeping inside a cabinet. For example, many people will store a small trash can under the kitchen sink for food waste or in the corner of the bathroom for recycling or general bathroom waste.
Small trash cans have a capacity of between 1.2 and 2.6 gallons. They may be rectangular or round. A small trash can may measure between 10 and 15 inches in height and 7 to 10 inches in width. Depending on the shape, they may vary in-depth, but this measurement may be as much as 10 inches.
Medium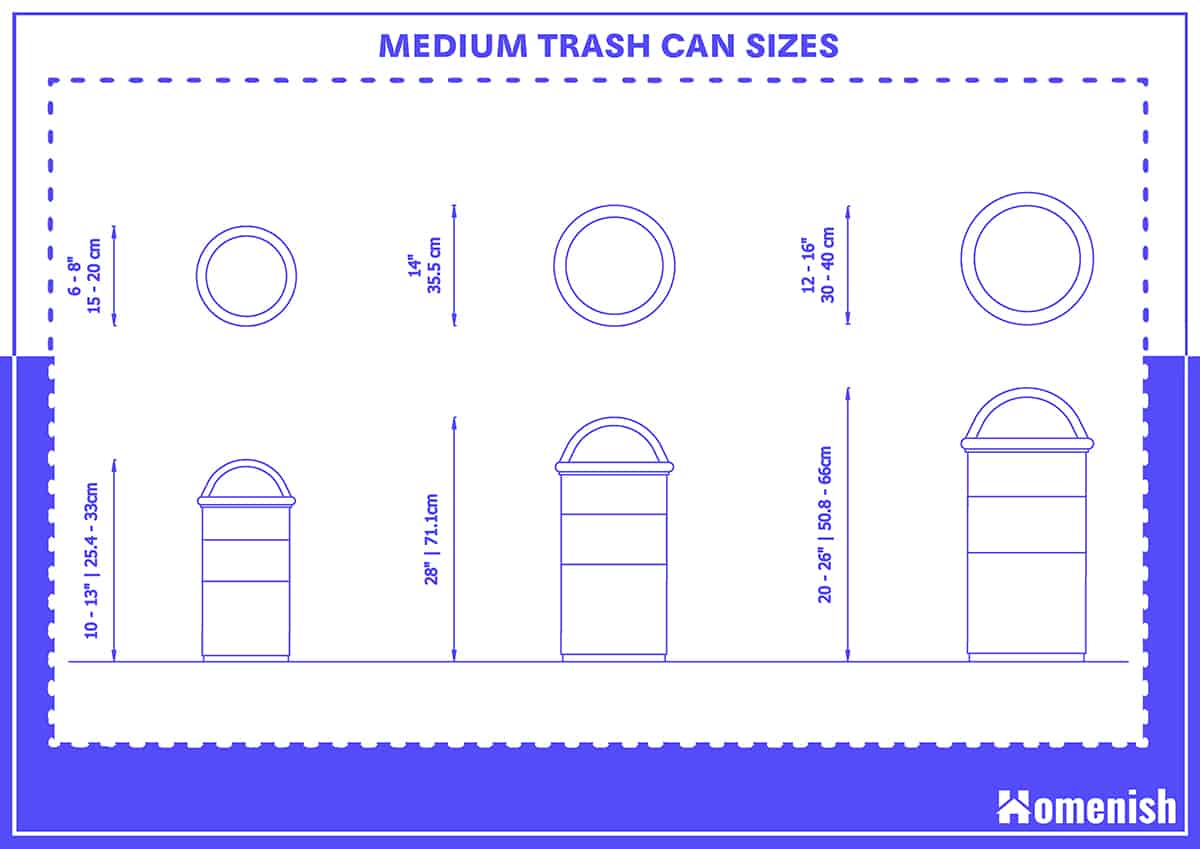 Medium trash cans are a versatile size that, makes them suitable for a variety of uses. They can be installed to fit the inside of kitchen cabinets, which is a good way to keep trash out of sight, keep bad smells contained, and increase the amount of floor space in a kitchen.
These trash cans can also fit under office desks or come in corner shapes to subtly fit into the corner of a room.
Medium trash cans will have a capacity of between 5 and 15 gallons. A 10-gallon trash can will have a height of between 20 and 26 inches and a diameter of 12 to 16 inches, while a 5-gallon trash can will be approximately half this size.
The most common size of trash can sold for residential use is the 13-gallon trash can. This will have an approximate size of 28 inches in height, and 14 inches in diameter, though this will vary between manufacturers and is dependent upon the shape of the trash can.
Large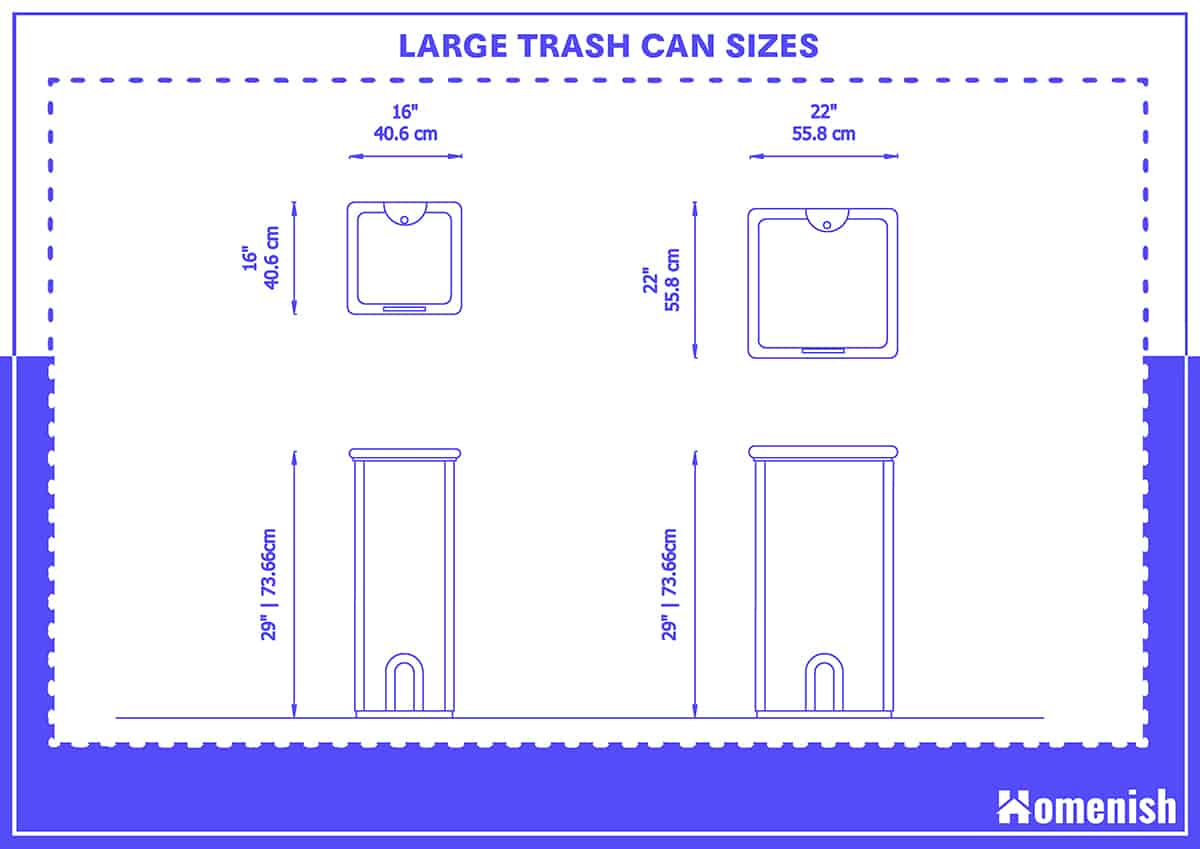 Large trash cans are the biggest types of trash cans readily available for home use. They can vary in capacity from 15 to 30 gallons.
These types of trash cans often come in a rectangular or square shape because they take up a lot of space, and by making the trash can angular, it is better able to fit into the corner of a room and cover less floor area.
A 20-gallon trash can will have dimensions in the region of 29 inches in height, 16 inches wide, and 16 inches deep. A 30-gallon trash can will be of a similar height but have a greater width and depth of around 22 inches.
This large size of a trash can is best suited for use in the kitchen, laundry room, pantry, or garage. They occupy a lot of space, but they don't have to be emptied as often as smaller bins, as they can accommodate a lot more waste.
If your family gets through a lot of trash and you find yourself frustrated at the frequency with which you have to continually empty the trash can and replace the trash bag, then a bigger trash can may be the solution.
Best Trash Can Size for Kitchens
Freestanding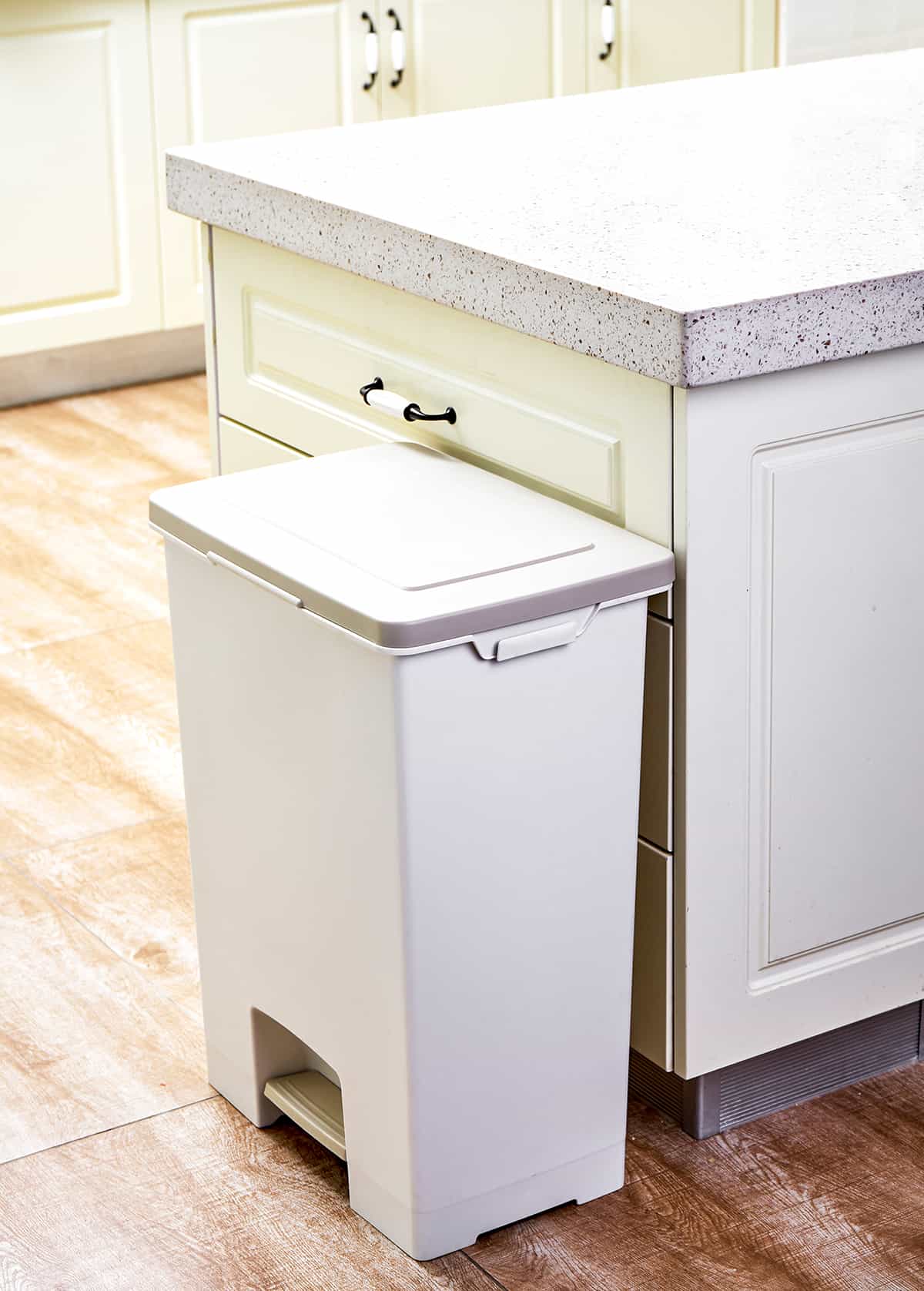 The freestanding trash can is the most common type of trash can in the kitchen. These tend to be tall trash cans that are of a similar height to the kitchen countertop. The size of these kitchen trash cans makes them suitable for fitting at the end of a row of kitchen cabinets without sticking out too obviously.
They are also a good height for scraping crumbs off the countertop and straight into the trash. For a tall kitchen trash can that is freestanding on the kitchen floor, look for one that is between 20 and 30 inches in height and around 10 to 15 inches in width or diameter.
Under Sink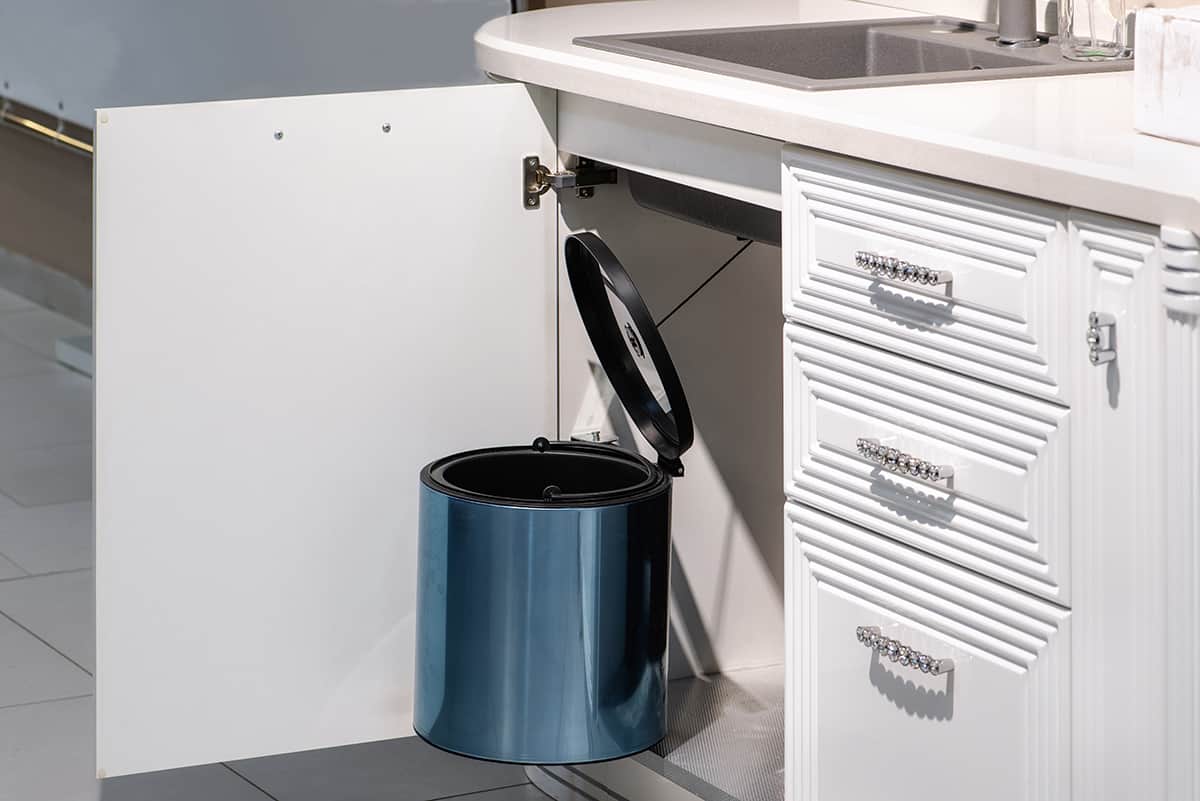 Trash cans under the sink are useful for collecting food waste, which you transfer to the garden composter. Keeping this type of trash can under the sink will keep any foul odors closed away and help to prevent flies from getting in.
You can find under sink trash cans for the kitchen, which are intended to be fixed onto the inside of the sink cabinet door so that the bin is easily accessible every time you open the door.
You can also buy small trash cans that neatly tuck into the space beneath a bin and sit on the bottom cabinet shelf. As the depth of sinks and their adjoining pipework can vary in size and the way they are positioned, you'll want to measure the under-sink space you have available before selecting a trash can. In general, under sink trash cans will need to be smaller in height than 10 inches.
In Cabinet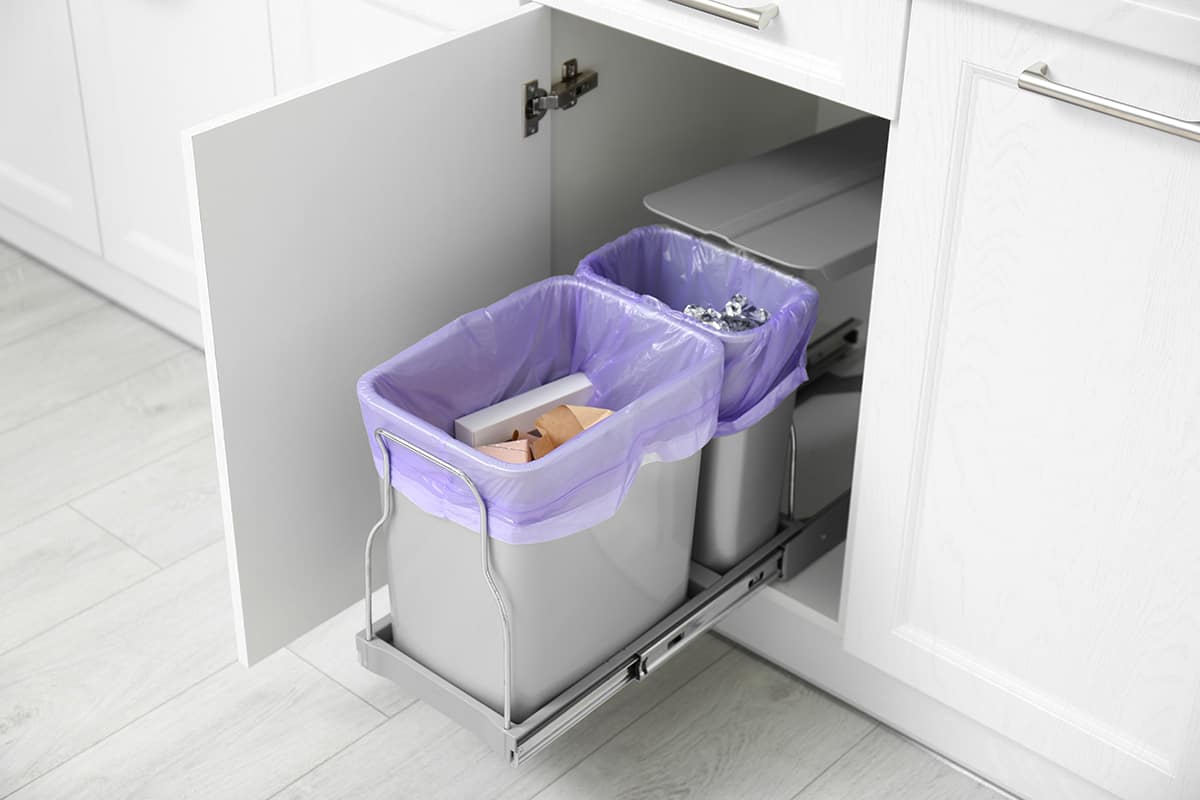 Trash cans that slide out of a specifically designed kitchen cabinet are a sleek and easy way to conceal trash in your kitchen and save floor space. They also tend to be medium to large in size and can, therefore, hold a lot more waste than under sink trash cans and can fulfill a different need.
These types of trash cans are good for collecting recyclable trash or regular trash.
The size of in-cabinet trash cans will need to correlate with the size of the kitchen cabinet so that they make the most of the storage space without being a tight squeeze. When choosing an in-cabinet bin, remember that the bigger the bin, the less cabinet space you will have remaining for keeping dinnerware, small kitchen appliances, and food items.
In-cabinet kitchen trash cans most commonly measure between 12 and 24 inches in width and have a height in the region of 20 inches. They are rectangular in shape, so they fit more snugly into the cabinet space.