There is nothing bad about white kitchens. But let's be honest, don't we all yearn for some color these days? Grey or white may have once been the preferred colors for kitchens, but now, brown blue kitchen designs are becoming more mainstream.
Blue is a versatile color and a top choice for kitchen color schemes. When it's combined with brown cabinets and decor, this hue adds a relaxing style to any cooking space. Whether you prefer sky blue, royal blue, turquoise or teal, there are no shades undiscovered in cool blue and brown kitchens. When it's paired with an earthy color like brown, it provides a stunning accent to your kitchen.
Find inspiration on adding brown and blue accessories or tiling to your kitchen by taking a look at our finest examples. And if you're undecided about using these color schemes in your cooking space, we have some great reasons why you should consider blue and brown for your kitchen design. Keep reading to learn more…
Why Pair Blue with Brown for Kitchen Design?
– Bright colors bring energy to kitchens. By blending blue with natural wood colors, you can create a warm and cozy kitchen design in either traditional or modern style.
– The color blue is the symbol of water so in dark kitchens, it can look especially attractive. Blue is inspired by sea waves and skies while brown is associated with wood. When decorating your kitchen in these colors, consider going for blue tile designs and wall color paired with brown cabinets or countertops.
– Since there are many shades of blues from rich noble teal to pale blue tones, you can incorporate your favorite shade into a modern kitchen design. Blue is reminiscent of the sea waves or dark blue night skies. It is a powerful and appealing color that's perfect for all kitchen styles.
– Dark blue paired with light brown are great for classic kitchen designs. They blend freshness and elegance to give a contemporary kitchen a calming feel. Chocolate brown and turquoise blue, for example, looks elegant and light, especially with wooden floors or cabinets.
– Light blue tones can be combined with warm brown hues. Brown is a natural wood color that works well with kitchen cabinets. Pair the cabinets with a light blue island to warm up your modern kitchen design. Distressed wooden elements also go well with this unique design as it adds character to your interior decorating idea. Turquoise blue and other pastel shades are perfect for modern kitchen designs. Always pair these shades with dark brown to create a cozy cooking space.
–  Blue and brown allow you to create contrast and add character to your kitchen design. Dark brown and light blue, for example feel fresh and inviting, plus they can be further enhanced with white or light decorating colors. But you don't need to limit your use of brown in cabinets. Light brown can also be used as a wall color to look harmonious next to white and blue, without making the kitchen appear frosty or cold.
To inspire you to adopt these classic colors in your home, here are some gorgeous blue and brown kitchen ideas with pictures:
Blue Brown Kitchen Ideas
Blue Cabinets in a Light Brown Kitchen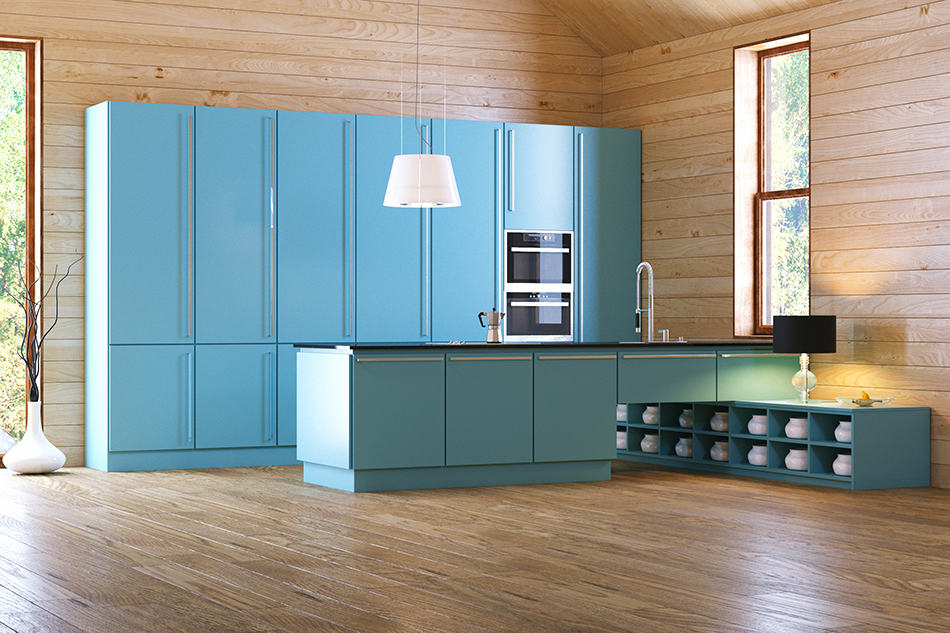 Blue is fast becoming a popular choice for kitchen cabinets. This color looks elegant with either glossy or matte finishes. Light blue cabinets pair elegantly with wooden decor. In a rustic kitchen design, traditional wooden accents go beautifully with blue cabinets for a classic contrast.
As you can see in this example, the simple design of this blue kitchen has created a sophisticated and homey feel. You may also experiment with two tones of blue for your kitchen cabinets, with light brown tone for the kitchen floor and walls. But if you think an all-blue kitchen design is just too much for you, add more brown to your backsplashes or countertops to soften the look.
Light Brown Tones with Blue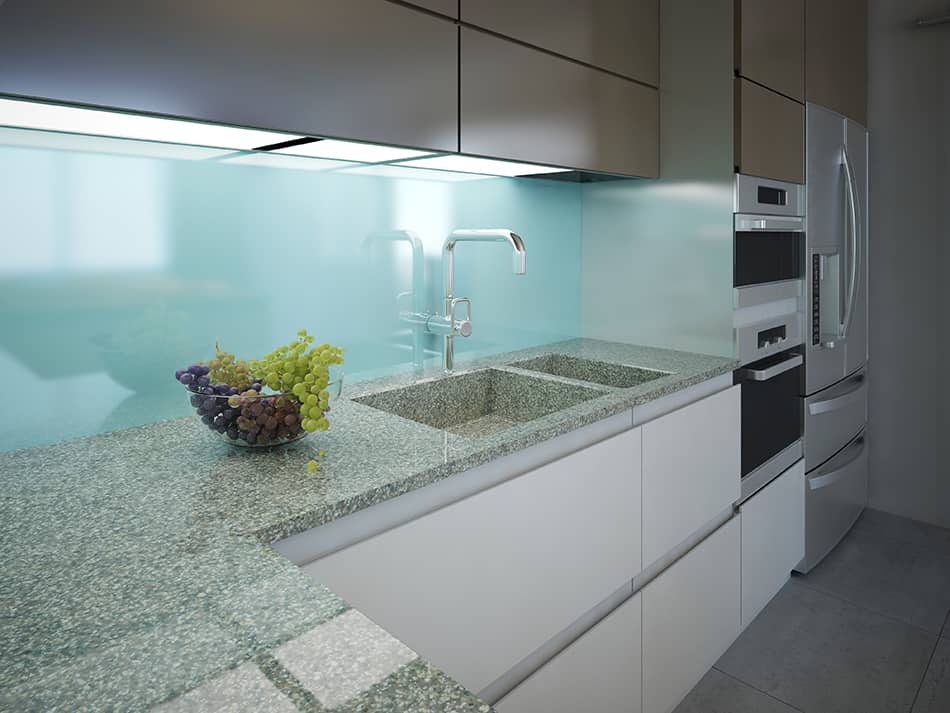 Sometimes you don't need to go all-out on blue and brown to design your modern kitchen. Light brown tones instead of dark ones will create a bright and warm space when paired with light blue.
See how bright and clean this modern kitchen interior looks with light brown cabinets and light blue wall. The whole kitchen design comes beautifully together to add brightness to the cooking space. You too can design such a color combo for your kitchen without having to go too bold with the blue and brown pairing.
Grayish Brown with Blue for a Modern Kitchen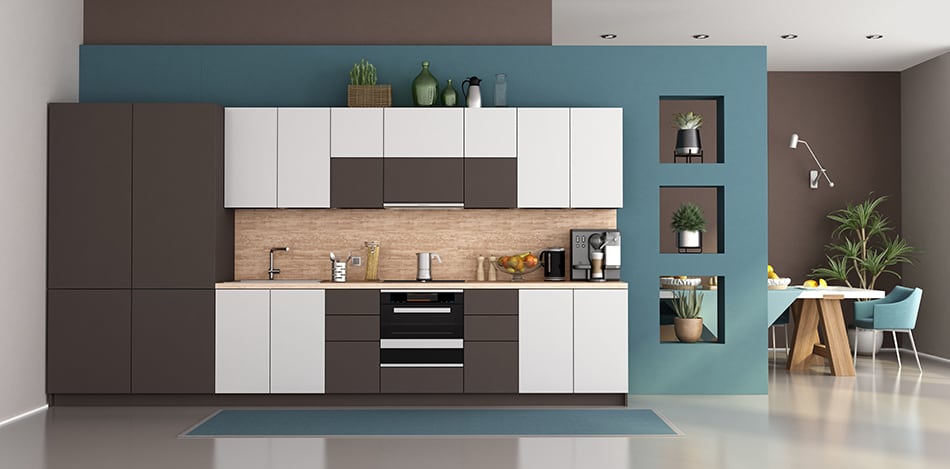 As an alternative to the common brown tones, why not go mainstream and introduce some grayish brown to your walls and cabinets. See how this brown blue walled kitchen is the center of attention with its cool blue walls. The sophisticated and modern style of this kitchen is anyone's dream, especially if you use lots of lighting to bring the modern elements into the spotlight.
Blue and Brown Combo for Backsplashes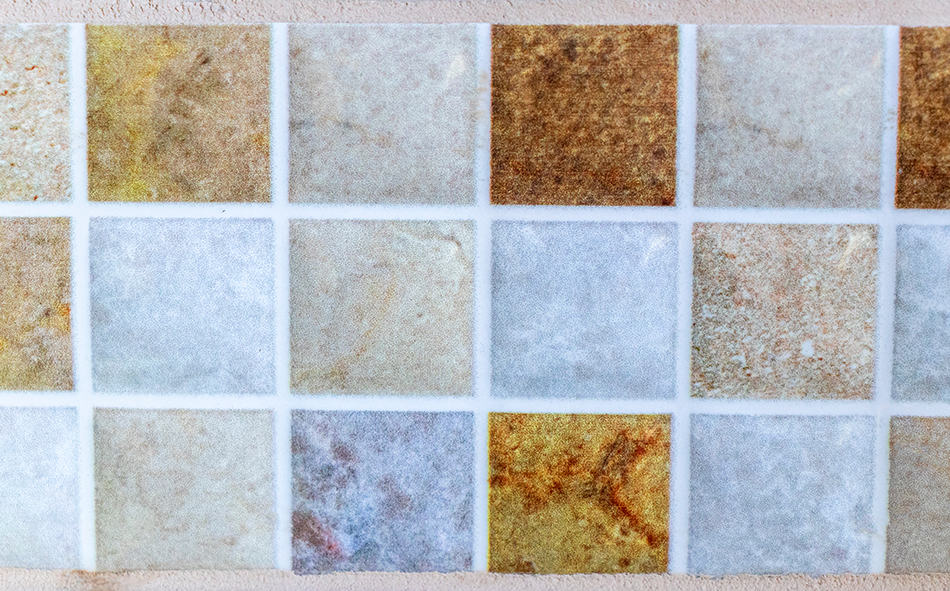 Brown and blue aren't just limited to kitchen cabinets and walls. To make it even more interesting, go for blue and brown tiles as backsplashes to your cabinets. Imagine rich-stained brown countertops with blue and brown backsplashes to continue the color combo. You can also use copper brown tiles paired with blue walls. Mix in some black and white mosaic tiles to refresh the space.
Blue and Brown Rustic Style Kitchen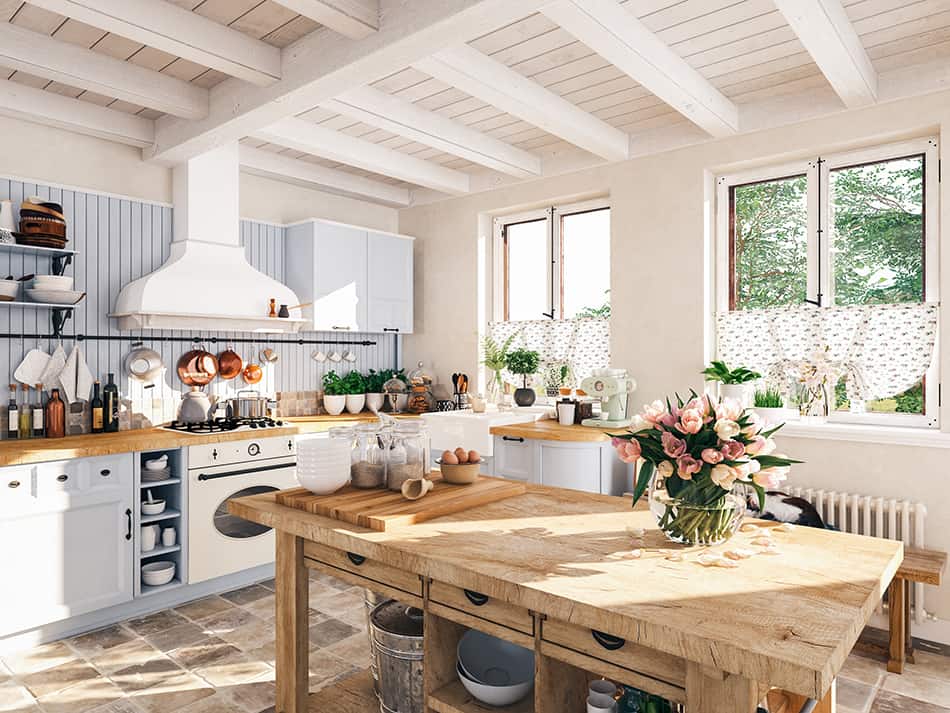 In a cottage style kitchen, blue and brown are the only colors that add to the rustic feel of this interior design. If you are drawn to farmhouse or vintage style kitchens, light blue and wooden brown hues are a must-have in such spaces. Instead of an island, place an unstained wooden table in the middle of the kitchen as shown here. Go quirky with natural wooden floors and wooden beams with bright blue and white appliances. A rustic or farmhouse style kitchen can easily be created with blue cabinets, light brown countertops and white beams. This example will give you a better idea and hopefully inspire you to create your own rustic style brown blue kitchen!
Blue Walls in a Brown Kitchen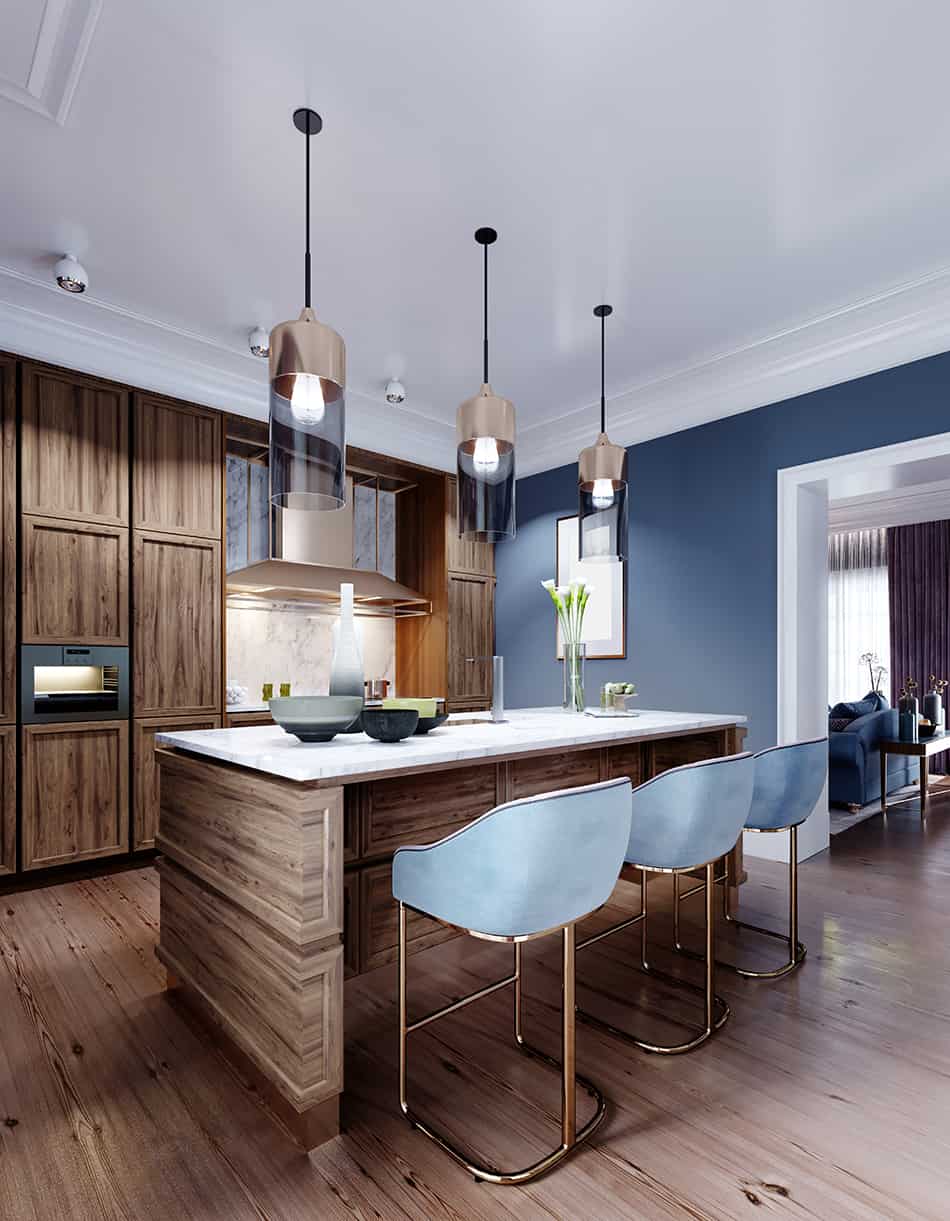 Blue is often associated with natural surroundings like the sea and skies. But it also characterizes stability. Show off your personality in the kitchen by choosing different shades of blue for your walls and furniture. Match the blue with brown cabinets and kitchen island as shown here. The introduction of brown is a good option when you want a predominantly blue kitchen.
Blue is a contemporary color that can also appear on the ceiling beams, the floor or wall decor. To create a truly unique kitchen, bring in some dark and light blue accessories to emit a stylish and original cooking space. Blue countertops that are in turquoise or teal tones add a cooling feel to a contemporary kitchen design. Pair them with warm brown colors to balance the look and fill the kitchen with an inviting atmosphere.
In this fashionable kitchen, the brown island and matching wooden cabinets look beautiful next to the blue chairs and blue wall.
Beat the Blues with Plenty of Brown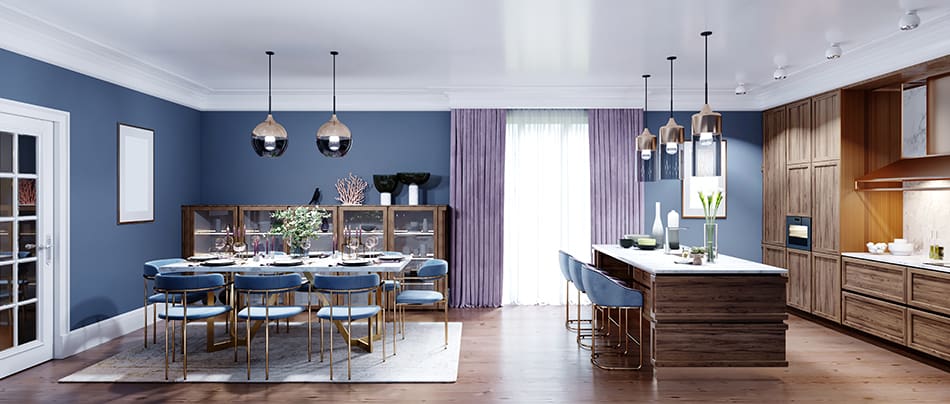 The color blue is said to promote relaxation with purifying effects on your thoughts. This may be the reason why so many homeowners prefer this color for their kitchens as it is this space that they spend most of their time in! After all, a kitchen is where you can sit down and read a book or watch TV while your favorite food is cooking on the stove.
When adding blue to an already brown kitchen, paint the walls and pick the furniture in this calming shade. Just as you can see in this example, the large kitchen looks utterly luxurious thanks to its blue walls, matching curtains, furniture and brown cabinets. The whole look comes together beautifully even though blue and brown usually aren't the first color combos that come to mind.
Conclusion
Brown and blue aren't just easy on the eye, but they also make a modern kitchen feel cozier and warmer. While brown can be combined with just about any other color, it goes especially well with all shades of blues. This is because both hues are associated with nature: brown with wood and blue with ocean and skies. But with so many shades of blue, it can be quite confusing to decide which is the best one for your kitchen interior. An easy way to pick the right shade of blue is to browse through our above ideas to find the inspiration you need for your brown blue kitchen. Hopefully you'll find the right kitchen interior design to suit your taste based on our list of examples!