If you're thinking of beautifying your bathroom by fitting a new and stylish shower wall, you'll be pleased to know you have many options out there. Upgrading your shower is the best way to make an impact and even increase your home's resale value.
Today, we're going to look at the most appropriate solutions for shower walls that won't hurt your pocket. Let's start with the tiles option first.
9 Shower Wall Options and Materials 
1. Glass or Mosaic Tiles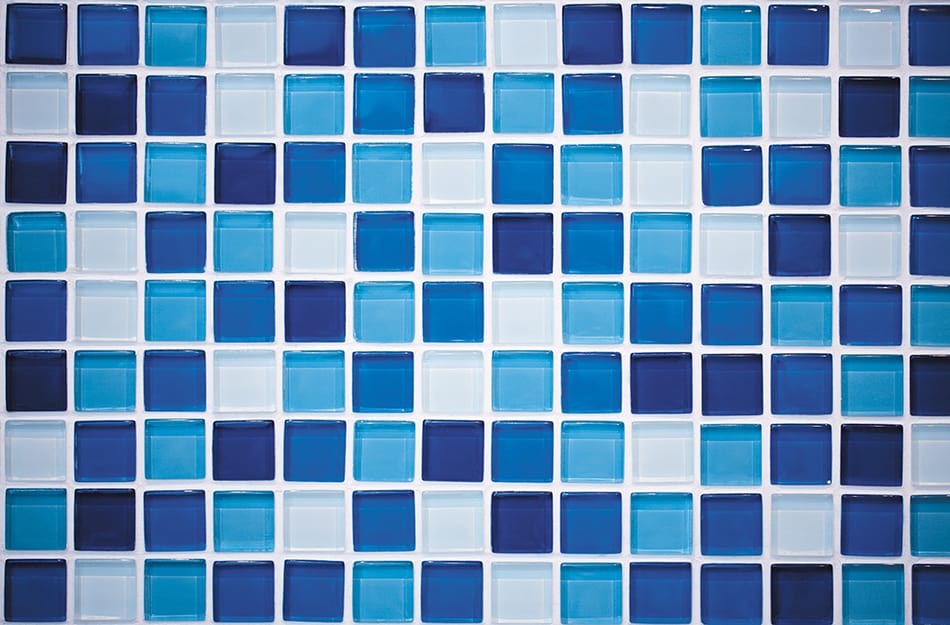 While glass tiles may be the most expensive option, they do come with various benefits. These types of tiles make your shower appear larger thanks to their light reflecting capabilities. If installed correctly, glass tiles make the best choice for smaller bathrooms. Although glass is fragile, it has a beautiful translucency that adds depth and color. This material is, however, more brittle than ceramic, thus it's best to leave the installation to professionals. There will be a lot of cutting during the fitting process after all!
If you don't have the budget to install a full wall of glass in your shower room, an inexpensive option is to integrate some mosaic or ceramic tiles into your glass tiles for an added accent. 
Pros
Cons
Fragile

Expensive

Difficult to install
2. Ceramic and Porcelain Tiles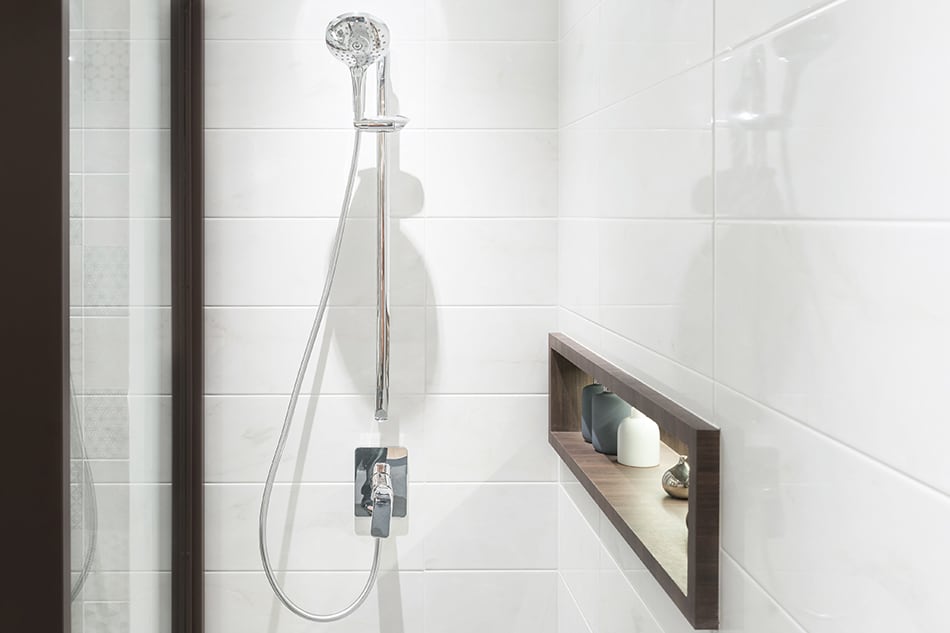 For a more upscale look in your bathroom, opt for classic porcelain or ceramic tiles. These traditional tiles are increasingly becoming popular in shower walls, and their installation process is much easier than glass tiles.
If you can't decide between ceramic and porcelain, you should know that ceramic is a little cheaper, denser, more durable and more water-resistant than porcelain. However, both have a long lifespan so you can enjoy these tiles for many decades.
Pros
Cheaper than glass tiles

Stain resistant

Water resistant

Very popular for shower walls
Cons
Installation can be difficult
3. Stone Tiles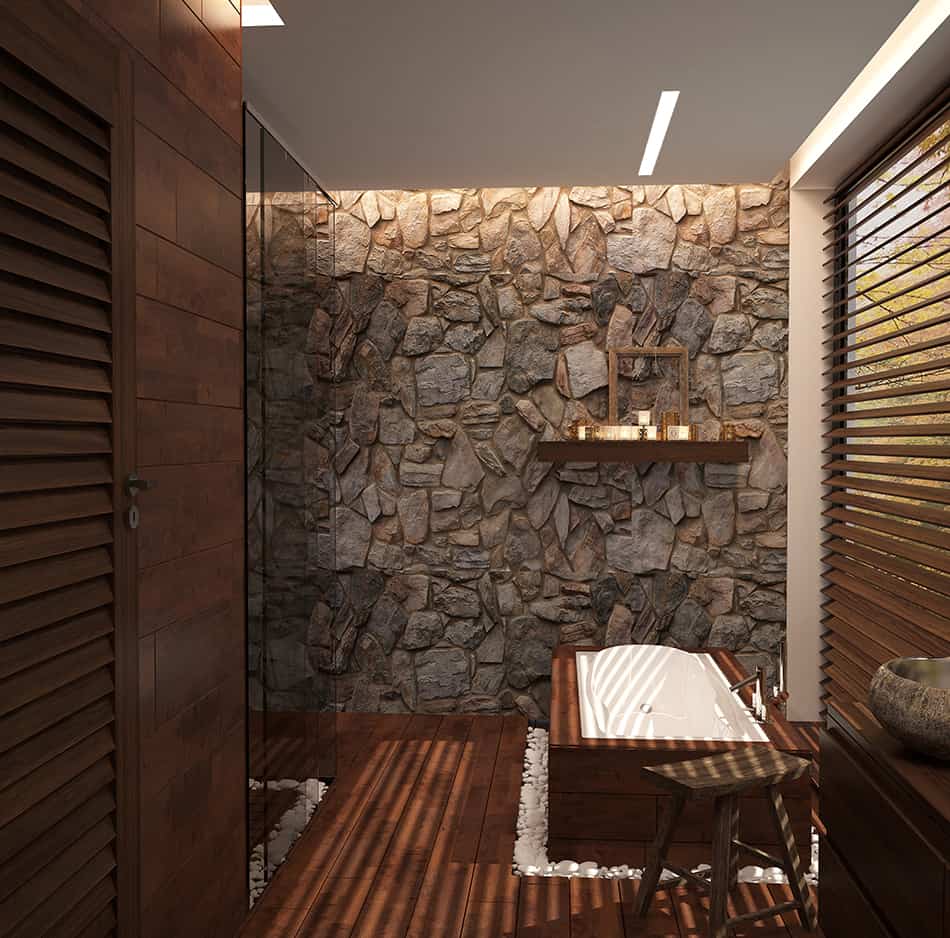 Stone tiles are similar to porcelain and ceramic tiles, but they look more natural and add a lot of character to your bathroom. Natural stone isn't smooth or uniform like ceramic, which is enough reason for this material to add texture to your shower walls.
Stone tiles are more expensive than porcelain or ceramic because of their time-consuming manufacturing and installation process, but the result is well worth the money you invest in these tiles. The main part of their attraction is the individuality of each stone, which brings a real sense of luxury to any shower wall.
When it comes to choosing stone tiles for your shower walls, you will no doubt get overwhelmed with the variations in tone and color. For something a little more rough to the touch, opt for travertine, which adds interest to your shower wall.
Keep in mind that natural stone tiles are very porous so they require adequate sealing in order to prevent dirt or grime from penetrating into the stone grain. Regular maintenance is necessary to keep the stone tile wall looking their best. Re-sealing must be done every 3 years as well as routine cleaning.
Pros
Highly durable and strong

Attractive

Adds resale value
Cons
Expensive

Easy to stain

Requires routine maintenance
4. Granite Tiles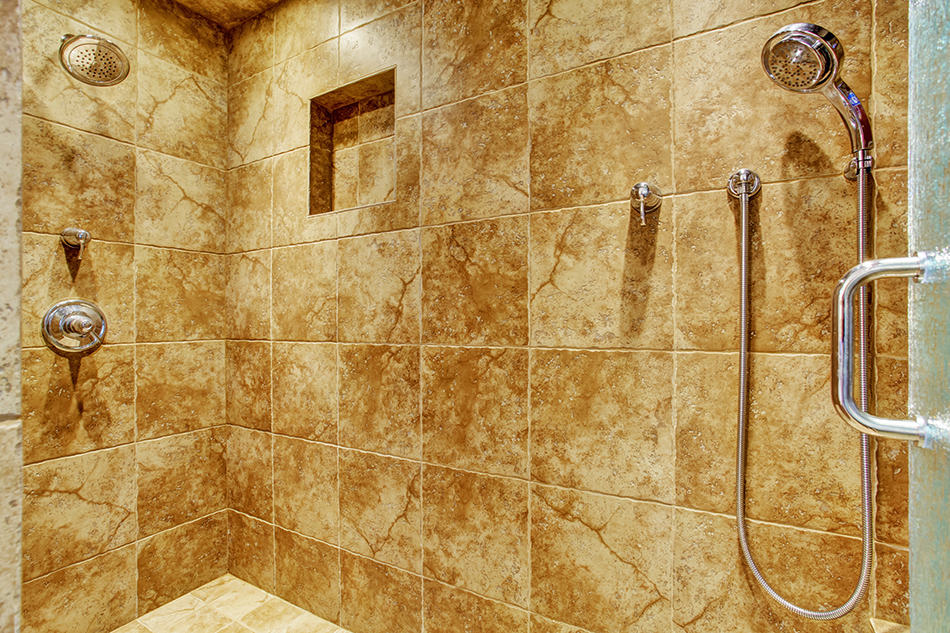 Granite is a natural stone material that can be cut to any shape or size thanks to the advanced tools and techniques used by manufacturers. If you have a particular design in mind for your shower walls, you can easily find the right granite tiles to match your preferences.
Ceramic or porcelain tiles are generally limited in their shapes, whereas granite can offer you many fun designs. This natural material is a strong rock that can be shaped into any style you like. When installed on shower walls, a properly sealant granite tile will provide additional protection through natural hardness. Granite is highly resistant to chips and cracks, which further increase its popularity for shower walls. Your shower will remain in an excellent condition for many years to come.  
Pros
Natural material

Highly durable

Easy to maintain
Cons
Expensive

Limited color selection

Requires routine maintenance
Shower Wall Panels  
1. Marble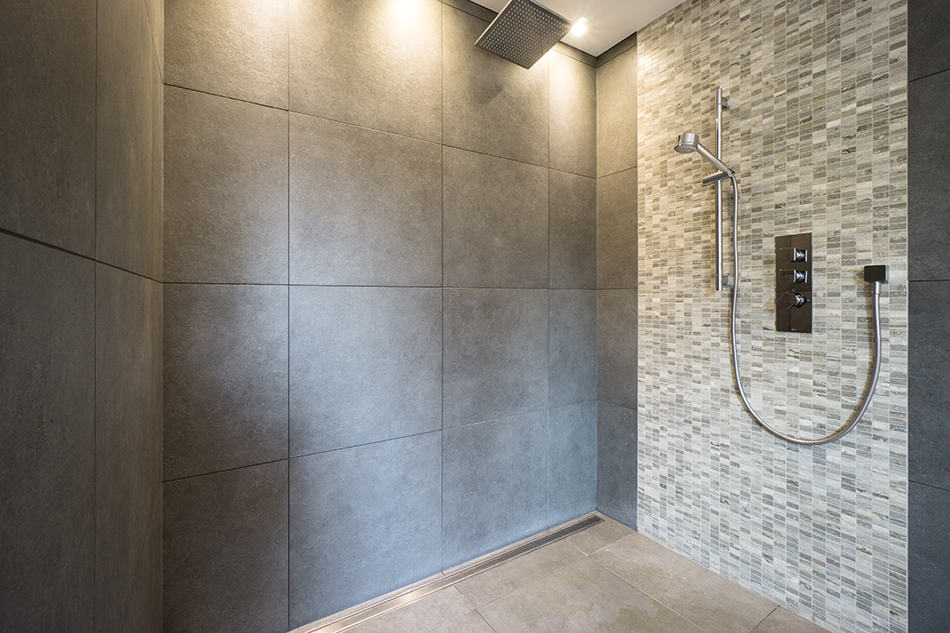 If you love the look of natural stone, but you want your shower walls to be smooth to the touch, then marble is your best option. This iconic material oozes luxury and draws the eye to it no matter where it is installed. Marble is enriched with veins, which depict its class and make it stand out.
While this material is normally used for flooring and countertops, we are increasingly seeing marble appear on shower walls. If maintained properly, marble will remain fresh and beautiful looking throughout its lifespan.
When it comes to choosing the best color, you will have many options with respect to the vein intensity of the material. Marble shower walls are easy to maintain as the panels don't require any grouting, which saves cleaning time.   
Pros
Easy to clean

Adds to resale value

Attractive

Highly durable
Cons
2. Prefab Acrylic Panels
Acrylic panels offer many possibilities and their uses are extensive. So what better place to install them than on the shower walls. Acrylic shower panels consist of large sheets of hard plastic glued on a sub-wall using a heavy-duty adhesive. These panels are highly customizable and versatile for walls of the bathroom. In fact, they can be custom designed to replicate the look of tiles.
The biggest advantage to acrylic walls is their ease of cleaning after installation. They eliminate the possibility of leaks in the shower area as they are not in a tile form. But there are lots more benefits to these prefab panels. They offer a seamless look to your shower and are hard wearing. Thanks to their seamless nature, acrylic panels are less likely to get damaged by water. These excellent shower wall material options are difficult to scratch, crack or dent. In addition, there is very little chance of mold growth on or behind the panels. This is because acrylic is a non-porous material unlike stone so it's 100% water and stain resistant.   
Acrylic panels are by far the cheapest option for shower walls. They are easy to install and create less of a mess than installing traditional tiles. In fact, it only takes a few hours to install these panels. These prefab shower wall panels are available in many colors but the most typical ones are white. 
Pros
Slip and scratch resistant

Mold-resistant

A variety of colors and textures

Inexpensive and easy to install
Con
3. Fiberglass Panels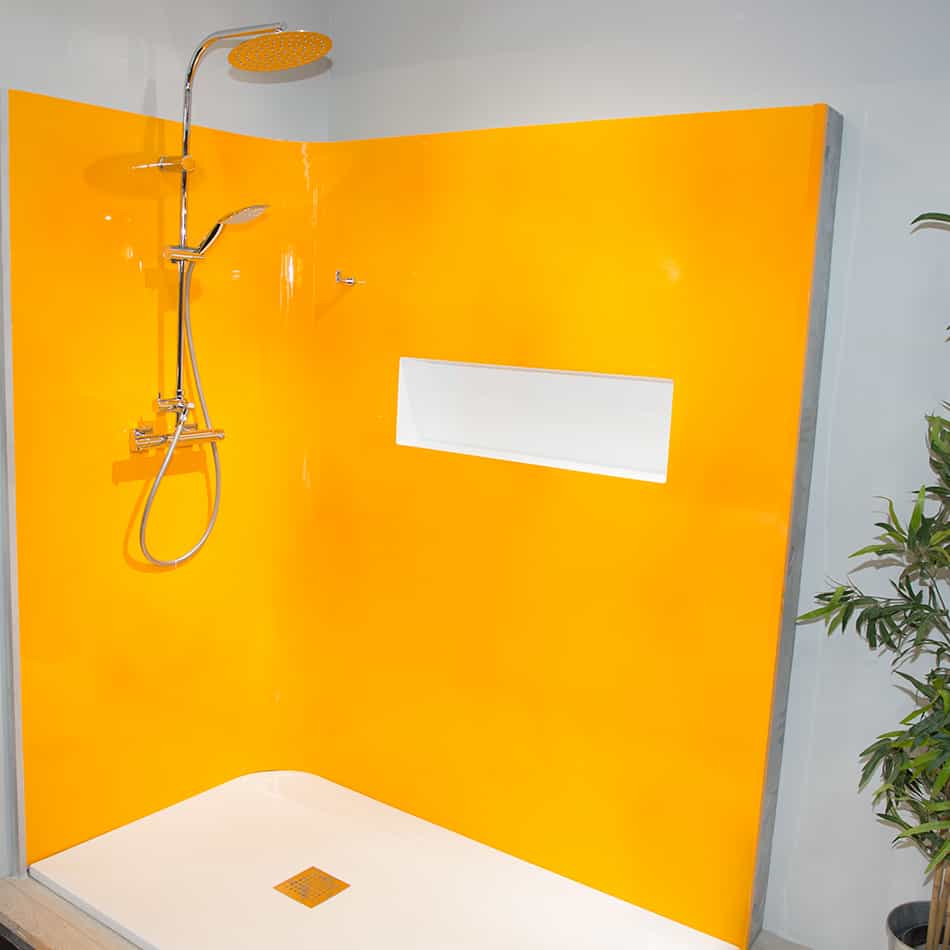 This prefab material is similar to acrylic panels as it comes in a large sheet format, which makes it super easy to install on the shower walls. Fiberglass walls are thicker than acrylic, thus making them soundproof and of better quality. 
Fiberglass panels are very easy to maintain since there are no grout lines to clean. If you're on a low budget, then this is one of the most cost-effective options after acrylic. 
Pros
Inexpensive to install

Sound-proof and mold resistant

No grout lines to clean
Cons
Not environmentally friendly
4. PVC Panels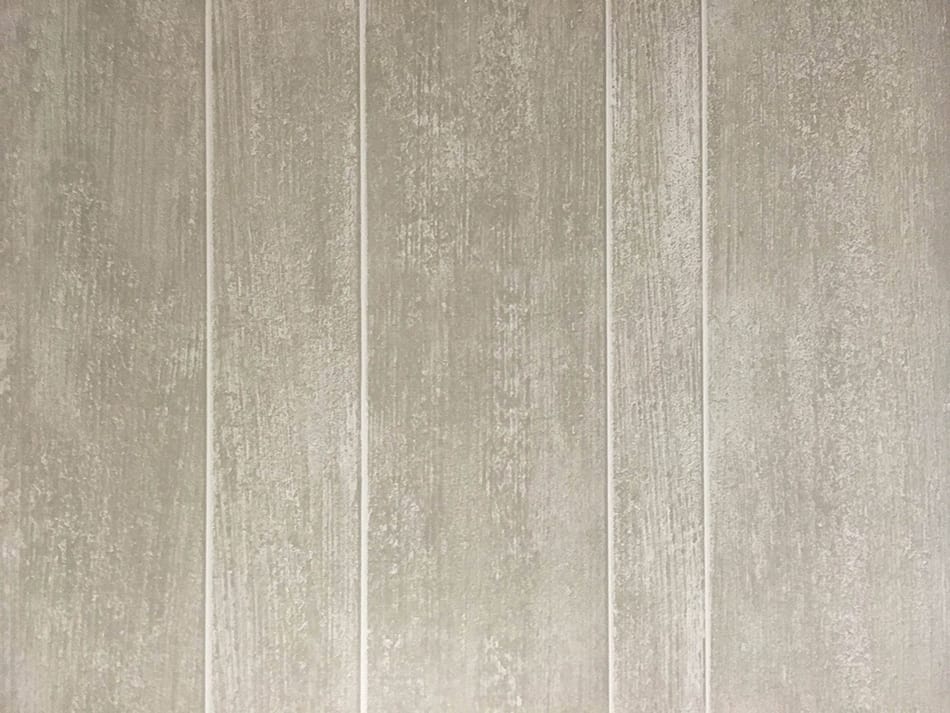 Another affordable shower wall material option on the market is PVC panels. This hard-wearing material is completely seamless and prevents mold growth on and behind the shower unit.
PVC panels don't require any maintenance, thus making them an ideal option for people who are not keen on DIY renovation. These panels are cheap to buy and install, and you can find a number of colors to match your bathroom.
In the event your PVC panels get damaged, they will be easy and inexpensive to replace. These panels work well on the walls as well as the ceiling of the shower.  
Pros
Inexpensive to install

Durable

Easy to replace
Cons
Not as popular as other materials 
5. Stainless Steel Sheets
Stainless steel isn't a standard type of shower wall material, but it is very modern and virtually maintenance free. The sheets are used for shower coverings, which require mounting over concrete boards.  
This versatile material can be shaped and cut to fit any size shower. It is incredibly hard wearing and offers a long-lasting alternative to shower wall tiles.
When installing stainless steel sheets in your shower, make sure all the seams are properly sealed with silicone in order to prevent mold growth and leaks between the panels.
Pros
Inexpensive

Modern look

Versatile design

Hard wearing
Cons
Not as appealing as other materials
Wrapping it Up 
Everyone wants easy-to-clean and attractive shower wall material to turn this space into a relaxing escape while adding character. If you're on a budget and only want a simple option, then consider prefab acrylic or fiberglass panels to fulfil your needs. If you prefer something more eye-catching and have the time and money to invest, then go for marble, travertine stone or glass. As you can see, your options are vast so take your time and weigh up all the pros and cons of each material before making a decision.