You are in search of new bathtub solutions to replace the old scratched one in your bathroom and you might have heard about bath fitter's tub liners.
In this article, we'll go explore how bath fitter's tub liners cost and see how they can help you with cost-saving and aesthetics for your bathroom and your house.
What is Bath Fitter?
Bath Fitter is a company that supplies acrylic shower and bathtub coverings to be fitted over the top of old bathroom products as an alternative to replacing them. Though Bath Fitter is a company, their products have become so popular that many people refer to the bath covering itself as a 'bath fitter.'
What Determines the Price?
The price of having a bath fitter installed can vary wildly depending on what your current bathroom situation is and the options you will select for your upgraded bathroom. Some of the options that will affect the price include the following.
Bathtub Choice
There are more than ten different styles of bath fitter tubs available from Bath Fitter, ranging from simple and classic designs to more traditional, ornate designs. You will likely choose a tub based on your own personal style and also one that will fit in with the remaining interior of your bathroom. The style of the tub you choose will affect the final bath fitter tub cost.
Wall Choice
The choice of wall materials, wall surround patterns, and styles are not as expansive as those available for bathtub options, but there is still a good range available. Wallcoverings can be completely smooth or have indentations on them to imitate the look of tiles. The design of the wall you choose will also have an effect on the price.
Accessories
There are numerous accessories available that you can select to be installed along with your bath fitter. There are a range of faucets you can choose from if you want to update your current faucets, as well as shower doors, shelving, soap dishes, trims, moldings, and handles.
You may also want to consider safety accessories that can be helpful in making the smooth transition in and out of the bath or shower, such as grips and shower seats. Any accessory you decide to add to your bath fitter package will result in an increased cost.
Conversion
If your current bathroom has a bath, but you would like to transform it into a shower, then this can be done with a bath fitter, but you can expect it to be a more involved job, therefore taking more time and costing more money.
Installation
Installation fees will also determine the final price of a bath fitter if you choose to have it installed professionally as opposed to fitting it yourself. A simple bath fitter covering over your current bath will be completed in a single day, so labor costs generally shouldn't be too high. If you opt for a more complex project, such as a conversion from bath to shower, then this might take several days, and therefore, your labor costs will increase.
The company you choose will also determine the price you pay, as some installation companies will have higher fees than others. If the price is an important consideration for you, it is worth calling around several different companies for quotes, though be warned that the cheapest option isn't necessarily the best option. Take note of personal recommendations and online reviews to help you make your decision.
Though installation will result in a higher price for your bath fitter project, it is a smart move to opt for a professional installation over attempting to fit the cover yourself, as an improper fit can lead to problems that will cost even more to resolve.
How Much Does Bath Fitter Cost?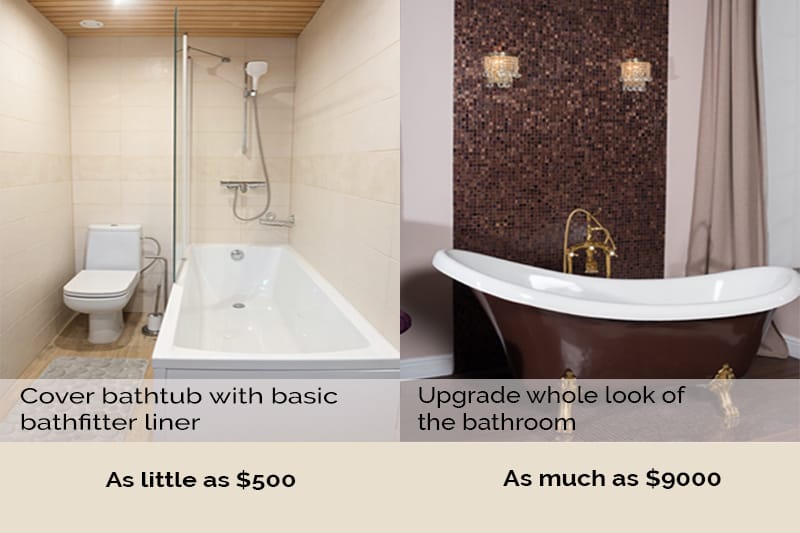 Renovating your bathroom with Bath Fitter can cost anywhere from $500 to $9,000, depending on the options you choose, the size of your bath, and who installs it.
To simply cover your bath with Bath Fitter and make no other alterations, you could pay as little as $500 for a basic bath liner. This is a bargain considering how much a bath liner can transform the look of a bathroom, making it feel clean and new again and adding value to your property.
If you want the whole look of the bathroom overhauled, including wall coverings, new faucets, shelving, and other accessories, then this price is likely to run into the thousands.
If you are hiring local contractors to carry out the installation work, they may also be able to complete other renovations in your bathroom at the same time, for example, refinishing, replacing the toilet parts and the basin, laying new flooring, and painting the walls.
All of these additional factors will increase the total price you pay, but by choosing an acrylic tub liner, the final cost of renovating the bathroom will certainly be lower than if you choose to remove and replace your existing bathtub.
Where to Buy Bath Fitter
If you want to complete your bathroom renovation directly with Bath Fitter, you can book a free consultation on their website at www.bathfitter.com or call or email them using the contact details on their website. They also have hundreds of stores right across the United States and Canada, so you can visit your nearest store and see all of the products in real life before committing to making a purchase.
Local companies who fit bathrooms will also be able to get hold of Bath Fitter products for you, so if you would rather use a tradesperson you know and trust, contact them and ask them to go to Bath Fitter directly for you.
Ways to Save on Installation Costs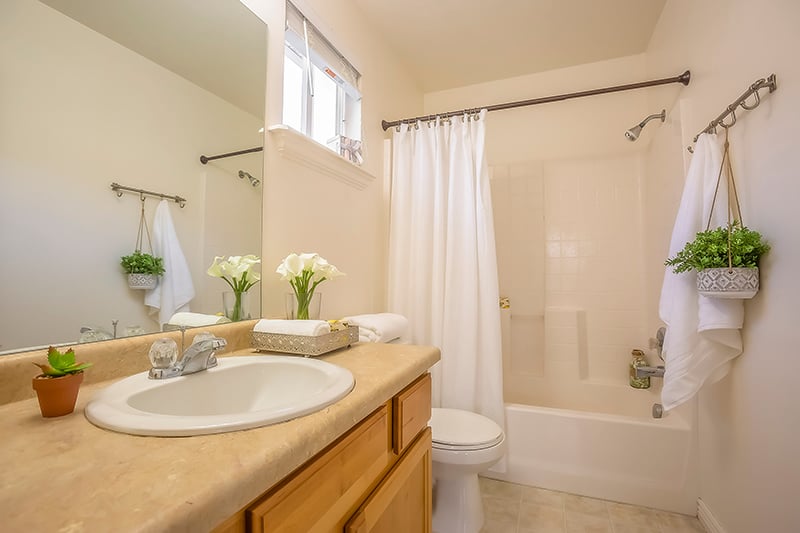 If you are experienced in DIY projects and have a good level of skill when it comes to home renovation, then you may be interested in fitting a bath liner yourself. Installing the liner yourself can represent significant monetary savings, provided you're able to finish it to a professional standard. If this is your first time fitting a bathtub liner, research the best methods online.
There are many tutorials on YouTube that will give good advice on how to fit, and more importantly, how not to fit, your bathtub liner. If your renovation experience is minimal, then taking on this type of project as a starter is not advisable. Fitting a tub liner needs to be done exactly; otherwise, the result can look cheap and nasty, and it can also lead to problems down the line.
If a bath liner is fitted incorrectly, it is more prone to cracking and leakage, which will ultimately cost you more money to fix than if you had just used a professional to install it in the first place. If you want a professional to install your bath liner, then the best way to save on installation costs is to invite several companies to give you an estimated price and go with the one you think is most reasonable.
You can also haggle with contractors and play them off against each other to knock down their fees by an extra few hundred dollars. If you have friends or family who are skilled laborers, then you could offer to trade services with them by offering to complete a job for them for free, in exchange for them installing your bath liner for free.
Bath Fitter Alternatives
Bath Fitter has been operating for over 35 years as the original creators of bath coverings. The business was founded by three brothers who felt there should be a quicker, more cost-effective way to renovate a bathroom than demolishing it and starting from scratch. They are based in North America, and all of their products are still designed and manufactured here.
They have a wide range of products to suit every taste, with hundreds of local stores across North America, and a great reputation for good customer service and good quality products. However, if you want an alternative company that can supply similar bath covering products, there are several options. These include the following.
Home Depot
Home Depot sells a range of tub liners in stores across the United States and Canada. They guarantee that work will be completed in a matter of days and use local licensed contractors to complete the installation on their behalf. Home Depot will set up an appointment within your home for you, where an estimator will come out to measure up and give you the available options. These appointments are free of charge and also do not commit you to placing an order with them.
One of the benefits of buying your tub liner from Home Depot is that you can apply for a Home Depot Project Loan and pay for the bathroom renovation in installments.
Bath Planet
Bath Planet, like Bath Fitter, is a specialist acrylic bath covering company. They offer limited lifetime warranties on their products, giving the customer peace of mind. Bath Planet's focus is on supplying high-quality products at an affordable price and taking the hassle out of bathroom remodel. They renovate bathrooms in as little as one day, specializing in fast turnarounds. Bath Planet has many stores spread across North America, though they don't have as much of a widespread physical presence as Bath Fitter.
Pros and Cons of Bath Fitters
Pros:
Quick installation
Typically, a bath fitter installation will be complete in just one day. If you're wanting a super fast bathroom makeover, then using a bath fitter can turn your bathroom from drab to fab in a very short space of time.
If you compare this to having a bathtub replaced, which will often also require walls having to be re-tiled and grouted, then typically, you would be looking at having your bathroom becoming a construction site for between one and two weeks. This could be very inconvenient if you only have one bathroom in your home.
Less mess
As bath fitters are typically installed in just a day, this creates a much less chance for a mess. The tradespeople installing the bath fitter can keep the bathroom door closed to contain any mess, but honestly, a bath fitter is a clean and straightforward job that probably won't cause any mess at all.
The alternative of having a bath replaced can be a very messy job, and as it takes much longer, there's more scope for the dust to be walked around your house and reach different rooms in your home.
Cost-effective
Bath fitters are a less expensive option than having an old tub removed and a new one fitter. Bath fitters are acrylic overlays that go over your current bathtub or shower, and due to requiring much less material than a whole new bath would, they cost significantly less. The fact that they are fitted in just a day also means they cost less because you are only paying a laborer for one day's work, as opposed to the several weeks it could take them to replace a whole bathtub.
Easy care and low maintenance
As bath fitters are one large piece of acrylic, they are very easy to clean and take care of. You can simply spray them with a cleaning product and wipe them with a cloth. If you use the acrylic bath fitter wall panel, this further increases easy cleaning. By comparison, tiles, especially those that are textured, can be hard to keep clean, and grout is well known for being tricky to maintain.
Less chance of leaks
Bath fitters are one piece of acrylic bathtub that covers your whole tub. This means that the chances of leaks are very low.
Cons:
Not suitable for all baths
Some baths will not be able to be covered with a bath fitter, such as a tub that has water jets. Clawfoot, freestanding tubs are also not compatible for use with a bath fitter. Even if your tub can have a bath fitter covered over it, it doesn't mean it should.
In some instances, existing baths that are heavily damaged from cracking, or if there is a high level of mold or rot around the tub, then you should seek to replace it instead. A bath fitter covering will temporarily hide the problem, but it can actually get worse behind the scenes, and you won't know about it until the issue is completely out of hand.
Measuring and ordering take time
Though bath fitters are typically installed in just a day, the actual process of ordering one through to installation can take several weeks. This is because they are custom ordered specifically to match the exact shape and size of your existing bath, so a professional will need to come out and take these measurements before ordering.
If you can find a professional bathroom installer that is available, it might actually be quicker to have your bathtub replaced because you could go and pick up a new bathtub and shower liner immediately from a big box store like Home Depot, with no lengthy measuring and ordering process required.
Might crack
If you have your bath fitter installed by an experienced professional, then the chances of any problems occurring with a bath fitter are quite small. However, as these products are custom-made to fit your bath, they can be susceptible to damage if not installed in the exact position they need to be in. If you attempt to install your bath fitter yourself, know that cracks could appear if it is not properly fitted.
Basic aesthetics
Bath fitters are white, plain sheets of acrylic. They work well in bathrooms with classic designs or are great for people who like neutral interiors or minimalist styles. If you're wanting a more unique, colorful, or interesting look in your bathroom, then a bath fitter probably won't be for you.
FAQs:
How Long Does Bath Fitter Last?
Bathtub liners have a very long life, and once fitted, will typically last as long as your home. It is much more likely that they will go out of style, or the homeowner will get bored with them and want a change before they actually need to be replaced. Bathtub liners are very sturdy and long-lasting.
Is Bath Fitter Expensive?
Using Bath Fitter products is much less expensive than remodeling your bathroom by removing the current bath and replacing it. Not only is the cost of a new bath significantly higher than a Bath Fitter liner, but the cost of labor for demolishing your old bath and fitting the new bath will be so much higher because it's a more complex and time-consuming task.
Is Bath Fitter Messy?
The simple answer to this question is 'no.' Bathtub liners work by simply installing a piece of acrylic over the top of your current bath and tiles, which means no demolition needs to take place.
When doing a bathroom remodeling in a conventional way, it can be very messy because tiles will need to be removed from the walls, and the bath will need to be pulled out, which can cause lots of rubble and dust, which may spread throughout your home into other rooms, lingering on soft furnishings and being pressed into carpets.
If one of your priorities is minimizing mess in a bathroom renovation, then getting a bath liner is the most sensible route to take, as the installation process is quick and clean.