In interior design, brown is such a versatile color that's mostly used in living room and bedroom furniture.
Depending on the colors it is paired with, brown can take on many different moods. Whether the room is anchored by brown wood or upholstery furniture, it emits a warm and natural feel. But the secret to drawing the eye to your dark brown furniture is to choose the ideal wall paint colors.
The first step is to determine which wall paint colors go with dark brown furniture in order to create the overall mood you're looking for.
Here we will show you all the best wall colors that work with dark brown furniture so you can design a sophisticated and glam interior.
14 Wall Colors that Go with Dark Brown Furniture
White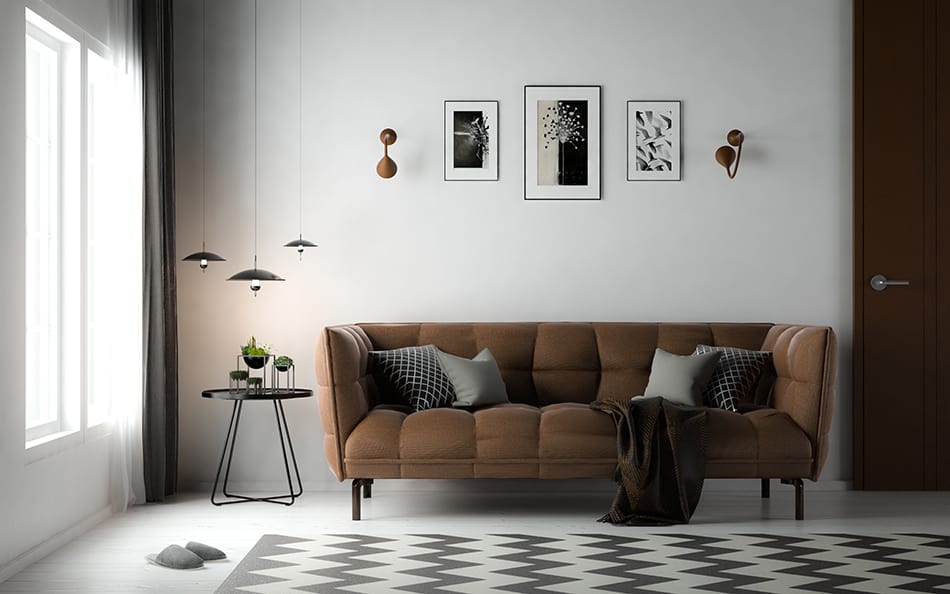 White is as neutral as it gets. This wall color can blend easily with any furniture color, including dark brown ones. White paint also helps create contrast when combined with dark brown.
In this Scandinavian-style living room, the white-painted walls paired with the brown sofa have produced an elegant and warming ambiance. This wall color is one of the easiest solutions for planning a chic and modern living room.
Beige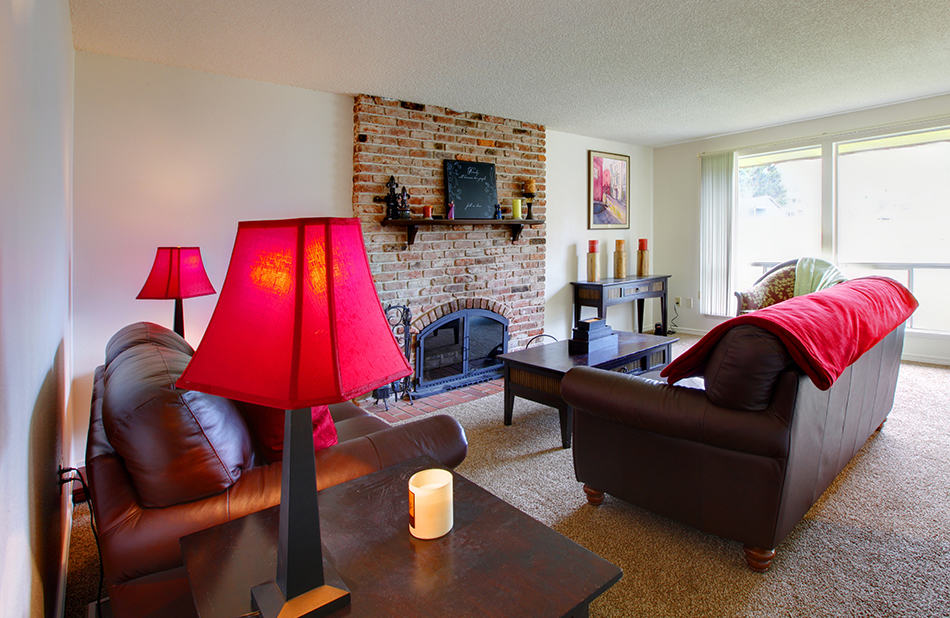 To get the best out of your dark brown living room furniture, paint your walls beige. The idea is to surround the living room with lighter elements and draw the eye to the dark brown furniture.
Beige is a neutral color that's ideal with dark brown. It acts as a highlight to complement the wood furniture's undertones. After all, this neutral color is light enough to brighten the darker brown shades, and since they are both earthy tones, they help liven up the living room, as shown here.
Light Gray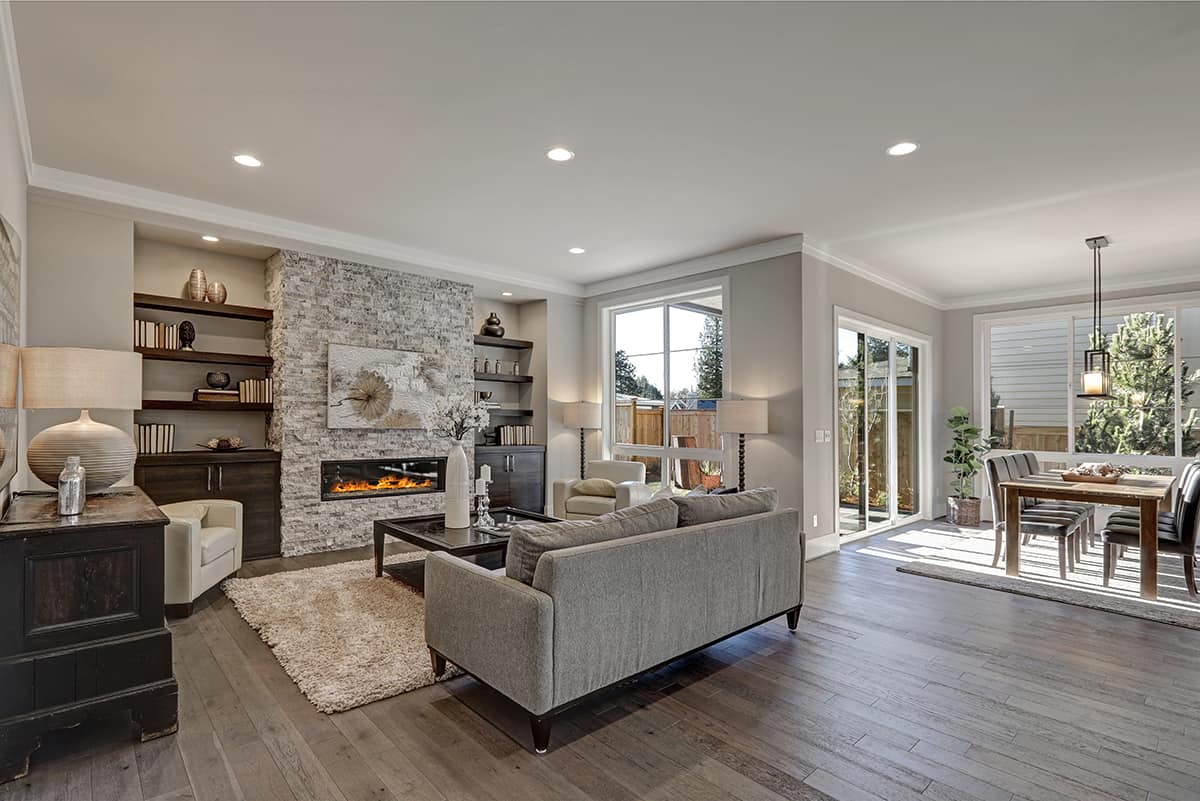 Gray has a wide range of shades that all look great with dark brown furniture. This modern, neutral color is very popular for bedrooms and living room walls. For anyone looking for an alternative to white, light gray is a good choice for brightening a room in a softer way.
By combining your dark brown furniture with light gray walls, you can create a stylish and rustic bedroom, just like the example here.
The two combinations have created a cooler atmosphere to feel relaxed. Imagine how bland this neutral space would have looked without the dark brown furniture. Any other color may have given you a boring bedroom, thus lacking the comfort you seek.
Dark Brown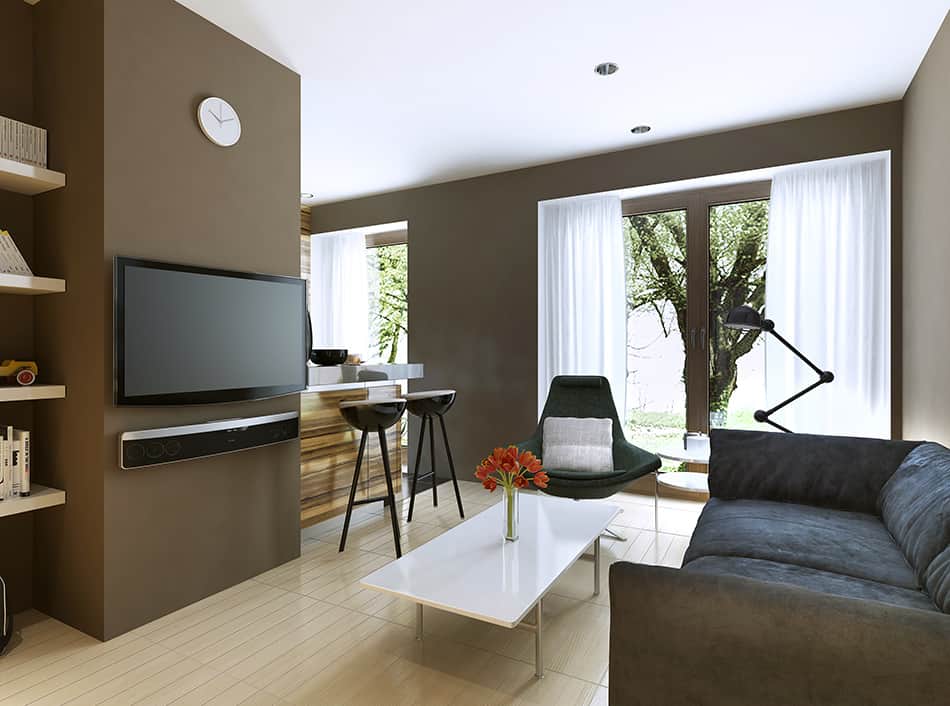 To make a bold statement with your dark brown sofa in the living room, match it with dark brown or chocolate walls. This way, you'll highlight the color by having the same vibrant tone.
Add some accent features to emphasize the hue of the dark sofa as shown here. This is accomplished by arranging the furniture like in this living room example. The decorations on the dark brown wall with touches of neutral colors lighten up the dark brown furniture.
Light Brown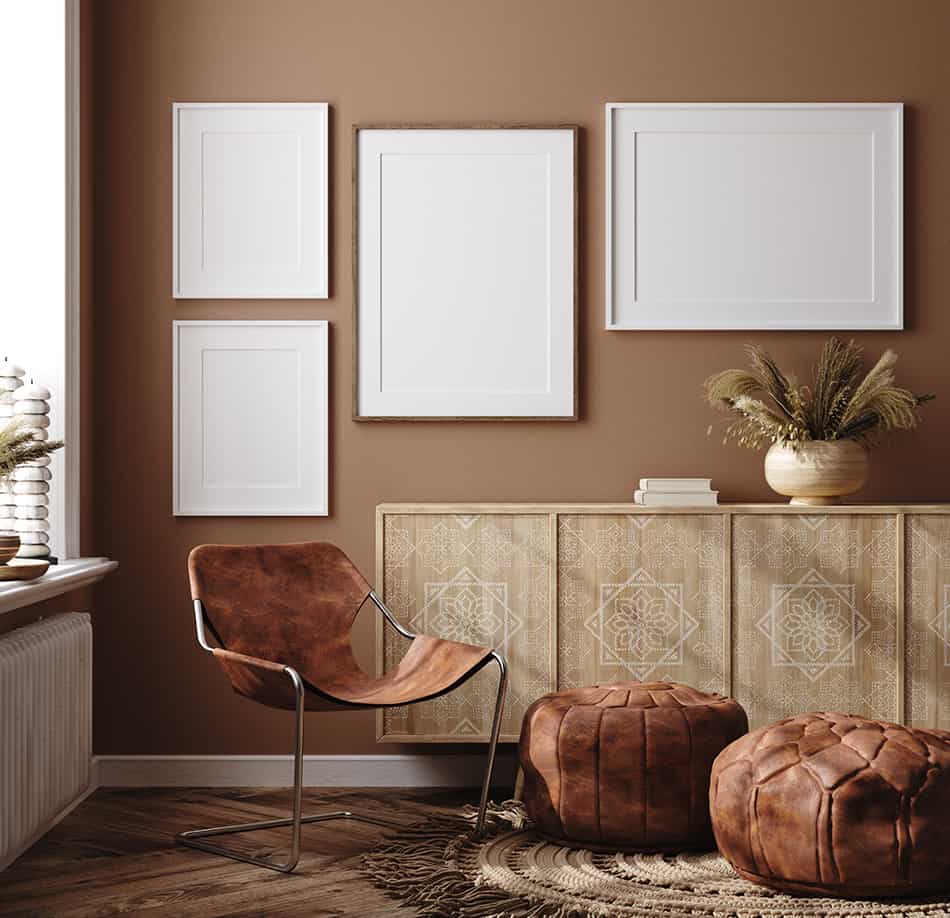 Aside from dark shades of brown like chocolate or cocoa, light brown is another hue that works best with dark brown furniture.
This pairing looks elegant, flawless, and not to mention highly suitable for boho-inspired interiors. If you want to create an ethnic look in your living room, consider pairing your dark brown furniture with light brown walls.
Make use of plants or other light-colored accessories to bring contrast to the room and to avoid it looking monotonous. This living room is a great example of how the bohemian theme goes hand in hand with the color of the walls and the furniture.
Fuchsia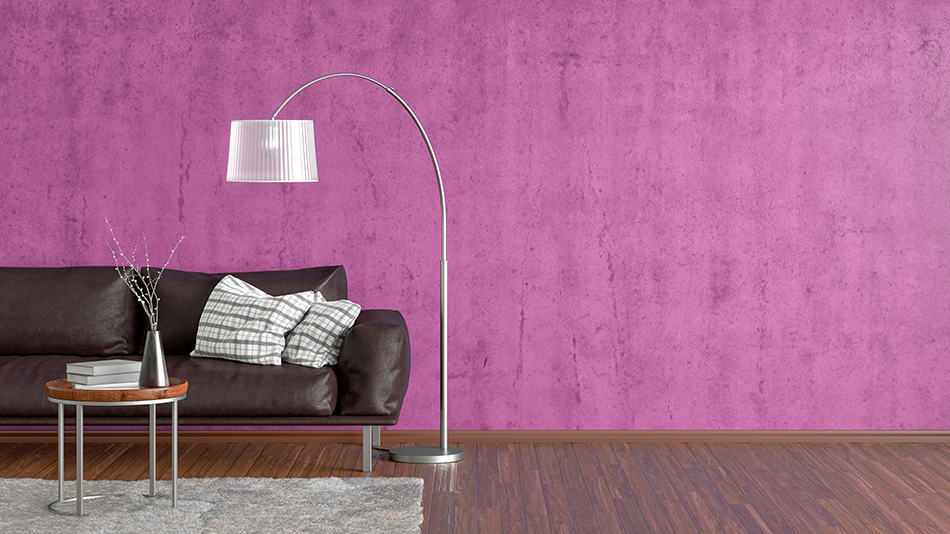 Dark shades of pink such as fuchsia, are the quirkier version of wall paint colors. This color is ideal for heightening the drama in a modern living room. Any room with dark brown furniture will benefit from an energetic setting like fuchsia-painted walls.
The depth of these color pairings enriches the space and adds a sophisticated vibe. See how bright and lively this living room is thanks to the smart-looking dark brown sofa and the pop of fuchsia wall paint.
Orange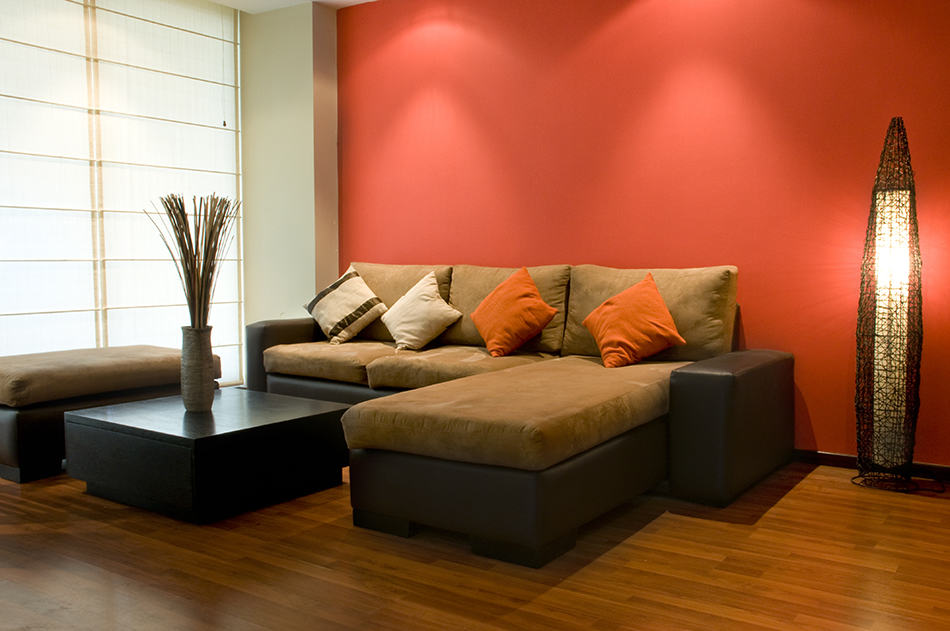 Another bright and cheery color that goes perfectly with dark brown is orange. To create a colorful living room, paint one of your walls orange and add a large piece of the dark brown sofa like the one shown here.
This way, you'll enjoy a warm and inviting atmosphere by balancing the dark furniture with a pop of color as a contrast. Any shade of orange will work well alongside dark brown furniture.
Dark Green
All shades of greens are charming when paired with dark brown furniture. One of the best green hues that works with brown is sage green. This stylish shade brings an elegant vibe to a modern interior. Deep forest greens are daring hues while lighter tones add character. You can add vintage accents for even more elegance.
Green is an earthy, natural color that can just about complement any other dark color like brown. So if you have dark green walls and dark brown furniture, you'll create a nature-inspired room. Thus if you have a dark brown sofa and dark green walls, try adding lighter accents or accessories like orange throw pillows or patterned rugs to highlight the two color pairings.
Mint Green
One restful shade of green that does a great job of enhancing a living room is mint green. When combined with a generous dose of dark brown, it emits an air of elegance.
Blend this beautiful shade of green with your dark brown sofa to enjoy a fresh and organic ambiance in your living room. After all, green goes wonderfully with both light and dark brown furnishings as shown here.
Red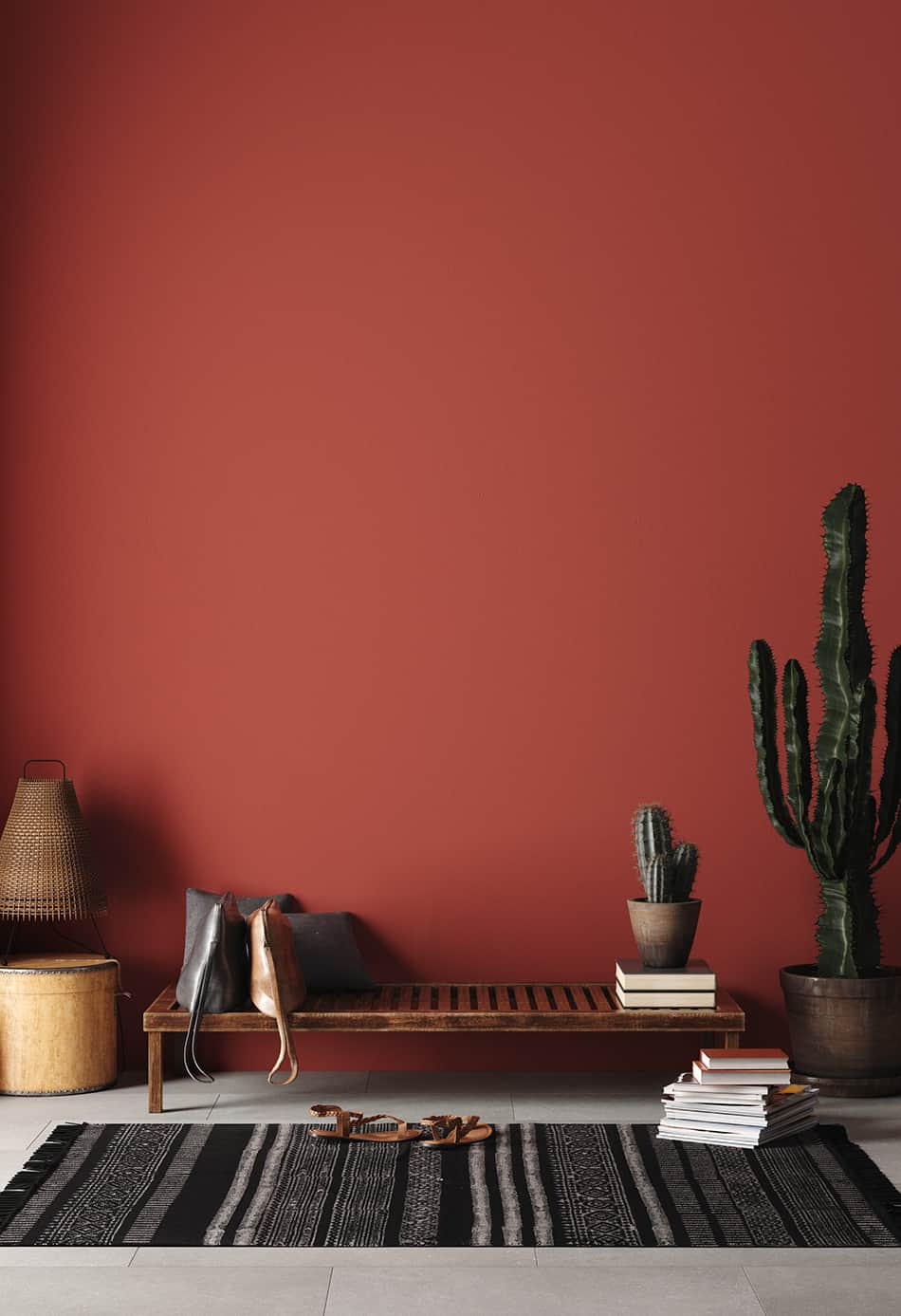 We all know how elegant reds and browns are next to each other, but there is also the risk of making your room appear darker if you paint the walls dark red.
Red paint is likely to distract attention and draw the eye from the dark brown furnishings so it's best to use a lighter shade of red for the walls and dark chocolate brown for the furniture.
Since red and brown can make the room appear smaller, opt for burgundy shades to create a cohesive look. Add white or gold accents as vivid contrasts to red and brown.
Yellow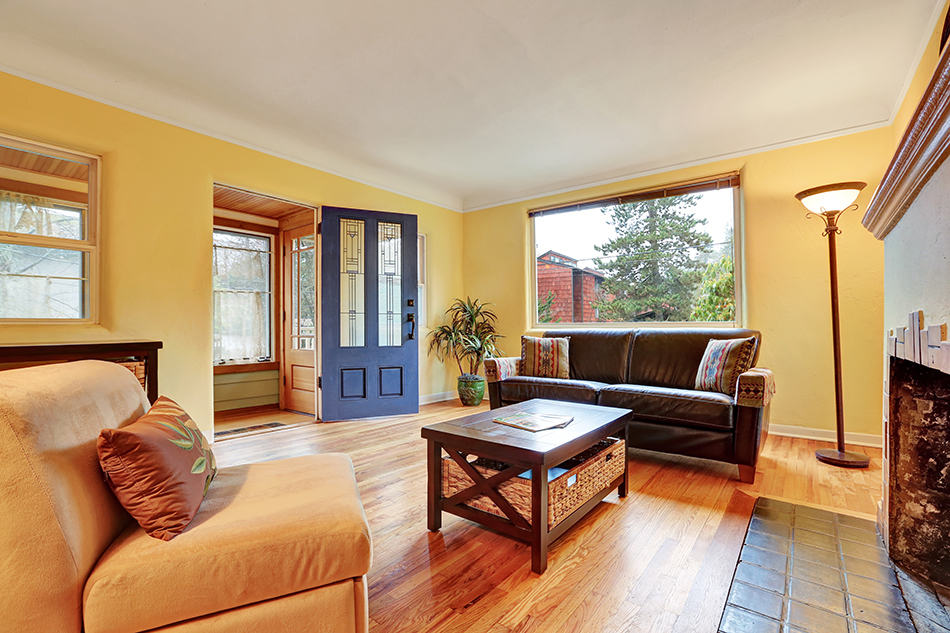 Just like red, yellow is another color that complements brown and makes any room look visually appealing. Bright shades of yellow bring fun and liveliness, and when blended with dark brown, they add a splash of energy to your living room.
Warm yellow walls and dark brown furniture in a living room pop wonderfully against other colorful undertones, thus bringing together the best of both modern and traditional interior styles.
In this bright and spacious living room, the warm yellow walls are paired with dark brown sofas and tables as a match made in interior heaven.
Blue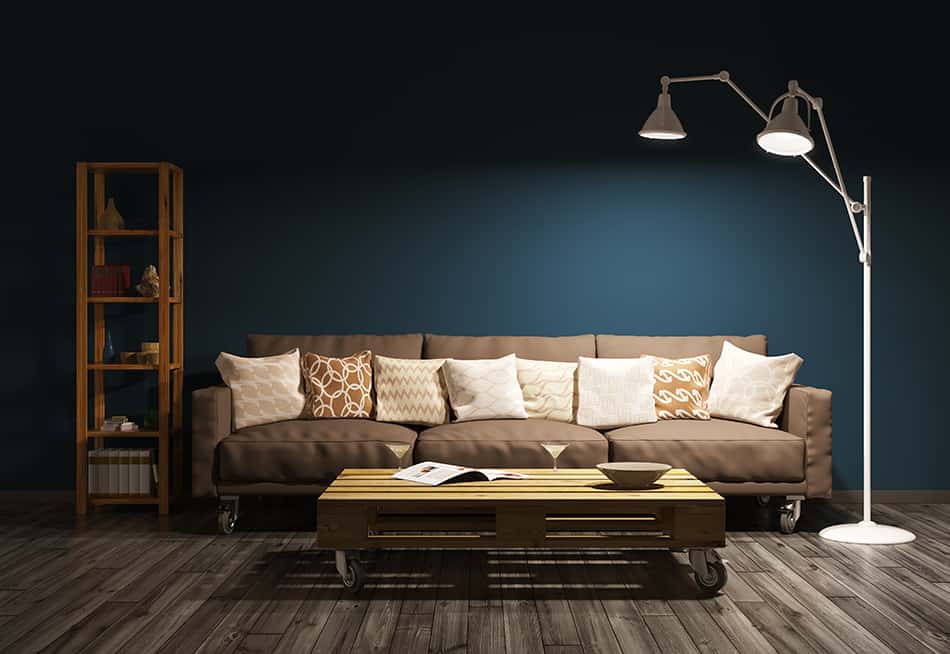 For a more modern and sleek interior, opt for a relaxing and trendy blue wall, as this paint color will go perfectly with dark brown furniture. Blue and brown are absolutely made for each other since one is a cool tone, and the other is an earthy one.
Warm browns harmonize with blue, so you can dress up your bedroom or living room using these two peaceful colors. Here the blue wall doesn't take the focus away from the dark brown furniture. The modern living room boasts both a traditional and modern feel.
Turquoise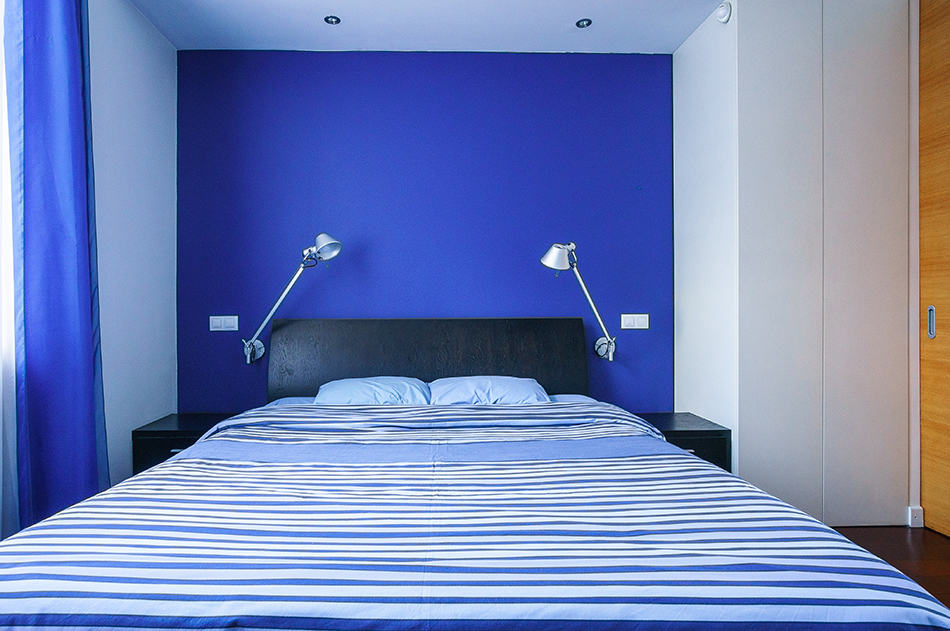 Turquoise is a rich shade of blue that makes a trendy combination with dark brown. This incredibly sleek and modern color pairing is especially attractive in the bedroom. The two blended colors are suitable for both vintage and contemporary interior styles.
In this bedroom, the bedding, curtain, and wall are turquoise, while the bedside tables and headboard are sleek black. We love how the two colors come together beautifully without making the space look smaller.
Gold
Gold is a bold and magical color with interesting characteristics. This charming shade is the perfect wall paint color that goes with dark shades of brown.
You can make your living room lively by pairing these two colors together, as shown in this example. The textured gold wall looks very glamorous against the upholstered wooden sofa and stylish gold floor lamp.
If you want to copy the same look, consider adding a gold-framed mirror or wall art to match your gold wall. Brown and gold are possibly two of the best matching colors in any modern or rustic interior.