Blue is a classic color that complements most other color palettes. No matter which shade of blue you choose for your living room or bedroom walls, your furniture color will be the important deciding factor.
If you have set your heart on having blue walls in your home, you'll be pleased to know this classic hue can be matched with a huge variety of furniture colors, each offering its own unique ambiance.
In this article, we will show you what color furniture goes with blue walls so you can furnish your home accordingly.
Consider the Light and Dark Effect
In bedrooms, studies and home theaters, darker tones of blue for the walls work better while lighter tones are best reserved for living room and dining room spaces.
Aside from the color tone, the size of your room should also be taken into consideration. Since blue is a cool color, it is particularly good for smaller spaces as it creates the illusion of more space.
In a large space with plenty of natural light, rich blue walls don't stand out as much as they would in smaller spaces with lack of natural light. Having said that, there is no denying that adding such an unexpected color like blue will create drama and personality.
If your interior walls mainly consist of blue shades, then you'll want to choose versatile furniture to reflect this classic hue. Go for furniture that's made of leather, wood or upholstered fabrics, such as linen, cotton or wool.
Here is a quick breakdown of how to match different shades of blue with complementary furniture colors:
Yellow and pink shades of furniture look great with pale blue walls
Bold colors, such as yellow, red and pink work well with navy or royal blue
White, beige, dark blue and gray are complementary colors for light blue walls
Sky blue and aqua walls look great when paired with beige and white furniture
Blue is a color associated with nature so it can be paired with sage or mint green furniture as complementary hues
With the above color combinations in mind, it's now time to show you the best furniture colors that complement blue walls.
Best Furniture Colors that Go with Blue Walls
Sandy Beige Furniture with Blue Walls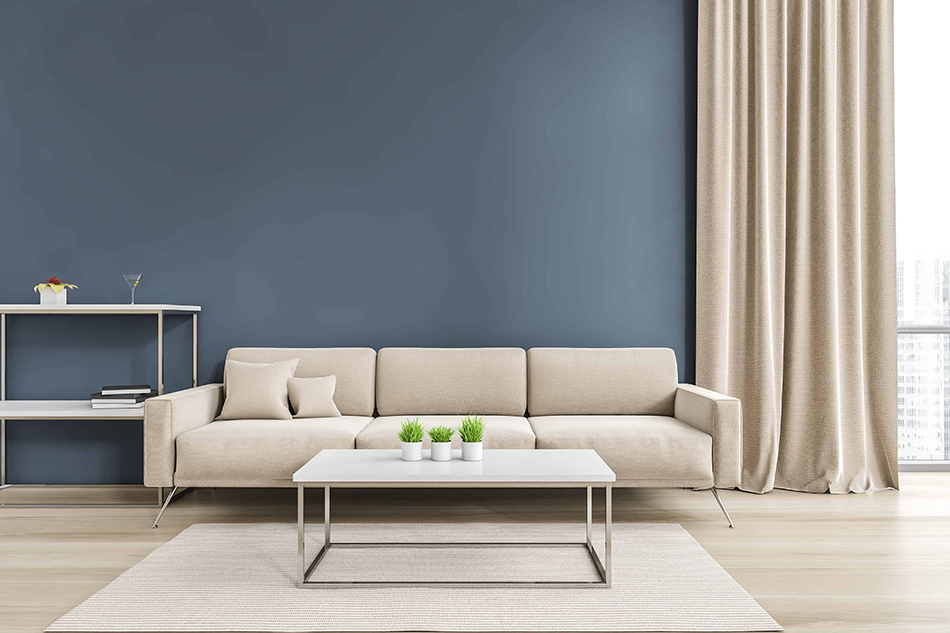 Introduce the beach-theme to your home by drawing inspiration from sand, sea and sky. Pair your large blue walls with neutral tone furniture like sandy beige or ivory. Beige acts as a cool undertone against blue and creates a calming effect as you can see in this image. What we love about this living room is the neutral color of the curtains, the rug and sofa, which make the blue wall stand out as a feature.
White Furniture with Blue Walls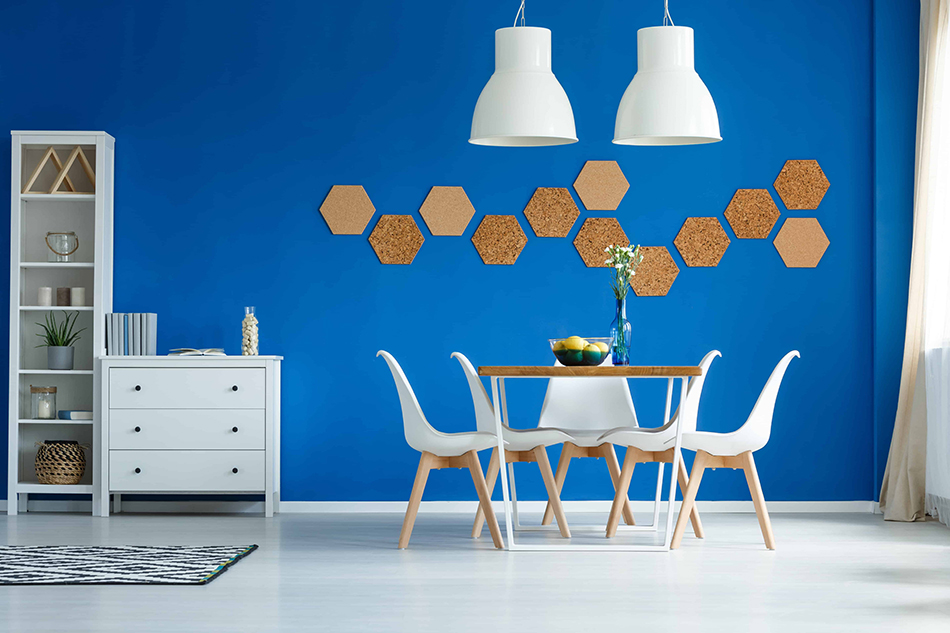 White and blue never go out of style. This classic color combination brings a refreshing and polished feel to a living room or bedroom space. But it also looks especially beautiful in a bathroom setting. By pairing white furniture and plenty of white accents with bright blue walls, it will help the bold blue color cool off. In this stylish Scandinavian style dining room, the white and clean-lined furniture stay true to the simplicity of the room. The cork and wooden finishes soften the space and give the room a more organic feel.
Blue Furniture with Blue Walls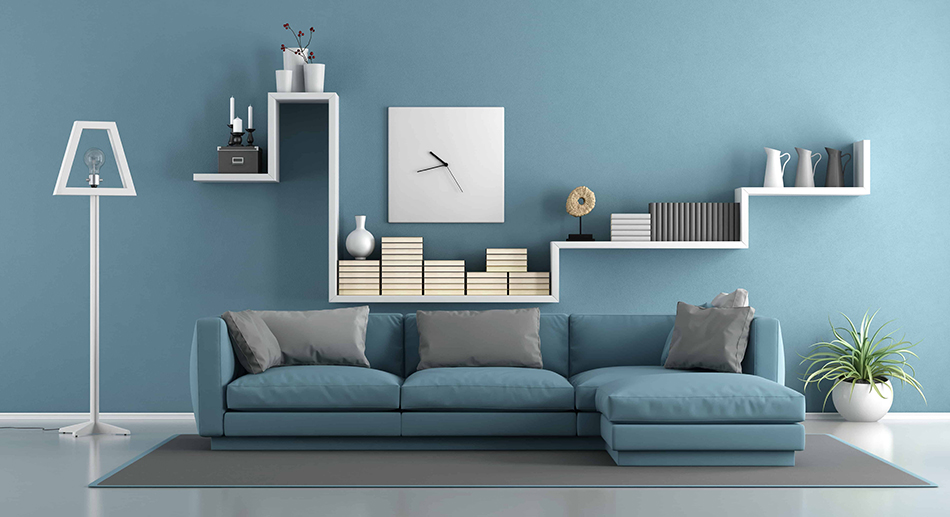 Monochromatic colors are a subtle tonal change that are always in style. To achieve this, go for the same shade of blue or two different shades of blue for the furniture and the walls. Dark blue will make a small room even smaller, but a glossy blue sheen on the walls will achieve the opposite effect. Cool blue tones work well in informal spaces, and for a more whimsical look, try pairing the blue wall with the same blue shade. Here, the sectional sofa is in the same color as the wall, thus giving the living room a cohesive and balanced look.
Orange Furniture with Blue Walls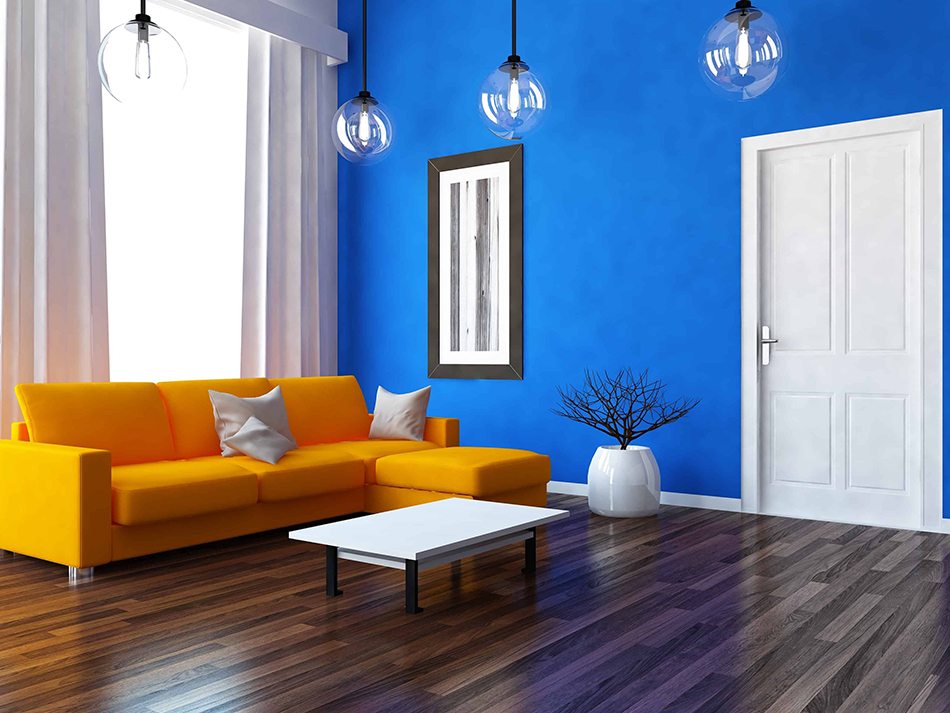 Now how about two bold color combinations: blue and orange. It is true what they say; opposites attract and the same goes for these two color palettes. Their dynamic shades have the intensity to play next to each other without stealing the spotlight.
If you want to create a modern feel in your living room, opt for blue shades of navy, coral or turquoise to contrast burnt orange. Blue and orange look even better together when you add a variety of tints. Saturated shades like cobalt blue next to a vibrant orange hue not only looks great but it creates a striking and high-energy look. Just as you can see in this image, the modern living room looks cheerful without the orange sofa being too overwhelming. You can either use burnt orange as an accent color or include a few accessories in this color to contrast your blue living room wall.
Green Furniture with Blue Walls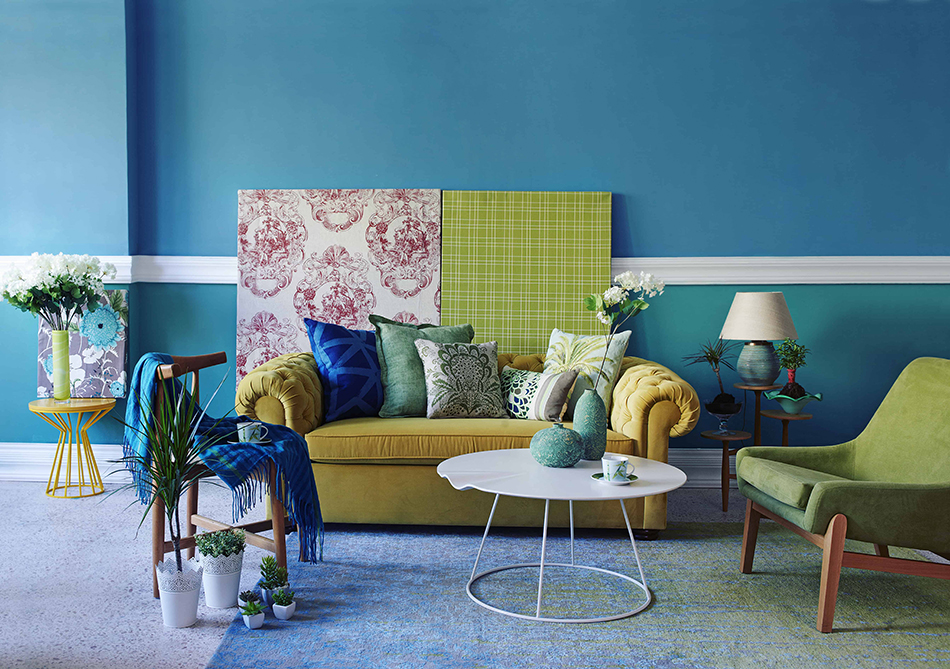 Natural colors like sage green, mossy green and grass green furniture all pair well with turquoise walls. This is because both of these earthy colors are associated with nature. To create a tranquil feel in your living room space, consider introducing other natural tones in order to keep the room from feeling too dark. In this example, the green furniture has a blend of blue and gray accessories that do a great job of brightening up the room. You can't miss the vintage style of this room thanks to the pairing of green and blue colors.
Gray Furniture with Blue Walls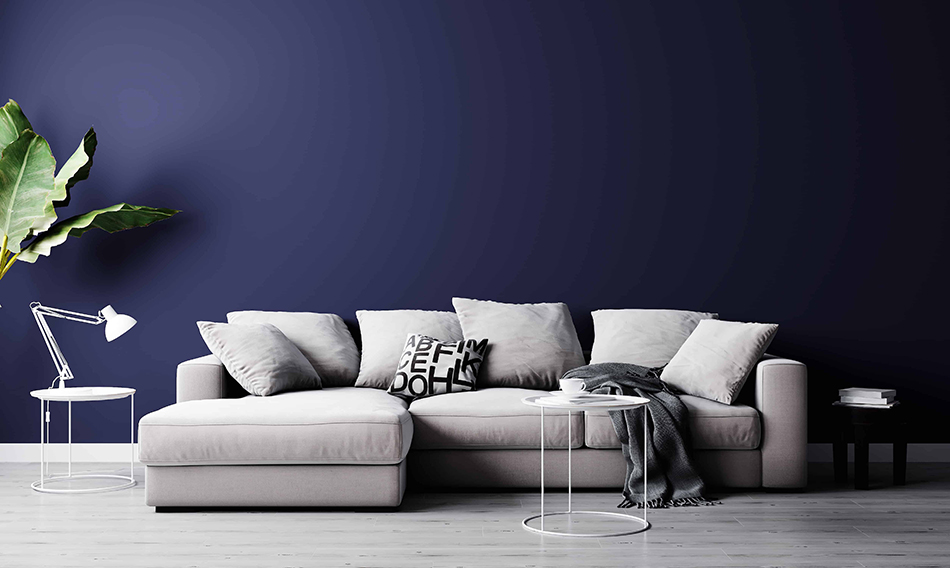 Gray is a closely related color to blue. And no wonder as they go very well together. In fact, any shade of blue will stand out beautifully next to gray undertones. In this stylish living room, the navy blue wall creates a sophisticated backdrop that allows the gray sectional sofa to take center stage. The whole living room design comes beautifully together with the help of the rich tone of blue in the background.
Yellow Furniture with Blue Walls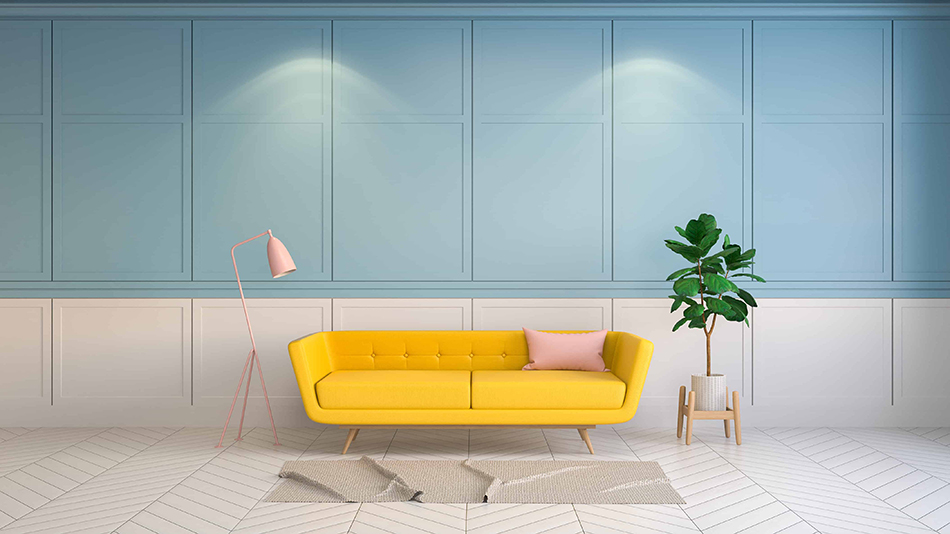 Yellow is another exciting color to pair with blue walls. This retro color can be in the form of throw pillows, rug, sofa and even a chair. The brightness of yellow will give any room a punch of color. Whether your living room is small or large, you can still pair dark teal or navy walls with lighter shades of yellow to achieve an energising look. On the flip side, light shades of blue with bright yellow furniture will make the room feel lighter as shown here. Bright yellows are beautiful accent colors that make a living space pop, especially when they are paired with deeper blues. For a little more shine, add jewel tones like gold picture frames or mirrors to bounce light around the room.
A Mix of White and Blue Furniture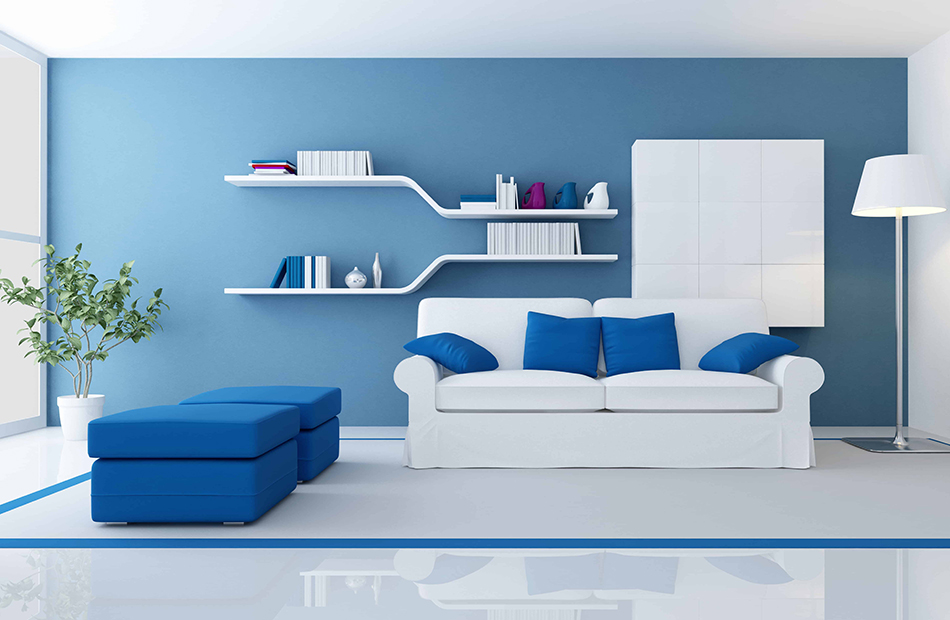 Incorporating a streamlined color palette into a living room helps the space feel cohesive and balanced. A mix of white and blue accents and furniture against blue walls will look inviting and feel tranquil.
You can get away with any shade of white along with bold blue accents like throw pillows and blankets. In this living room. The white and blue theme carries over from the wall to the sofa and the throw pillows for a flawless look.
Bold Color Furniture with Blue Walls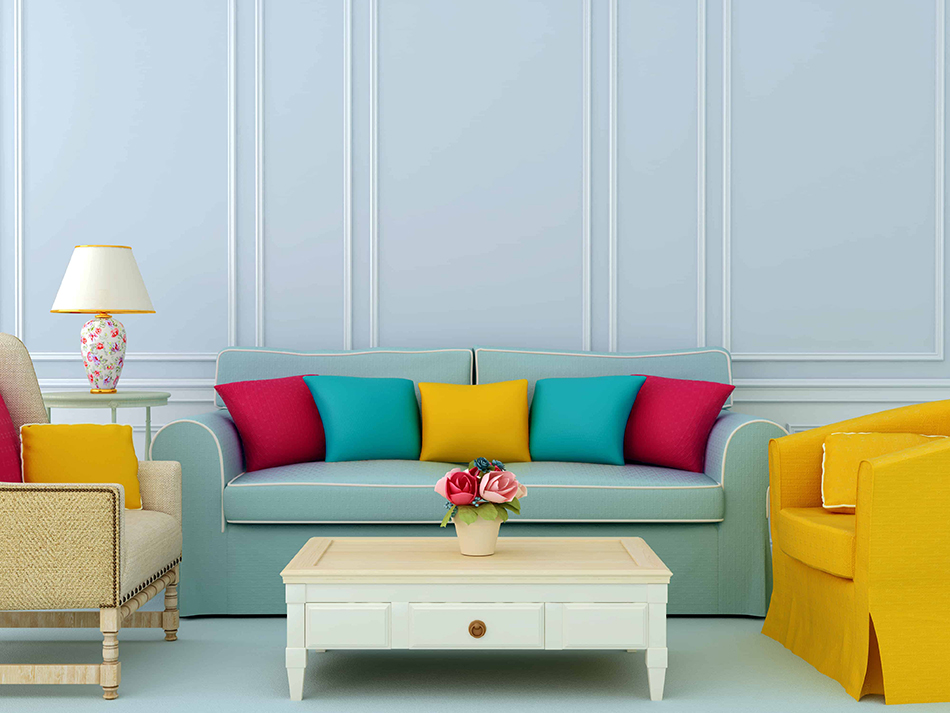 Light blue colors like sky blue provide a timid atmosphere so in order to enhance the overall look, pair the blue wall with strong accent colors. Vibrant furnishings will create a bold and daring look as you can see here. The sparingly used bright blues, reds and yellows certainly wake up the senses in this room.
Pink Furniture with Blue Walls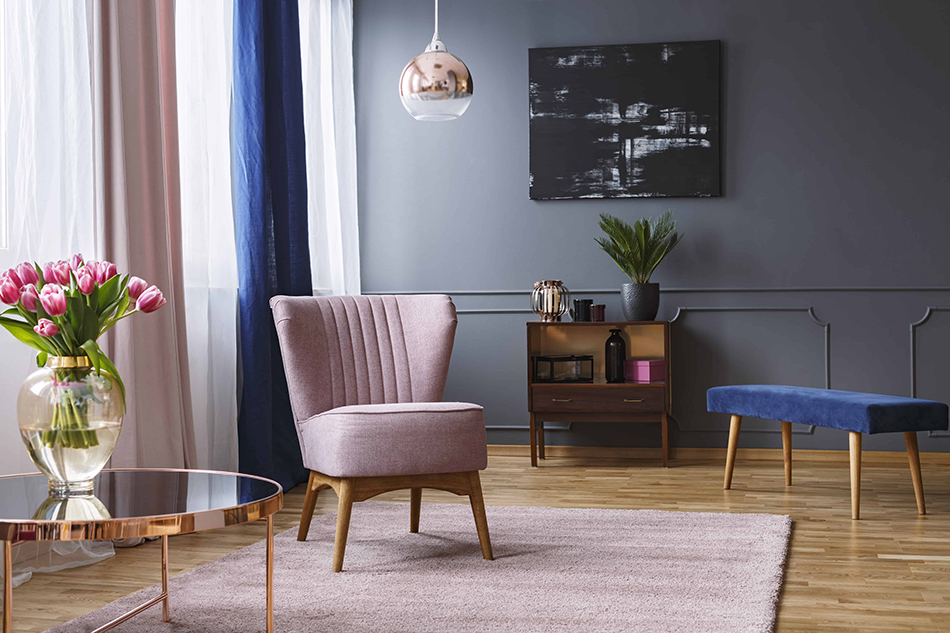 You might be surprised to find the combination of pink and blue as complementing colors. While pink is a feminine hue, when paired with blue walls, it will look graceful in any living room or bedroom design. If you like hot pink, pair it with subtle blue walls and make sure you add plenty of bold pillows to add a touch of character. To keep the room feeling friendly and warm, mix in some cream furniture or floor covering for a clean palette. The beauty of blue is that it lets you experiment with any other color you like. In this living room example, the grayish blue wall has taken a backstep to showcase the pink and blue furniture. As you can see, pink can be paired with different hues for significant impact – and you don't necessarily need to include this bright shade in a feminine room as long as it is paired with dark blue!