Why let your fireplace disappear into the background when you can create an attractive accent wall around it? A fireplace feature wall is the focal point of any room as it transforms the look and feel of the space. Accent walls provide the perfect opportunity to add depth to your room without changing your home's interior decor.
The color you choose for your fireplace accent wall can be bold or subdued, depending on your room's overall color scheme. Such walls are used to accentuate the fireplace as well as to define the room.
When you're thinking of the best fireplace accent wall colors, don't shy away from bold, bright colors. Such vibrant colors allow you to play with other tones in your room without overwhelming the space. If you're struggling to add visual interest to your fireplace feature wall, selecting a dominating paint color should do the trick. Take your inspiration from our ideas right here…
Fireplace Feature Wall Color Ideas
White on Brick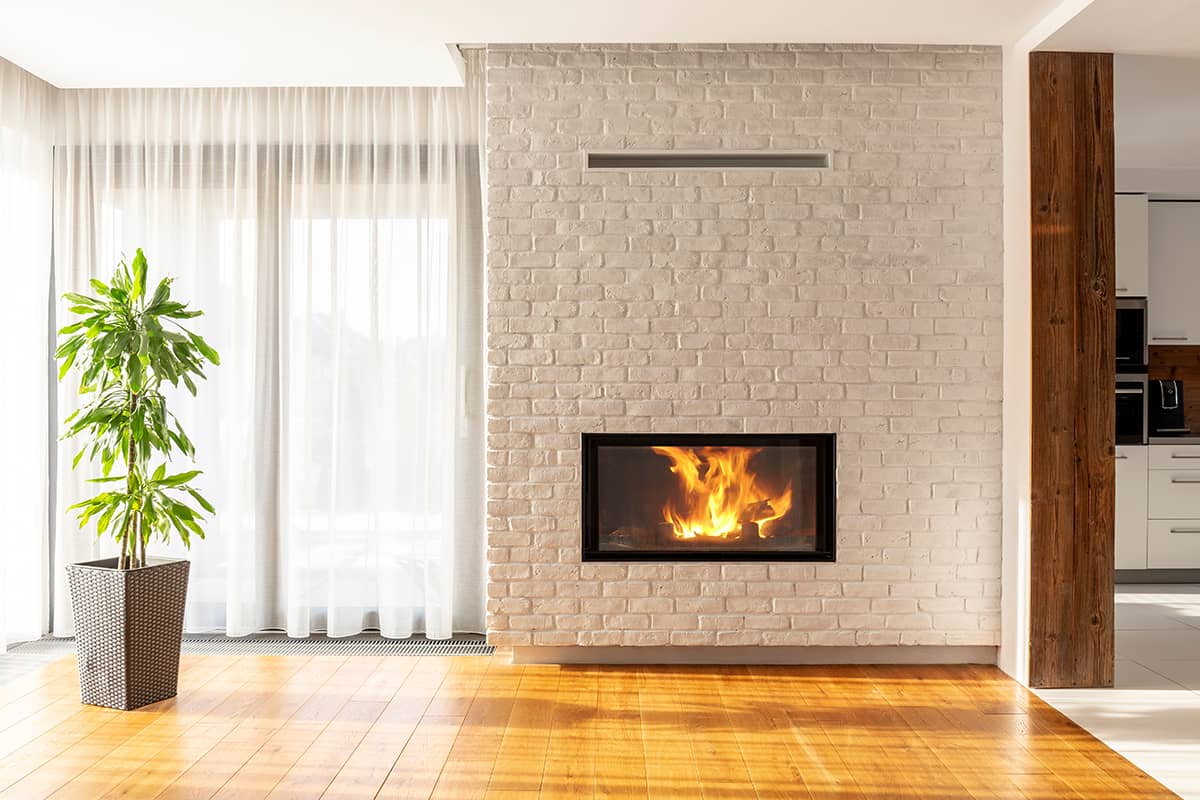 If the brick wall's original color wasn't white, you may need to apply a primer followed by two coats of paint in order to fully cover the brick. Some people may prefer an off-white look, thus only applying one coat of paint will suffice. The final look depends on the vibe you're looking to create in your living room or bedroom.
In this modern, bright living room, the large fireplace brick wall is painted white to bring visual interest to the space. As an alternative to crisp white, you may leave your brick accent wall unpainted. It will still stand out thanks to the aesthetically appealing natural material of the wall and the fireplace!
Charcoal Gray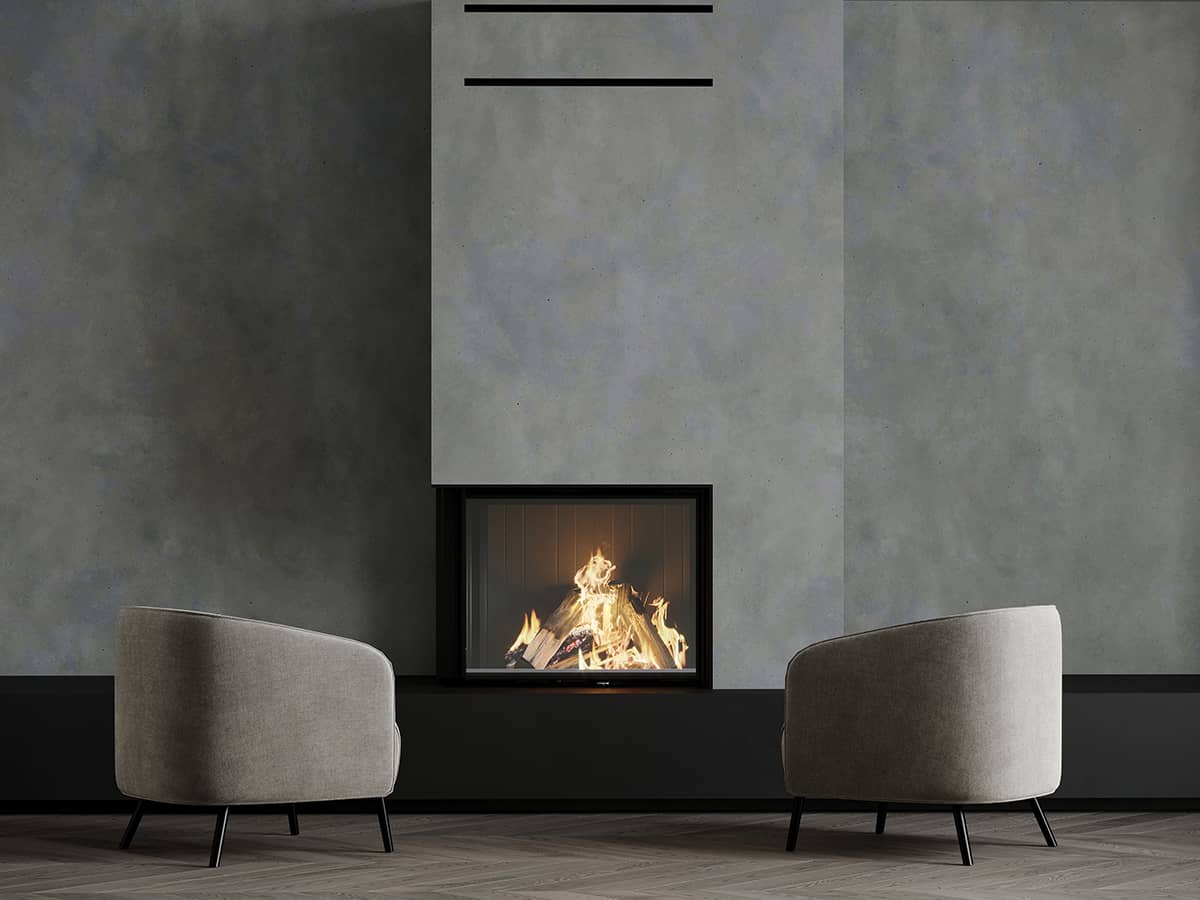 For a captivating finish, go for charcoal gray. This is still a neutral hue but with more impact for a fireplace accent wall. The deep tone of the dark gray adds character without overpowering the space. A charcoal gray feature wall brings out the natural texture of your fireplace just like in the example shown here.
What makes this feature wall different from the rest of the room is the fireplace. However, the accent wall doesn't stand out as much as it should. Tip: to bring some contrast to your living room and draw the eye directly to the fireplace feature wall, paint the adjoining walls white or cream.
Light Gray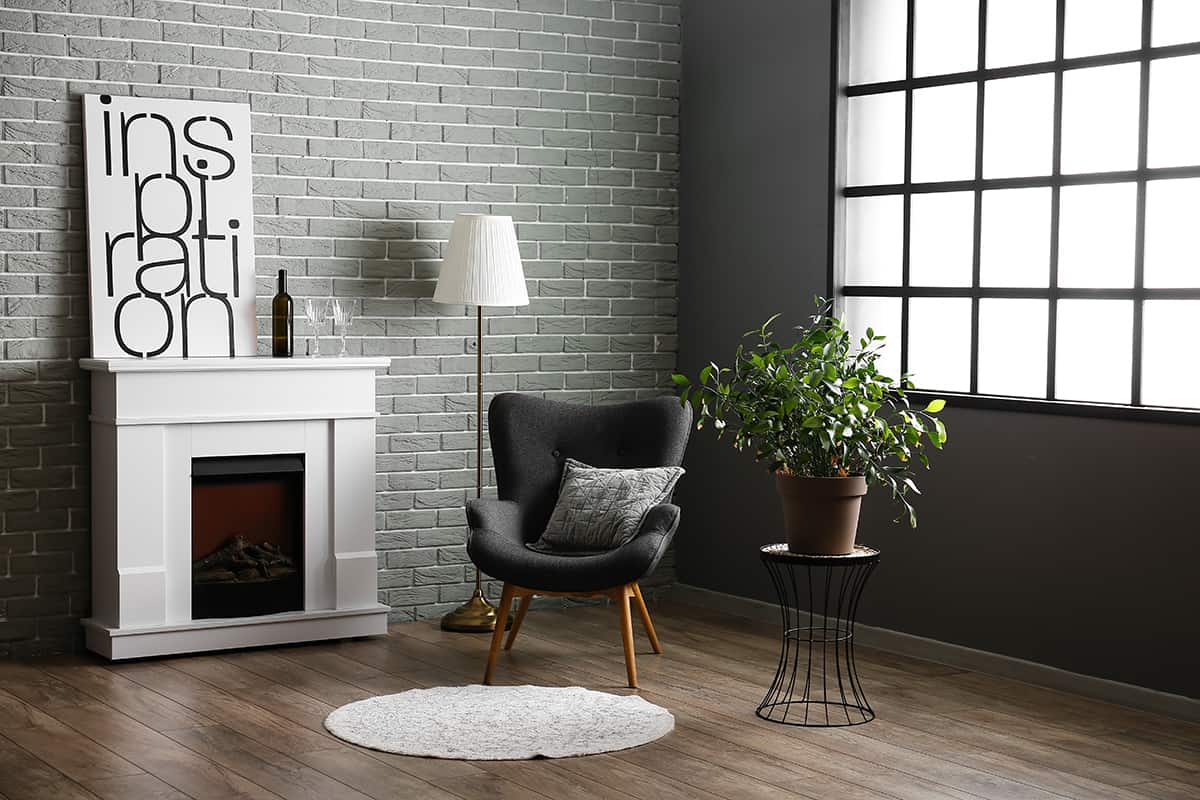 For a toned-down look, consider light gray. A warm, light shade of gray for your fireplace feature wall enhances the coziness of your room. This neutral color allows you to be flexible with your furniture and decor colors, but it still manages to stand out in a modern living room. A subdued fireplace feature wall can be the focal point you're after thanks to the light, relaxing shade of gray.
This brick wall is painted a light shade of gray with a white fireplace that stands out in the room. Gray is such a flexible color that you can easily pair it with blues, greens, and other bold hues. You can even paint the surrounding walls darker shades of gray to highlight your light gray brick feature wall with a fireplace.
Deep Blue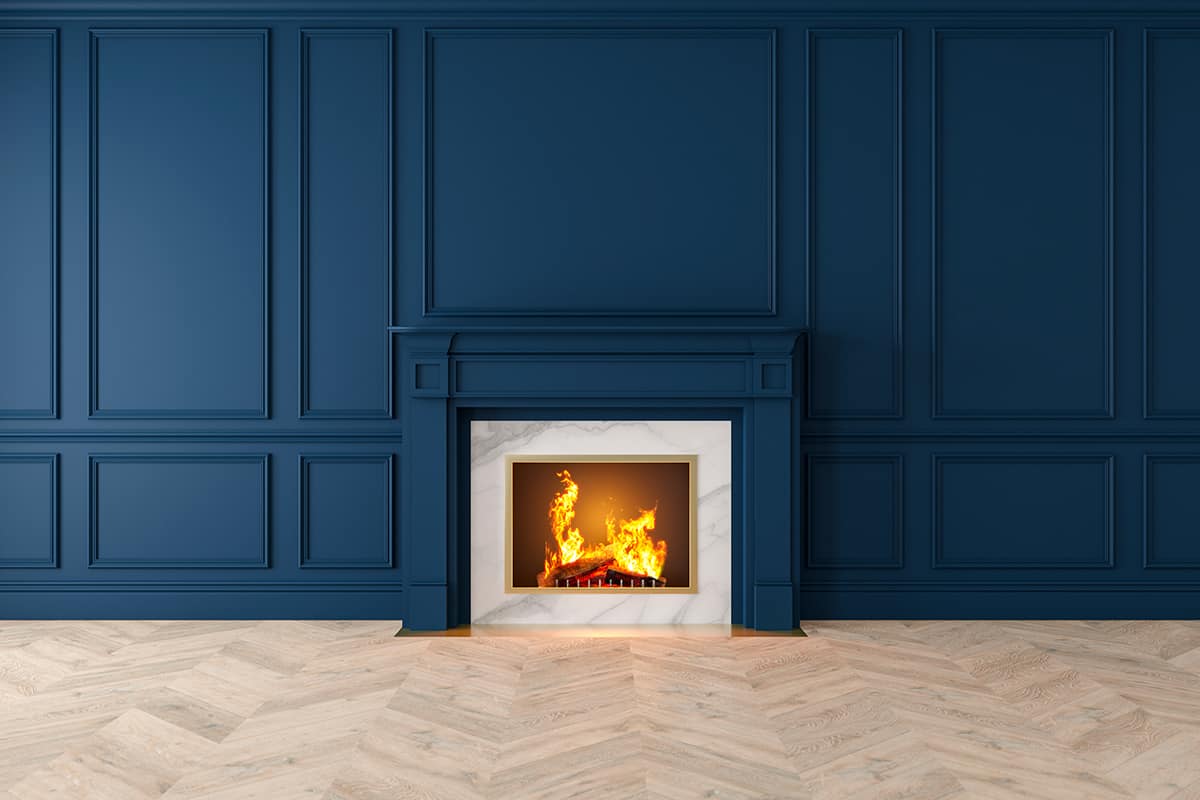 For a sophisticated feature wall with a fireplace, think beyond a neutral paint color. Instead, opt for a moody blue hue like admiral or teal as this is a great accent wall color that brings a soothing vibe to your modern or traditional room.
When paired with a white fireplace, the deep blue feature wall can be a stunner just like in this example of a dark blue wall panel with a fireplace.
Green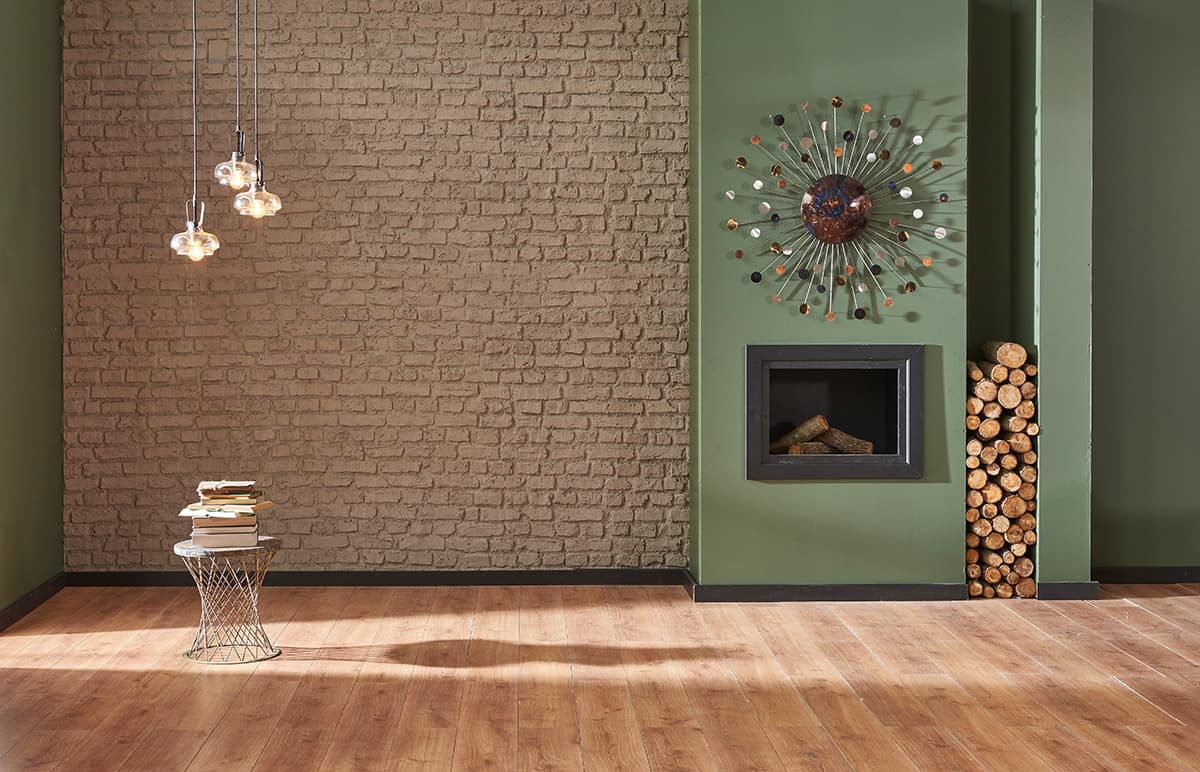 To add a vibrant and rich tone to your fireplace feature wall, paint it a warm shade of green. This color brings nature inside thanks to its earthy warmth. Pair your green feature wall with a piece of wood furniture for a peaceful, natural vibe. Just picture yourself sitting relaxed in front of a cozy fire on a green accent wall…
Our favorite green shades for an accent wall include cadmium and hunter green. These shades pair well with warm neutrals like cream or beige, or even lighter shades of green.
Midnight Black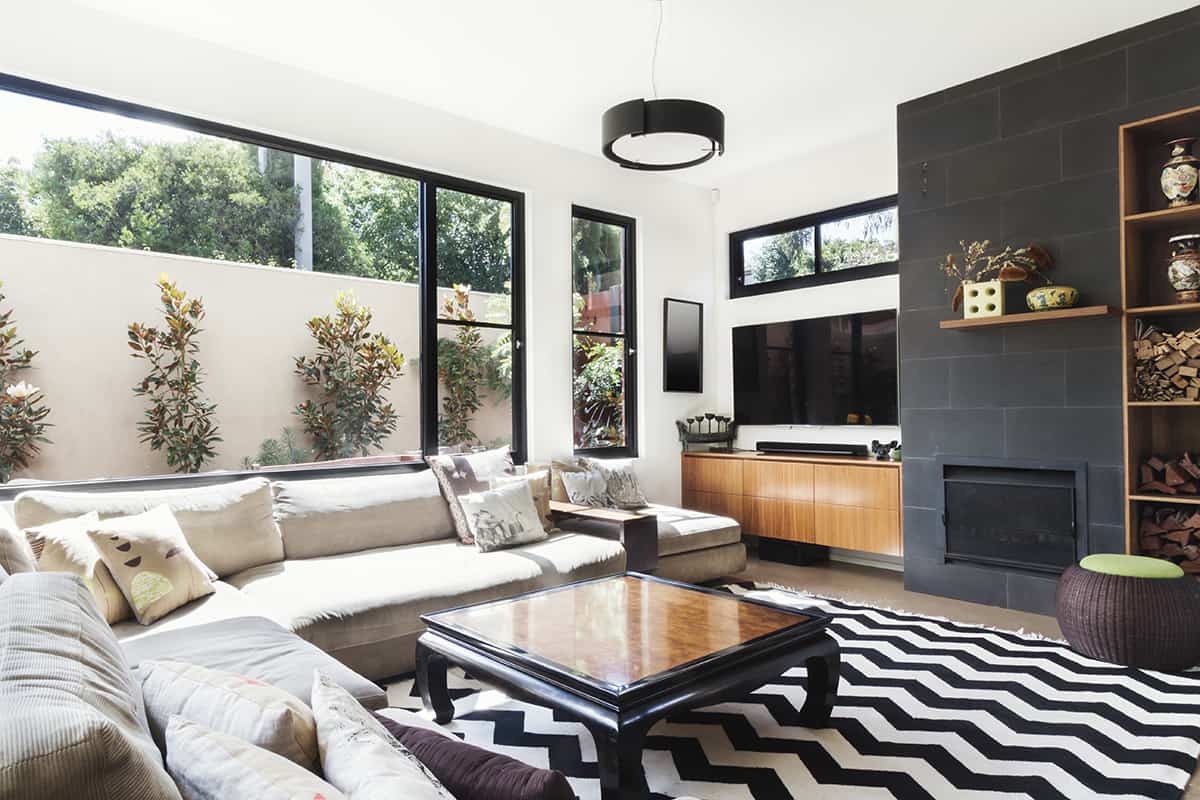 Looking for an ultra-modern and sophisticated paint color for your fireplace feature wall? Consider midnight black as a rich, deep color that instantly grabs attention. When you want your fireplace to take center stage in your living room, you need a focal point in the form of a black wall.
In a black and white living room, a black fireplace feature wall offers a cozy feel. The contrast of white and wooden elements go beautifully with black. We love this color combination in the example shown here as the black feature wall oozes with sophistication.
Orange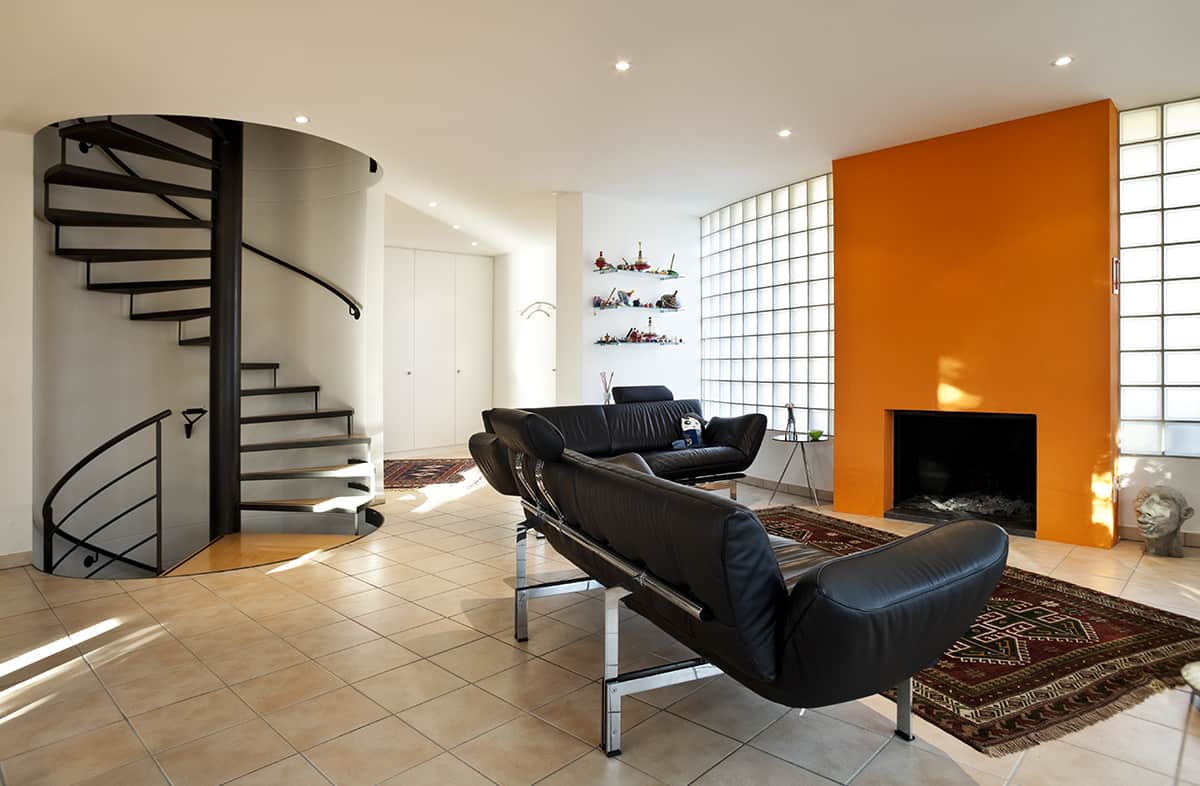 Want the ultimate focal point in your living room? Then consider painting your fireplace feature wall a bright shade of orange! This color brings a cheerful pop to any room, plus you can pick any shade to add personality to your space. Pair your orange accent wall with other dominant furniture colors like black to make a dramatic statement just like in this image.
The open-plan modern living room boasts a beautiful orange feature wall with an open fireplace and black furniture. This idea, however, won't work in small living rooms as dark and bold colors can make the space feel rather confined.
Purple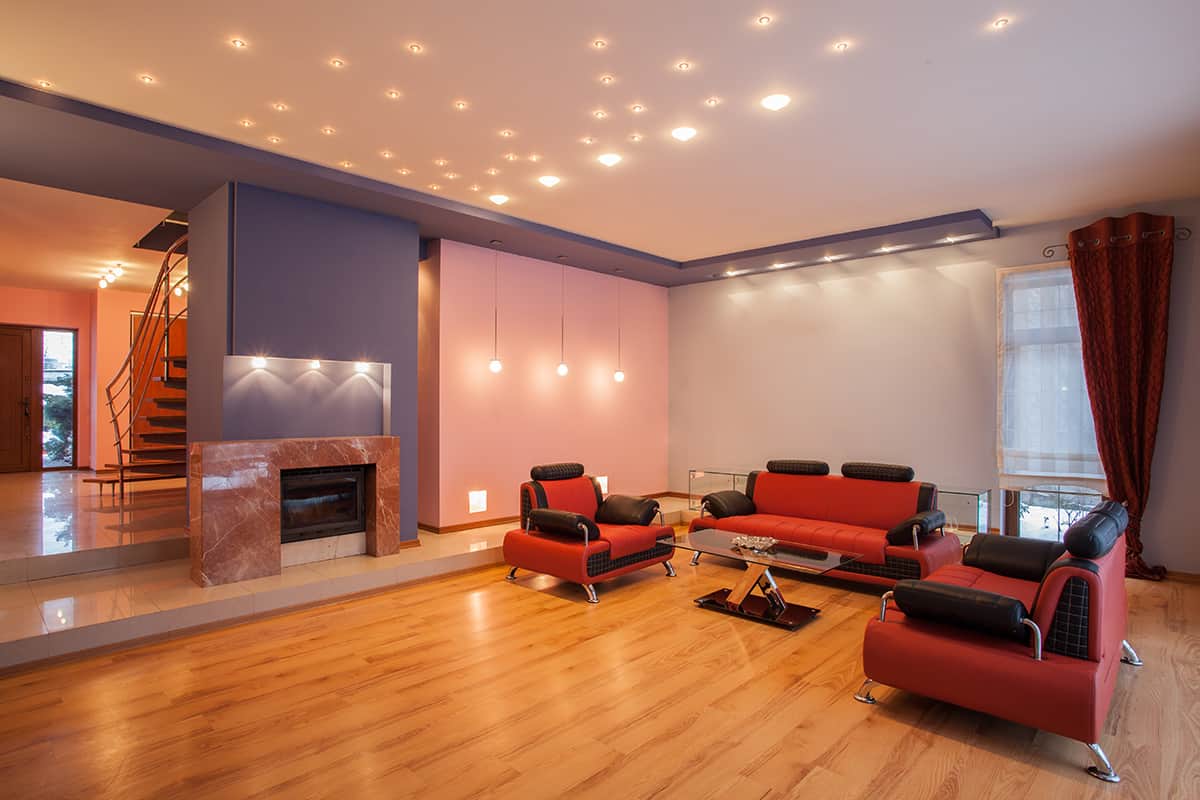 Your accent wall with a fireplace doesn't have to be bright and bold. In fact, it can be painted a subtle shade of purple, which will work just as beautifully as any other color. Purple brings depth to a feature wall in a bedroom or living room. Pair it with warm, rich colors like red for a chic combination.
Any shade of purple will work for your fireplace feature wall. This deep paint color is a cool-toned hue with a welcoming and royal feel. But if we were to pick a specific shade to draw the eye to your feature wall, it'll have to be amethyst or lilac.
Yellow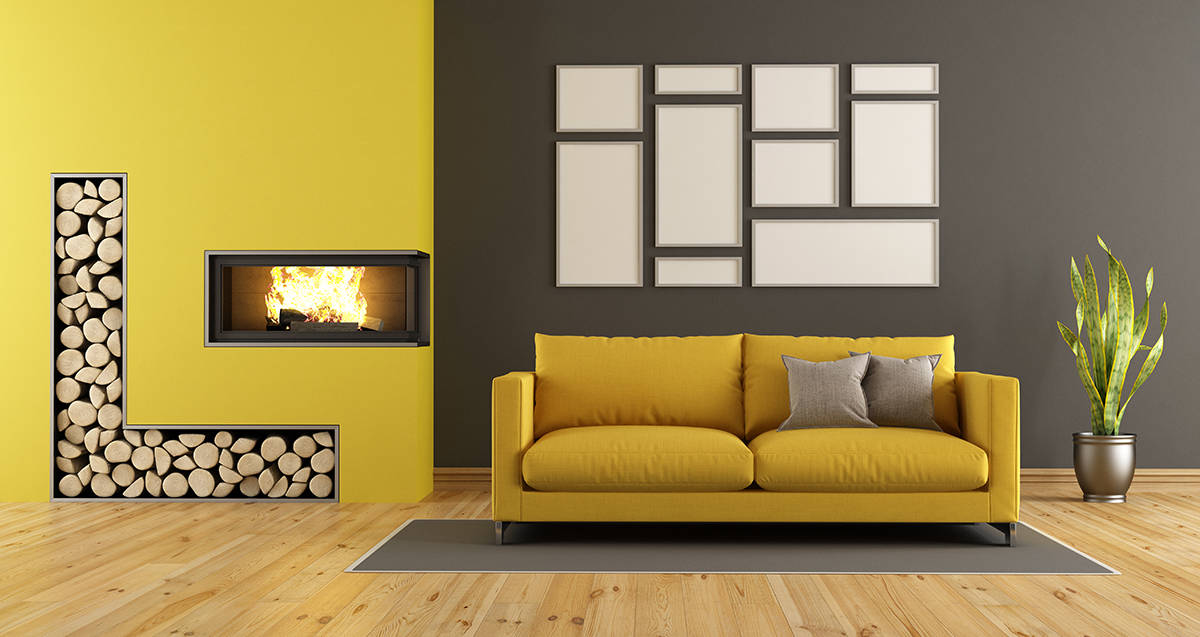 A cheerful shade of yellow could be just what you're seeking for your fireplace feature wall! This bright and happy color is neither too bright nor muted so it's bound to draw the eye directly to your accent wall. Yellow has enough pigment to liven up any space, so try it for your fireplace accent wall in the living or dining room for maximum impact. Pair it with black furniture for a smart, stylish combination.
How to Define Your Fireplace Accent Wall as a Focal Point
Having a fireplace feature wall is an excellent opportunity to accentuate this specific area of your living or dining room. In open spaces, a feature wall can define the specific purpose of the room. For example, in an open-plan living room and kitchen, the fireplace accent wall in between these rooms can be used to create a distinguished dining area.
A rich, deep color for your feature wall can add drama while creating a cozy feel. Charcoal gray or black, for example, are two beautiful paint color choices that are popular for feature walls with a fireplace. But if your room is small or confined, a dark feature wall will make the space feel crowded. It's better to use one neutral color for the mantel and entire wall, such as light gray, yellow, white, or off-white to keep the space bright.
Remember feature walls don't have to be painted in bold, vivid colors. If you don't want a dramatic look, use a few shades darker or lighter than your room's overall color to subtly make the accent wall stand out.
You may of course select a contrasting color for the wall as long as it has the same intensity as the rest of your room, otherwise the feature wall will be lost among the other colors.
To sum it up, a fireplace accent wall color should be strong enough to stand out but without clashing with your room's other colors. No two colors should compete with each other so make sure you take your room's hues into account when selecting the best fireplace accent wall color.
Take your inspiration from the fireplace accent wall color ideas we've shown you, which include both neutral and bold paint colors. For more color schemes for things around your fireplace, check out our guide on ' What Color to Paint Fireplace Surround '.