A fireplace is an architectural centerpiece of a room, which is why it's important to choose the right paint color for the fireplace surround. But the way you paint it, and the specific color you choose can greatly affect the overall room design.
Later in the article, we will provide you with some useful tips on how to paint your fireplace mantel and surround. But first, you must decide whether you want to use a neutral shade or a vivid one that stands out.
Painting your fireplace surround in a neutral color is the safest option. However, if you want something bolder, you must consider the color of the wall behind the fireplace.
You may use a contrasting color with the walls or the same color as the wall to blend in your fireplace surround. For example, if your wall is off-white or beige, you can paint the fireplace surround a crisp white color to make it stand out.
To give you more ideas on how to spruce up your old fireplace surround with the right paint colors, here are a few suggestions:
Best Colors for a Fireplace Surround
Paint it a Neutral Color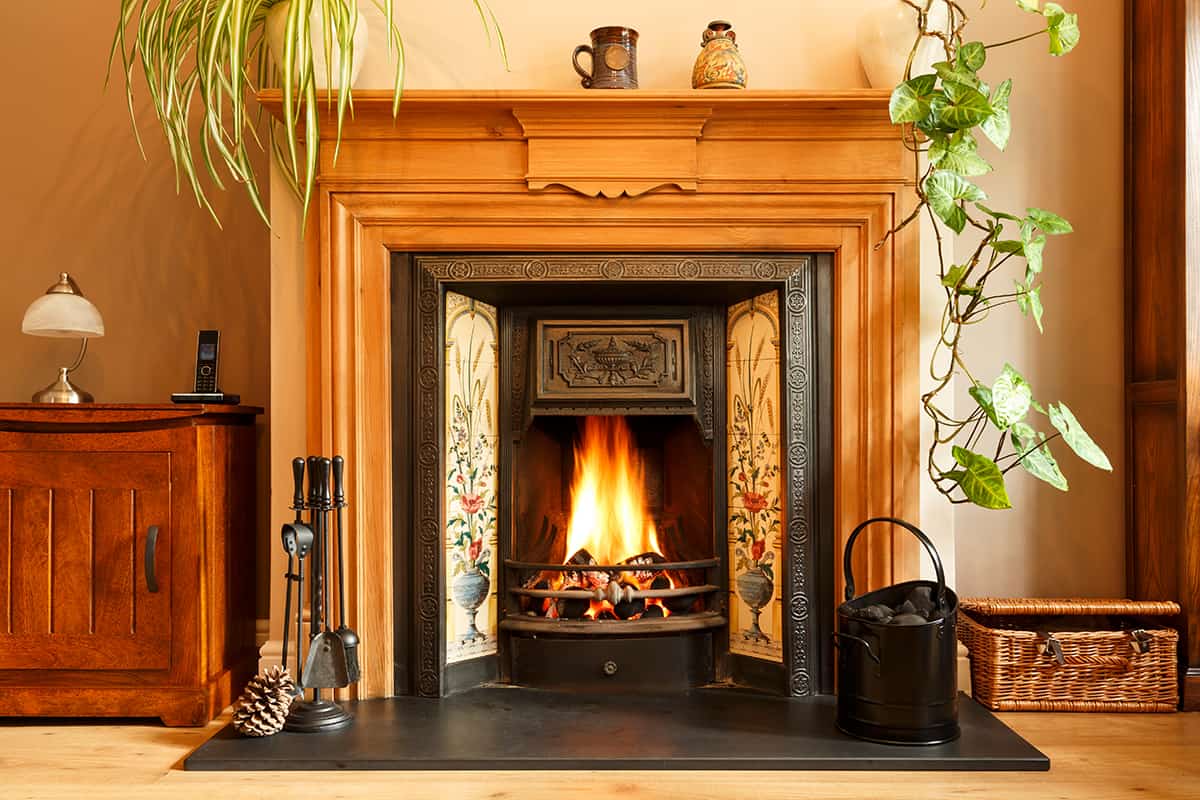 Neutral shades like gray, white, ivory, cream, caramel or beige are a common choice for a fireplace mantle as they will remain looking good even if you decide to repaint the walls of your room.
If your wall color is different to your fireplace surround, a neutral color will let the mantel pop without completely standing out from the rest of the living room.
Use a Contrasting Color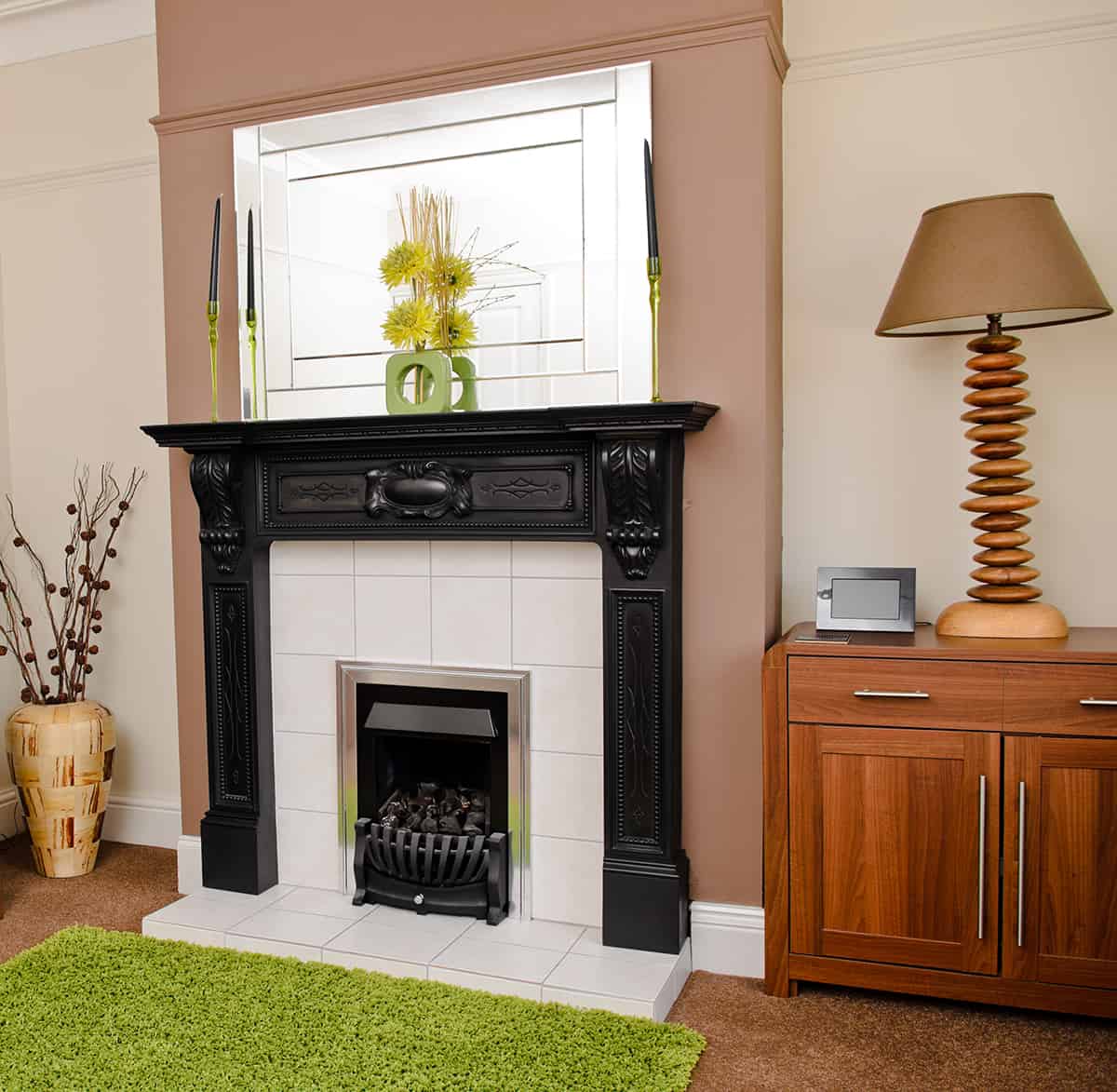 If, on the other hand, you want your fireplace surround to stand out as a focal feature of the room, then paint it a contrasting color to the walls. This helps highlight your fireplace beautifully.
For example, if your surrounding walls are yellow or beige, a striking black paint for the fireplace surround will create a bold contrast. You may use any contrasting color to your walls in order to make your fireplace take center stage.
Create a Monochromatic Look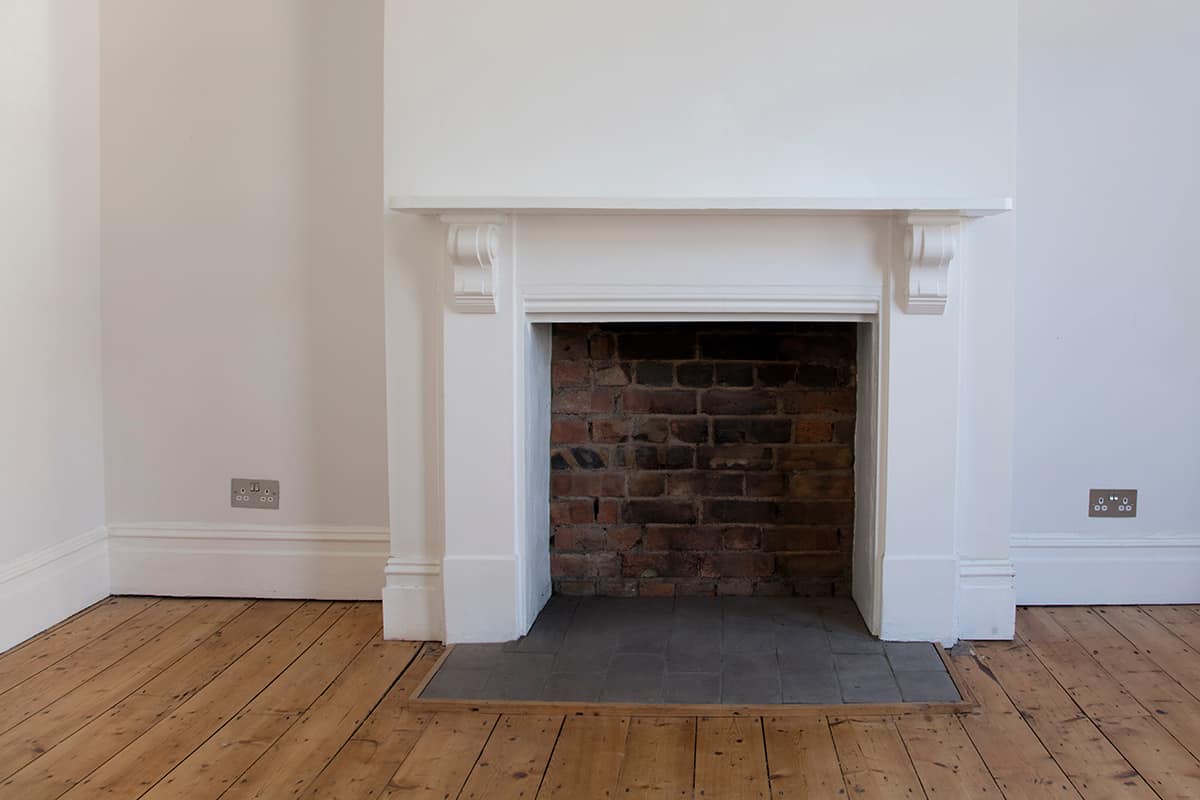 To downplay your fireplace surround rather than make it a focal point of the room, you might want to consider painting it the same color as the walls that surround it.
This helps the fireplace blend into the room and let other decor items come into the spotlight. A monochromatic look means using the same color, preferably in one or two shades lighter or darker.
For example, if your walls are off-white or ivory, you can paint your fireplace a bright shade of white for a monochromatic effect. Similarly, light green walls can be paired with a dark green fireplace mantle to create the same feel.
Go Bold
Another option is to paint your fireplace surround a bold, vivid color that's very different from the wall color. This helps make your room ultra-trendy with a fireplace that pops.
A good paint color example is navy, bright orange or fiery red as it's sure to make your fireplace instantly stand out.
Try Two Paint Colors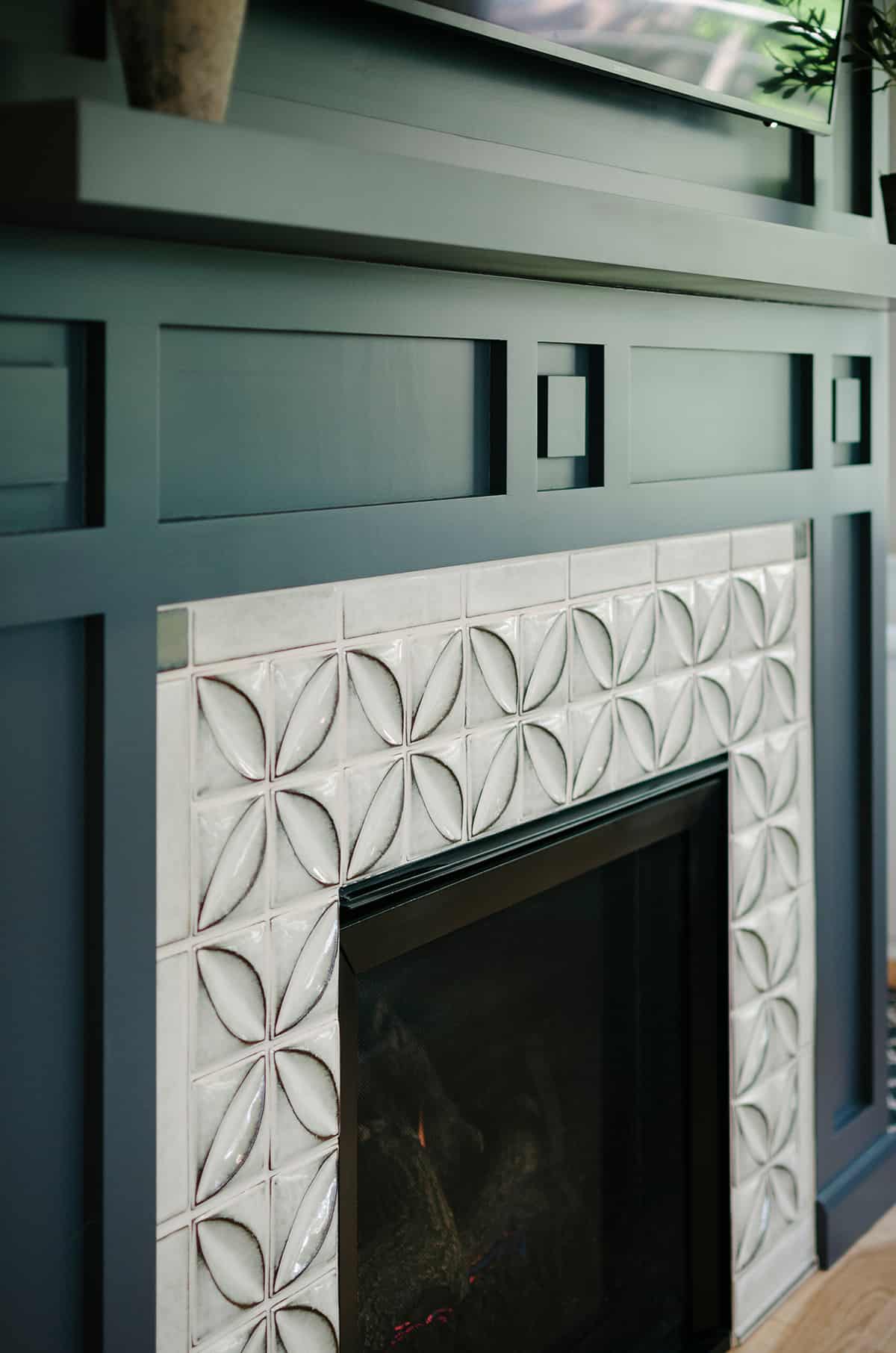 Whilst we're on the subject of bold colors, why not experiment with two paint colors for the fireplace surround and mantel. You could paint the mantel timeless black and the trim white, for example.
A combination of greens and blues also works well for a bolder effect. By painting your fireplace surround and mantel two different colors, you can make it the center of attention.
Now that you have a better idea of the best paint colors to choose for your fireplace mantel, you might be interested in learning how to paint this focal feature of your room. Keep reading to know more!
How to Paint a Fireplace Surround
Preparation: Cleaning, Sanding, and Caulking the Surround
Painting the fireplace surround is a quick and easy process. But it's the prep work that requires you to clean the surface, sand it and fill any gaps prior to painting.
An unpainted surround takes more time to prepare as you want to ensure the paint work won't peel off or swell afterwards. Some people choose to stain the unpainted surround without sanding or priming. But first and foremost, you must clean the surface.
A lot of fireplace mantles have soot or dirt all over them, which can cause paint adhesion issues. Wipe the surface using a damp cloth before sanding the mantel and the surround using a 180-grit sandpaper on a random orbital sander.
The 180-grit sandpaper is less likely to damage or scratch the fireplace surface if it's made of wood. For stone and brick mantels, however, it'll be fine to use a 220-grit sandpaper.
Once you've sanded the fireplace surround surface, the next step is caulking. This is where you have to fill any gaps between the adjoining wall and mantle. Make sure you pick a paintable, acrylic caulk for this. For wood fireplace mantels, use a quality wood filler and apply it with a putty knife in thin layers.
After caulking the fireplace mantel and surround, you'll need to sand the surface once again before applying a primer and paint. Keep in mind there will be sand dust everywhere, so you will have to wipe the surface down with a damp cloth or use an air compressor to blow off the sand from the fireplace surface.
Use a Paint Brush or Roller?
With a masking tape, mask off the surrounding walls around the fireplace mantel and cover the floor with plastic. Now you may be wondering whether you should use a brush or roller for priming and painting your fireplace surround.
For the mantel top, we recommend an angled paint brush with soft bristles as it makes the painting process easier.
Tip: use a 2 to 2.5 inches trim paint brush for best results. This type of angled brush will ensure paint is applied smoothly and evenly without leaving heavy strokes behind.
For the wider surfaces under the mantel, use a 6-9 inch paint roller to minimize overlapping and leaving visible roller marks in the finish.
Best Primer and Paint Finish for Fireplace Surround
For wooden fireplace mantels, a white shellac primer or an oil-based one is the best choice. These types of primers tend to stick well to the fireplace' wooden surface without peeling off in intense heat.
However, if your fireplace surround has already been stained with a water-based lacquer, there is no need to use a primer. Priming is only necessary if the surface has been stained with oil varnish.
So what is the best paint finish to use for your fireplace surround? Acrylic or oil-based enamel paint ensures longer lasting finish, but if you're using oil-based paint, it doesn't dry as fast as acrylic.
Plus the fireplace heat may cause the oil paint to fade over time. Acrylic paint finishes, on the other hand, are heat resistant and make a better choice for fireplace surround.
Should the Fireplace Surround Color Match the Floor or Walls?
Some people prefer to paint their fireplace surround the same color as either the floor or the walls. The idea is to match or complement the decor color, but this doesn't mean you can't match the fireplace surround color with the floor or wall colors. In fact, you can tie the entire room together by choosing a shade lighter or darker than the wall or floor color.
For example, if you have hardwood flooring in light brown and your walls are in a neutral color, your fireplace surround color can remain neutral to blend in with the walls. On the other hand, if you want to match the fireplace surround with the color of your floor, go for a shade lighter or darker.
Wrapping it Up
The safest paint colors for a fireplace surround are neutrals. These include grays, whites, browns, and beige. Other ideas include picking the same color as your walls for a monochromatic look or making your fireplace surround stand out with a bold paint color.
While neutral colors are the most popular option, your fireplace surround is an excellent opportunity to show off your personality so you may consider alternative colors.
And if you're still wondering which paint finish is best for your fireplace surround, a semi-gloss with the acrylic finish is a great choice for the mantel and surround due to its ease of cleaning and durability. Semi-gloss isn't too shiny so it won't make your fireplace surround stick out.
We hope our 5 ideas on the best paint colors for a fireplace surround have inspired you to get your paintbrush out and give your old fireplace a fresh coat of paint!