When you are renovating a kitchen, you face the choice between different types of backsplashes, as well as how high up on the wall you want your chosen backsplash to go.
Here we look at the various points to consider, specifically regarding using tile around the kitchen window.
What is a Backsplash For?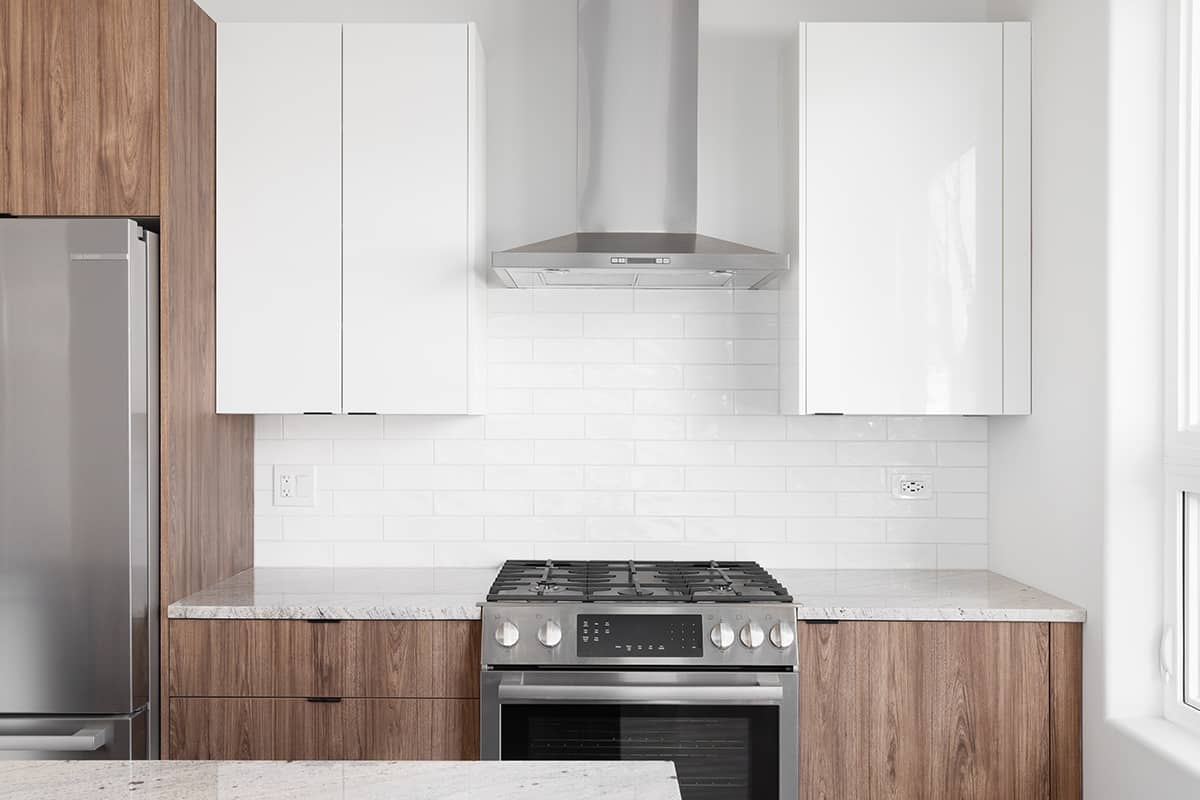 A backsplash is designed to fulfill a functional purpose though it also operates as an important style feature in a kitchen for most people.
Primarily, a backsplash is there to protect the walls from grease and oil splashes, as well as water damage from splashes around the kitchen sink. You can coordinate your backsplash with the other colors and textures in your kitchen to create a cohesive and stylish look.
Types of Backsplashes
There are two main types of backsplashes; a backsplash made from the same material as the countertop or a backsplash made from tile. However, within these types, there are many different materials you could choose from.
Marble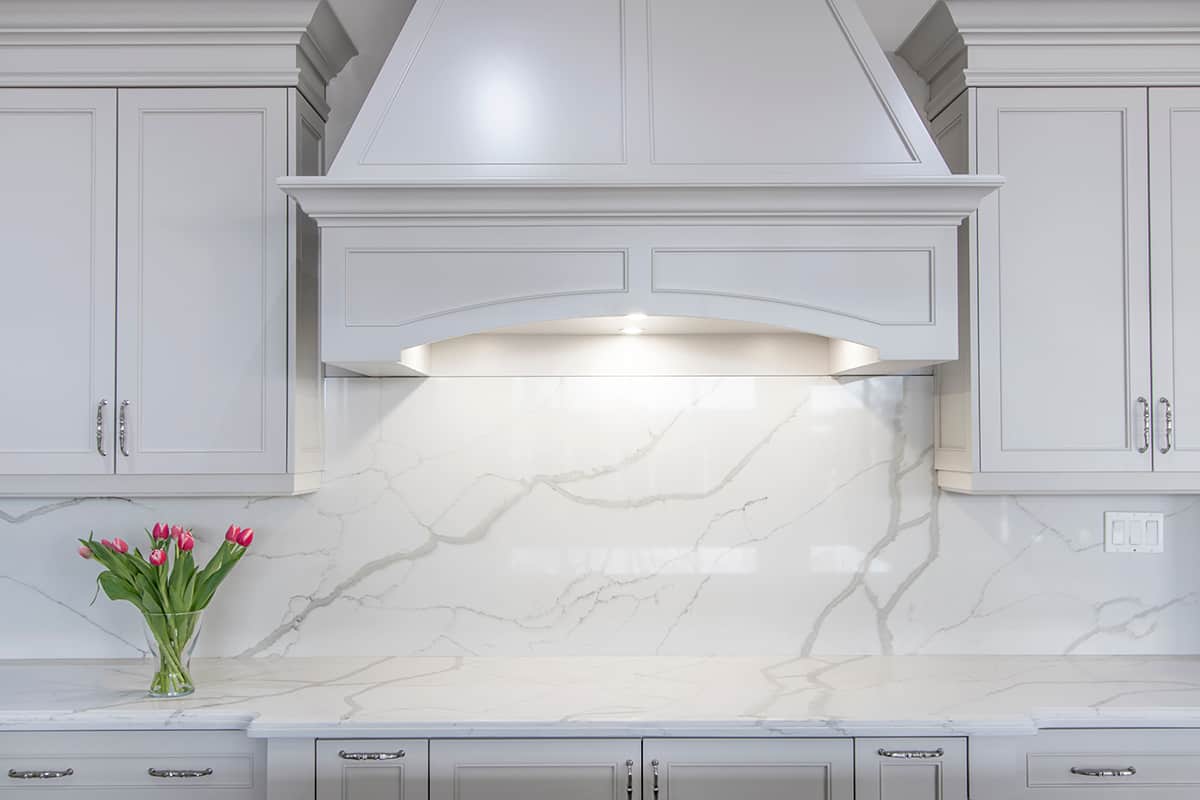 If you have a marble countertop, then you can choose to extend this up the wall and use marble sheets for your backsplash. Since marble has a luxurious look, this will create a very sophisticated and opulent look in the kitchen.
Marble is a very expensive material, so if you use this for your backsplash as well as your countertop, then this is going to add a considerable cost to your renovation project.
For this reason, many people who have marble countertops will use a marble upstand of just two inches in height, as the less marble used, the less it will cost.
Despite marble being a good protective surface against all sorts of splashes, it does require a lot of maintenance. It has a tendency to crack or stain if not cared for properly, so you will need to annually seal the marble countertop and backsplash.
Laminate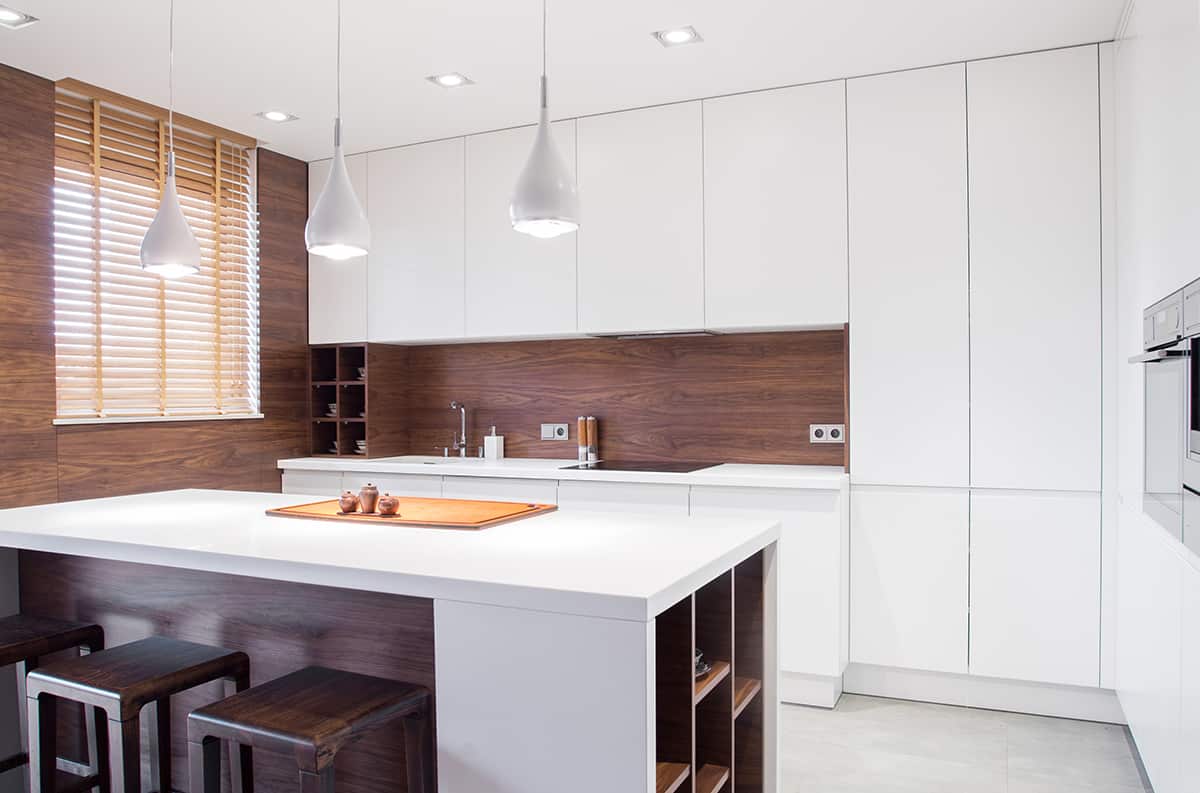 A laminate countertop is a much less expensive option compared to solid surface materials, and if you have chosen this as your countertop, you can also choose it for your backsplash. It requires less maintenance compared to marble and can give a very similar look.
Ceramic tile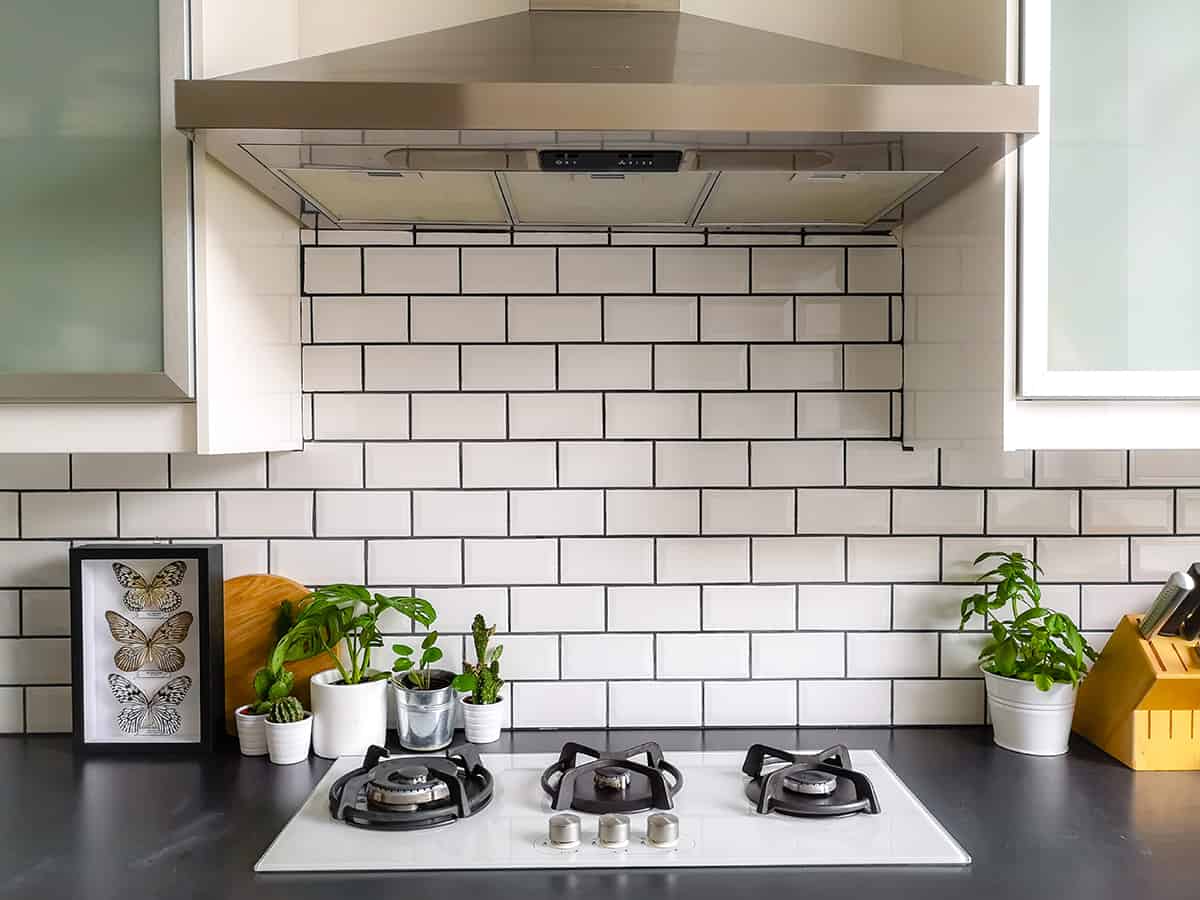 Ceramic tile remains one of the most popular types of material for a kitchen backsplash. It comes in a wide variety of colors and styles to suit any taste and can be very cost-effective because there are budget options as well as more expensive options.
Natural stone tile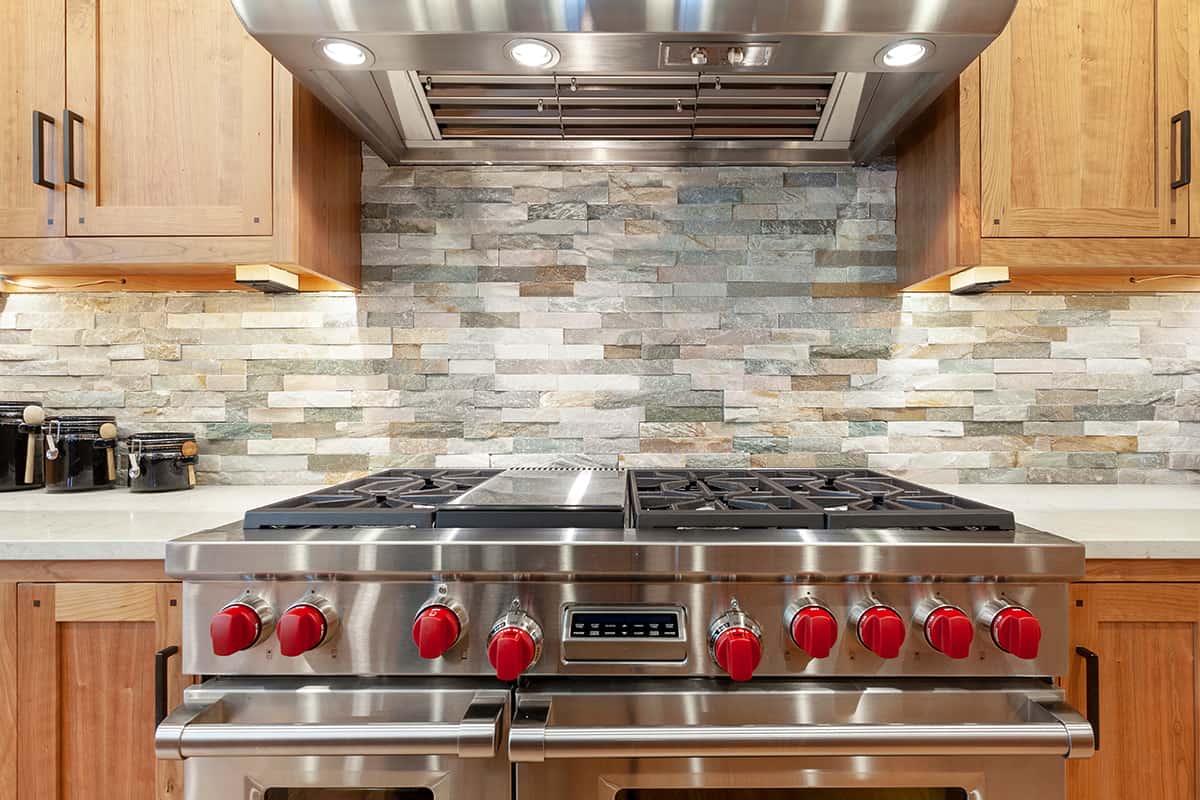 Natural stone can give a really rustic look or a sleek look depending on the type of stone you choose. Possible natural stone tile options can include slate, granite, sandstone, or travertine.
For a backsplash, you should choose a natural stone that has a flat surface because textured surfaces will get food splashes stuck in the grooves.
Natural stone tiles will need to be sealed with a tile sealer specifically designed for natural stone because natural stone is not typically naturally waterproof. Sealing the tiles will protect the stone from splashes, stains, and water damage.
Glass tile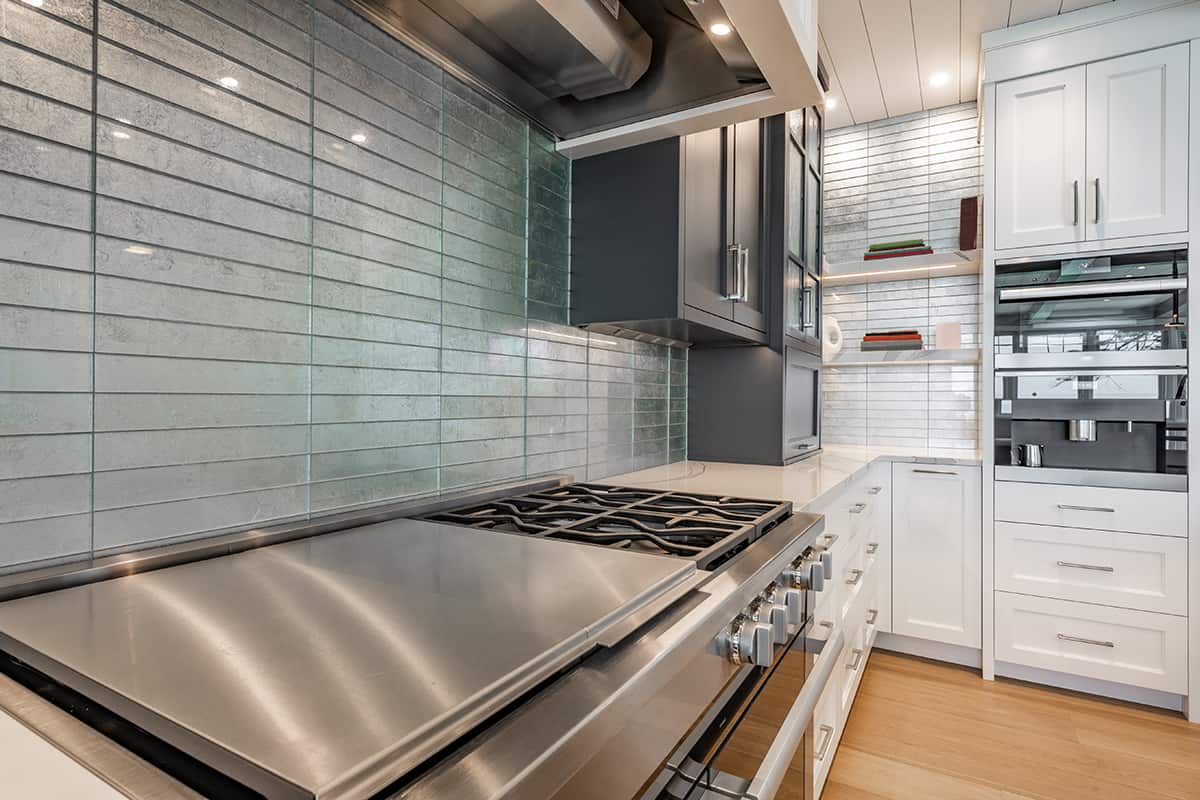 Glass tile is a very popular option, especially for subway tile and mosaic tile backsplashes. It has a sleek finish that is easy to wipe clean and requires very minimal maintenance.
Glass has a glossy finish that helps to reflect light in a kitchen to give a bright, crisp, and fresh feel. It comes in various color options, in almost any size of tile you could need for a backsplash.
Metal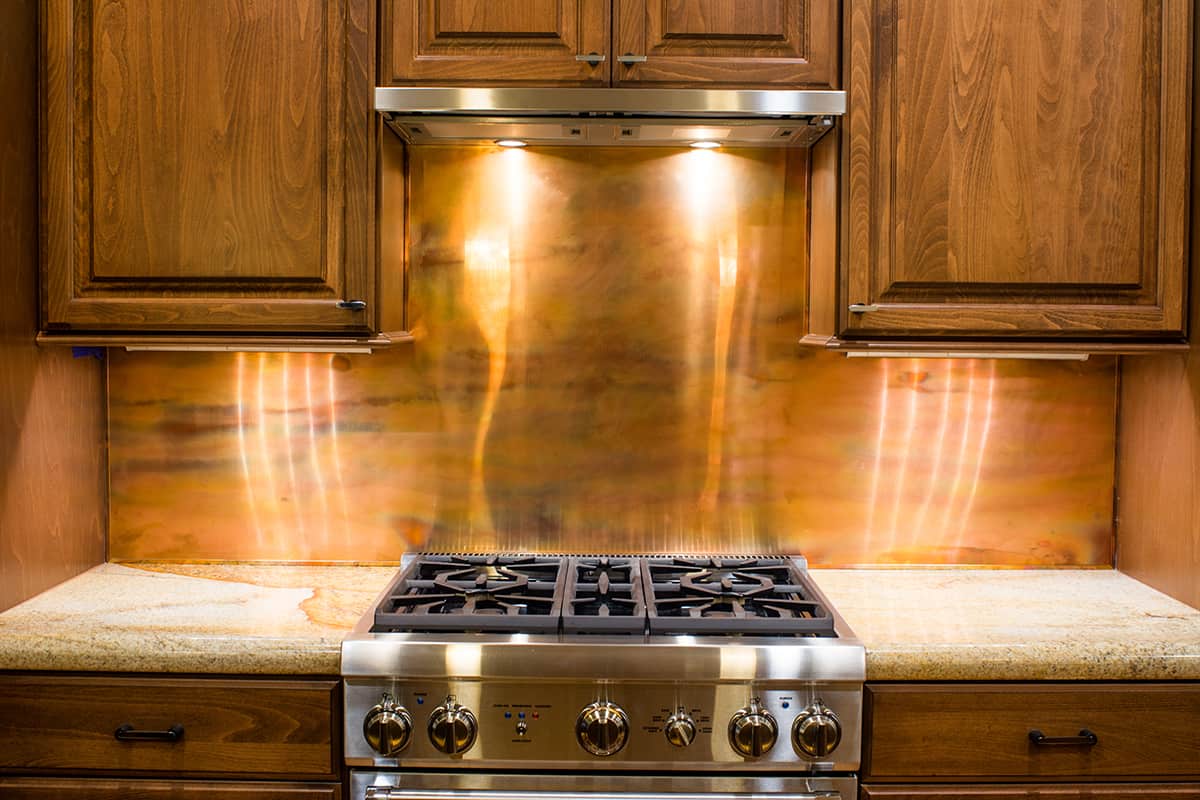 In industrial kitchens, you will likely find stainless steel backsplashes because they are hard-wearing and durable, and very easy to keep clean.
The trend for metal backsplashes has started to move over to residential homes, and you can now find metal sheets to use for a backsplash in a home kitchen.
Height of Backsplash
The height of a backsplash is going to affect how well protected your walls are, it will affect the cost of your renovation, and it will affect the look of the kitchen. If you are using the countertop material as the backsplash material, then the standard height is 4 inches, though you can customize this if you wish.
For additional protection around the stove, a taller backsplash will be needed. When using tile, the backsplash will typically be taller. For standard-size subway tiles, you can choose how many rows you want to achieve the best height. Four or five rows would be typical, though you can even tile all the way up to the ceiling if you wish.
Tiling Around the Kitchen Window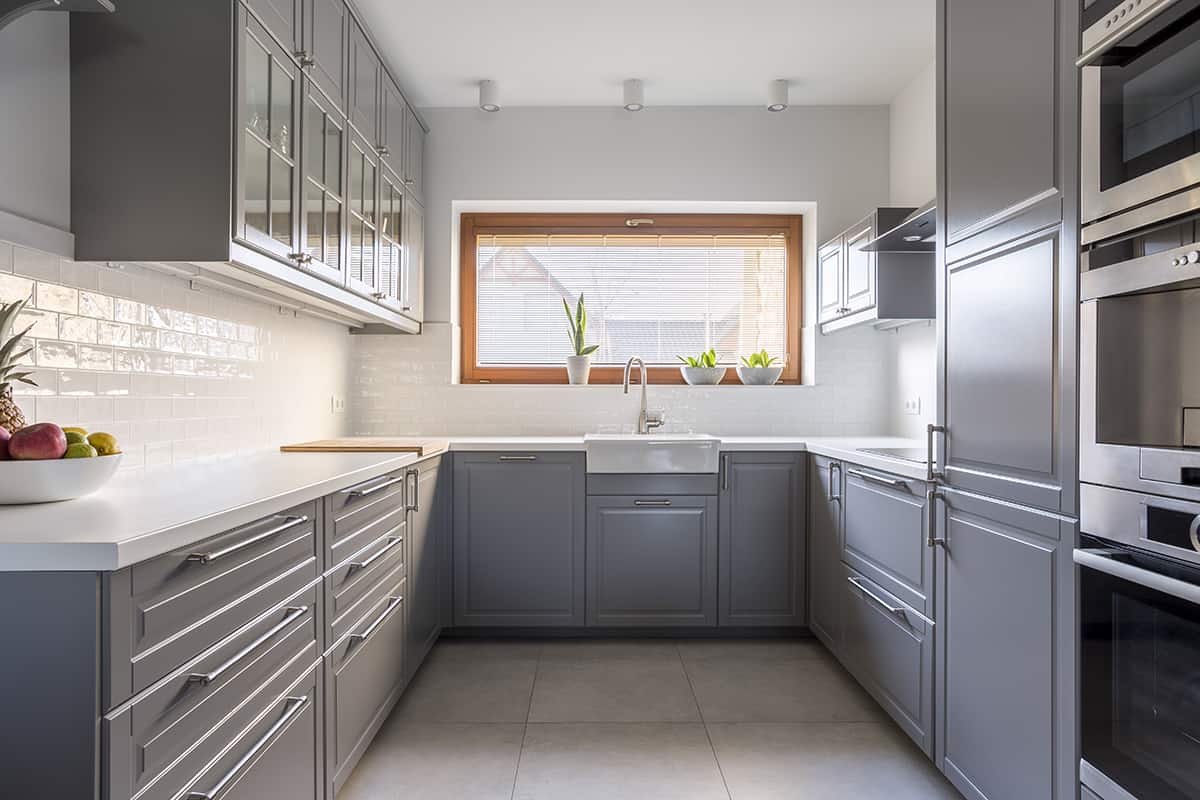 If you have opted for a tiled splashback, then you not only need to select the height at which it finishes but also the tactic you are going to take when it comes to tiling the kitchen window.
Whether or not you tile around the kitchen window is in part going to depend on the height of your kitchen window and its position within the kitchen.
Most people have a window behind their kitchen sink, and so in this case, you should tile around the window to protect the surrounding wall from splashes from the kitchen faucet.
In this instance, you can either tile the face wall and use an ordinary windowsill, or you can remove the window sill and also tile this surface. Some people also choose to carry the tiling around the inner edge of the window walls to provide maximum protection to the walls.
Should You Tile Around the Kitchen Window?
Whether or not you tile around the kitchen window comes down to personal preference. You can tile around the window, but it doesn't necessarily mean that you should.
If you have opted for a backsplash made from the same material as your countertop, then tiling around the kitchen window is not going to be an option, as having numerous backsplash materials will look odd.
If you want a low backsplash, then it may be that your window area doesn't need to be tiled because the backsplash doesn't reach high enough.