The basement is often the most overlooked part of a home regarding design value. This extra storage room is incredibly versatile and can be used for a variety of purposes, including as a games or entertainment room, additional living space, storage, or home office. But when it comes to redesigning your basement, the floor color you select will give your area a fresh and clean feel.
Basements are usually the darkest room as they are located on the lower floor of the house. This particular room doesn't get natural lighting, especially if there are no windows.
To make your basement appear brighter and lighter just like any other room in your house, you should think about painting the drab, concrete floor with epoxy paint.
If you're planning on remodeling your storage space, here are some excellent basement floor colors to consider:
Basement Floor Color Ideas
White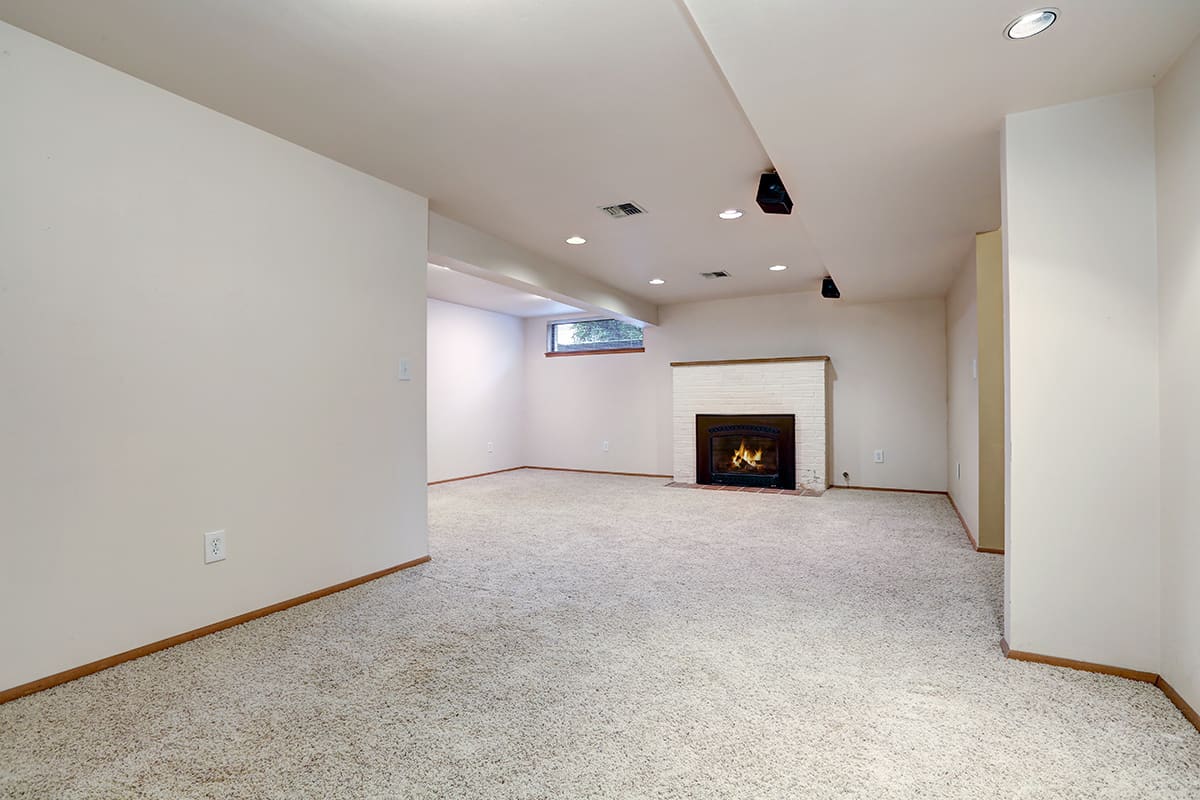 A white floor reflects a lot of light and can make any room appear airy and brighter. When painting your basement floor, white can work best in such a space.
This stylish and elegant floor color allows you to pair it with splashes of color for the walls and accessories for an inviting appeal. Even if you decide to go for an all-white basement, this neutral is one of those colors that can truly transform a dark basement into a bright and lively space!
The only downside to a white basement floor is the visibility of stains or dirt. However, if you choose high-quality paint, it is much easier to maintain and clean.
Cream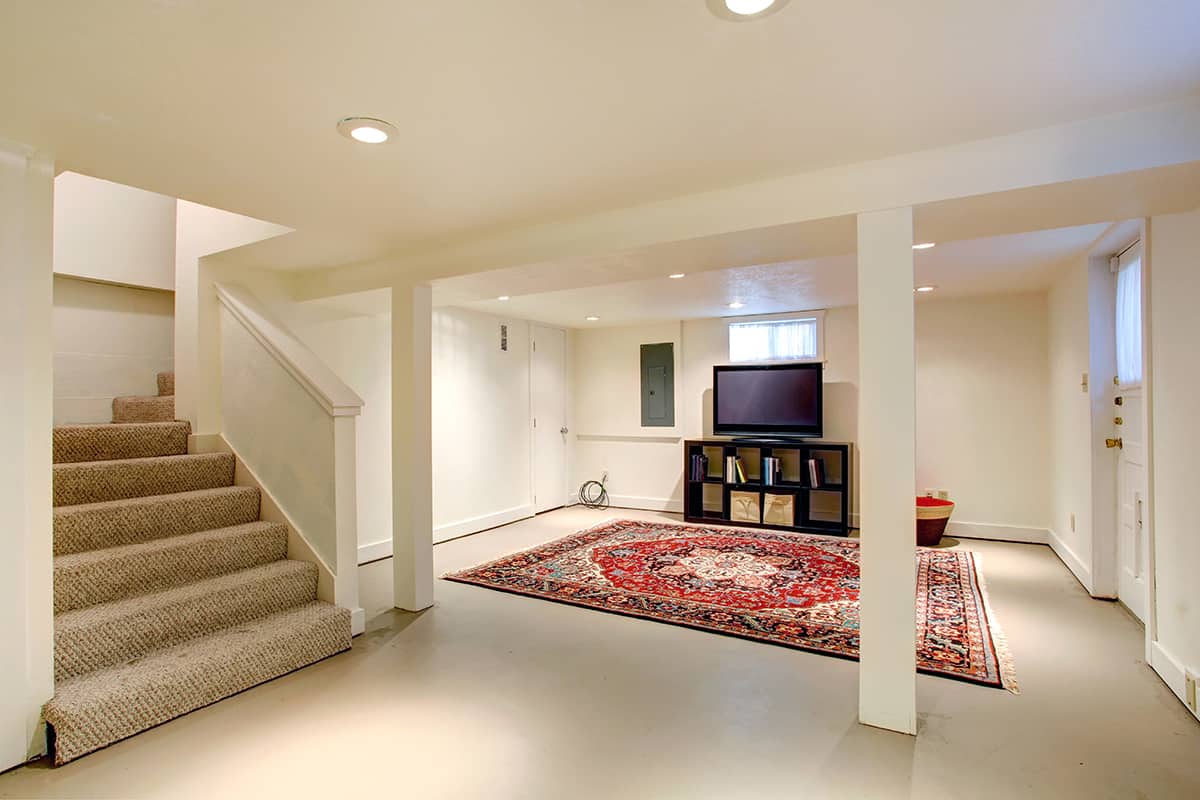 Another popular floor color is the warm-toned version of white: cream. This neutral is a happy medium between beige and white. It's a relaxing and inviting color to consider for a basement floor as it allows you to accessorize your room with any color you like.
Whether you intend on using this functional space as a home office, laundry room, or recreational room, cream makes an excellent choice for the basement floor.
So if you are seeking a more relaxed and subtle design for your basement, choosing a balanced color like cream will work perfectly. Pair it with natural wood colors or white walls to keep your basement light and airy. If your basement is already functional as a living space, cream can make it appear livelier and brighter.
Light Brown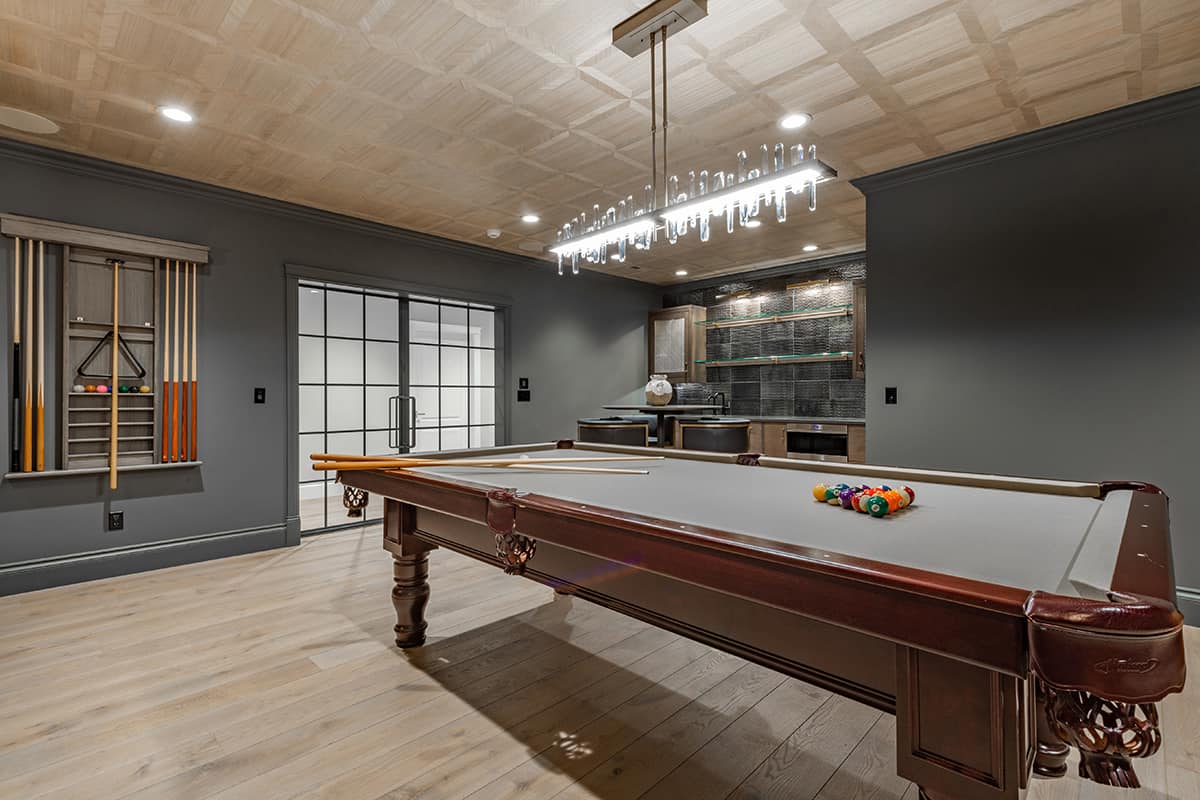 Light brown is a popular floor paint. However, you should only consider this color if your basement has adequate lighting.
There are many light brown paint colors for concrete floors, including pine, birch, mahogany, and bamboo. This earthy color not only gives your basement floor a fresh new look but also brings a natural feel to elevate the space.
Earth-toned light brown flooring colors are rising in popularity for basements. This is because brown adds warmth to your storage space as well as mimics natural wood. By experimenting with different shades, you can find the perfect blend for your concrete basement floor.
Light Gray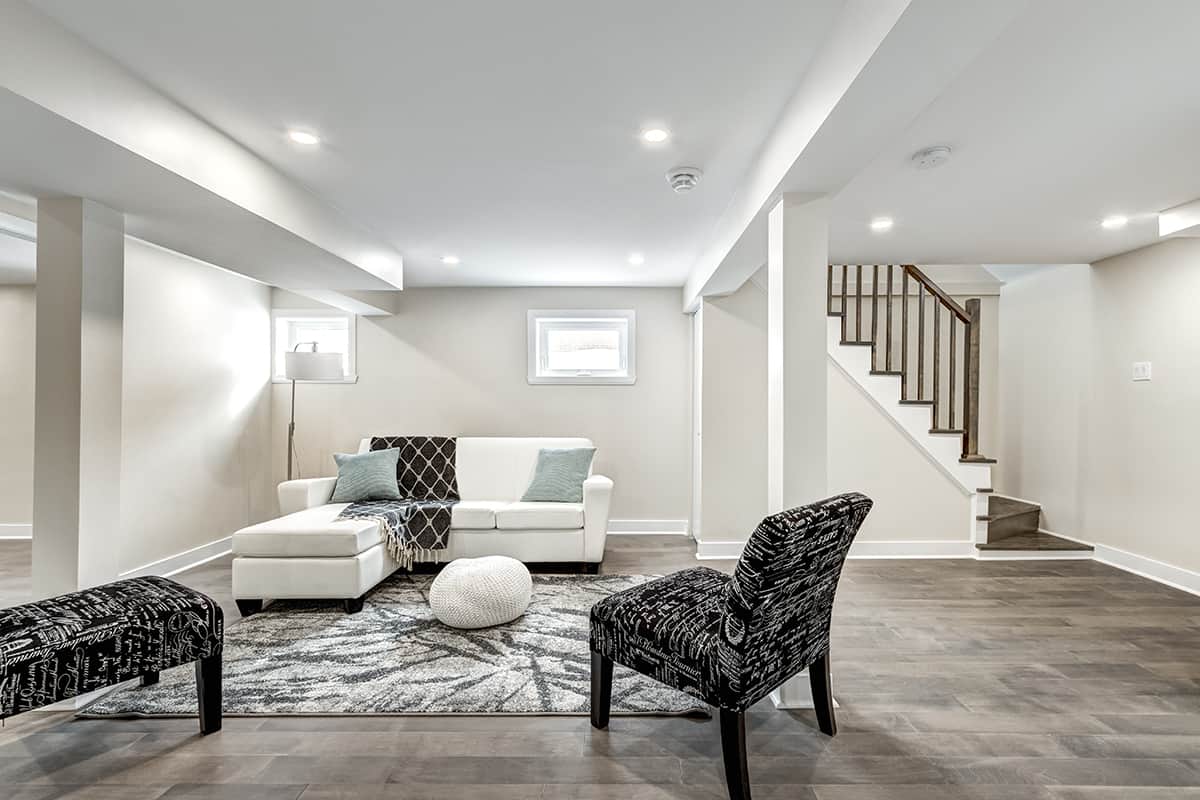 If your basement is already converted into a living space, it will be considered a high-traffic area. To keep it light and bright, you can use a great neutral color like light gray instead of crisp white. A light gray floor is modern and tends to add extra elegance to your basement.
This neutral can be an excellent alternative to white as it doesn't show stains and dirt as easily. In modern or contemporary style homes, a light gray floor in the basement will create a cohesive design with the rest of the interior.
That said, the only downside to this color is the difficulty in pairing other color schemes with it. Our advice is to stick to neutral furniture and walls as they are more likely to work with gray.
Navy Blue
While it can feel heavy to use a dark floor color in the basement, there is nothing wrong with a bold and classic shade like navy to spruce up your basement. But you don't need to worry about making your space feel claustrophobic.
With this shade of blue together with bright white walls and an abundance of light-colored neutral details, you can actually enhance the space without feeling dark or dreary.
Blue is one of those beautiful colors that can reduce stress and evoke relaxation. In fact, it is a highly popular color for the floor of an interior. These reasons alone are enough to tempt anyone thinking of painting their basement floor to consider blue.
Red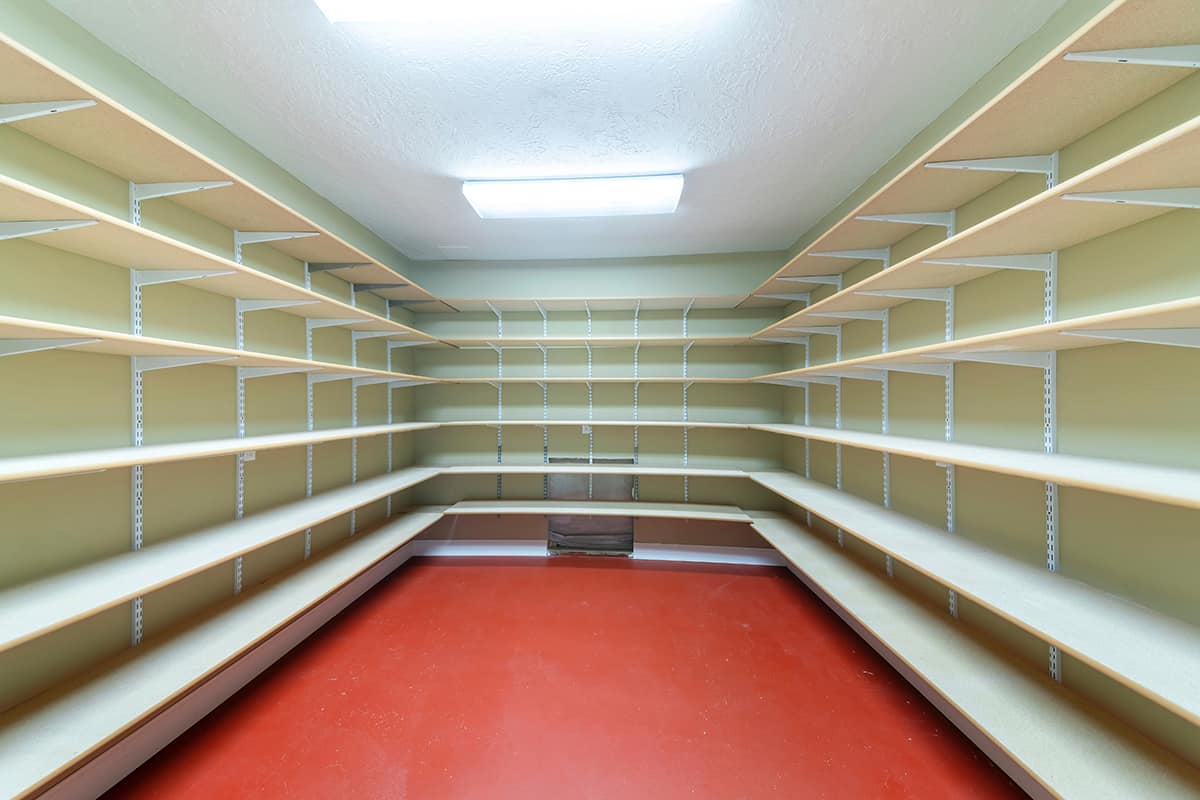 A burst of fiery and energetic red paint for your basement floor is a surprising choice that's worth considering. This smart, bold color goes with virtually any other warm or cool-toned hue.
So if you have the intention of turning your basement space into a child's room, games room, or a man cave, why not paint the floor a rich shade of red?
When painting your basement floor this bold color, make sure to offset it against light-colored walls for a less overwhelming look. Keep in mind that red has a natural and organic feel to it. After all, this color can uplift a dreary, unpainted concrete floor and give it a spiced-up look.
A rich shade of red like ruby or burgundy adds drama, and it can be surrounded by lighter shades to create exciting energy. For the wall color, consider a very pale shade of green to pair with the attention-grabbing red floor. This combo works brilliantly for converted basements used as children's playrooms or home gyms.
Pale Yellow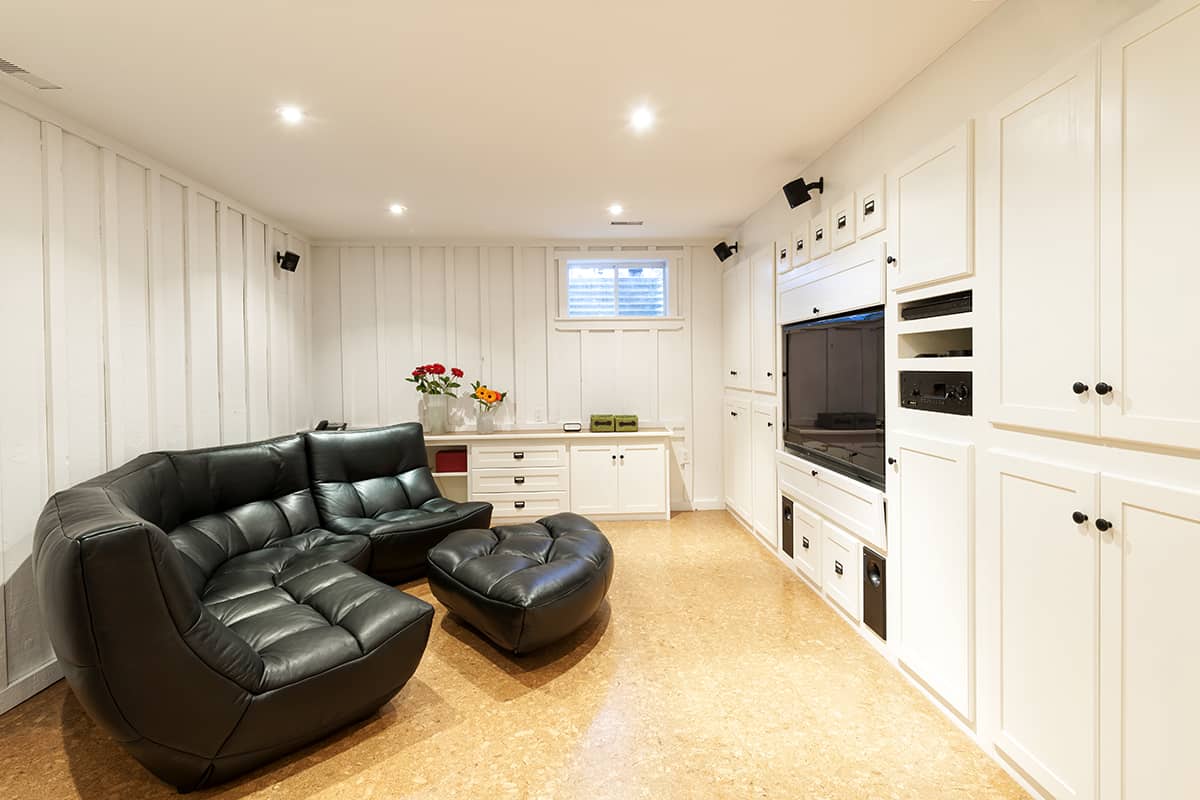 A soft shade of yellow exudes warmth in a cold basement. When you walk into a yellow-painted basement, it will instantly lift your mood. As a floor color for a converted basement, yellow can be paired with white walls for a sleek and cozy feel.
Alternatively, you may opt for light brown walls to complement the pale yellow floor. Just as you can see in this example, the basement has been turned into an inviting and warm entertainment room thanks to the soft yellow floor and crisp white walls. The beauty of this warm-toned color is that it goes with both neutral and bold hues.
As a cheerful and vivid color, you can instantly add warmth to your basement. With this design scheme, the natural light from the window (if there is one) will intensify the brightness of the yellow floor. In case your basement doesn't have a window, you can go for a stronger yellow shade like lemon or sunflower.
What Kind of Paint Works Best for Basement Floor?
Homeowners are most likely to have painted their basement walls on more than one occasion. But when it comes to painting the concrete floor, it's not as easy or straightforward. You need to determine the best type of paint that's suitable for your concrete basement floor.
There are many different types of floor paint to renovate your basement. It is recommended to use a primer and paint combination. Masonry primer and paint adhere to concrete and are flexible enough to expand and contract.
This type of finish looks great and doesn't show wear and tear as easily as latex paint. Masonry paint is especially ideal for high-traffic areas.
Another type of paint for basement floors is epoxy. This option works well on concrete floors in areas that are prone to temperature fluctuations.
Since basements are subject to moisture, you must ensure the paint you choose is water and mold resistant. Epoxy paint is, therefore, the best option as it's durable and protects the floor from water seepage and mildew in the event of a burst pipe.
Conclusion
A basement is often used as additional storage space or a laundry room. But it is prone to moisture damage if the concrete floor isn't properly protected. Using high-quality paint can prevent your basement floor from mold and give it a finished look.
The best type of paint for concrete floors consists of primer and paint that's suitable for masonry and epoxy floors. You'll need to apply two coats for optimal results.
The best basement floor colors are neutrals like white, cream, and light gray or brown. These colors help brighten up the basement, especially if it lacks natural lighting. By opting for light and bright paint colors, you can help your basement appear more open and avoid that 'boxed-in feeling'.
On the other hand, if your basement already enjoys ample lighting and the walls are painted white or light gray, you can always go with a bolder look for the floor. A rich shade of blue or red can work for basements that are to be converted into a child's playroom, game room, or gym.