In most homes, a 10-foot by 12-foot kitchen represents a decent-sized space that can offer plenty of storage solutions and generous countertop space for preparing meals.
In a room of these dimensions, the layout of kitchen cabinets can take several designs and even include the addition of breakfast bar areas of separate dining tables with seating.
Consider these kitchen layouts for inspiration in your own kitchen.
1. Luxury Kitchen with Central Island Layout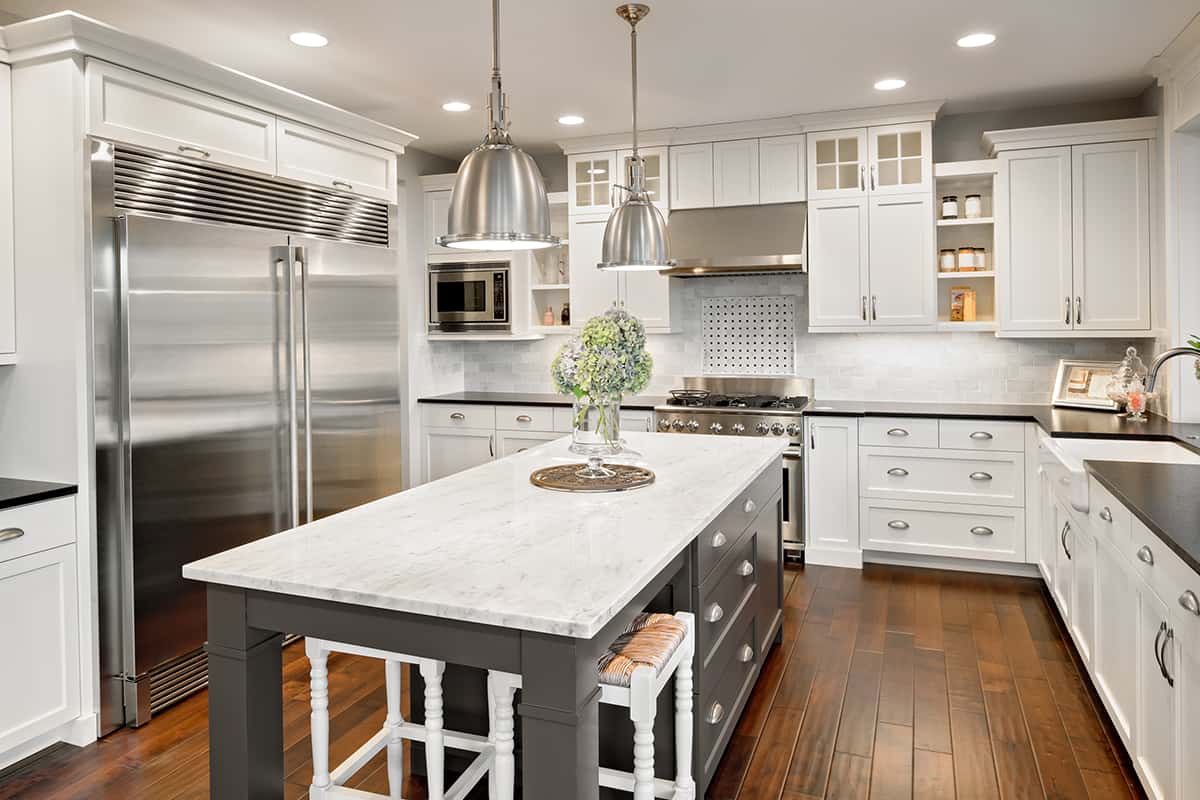 The layout of this kitchen centers around a large island in the middle of the space, which features storage drawers and also doubles up as a seating area with bar stools.
The cabinets around the edge of the room form a U-shape, which really maximizes storage space in the room and creates a usable space where everything you may need is in close proximity.
The layout of this kitchen allows for plenty of empty space around the island, which will enable multiple people to use the room at once, for example, to be preparing a meal or washing dishes.
Check out the floor plan here.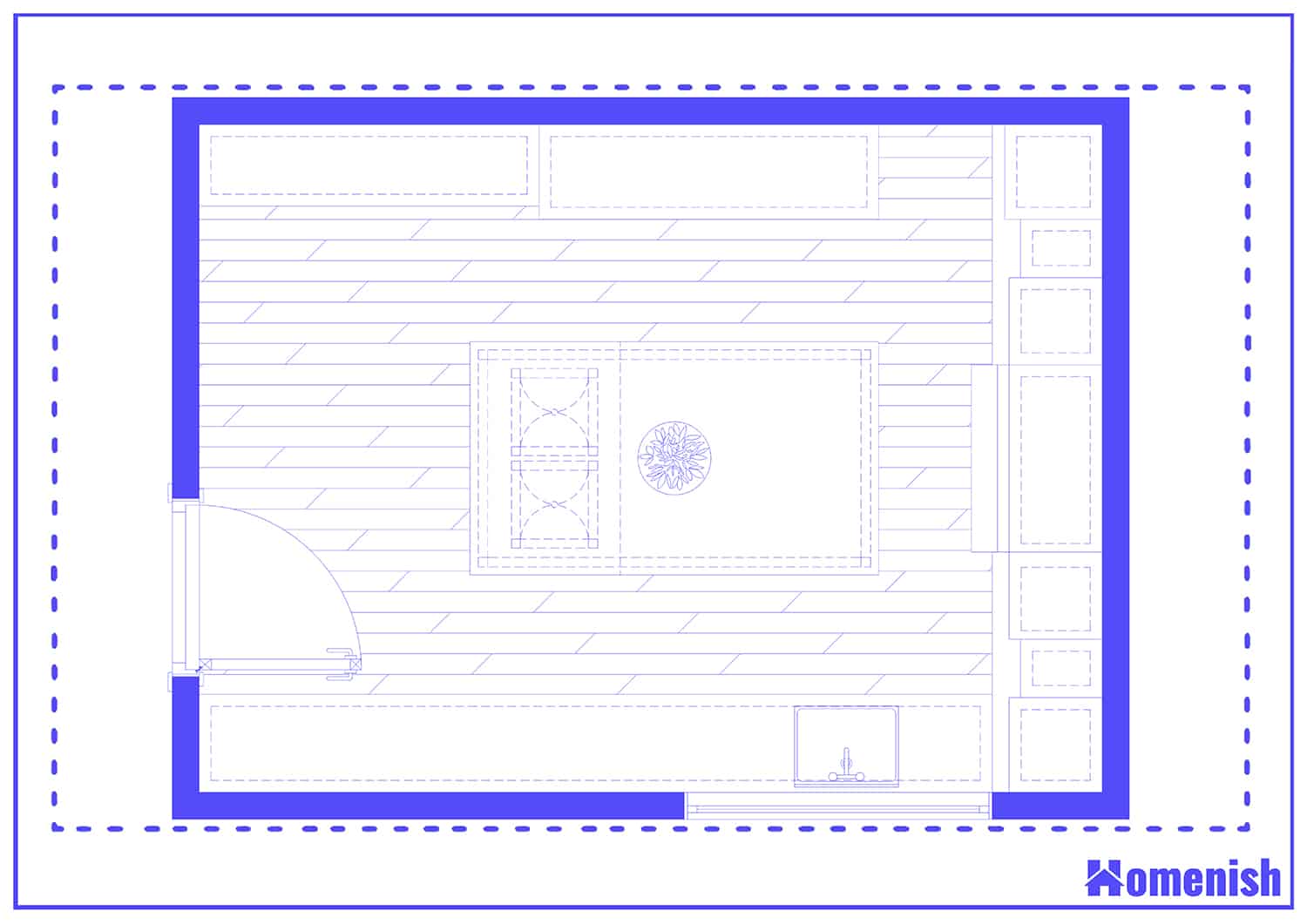 2. Modern Industrial Kitchen Layout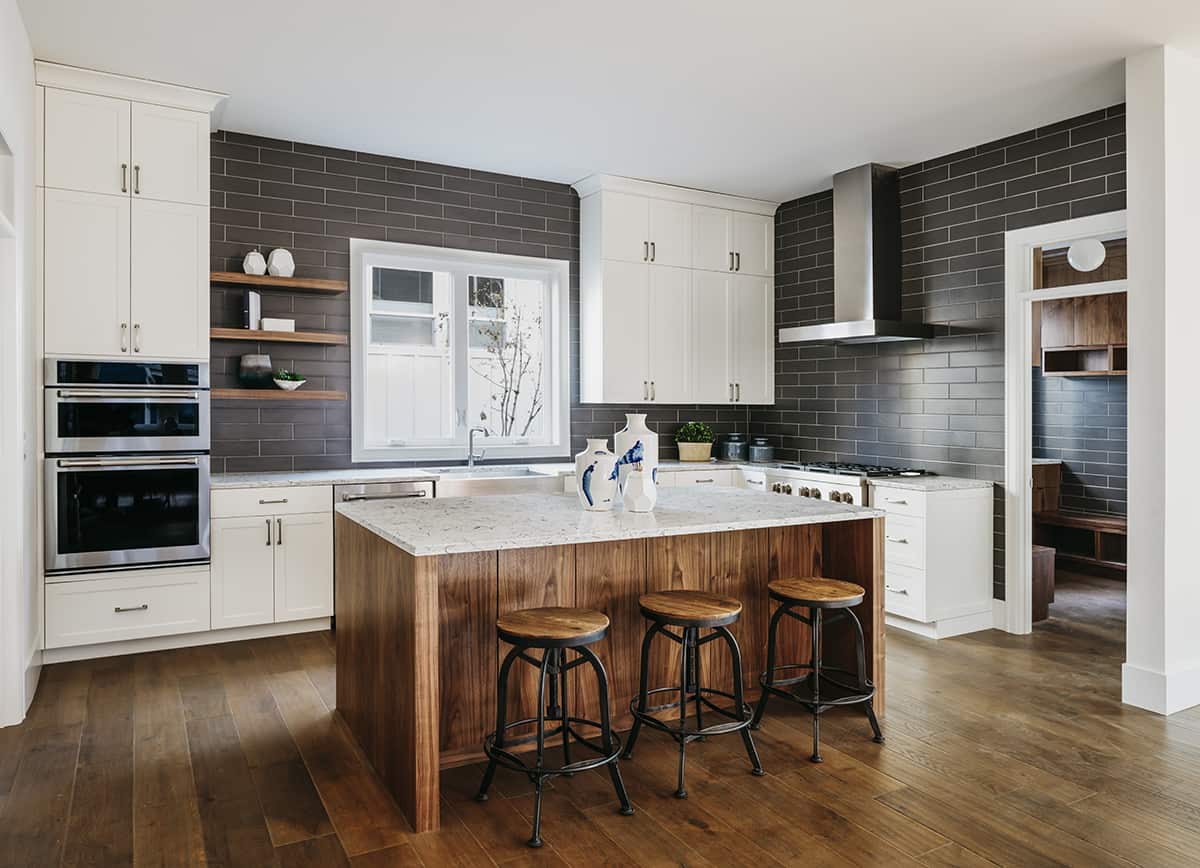 The kitchen cabinets in this 10 by 12-foot room have been laid out in an L-shape to fit the architecture of the space, including a doorway.
The addition of a kitchen island creates more storage space as well as more countertop space for food preparation.
Three bar stools can fit under the island, which means it can also be used as a dining space if there is not enough space in the home for a separate dining room.
Check out the floor plan here.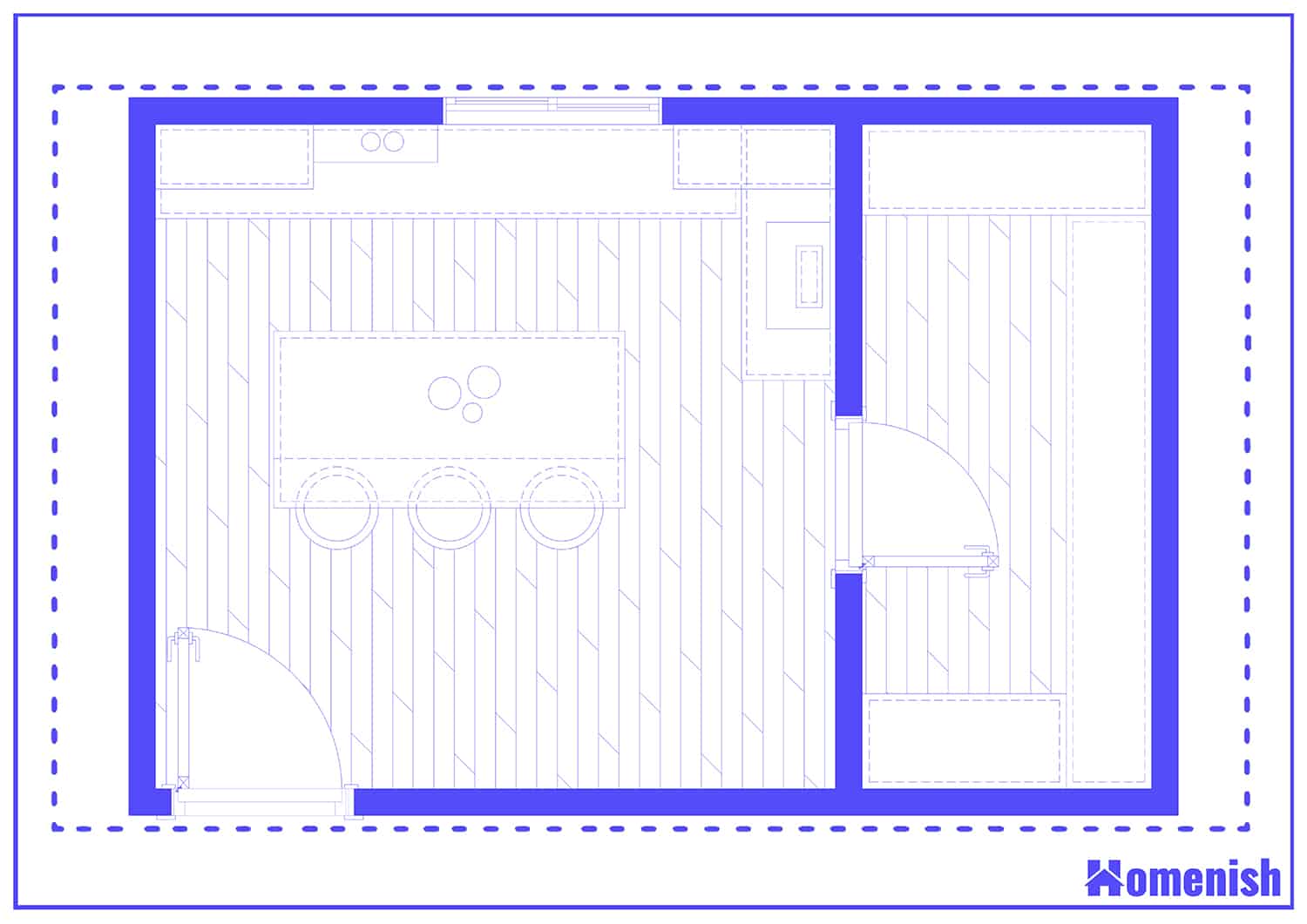 3. Traditional Small Kitchen Layout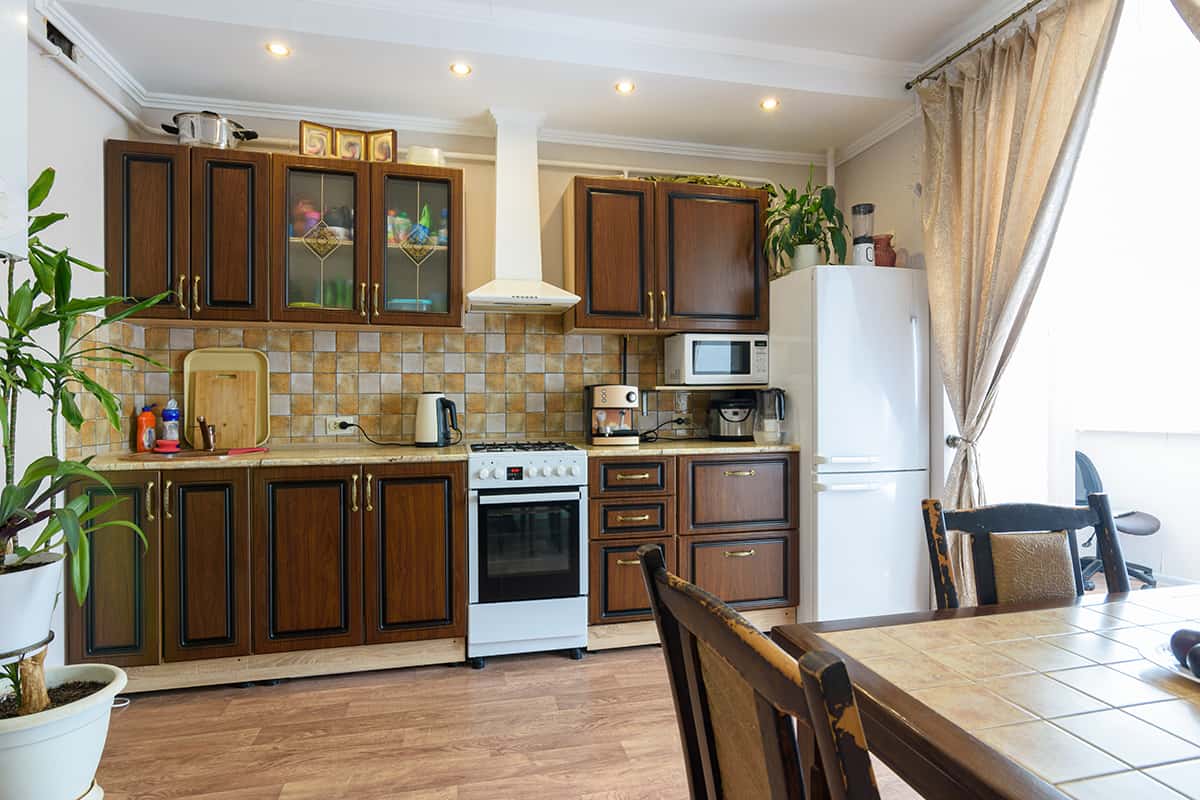 This is a good-sized room at 10 feet by 12 feet, but it has been arranged to accommodate both a kitchen and dining area.
In this galley kitchen, The cabinets have been set up along one wall, allowing space for a dining table to be positioned at the opposite side of the room.
This layout could work well for a couple or a person living alone, as it is a simple and functional space, but it lacks the storage that a larger family might require.
Check out the floor plan here.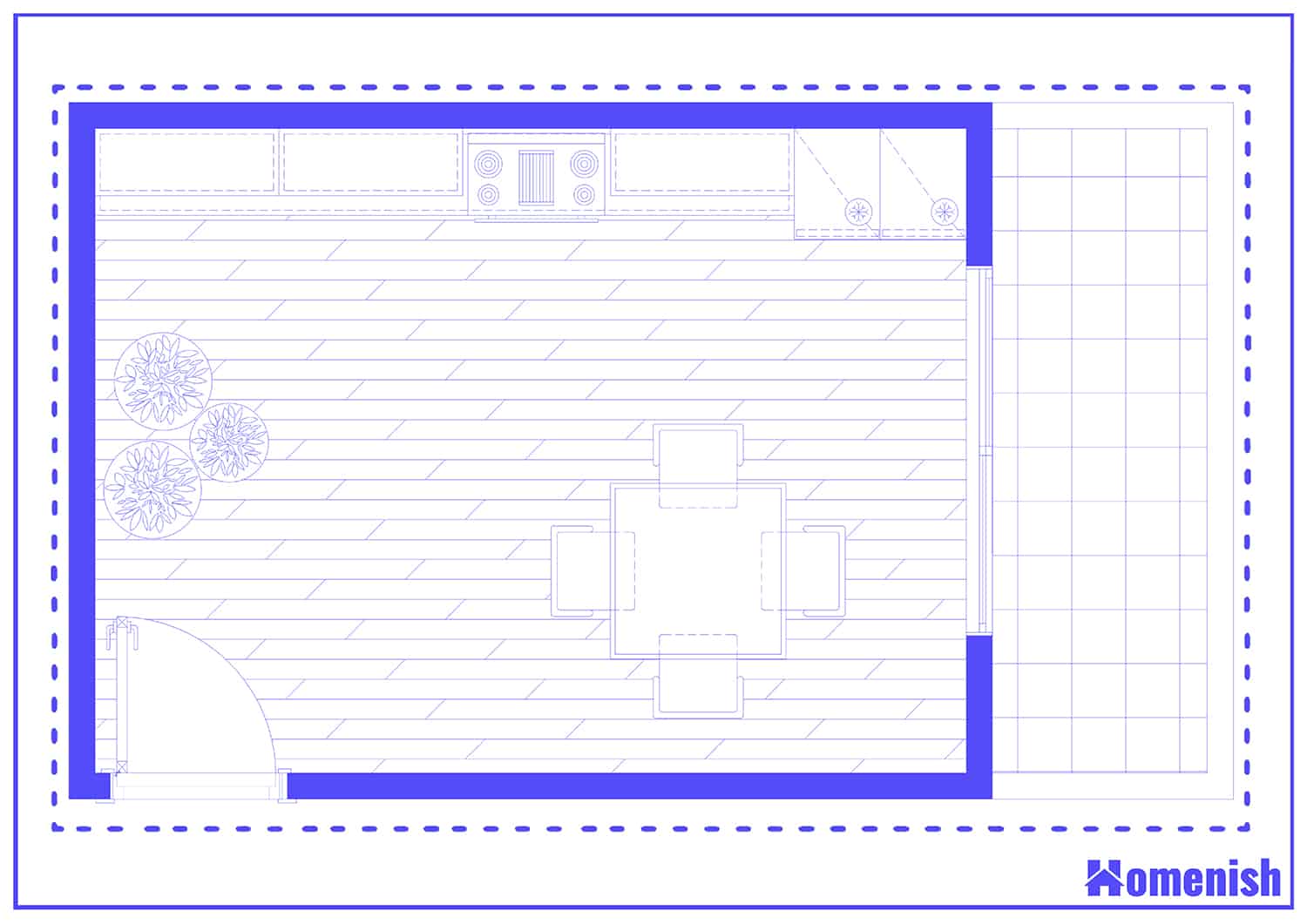 4. Generous Storage Kitchen Layout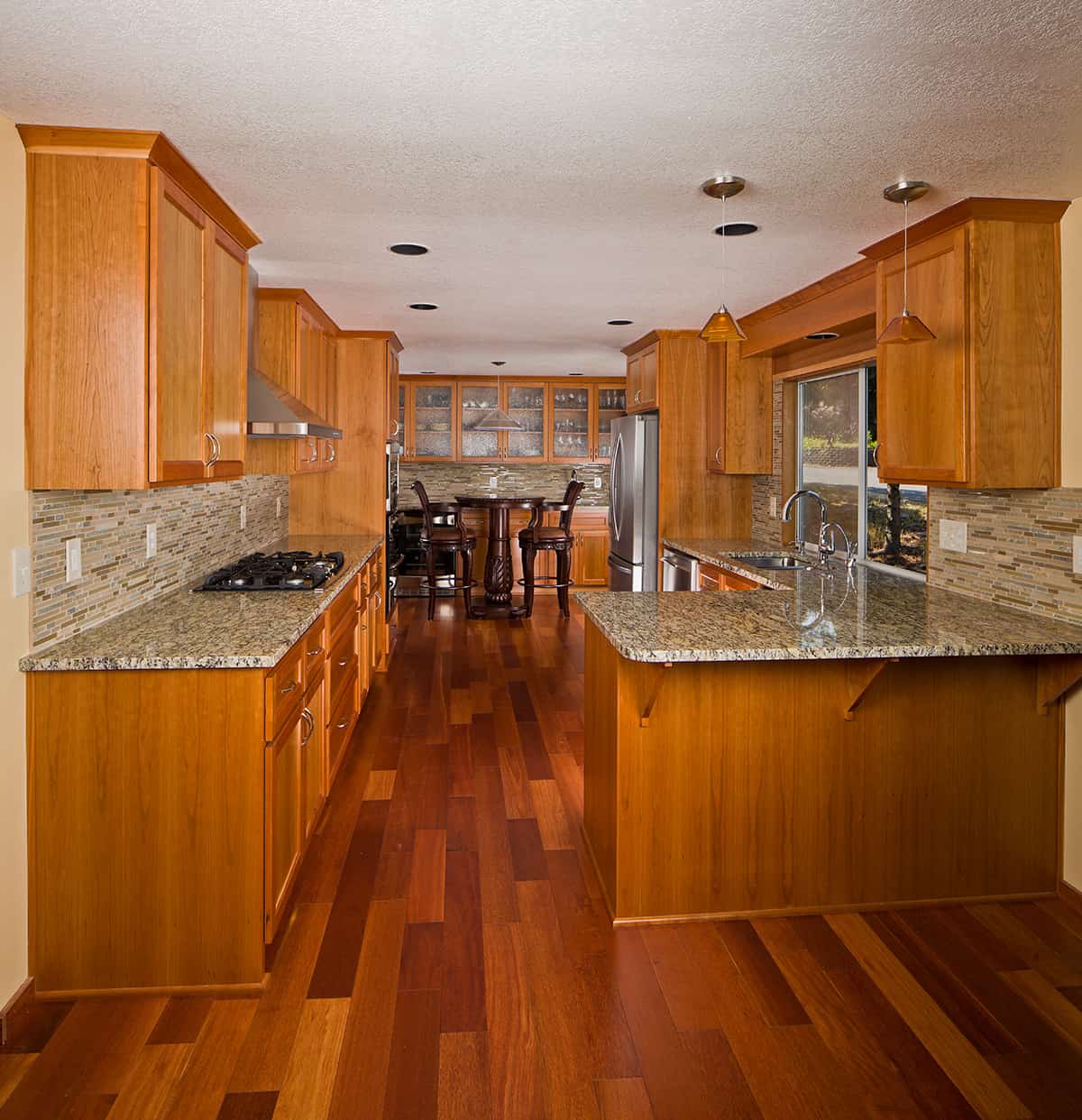 This kitchen layout has been arranged to fit a very generous amount of storage and countertop space into a 10-foot by 12-foot room.
The cabinets take a U-shape with a gap created at the front to be used as an access point or walkway through the kitchen.
Unlike many U-shaped kitchens, this U-shape is not fitted against the wall, and instead, the row of cabinets that form the base of the 'U' are free-standing, which creates the feel of a kitchen peninsula. This allows the back end of the 'U' shape to double up as a breakfast bar area if you were to add bar stools.
Check out the floor plan here.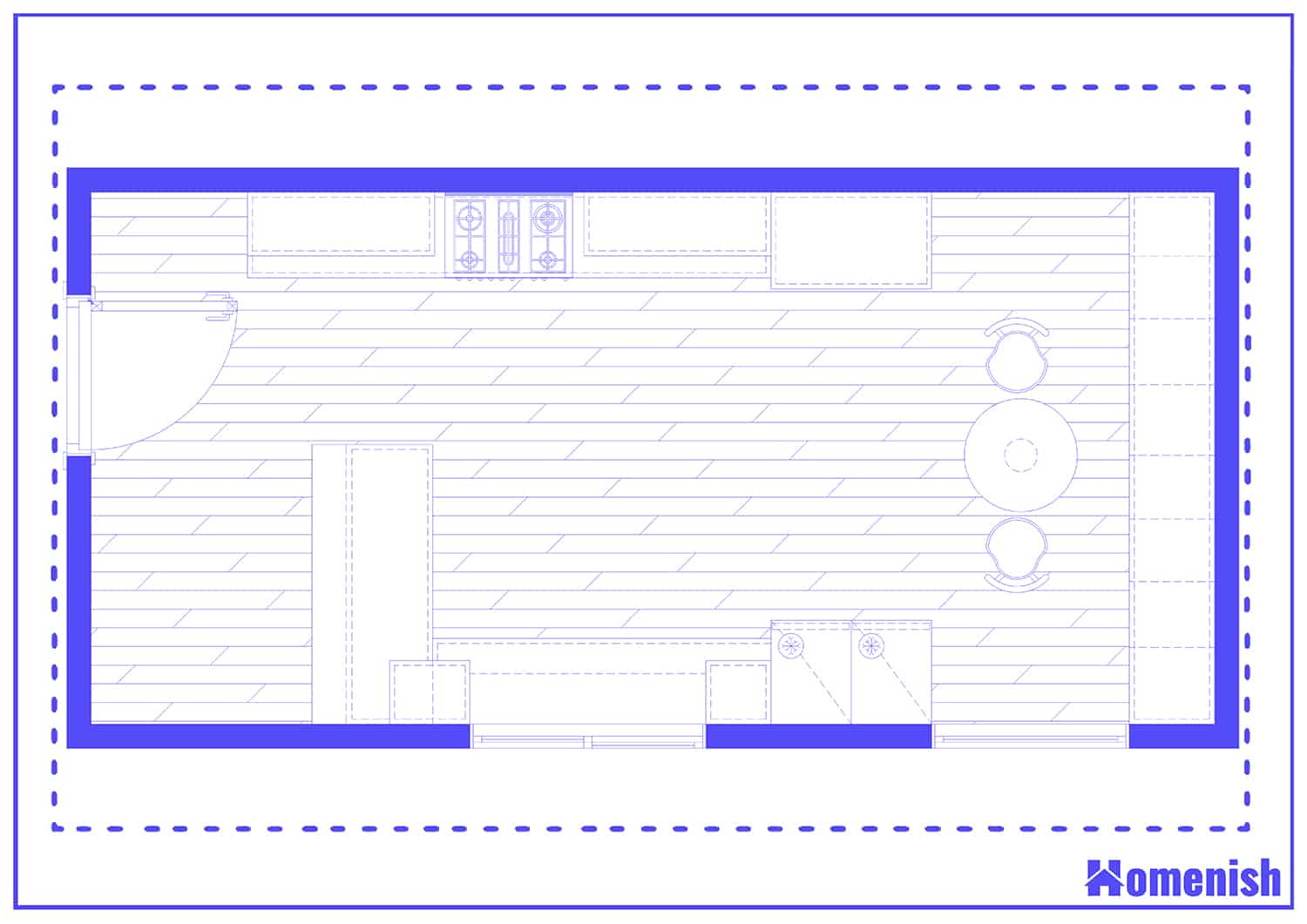 5. Minimalist Kitchen Layout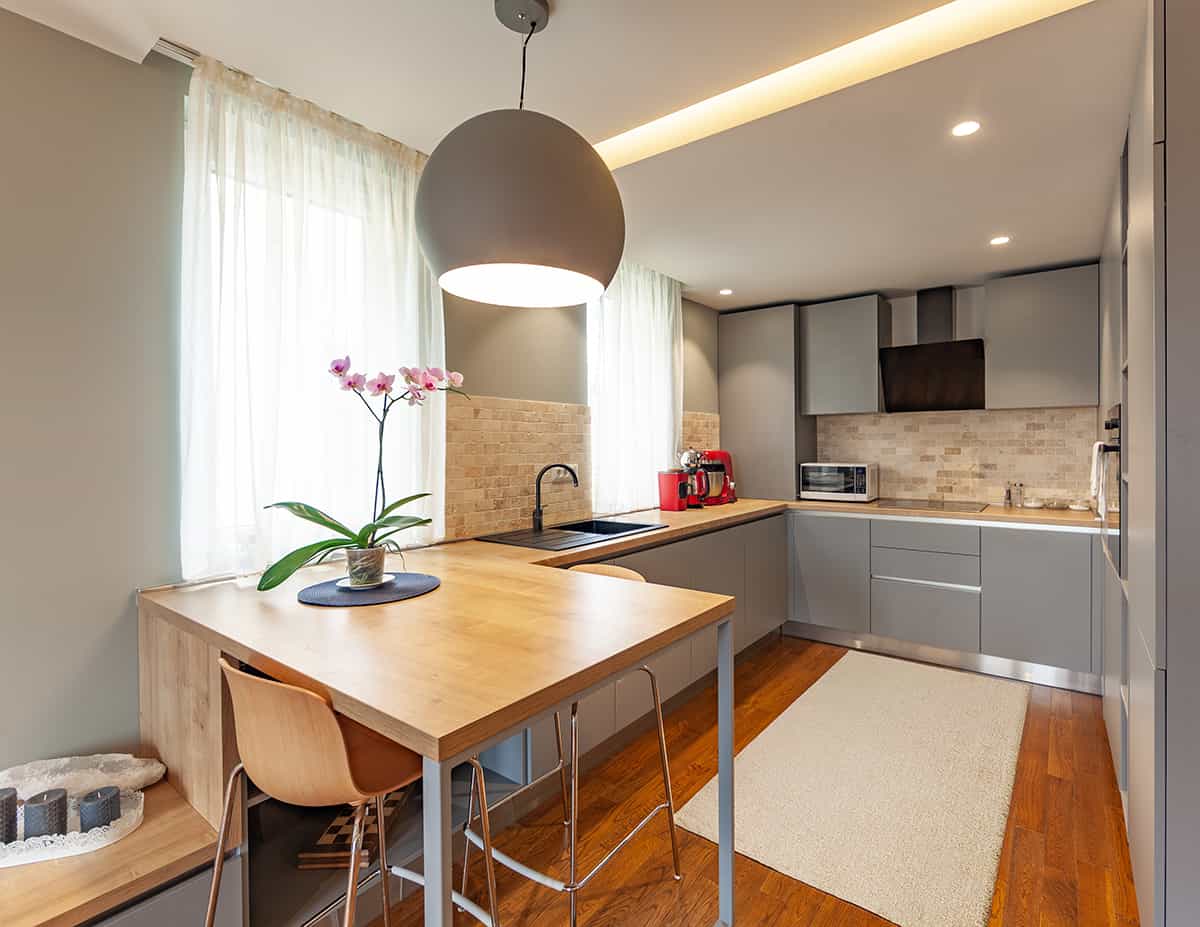 This room has achieved a minimalist look while including a vast amount of cabinets and countertop space. It has a U-shaped layout with the addition of a small peninsula at one end, which results in a kitchen that almost entirely surrounds you when you are standing in the middle of it.
This is a great food preparation space for somebody who enjoys cooking, and the breakfast bar at one end means other family members could sit and socialize with whoever is using the kitchen.
The sleek look has been maintained by keeping clutter on the countertops to a minimum, and the cabinets and drawers are handleless, which adds to the minimalist style.
Check out the floor plan here.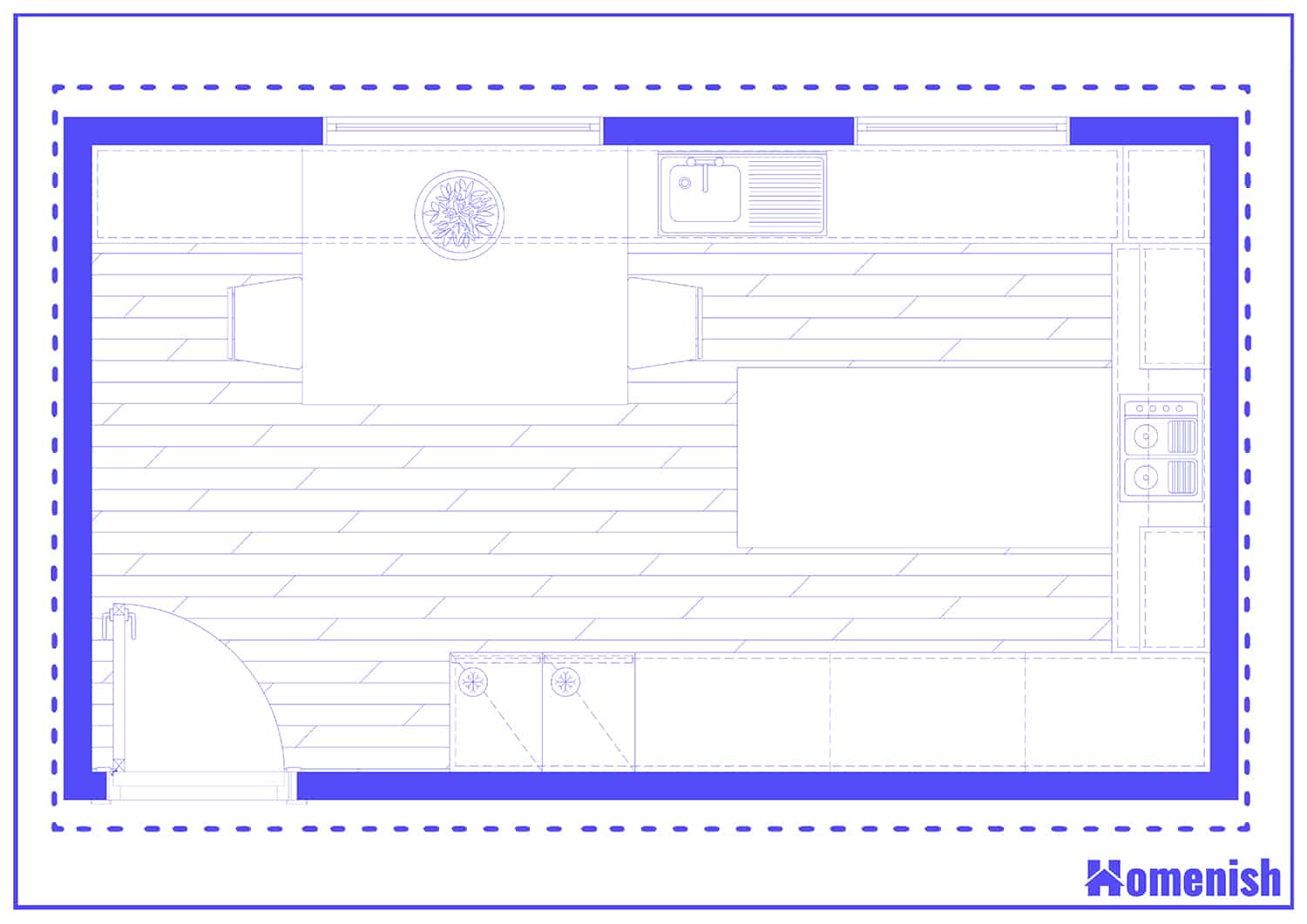 6. Kitchen Diner Layout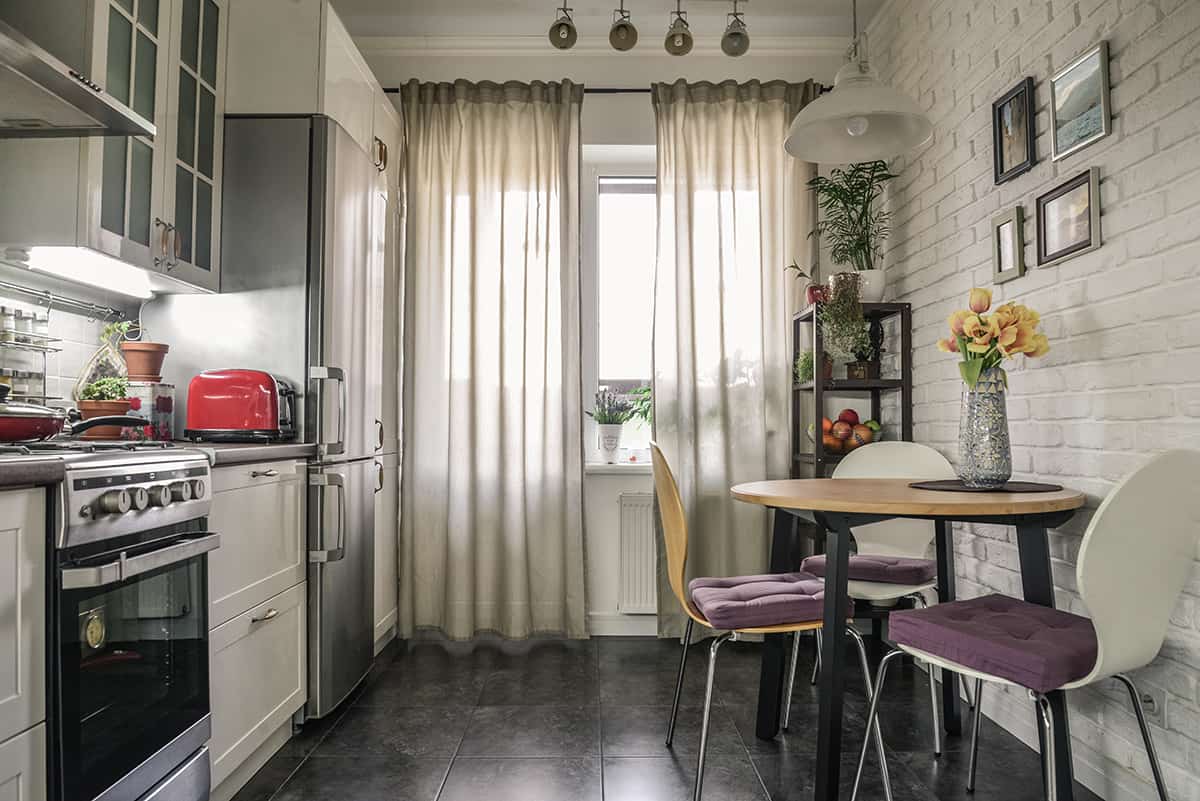 This 10-foot by 12-foot room has been utilized as both a kitchen and dining space. The kitchen units occupy one long wall, while a small dining table with seating has been positioned against the opposite wall.
A round dining table works really well in this type of setup because they typically take up less floor space while still seating multiple people, but from a visual standpoint, they also allow the room to flow better without any harsh angles blocking off parts of the room.
Check out the floor plan here.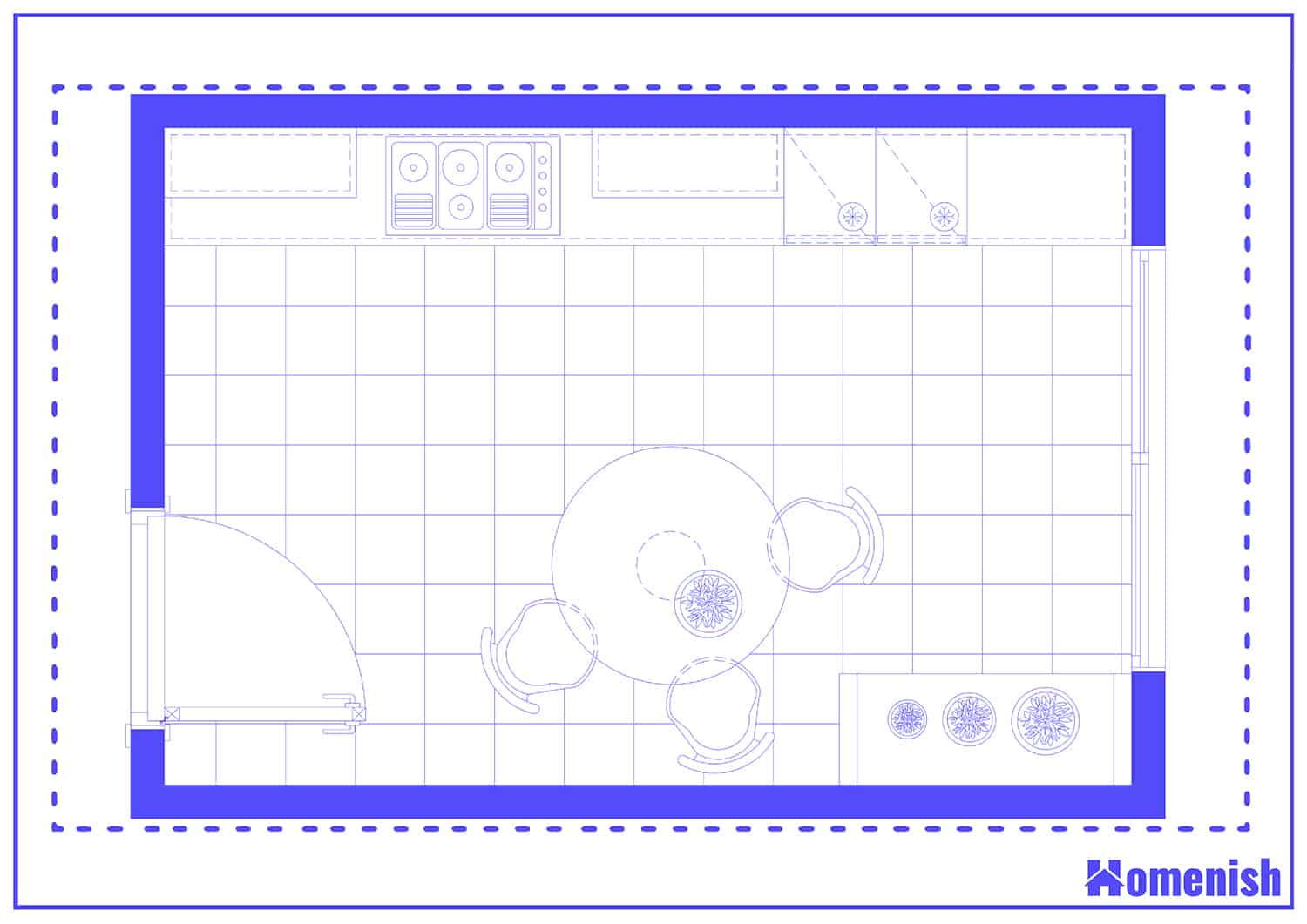 7. Classic Kitchen Layout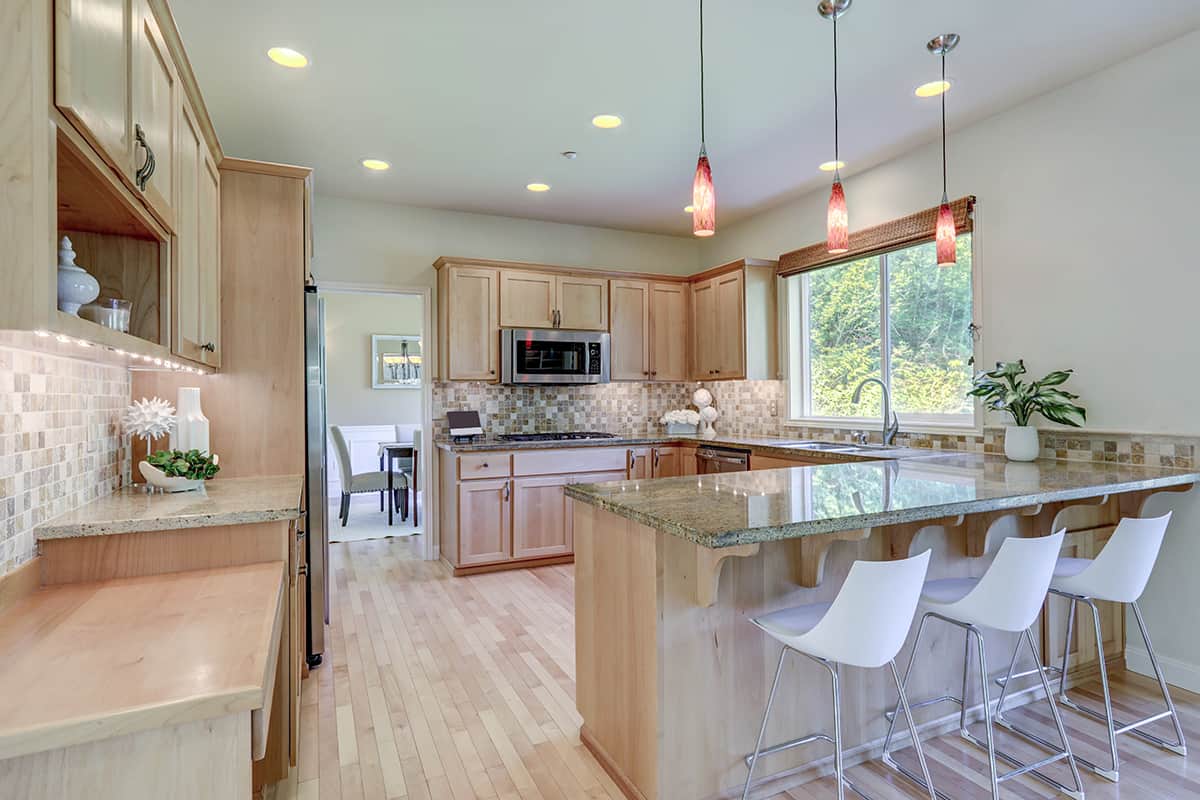 The layout of this classic kitchen works to create plenty of storage space and countertop space while still allowing for easy movement of people in the space.
The cabinets have been designed in a U-shape, with one arm of the 'U' jutting out of the wall to create a peninsula breakfast bar.
On the opposite wall to the U-shape, an additional row of cabinets has been installed, which not only works from a practical point of view, but it also helps to tie all walls in the room together for a more cohesive design.
Check out the floor plan here.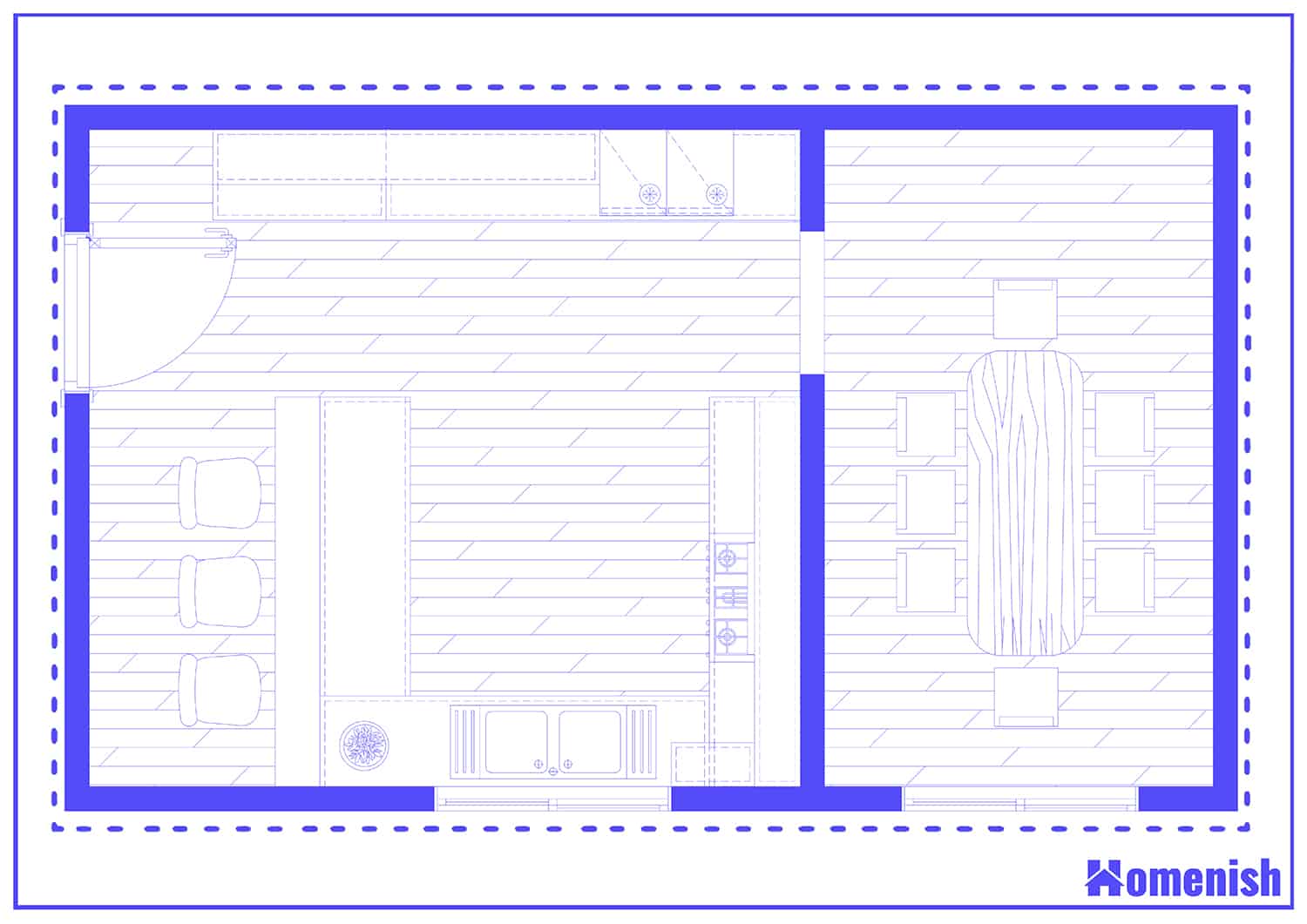 8. Country Cottage Kitchen Layout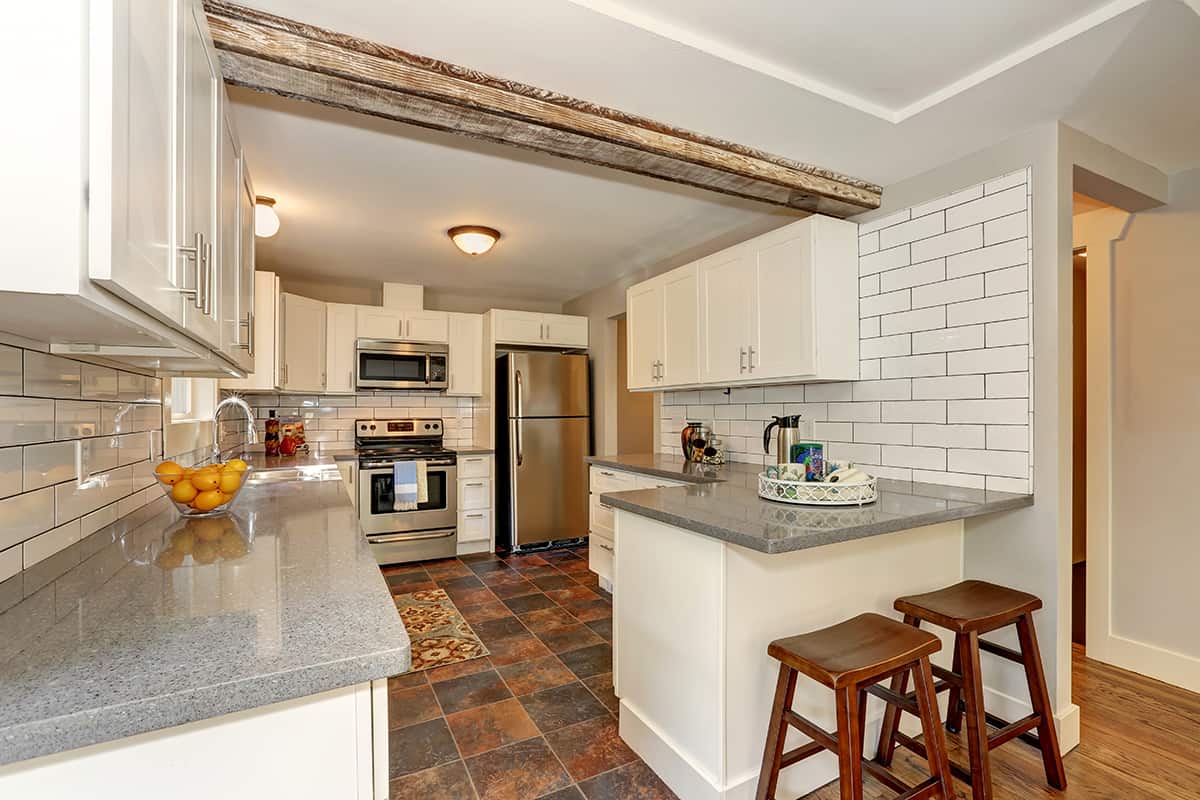 This 10 by 12-foot kitchen has utilized two L-shaped sections of kitchen cabinets. One L-shape is fixed against right angled walls, while the other L-shape juts out from the wall to create a small breakfast bar area.
While the position of the doorway in this room will have been a defining factor in the layout of the kitchen cabinets, the two L-shaped areas work perfectly to achieve a space that is both stylish and functional.
The refrigerator, stove, and basin are all at one end of the kitchen, which will make food preparation much easier with these utilities in close proximity to one another.
Check out the floor plan here.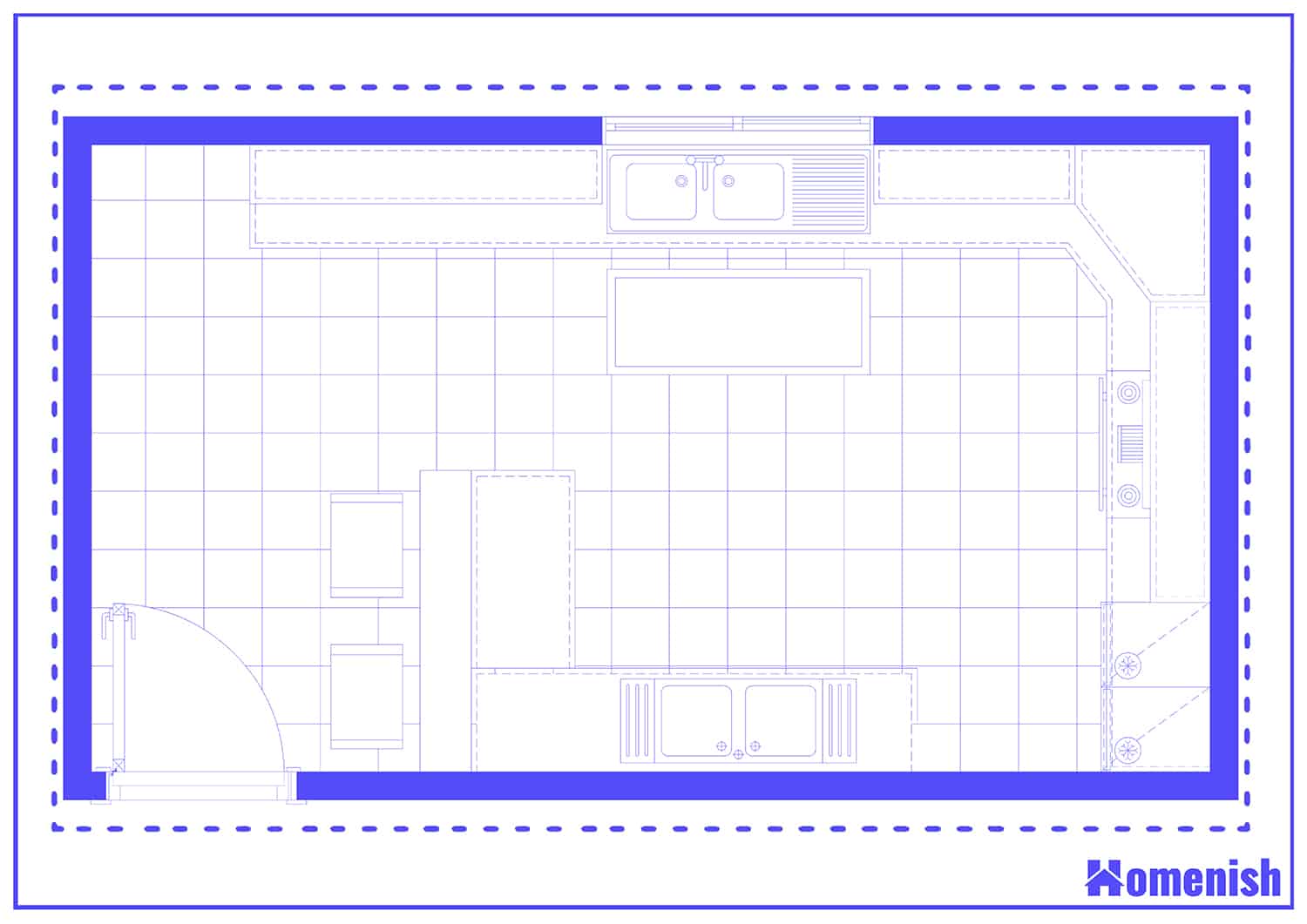 9. Bright Rustic Kitchen Layout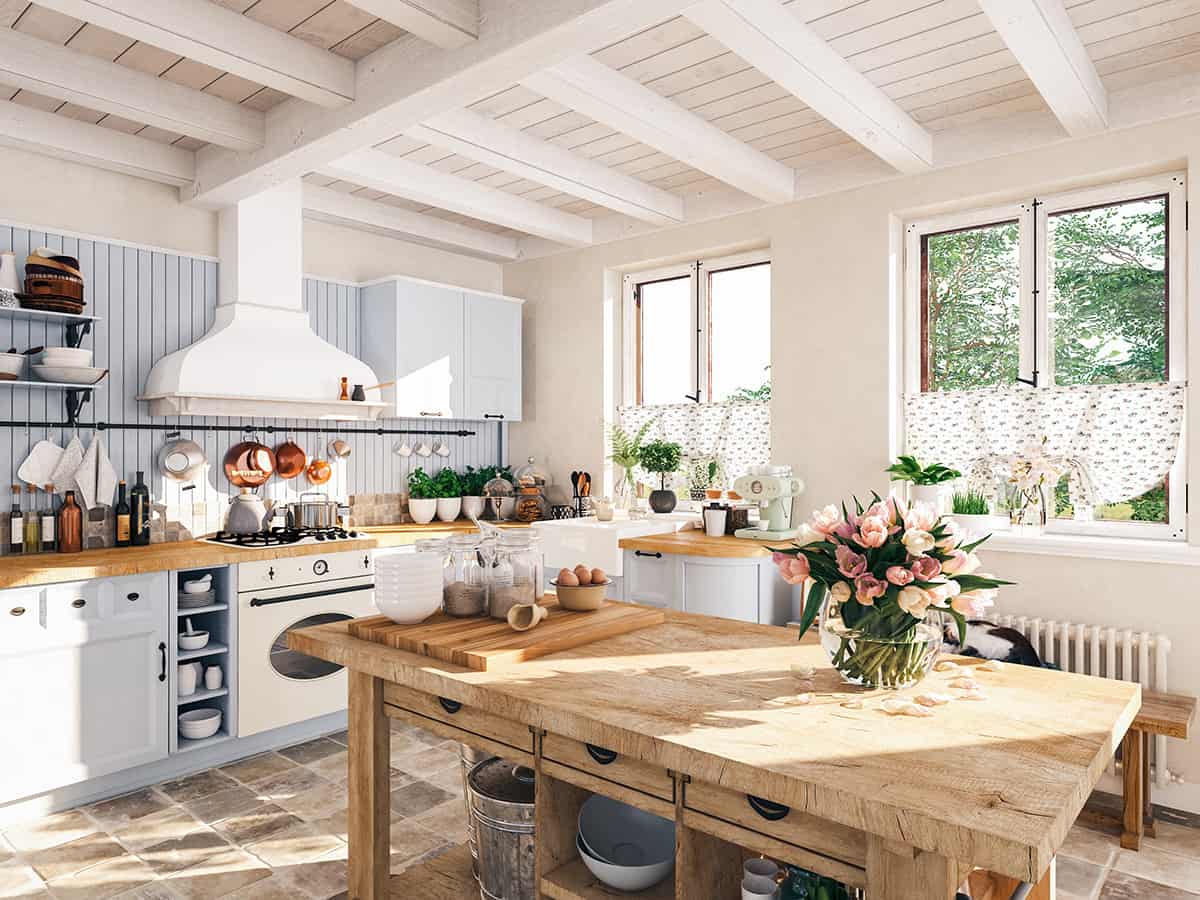 This large room has an L-shaped series of kitchen cabinets tucked into the back corner of the space. The room is dominated by a large central island, but unlike modern kitchen styles, it is not made up of kitchen cabinets and instead is a free-standing piece of wooden furniture, offering storage as well as a butcher's block style work surface which could also double up as a dining space.
The layout allows for plenty of empty floor space between the kitchen cabinets and island to ensure free and easy movement around the room.
An additional bench has been positioned under the windows, which could be a good place for guests or family members to sit while in the room.
Check out the floor plan here.