Adhesive tapes consist of a wide range of backing materials with different uses for industrial and individual purposes. Most people will at some point use some kind of adhesive tape for different reasons. But if you want to know which tape is specifically suited for a particular task, you've come to the right place.
This comprehensive guide looks at 40 types of tapes and their uses, which I've listed in alphabetical order:
1. Carton Sealing Tape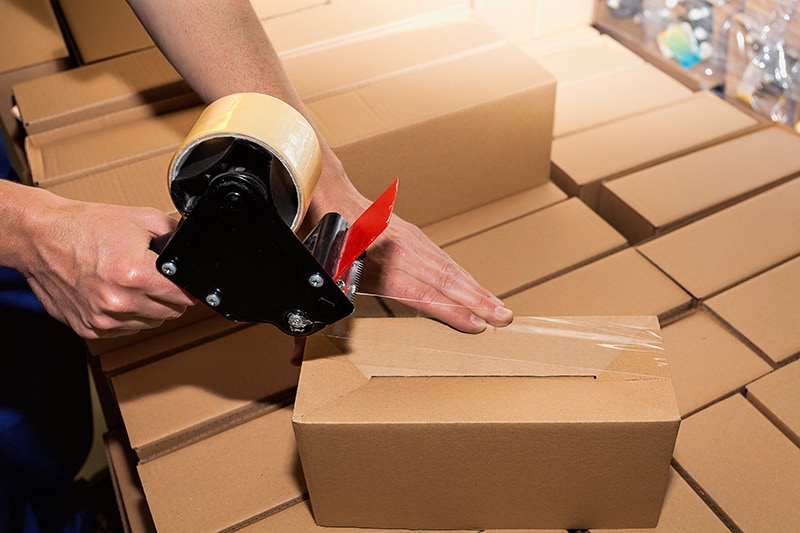 Regarding tapes used for the purpose of sealing carton or packaging, there are several material options.
 Acrylic water-based: this adhesive tape is used in a wide variety of industries. It has the ability to remain in a stable condition even in the highest humidity and temperature levels. Along with its flexibility, the water-based adhesive tape is also moisture resistant and highly durable.
Acrylic solvent-based: thanks to the formulated chemical resistance of this adhesive tape, it is ideal for use in outdoor environments with a range of temperatures. Acrylic adhesives make the best option for technological industries as they can be used in many different locations and conditions.
Hot melt rubber based: used as an initial quick adhesion, the hot melt tapes can be used in a wide range of industries and temperatures. They must be cooled in order to set, which makes them an excellent option for low-surface plastic or polyethylene substrates. Hot melt adhesives provide excellent adhesion even under extremely cold temperatures (-20 degrees celsius).
Natural rubber-based: this type of adhesive is best used for cold temperature applications and offers an excellent peel adhesion for low surface tension substrates. In addition, the natural rubber can easily be removed without leaving any residue behind.
2. Cloth Tape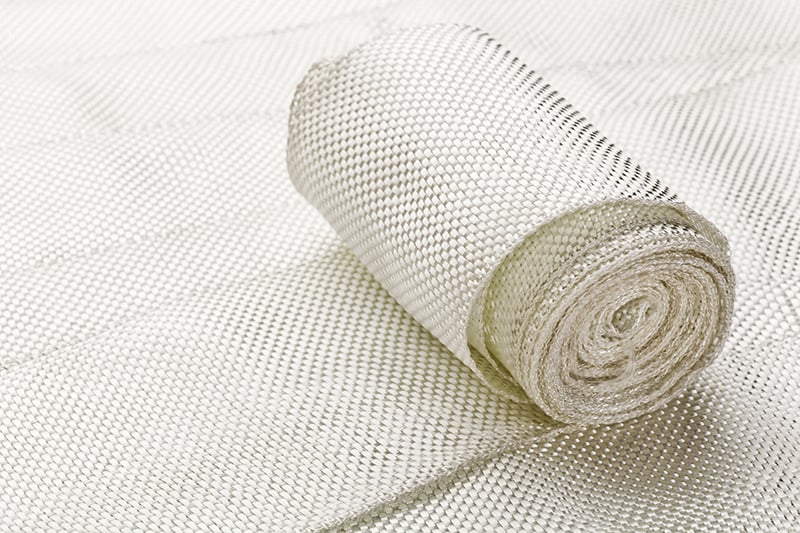 A cloth tape provides excellent bonding to rough-surfaced applications plus it can easily and quickly be removed after use. This type of adhesive tape is suitable for both interior and exterior application thanks to its high resistance against water. You can also use the tape for packaging purposes or doing handicrafts. The cloth tape can be written on using a marker pen and comes in different colors.
3. Double-sided Tape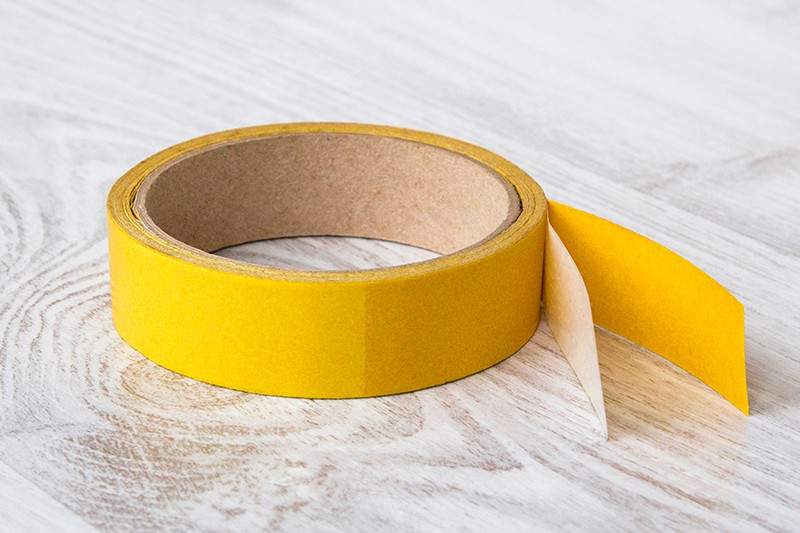 Just as the name indicates, the double-sided tape has an adhesive layer on both sides and can be directly applied to the surface. This tape is mainly used to securely stick two materials together or hang small pictures to cabinets or walls without using screws or nails.
The thinner type is used for flat, even surfaces, such as glass or metal, while the thicker tape is used on rough or uneven surfaces, such as wood or brick. You can also use the double-sided tape in arts and crafts.  
4.  Drywall Tape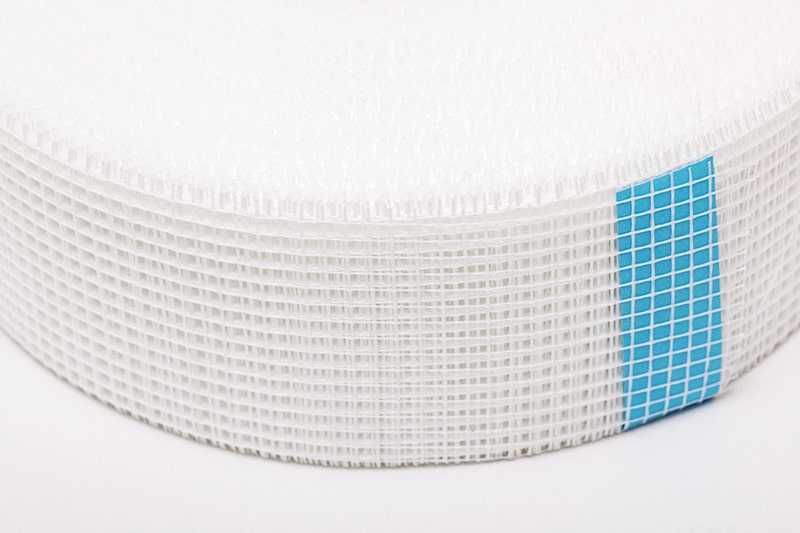 A drywall tape is also called joint tape that's used during renovation projects and construction. This light adhesive tape, which consists of a sticky coating, cloth, or fiberglass mesh backing, is used to cover and seal the drywall joints in the ceiling or the wall.
Drywall tapes are normally around 2 inches wide and designed to be cut or torn for easier use in drywall joints, windows, or doors.  
5. Duct Tape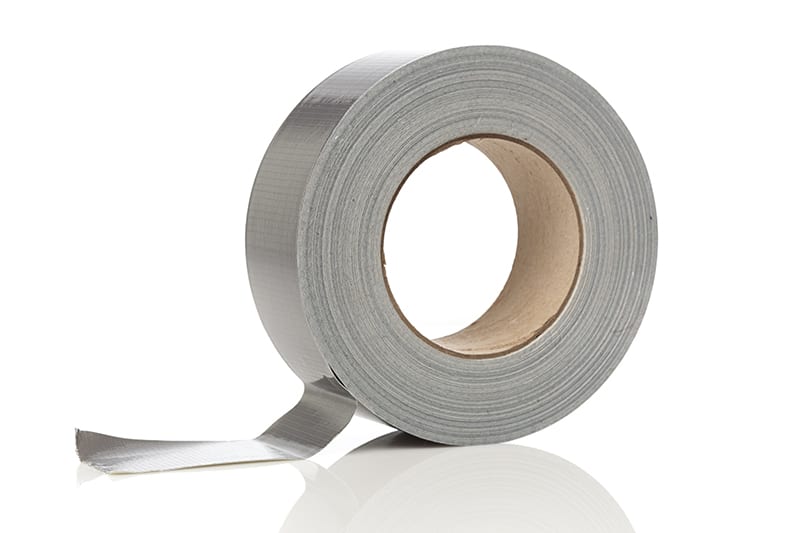 Duct tapes are usually designed to be torn as opposed to cut into long strips. They come in a variety of colors and are normally sold in rolls. These tapes are known for their strong adhesive property and can stick to a wide variety of dry surfaces. In fact, they can stick to just about anything!
Duct tapes are mostly used for general household projects for sealing and strengthening hoses, pipes, and air vents. They are also used in industrial applications including construction, plumbing, and HVAC. These adhesive tapes are one of the strongest general-purpose tapes that can be found on the market.
6. Electrical Tape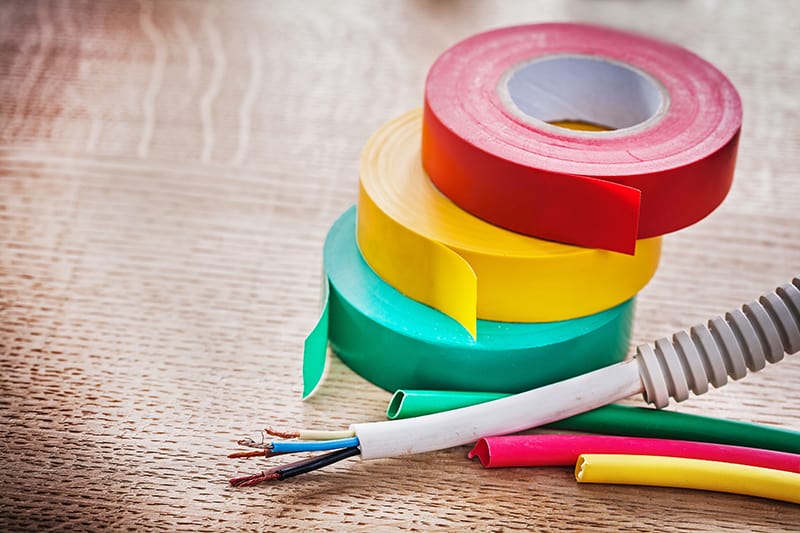 Just as the name suggests, electrical tapes are commonly used for insulating wires and cables of no more than 600 volts. Most electrical tapes are fire resistant and available in different color options for quick identification.
7. Facing Tape
Facing tapes can withstand the hottest temperatures in summer and the coldest in winter. They are ideal for fibrous materials or sheet metal applications. These tapes are highly flexible and easily bend to stick on irregular surfaces.
8.  Film Tape
Film tapes provide adequate adhesion for applications that require optimal surface protection. These tapes are solvent and UV resistant and provide long-term stability without discoloring thanks to their sturdy polyethylene backing.
9. Finger Tape
The convenient bandage tape is useful for numerous industrial applications including mail sorters, technicians, and anyone who gets a cut or scrape on their fingers or hands. The tape also protects the fingers from hot food plates. 
10. Flagging Tape
Flagging tapes are used for surveying, mapping, trail marking, color coding, tagging as well as many other industrial applications. They are environmentally friendly and non-toxic to animals and humans.
11. Flatpack Paper Tape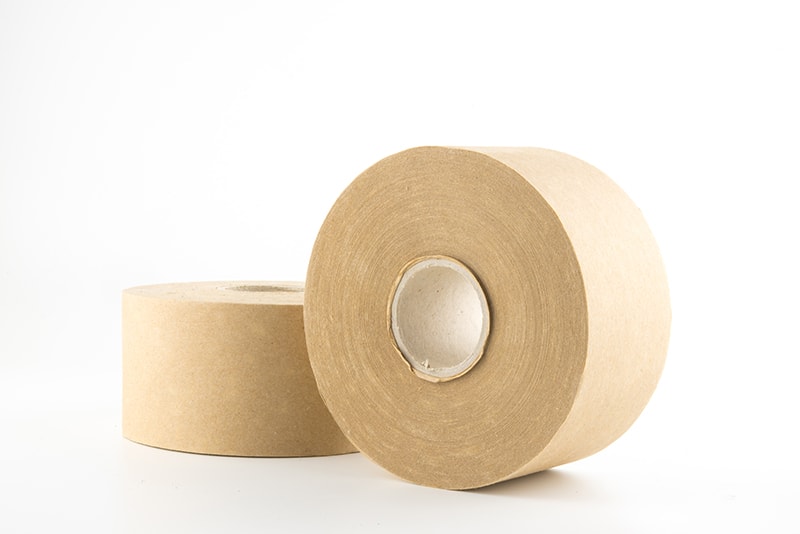 The flat-surfaced paper tape has a high-strength bonding power and offers excellent adhesion on all types of cartons. This type of tape performs exceptionally well in all kinds of temperatures and humidity conditions.
12. Floral Tape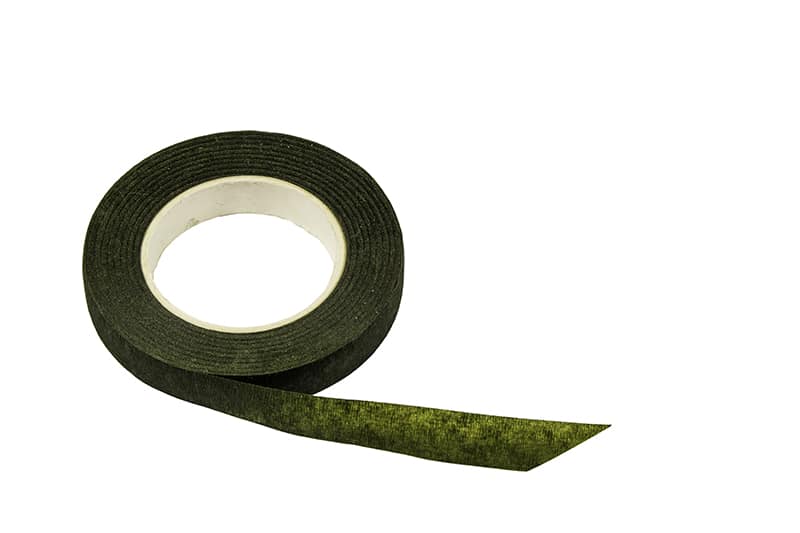 Floral tapes are used for decoratively wrapping flower stems in a bouquet. They can be used to wrap individual or multiple stems for added strength. Floral tapes come in many colors and are also ideal for fake flower wrapping on wire stems.
13. Foam Tape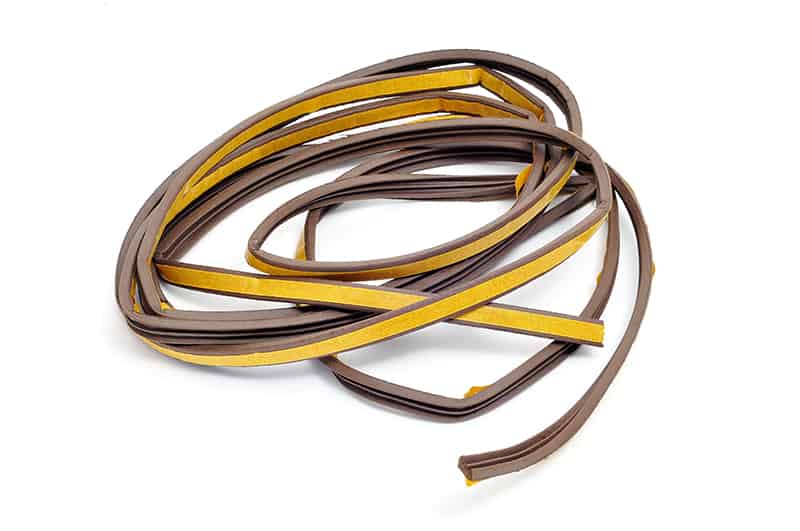 Foam tapes are extensively used in construction, HVAC, and automotive industries for sealing gaskets, door frames, and vehicle parts.They support thermal expansion and are a replacement for mechanical fasteners.
14. Foil Tape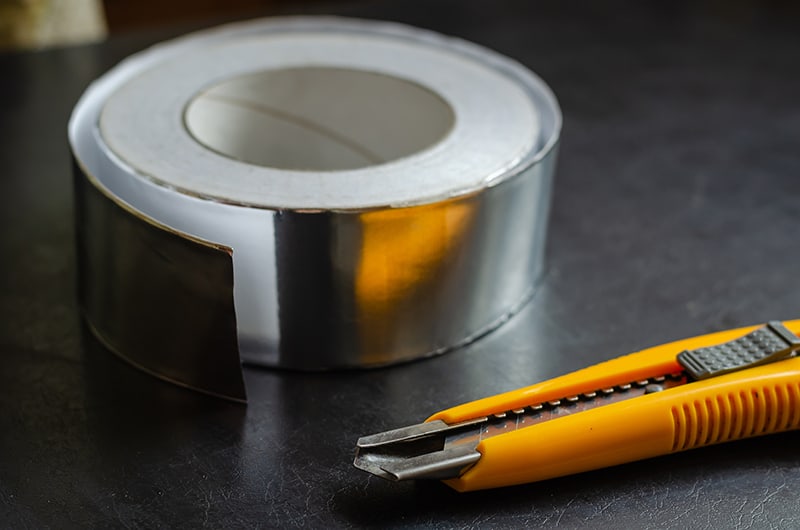 Aluminum with liner: this type of foil tape is used for waterproof sealing, water vapor barrier protection, and paint stripping masking.
Without liner: also used for waterproofing and protection against air leakage, this type of aluminum foil tape can effectively seal refrigerated appliances and electrical equipment as well as provide electrical insulation protection. 
Copper: the copper type of foil tape is used for sealing applications in the electronics industry.
Lead: the lead foil tape offers excellent adhesion to all kinds of surfaces including foils, papers, metal, and glass. This tape can be shaped to fit even the most awkward patterns and is ideal for sealing in electro-plating, leaded windows, x-ray plate masking, and double-paned windows.
15. Gaffers Tape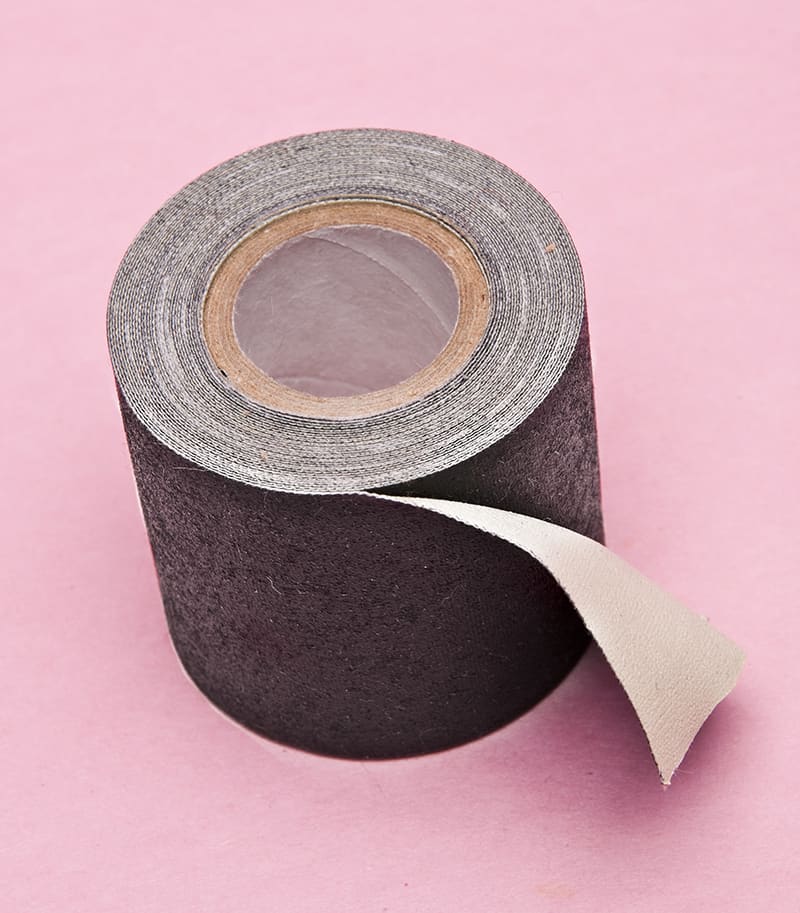 Gaffers tapes are polyethylene-coated films coated with a rubber-based adhesive. These tapes don't twist or curl during the application process and are highly resistant against abrasion and water. The tapes are suitable for the entertainment industry i.e. for stage preparation of concerts, holding down electrical cords and wires, as well as for book binding purposes. 
16. General-Purpose Tapes
General-purpose tapes can be used by anyone…anywhere. These tapes can be found in supermarkets, hardware stores, and even restaurants, so they aren't exclusively utilized by a specific industry or profession. 
17. Glass Cloth Tape
The conformable glass cloth tapes are solvent resistant and used in masking of plasma spray applications, electrical equipment, and sealing of high-heat or flame-retardant non-electrical applications.
18. Gum Tape
This type of paper carton sealing tape is a gum tape that requires moistening to the carton it's being applied to, thus welding to the box instantly. Gum tape also bonds to recycled fiber surfaces and comes in many different paper styles as customized or standard prints.
19. Hockey Tape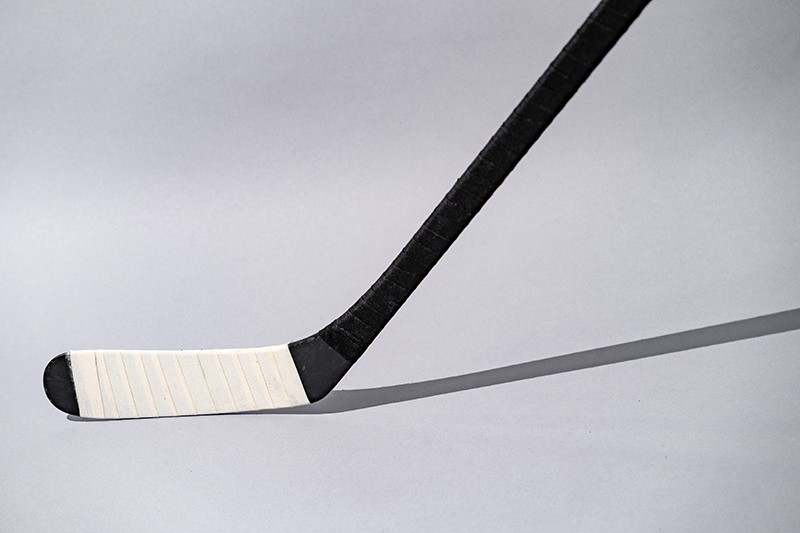 There are several kinds of ice hockey tapes including stick, cloth-based and shin tape. These tapes were created back when hockey sticks were rare to find. The sticky tape provides better support for the hockey stick in order to make it last longer. Cloth-based tapes are made of cotton or synthetic fibers that are self-adhesive. The shin tape variety is used as a covering on the shin pads to keep them in position.
20. Invisible Tape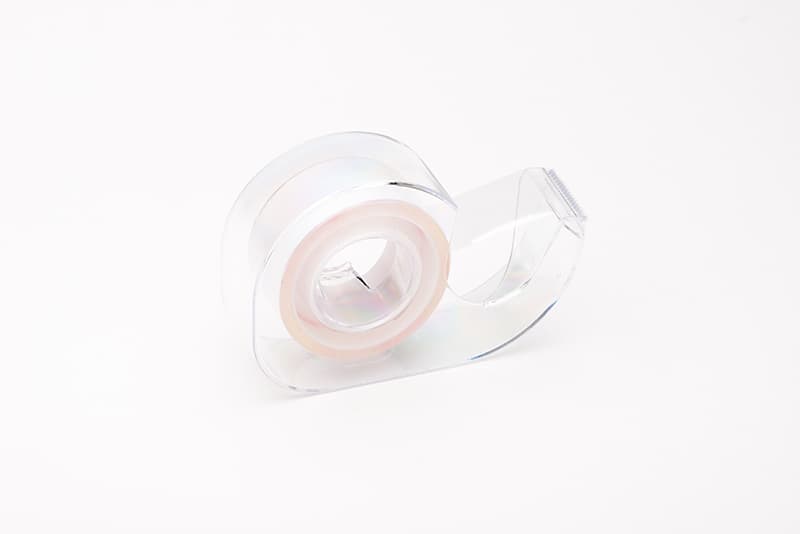 Invisible tapes have a somewhat sturdy adhesive with a plastic film backing. They are pressure activated and when used on paper products, they become invisible. These practical tapes are widely utilized in offices, for repairing paper tears, binding or sealing papers or envelopes, and much more.
Invisible tapes are designed to be cut not torn and normally consist of a tooth-like cutting tool located on the front of the tape. You can easily write on these tapes using crayons, marker pens, or pencils.
21. Lingerie Tape 
Also referred to as dress tapes, a lingerie tape consists of a medium-strength hypoallergenic adhesive double-sided, thin tape that can stick to both skin and outfits. The purpose of this tape is to secure low-cut or strapless dresses in place so they don't slip. These tapes are also suitable for temporary tears or rips in thin fabrics.
22. Masking Tape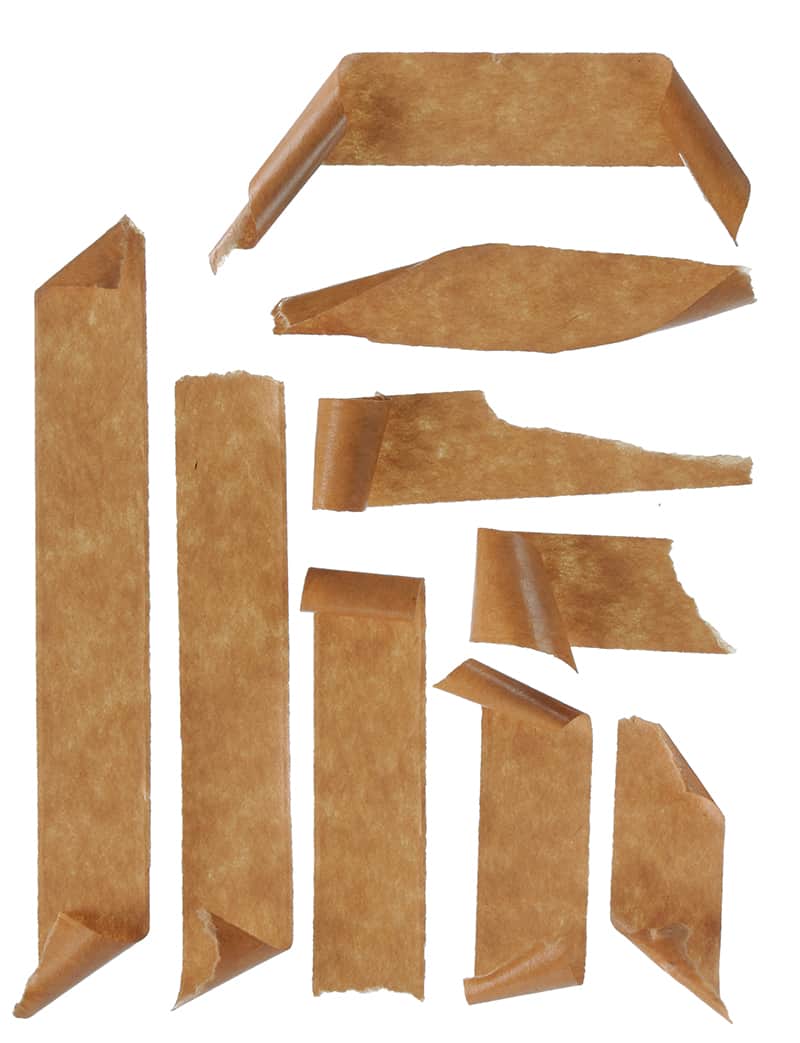 If you've ever had to paint the walls of your house, you'll already know about masking tapes. These tapes are also commonly referred to as the painter's tape. They are mainly used by painters and decorators for covering the surface of a wall or side panels in order to protect the area from paint spills. The masking tape is a paper-backed weak adhesive that can easily be removed without causing damage to the applied surface.
Masking tapes are lightweight and not particularly durable. They're often used by DIY enthusiasts who take on staining or painting tasks to temporarily cover the surface but don't wish to create a mess by spilling paint or stain on the corners of the walls. These tapes can also be written on and are easily tearable.
23. Packing Tape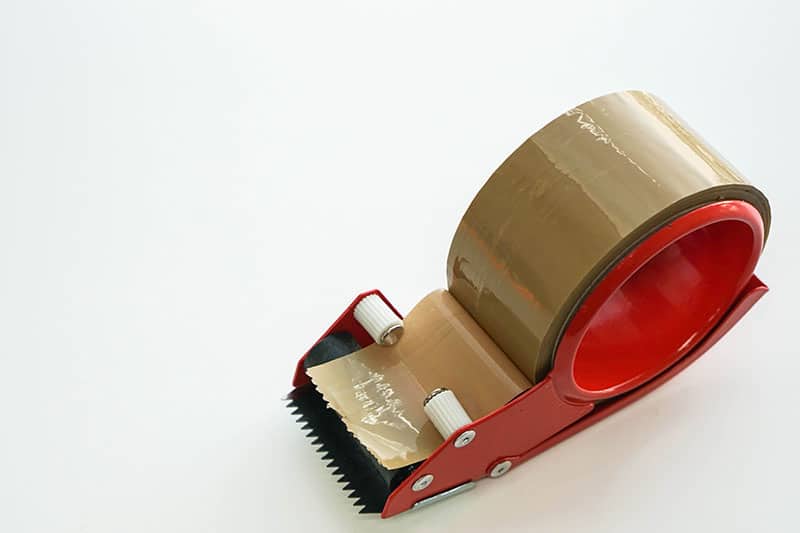 Packing tapes are mainly used for sealing cartons or cardboard boxes and other types of packaging. These strong tapes consist of sturdy pressure-activated adhesive in a clear or brown backing color.
A typical packing tape is around 2 inches wide and requires cutting in order to be used. It normally features a built-in tooth-like surface for precise cutting of the tape. These tapes are ideal for sealing cardboard boxes by applying them to the center of the box as well as the sides and bottom for a sturdier seal.
These tapes come in different adhesive strengths and backing thicknesses. They are quite cheap to buy and can be found in most stationery stores and supermarkets. For industrial purposes, the packing tape can be applied to automated machines for sturdier sealing.
24. Pipe Tape
Pipe tapes are highly resistant to oil spills, corrosive chemicals, water, and sun. They are also fungus and mold resistant. These tapes are used for providing protection on electrical cables, conduit couplings, and pipe joints. They also provide adequate lubrication to enable pipes to be assembled easily without damaging the fibers. These tapes are easy to store and boast an indefinite shelf life.
25. Polyimide Tape
These types of tapes are thin in width and provide excellent abrasion resistance at high temperatures. Polyimide tapes leave minimal residue after they're removed from the surface, thus clean-up is reduced after the manufacturing process. These tapes are highly resistant against oils, acids, water, and general wear and tear. They are also super resistant to puncture and chemical attacks.
26. Pond Liner Seam Tape
There is perhaps nothing more frustrating than a tear or crack in your pond's liner. To prevent the water from draining through the cracks, use a durable pond liner seam tape, which is also waterproof.
This type of tape is highly effective for preventing pond leakage plus it won't ever lose its sealing strength. The reliable tape is easy to cut to the required size and doesn't need any prep work. 
The seam tape is safe for plants and fish and is specially designed to resist cracking, no matter how big the application area is. The seaming works by connecting the two pieces of the pond liner together.
27. Protection Films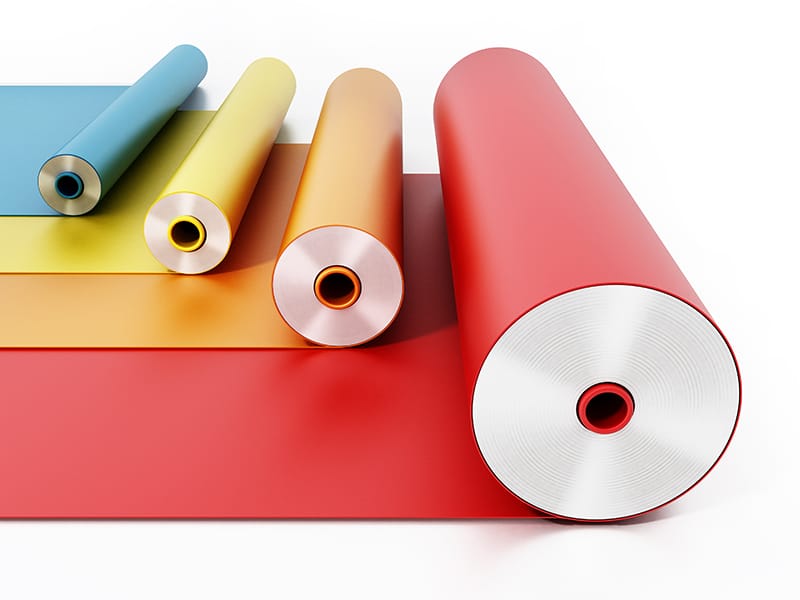 These films come in various colors including black, white, blue, or clear. They are used for different surfaces including stainless steel, aluminum, and metal. Protection films are ideal for roof surfaces, fiberglass materials as well as sinks and tubs.
28. PTFE Tape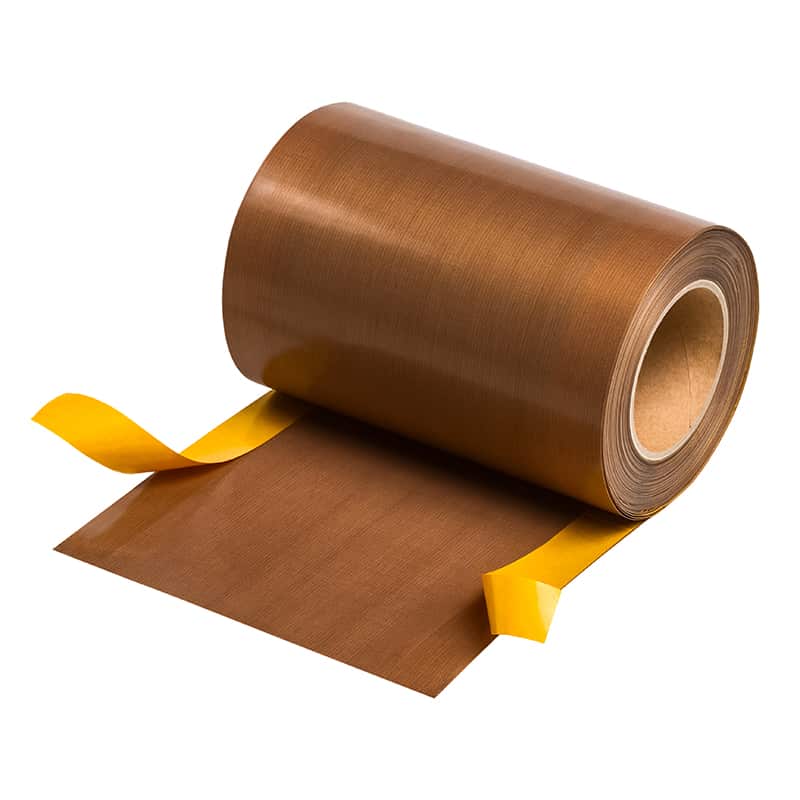 Coated glass: this tape is used as insulation in electrical equipment, gaskets, table-top surfaces, and much more. It's abrasion resistant and comes with a liner.
Skived: used in coil wraps, electrical applications, slot liners to provide insulation and heat protection. Skived tapes are also used in mechanical applications, where high temperature and lubricity are required.
Since PTFE tapes are water repellant, they give the added benefit of preventing water from penetrating through the adhesive.
29. PVC Foam Tape
PVC foam tapes are primarily used for securing furniture attachments and insulation against impact, vibration, and moisture. They are also used extensively for sign mounting and recommended for sealing trims in vehicles, HVAC, and construction materials.
30. Reflective Tape
Reflective tapes are multi-purpose adhesives that are used for marking posts, scouting contests, and other similar outdoor applications. These tapes are highly resistant to extreme weather conditions without discoloration. They are mainly designed for traffic signage but are also useful for non-critical signs and work zone devices. 
31. (Non-skid) Safety Tape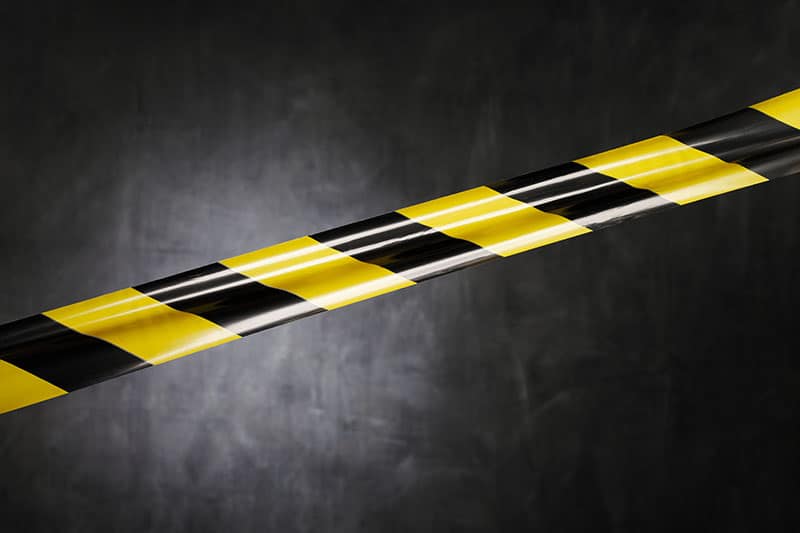 When these waterproof tapes are applied to a surface, they prevent slips and falls. The acrylic non-skid safety tape bonds to a variety of surfaces and materials, which makes it useful for both indoor and outdoor applications including stairs, walkways, and work areas.
32. Speed Tape
Speed tapes are widely used in aerospace sectors and to carry out repairs in the car racing industry. These tapes consist of strong acrylic adhesive with an aluminum backing. Speed tapes are fire and water resistant as they are designed to reflect UV light and heat.
Speed tapes have the ability to keep intact even if the aircraft is flying at high speeds. They are also ideal for making temporary repairs to the airplane's wings, the racing car's body, and military vehicle's exterior.
33. Spike Tape
Similar to gaffers tape, the spike tape is strong and easy to remove. It's used for stage marking where props or actors need to be placed. The spike tape can be written on and is easily tearable. Furthermore, it won't leave any adhesive residue on the stage after removal.
34. Splicing Circuit Board Tape
These tapes are highly resistant to heat, chemicals, staining, water immersion, and solvents. They are primarily used to connect electrical equipment, and provide electrical insulation.
35. Stucco Tape
Stucco tapes are UV-resistant duct adhesives used for protective sealing of non-painted material surfaces, such as vinyl, steel, metal, and aluminum. This type of tape provides double the amount of adhesive than a regular duct tape, hence making it one of the best tapes on the market.
The biggest benefits of stucco tapes are their fire-resistant properties, thus making them non-combustible. These tapes are so durable that it would be almost impossible to damage them. 
36. Surgical Tape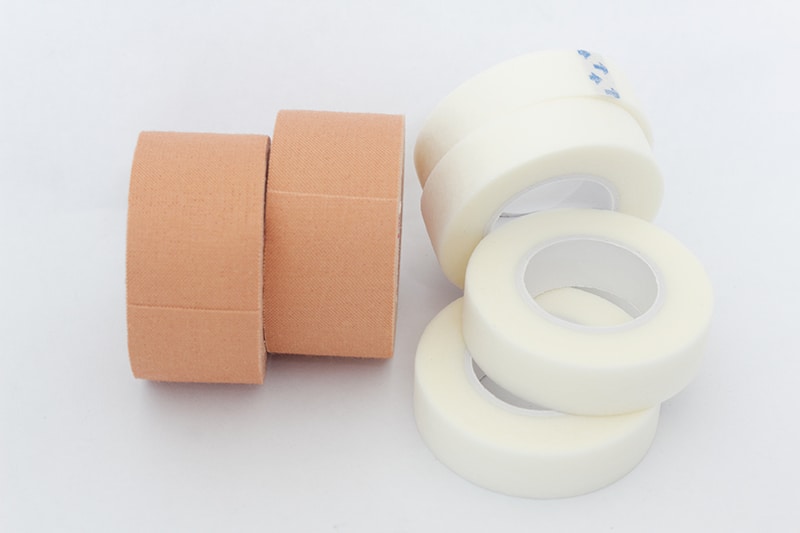 Surgical tapes were first developed for the medical industry but they have since also been included in first-aid kits and household medicine cabinets. These tapes consist of a special hypoallergenic adhesive that's pressure activated and doesn't cause skin irritation. They can quite easily be removed from the skin without causing any damage. The backing material used for making these tapes will often be from paper, fabric mesh, or latex-free plastic. 
Surgical tapes are mainly used to hold wound plasters or bandages in place. Most types of surgical tapes are waterproof and breathable – depending on their backing material – but they are all partly porous and allow air to pass through the skin.
37. Tamper Evident Tape
These box sealing tapes leave a security mark on the container or box upon removal so the chances of tampering with the contents or stealing them are minimal. Tamper evident tapes are used in high security applications, such as medical labs, money bags, chemical equipment, currency exchange handlers, cargo handlers, sporting goods, and electronics, to name some of the few.
There are also money-saving benefits for businesses. By using tamper evident tapes to deliver their products, they can prevent them from any possible damage. For example, if a package handler drops the product by accident, the tamper evident packaging will provide maximum protection for the products and prevent the package from opening and falling out.
38. UHMW Tape
UHMW is apolyethylene film coated tape with rubber or acrylic backing material. It's highly abrasion and chemical resistant with very low friction that makes the tape perfect for use in the engineering industry. Once applied on the material's surface, it will become non-slip.
UHMW tapes benefit from high-impact strength and have shock absorbing properties.They are a better alternative to teflon tapes because of their durability. These tapes are ideal for use in high temperature environments and can provide adequate sealing for dead plates, guide rails and hopper liners. Aside from the engineering industry, the UHMW tapes are also commonly used in the mechanical and automotive industries. 
39. Vinyl Tape
The rubber type of vinyl tapes are primarily used for color coding and lane safety marking as they don't wear away. They are also ideal for vehicle striping, boat sealing, and pipe wrapping, and color coding parking lots or factories.
Vinyl tapes are extremely wear and tear resistant, thus making them tough against weathering and abrasion. Using these tapes for marking lanes is faster and easier than painting since their rubber adhesive sticks immediately upon contact with the surface. You can easily remove or clean the adhesive residue thanks to its stretching and conforming ability. There are various tape colors and sizes available to choose from.   
40. Warning Tape
Warning tapes or caution tapes are used for temporary or permanent marking of dangerous or hazardous areas, such as electrical cords, external stairs, underground gas or water lines, etc. These tapes are ideal for use in exhibition halls, manufacturing industries as well as residential and commercial sites, where safety measurements need to be taken by the workers or the public. Warning tapes are easy to peel and hand-tearable so they don't leave any residue on surfaces. In general, there is a wide range of situations that warning tapes can be used in, from offices and warehouses to schools and construction sites.