The trowel is one of the most versatile hand tools. Primarily used for leveling, spreading, and shaping mortar and concrete, it can also be used in installing tiles. The trowel can also come in handy when you are in the garden, particularly for digging up dirt and weeds.
This small hand tool with a flat blade comes in various sizes, which can be quite confusing, especially if you are a novice user.
If you're one of those people planning to buy a trowel but can't decide yet on the size, then we'll help you in understanding trowel sizes, including normal trowels and notch trowels.
Trowels Sizes and Uses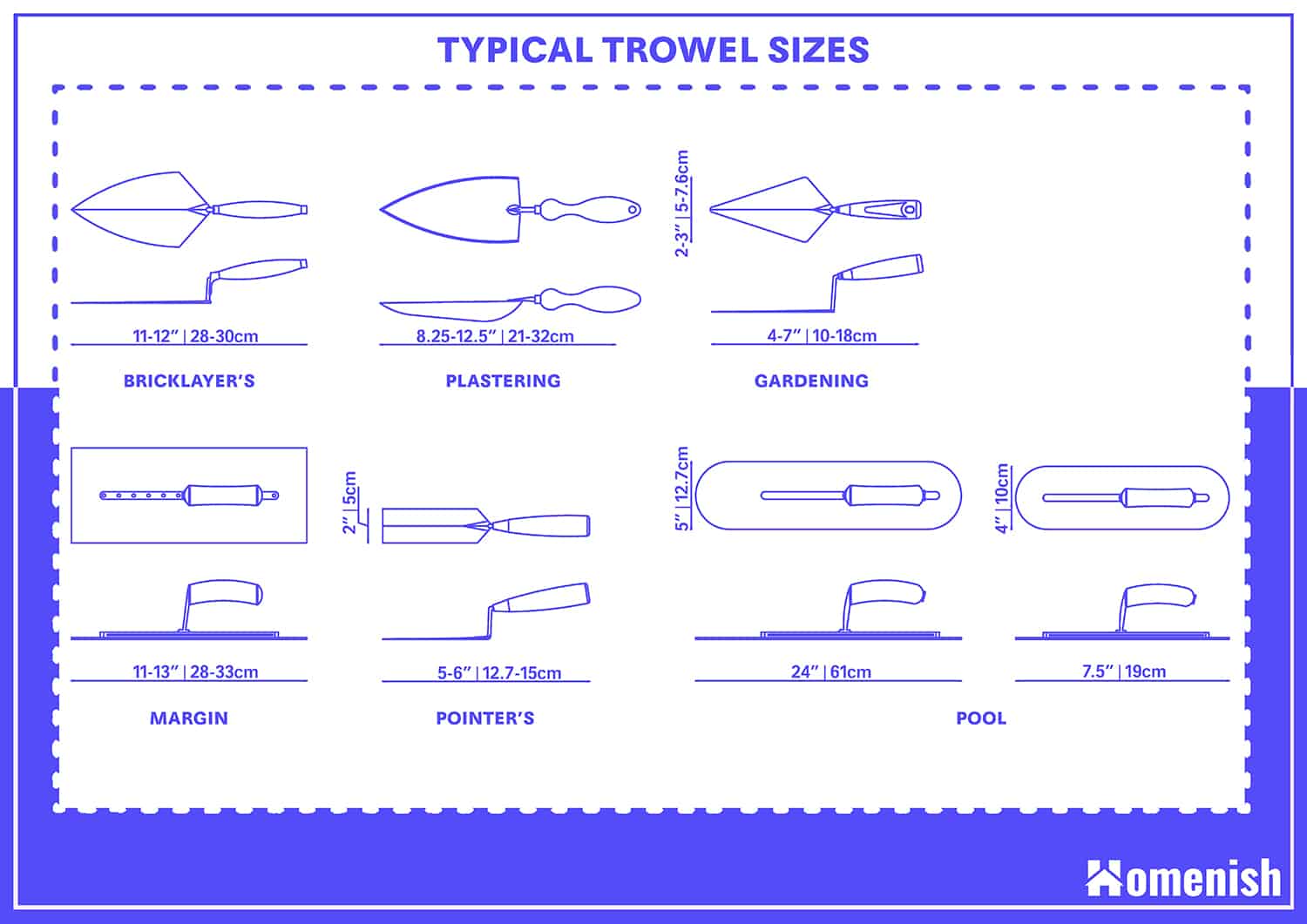 Trowels come in different types and sizes. The sizes range from small, medium, to large. Generally speaking, you pick a trowel size that would match or be appropriate with the project that you have.
To better appreciate and understand the various sizes that trowels are available in, let's take a look at the different kinds of trowels that you can come across in the market.
Bricklayer's Trowel
This is arguably the most common type of trowel. Also called a masonry trowel, it is designed for scooping up grout and cement and spreading it between bricks. It's an all-purpose trowel that can be used in tamping down the cement holding bricks, as well as
shaping concrete and masonry.
There's no standard size for a bricklayer's trowel. You can find one that's as short as 9 inches and one that's as long as 13 inches. However, most expert masons recommend the use of trowels between 11 and 12 inches in length. This is considered the optimal size of a bricklayer's trowel as it can combine both comfort and control.
On the other hand, a longer bricklayer can prove to be difficult to control for most users aside from causing pain in the shoulders, especially when utilized for extended periods.
Plastering Trowel
This is the most commonly used type of trowel among masons. It is a rectangular sheet made of steel and with a handle. Like the masonry trowel, a plastering trowel is an all-purpose handtool that can be used in applying finishing layers or tamping down on uneven areas.
Plastering trowels are available in two lengths– 11 and 13 inches. The longer plastering trowel is more ideal for experienced users, as it requires greater technique and control in handling. If you haven't used a plastering trowel before, then you might want to stick with the shorter type. Not only is it easier to use, but it can also ensure superior contact with the wall where the plaster is applied.
Gardening Trowel
This is a type of trowel that many people are familiar with, especially those who love to spend a lot of time in the garden. This looks like a small handheld trowel. It is designed for scooping up small plants. It can also come in handy when moving plants or simply digging around in the garden.
Unlike the other types of trowels where you can buy in home improvement centers, a gardening trowel is available in a typical local nursery.
A typical planting garden trowel has a blade ranging from 8.5 inches to 12.5 inches. The longer the blade is, the more leverage you can have when digging in hard soil. Meanwhile, the width of the blade may range from 1.8 inches to 4.5 inches. If you're digging in small and tight spaces, you should choose a trowel with a smaller blade.
Margin Trowel
A margin trowel is easy to spot with its large and boxy frame and its handle that sticks out of one end. As you may deduce from its name, it is designed to scrape away the edges and corners of the masonry. It evens out the margins. It can also be used in getting into tight corners, especially in areas such as the bathroom.
But you would be surprised to learn that a margin trowel is also quite versatile. You can use it in scooping mortar out of the bucket, cleaning it from around the edge of the tile, and even lifting tiles.
Margin trowels come in various sizes, although the most common is the 5 to 6-inch variety.
Pointer's Trowel
This is a petite type of trowel with its point thinner than other trowel types. Although you may think at first that it is a bricklayer's trowel, one major difference between the two is that the pointer trowel is fairly narrow. There's a reason for this as the pointer trowel is designed to get through difficult corners or areas.
Pointer trowels come in various sizes. Their length can range from 4 to 7 inches, while their width may range from two to three inches.
Gauging Trowel
This versatile tool for transferring plaster can also be used in applying the building material to a wall or surface. It can also come in handy when mixing or gauging small quantities of plaster. The most common size of a gauging trowel is between 4 and 7 inches.
Pool Trowels
Also known as swimming pool trowel, this type of trowel is made for curved and smooth surfaces. It has rounded ends and is primarily used in applying coatings to concrete on swimming pool decks, hence the name. This trowel has a long and rectangular body. It can also be used in applying or smoothing plaster on round, jacuzzi-type pools.
There are large and small pool trowels. The large ones can measure up to 24 (length) by 5 inches (width) and are ideal for finishing work. However, it can be hard to control them, which makes a large pool trowel ideal for veteran carpenters. You can also use it in finishing concrete. The smaller pool trowels, meanwhile, are easier to control compared to the bigger ones. You can get a small pool trowel that's about 7.5 inches long and 4 inches wide.
Outside Corner Trowel
The outside corner of a house or pool might require a coat of plaster. For this situation, you'll need an outside corner trowel that is folded at a 90-degree angle. This would ensure that you get an even distribution of plaster for a perfect corner. An outside corner trowel is ideal for use not only in home exteriors but also in laying out stucco on garden fences.
Notch Trowel Sizes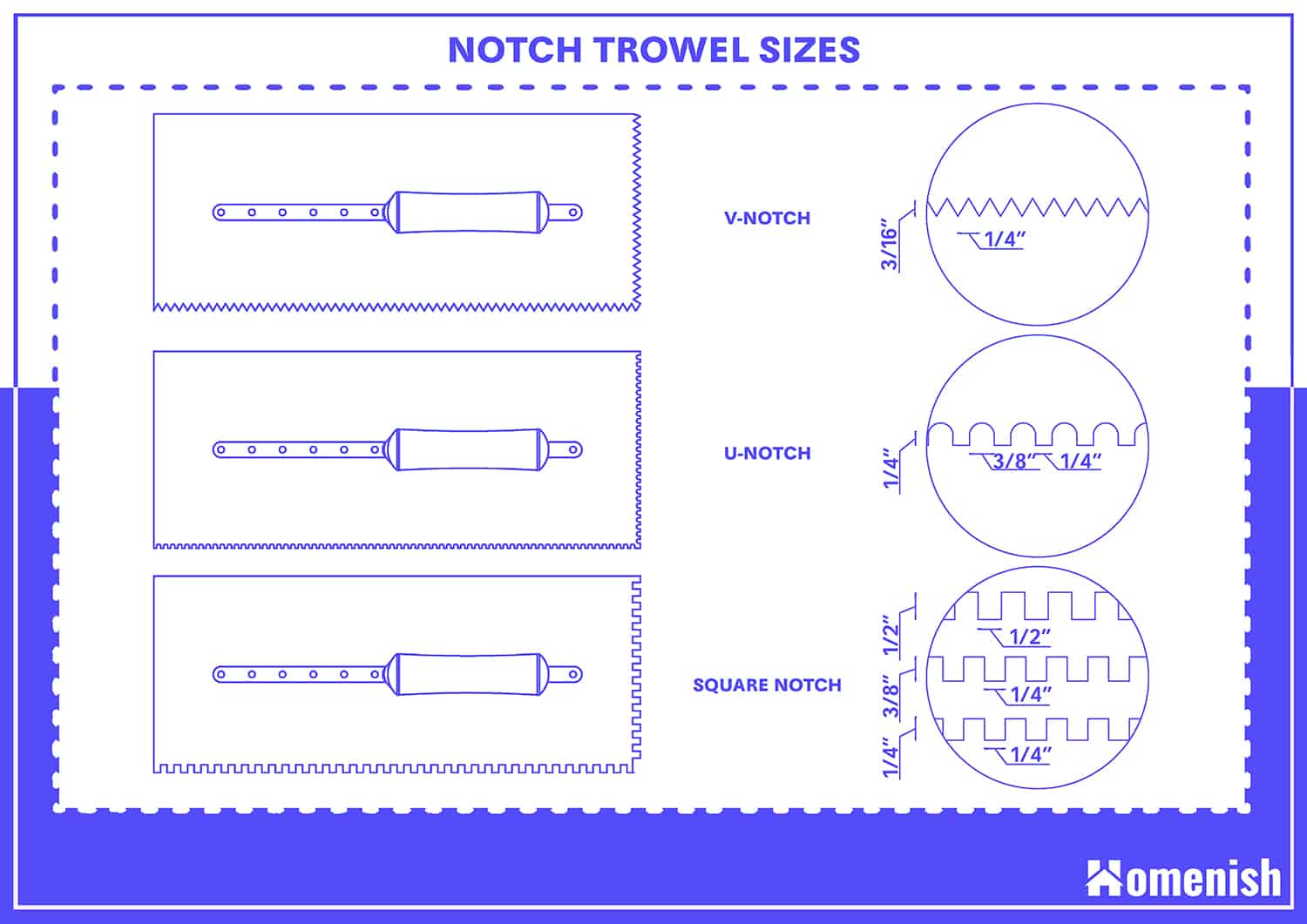 V-Notch Trowel
As you may deduce from its name, a V-Notch trowel has V-shaped edges that go along with its sawtooth or zigzag pattern. This is the trowel type you'd want if you are installing mosaic tiles or squares that are less than 2 inches square because they can lay out the least amount of mortar. It is also ideal for use in wall and ceiling applications because it spread less mortar. Moreover, V-notch trowels are easier to handle compared to most trowels because of their size and soft, plastic handles.
V-Notch trowels come in various sizes. Sizing comes in two numbers, with the first indicating the width of the notches while the second refers to the depth of the notches. The most recommended size of a V-notch trowel when working on mosaics and glazed wall tiles is a 3/16 by ¼ inch.
U-Notch Trowel
The U-notch trowel is closely related to the V-notch trowel. One similarity is that both are primarily used in laying out tiles. But the biggest difference between the two is the teeth or notches. A U-notch trowel has thinner teeth or notches compared to a V-notch trowel. This makes it more applicable or useful in tiles that are larger than four inches.
There are two commonly used sizes of U-notch trowels. The ¼ by ¼ inch variety is best for using tiles that are sized 4×4 inches up to those sized 8 x 8 inches. It is recommended for those who want a heavy spread for a wall tile or a lighter spread for a floor tile. Meanwhile, a U-notch trowel that's ¼ by 3/8 inches is used for larger tiles or those sized 8 x 8 inches up to 16 x 16 inches.
Square Notch Trowel
Lastly, the square notch trowel is unlike the U-notch and V-notch trowel. As its name indicates, the square notch trowel has square teeth.
And like the U-notch trowel, it can be used in laying out tiles that are over 4 inches in width and length. But the square notch trowel has teeth that spread thinner set than the U-notch trowel.
There are three common sizes of the square-notch trowel. The ¼ x ¼ inch variety is best for tiles that are 4 x 4 inches and up to those that are 8 x 8 inches. The ¼ x 3/8- inch square notch trowel is best for mid-sized tiles or those that range from 8 x 8 inches and up to 13 x 13 inches. Finally, the square notch trowel measuring ½ x ½ inches is used for tiles that are 16 x 16 inches or larger.