A stamp is referred to as a device that inks and imprints messages or symbols on documents, or surfaces. It is also known as a postage stamp, which is used on post letters or packages sent by postal services. In this article, we'll learn about the standard sizes of these types of stamps.
Rubber Stamp Sizes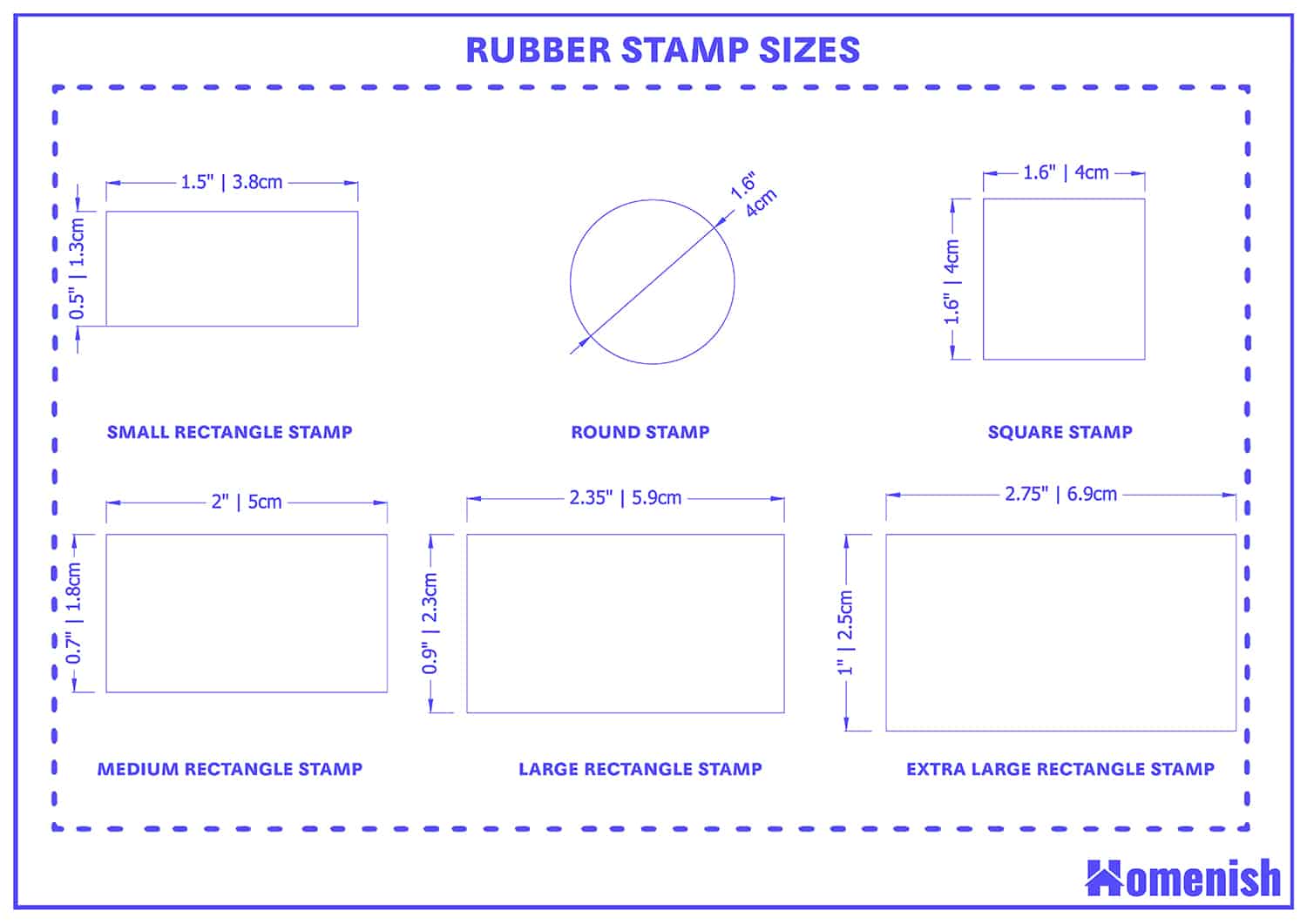 Rubber stamps are commonly used by independent businesses such as law firms and accountants for adding their business name and address to the outside of envelopes when they send mail.
These types of stamps can also be used in lieu of letter-headed paper or on the back of business cards. If you're thinking of having a personalized rubber stamp made, here you can take a look at the most common standard sizes available.
Small Rectangle Stamp
A small rectangular rubber stamp will have dimensions of around 1.5 inches by half an inch. This is a compact stamp that can accommodate up to three lines of writing, but the font will be small and could be hard to read. For this reason, this type of stamp is best suited to just featuring the company name or a logo.
Round Stamp
Round stamps are great for catching the eye because they are a different shape from your typical rectangular stamps, which helps them to stand out. The standard round rubber stamp will measure 1.6 inches in diameter and can accommodate up to 9 lines of small text or 6 lines of medium text.
Square Stamp
Like the round stamps, square stamps are a little less common. These have dimensions of 1.6 inches by 1.6 inches. They can fit up to 9 lines of small text or 6 lines of medium text, but they will accommodate longer addresses compared with the round stamp of the same size because the text can go right to the edges of the square and won't be restricted by the circular shape.
Medium Rectangle Stamp
This is a common size of stamp for businesses and will have dimensions of approximately 2 inches by 0.7 inches. Up to 5 lines of text can fit on this stamp.
Large Rectangle Stamp
If you want to grab the attention of your clients, or if you have a lot of information you want to fit on your stamp, then this size is a good choice. You could accommodate both your business name and address, along with phone numbers, a website, or email contact details. This stamp will have dimensions of 2.35 inches by 0.9 inches, fitting on 6 lines of text.
Extra Large Rectangle Stamp
This is the biggest standard size of stamp, though many manufacturers will custom make stamps according to your specific sizing requirements or offer jumbo options. This stamp will measure 2.75 inches by 1 inch and can accommodate up to 7 lines of text. You could maximize the amount of information you include on this stamp over 7 lines, or you could choose a larger font size and have fewer lines of text to make your stamp clearer and easier to read.
Postage Stamp Sizes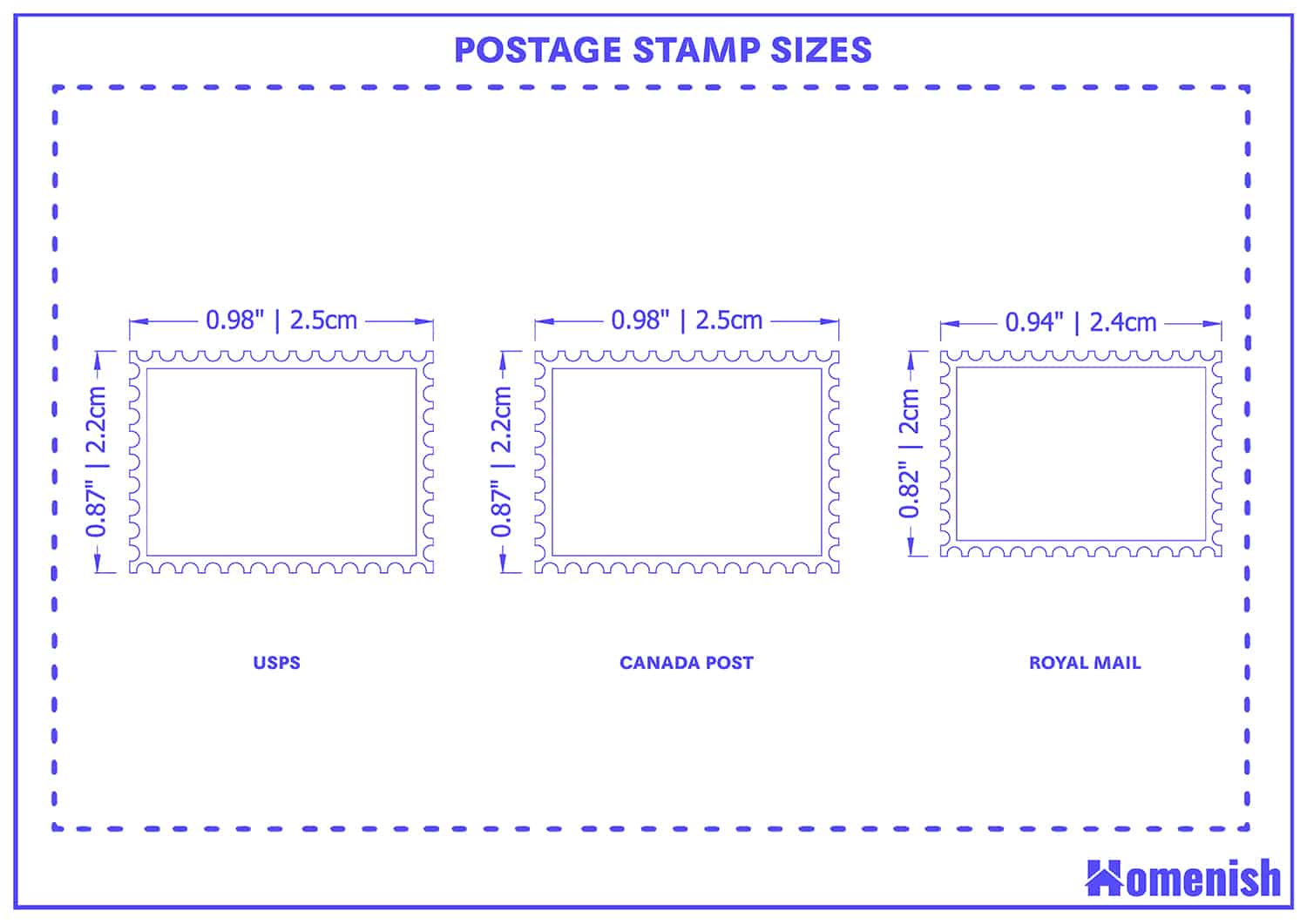 Postage stamps are another type of stamp that comes in various sizes. The size of postage stamps can differ according to the country they are sold in, the type of letter or parcel they are for, and the service they are used for.
In some cases, the different size of a stamp is simply down to it being a different design, and the size may not indicate anything in particular about the stamp. Here we will look at various different standard sizes of postage stamps from around the world.
USPS
The standard size of a first-class stamp issued by the United States Postal Service is 0.87 inches by 0.98 inches. These are known as 'forever stamps' because you can purchase them and use them at any time in the future to mail a first-class letter weighing up to one ounce, even if the price of postage increases during this time. Although this is the most common size of first-class stamps, other sizes do exist, with dimensions going up to 1.26 inches by 1.59 inches for some designs.
Larger stamps tend to go on sale around the holidays. For example, festive stamps might be jumbo-sized and include more decorative designs such as a snowy scene or a Christmas tree. Unusually shaped stamps, such as square stamps or round stamps, can be found for specially designed series of stamps that commemorate or celebrate specific events or people. The standard USPS stamps can be bought in rolls which are one stamp wide, or in booklets that are credit card sized and therefore easy to keep in a wallet or purse.
Canada Post
Postage stamps in Canada, which are used for mailing most standard-size letters, have dimensions of 22mm wide and 25mm high. These measurements are given in metric units because Canada officially uses the metric system to measure items, but this is the equivalent of 0.87 inches by 0.98 inches, making these stamps the same size as the first-class USPS stamps.
Canada Post regularly issues commemorative stamps, which can become collector's items, and these can take on various sizes. One example is the stamp for the 100th anniversary of the Halifax Explosion in Nova Scotia, which was a square-shaped stamp measuring 32mm by 32 mm. The imperial equivalent of this is 1.26 inches by 1.26 inches.
Royal Mail
Royal Mail produces stamps for postage in the UK. The standard size for both first-class and second-class stamps is 21mm wide by 24mm high. This equates to 0.82 inches wide by 0.94 inches high. These stamps are distinguishable from each other by the main color used.
Currently, first-class stamps are red, while second-class stamps are blue. Stamps of this size can be used to send standard-sized letters, though if you want to send a large letter, you will need a large letter stamp. These stamps are bigger and cost more money. Letters measuring up to 353mm by 250mm can be sent as a large letter. Other sizes of stamps are available, with limited edition designs to celebrate or commemorate occasions or people.