Foosball, or table soccer as some people know it, is a competitive game played on a special table by a minimum of two people. It includes rods that run across the width of the table and are held in place at either side, and these rods are controlled by their handles which the players can turn to try to launch the ball towards a goal at either end of the table.
This is the type of game you would commonly find in a home games room, or you may also find it in a sports bar or games arcade. If you are looking to buy a foosball table for your home, you will need to consider standard foosball table sizes and other sizes of foosball tables to find out which is going to be the best option for your home.
Knowing the size of a foosball table is going to be key in figuring out if you have enough space to accommodate this game. Not only will you have to physically fit the table into a room, but you will also need enough clearance around the table for people to stand and play it.
There are several professional stances that keen foosball players will be familiar with, and if you want to adopt one of these stances, you may need extra space than you expected. The stances typically require the player to stand with their feet further than hip-width apart, with knees bent at a slightly crouched angle and elbows sent backward while hands are held on the handles of the rods. This will take up quite a bit more space than if the player was standing upright.
Fortunately, foosball tables are among the smaller types of games tables, so if you have a small games room, then this could be a great choice. Even full-sized foosball tables are significantly smaller than other types of games tables, including billiards and air hockey.
Regulation Foosball Table Size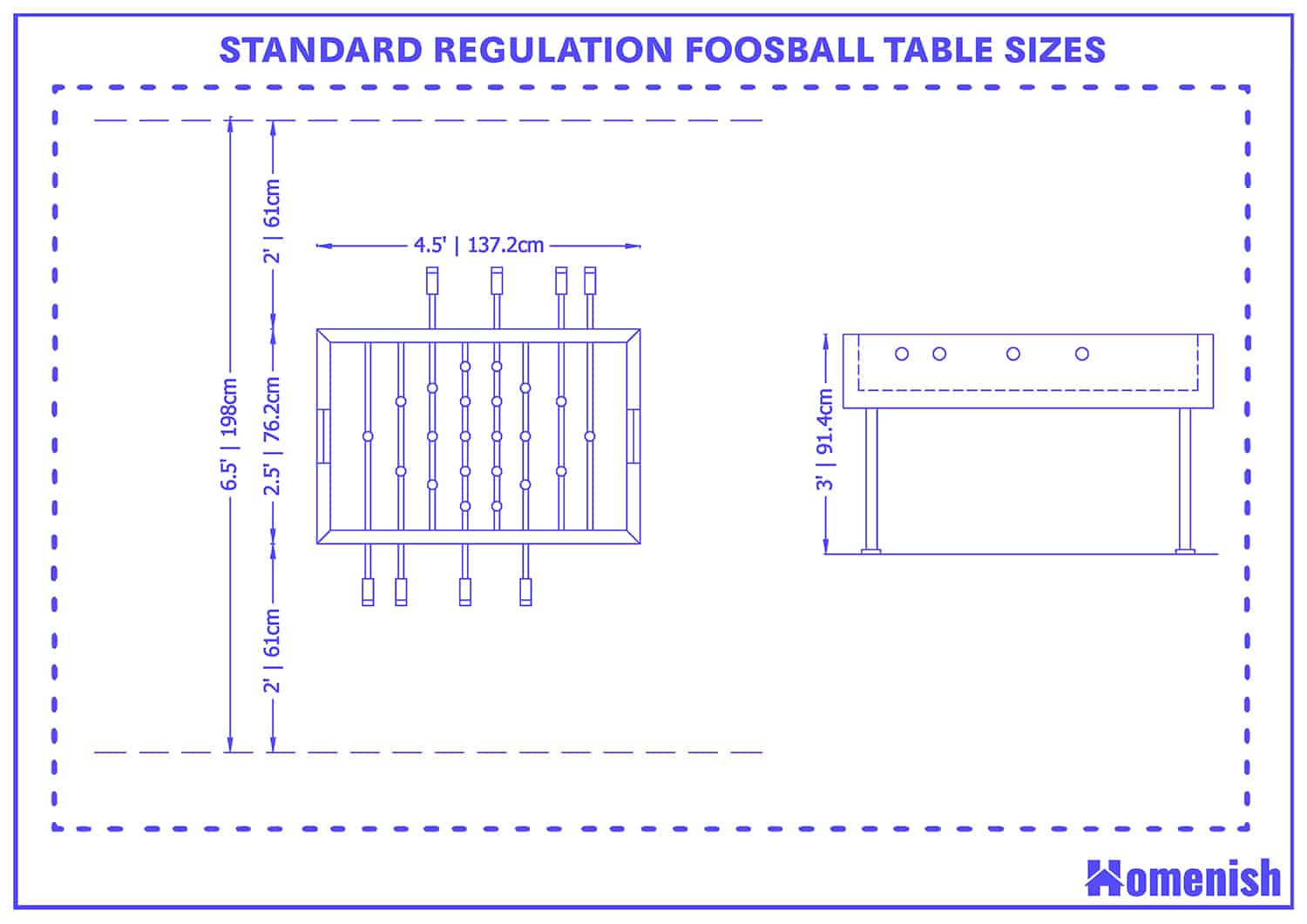 The standard size regulation foosball table is 2 and a half feet wide, 4 and a half feet long, and 3 feet tall. In order for your players to comfortably stand at either side of the table to operate it, you should allow a minimum space that is 6 and a half feet wide.
This will give each player 2 feet of width space to get into position. Ideally, a space that is 8 feet in width would be better, giving players more freedom of movement.
Tabletop Foosball Table Size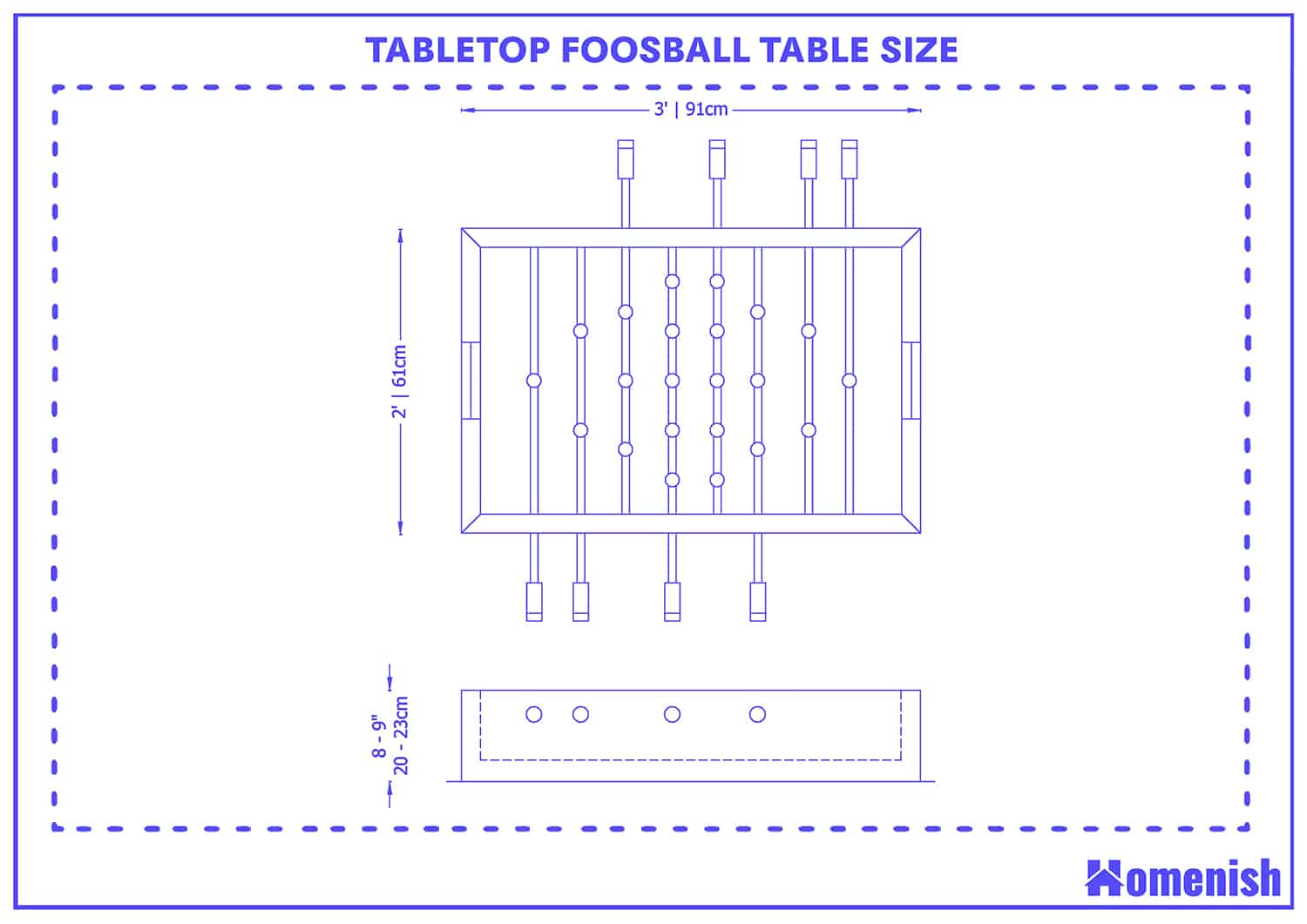 Tabletop foosball tables are great for those who want to be able to play the game at home but don't really have enough space to accommodate a full table. A tabletop foosball table is basically just the playing surface without legs, and these types of foosball tables are typically a little smaller than regulation tables.
The exact size will differ between manufacturers, but you can expect a tabletop foosball table to be somewhere in the region of 3 feet long and 2 feet wide. The height will be around 8 or 9 inches, and you can use the tabletop playing surface in conjunction with another table you own. Ordinarily, a dining table will be the best surface to play on at home because it will usually be an adequate size to hold the foosball surface.
You could also play tabletop foosball on the floor if you wished. This type of foosball table can be stored away easily because it is very shallow. Under the bed is a good place to keep it, or standing on its side in a cupboard.
Mini Foosball Table Size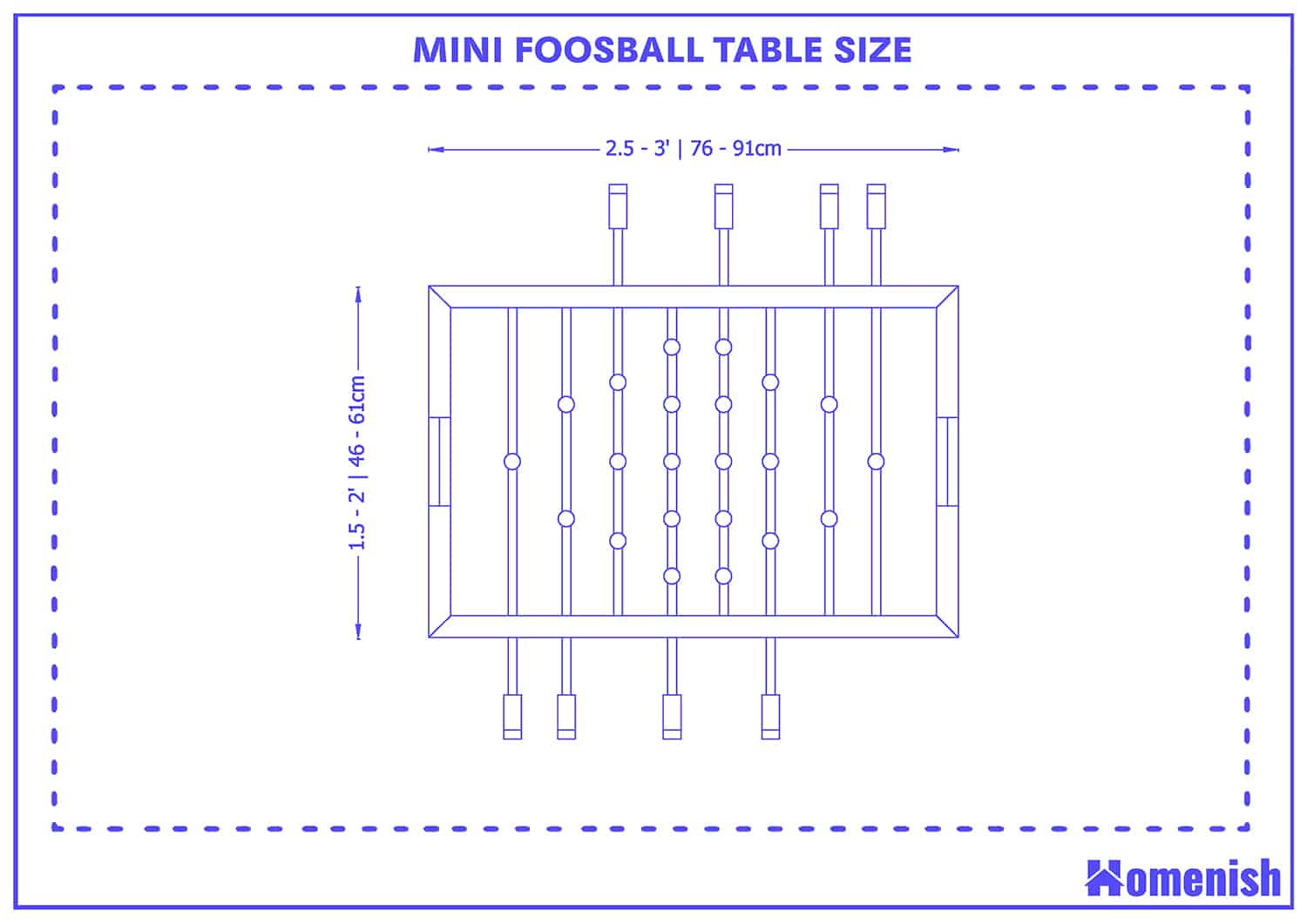 A foosball table is a common request amongst children for a birthday or Christmas present, but you might be reluctant to spend a lot of money on a full-size foosball table if you don't have a huge amount of space, or you're unsure how much use the table will get. In this instance, mini foosball tables are great, and they are actually a better size for a child to play on.
These tables vary in size according to different manufacturers, but you can expect a mini foosball table to measure around 2 and a half feet to 3 feet in length and 1 and a half feet to 2 feet in width. These tables are usually lower in height than regulation tables and therefore better suited to child players.
Mini foosball tables are intended for occasional use as opposed to the types of tables that you would see as permanent structures in a games room. They will often have legs that can easily be removed for storage, or they may have fold-down legs.
Mini foosball tables also represent a much more affordable option compared with regulation-sized tables; however, they will likely be considerably less strong and sturdy and won't last for as many years as a full-sized foosball table.
Foosball Table Materials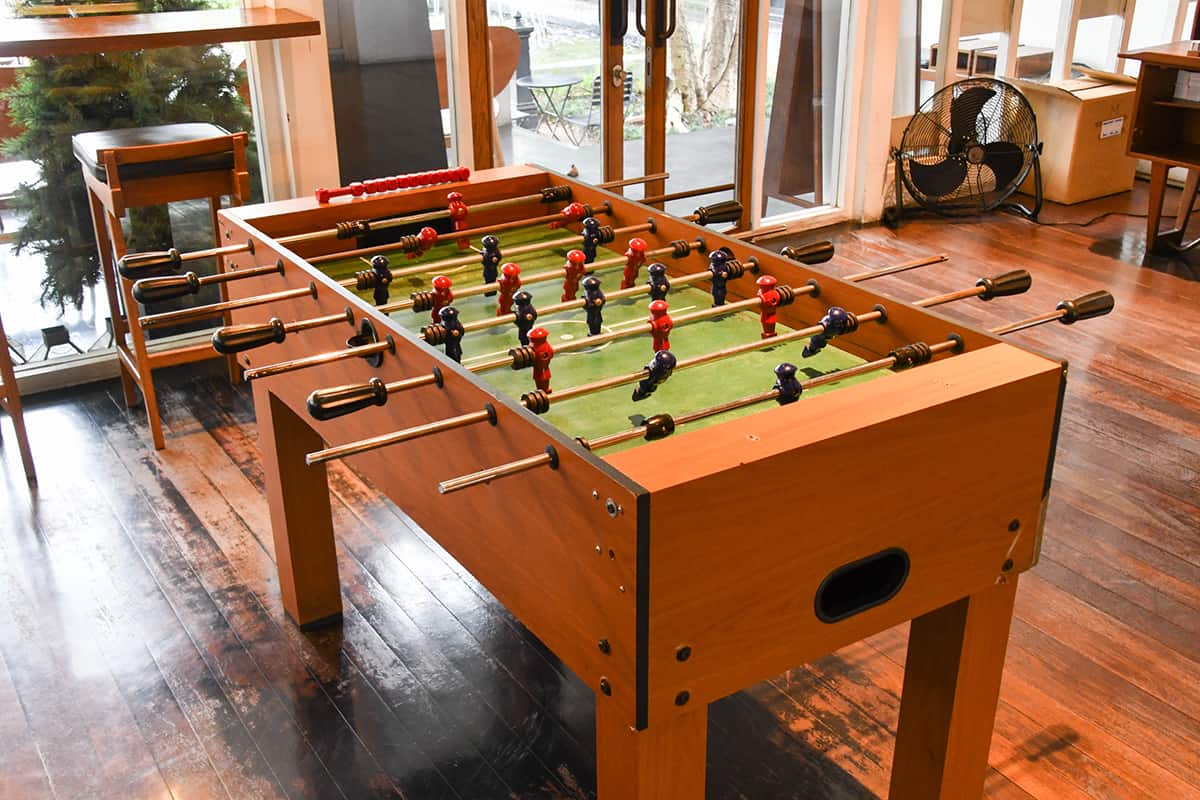 Regulation football tables are typically made from metal or wood, and as such, you can expect to pay hundreds or even thousands of dollars for a full-sized table like this. A foosball table made from wood or metal is great if budget is not a consideration for you, and you want a showpiece for your games room that will be sturdy and reliable and will impress your friends.
Mini tables and tabletop tables are less expensive and are generally made from MDF or plastic. The benefit of plastic, in particular, is that it is reasonably strong and lightweight, which is useful if you will be moving the foosball table in and out of storage, or from one room to another. Plastic is also less likely to get broken or damaged by excitable children compared with MDF.
If you are buying a foosball table for children, then it makes sense to buy a less expensive model because they will eventually outgrow it, and therefore it doesn't need to be strong enough to last several decades like a regulation table.