The pantry door's color is often overlooked as we tend to focus more on the functionality of this storage space rather than its aesthetics. The last thing you want is to make your pantry door stick out like a sore thumb, so it makes sense to coordinate it with the rest of the room's decor or theme.
Choosing the wrong pantry door color can be an eyesore, but there are a few factors that can help you make the right decision. Your personal preference and the room's color scheme should help you pick the right color for your pantry door. There is also the material of the door that plays a vital role in your selection of color.
Here we have listed some excellent pantry door colors that suit both traditional and modern kitchen designs. Keep reading this post to get a better understanding of pantry door colors.
Pantry Door Color Ideas
Think Striking Yet Neutral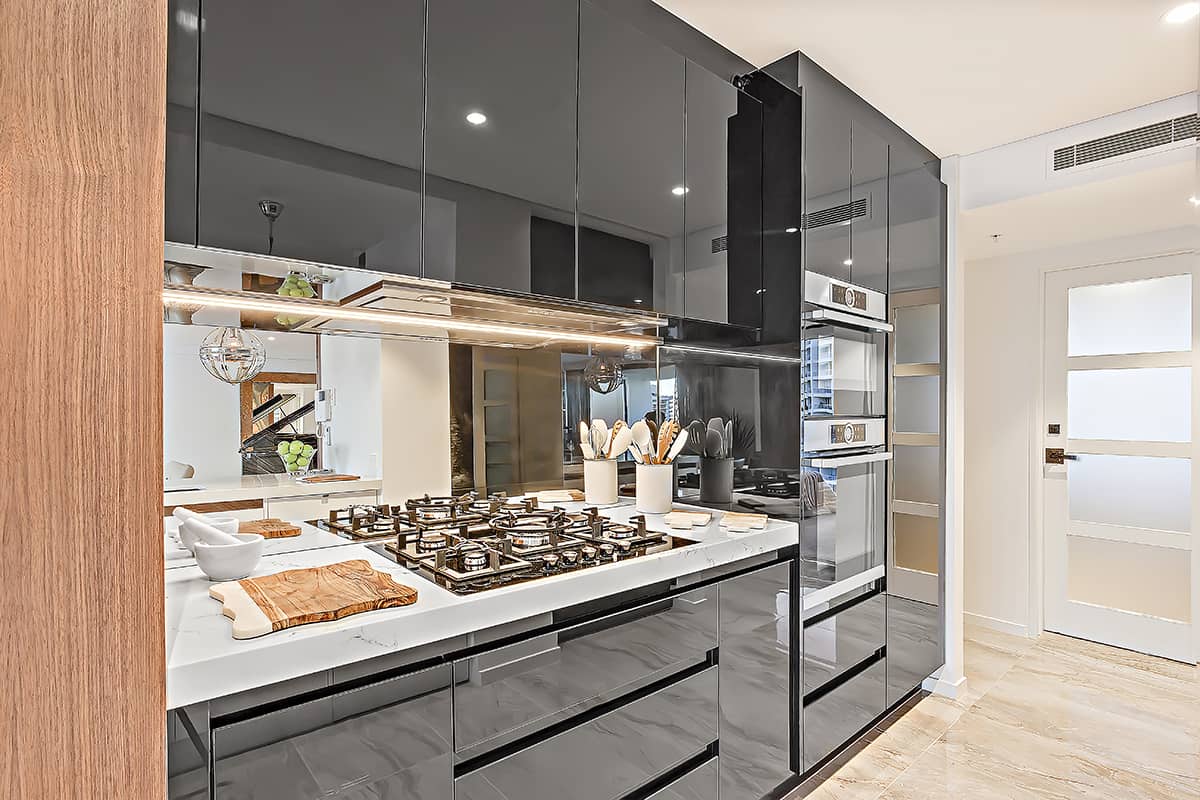 Showcasing your pantry door doesn't have to just evolve around its architectural or design details. You can keep it subtle yet striking without making the door stand out too much. If you want your kitchen features to remain as the focal point of the room, consider painting your pantry door a neutral color.
This helps keep the door in the background, but be sure to paint the door a shade lighter or darker than the kitchen walls. By choosing a subtle, neutral color, any additional recessed details on the door, such as raised panels will stand out.
Make sure your pantry door isn't painted or stained with a mismatched shade. The idea is to enhance the beauty of your food storage room by picking an attractive yet neutral hue.
Take a look at the walls of the pantry to coordinate them with the right neutral door color. That said, instead of choosing bold and bright colors like orange or red, white, gray or even a striking black hue can perfectly enhance the pantry door while transforming its overall appearance.
Our favorite pick for a neutral pantry door is a solid black. This striking color is flexible and can complement any kitchen design. What's more, black hides dirt better than other colors, thus making it a perfect color option for a pantry door.
Use Same Color as the Kitchen Walls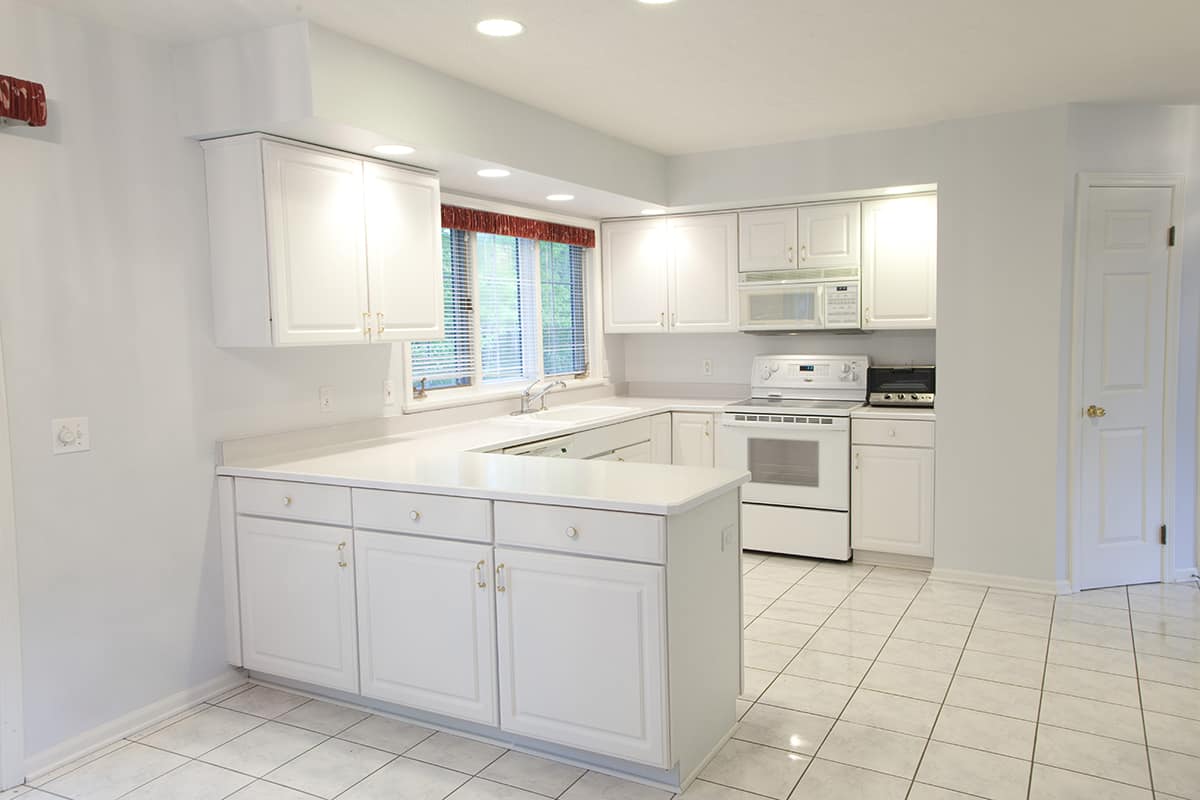 Most pantry doors are located in the kitchen, so it makes sense to paint the door the same color as the kitchen walls. This helps blend the pantry door with its surroundings for a cohesive and uniform look.
For example, your pantry door can be painted white to match the white kitchen walls. The idea is not to attract attention to the pantry the moment your visitors step into your kitchen.
Go for Natural, Unstained Wood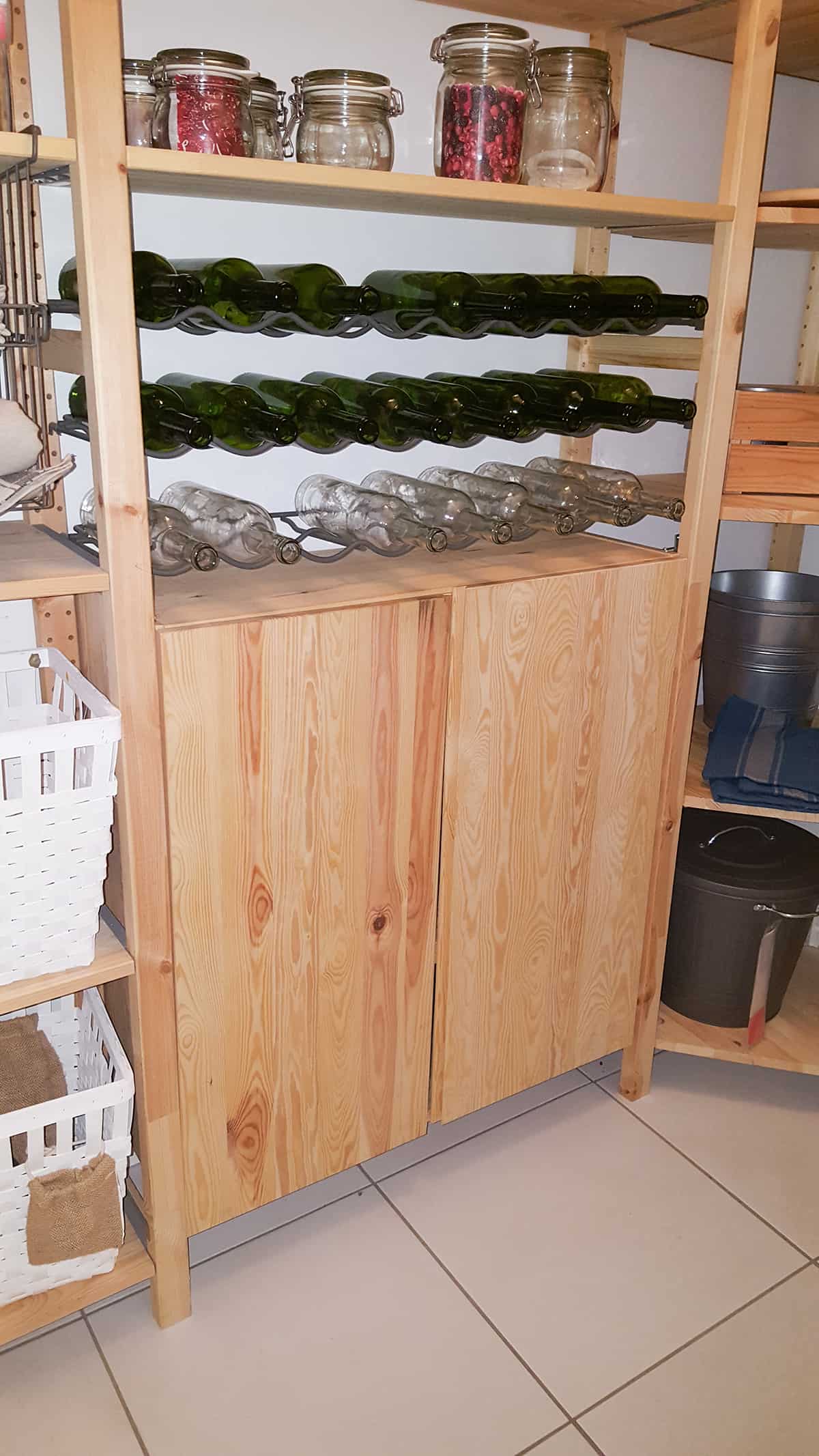 Natural, reclaimed, or unstained wood is a popular material for pantry doors. After all, unstained wood adds character to any traditional style interior. From pine and birch to brown oak, red cherry, walnut, and maple, there are many wood species to choose from. You can even opt for plywood or MDF as cheaper alternatives. The latter still provides the same rustic warmth as solid wood.
Unstained wood helps you attain the distinct beauty of your country style or farmhouse design kitchen. Even a barn-style pantry door can bring a rustic charm to the kitchen. Just be sure to use the same wood type for the pantry door as the kitchen flooring in order to keep the palette and theme consistent.
Stained Light Brown Wood as an Alternative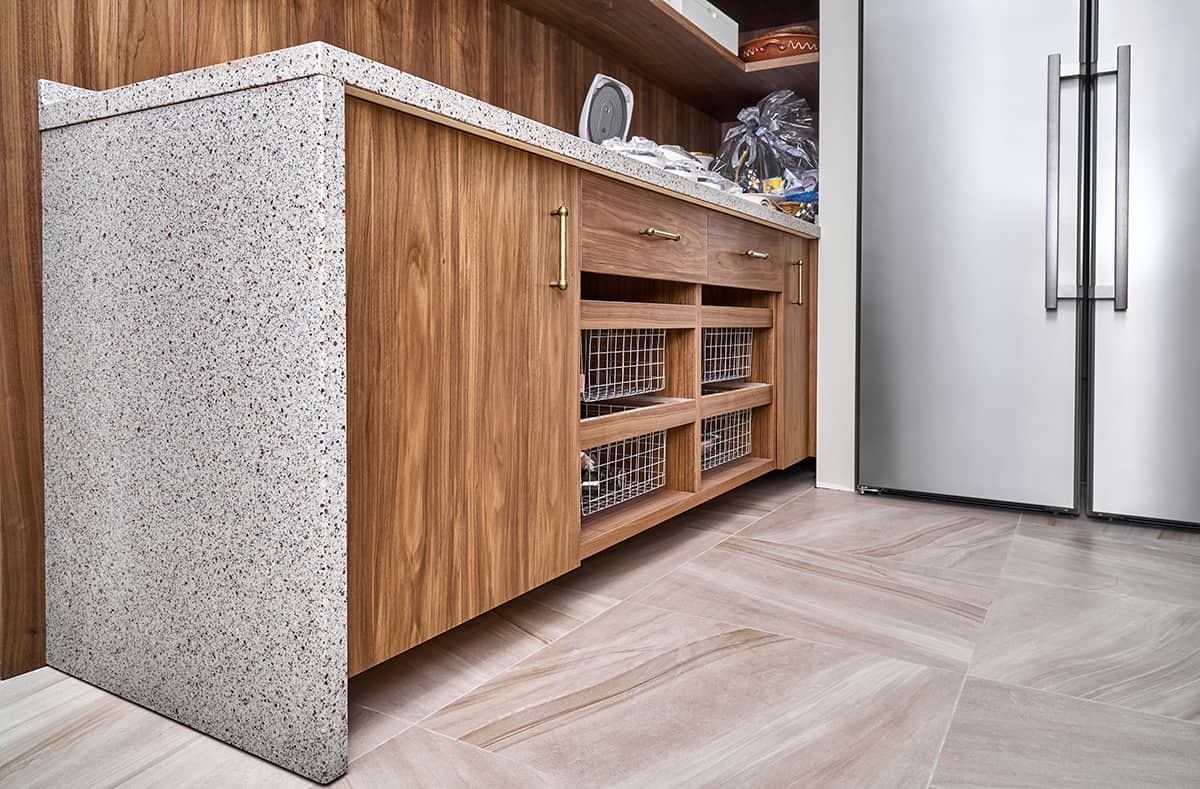 If you prefer stained wood instead, you can always apply a brown lacquer finish to your wooden pantry door to highlight the grain pattern of the natural wood.
A fresh coat of dark brown stain is highly popular in country cottages or traditional style kitchens, as shown here. When it comes to choosing a specific stain color for wood, you have hundreds of options. Wooden pantry doors are very desirable for homeowners and potential buyers as they have a unique natural beauty, which no other material possesses.
A stained wooden pantry door makes your kitchen space inviting. What's more, you can fit this type of door in any kitchen style: from farmhouse and classic to modern or contemporary.
Choose A Warm, Bright Shade of Green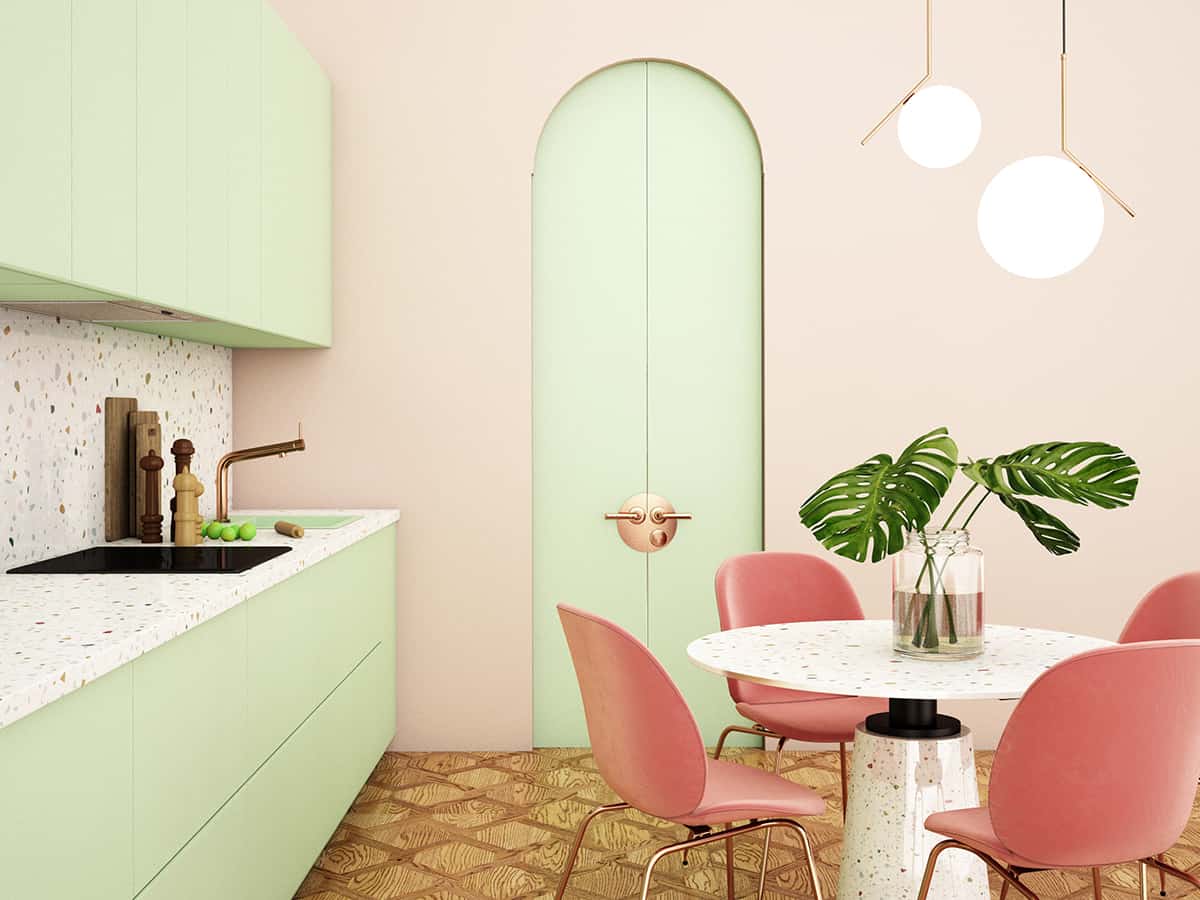 So far, we've talked about neutral and earthy tones, but rather than keeping your pantry door in the background, have you considered filling your kitchen with some bright and warm colors like green?
This color doesn't overwhelm the space, and there are many shades to choose from, including sage, mint, light sea and lime green. This pantry door color is versatile and unique without looking out of place, as you can see in this kitchen design example.
Blue for Statement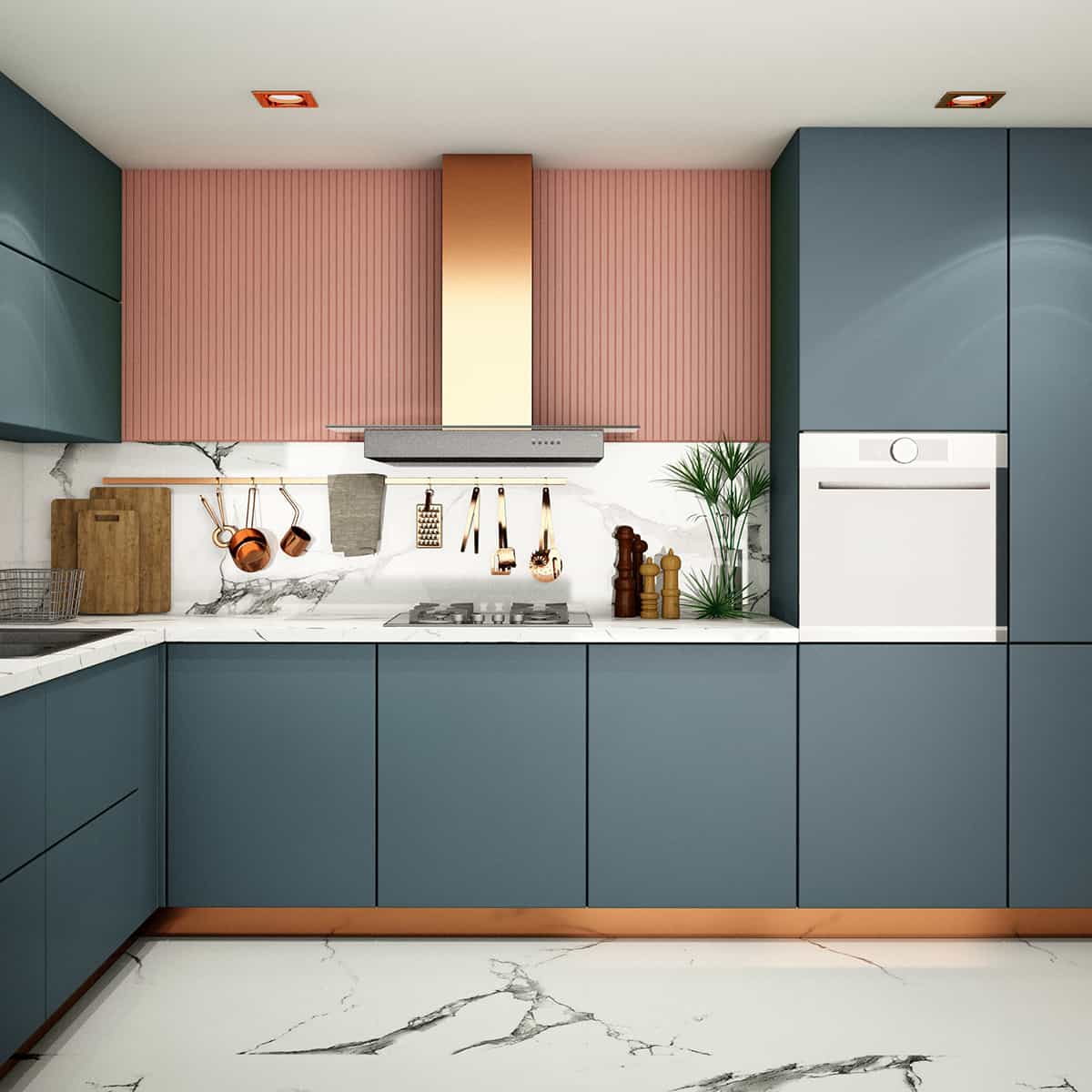 For those who want to make a bigger statement with their pantry door, few colors demand as much attention as a bright blue shade. This vibrant hue can be used sparingly for the pantry door as well as the kitchen cabinet doors to bring a visual flair to your space.
Tone it Down with Coral Pink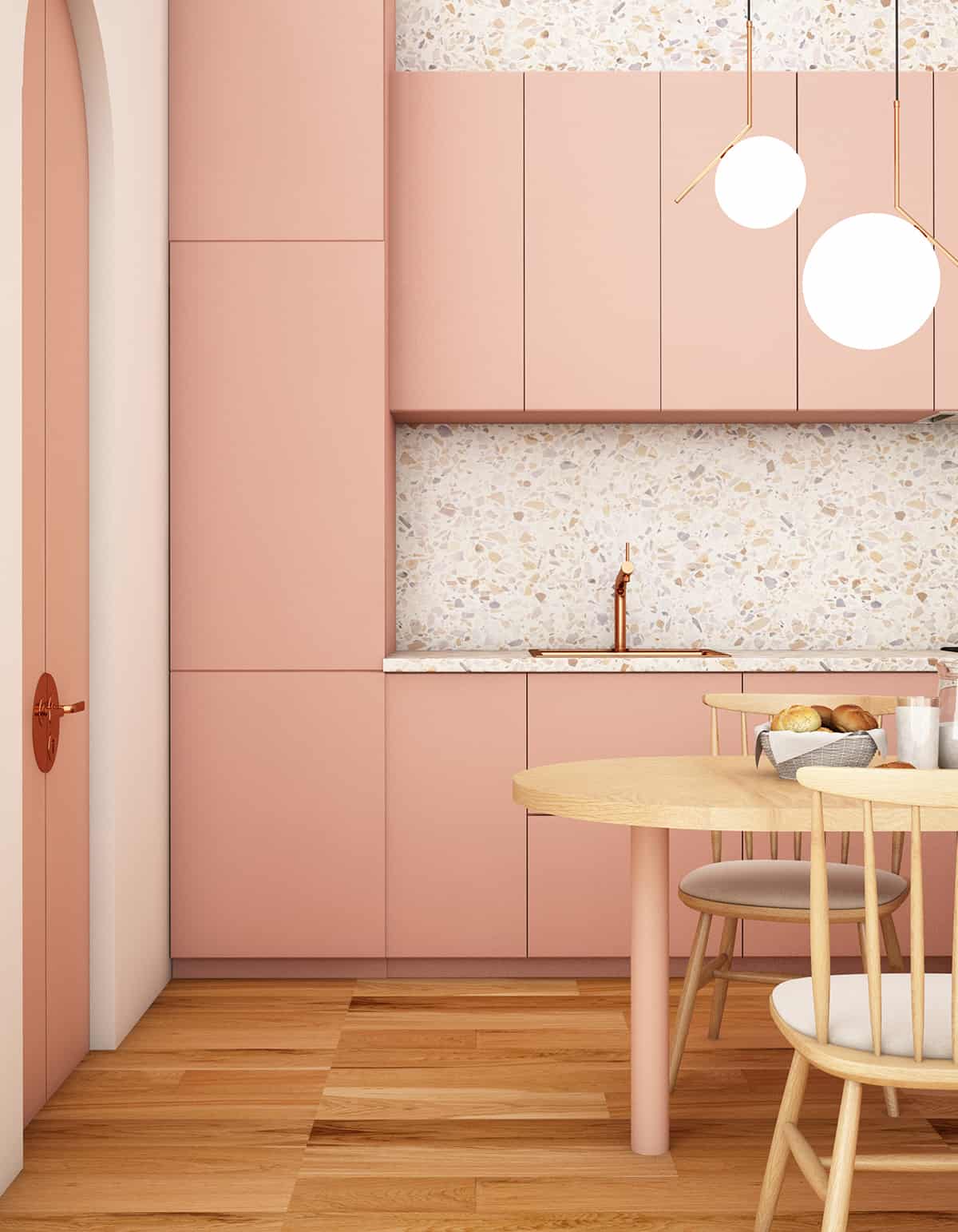 Bolder colors like red or orange are difficult to pull off for a pantry door, but that doesn't mean you can't opt for a light, rosy hue like coral pink. This soft color blends into any modern kitchen design as a warm and inviting palette.
Should My Pantry Have a Door?
Having a door on your pantry is the best way to separate this food storage space from the rest of your kitchen. An aesthetically pleasing pantry door color is a great way to keep this space out of view while not in use.
A doorless pantry door will visually detract from your kitchen space and draws the eye directly to the stored food every time you have guests in your kitchen.
Should I Paint Both Sides Of My Pantry Door?
Yes, you should paint both sides as you're not likely to just look at the exterior portion of the door. By not painting the interior part of the door, it will appear out of touch whenever you open the door. This will result in an unappealing visual that doesn't fit with the rest of the space.
How Do I Spruce Up My Pantry Door?
Food pantry doors can appear a little bland or dull, but there are some excellent ways to spruce up the doorway without spending much money. Here are tips on how to improve your pantry door's aesthetics:
Add character with natural wood: Distressed wood can enhance a pantry room's aesthetics and bring charm to the space. You don't have to buy a wooden door. If you're into DIY, simply piece together thin pieces of distressed wood to create a door for your food storage space.
Hang a small chalkboard on the door: a bland, bare pantry door can be transformed with a small chalkboard. You could jot down a list of your grocery items on the chalkboard, for example. This way, you'll never forget what you want to buy!
Add a trim to the door: crown moldings bring additional visual interest to a pantry door. Even wreaths or decorative accents can be a beautiful trim idea for your bare pantry door.
Mount a wooden shelf or metal hooks: why not increase the functionality of your pantry doorway by mounting metal hooks or wooden shelves? With this idea, you can boost your pantry's storage capacity as well as enhance the aesthetic appeal of the door.
Paint the door a fun color: an exciting and vibrant color is by far the easiest way to spruce up your pantry door. You may choose a bright hue like sunny yellow or turquoise blue for a surprising pop. Painting the pantry door a bold and fun color is sure to put a smile on your family's face every time they come to the kitchen for dinner!
Lighten up the space with a glass-paned door: if you don't want to keep your pantry space completely hidden, consider installing a frosted or translucent glass-paned door. This is an excellent idea to allow some light into the food storage room while still keeping your items out of view.
In Conclusion
Selecting the best pantry door color can be a challenging task if you don't know about your options. Different factors can influence your decision, including your kitchen design scheme and personal preference.
Take note of our best pantry door color examples as they all promote a seamless look – whether you pick a subtle hue or a bold finish.