Garden get-togethers are one of the highlights of warmer weather arriving, whether it be a cozy meal for two at dusk or a sunny afternoon tea party to celebrate a baby shower. Your outdoor table will be one of the focal points of any garden gathering, where guests gravitate to socialize or take the weight off their feet, so take the opportunity to make a real visual feature out of this.
There are many ways you can customize your outdoor table decor to suit your party and determine the type of vibe and atmosphere of your event. From casual, coastal themes to glam and glitzy styles, there are many different ways you can utilize items you already have at home to style your outside space.
Here we explore how to settle on a theme or color scheme, choose a centerpiece, and how use soft furnishings to make your outdoor table decor read as an inviting place where people want to spend more time.
Choose a Color Scheme or Theme
For many people, spring or summer is when we start to sit outside and enjoy alfresco dining, or the beauty of the garden, so outdoor table decor is popularly designed around spring-time colors or floral themes. Depending on your setup, you might want to base your table decor around a theme that is related to your surroundings; for example, a coastal-themed outdoor table decor style can work well at a beach house.
For outdoor table decor at a wedding, you might choose a more romantic theme with soft pastel colors, or for an 18th birthday party, you could choose colors that reflect the personality of the person you are celebrating. Outdoor table decor at a baby shower will commonly be based around a baby pink or baby blue theme if the gender of the upcoming arrival has been revealed.
The key to choosing a theme or color scheme for decorating an outdoor table is to opt for something that is going to reflect the mood and atmosphere you want to achieve.
If the table is being set for a specific event, such as an anniversary party, then a black and gold themed table sets the tone for a glam and glitzy event, while a table that is based on soft, neutral tones indicates that the party is going to be more low key and casual.
Choosing a color scheme and theme helps create an overall tone and makes it easier for you to achieve an aesthetically pleasing table design.
For example, if you are putting together an outdoor table based on a coastal theme, you could choose navy and white striped napkins, a white tablecloth, blue candles, a vase of white flowers, and placemats printed with sailboats on them.
Knowing the color scheme or theme you're aiming for, a design can be easily brought together, even if you have little knowledge of home decor or interior design.
If you aren't confident in making things look visually attractive, opt for a very simple color scheme and style, and carry this throughout the table. For example, choose a white and silver color scheme, and make sure everything on your outdoor table is white or silver. This will look classy and well put together with very little effort or understanding of design.
Add a Centerpiece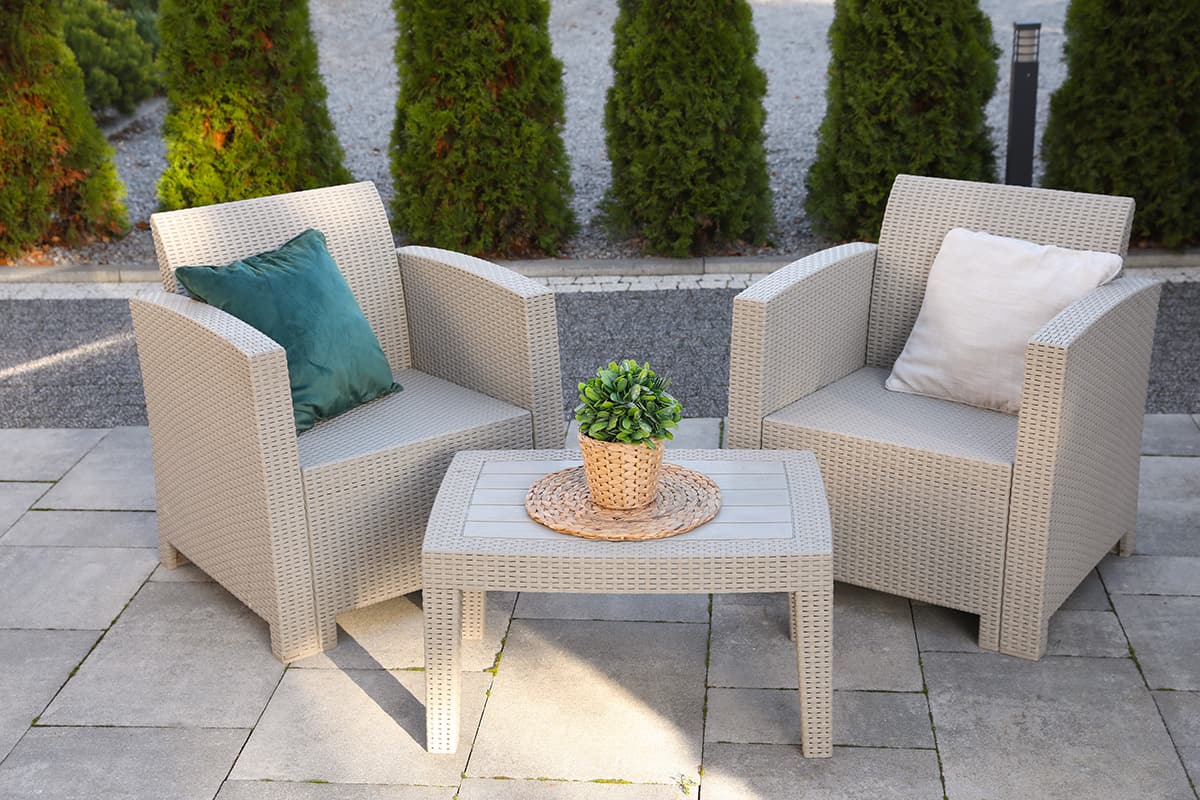 Every well-designed table should have a centerpiece, but it doesn't always have to be expensive or elaborate. A simple glass tumbler filled with water and a few freshly cut flowers from the garden can make a lovely low-key centerpiece, especially on smaller tables where a large centerpiece simply won't fit.
You can also create your own centerpiece using different items you find around the home; for example, a glass fruit bowl filled with seashells would work well for a coastal-themed centerpiece, or for a rustic centerpiece, gather together a few candles and tie them together using long strips of twine.
If you're having a tea party, a well-stocked display of food can double up as the centerpiece, for example, a three-tier serving stand covered with a selection of sandwiches or a cake stand displaying an impressive cake. Another way of creating a last-minute centerpiece is to 'shop' your home.
This means taking a look around your house at your display items on shelves and side tables, gathering together potential items which could make a centerpiece. For example, a pretty kitchen tray with an arrangement of small houseplants on it could work well as a modern, botanical-themed centerpiece, or grab a jug from your cabinets and arrange some freshly cut herbs from your garden in it as an outdoor table centerpiece.
Consider Lighting
Lighting can make or break an atmosphere at a party or gathering of friends, so think carefully about how you plan to illuminate your table. If you are getting together during the day, lighting probably won't be an issue; however, if your celebrations run into the evening then you might find yourselves in a dark garden with no electricity to power lights.
One popular solution is battery-operated string lights which you could hang around your outdoor space for pretty lighting, or opt for solar-operated lights, which will turn on automatically when darkness is sensed.
If your table isn't close to any fences or walls where string lights can be hung, fill a glass vase with string lights and use that as a glowing centerpiece, or simply drape string lights across the table for a more casual style. Candles also work well for a romantic vibe at an outdoor table or use lanterns on the ground for a festival vibe.
Tablecloth or No Tablecloth?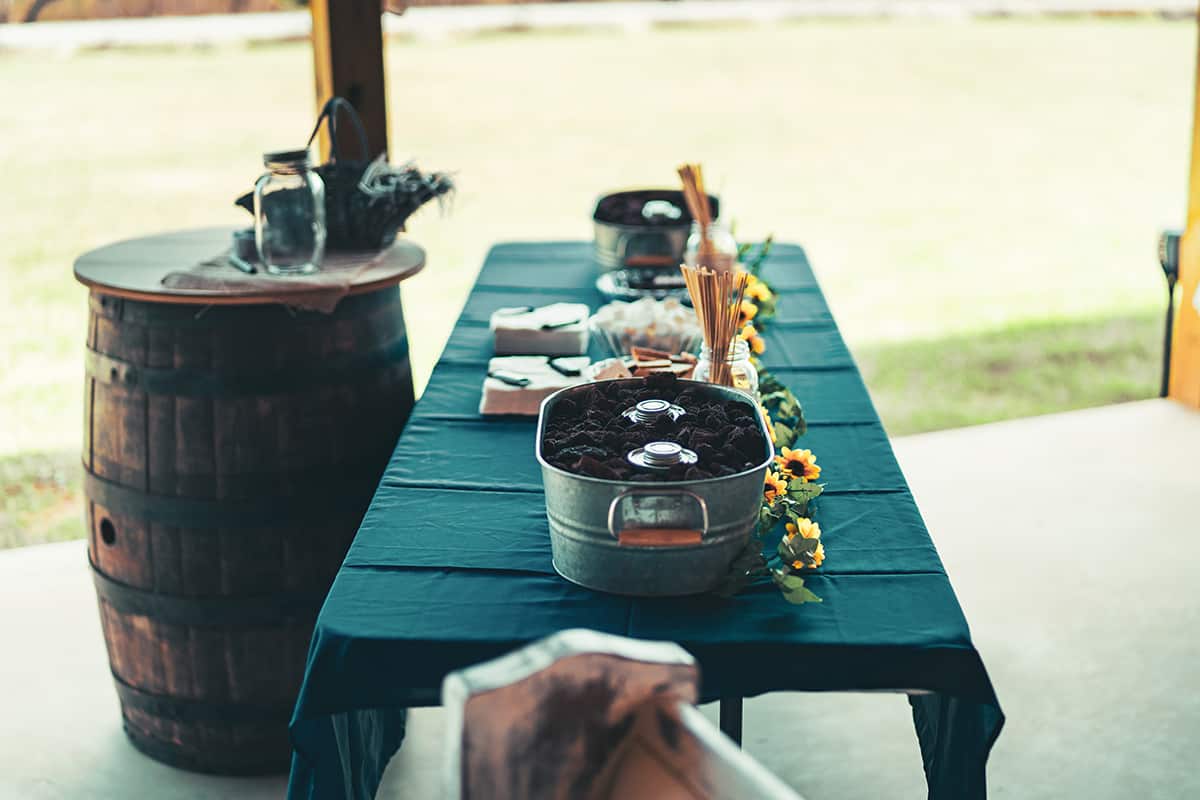 Whether or not you should use a tablecloth on your outdoor table depends on a number of things. Also, different types and colors of tablecloths will add to your decor style or detract from it.
For example, If you are basing your design on a coastal theme and your tablecloth features nautical stripes, it could help create a more put-together look. If the tablecloth detracts from your theme if it is floral, it may be best avoided. Also, consider the state of the table you are dressing.
A fresh white tablecloth can easily disguise a rickety old table that has seen better days; however, if you have a lovely rustic oak outdoor table, you may want to show this off. Practicality will also be a factor. If you want to protect your table from spills or damage, a tablecloth is a good idea.
Add Soft Furnishings
Soft furnishings make any table, indoor or outdoor, look more appealing. They help to create softer and more comfortable energy, enabling people to feel more relaxed and welcomed at the table. Types of soft furnishings you can think about include linen napkins, a tablecloth, a table runner, cushions on the chairs, or blankets thrown over a picnic bench seat.
Soft furnishings also further cement your theme or color scheme, creating more coordination and intention. For example, if your color scheme is pastel pink for a baby shower, you can use pastel pink napkins to coordinate with a pastel pink bouquet of flowers as the centerpiece.
Set the table on a rug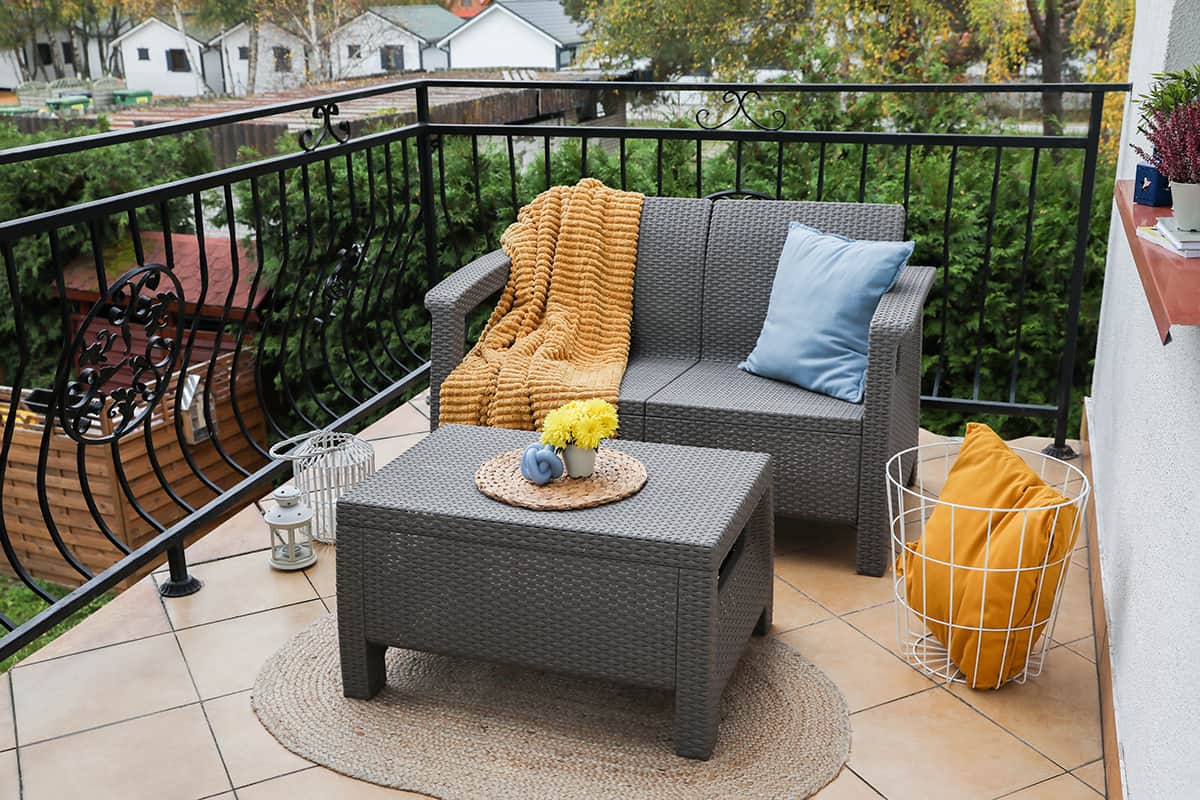 Outdoor rugs are a great item to use to make an outdoor space take on the comfort of an indoor space. Set an outdoor rug beneath your outdoor table to create a softer, more homely look. This can also help to identify the area as the main focal point of the garden by visually separating it from the rest of the space.
Use this opportunity to bring your outdoor decor style together by selecting a rug that coordinates with your color scheme or theme; for example, a natural jute rug will work well with a range of table decor styles, such as boho, rustic, coastal, or nature inspired.
Use Place Settings
Place settings are helpful additions to any table, serving as an indicator of where each person should sit. This can make the people invited to a party feel extra welcome when they see a personalized place setting with their name on it.
It can also help to reduce anxiety for people who aren't sure where to sit, and it means you can avoid potential run-ins among people whose personalities might clash. While place settings serve a practical purpose, they can also be decorative. Add attention to detail to your table decor by implementing personal touches to your place settings.
One idea is to use a small black and white photo of each guest as their place setting, further helping to define a black-and-white color scheme at the table. Alternatively, write each guests name in gold ink at a gold themed table, or stick some dried petals to each place setting at a floral-themed table.