A noodle board is also known as a stove cover because it goes over the top of a stove or cooktop. It is known as a noodle board because it is believed that this item was originally invented as an extra surface in a kitchen upon which sheets of pasta would be rolled and cut into long, slender noodles.
Today people use noodle boards for a variety of things, but the name 'noodle board' has stuck.
Typically, noodle boards have two standard sizes of 28 inches by 20 inches and 30 inches by 22 inches, which correlates to the standard stovetop sizes.
Standard Noodle Board Sizes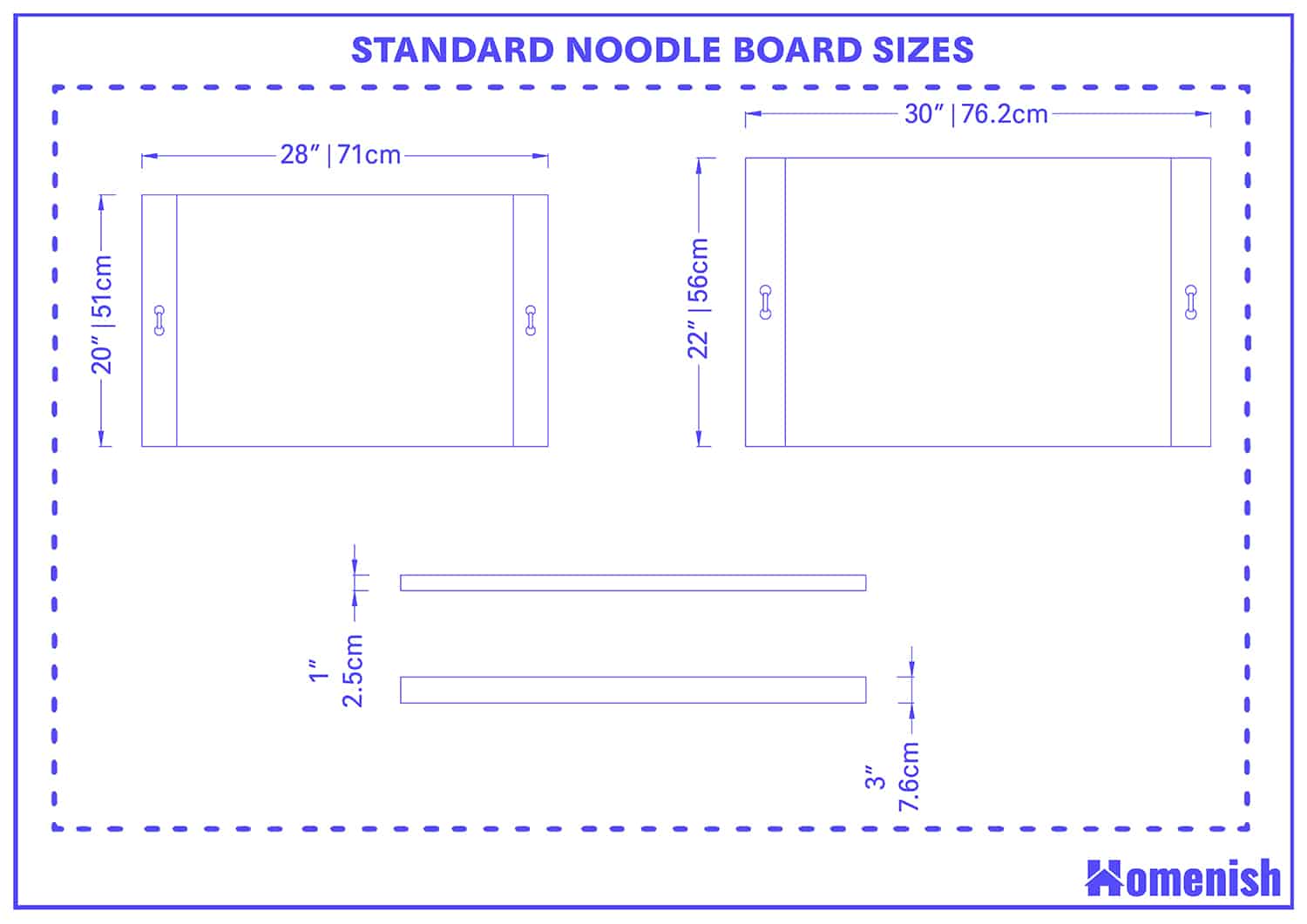 There are two standard sizes of noodle boards that correlate to the two standard sizes of stovetops. The smallest size is 28 inches by 20 inches, and the biggest size is 30 inches by 22 inches. Measure your stovetop before purchasing a noodle board to ensure it is going to be a good fit. Your noodle board should measure almost exactly the same as the surface of your stovetop.
If you have a non-standard-sized stovetop, then look for a manufacturer of noodle boards who will supply custom sizes; these are usually offered by smaller companies and home-run businesses that specialize in woodwork.
The depth of a noodle board will vary between models, but in general, you can expect a noodle board to have a depth of at least one inch and a maximum depth of 3 and a half inches.
Some noodle boards will have a frame around the back edge and the side edges to prevent items from falling off, as well as handles on the side frame so that the board can be easily lifted.
Handles on a noodle board are a nice feature because they make transport of the board more seamless and also mean that the board can easily be used as a tray.
You can also find noodle boards that have frames around the underneath edge of the board so that the main portion of the board is elevated off of the stovetop. This can be a good option for gas stovetops if the surface of it isn't flat, and it will help to protect the stovetop to a greater degree.
Uses and Benefits of a Noodle Board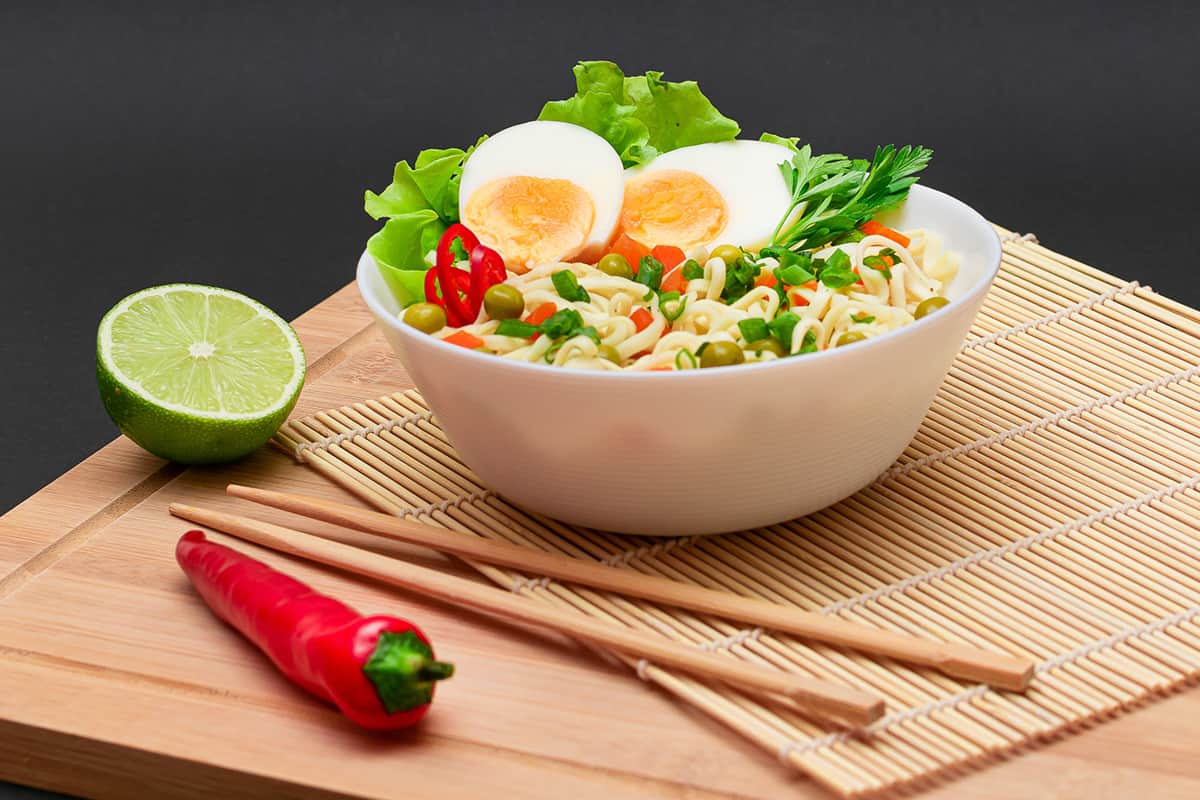 Chopping board
Noodle boards are typically made from thick wood that makes an ideal cutting surface. If you have limited space in your kitchen, then a noodle board works as a great, clear space where you can chop vegetables or prepare meat.
Noodle boards are also wide enough to use a rolling pin in every direction, so they are a great surface for rolling out various types of dough to make pastry, cookies, pizza, or fresh homemade pasta.
Decorative surface
A noodle board transforms a dull-looking stovetop into a decorative surface that can blend in with the rest of your countertops or contrast against them. It also creates a new surface that you can put ornaments or other decorative items on.
For example, you wouldn't set a vase of flowers on your stovetop, but you could position them on a noodle board.
Other things that can be stored on your noodle board include recipe books, houseplants, and cooking equipment. Just be sure to move them well away from the stove when you want to use it.
Extra counter space
The main benefit of a noodle board is the additional space it creates in a kitchen, which you can use in any way you like.
If your noodle board is made from a heat-resistant material, then you could use it as a surface to cool cookies fresh out of the oven or as a place to set down a hot casserole dish while you serve it up onto dinner plates.
In a small kitchen, a stovetop takes up a good chunk of space, and it is only usable when you are actually cooking on it. With a noodle board, this space is transformed into a usable working counter area for any time when your stovetop isn't being used.
This can make all the difference in a kitchen with limited counter space, creating a kitchen that is more pleasurable to cook in or prepare food in, as opposed to one with limited space, which is stressful to use.
Protect stovetop
A noodle board also serves the purpose of protecting a stovetop from potential scratches or dents. If you cover your stovetop with a noodle board every time it is not being used, then it will stay in a good condition for a longer period of time.
You may also have found that if you prepare food on the counters next to your stove that crumbs and other bits of debris find their way onto the stovetop, and you have to clean it even when it hasn't been used.
A noodle board will prevent this from happening by keeping spills, dirt, or stray bits of food from getting onto the stovetop, thereby making sure it stays clean.
Customizable
Noodle boards are commonly customized items that you can have printed or stamped with a design of your choosing. Many people opt to have their family name engraved on the noodle board or something personal to them, like the shape of the state they grew up in. Customizing a noodle board can be a fun way to add extra personality to a kitchen and create a centerpiece in the space.
Tray
A noodle board doubles up as a tray for serving drinks or snacks. You could use it to transport drinks outside to guests during a garden party or use it as a tray to hand nibbles and hors d'oeuvres out on.
Serving platter
A noodle board could also be used as a serving platter on a dining table to display cured meats and cheeses. The large size of a noodle board means it would work well as the centerpiece at a dining table where you allow guests to serve themselves.