The layout of a laundry room needs to be well thought out so that you can make the best use of these spaces that are usually quite small. Focus on functionality and clever storage. Find below 15 amazing laundry room ideas with detailed layouts.
Bright Galley Laundry Room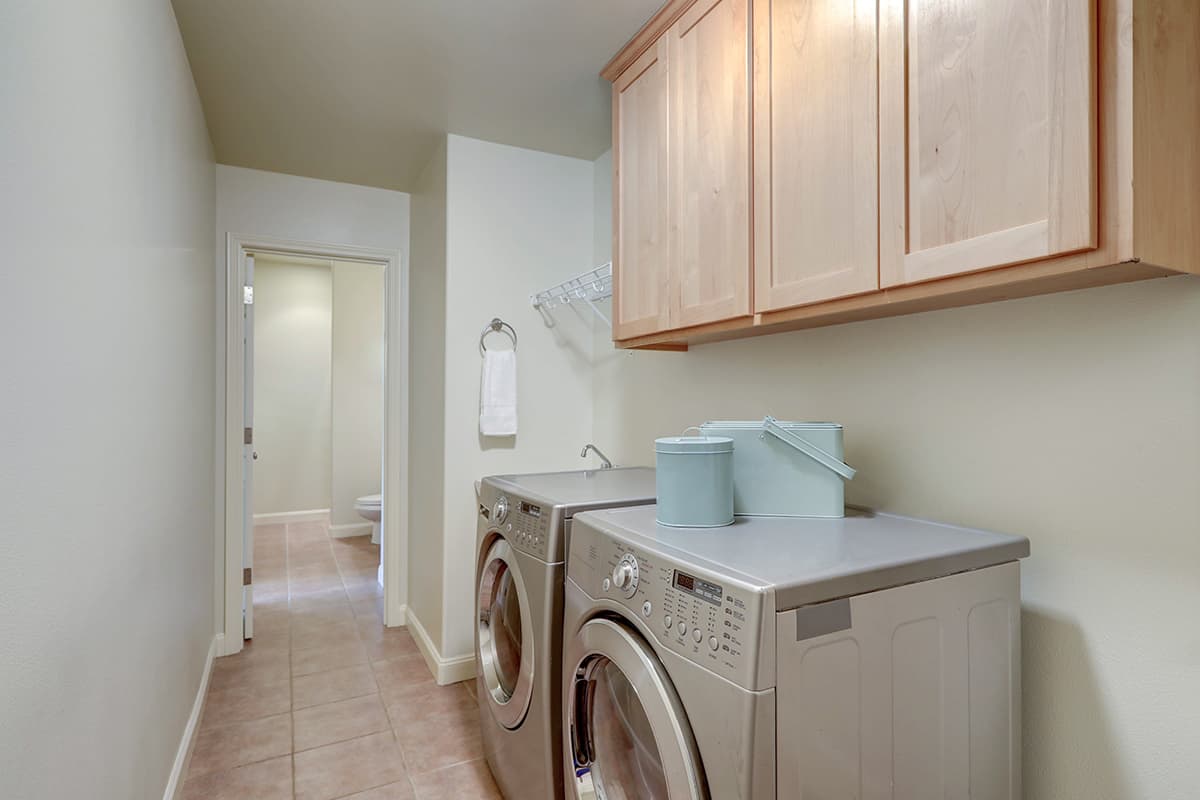 This is a galley laundry room that still feels open and relatively spacious due to the light wall color. The washing machine and dryer are side by side which has created some surface space for storing a laundry basket or detergent.
Wall cabinets are a great use of space above the appliances, which would otherwise be wasted space. These are handy for storing cleaning equipment and keeping such products out of reach of children or pets.
Check out the layout here.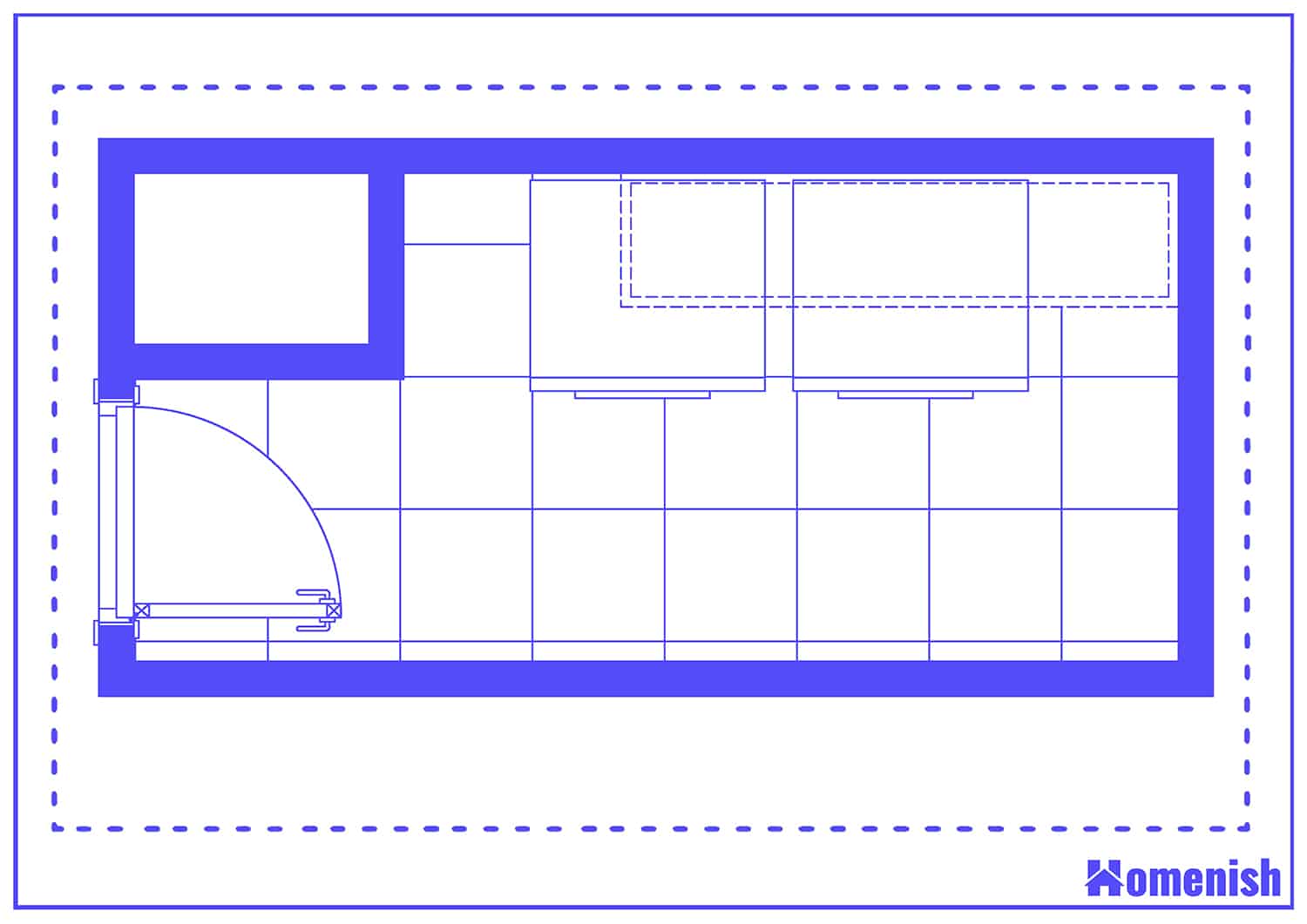 Long Laundry Room with Sink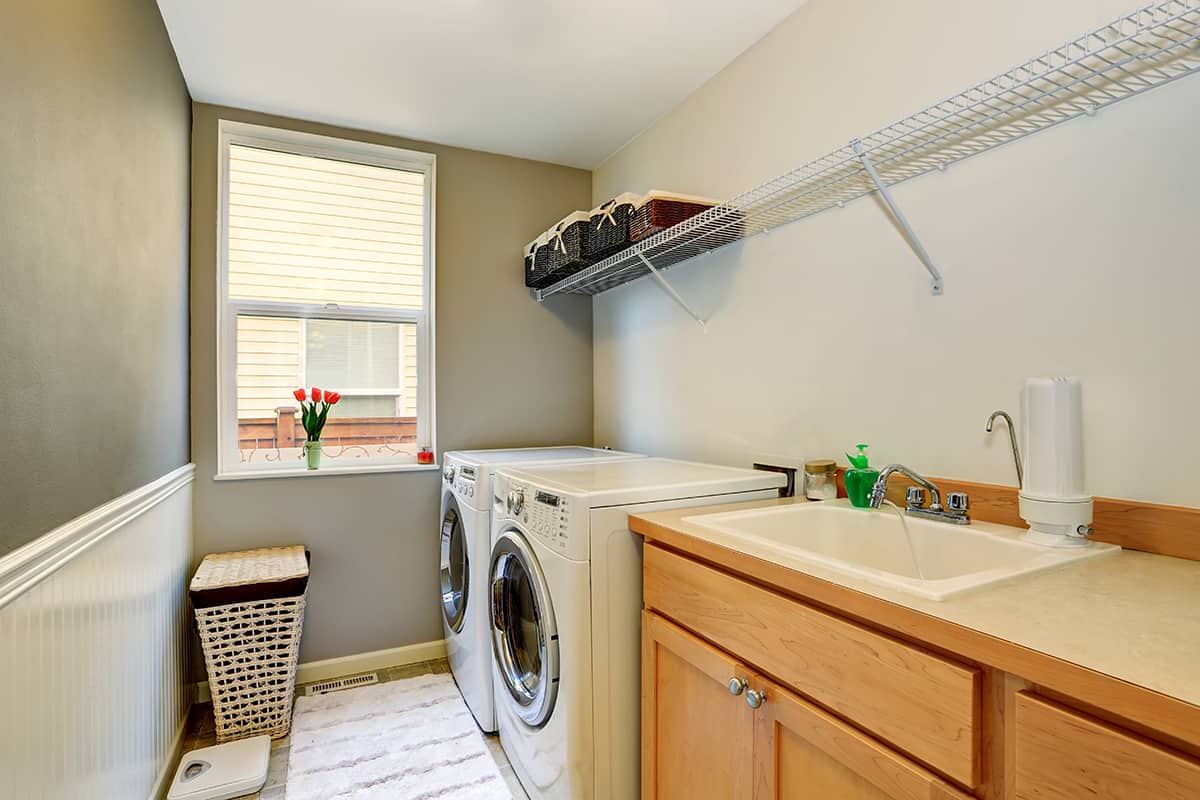 This example of a galley laundry room features a side-by-side washer and dryer, next to a floor cabinets which also encase a sink. A sink is a nice addition to a laundry room for pre-treating heavily soiled laundry or for handwashing.
There is also a long metal shelf on the wall overhead, fixed in place with brackets. This creates additional storage without making the room feel smaller.
Check out the layout here.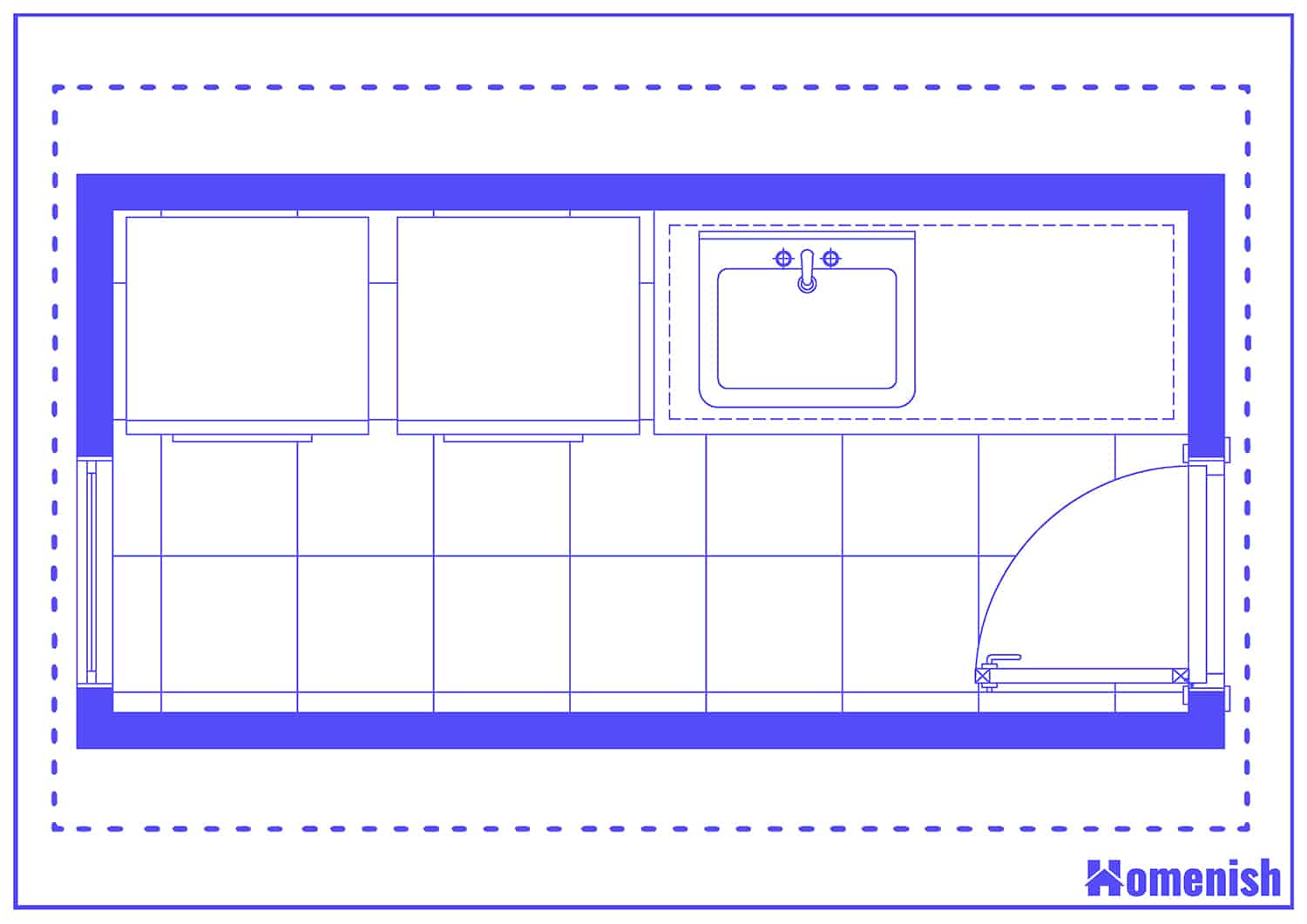 Square Laundry Room with Double Rows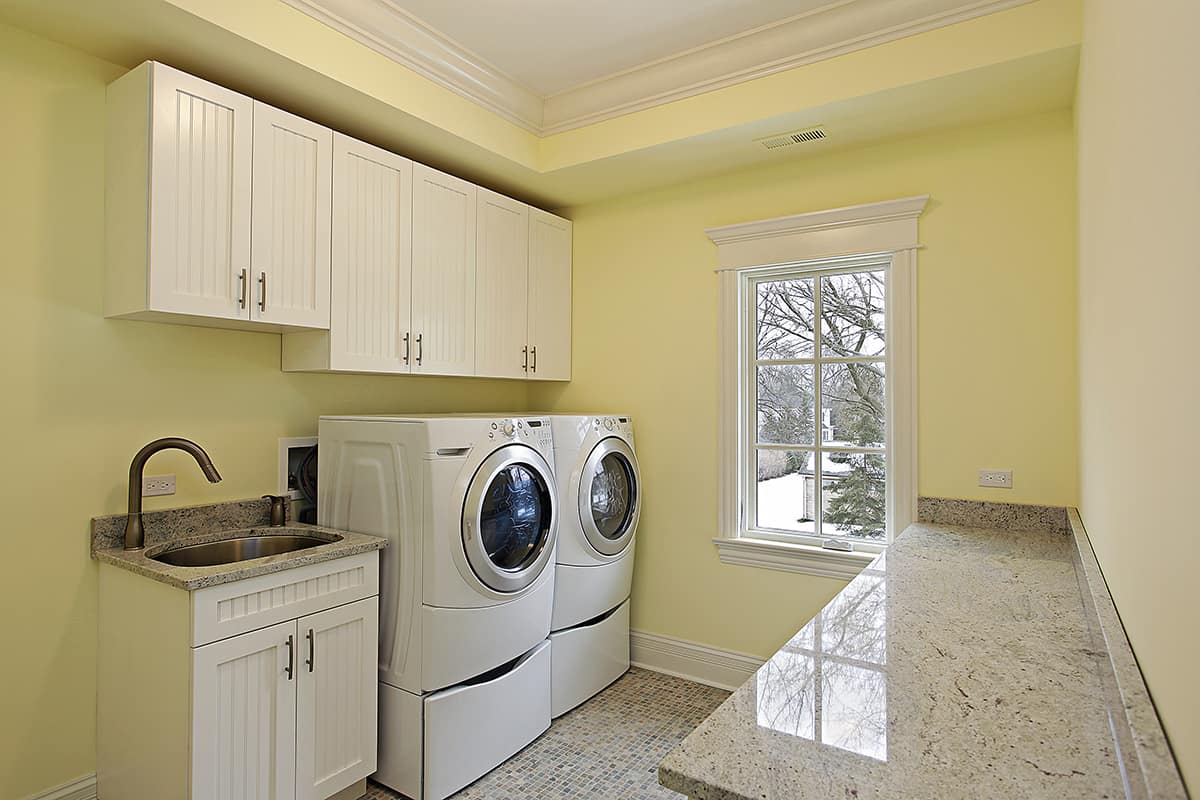 This laundry room has been designed with two rows of functional space and a walkway in between them. One row features front-loading washing appliances, along with a sink unit and wall cabinets for storage. The opposing row is made up of floor cabinets with a countertop on the top, creating plenty of surface space that could be used for sorting or folding laundry.
A horseshoe-shaped layout has had to be avoided in this room because of the low window at one end, though this works well to let in natural light and keep the room feeling open and bright.
Check out the layout here.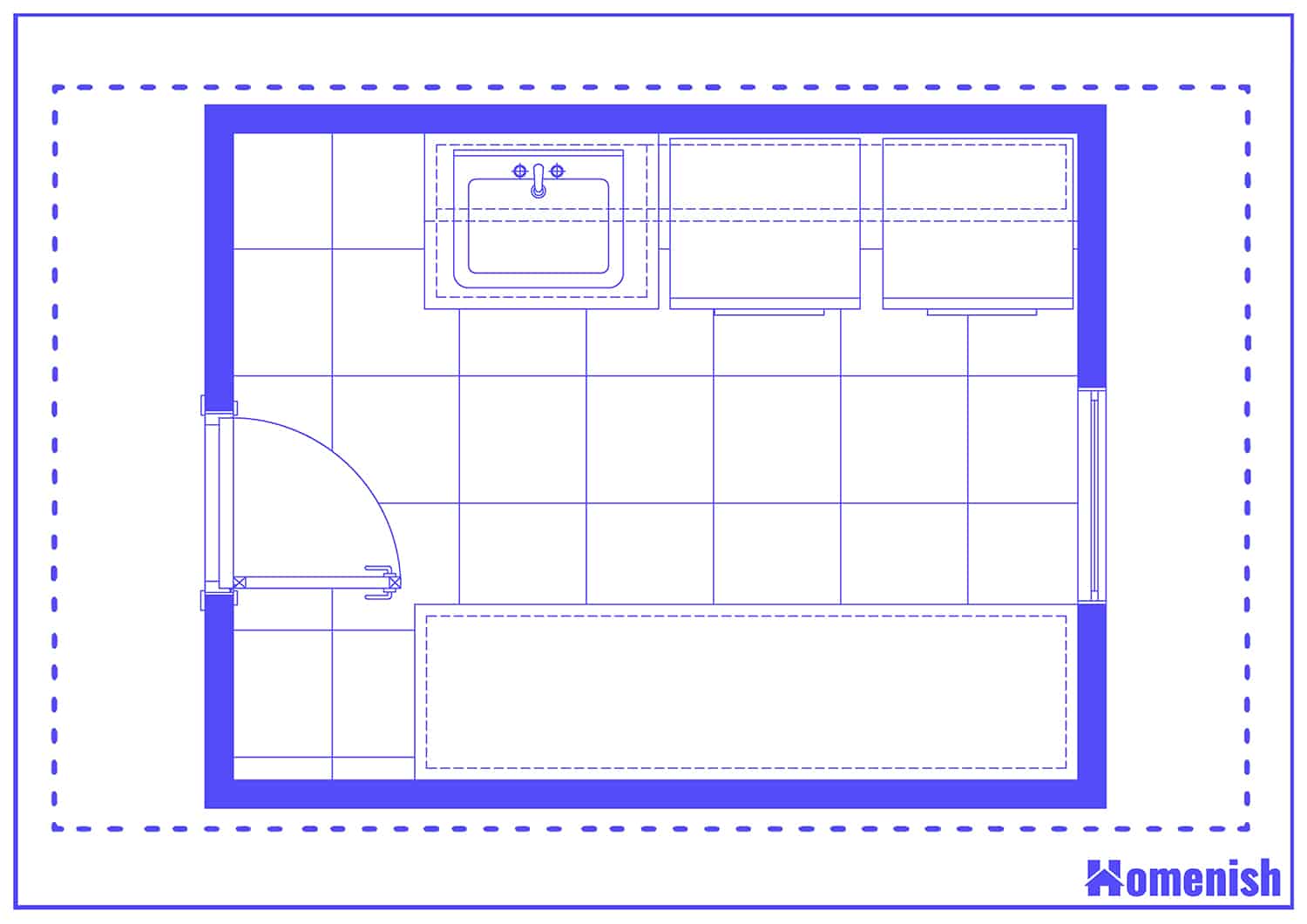 Galley Laundry Room and Back Door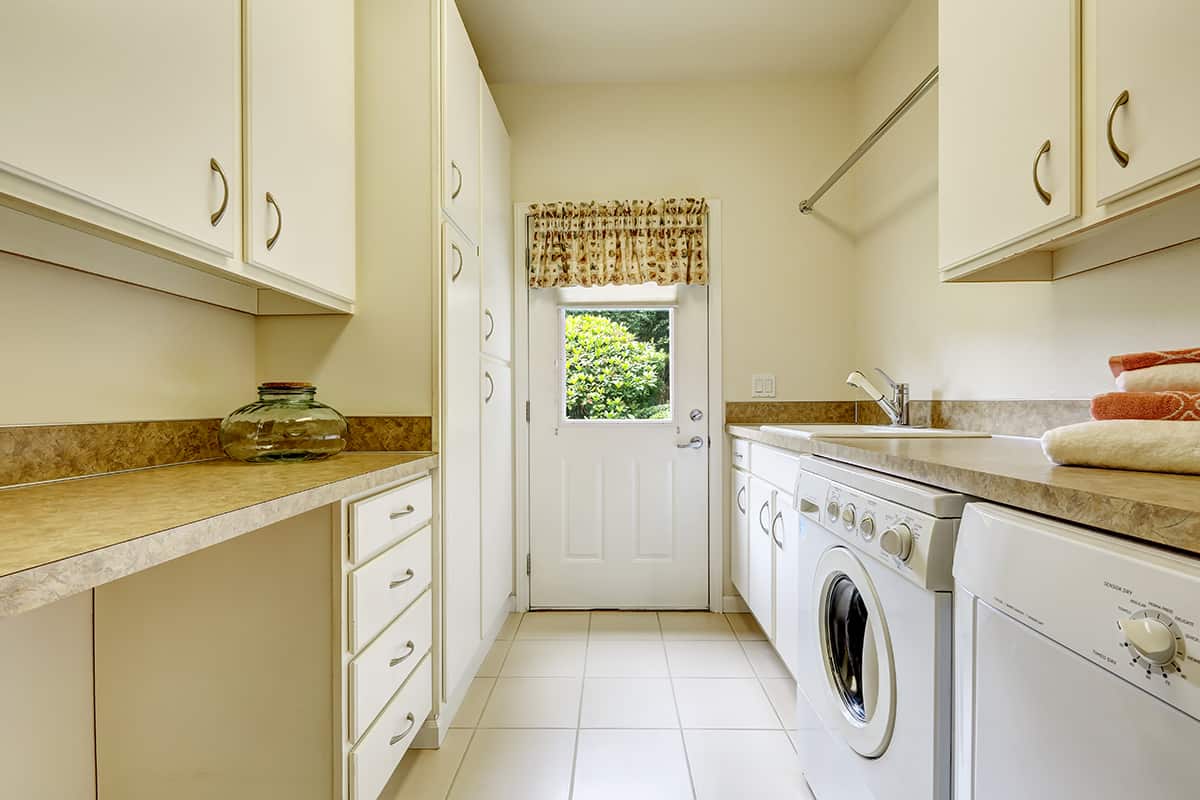 This laundry room has been created next to the back door, making it easy to grab a load of laundry and walk right out into the yard to hang it on the line. The two rows of units on either side of the door leave a central corridor for the user to get access to the outdoors.
There are plenty of drawers and cabinets in this space for an impressive amount of storage, as well as countertop space for folding laundry and a sink and faucet near the back door.
Check out the layout here.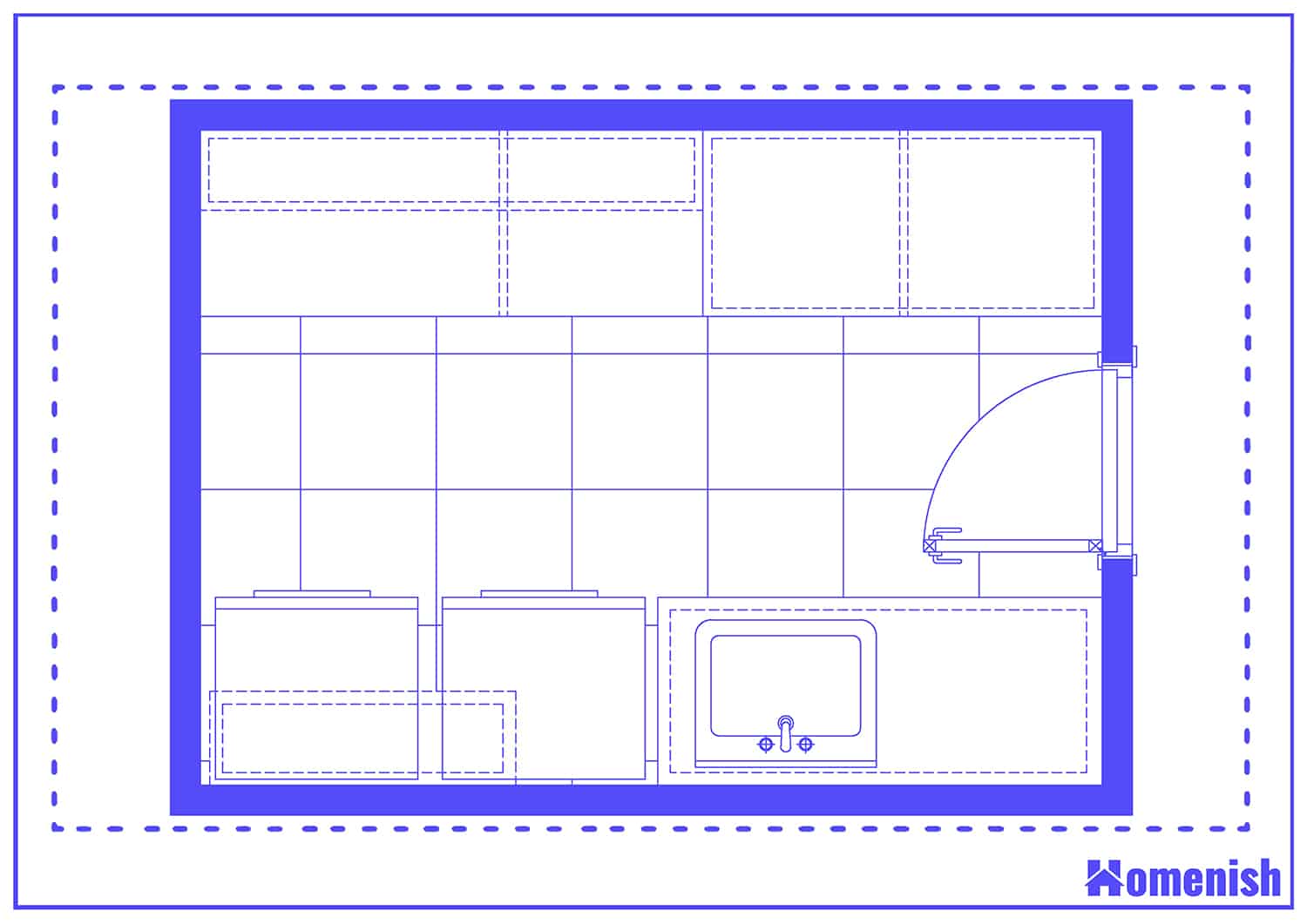 Hallway Laundry Area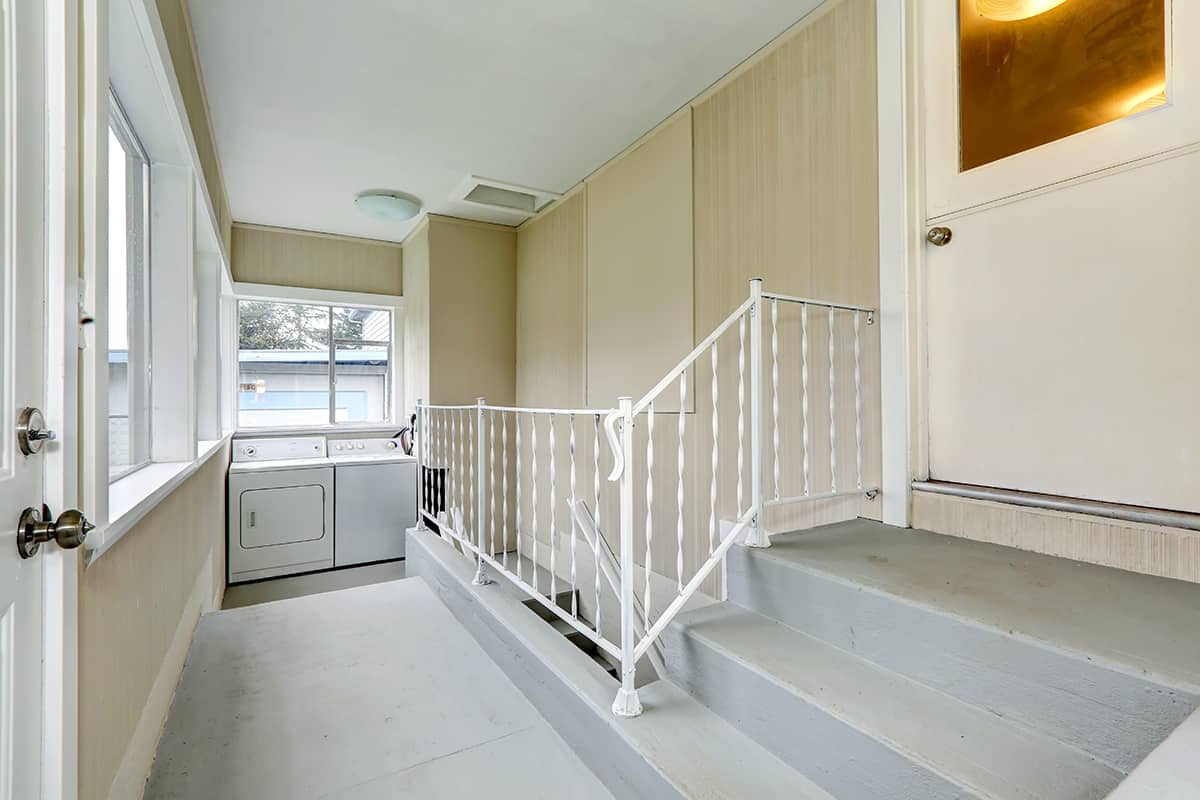 If you haven't got a specific room where you can set up a laundry room, you can instead create a laundry area in any space where you can fit a washing machine and tumble dryer, as long as the space has plumbing and mains electricity to operate the appliances.
Here the laundry area has been created at the end of a hallway between the upper floor and the access to the basement. This layout shows that a laundry room doesn't need a door.
Check out the layout here.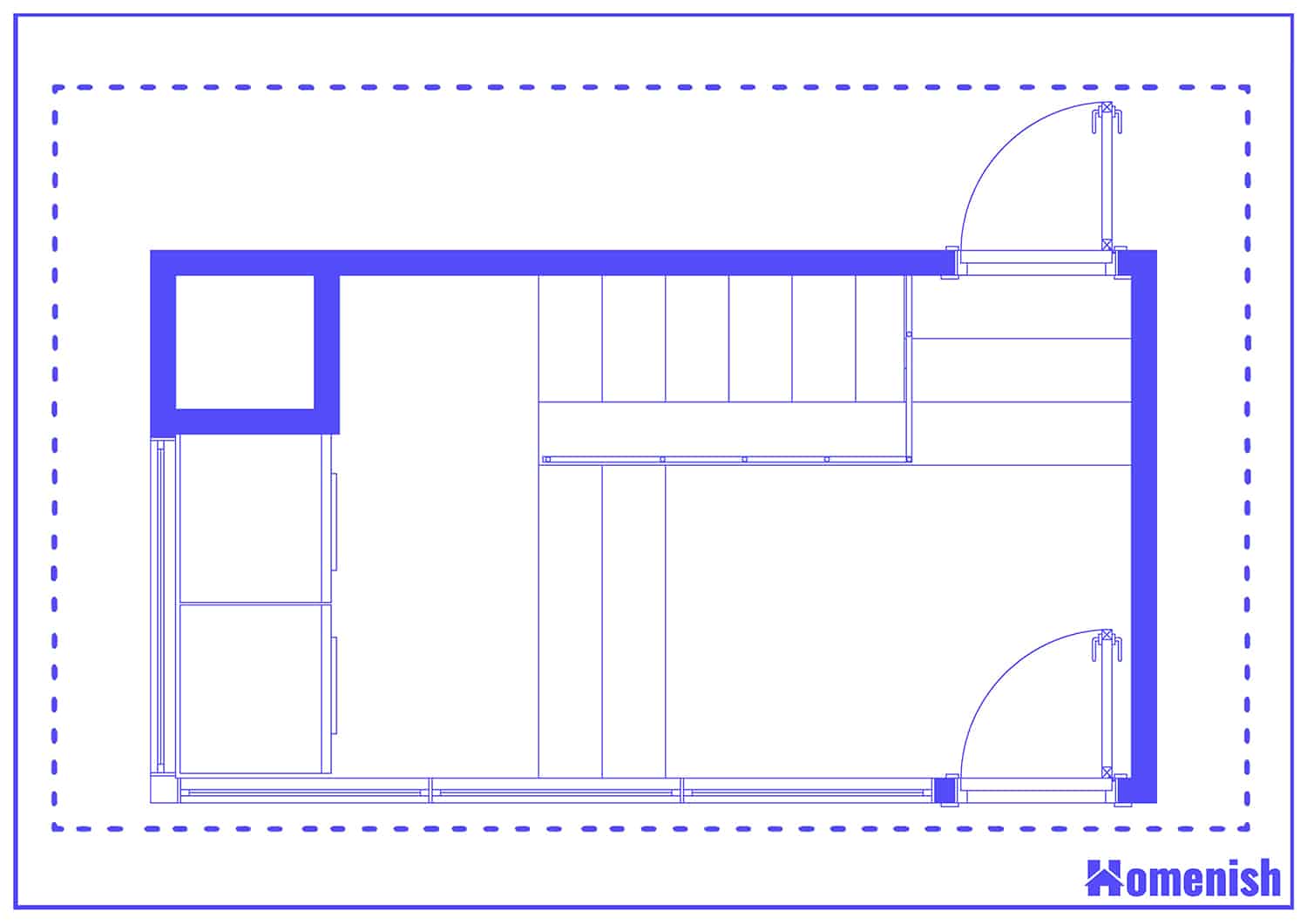 Small and Narrow Laundry Room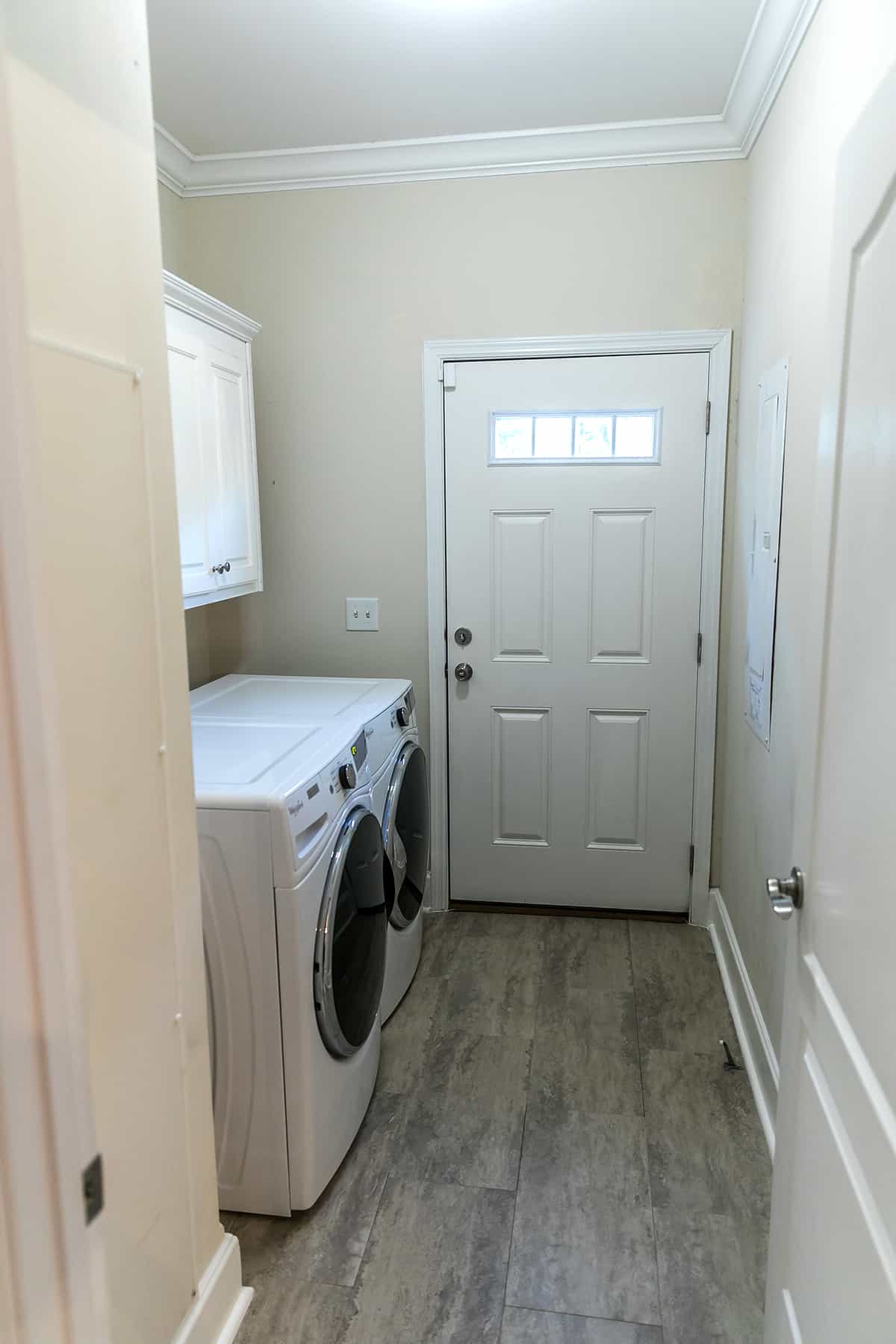 This laundry room is proof that you can create a functional laundry room in even the smallest of areas. This corridor that leads to the back door of a home has been utilized as a laundry room with a washer and dryer next to each other and kitchen cabinets fitted to the wall above.
Check out the layout here.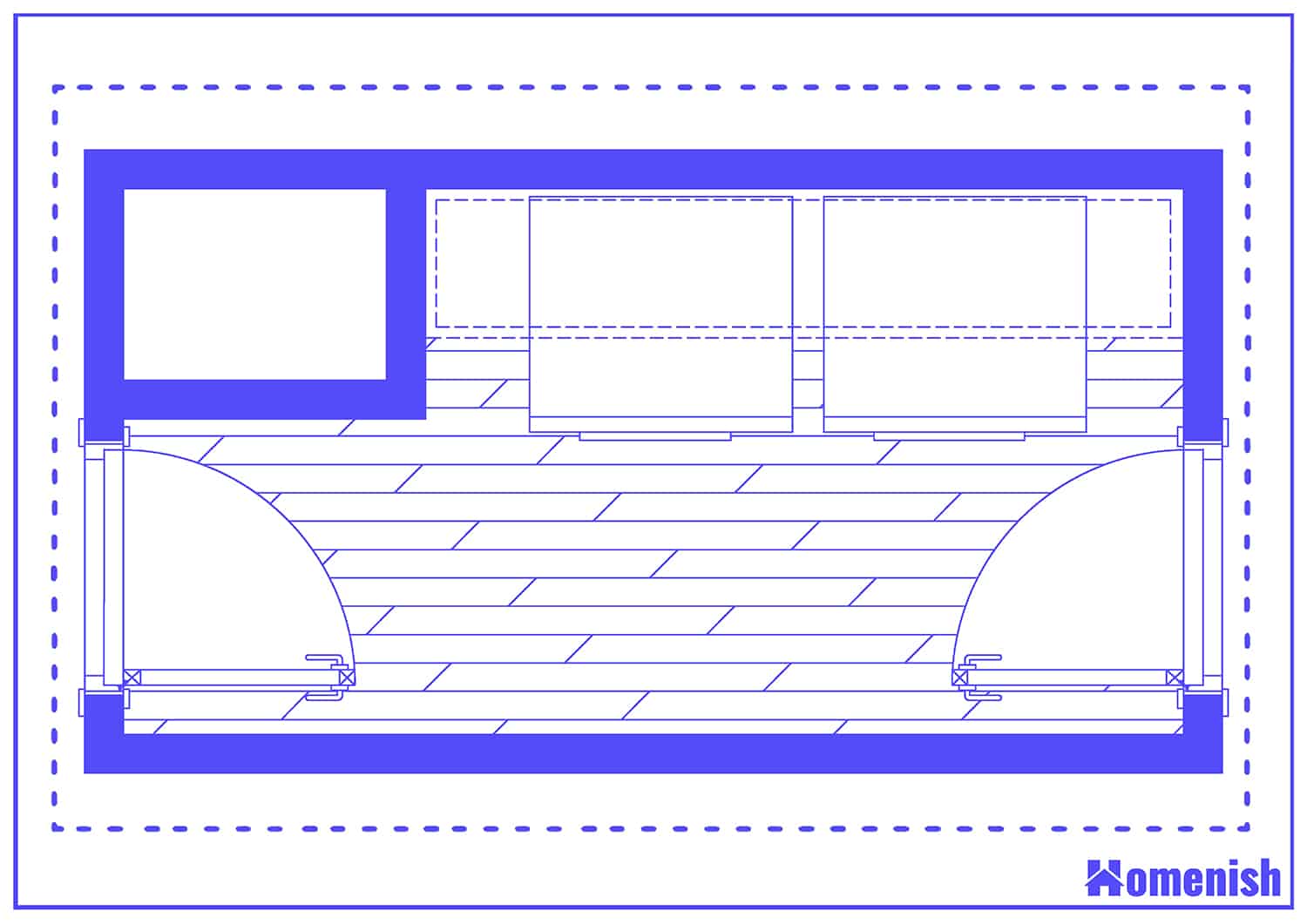 Organized Laundry Room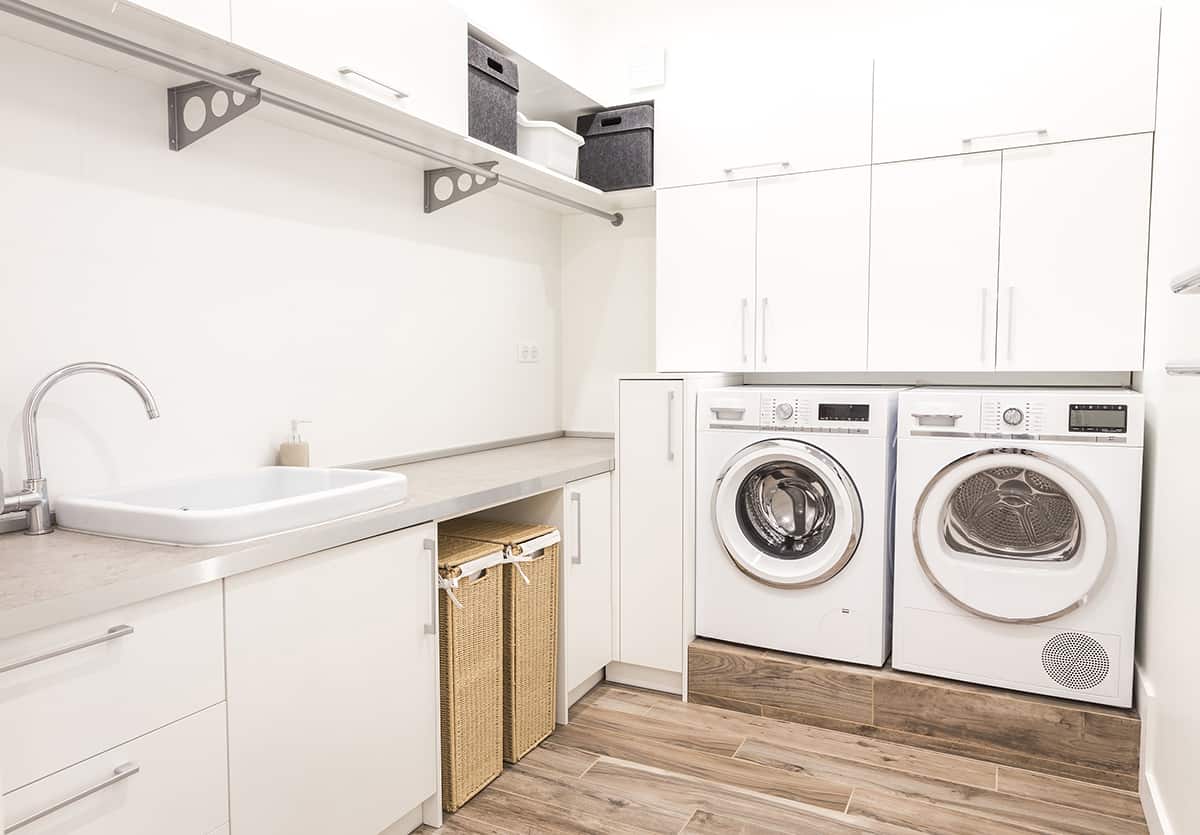 The units and appliances in this laundry room occupy two lengths of the walls to make an L-shape. The front-loading washer and drying have been installed with cabinets directly above them, which creates a clean, custom-integrated look.
There is also a sink area and a countertop space for folding laundry, as well as a clothes rail hanging underneath some wall cabinets to hang shirts. Underneath the countertop is some laundry baskets to keep dirty clothes hidden neatly away.
Check out the layout here.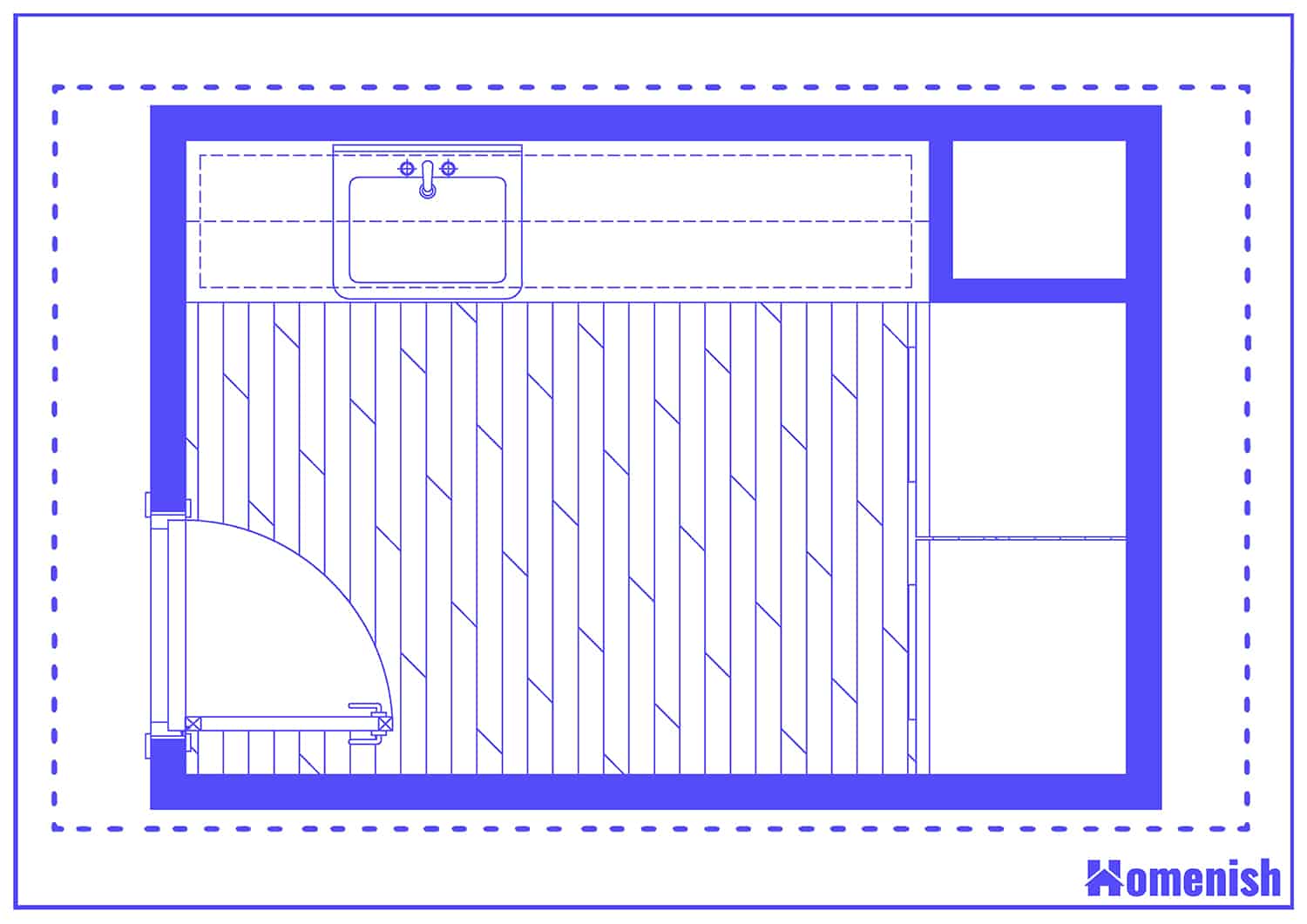 L-shaped Laundry Room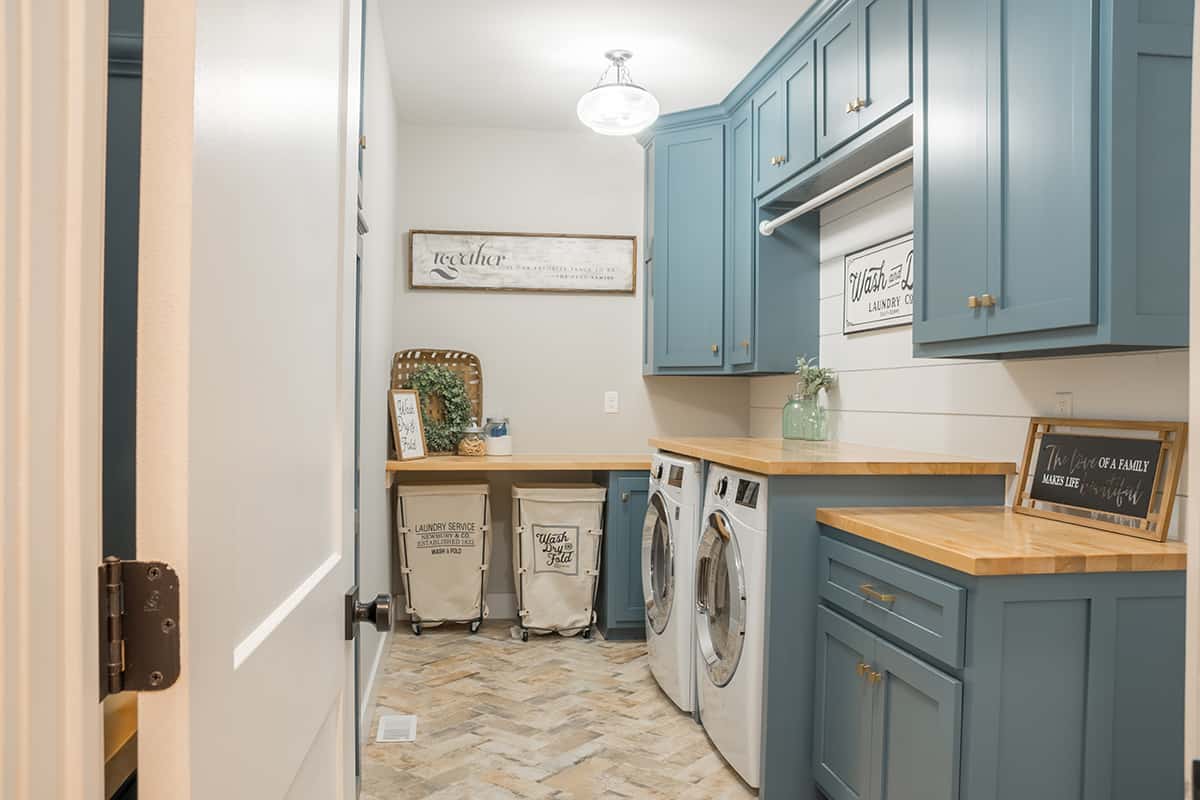 This L-shaped laundry room has been created in a galley space, utilizing the long wall as well as the end wall. A countertop has been fitted on top of the appliances to maximize surface space on the long wall, which also features plenty of cabinets and a hanging rail to hang clothes from.
The end wall benefits from a countertop over a floor cabinet, and a space has been left vacant where two laundry baskets are positioned. The laundry baskets benefit from castors, so they can be pulled out from under the countertop easily.
Check out the layout here.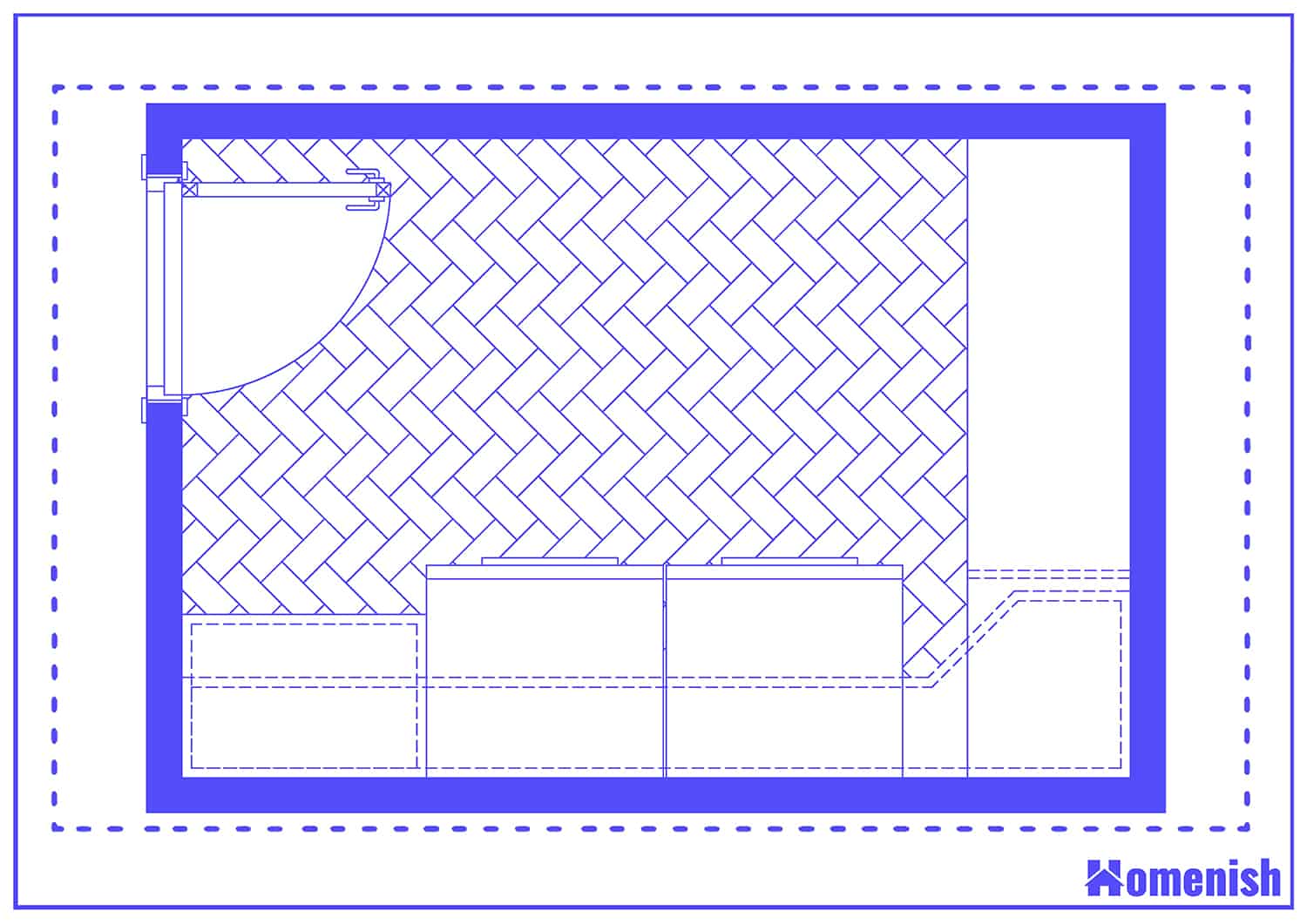 Clever and Compact Laundry Layout
This is a very small space, but the clever use of cabinets means that it is very functional. The washer and dryer are both front loading which means they have been suitable for stacking on top of each other to take up less floor space.
The small space remaining at the side of the appliances has been made into a narrow cupboard which is ideal for storing tall items like an ironing board or a mop. The two walls of storage feature drawers, open shelves, baskets, and cabinets for a wide choice of storage options.
Check out the layout here.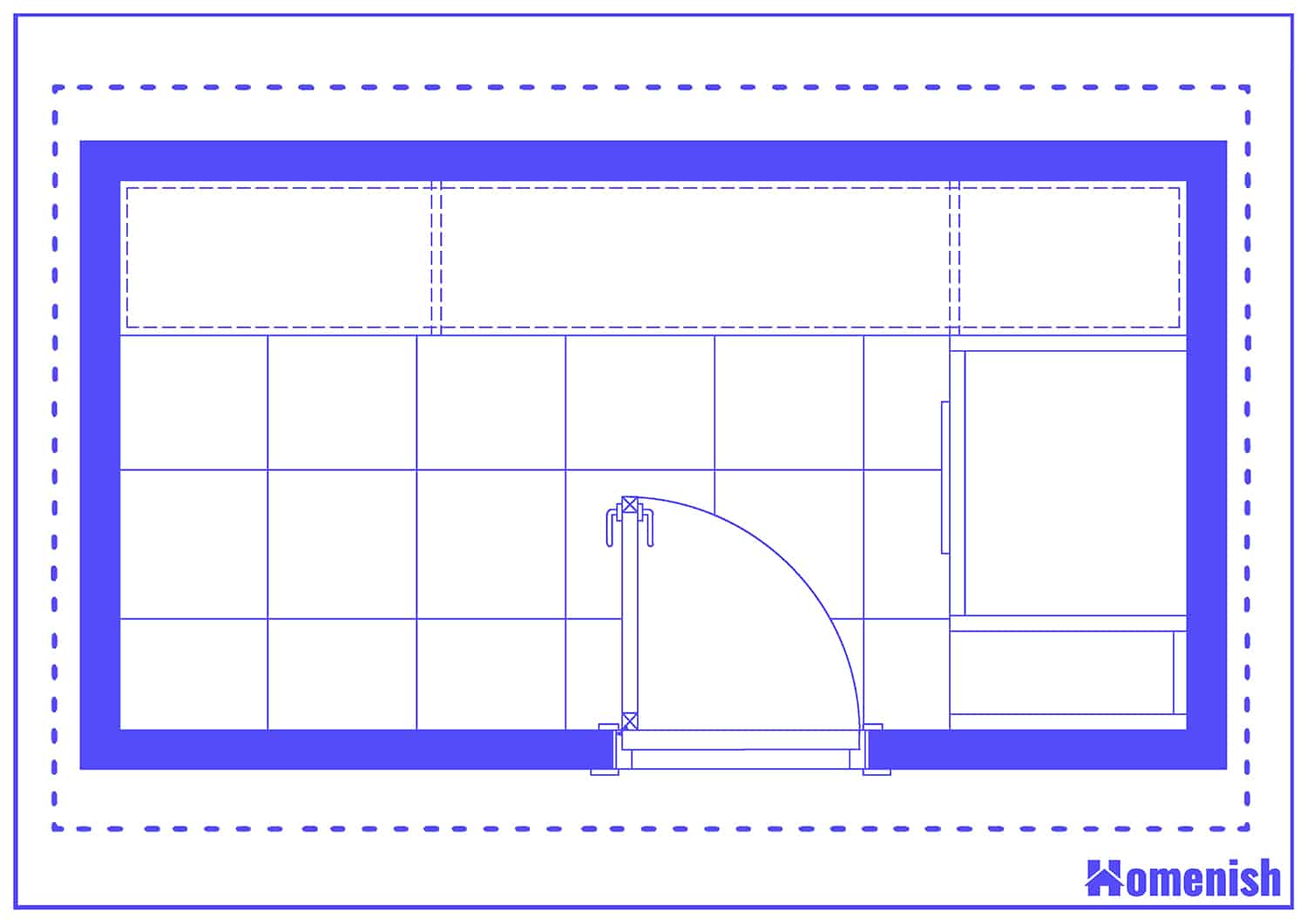 Square Laundry Room Layout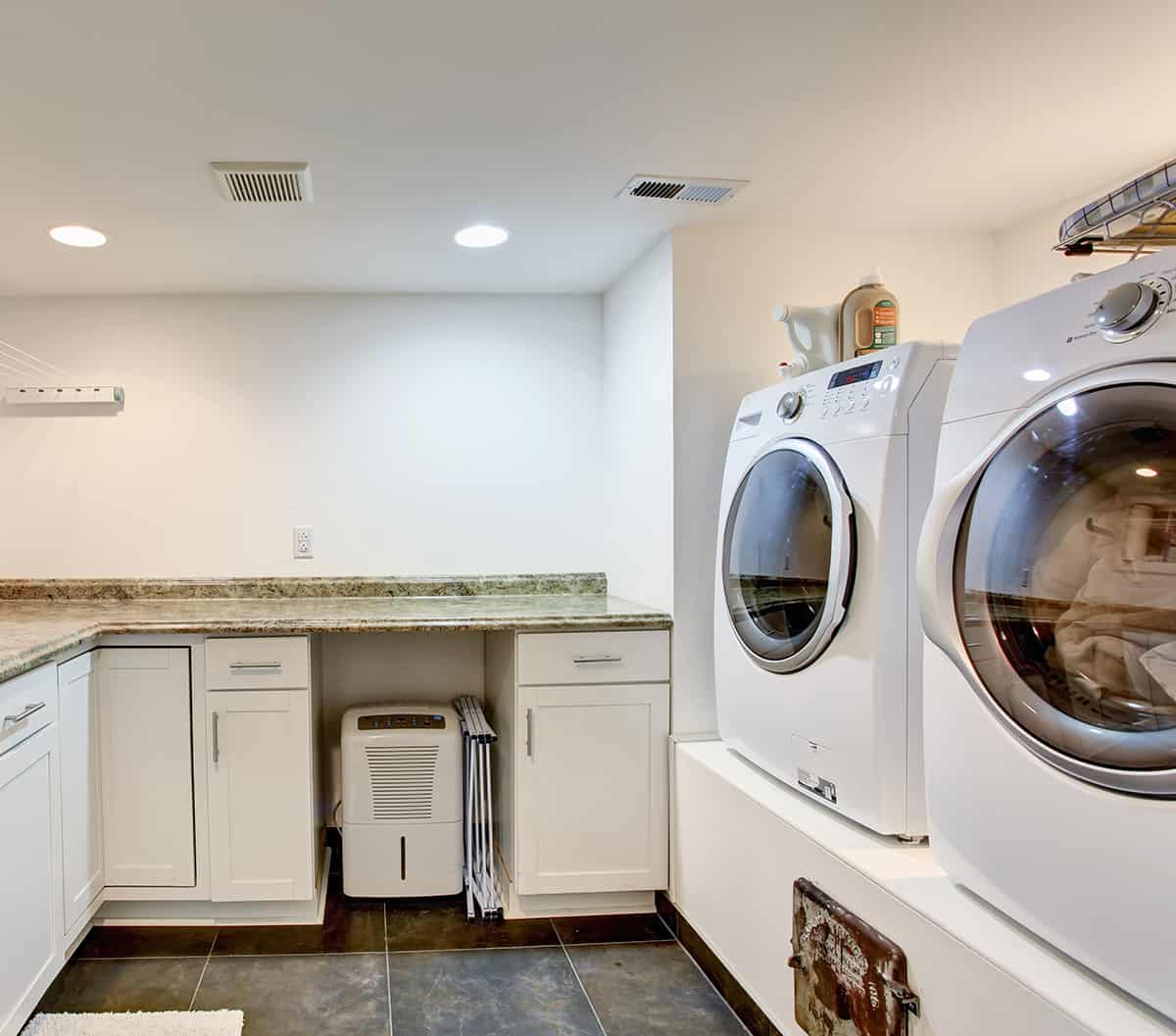 This square space benefits from three walls of units to create a U-shaped layout. The washer and dryer occupy one wall, while the two remaining walls feature base cabinets for storage, with a countertop for plenty of work surface space. A clothesline has been fitted to the wall over the countertops where clothes can be hung to dry.
Check out the layout here.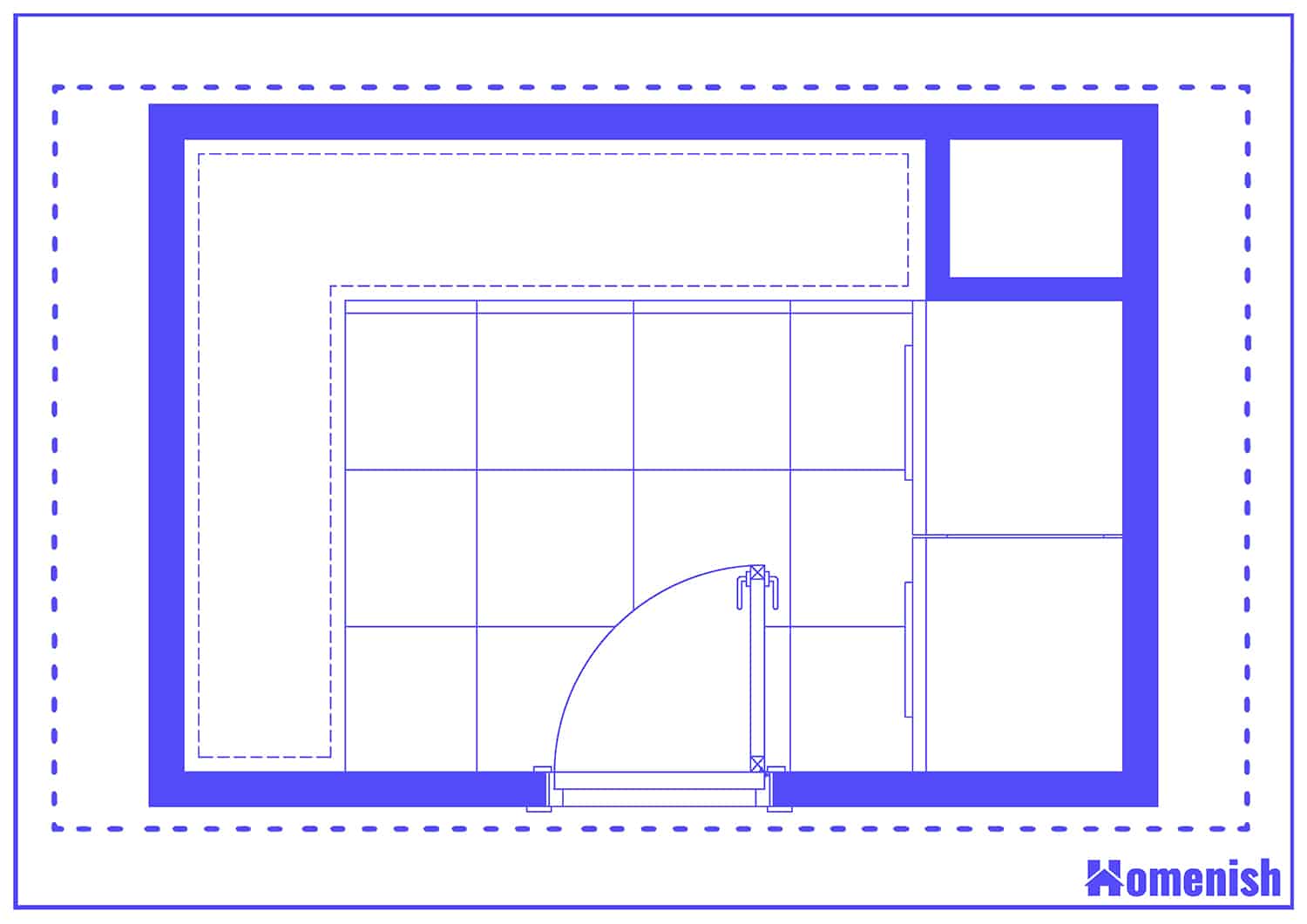 Open Plan Kitchen and Laundry Room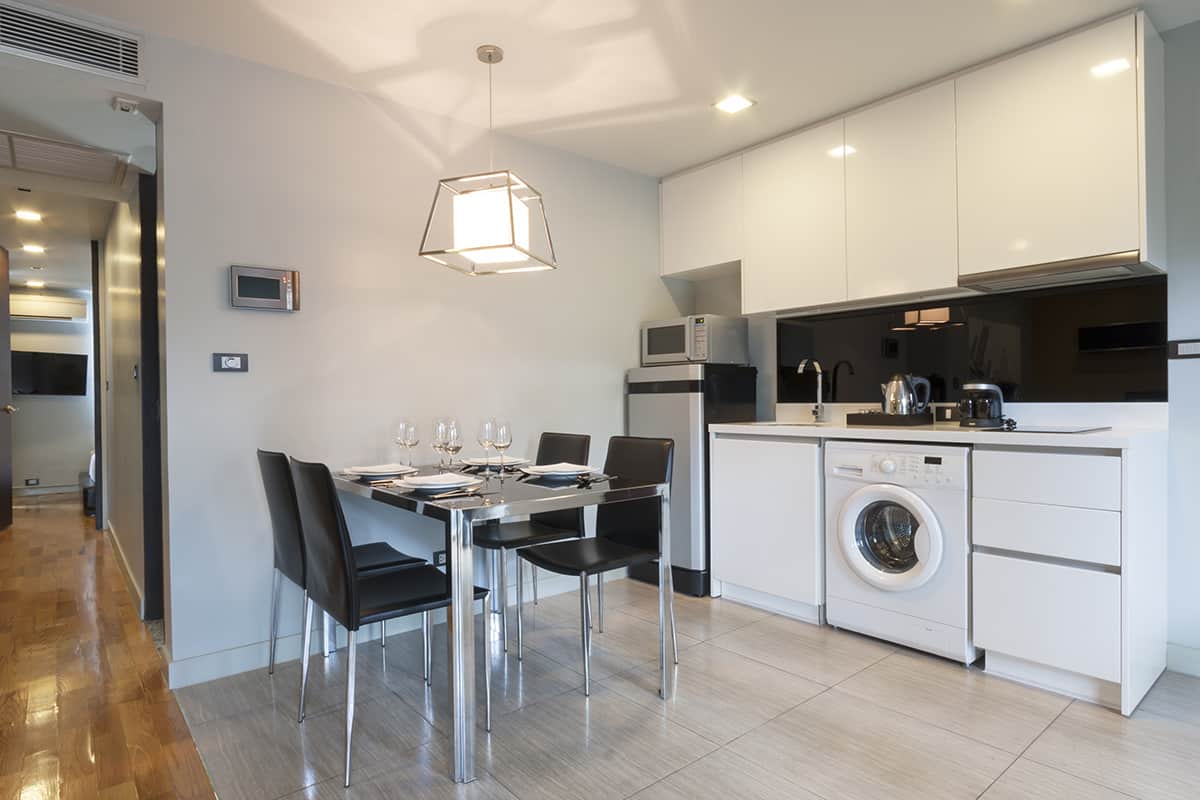 In homes where a separate laundry room is not possible, you can combine it with the kitchen. In this instance, one room is used for an open plan kitchen, dining room, and laundry space. The washing machine is built into the wall of cabinets, which helps it to blend in.
Check out the layout here.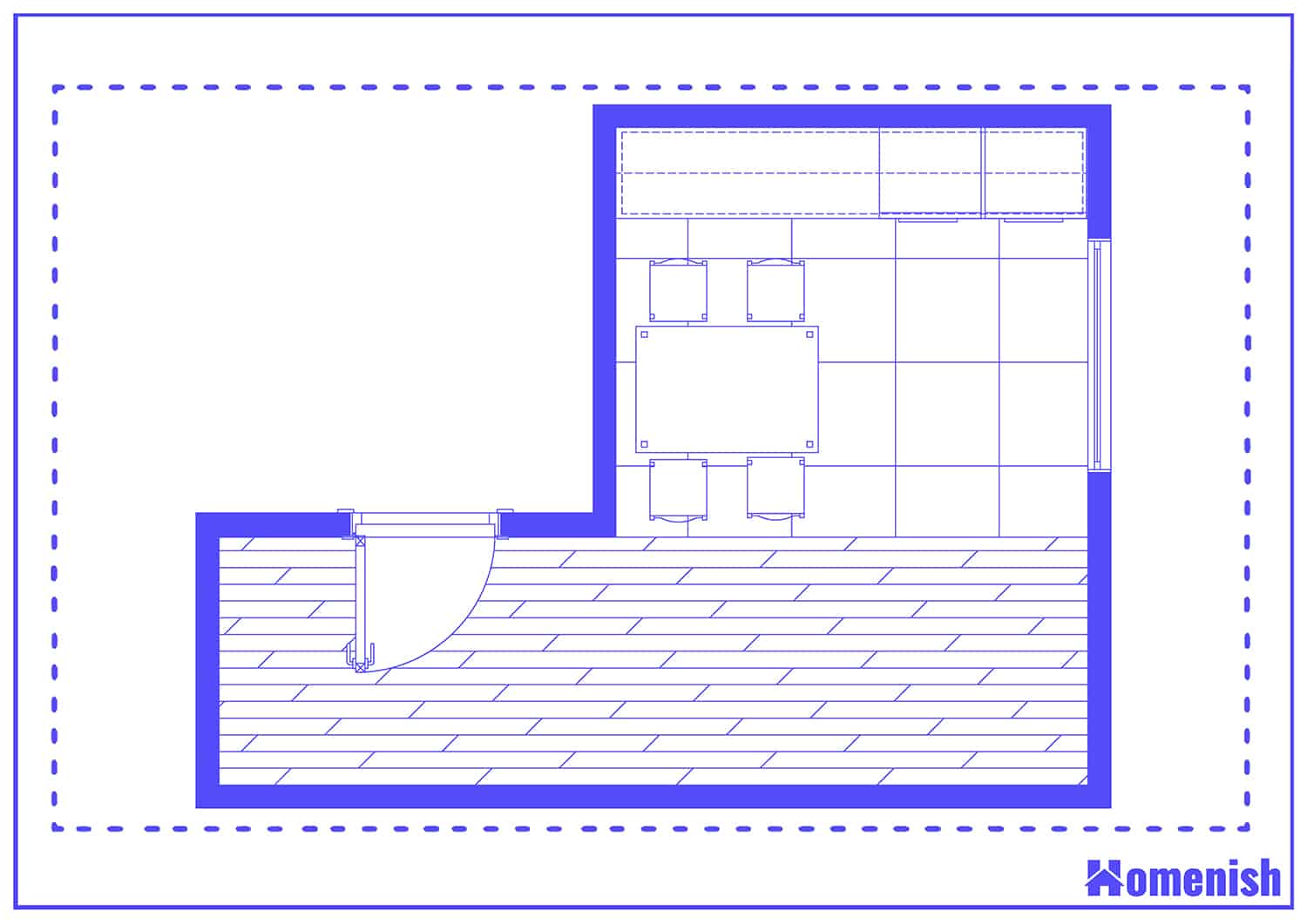 Kitchen with Laundry Area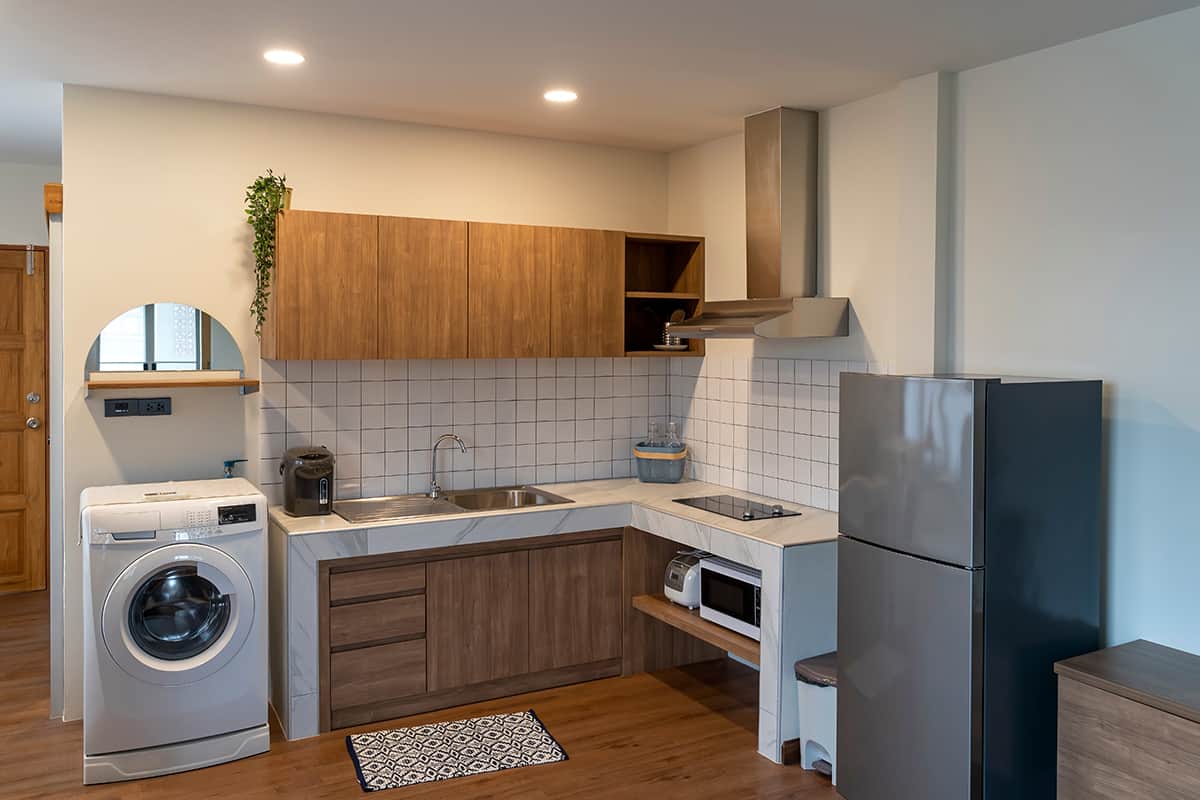 This L-shaped kitchen has the addition of a washing machine at one end, which is front loading so that the top of the machine can be used as surface space for storing detergent or for sorting out laundry.
Check out the layout here.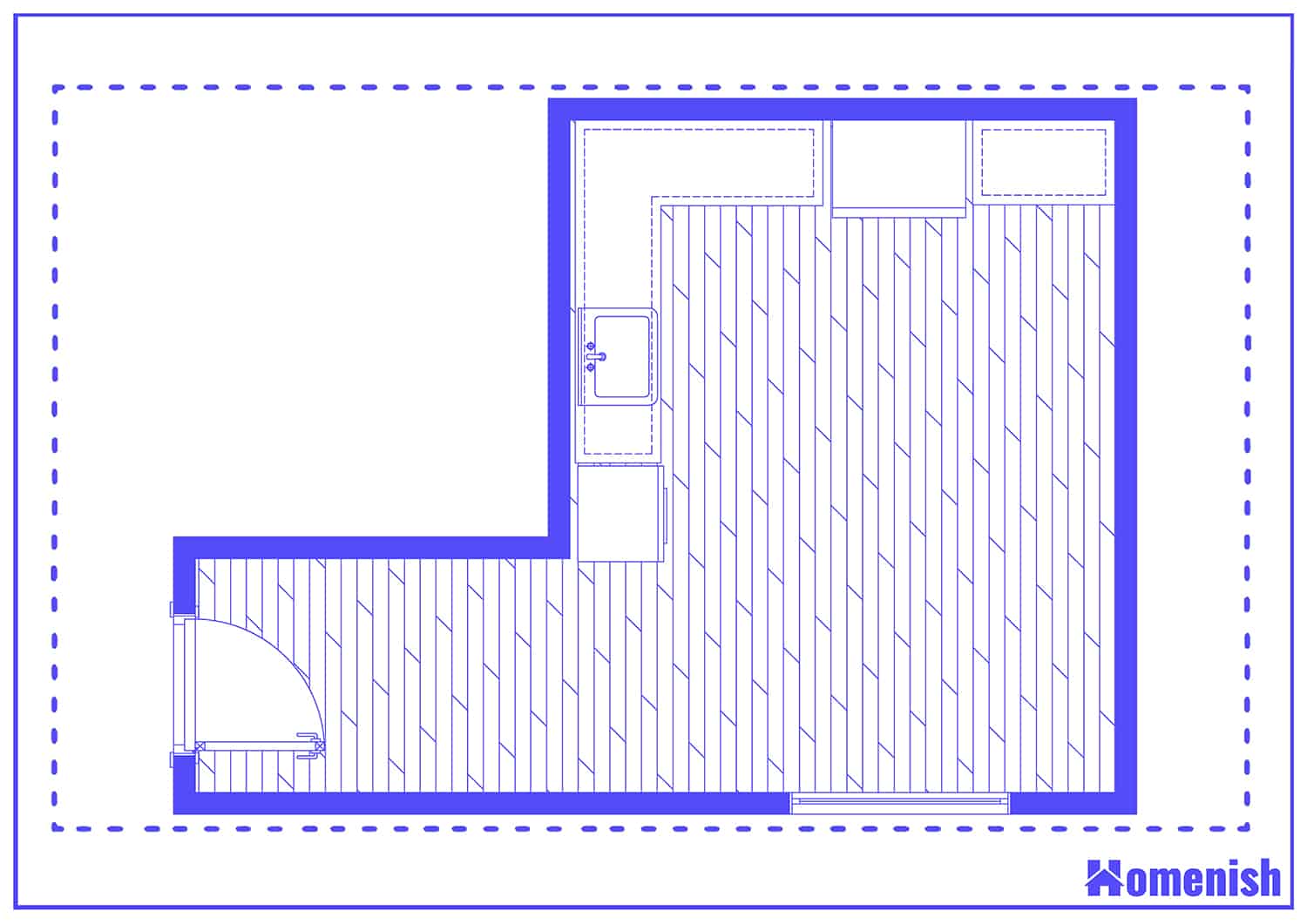 Open Plan Apartment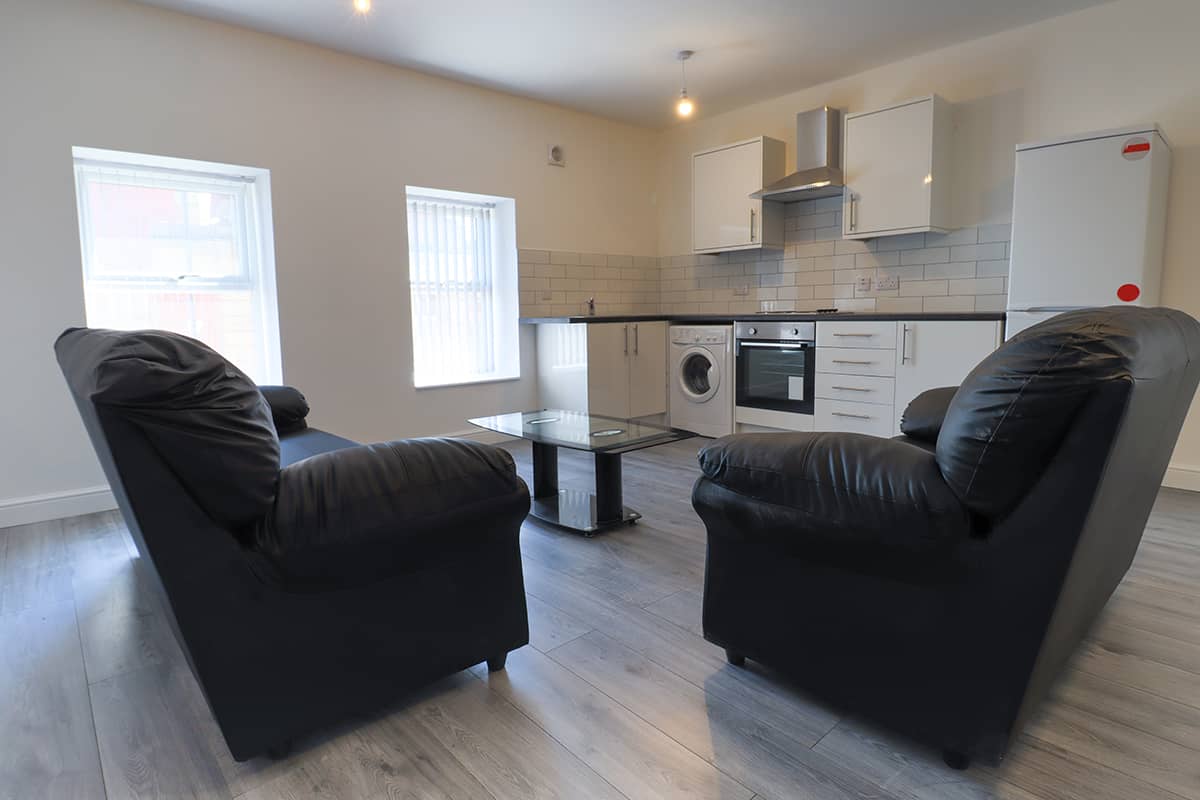 This apartment contains the living area and kitchen all in one space. The lack of a separate laundry room means the washing machine has instead been integrated into the kitchen, where the kitchen storage can also be used for storing detergent or other cleaning supplies, and the kitchen countertops can be used for sorting laundry if necessary.
Check out the layout here.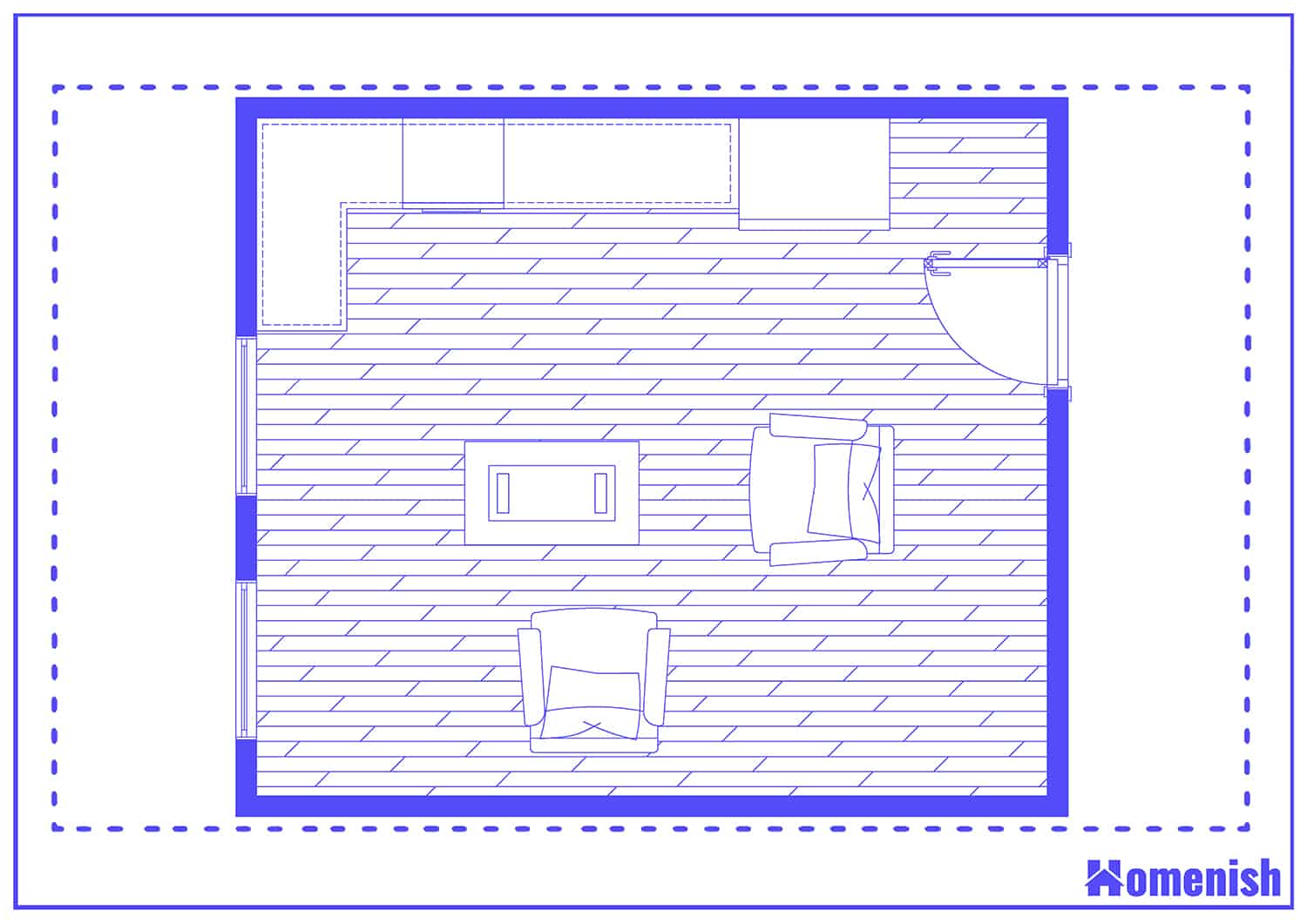 Hidden Laundry Room Layout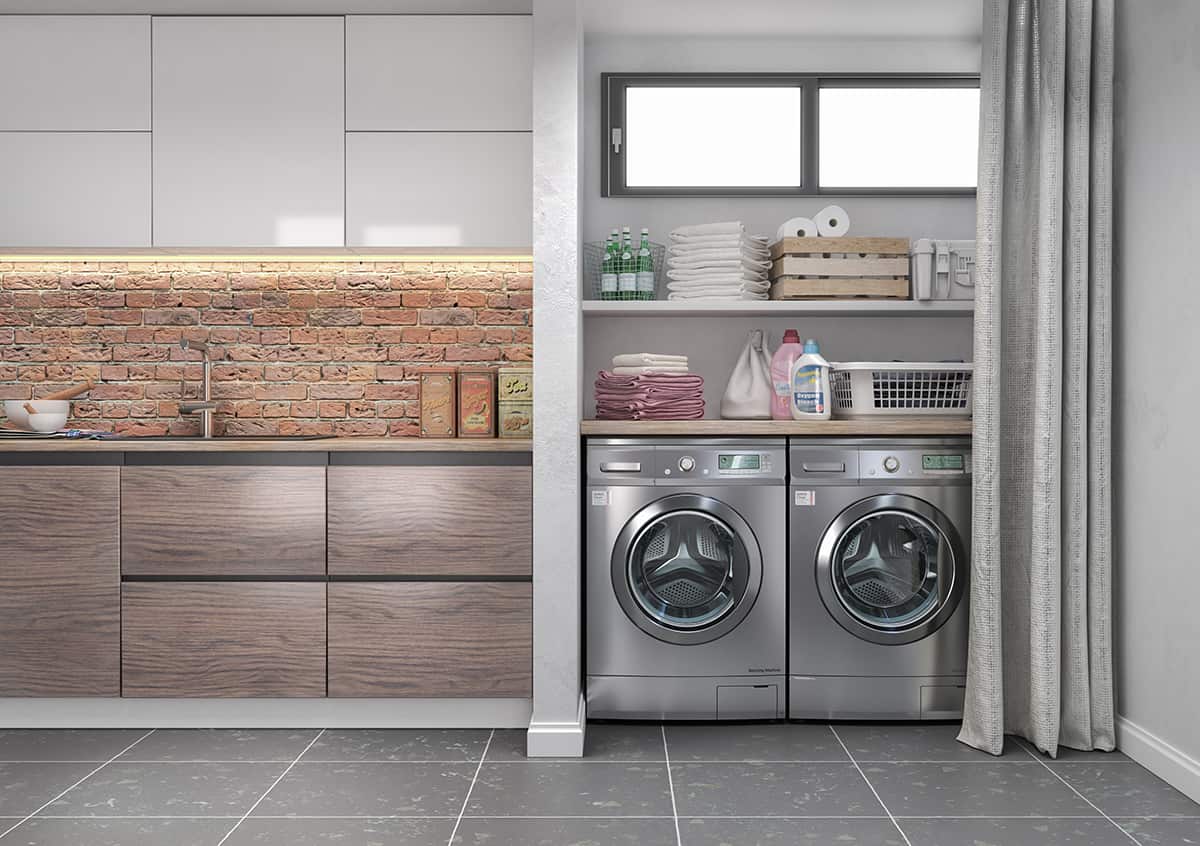 This laundry area has been created by sectioning out a part of the kitchen and hiding it behind a curtain that can be pulled across to entirely cover it.
The front-loading washer and dryer are side by side, with a countertop fitted over them to create extra surface space. The window means that wall cabinets are not possible; however, the addition of a shelf provides some handy storage space.
Check out the layout here.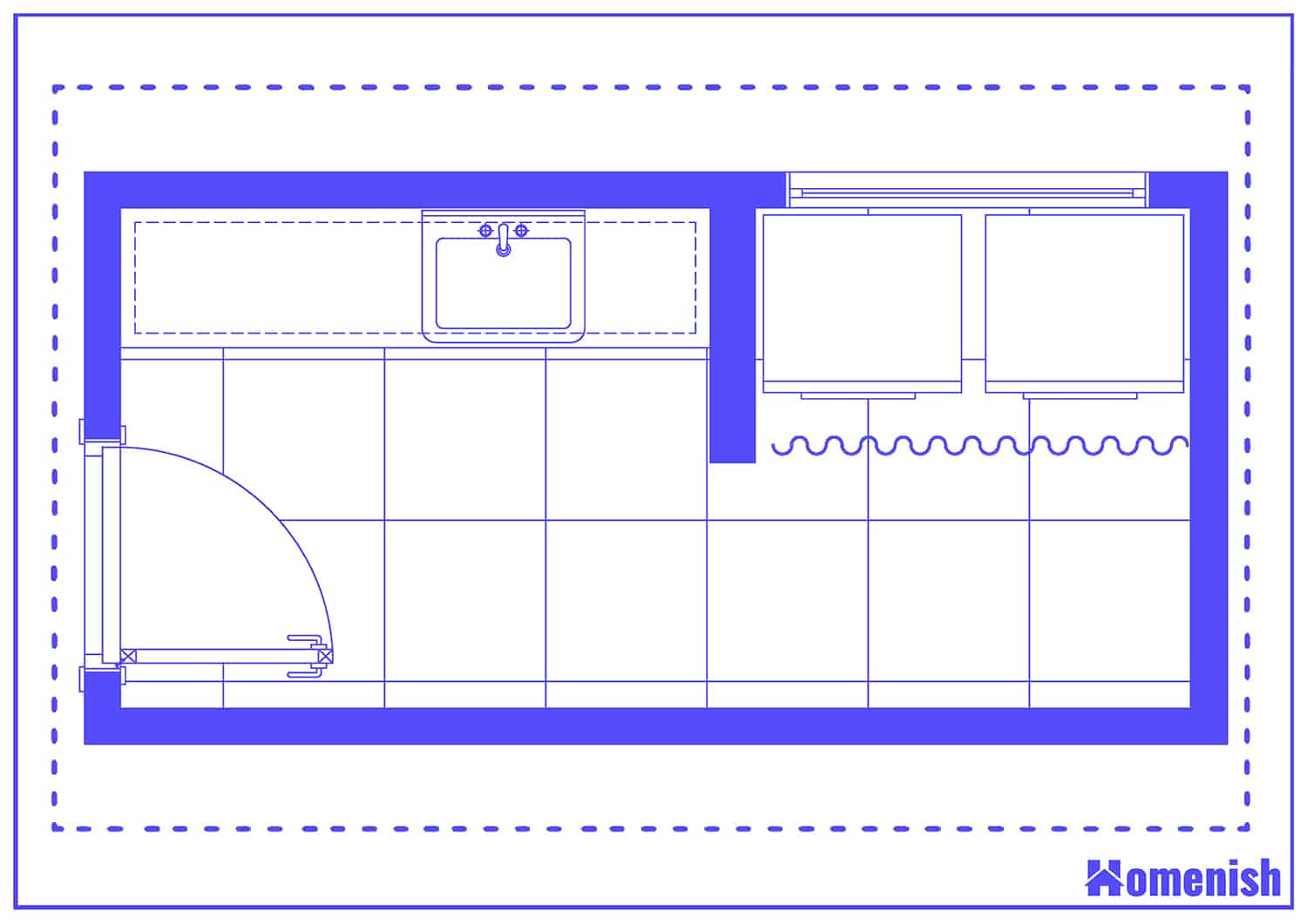 Closet Laundry Room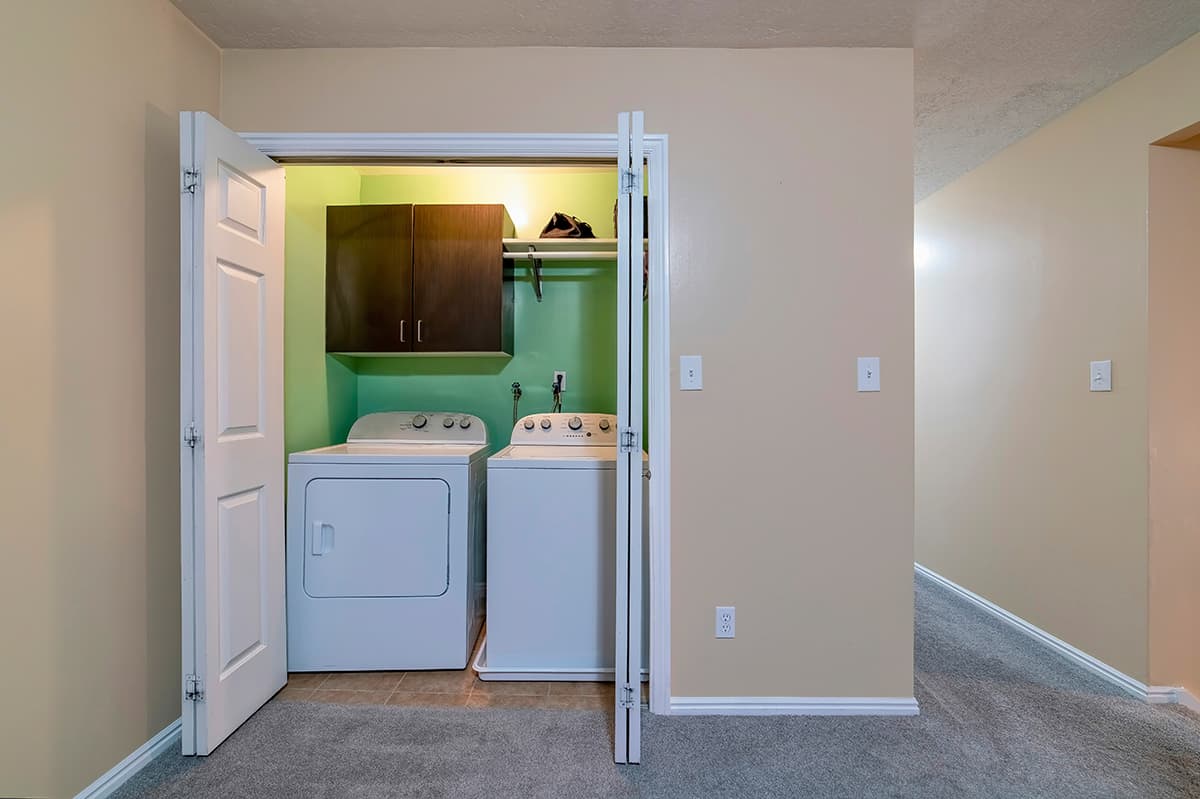 If you want to keep your laundry area hidden from view, then you can create a laundry space in a closet or cupboard. This laundry space consists of a washer and dryer installed behind closet doors, with a wall unit fitted above and a small rail for hanging clothing.
The doors can be closed so that you don't have to look at the laundry appliances, and it will also help to muffle the sound when you have them turned on.
Check out the layout here.