Laundry baskets are typically used to collect dirty laundry and transport it from one room to the laundry room. The size of a laundry basket will vary depending on the user.
Household laundry baskets tend to be smaller, especially when used by individuals or small families, but larger laundry baskets for bigger households are available. You can also find industrial laundry baskets for use in hotels and other commercial premises where laundry is processed on a large scale.
Laundry Basket Sizes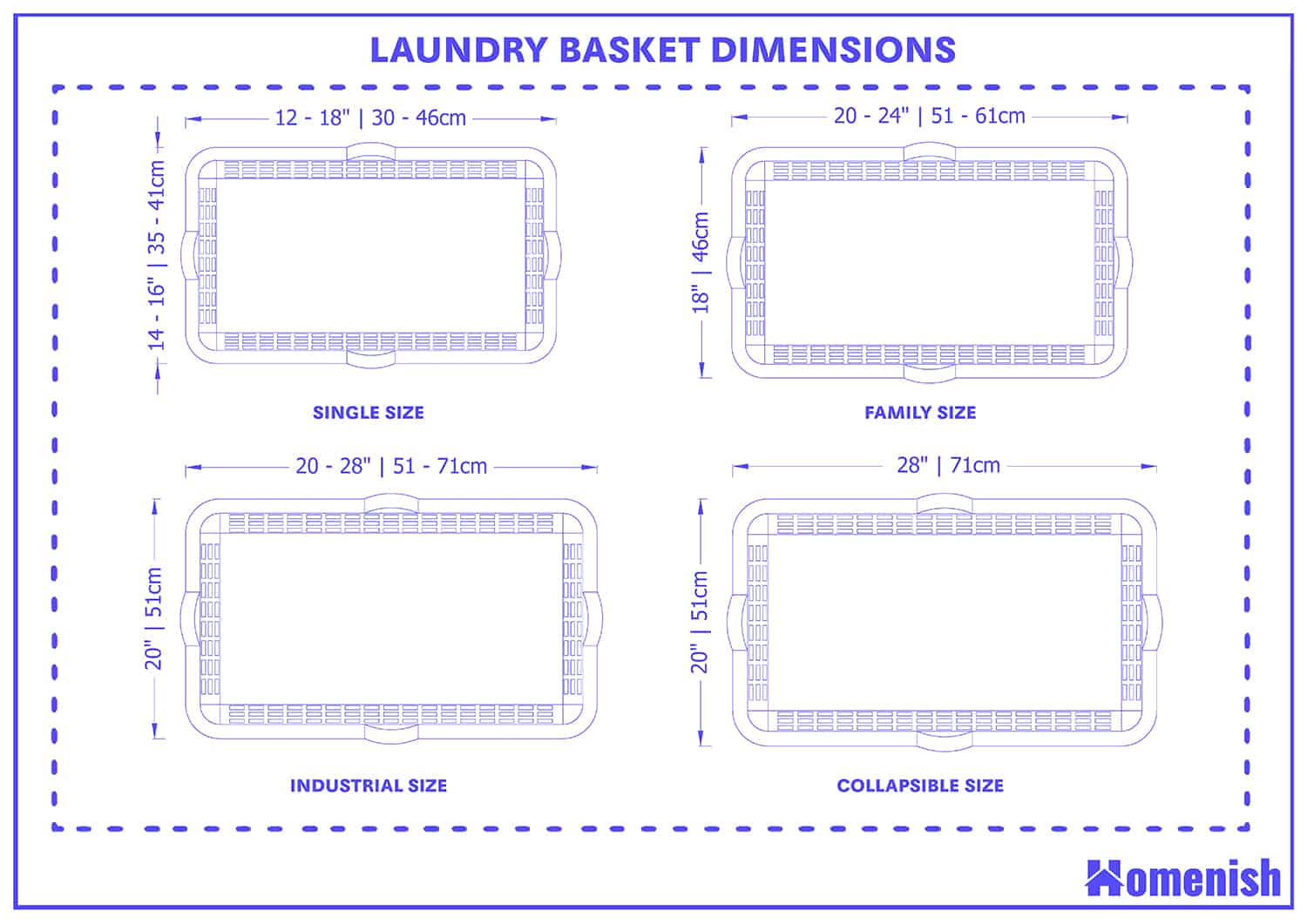 There is no standard size of laundry basket; however, the average laundry basket you would find at a grocery store or a homeware store will measure between 16 and 24 inches in length and between 15 and 18 inches in width. These measurements will be roughly the same regardless of whether the basket is rectangular or oval.
Single size
A single-size laundry basket is what a single person would ordinarily need. This will typically measure 12 to 18 inches in length and 14 to 16 inches in width.
This is a more compact basket that is also well suited to people who do not have a lot of space to store their laundry or people who wash their laundry daily and therefore do not get a build-up of laundry to pile into a large basket.
Family size
A family size laundry basket will be appropriate for a couple living together or a family with children. This size of laundry basket will be approximately 20 to 24 inches in length and up to 18 inches wide. If you have a busy household and do not do laundry daily, then you may even need several of these baskets for one family to help you keep your laundry tidy.
Industrial size
An industrial size laundry basket is what will be used by housekeeping staff in hotels, motels, and bed and breakfasts. This is slightly bigger than a family-size laundry basket, so it can accommodate more laundry such as sheets and towels, but it is still small enough that it can be carried around for easy transportation of the laundry between rooms.
This size of laundry basket is usually between 20 and 28 inches in length and up to 20 inches in width.
Collapsible size
Collapsible laundry baskets are usually made from a soft and strong textile fabric like cotton canvas, which is suitable for carrying laundry in, but it can also be folded down for easy storage when it is not in use. These laundry baskets can have lengths of up to 28 inches, making them comparable with industrial size laundry baskets.
Choosing the Right Laundry Basket
The right laundry basket for you is going to depend on the frequency you wash your clothes and how many people are in your home. If you wash laundry for a family of four every day, then a single-family size laundry basket will be ideal; however, if you only do laundry on the weekends, then you will benefit from an industrial or collapsible laundry basket or several family size baskets.
There are also a wide variety of laundry baskets available, which can affect the size you need. For example, you may be interested in a children's laundry basket to keep in the bedrooms of younger members of your family, and this would mean that your own laundry basket would not need to be as large because it won't have to accommodate the whole family's laundry.
However, if you have a laundry hamper in the bathroom where everyone in the home puts their worn clothes, then this will likely need to be quite large.
Types of Laundry Basket
Laundry hamper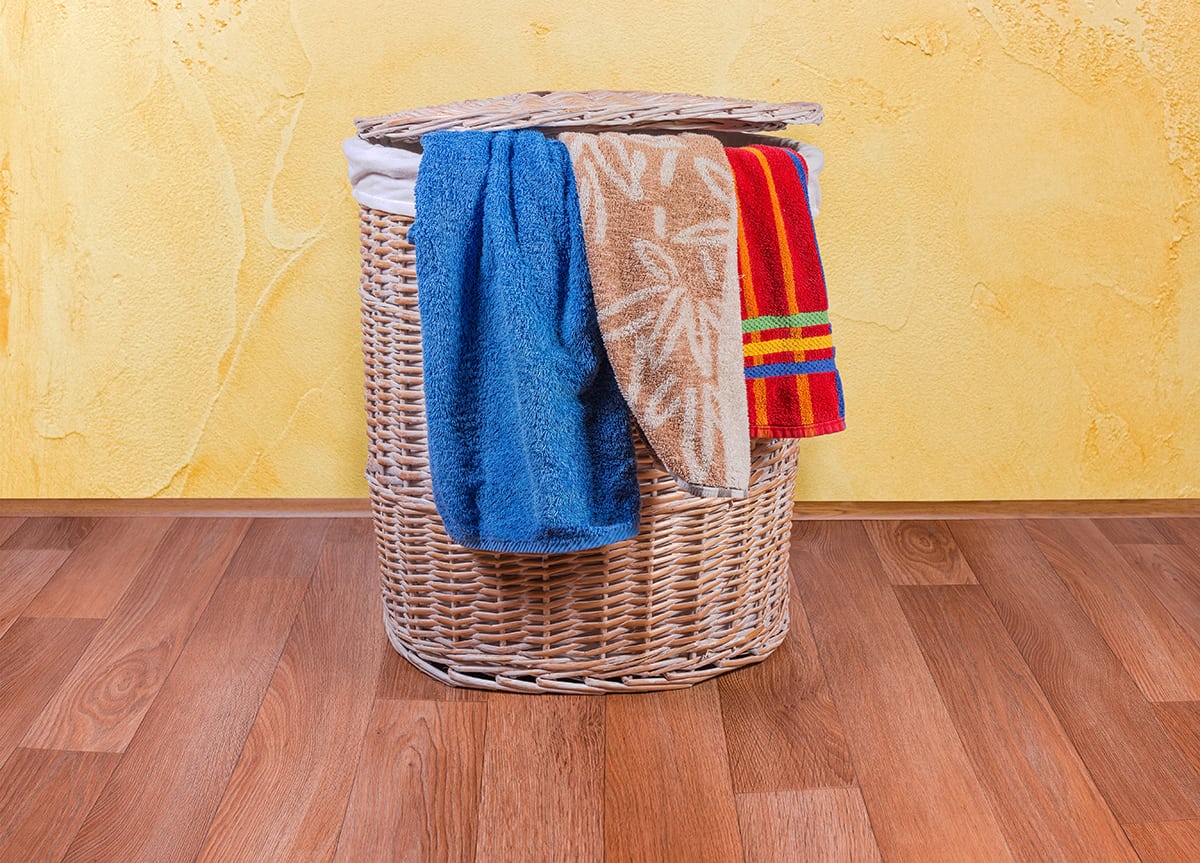 A laundry hamper is usually what a person or family will use to store their dirty or worn clothes in. This might permanently reside in the bathroom of a home, in a dressing room, a closet, or the corner of a bedroom.
You can find decorative laundry hampers which can add to the style of your room, as well as laundry hampers with lids so that your dirty washing is not on display for everyone to see.
These hampers are typically quite large because they are not intended to transport clothes to and from the laundry room. Instead, you would empty the clothes out of the hamper and into a laundry basket or bag to take the dirty clothes to the washing machine.
Laundry trolley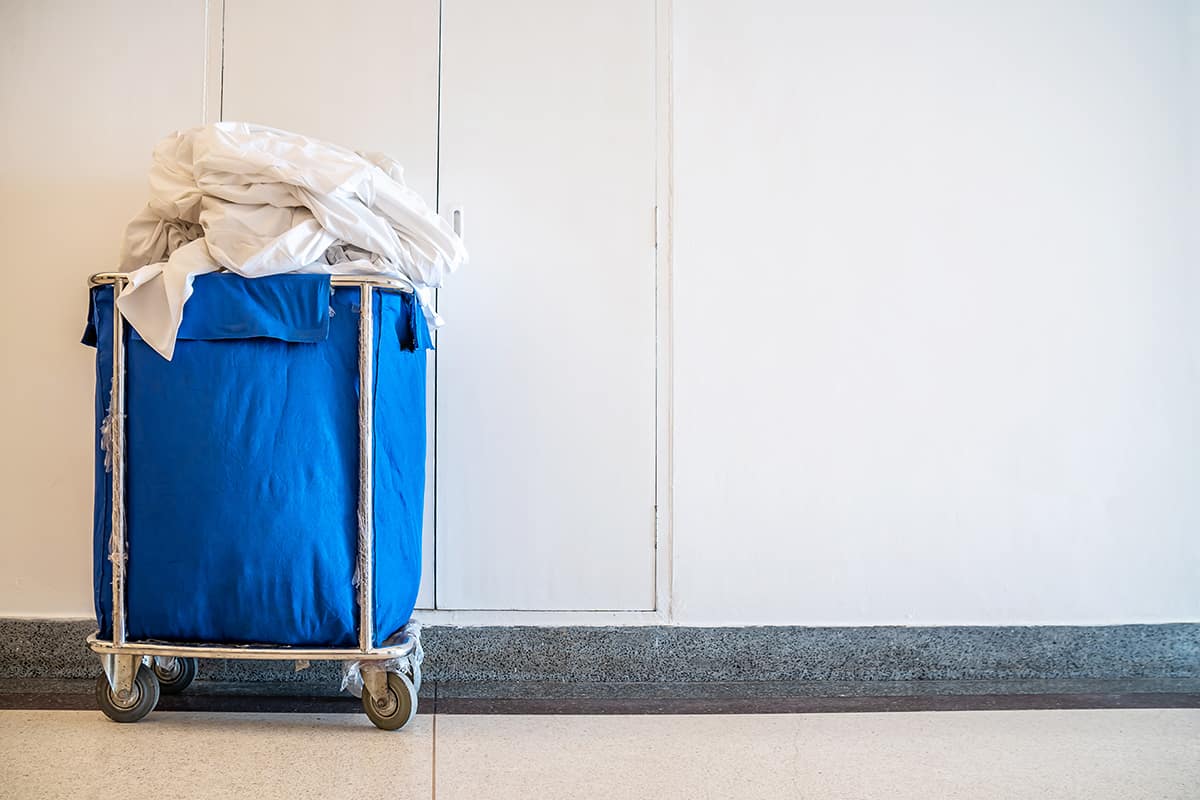 A laundry trolley is essentially a laundry basket on wheels. These are really great for people who have strength or mobility issues, helping them to remain independent for longer as they can continue to do their own laundry despite not being able to carry a laundry basket.
Laundry bag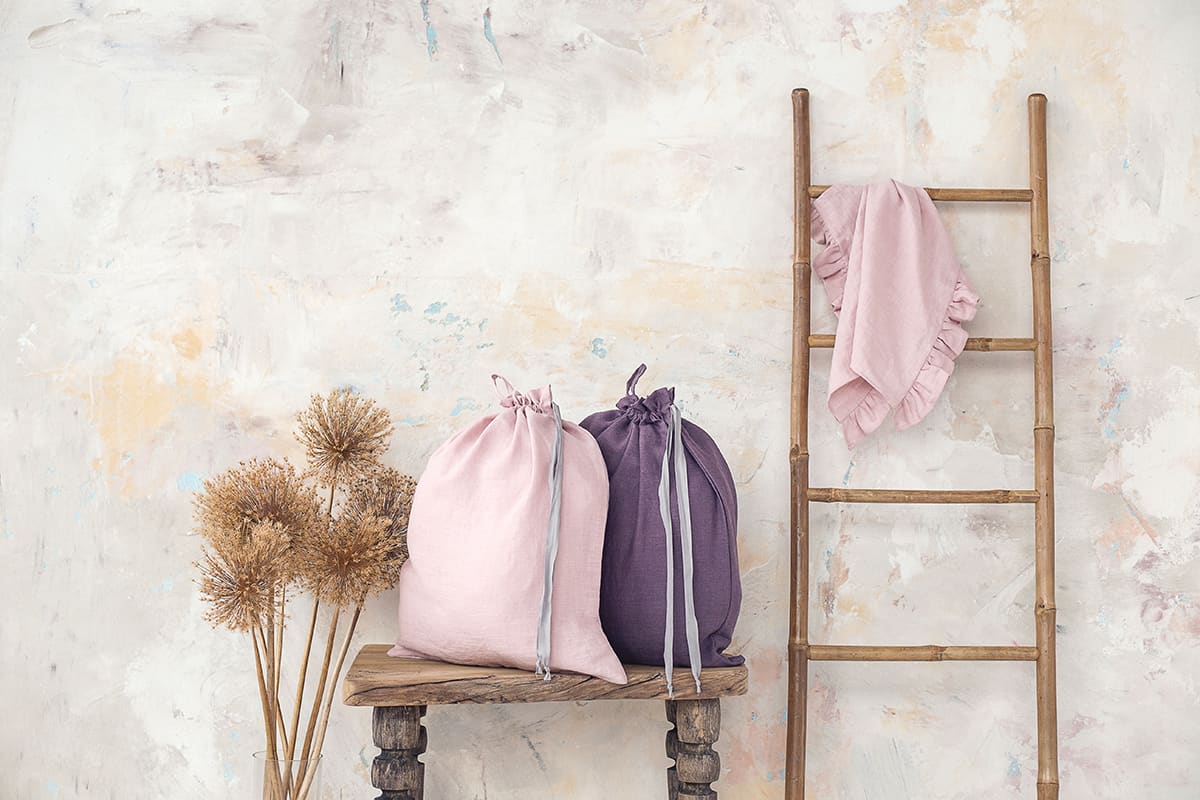 One type of laundry bag is a fabric bag you might hang on the back of your door with dirty laundry in it, ready to carry it to the washing machine. Another type of laundry bag is a mesh bag in which you put delicate items, such as underwear, when they are being washed to help protect them from friction against other items in the same load of washing.
Laundry basket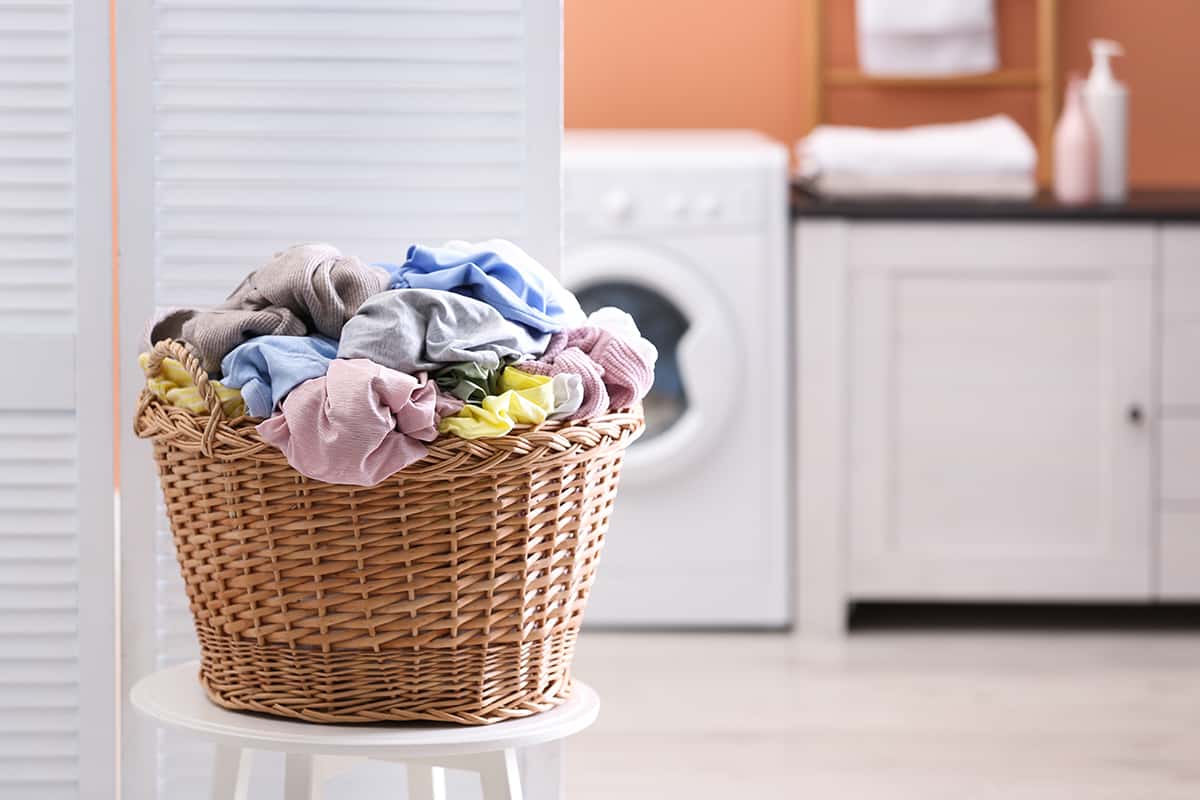 A laundry basket can be made from wicker, plastic, fabric, or even metal and is typically used to store laundry and to carry it from one location to the other. These can be used to move dirty laundry from a bathroom or bedroom to the laundry room where it will be washed, and they can also be used to carry clean and wet laundry out into the garden, where you can hang it on the washing line.
Once the laundry on the washing line has dried, you can use your laundry basket to collect the laundry and bring it back inside, ready to be ironed or stored away.
Many people will iron their clothes or bed linen straight out of the laundry basket, then fold it back up and pile it inside the laundry basket once again before moving it to the closet where it is kept.