A modern laundry room is a functional space that must consist of bright interior features. High-tech appliances won't be enough to encourage you to spend time doing tiresome domestic tasks. A practical laundry room should be so inviting that you'll actually want to spend time in it.
If you're blessed with a laundry room in your house or apartment, and you think it's time to give it a fresh coat of paint, you've come to the right place!
Here are 13 of my most creative laundry room color ideas that will turn the task of washing clothes into a more enjoyable chore. Read on to get inspired now!
Light beige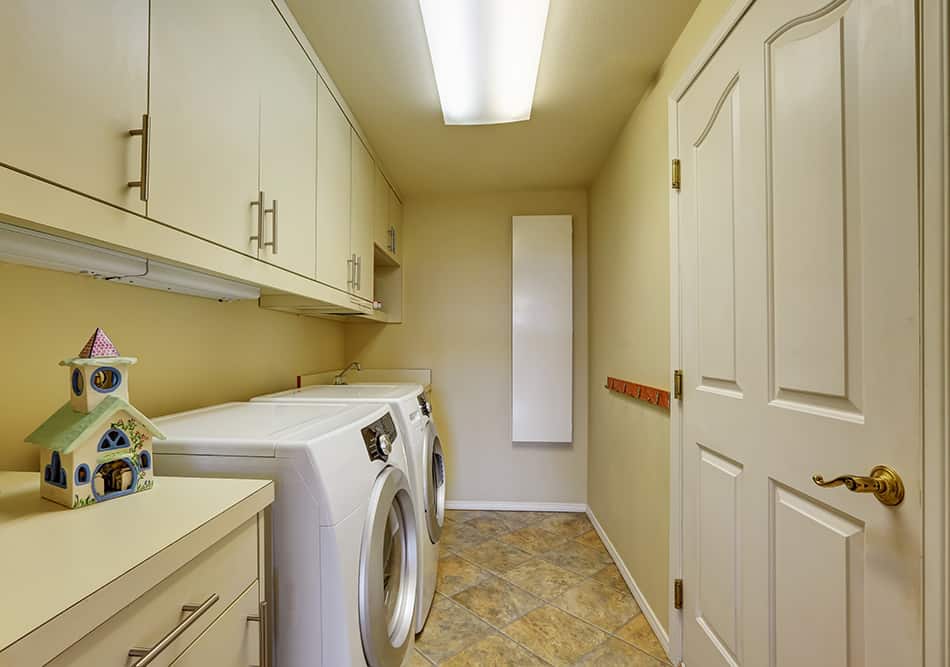 Light beige is a color that can effectively brighten up spaces. This color will have a chalky white appearance in sunny laundry rooms. And the best thing about light beige is that it doesn't come across as too warm.
Light beige creates a sense of calmness and warmth. When used tonally, it complements natural wooden cabinets and white appliances.
The most suitable color combinations that work with light beige include yellow, pink, and orange. You will often hear this color being described as a pale sandy fawn, grayish-yellow, or a grayish-tan color.
Gray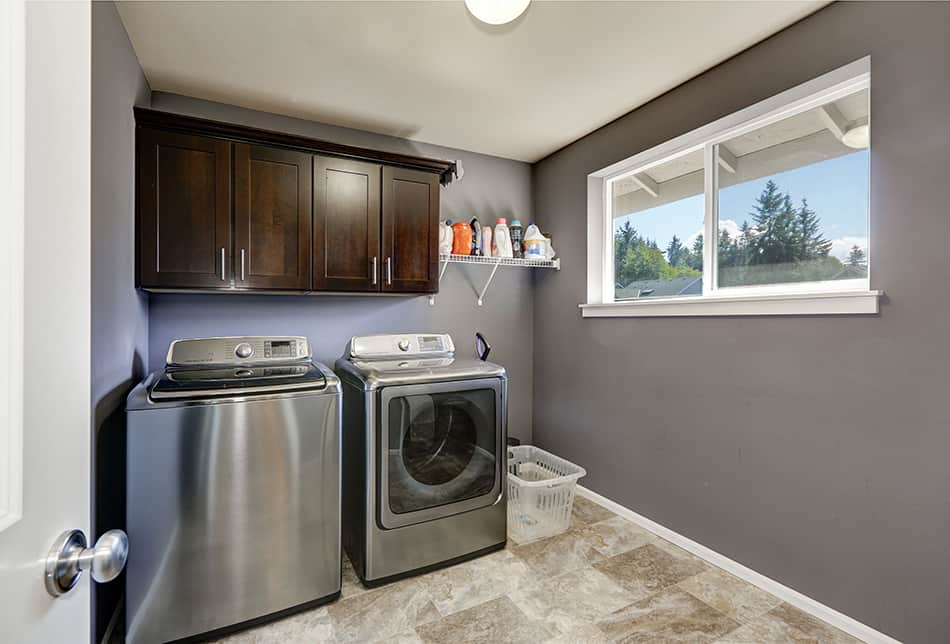 Gray is a good alternative to white for small laundry rooms. Silvery gray tends to open up the space by adding more texture and depth to the room. When used with a hint of a green undertone for the walls, together with stainless steel appliances, the room will benefit from a deeper accent.
There are hundreds of different shades of gray that will easily suit your laundry room. From ash gray to pale silvers, you'll certainly be spoiled for choice!
To choose the most suitable gray color, take into account the direction your laundry room faces and what time of the day you'll be in there. To help make this task easier for you, consider pairing light gray walls with the classic white ceiling for an extra sense of coziness. For the final touch, opt for high-gloss finishes to brighten up the space and invite light into the room.
Black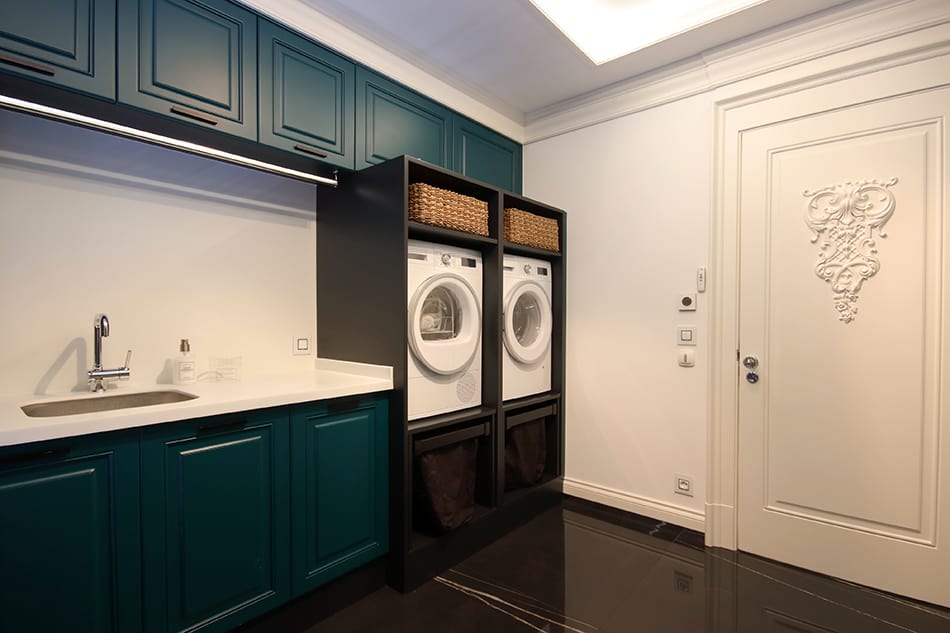 If you have a bright laundry room and you wish to tone it down a little, look no further than black as the surprising color of choice for modern spaces. This color is intended to trigger positive feelings and thoughts so it's the perfect hue for the walls and decor of the laundry room.
When teamed with white, black will offer a striking color combination. And why not take it to the next level by adding a variety of other shades, such as yellow, red, or purple for a stunning look. Just make sure you keep the color black as the prominent one in order to preserve its modern effect.
Blue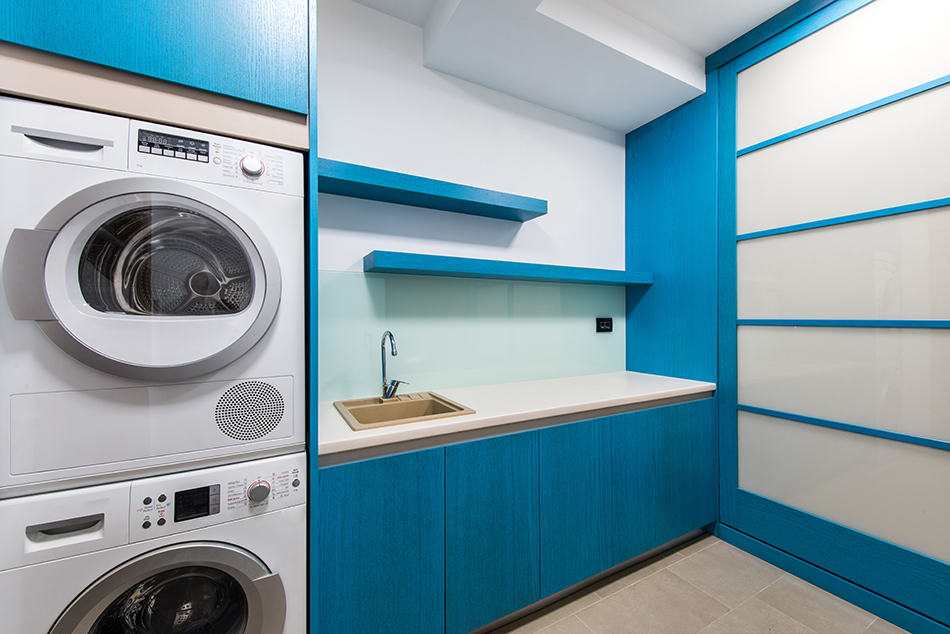 I had to include blue here as it's everyone's favorite color, right? This is a color that's often associated with the sky and water. Whether you opt for light blue or dark blue tones for your laundry room, this is the color that's associated with calmness and serenity.
On the other hand, cool shades of blue can often seem distant and cold. To give yourself a good reason to spend time in your laundry room, consider using light pastel blue as an undertone. Lighter tones of blue always work best in darker rooms plus they add positive vibes to any laundry space.
Light green
Light green can come off as a cold color – but not when it's combined with yellow. This shade is the symbol of spring and warm sunny light so it makes sense to bring the color of nature to your laundry room.
By painting the walls of the laundry room in light green, you will create a more relaxing and balancing space. After all, green is the color of peace and relaxation.
Remember that light green creates a sense of space and, therefore, is ideal for smaller laundry rooms.
Pink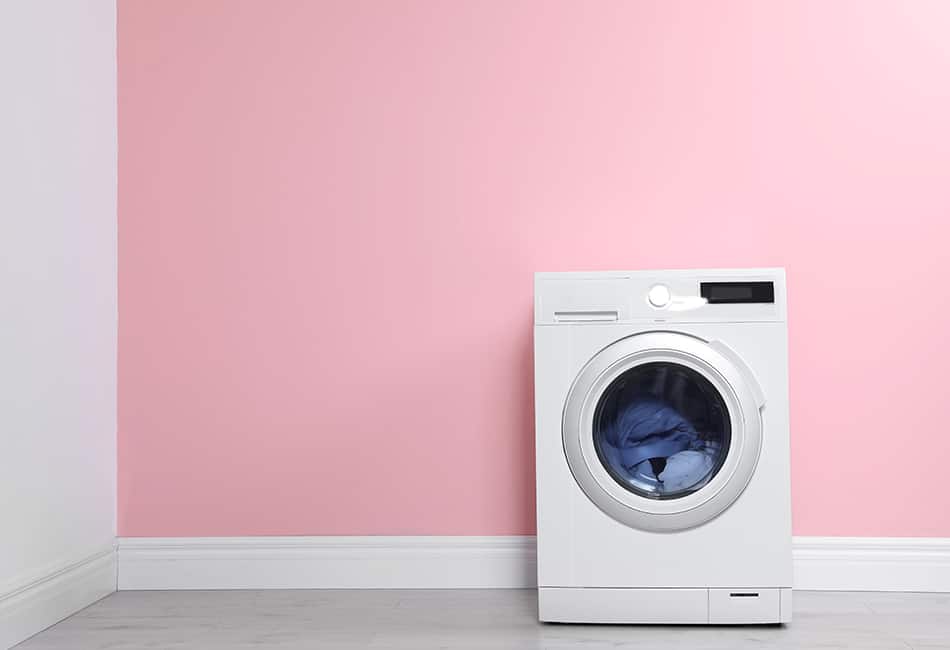 Pink represents kindness, inner peace, and friendship – but I'll bet you never considered it as a suitable color for your laundry room since it usually stands for sugar and spice and all things girly and nice.
Bright pink makes a perfect shade for compact laundry rooms that need a boost of personality. When paired with neutral colors like white for cabinets and appliances, you can surely create a bright and characterful space.
Lilac
Lilac is a sister color of pale violet that represents lilac flowers. It is also referred to as light blue or dark mauve. This shade works very well in modern spaces that have a simple decor, or rustic-looking laundry rooms with neutral colors in flooring and ceiling.
In small laundry rooms, lilac brings a touch of originality, especially when it's combined with white. Tip: it's best to go for saturated lilacs or soft violet to achieve the right visual balance.
Red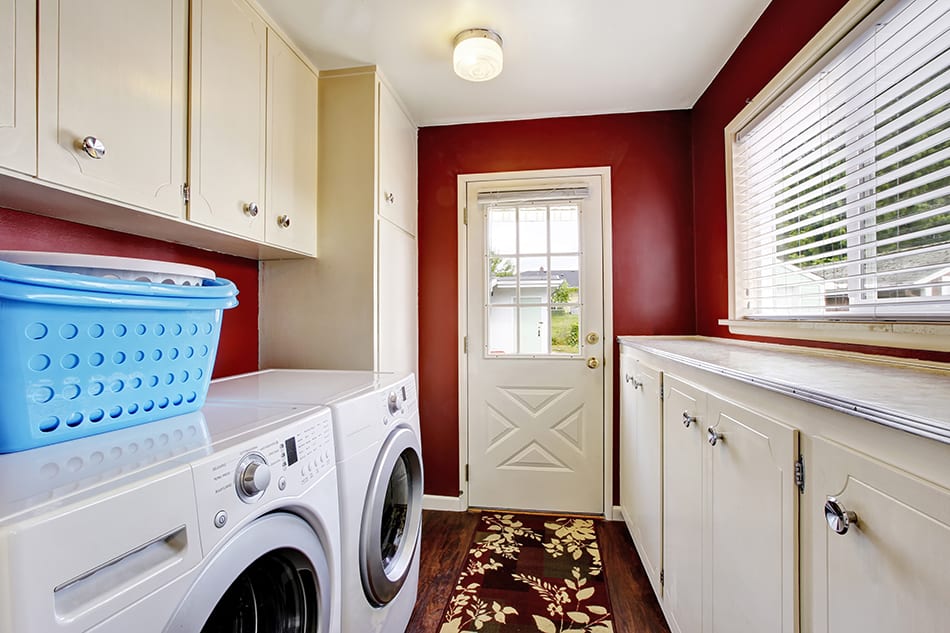 Red is the color of romance and roses. This stimulating and timeless shade can feel rustic and contemporary.
Red is a versatile color but the question is, how can you use it in a laundry room? Red walls go perfectly with white cabinets. Similarly, you can add taupe curtains to soften the red, or use purple with hints of pink to make the space feel warmer.
White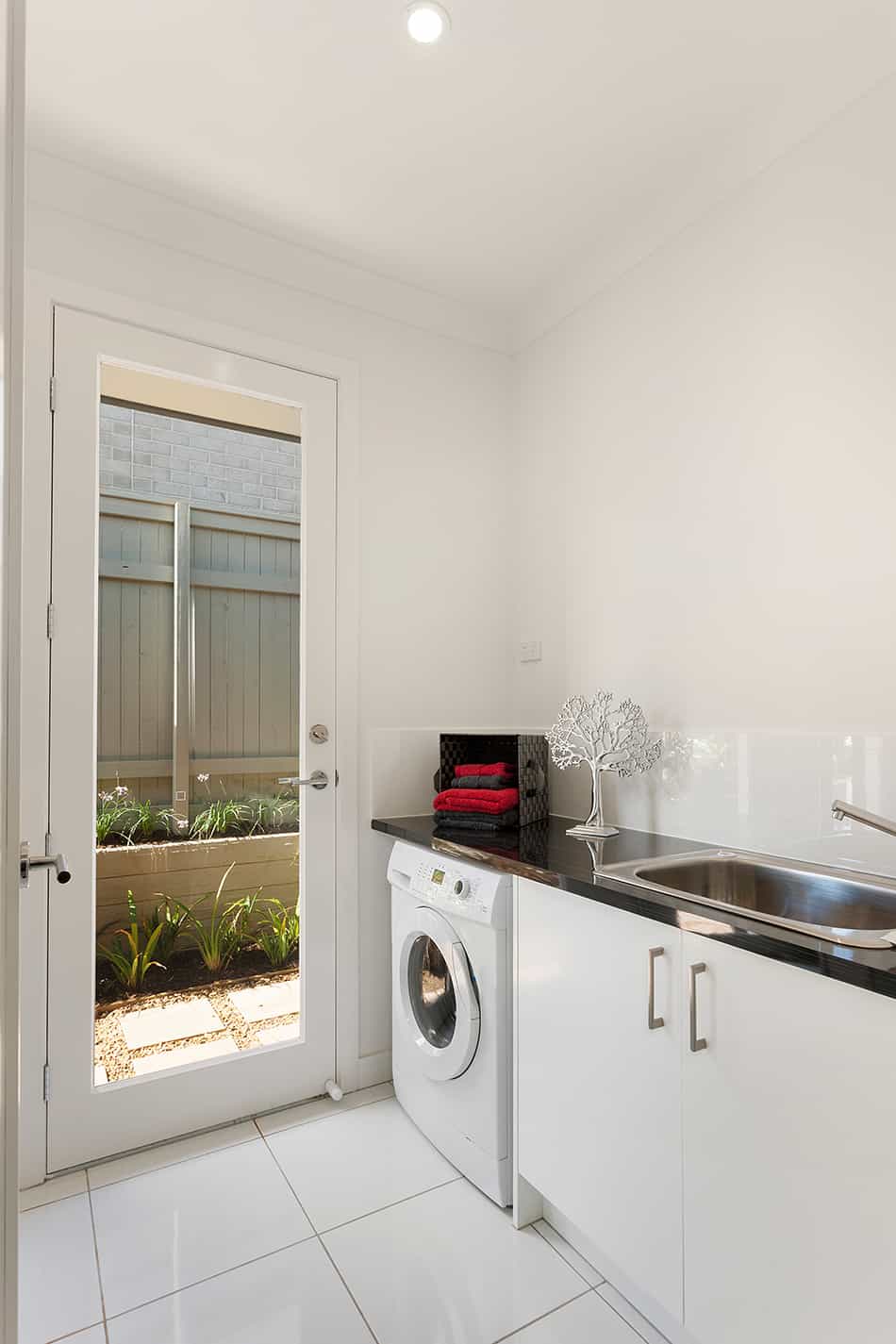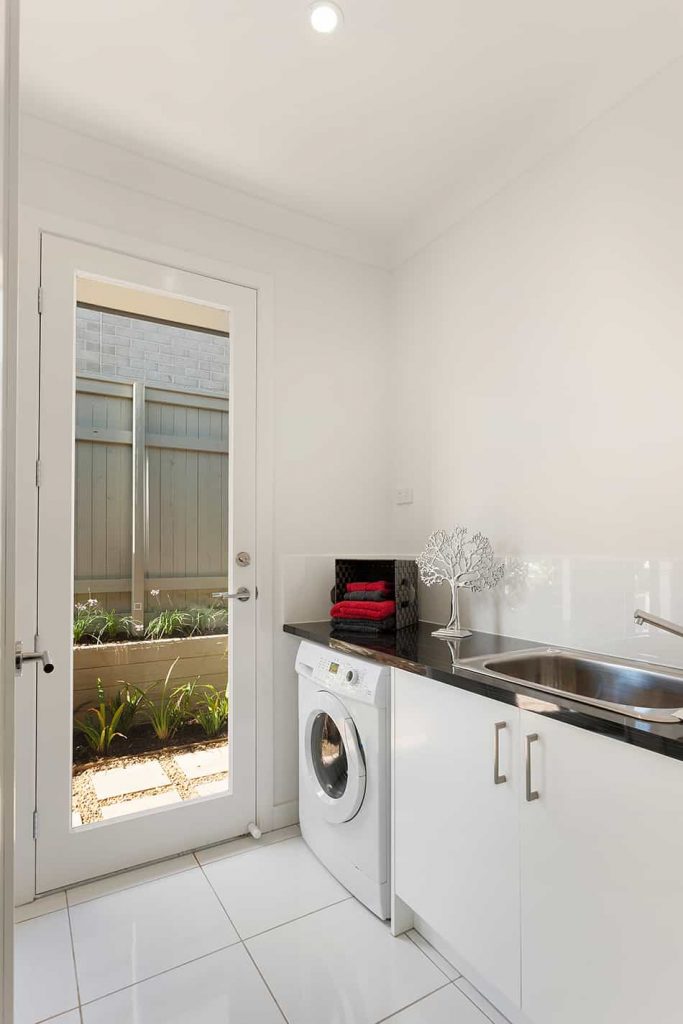 White is a popular neutral color that has been used in interior design for hundreds of years. It enhances the space and is the most preferred color in bathrooms and laundry rooms. This is because you can easily see dirty spots on white surfaces as it gives the impression of cleanliness.
White also reflects light to make the space appear larger. This is why the color white is mostly used on walls and ceilings of all the rooms in the house.
If your laundry room is quite small and you want to make it look bigger, use the color white on the walls, ceiling plus white cabinets and appliances to brighten up the space even more.
Yellow
Yellow is associated with sunshine and warmth. It is used in color therapy to make people feel joyful. To create a sense of coziness, bright yellow is the color to choose for your laundry room walls. When accompanied by white appliances, it'll create happy emotions.
Vibrant yellow walls or wallpapers paired with gray countertops provide a striking effect in a small or large laundry room. However, I don't recommend using bright yellow for the entire room. It's best to use a darker shade for the flooring and go neutral for the ceiling.
If your laundry room is quite gloomy, brighten it up with light or creamy yellow wallpaper. Yellow patterned wallpapers are excellent for decorating dark and compact laundry rooms.
Orange
Orange has had a bad reputation in the world of interior design as a color to avoid. However, why miss out on such a characterful tone that can bring warmth to your laundry room? Orange is one of the least-used shades in interior decorating, but it's now time to change its image.
Bright orange is a great option for cold-looking spaces. And it works very well with white, green, and blue, thus making it easy to enhance the room decor.
Choose a deeply saturated tone that's bright and earthy at the same time. For small laundry rooms, avoid lighter orange shades, which can make the room look a little chalky.
Lime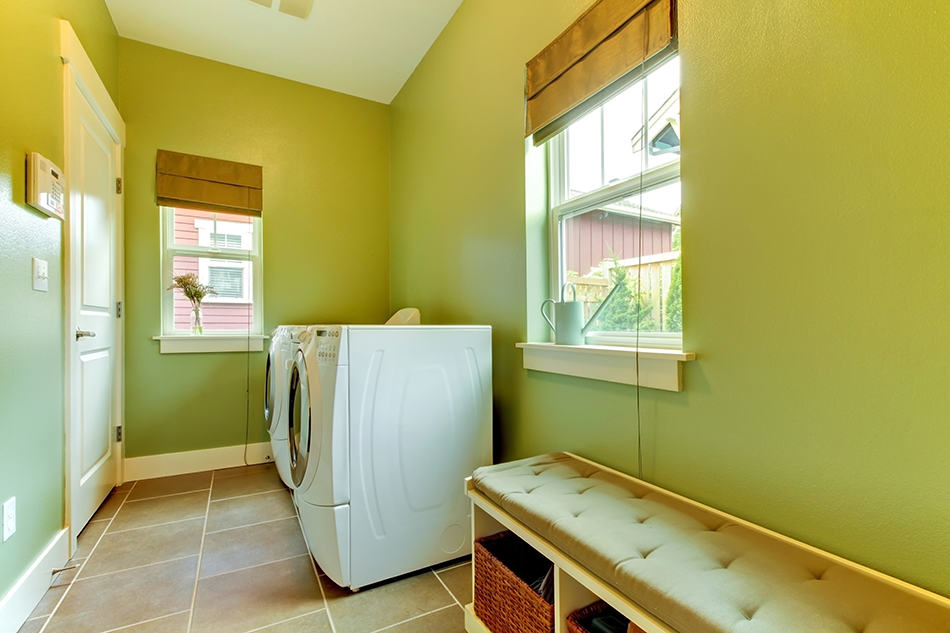 Lime is a yellow-green shade that resembles the skin color of the fruit, lime. It is closely associated with energy, peace, and nature. Lime green promotes creativity and liveliness so it makes sense to use it in your laundry room's interior decor.
Lime green provides a serene-like feel to a laundry space, while light color cabinets add warmth and texture. If you want to make a statement in your laundry room, consider painting the walls in lime and choosing white appliances.
Brown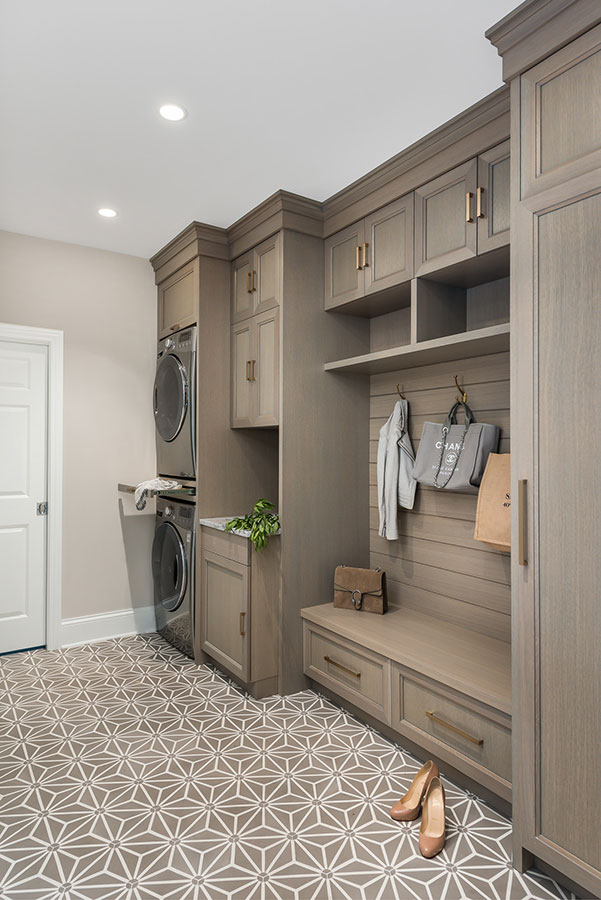 Brown is a color combination of yellow, red, and black. It is a safe and warm shade that can be used in all the rooms of the house – not just the laundry room.
You can incorporate brown into all the space, including cabinets, walls, and even the floor. Brown is the color of wood and soil so it makes a natural choice of color for a rustic laundry room.
Since brown goes with almost any color, it can look great as a replacement for black or gray, or even used with both.