Cushions that slide off of outdoor furniture can be extremely irritating when you are trying to relax, and they can also cause potential hazards for children or anyone who may not have noticed a cushion on the floor.
Here we look at hacks for keeping outdoor cushions from sliding off the furniture.
Why Do Cushions Slide Off Outdoor Furniture?
You might have noticed that outdoor cushions have a tendency to slide off of outdoor furniture much more frequently than their indoor counterparts.
This is predominantly because of the type of furniture that is typically used outside, as well as the designs that are most common in outdoor furniture.
Construction material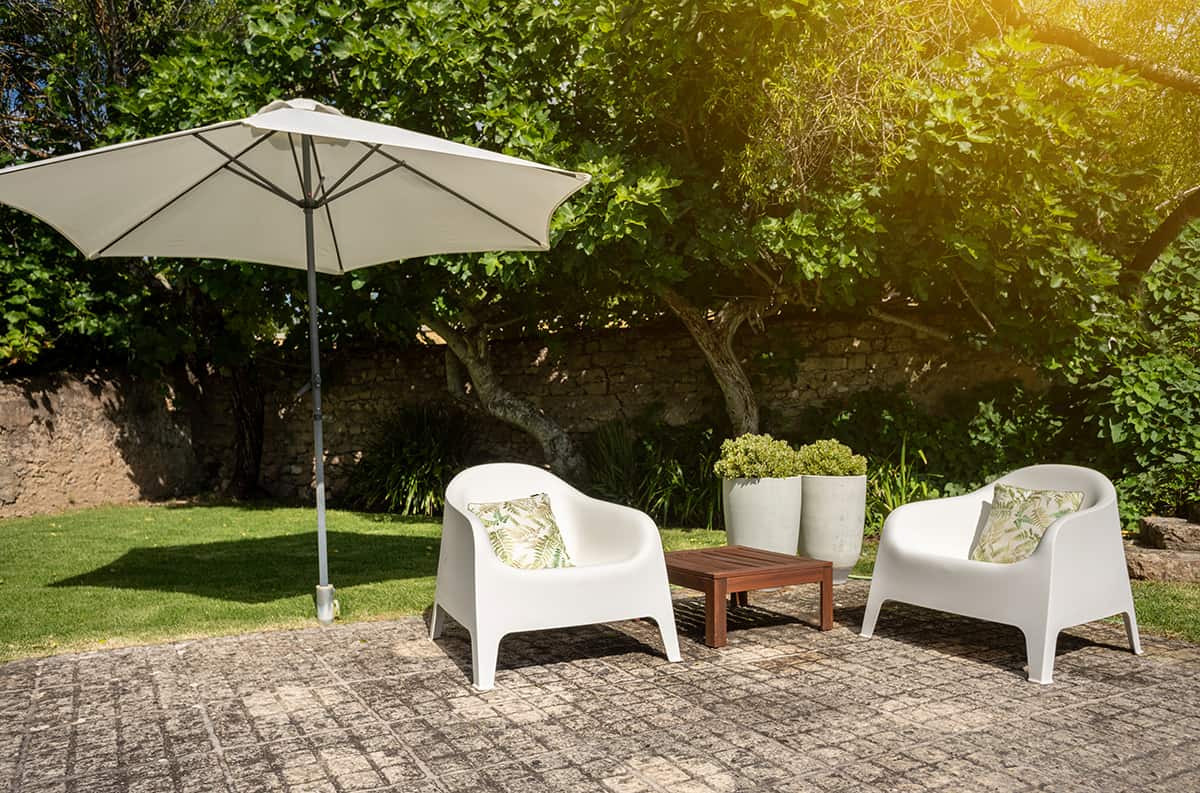 Outdoor furniture needs to be waterproof or, at the very least, resistant to moisture, while indoor furniture does not. Indoor sofas will typically have upholstered frames in the same material as the cushions.
For example, cotton, velvet, or polyester. These are all non-slip materials that create a certain amount of friction when they are pressed next to each other, which helps to keep cushions in place and prevent them from sliding off.
By contrast, outdoor furniture will usually have a glossy texture to enable it to repel moisture, but the issue with glossy surfaces is that they are quite slippery. The result is that outdoor furniture can repel moisture, but it will encourage cushions to slide off.
The types of material outdoor sofas and chairs are generally made from include lacquered wicker, plastic, and sealed wood. These are all materials that have a smooth and shiny surface, ideal for fabric outdoor cushions to slide off.
Design
When you consider your indoor armchairs and sofas, you will probably find that cushions are secured in place, either via Velcro, zips or in some cases, cushions are permanently sewn in place and cannot be removed.
The difference, of course, between indoor and outdoor cushions is that outdoor cushions must be removable. This is so that in the event of a storm or a rainy day, the owners can gather up their outdoor cushions and bring them inside so they won't sustain water damage.
By contrast, indoor cushions do not need to be removable, and so often, they will be fixed in place. The fact that outdoor cushions need to be removable means that they aren't fixed in place by design and therefore are going to be much more likely to shift and move compared to indoor furniture with cushions.
Hacks to Stop Outdoor Cushions Sliding
Though a sliding cushion isn't the be-all and end-all, it can be frustrating, so it's handy to know some easy and inexpensive hacks that can help your cushions stay in place.
Velcro
Using Velcro to keep cushions in place is one of the easiest and most effective solutions. Opt for self-adhesive Velcro if you want to complete this project with minimum effort.
Simply peel the backs off of the Velcro and stick one right onto the furniture and one onto the back of the cushion. Ensure that the Velcro patches line up accurately so that when the cushions are pushed onto the furniture, they will be in exactly the right place.
Velcro is very strong, so this will prevent outdoor cushions from sliding under the weight of people moving on them, and it will also prevent any cushions from blowing off the sofa in windy conditions. When you want to take the cushions inside to protect them from a storm, you can easily unlatch the Velcro.
You could alternatively use regular strips of Velcro that are not self-adhesive, but this will involve sewing the Velcro onto the cushions, which will be significantly more effort, and sewing the Velcro onto the furniture could be problematic if it is not made from a fabric that can be stitched.
If you want to securely fasten your cushions to your outdoor furniture, then Velcro is a great solution; however, the drawback is that it could cause damage to your cushions and furniture if you decide you want to remove the Velcro at a later date.
Grip Cushion Pads
A grip cushion pad is a type of thin rubber or foam sheet that has a sticky backing to fix it onto a piece of furniture. You then set the cushions on top of the pad, and the non-slip texture grips onto the cushion to hold it in place.
These pads come in a variety of sizes, or you can cut them to size for a customized fit. Grip cushion pads are commonly used for upholstered furniture and outdoor furniture with seating pads and cushions because they are very inexpensive to buy, and they do a very good job of keeping cushions in place.
They also don't require you to attach anything to the cushions themselves, which means they won't be at risk of having anything permanently stuck to them.
Furniture Pads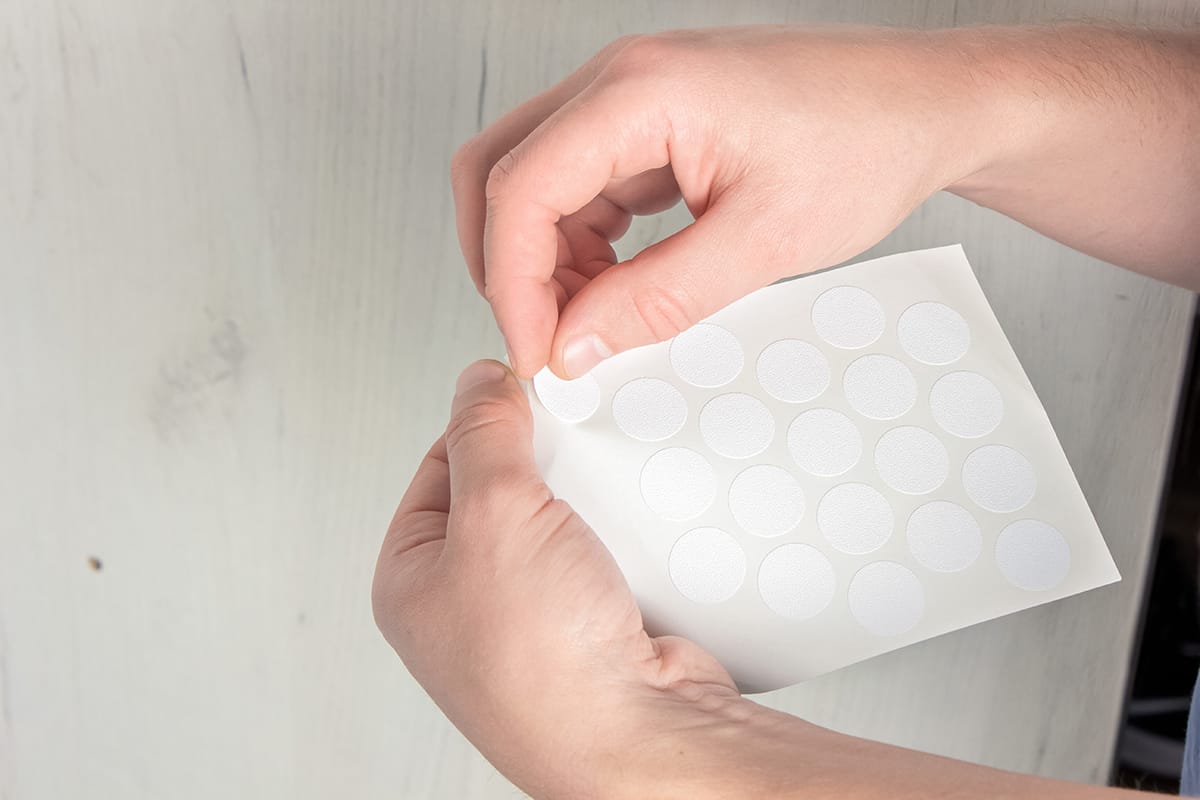 Furniture pads are typically used on the bottom of the sofa and chair legs as a means of preventing chairs from skidding or causing damage to floors. However, these pads can also be useful for helping cushions to stop slipping off of outdoor furniture.
This is a good method to try because these pads can be picked up very inexpensively in packs from dollar stores, so you could get enough to resolve the issue on all of your outdoor furniture for just one dollar.
Avoid the felt pads as these will not grip onto fabric furniture quite as well as the foam pads. The best type of furniture pad to use is the rubber foam type that has a textured surface.
These will be self-adhesive, so simply peel off the backing and stick them directly onto your outdoor furniture before placing the cushions back on. The textured foam surface will grip onto the cushions, helping to keep them in place.
Although these pads won't be as effective at holding cushions in one spot as the Velcro strips, they will be much less expensive, and they don't require you to fix anything onto the cushion itself, which will be an advantage to some people who are wary of causing permanent damage to their new outdoor cushions.
Cushion Ties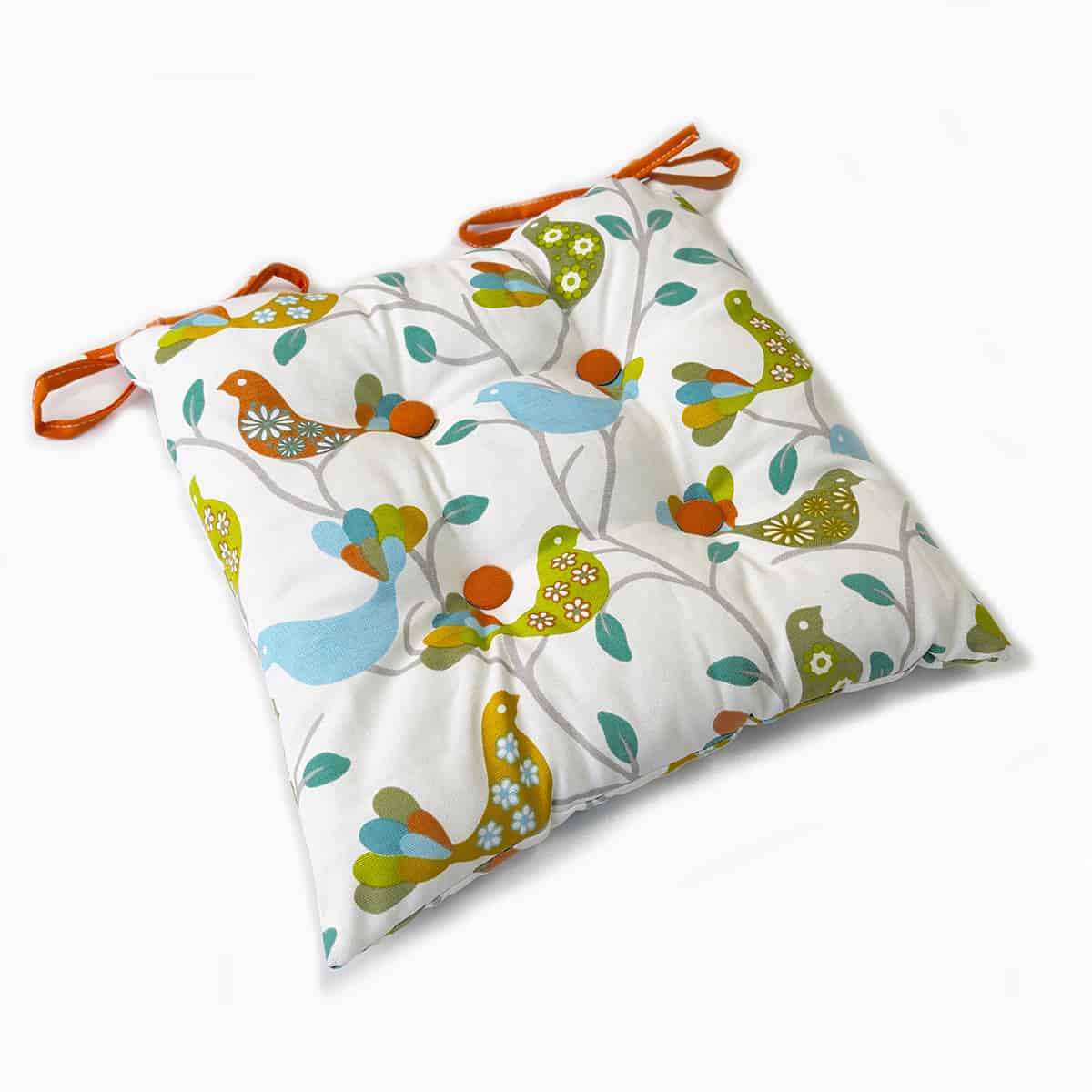 A common way to ensure outdoor cushions stay in the positions they are meant to is to opt for cushions that have ties or ribbons that can be secured into place. Some outdoor cushions will come equipped with ties in a fabric that matches the cushion cover, and the ties for these can be wrapped around the back of the furniture where it can be tied into a bow or knot to secure it.
If your cushions don't already have ties, you could attach some ribbons to the side of the cushions to create your own tie system.
You can hand stitch or use a sewing machine to fit ribbons to the cushion cover and use them in exactly the same way as you would a pre-made cushion cover with ties.
This is an effective way to stop cushions from slipping off outdoor furniture, and it can also create a cozy country look or a pretty and elegant look depending on the type of ribbons or ties you use.
You can customize your cushions using a coordinating ribbon for a personalized touch. One drawback of ties and ribbons on outdoor cushions is that they require a little more effort to tie and untie compared with alternatives such as Velcro and grip cushion pads.
If it suddenly starts to rain, you are going to have to untie all of your ribbons before you can take the cushions inside to protect them, which is going to take a few minutes compared with the mere seconds it would take to remove outdoor cushions that have been secured using Velcro or grip pads.