If you are looking for a new place to live, you might be wondering how many bedrooms you will need in an apartment to fit your family in, or as a landlord, you may be interested in finding out how many people you can legally allow in one of your rented properties.
Here we will look at the regulations, guidelines, and recommendations, though bear in mind that these will all vary depending on the area you live in.
How Many Occupants Per Bedroom?
Legally, this is a tricky one because the regulations differ between states. The Fair Housing Act states that at least four people can live in a two-bedroom apartment, with two occupants in each bedroom. Some landlords may prefer to rent properties to smaller families because generally, the fewer people in a property will result in less wear and tear.
However, the Fair Housing Act means that a landlord cannot refuse to rent a two-bedroom apartment to a family of four on the basis of the number of occupants. Different states have different regulations, with Texas being the most generous, allowing a maximum of six people in a two-bedroom apartment. However, the majority of states allow five people to live in a two-bedroom apartment, with a rule of two people in each bedroom, plus one additional person.
This rule applies no matter how many bedrooms a property has. For example, following this rule, a five-bedroom apartment could legally have 11 occupants, and a three-bedroom apartment could have seven occupants.
Who Counts as an Occupant?
Children
Children, irrelevant of their age, count as one occupant. Although a baby requires much less space than a teenager, for example, it means that a landlord cannot evict a family based on the fact that their baby has grown into a teen, and they can still occupy the same amount of space.
Guests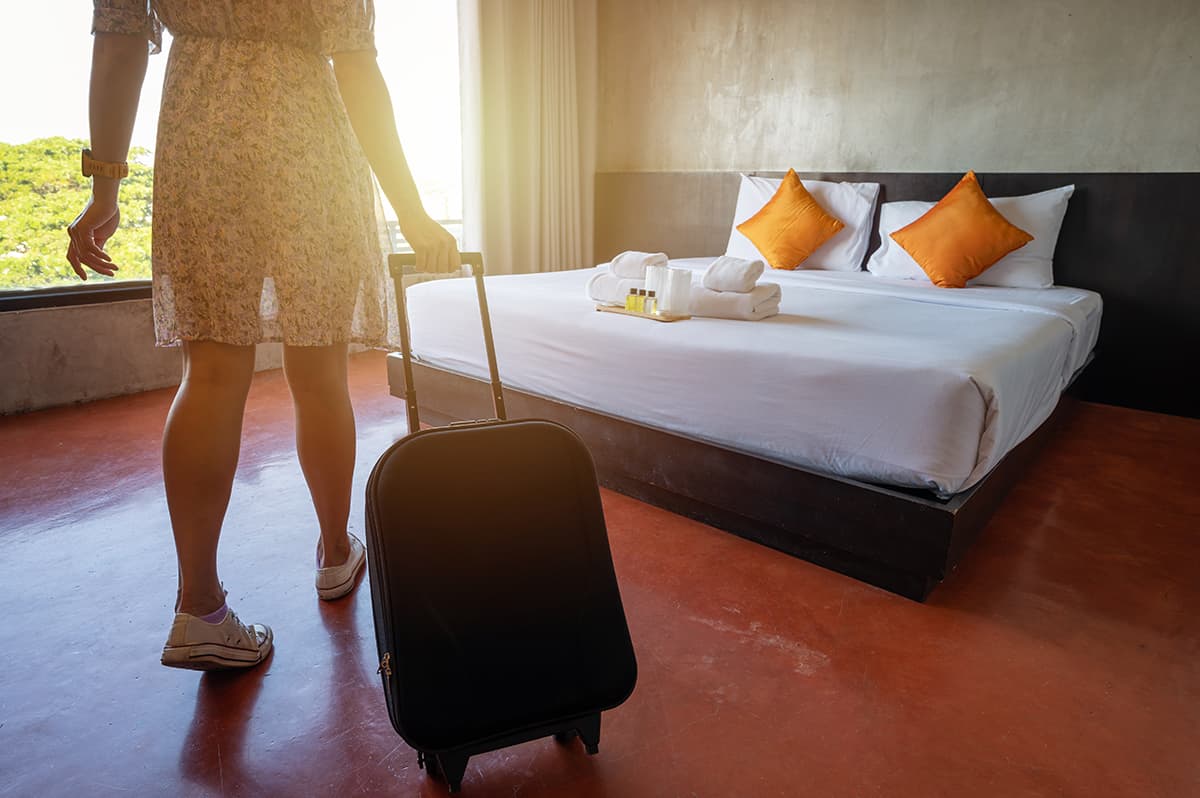 An irregular guest does not count as an occupant, but at what point does a regular guest need to be included in the total number of occupants? This will usually be defined in the lease agreement. Although a landlord cannot make any rules surrounding how many guests a tenant invites to stay at the property, they can state an amount of time after which a guest becomes an occupant.
A common rule in a lease agreement is that a guest is considered an occupant if they stay there for more than seven consecutive nights or more than 15 nights over a period of six months. This could easily be the case for someone who does not live with their partner but who has their partner staying overnight at the weekends. You should check your lease agreement if you fit these criteria, as you could be unknowingly breaking your contract, which would give your landlord the right to evict you.
An additional occupant in the property could be a reason for the rental charge to be increased, especially if utilities such as power or water are included in the agreed monthly amount because an additional person having showers or staying in the property while you are at work and having the heating on will dramatically increase the landlord's utility costs.
Though many people may choose to let a guest regularly stay to the point that they are legally considered an occupant without telling their landlord, this is a risky strategy because you could get reported by a neighbor or be caught out by your landlord, which might result in some uncomfortable conversations or even a possible eviction.
What Classifies as a Bedroom?
There are strict regulations set out by the Fair Housing Act to deem what is acceptable to be used as a bedroom. This will include the size of the unit as a whole, the size of individual bedrooms, and their position within the property. Basement bedrooms need to have adequate access to a fire escape in order to be legally classified as bedrooms for occupancy purposes.
The Fair Housing Act does recognize the age of occupants and specify what is considered as a reasonable space for an occupant. This means that although children of all ages are considered occupants, they recognize that a baby will take up less space than a teenager.
Can a Landlord Limit Occupants?
In short, yes, a landlord can limit occupants in accordance with the Fair Housing Act. This states that a minimum of four people can occupy a two-bedroom apartment, so a landlord cannot limit occupants below this figure. However, your state may have guidelines suggesting two occupants per bedroom, plus one additional person. A landlord does not have to uphold 'guidelines' but does have to comply with 'regulations,' so they could limit your occupancy in a two-bedroom apartment to four occupants.
Regulations Vs Comfort
If you're looking for a new home, then you should also reflect on regulations versus comfort. What a regulation states are acceptable might not be acceptable to your family, especially if you have older children, as these will typically require more space than babies or toddlers.
You will also want to consider what other amenities the property offers. For example, how many bathrooms does the two-bedroom apartment have? A family of four might struggle with one bathroom, especially if the children are teenagers or young adults. Is there space for a dining table, or is there just a breakfast bar? A family of four or five may not be able to hold family meals around a breakfast bar, while a couple may find this perfectly suitable.
You should also consider other components of the property. For example, how many parking spaces does it come with? If you have teenagers who are keen to pass their driving test and have their own vehicles, then it is unlikely that a two-bedroom apartment will come with four parking spaces to suit the whole family; however, if you have young children, this won't be an issue.