So you've decided to renovate your home to give it a modern look, but there is one space you're probably not paying much attention to in your design plan: the staircase. One of the first things guests see when they enter your home is the staircase so you want to make sure it is an attention grabber.
A staircase isn't just a conduit between downstairs and upstairs. It plays an important role in setting the mood and looks of your home. A well-planned stairway in a traditional or contemporary home can create a welcoming entryway.
If you can't make up your mind about the best stairway design, we suggest you take a look at our half-turn staircase ideas that create a unique style in your home. But first, let's find out more about this type of staircase:
What is a Half-Turn Staircase?
A half-turn staircase is also referred to as a U-shaped or Switchback stairway. It consists of two straight flights of stairs with two 90-degree turns. This type of staircase starts from the base to the top, with the person turning 180 degrees to the next flight.
The half-turn stairs can either be designed as the dog-legged or newel type. In the case of the first type, the flights of stairs are in the opposite direction without any space between the flights. The other type, however, is designed as an opening between the flights in order to accommodate a lift.
The half-turn stairs may also feature angled treads, with the center of the staircase left open depending on the configuration of the space. The turns of the staircase can be curved to make the steps more comfortable and safe. This curve also reduces the angled treads' tapering.
Advantages
Can easily fit into any architectural interior plan
Bespoke designs are of architectural interest
The landing is a resting point
More visually appealing than straight stairs
Wider landing allows more space
The space under the landing can be a storage nook
Disadvantages
Half-turn staircases are more difficult to build than most other types of staircases
Moving furniture up and down the stairs is more difficult because of the turn
Not suitable for homes with a lack of space
8 Half-Turn Staircase Design Ideas
Wooden Staircase for an Urban Feel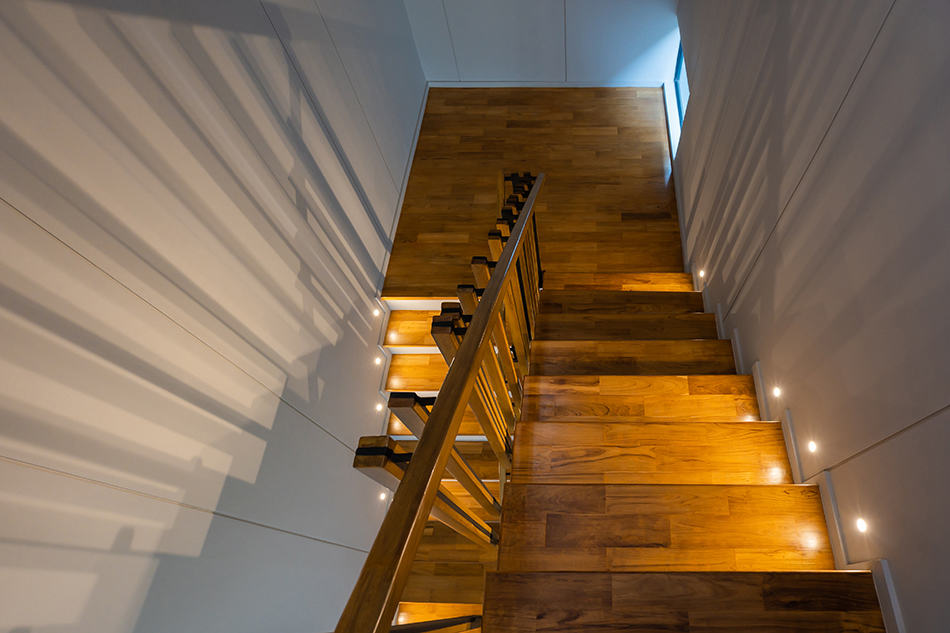 Wooden half-turn staircases are the most common choices for residential homes. To give your home an urban feel, add matching wooden balustrades to complete the sleek appearance of your staircase. With the addition of spotlights at the corner walls, each step is illuminated beautifully for a contemporary feel.
This wooden half-turn staircase brings a sense of the outdoors to the inside, thanks to its natural appearance. The lighting has provided the illusion of a bigger space here.
The characterful vibe of this wooden staircase design is warmed by a display of lights at the foot of each step. To protect the wood from regular foot traffic, don't forget to treat the wood twice a year with wax.
Bespoke Rustic Style Staircase Design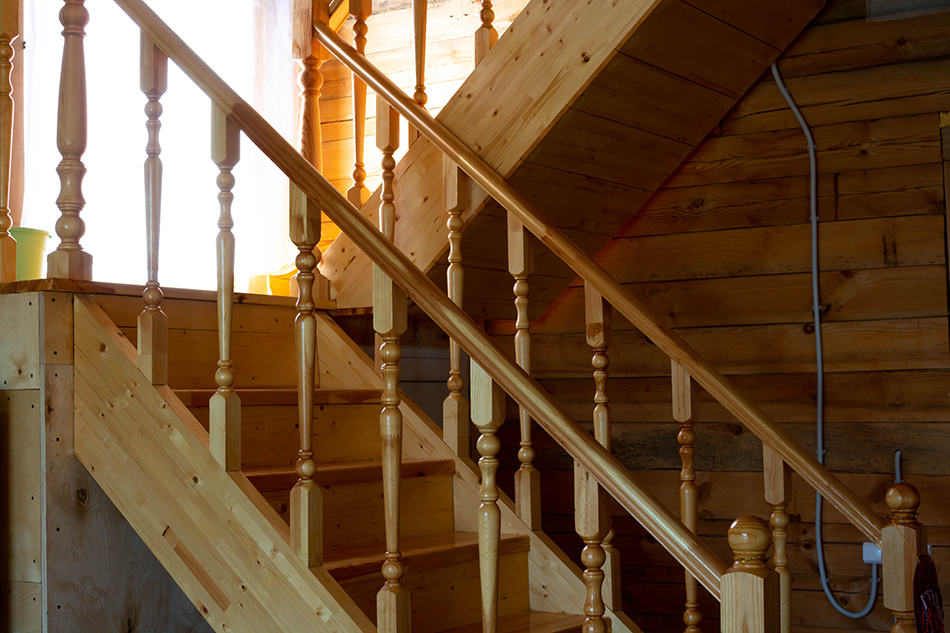 If you are doing total home remodeling, and money is no object, it makes sense to hire an architect to design your dream half-turn staircase.
A bespoke wooden stairway with cherry wood banisters offers a beautiful curvaceous design. This unique architectural design can serve as a stunning backdrop for a traditional living space. Give it a coat of light varnish and you're all set. And if there is some empty space underneath the staircase, why not add a few built-in shelves for storage?
The void underneath your half-turn stairway can be transformed into a useful space, from wooden shelving and a curved desk to built-in closets for concealing your stored items.
You can even have bespoke pull-out drawers or cupboards made from the same wooden material as your staircase. The beauty of half-turn staircases is their extra storage space underneath as an attractive place to utilize your belongings.
Illuminated Staircase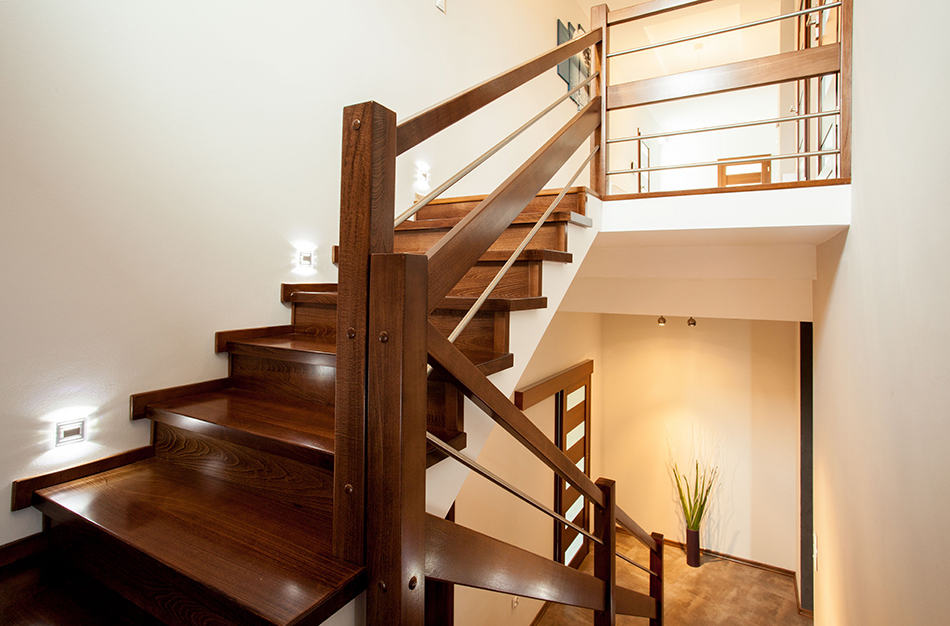 Clever lighting can really transform the feel and look of your half-turn wooden staircase. To add plenty of ambiance to your entryway, consider strip lighting alongside each tread.
Choose a cool white glow for a sleek and modern feel. A dark-stained wood staircase with plenty of lights brightens up the otherwise dark space at night. This idea works with any type of staircase, and the best thing is you won't have to worry about switching on the lights before going up the stairs if you opt for motion sensor lights.
Contemporary Metal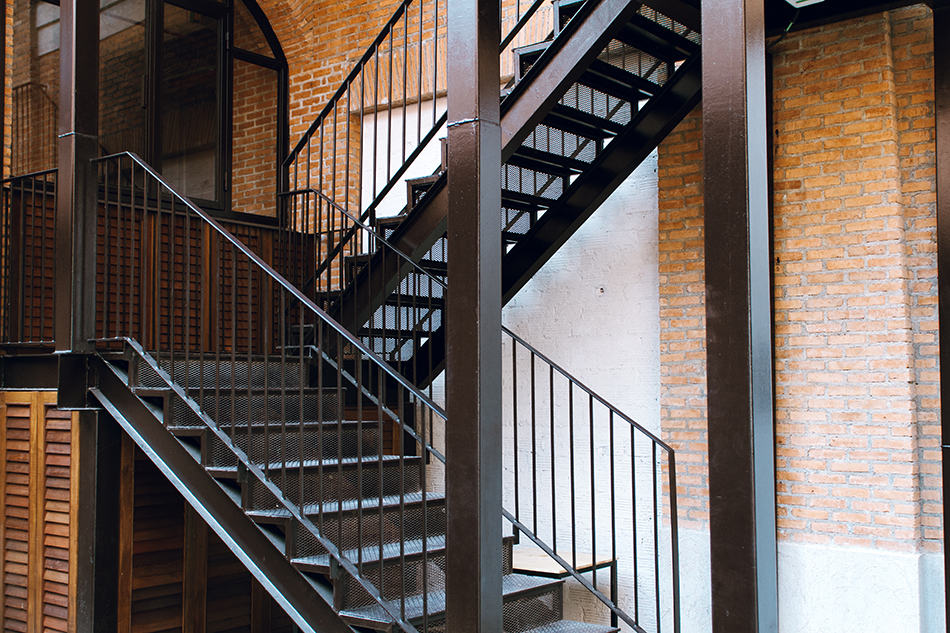 Half-turn staircases made from metal are strong and durable. However, they tend to be most common in commercial buildings. But did you know these staircases are just as effective in modern or industrial-style homes? When used within a residential setting, the metal stairs connect the living room with the rest of the open space.
The trendy industrial vibe makes a great design for apartments with brick walls or concrete flooring. Metal stairs come in various designs with a combination of other materials – if you wish to enhance their look. That said, you can even opt for an all-metal staircase in black, as shown here.
The rust and corrosion-proof material certainly makes a smart staircase design in contemporary or industrial-style homes.
A Combination of Glass and Wood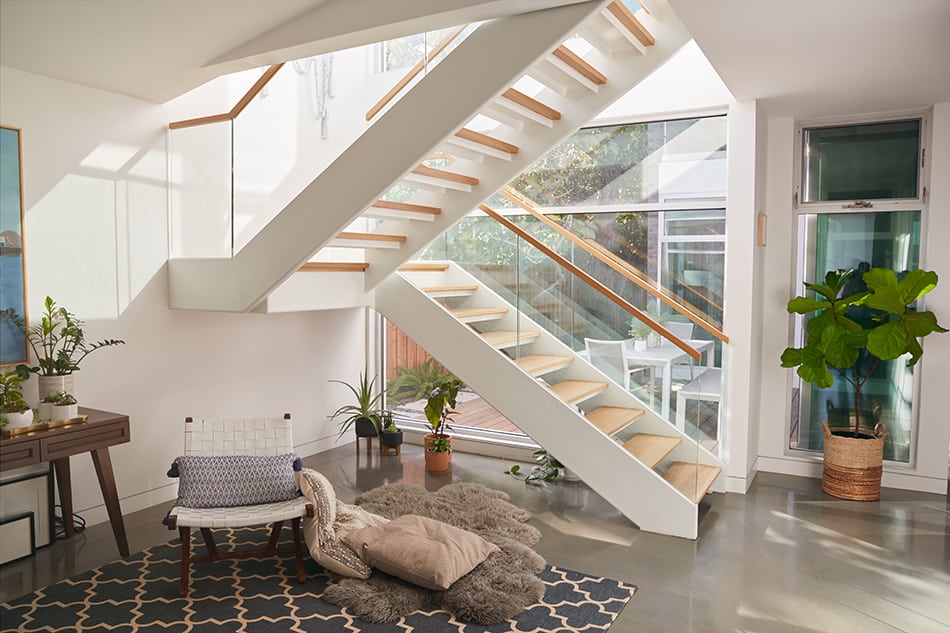 Now, how about a combination of different materials to create a truly beautiful half-turn stairway. Glass and wood can create clean lines in a minimalistic design.
The transparent glass banister on this chic wooden staircase goes very well with the rest of the room's decor. The simple yet effective combination of wood and glass makes this half-turn staircase an architectural focal point.
Iron and Wood for a Vintage Look
Another smart combination is iron and wood for a more traditional look. This is the perfect blend between the industrial style (iron) and mid-century modern (wood).
See how the use of iron for the treads and decorative banister works in harmony with the wooden railings. The intricately designed half-turn staircase not only looks unique, but it is an ideal option for traditional settings.
Blend Modern Staircase with Open-Plan Spaces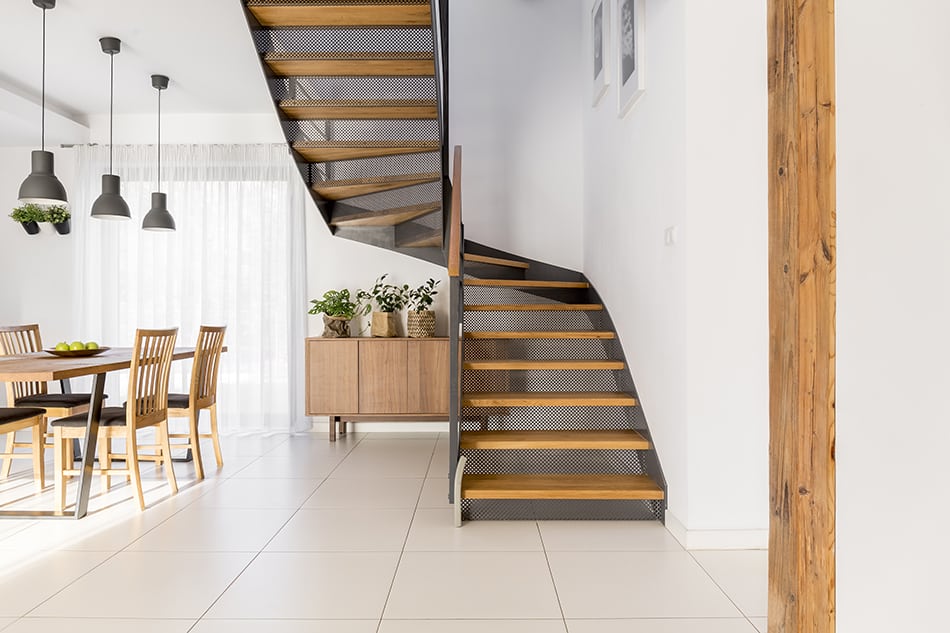 Since open-plan living is becoming more popular than ever, it makes sense to incorporate a half-turn staircase into this design. Most modern apartments boast open-plan living spaces with the kitchen in the same room as the living room.
By using a half-turn staircase to divide up the large space, you can still feel as though they are separate rather than one large space. Just take a look at this example of a modern half-turn staircase in an open-plan apartment.
The beautiful curve of the stairway complements the rest of the furniture in this living room. All the colors, such as the lighting, table, chairs, and door, complement the half-turn staircase beautifully.
Staircase as the Focal Feature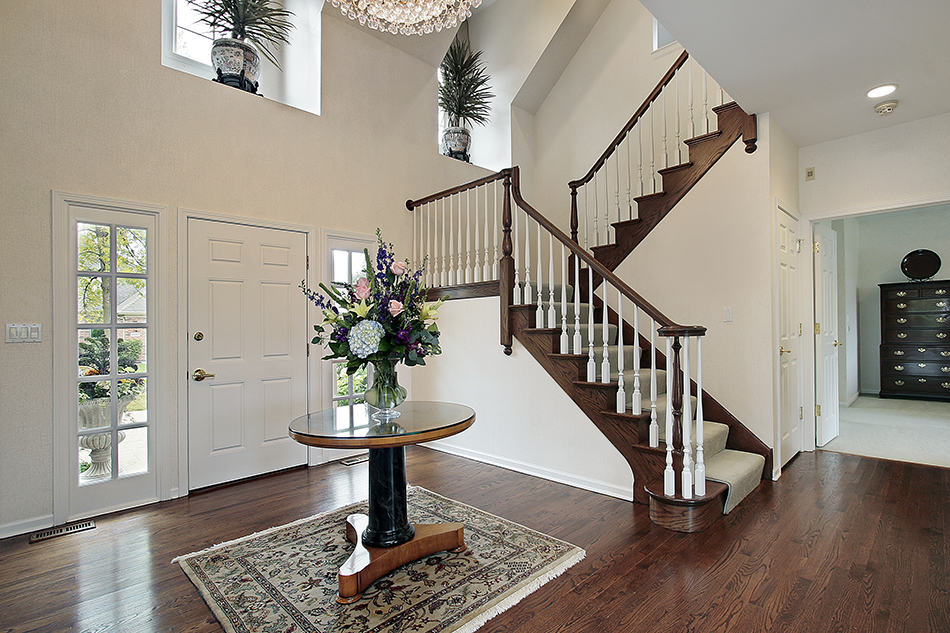 A half-turn staircase is a visually interesting design that can serve as a huge focal feature of the home. It is, therefore, of utmost importance that you give special consideration to the material and the design of your half-turn stairway, as it needs to express your home's style.
Since most staircases are located at the front entrance of the hallway, choosing an attractive staircase design will make an immediate impact on your visitors. Experiment with colors and materials to create a welcoming feel. Your objective is to add a statement feature that draws the eye instantly to the staircase, just like the one shown in this example.
How do I Make My Half-Turn Staircase Appear Bigger and Brighter?
Mirror: one way you can increase the light on your half-turn staircase is to add a large mirror on the wall of the landing. The reflective surface helps bounce natural light onto the surrounding walls, thus brightening up a dark half-turn staircase.
Artificial lighting: to create impact, choose lighting carefully. The stairs are an area of the house that you will be looking at often so it is important to go bold and pick unique lighting. Layers of wall lights on the lower section of the stairs will highlight the decorative architecture around the stairs and is a good way of illuminating this space.
Runner: so we've mentioned how to make your half-turn stairs brighter, but to make them appear wider, try adding a runner to the middle of the steps. This is a particularly popular choice as striped or patterned runners create clean lines. In modern homes, bright-colored runners on wooden or metal half-turn stairs make this space appear wider and bigger.
Glass panels: another great way to make your half-turn staircase appear bigger is to add glass banisters. For traditional wooden stairs, try a glass panel with oak railings, and for modern metal stairs, go for chrome fittings.