If you aren't happy with the style of your fireplace, then refacing it can be a much easier and cheaper option than completely replacing the fireplace, assuming you are happy with the current size and location of it.
The price of refacing a fireplace can vary depending on the materials you choose, the size of the fireplace, and the area you live in. Here we will look at various options ranging from budget-friendly choices to more high-end alternatives.
What is Refacing a Fireplace?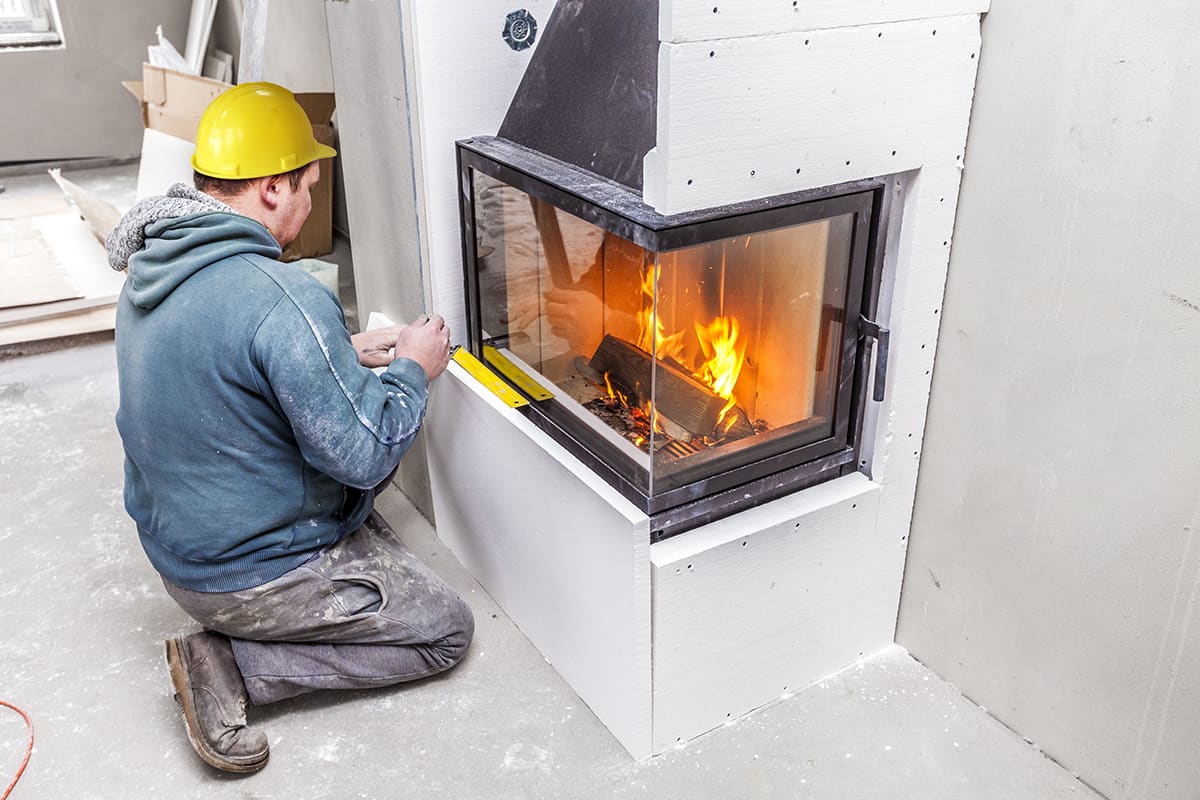 Refacing a fireplace is a way of updating the look or style of your fireplace without ripping out the current fireplace. To reface a fireplace, the most cost-effective option will involve fitting materials directly over your current fireplace. This saves time, mess, and money since you won't have to rip out and dispose of your existing fireplace.
The most common methods of refacing include installing masonry veneers, wood paneling, or tiles over the existing fireplace. In order for this to be a viable method of refacing, your existing fireplace needs to be in good structural condition.
If there are any crumbling bricks or loose mortar on your fireplace, then the weight of new materials adhered to the exterior of the fireplace could make the problem even worse, and the new face on your fireplace will not be secure.
Fireplace Refacing Costs
The cost of refacing a fireplace can vary enormously depending on several factors. If you have a very large fireplace, then this is going to require more materials compared with a compact fireplace, which of course, will increase the materials cost.
A larger fireplace is also going to take a contractor longer to reface, and therefore the labor costs will be higher compared with those of a small fireplace. The type of material you choose is also going to have an effect on the cost of the project. For example, marble tiles are going to be more expensive than simple ceramic subway tiles.
The area you live in can also affect the cost of the project, most notable of the labor component of the job. If the living costs in your area are high, then labor costs will be higher as a result, compared to areas where the living cost is lower, and therefore local wages are lower.
On average, it is expected that the cost to reface a fireplace will be in the region of $1000. This cost includes the materials and the labor, but if you want to complete a fireplace refacing on a tight budget, there are ways to achieve this, and on the opposite end of the spectrum, you could end up spending several thousands of dollars refacing a fireplace if you have luxury taste.
Fireplace Refacing Materials
Since the materials you choose to reface your fireplace in are going to have a big effect on the cost and the finished look of the project, you should consider all of the options and assess the costs before making a final decision.
Here we look at some of the most popular fireplace refacing materials available, along with their typical costs in square feet, so that you can get a rough estimate of what the materials for your project are going to cost.
Stucco or Concrete
If you want a sleek modern look, then concrete is extremely on-trend. This is also a method of refacing a fireplace that can be achieved on a tight budget if you're handy with a trowel.
Stucco or concrete can be picked up from DIY or hardware stores by the bag, with a typical cost of around $9 a bag. This is a dry powdered material that is mixed with water to create a thick paste before applying it to the fireplace.
Concrete or stucco can both be applied directly onto an existing fireplace which is made from masonry. You can create a smooth finish for an industrial, urban look or opt for a textured finish for a country cottage or farmhouse style.
A textured finish will be easier to achieve if you plan to reface the fireplace yourself. If you want a high-end polished concrete look, then hire a professional to reface the fireplace for you. One bag of concrete or stucco at $9 should cover around 25 to 30 square feet of surface area, so your material costs will be very low, but labor costs can vary.
Wood Paneling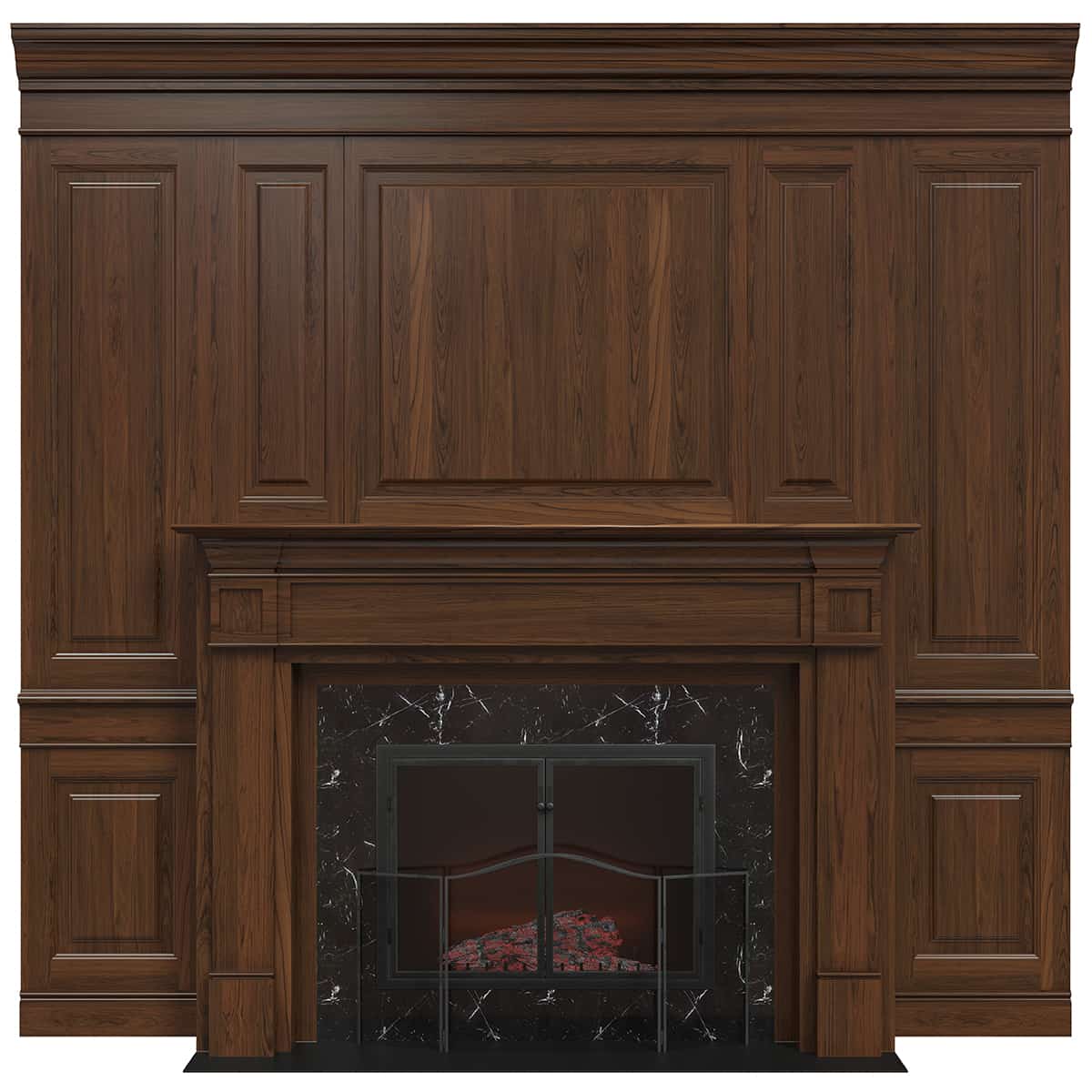 If you don't have a working fireplace and instead your fireplace is more for aesthetic purposes, then use wood paneling to update the look of it. Wood paneling can be used to create a classic or traditional look when the wood is stained or painted or leave wood raw and unfinished for a rustic or industrial style.
If you want to stain or paint your wood paneling, then you can opt for a budget wood such as pine, which can cost less than $1 per square foot. For stronger and more robust woods, opt for walnut or mahogany at typical prices of around $10 to $15 per square foot.
If you have a working fireplace, then wood paneling may still be an option, but you'll need to consult with your local building codes and regulations first.
The installation of combustible materials, which includes wood, is prohibited by the International Building Codes within 6 inches of the edges of a working fireplace. This means that your fireplace surround could be installed with wood paneling as long as it is more than 6 inches from the actual working components of the fireplace.
However, different areas may have fire codes that are even more stringent and may require a greater distance between the fireplace and combustible materials, so always check beforehand to be sure.
Masonry Veneer
Masonry veneer is also known as thin stone or thin brick. It is a type of veneer which comes in sheets, which has the look of real bricks. If you like the look of a brick fireplace but don't want to completely rebuild the fireplace, then masonry veneer is a great option. It is thin and lightweight and therefore is easy to install.
The type of masonry veneer you choose will affect the price, but typically you are looking at anything from $4 to $16 per square foot for the veneer, and you will also have to factor in adhesive to fix it to the current fireplace.
Tile
Tile fireplaces can be used in almost any style of home. Choose a terracotta tile for a Mediterranean or country cottage look or a slate-look tile for a rustic style. Patterned tiles work well for traditional or antique style homes, or opt for marble tiles for a more luxurious finish.
If you want a modern or minimalist look on a budget, opt for plain white subway tiles. Tiles can be applied over existing fireplaces, and the price of materials can vary dramatically depending on which type of tile you choose. If you want to reface your fireplace for a low cost, then you can find tiles as cheap as $1 per square foot, or more high-end options can cost as much as $35 per square foot.
When pricing up the cost of refacing a fireplace in tile, you'll also need to account for adhesive to stick the tiles to the existing fireplace and grout to use between the tiles to finish off the look. Some types of tiles will also need to be sealed after they have been installed.
If you are able to install the tiles yourself, then this can be an extremely budget-friendly option for refacing your fireplace.
Tiles represent a popular choice of fireplace refacing because they are low maintenance and easy to keep clean. They also come in such a wide variety of colors, patterns, and shapes, so you can choose something that really reflects your personality or personal style.
Stone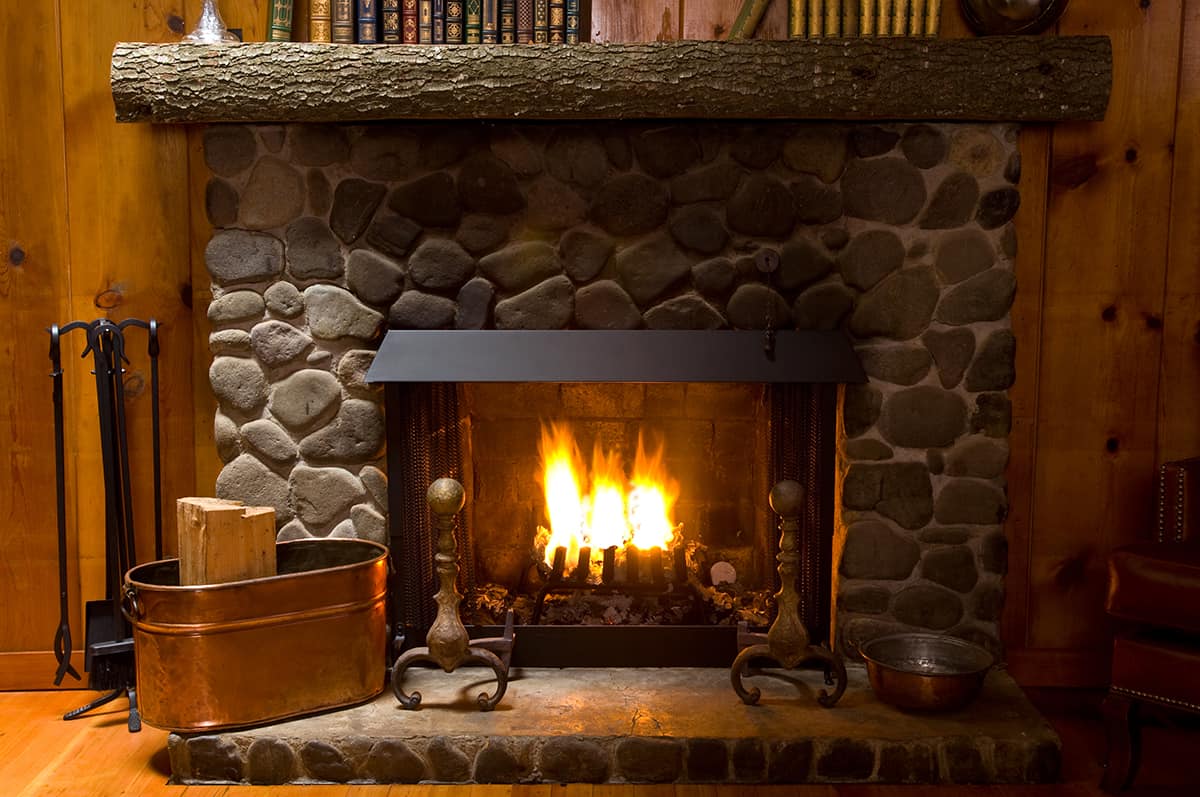 A stone fireplace makes for a real feature in any room in the home. Stone fireplaces add character and personality to a space, and they are a very sought-after style that can increase the value of your home and make it more appealing to potential buyers.
Types of stone that you can use to reface a fireplace include granite, slate, and quartz. Natural stone tends to be heavy, so you'll need to ensure that the integrity of your existing fireplace is up to the task of supporting your new stone slabs.
Refacing your fireplace in stone is the most expensive option you can choose, with the slabs themselves costing anywhere from $50 per square foot right up to $200 per square foot for rare and desirable colors and patterns.
To have stone slabs installed over your fireplace, you will need to hire a professional who will measure up the fireplace and have the stone cut to size for a perfect fit. A professional stone installer will also be able to finish the edges so that the fireplace looks sleek and tidy.