Concrete is without a doubt one of the most popular materials in the world. In fact, it's used more frequently than steel, wood, and any other building material – and not just in commercial settings. In residential interiors, concrete is usually seen in basements or garages. However, more and more homeowners are now starting to realize the raw beauty of exposed concrete walls. If you think about it, a modernised space with a concrete wall as its focal point gives your home an industrial feel, so there is no need to add any other striking feature. If you're considering using this material for your interior walls, there are many benefits that you'll gain from it. Here are some of those advantages listed together with 15 great examples of how you can incorporate concrete walls into your interior space. 
Reasons to Choose Concrete for Your Walls  
Interior designers often choose concrete for their projects because of its

aesthetic and functional qualities

.

Speaking of functional, concrete is recognized for its

high resistance and durability

, which is why it's commonly used in kitchens and outdoors.

Concrete walls look aesthetically appealing in open-concept applications and industrial-style interiors.

Concrete walls make a style statement no matter which room they are used in.

Maintenance is one of the biggest factors when it comes to choosing the right material for the walls. Since concrete requires little or no maintenance, it's not surprising to see why so many homeowners are opting for this material. As long as the wall is properly sealed and polished, you won't need to do anything else!

Concrete is a material that goes with almost anything, including

wood, steel, and bricks

. It makes an excellent neutral backdrop, regardless of whether you choose to stain or paint it. Having a concrete wall as the backdrop in your room means you can get creative and add other features like textiles and sculptures.

There is no denying the

visual weight

of concrete walls that draw the eye to the room. When you pair other elements with grey concrete walls, you can create an interesting focal point, (I will show you how a little later).

Since concrete is cold to the touch, it naturally repels heat. This makes the material

ideal for warm climates

as it can keep your home cooler. The insulating properties of concrete walls mean that indoor temperatures remain stable even during the cold months of the year.

And did we mention the fact that concrete doesn't rot, rust, or burn? What more could you ask for!
Now that you've learned about the main advantages of concrete, take a look at my list of concrete wall ideas for different rooms of your house:  
1. Concrete Walls for Hallway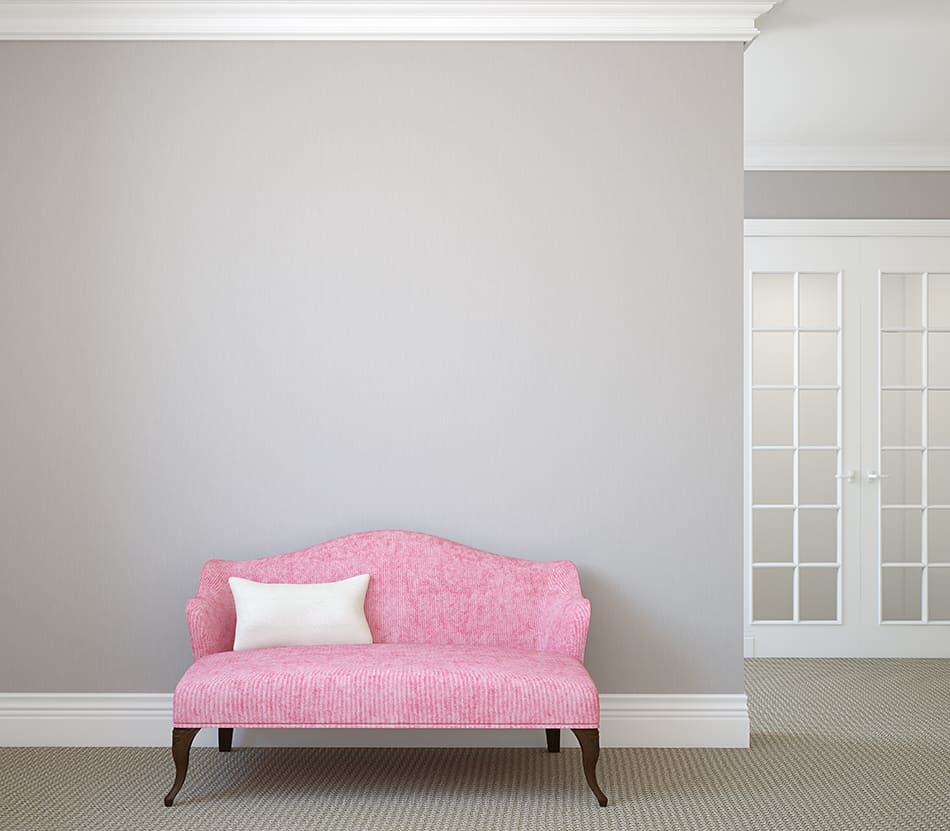 Concrete walls look especially stunning on bright hallways. Their texture can be further highlighted with decorative white siding on the top and bottom of the wall as shown here. You can also choose to include a concrete accent wall in your hallway and hang a striking wall art from it or place a bright piece of furniture (like a pink sofa!) in front of it. 
2. Concrete and Marble for Bathroom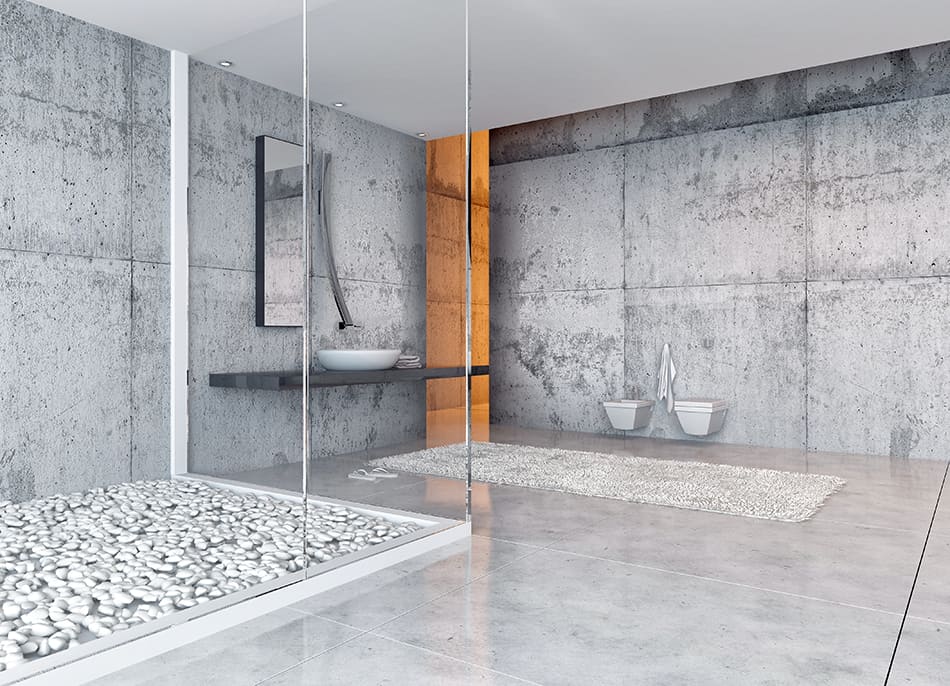 When it comes to choosing concrete walls for a home, any room can accommodate this material. Your bathroom is no exception. Take advantage of concrete's natural qualities and combine it with marble as the perfect match. Rough concrete walls make the bold marble floor look even more dramatic as shown in this picture. There is no need to tile over the walls as the idea is to create a modern and authentic effect. 
3. Luminescent Concrete Walls in Minimalist Bathroom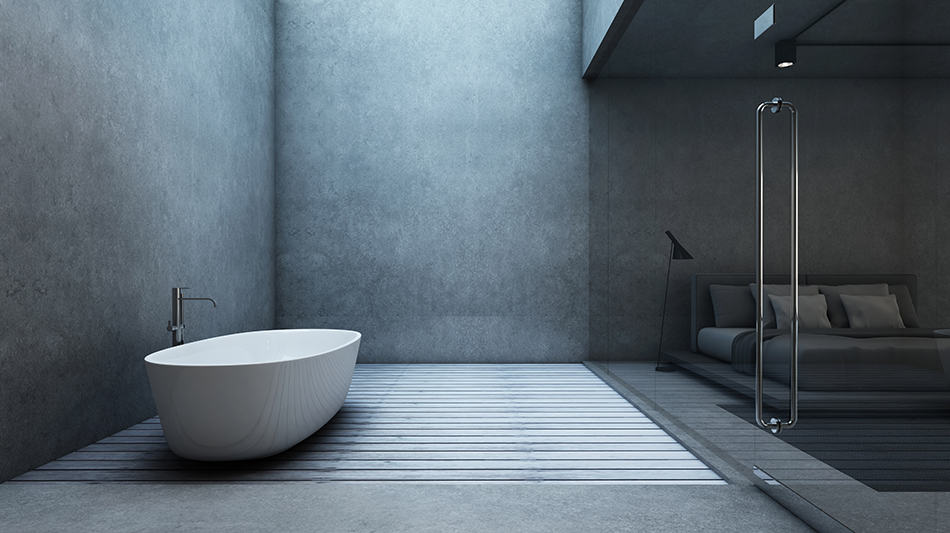 Luminescent concrete is a type of glow-in-the-dark material that has glowing particles in its surface. During the day, it looks like any other concrete wall, but at night, it radiates. You can choose this type of concrete in various colors and particle sizes to suit your bathroom. In this minimalist bathroom, notice how the concrete walls illuminate and attract attention.  
4. Colored Concrete Walls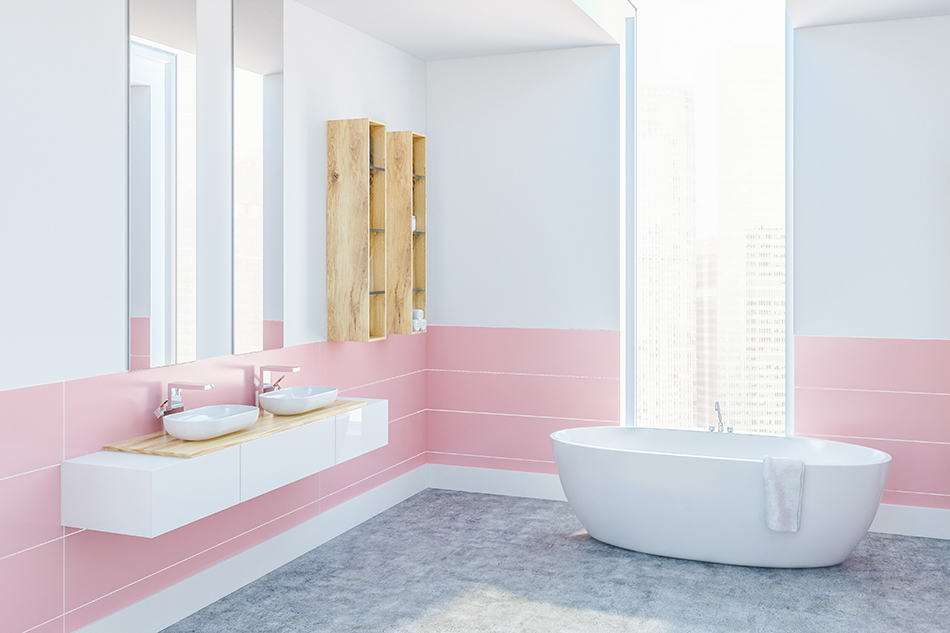 Another option for concrete walls in the bathroom is to choose a ready-mixed colored concrete with the desired brightness. You can have your bathroom walls the same color throughout and add bold tiles halfway on the walls. The advantage of colored concrete is that it won't wear away and is mold resistant.  
5. Concrete Walls in Industrial-style Living Room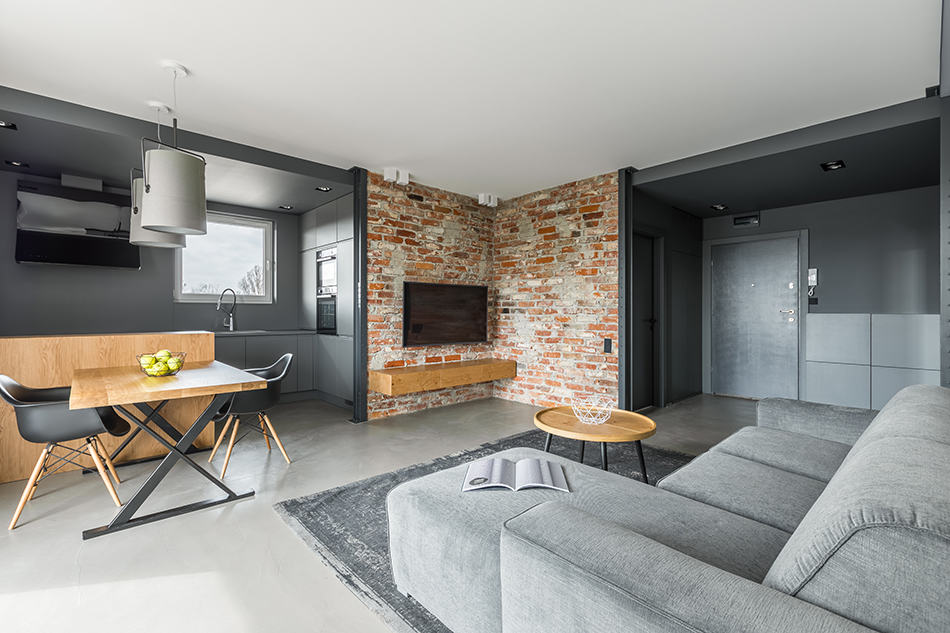 An industrial-style apartment isn't complete without concrete walls. The grey walls blend perfectly with brick and other natural elements like wooden furniture. As I mentioned before, concrete is an ideal material for industrial-style interiors and it fits very well in open-plan living rooms like the one shown in this photo.  
6. Concrete Walls and Indoor Plants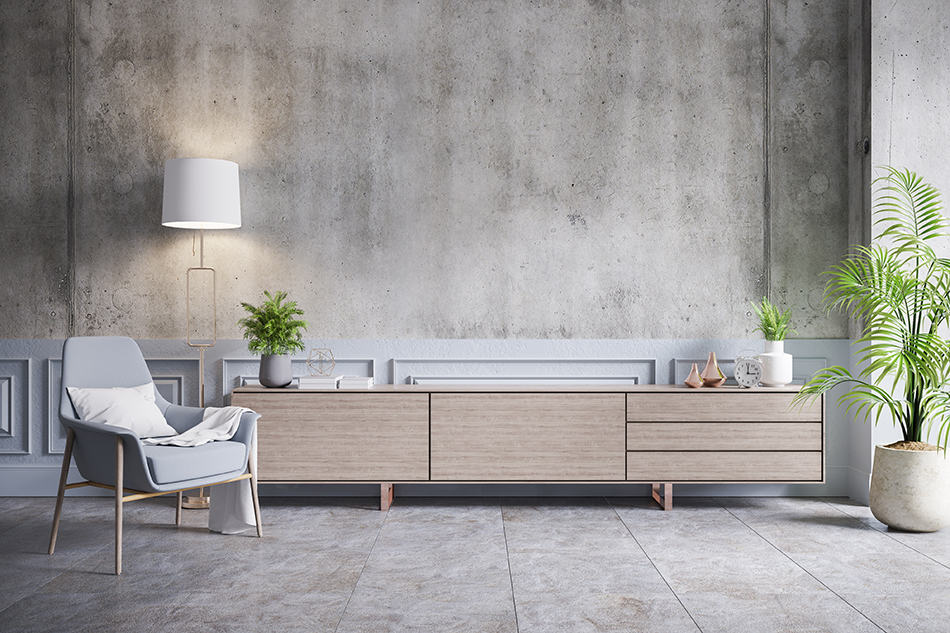 A grey living room with concrete floor and walls needs a stark contrast in the form of indoor plants. Concrete goes perfectly with natural items (house plants). When used along with wooden furniture, the shade of green paired with grey makes the living room stand out beautifully. 
7. Wood and Concrete
, a Match Made in Heaven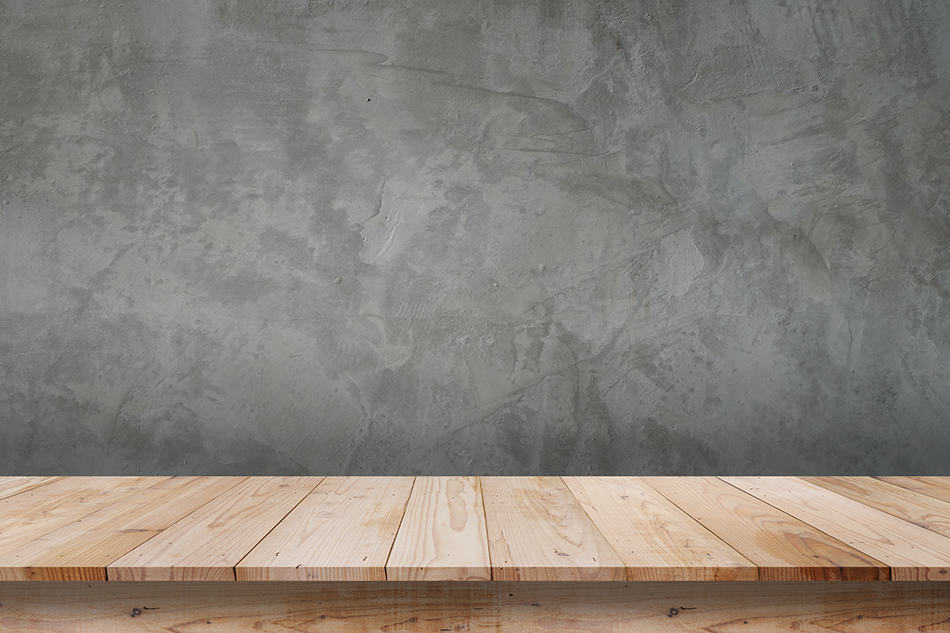 Since concrete and wood make the perfect pair, you can easily incorporate concrete walls with wooden flooring into your bedroom and living room. These materials give the room a smarter and modern appearance. But this doesn't mean you keep the walls grey and bland. Consider adding a little color to bring life into the room. This can be in the form of art pieces on the wall or a brightly-colored mirror.  
8. Concrete Walls and Lighting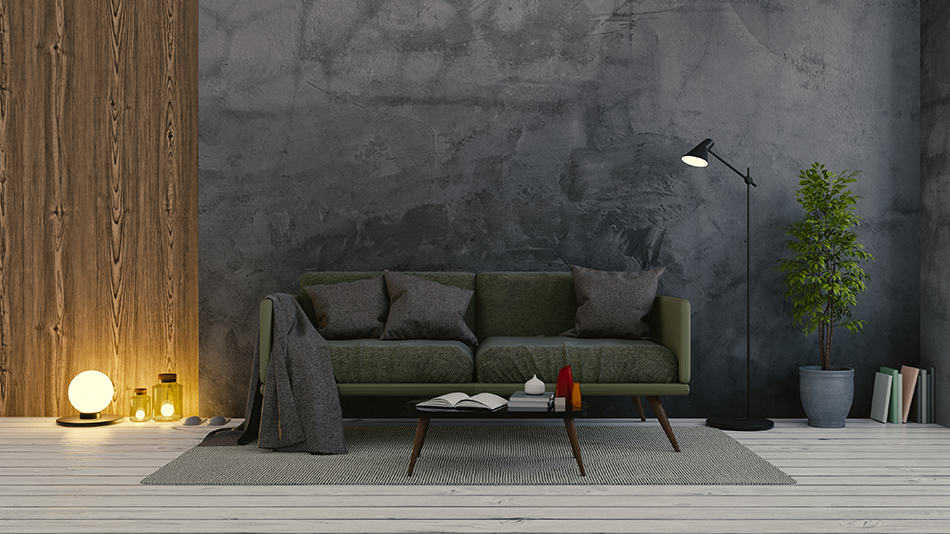 Lighting is a critical element in any room, especially when you're trying to brighten up the concrete walls. Whether you choose spotlights, large lamps, or hanging lights, it is important to make sure there is adequate light in the room. In this example, the single freestanding light next to the dark green sofa provides an ideal reading corner in this dark, grey room. There is also additional lighting on the floor to highlight the accent wall. This room could easily have appeared gloomy with the use of dark grey concrete walls, but instead, it feels inviting and cozy.   
9. Concrete Walls and Floor for the Kitchen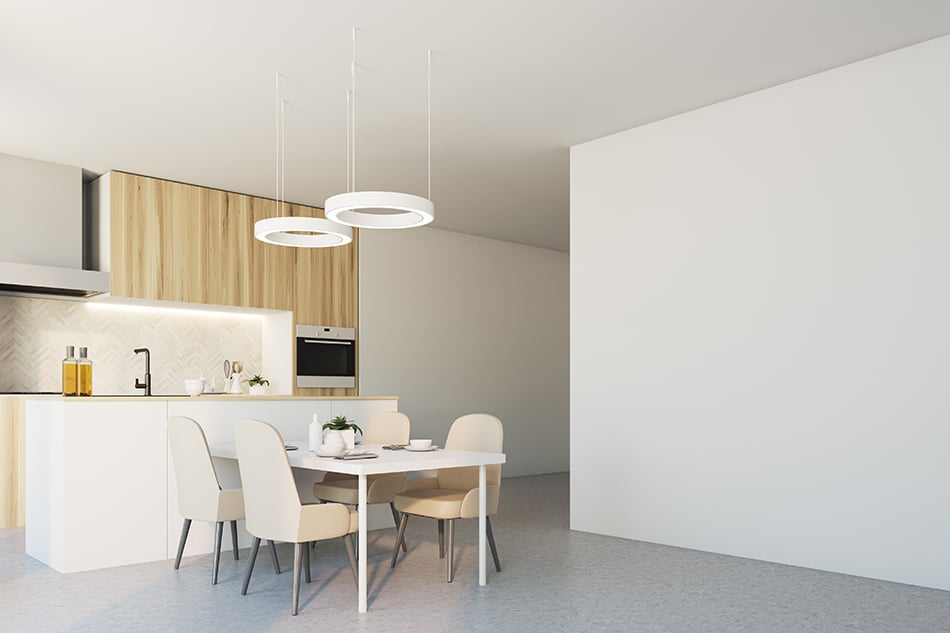 Concrete is so simple and versatile that it can be used in any room of the house. To beautify your kitchen, give it texture by using concrete for the walls and floor. This kitchen's wooden countertops and cabinets complement the concrete design and soften the look.
10. Concrete Wall with Contemporary Furniture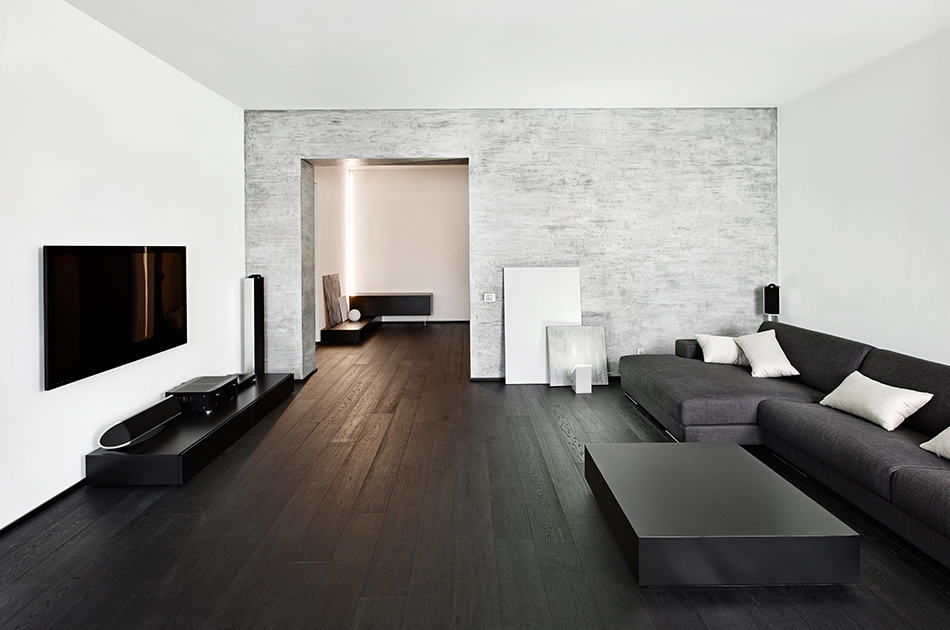 Combining a concrete wall with modern furniture creates an interesting and mysterious vibe as you can see in this image. When you look up close, the intricate texture of the concrete wall provides an elegant touch to the dark furniture and flooring. 
11. Concrete Panels in the Bedroom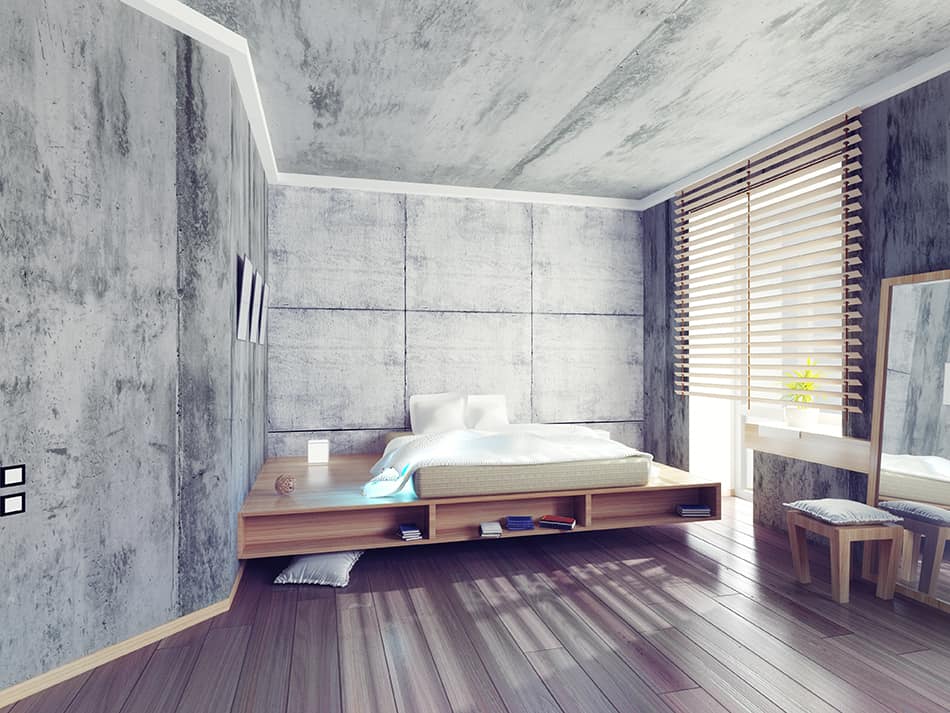 Exposed concrete panels have remained an interior design trend for many years now. A modern bedroom featuring a paneled concrete wall boasts texture and elegance. In this example, see how the concrete ceiling and walls perfectly fit the concrete panel and wooden furniture. It certainly makes a very stylish and welcoming choice.
12. An All-concrete Living Room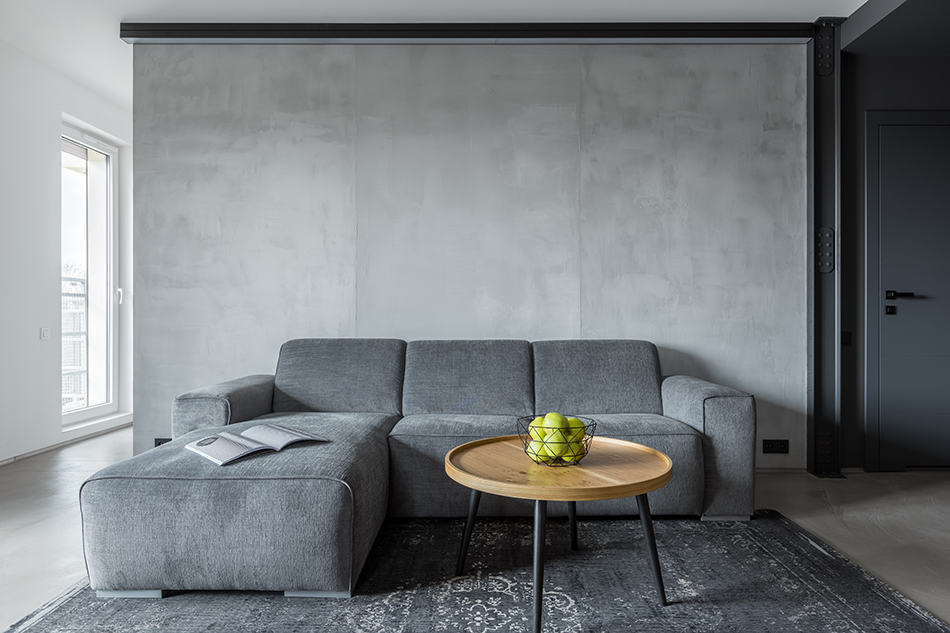 An all-concrete living room need not be dull and grey. You can retain the room's character by adding subtle hints of white or wooden furniture to the space. The grey walls, flooring, and the sofa here look anything but dull thanks to the large side window and round wooden table. These are the elements that are trendy and enhance the look of a modern interior.
13. Concrete Wall with Modern Art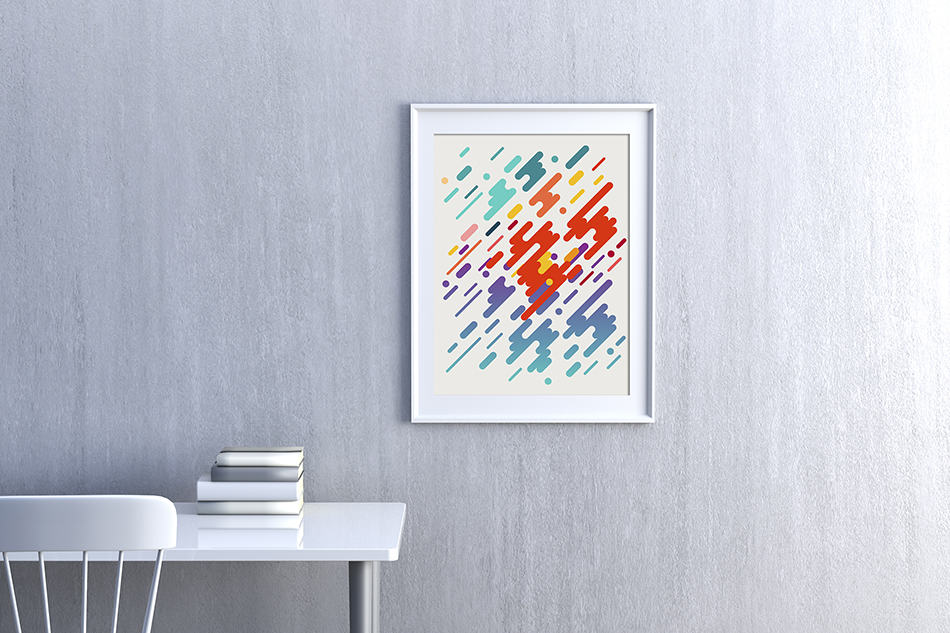 When you add modern art to your concrete wall, this results in an extremely fashionable composition. Grey concrete walls are the perfect canvas for hanging wall art or paintings from. You can use your creativity here and opt for unique artwork that draws the eye to the wall.  
14. Concrete Accent Wall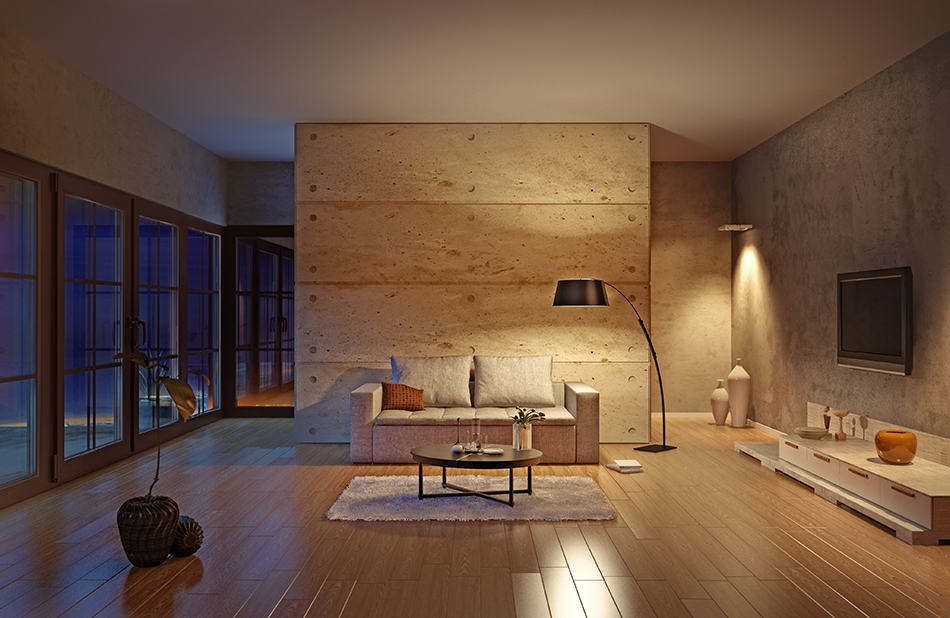 When choosing an accent wall in interior design, you must make sure you don't overwhelm the space. This can be avoided by including a plain accent wall in concrete with a sofa in front of it. The focal point of this room is without doubt the exposed concrete accent wall behind the couch, which has the same texture as the sofa. This accent wall has created an inviting and modern look and it works very well in rooms with large windows or glass walls as you can see here.  
15. Stamped Concrete Walls for Luxurious Interiors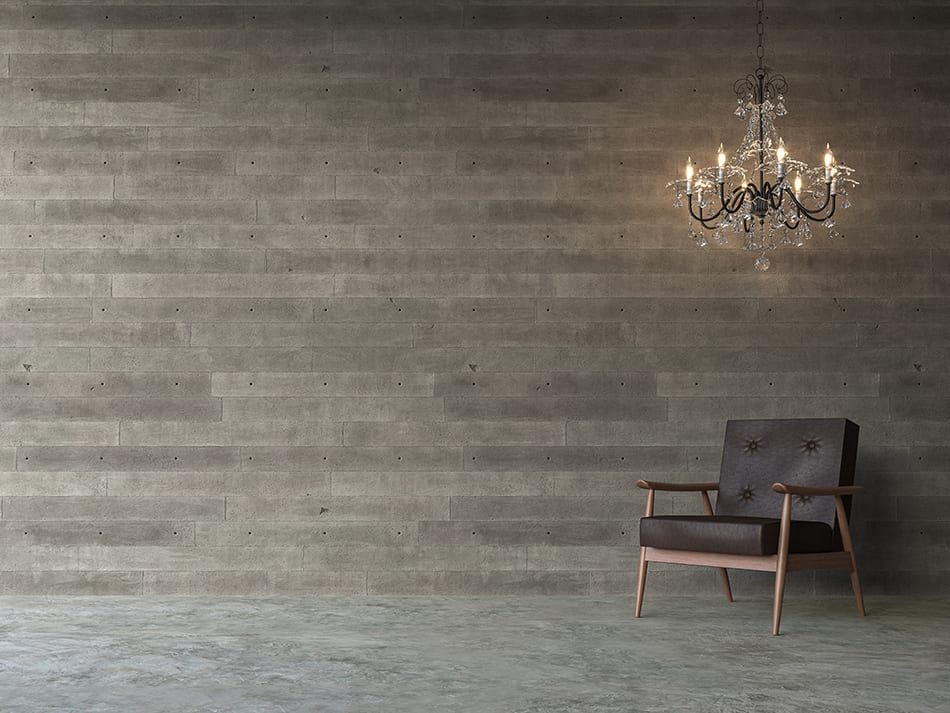 If you love the look of a luxury-style living room, using stamped concrete for the walls along with statement lighting (a chandelier, for example) can add depth to the space. There are many advantages to using decorative stamped concrete for the wall. These include the vast choice of colors and patterns based on your own taste and design idea, as well as the timeless look and durability of this building design. The stamped concrete wall can either be decorated with wooden features or used as a focal point.