Changing tables are popular pieces of furniture to have in a nursery, and many expectant parents will rush out and buy one under the impression that they are essential.
However, there are many alternatives to having a changing table that can work to solve numerous issues the parents may face.
What is a Changing Table?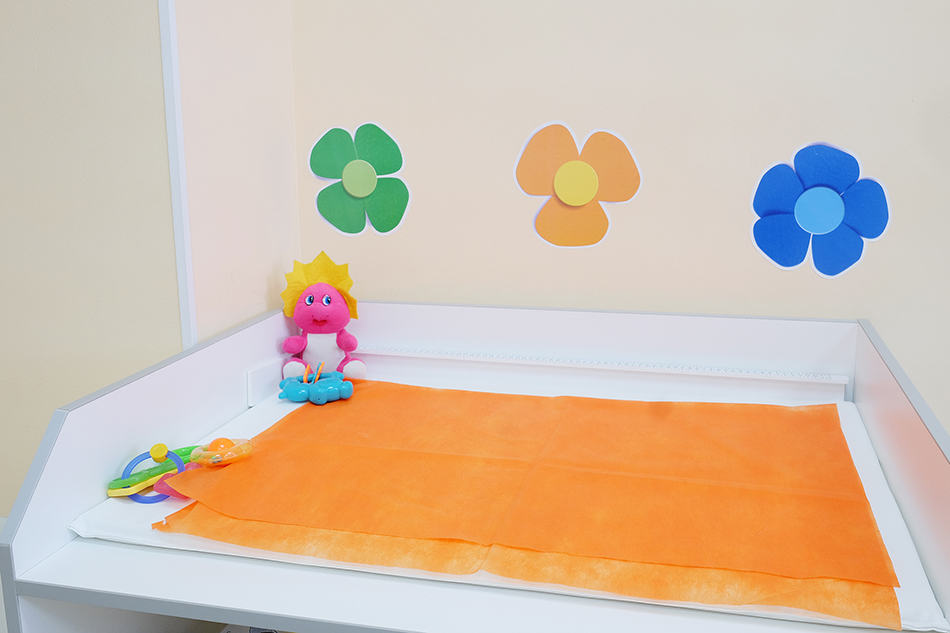 A changing table is a piece of furniture that provides a raised surface upon which a baby will lay to have their diaper changed by an adult. You can also use changing tables to change a baby's clothing or dry them after a bath.
Most commonly, changing tables are constructed from wood or wood veneer, with a wipeable surface on the top. They might include storage compartments underneath or clipped onto the side where parents can store diapers and other baby essentials.
Do You Really Need a Changing Table?
If you're embarking on the new and exciting journey of parenthood, then you've probably started to wonder which baby items are essential and which are merely pushed on you as a marketing ploy to make you spend more money.
If you have plenty of space in your nursery and aren't concerned about money, then having a changing table can provide a nice permanent place for you to change your baby's diaper.
However, most parents soon find that they prefer the convenience of a portable system for changing their babies' diapers, as it can become tiresome to have to go back to the nursery every time your baby needs to have their diaper changed. This often results in an expensive changing table going relatively unused, taking up space that could have been put to better use.
Fortunately, there is a variety of changing table alternatives to consider, for a whole host of reasons. Some common reasons for looking for a changing table alternative are:
Cost
Changing tables typically costs upwards of $200, so if you can find an alternative place to change your baby's diaper, you'll be saving a good chunk of money. Some alternative options can cost under ten dollars, making them much more affordable if you're working to a budget.
Space
Changing tables are bulky items, and some families simply won't have space in their nursery for one. In this scenario, there are many alternative options that can be stored when not in use which will free up vital space.
Convenience
A changing table can be inconvenient when you have a baby because their diaper can need changing as often as every hour, meaning you have to repeatedly make the journey to the room where your changing table is stored. Portable options can make looking after a baby much more convenient.
Sustainability
Once your baby is potty trained, you'll no longer have the need for a changing table, making it a very short-lived piece of furniture. If you want to remove yourself from the cycle of needless manufacturing and purchasing, you can opt for a changing table alternative that can be used for other means for many years after your baby outgrows diapers. This will make it a more sustainable choice.
Minimalism
If you want to live free from clutter, then you'll be looking for ways to cut down on unnecessary purchases. Changing tables are one large item that can easily be replaced with an alternative compact item to help keep your home organized and tidy.
Alternatives to Changing Tables
Changing Pad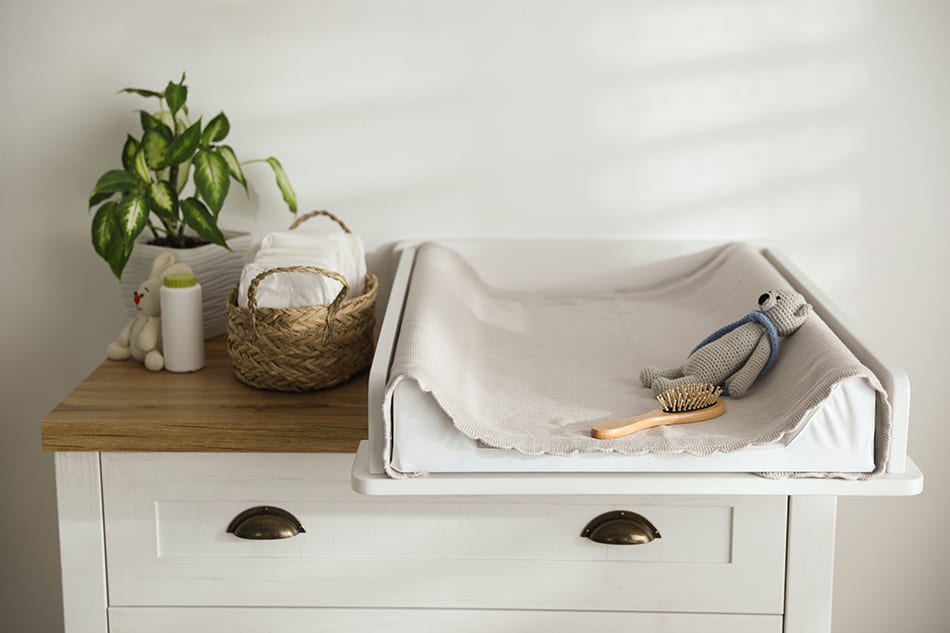 A changing pad is usually a rectangular piece of foam padding covered in a waterproof fabric. It is what most people will use as a soft and easy-wipe surface on the top of their changing table to ensure the baby has a comfortable surface to be changed on, but you can actually use changing pads all by themselves.
There are many benefits to choosing a changing pad over a changing table. For starters, they are flat and slim in shape, so they can be stored easily down the side of furniture or underneath the crib and easily pulled out when you need to use them.
It is also lightweight and therefore easily portable, which means you can change your baby anywhere in your house instead of having to take the baby to their nursery every time you need to change their diaper. Changing pads can be found for just a few dollars, so for the sake of ease, many new parents will buy two changing pads so that one can be kept in the nursery and the other in the living room.
A changing pad can be used on almost any flat surface but will be commonly used on the parent's bed, on the floor, or in the crib. The fact that it is waterproof means any spills or stains can be easily wiped off, and you won't need to put it through the laundry. You can find changing mats with raised edges which will help to prevent the baby from rolling off.
Changing Basket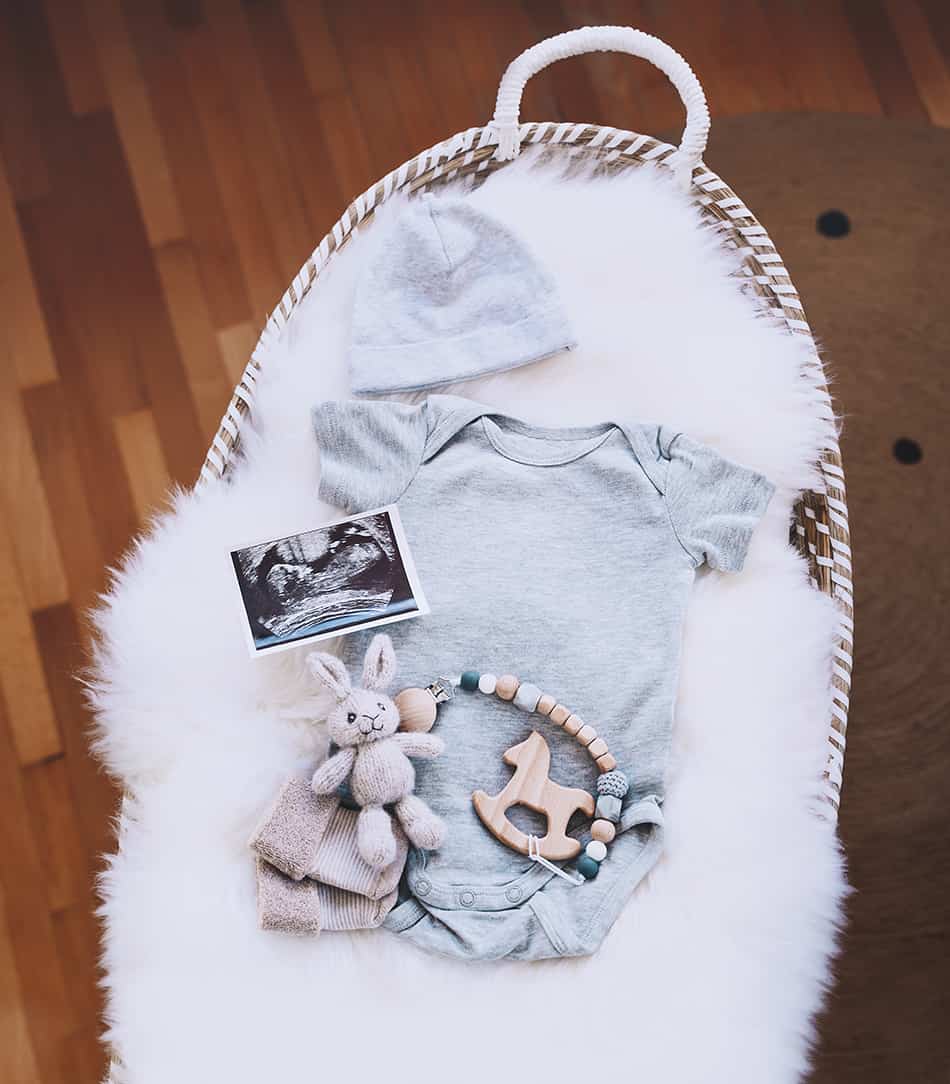 A changing basket is a nice alternative to a changing table that is sustainable and eco-friendly. Changing baskets most often will have an oval-shaped base and woven walls, which are a few inches tall. They are made out of natural materials such as seagrass and will typically be handwoven. This is a great option for anyone who doesn't want to compromise on style because woven changing baskets are both stylish and functional.
They also help you cut down on waste because even once the baby has outgrown the need for a changing table, the basket can be used elsewhere around the home for a wide range of things, such as storing toys in the nursery, storing rolled-up towels in the bathroom, or displaying ornaments on a tabletop. You can buy padded inserts specifically for changing baskets which are made from soft cotton and provide a comfortable place for your baby to be changed. These pads tend to be machine washable for easy clean-up.
Fold-Out Changing Station
A fold-out changing station is the type of thing you might have seen in public bathrooms. It is made from chunky, durable plastic and has one side screwed into the wall. The 'table' part of the change station folds down from the wall by utilizing hinges, and the station can be conveniently situated at a height comfortable for the parents.
The changing station will be equipped with a belt that can be fastened across the baby's torso to prevent them from rolling over. This is a great space-saving solution if you want a fully functioning change table but simply lack the room needed because when the station is not in use, it can be folded up again against the wall and out of the way. The main drawbacks to a fold-out changing station are that they don't look very attractive, and some parents fear that they aren't very safe.
Folding Change Table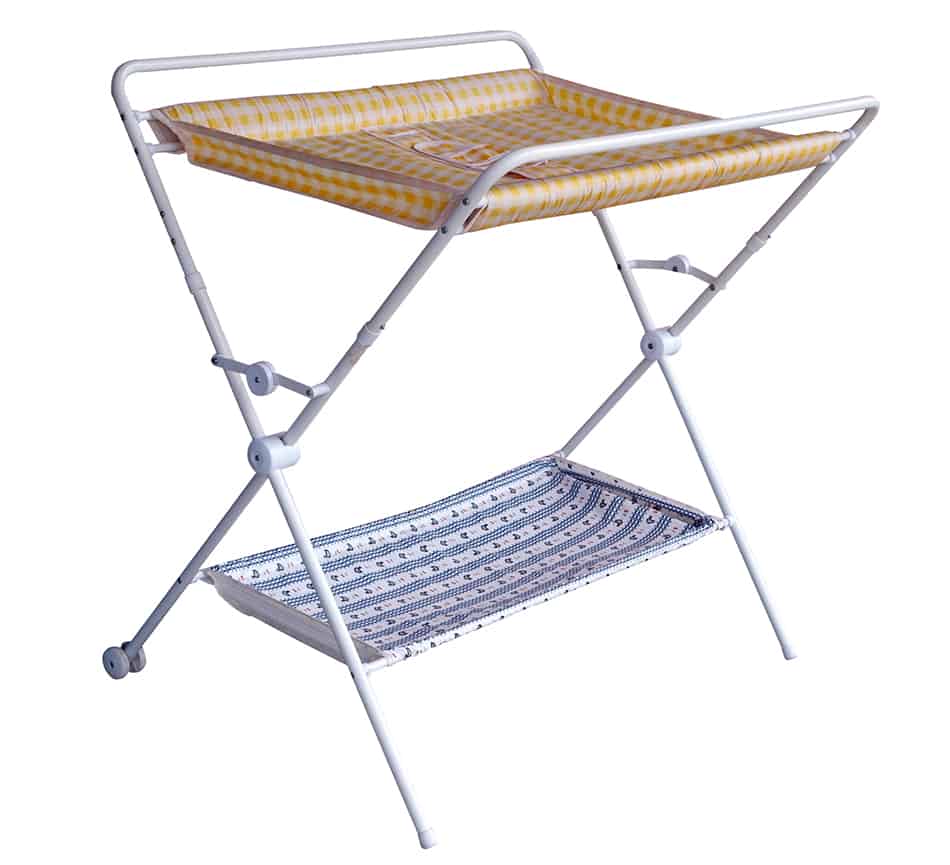 A folding changing table is a good alternative to a permanent changing table if you want a designated area to change your baby, but you don't want to reduce your floor space. A folding changing table folds up flat when not in use and so can be easily stored down the side of other pieces of furniture or leaned against the wall. It folds out much like a conventional ironing board, creating an instant flat surface for you to change your baby's clothing or diaper.
Most folding changing tables come with a specially designed changing pad which is bolted to the frame of the table. This presents a padded and waterproof surface for your baby to lay on, which will be both comfortable and easy to wipe clean. Fold up changing tables will cost considerably less than solid changing tables but may feel insubstantial by comparison.
Changing Table on Dresser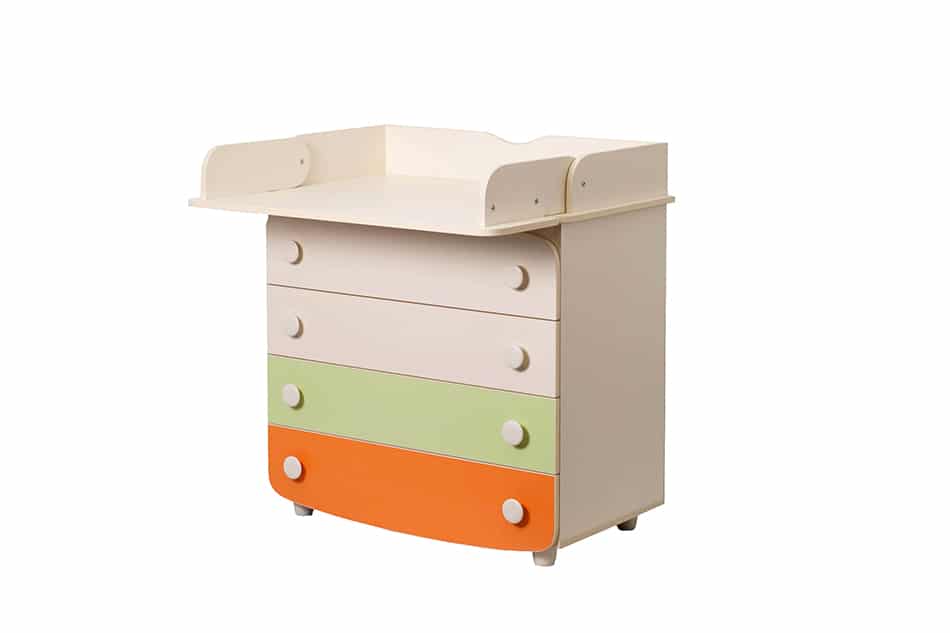 If you are struggling for space in the nursery, or you're opposed to spending money on a changing table that your baby will quickly grow out of, then a dresser that doubles up as a changing table is a good solution to the problem. A dresser or chest of drawers which doubles as a changing table will simply be a standard dresser with a vertical wooden edge around the sides and back of the top surface.
These are great because you are getting two items in one, and therefore will have a place to store clothes or diapers, as well as a place to change the baby, without taking up additional floor space.
Once the baby has outgrown the need for a changing table, you can continue to use the dresser but remove the changing pad from the top and instead use it to display toys or store books. If you don't want to buy a purpose-built dresser and changing table combo, you could make use of a dresser you already have in your home by simply fixing a changing pad to the top of it. If you do this, just ensure that the dresser is at an appropriate height; otherwise, you'll find yourself bending down too much and causing back pain.
Changing Table on Desk
Much like a changing table on a dresser, you can also use the surface of a desk as a changing surface, as long as you ensure that the height is correct and that it is spacious enough to safely accommodate a baby. A desk will be useful for many years after your baby has outgrown diapers, so it will be a good investment rather than a piece of baby furniture you have no use for by the time they are a toddler.
Desks will typically have drawers or shelves underneath them, which provide a convenient space to store items you will need to have to hand, such as baby wipes and diaper creams. As your child grows, they can use the desk for sitting at to complete homework, as a computer station, or to store toys. You could also use the desk elsewhere in the home, such as in the study.
Travel Changing Mat
A travel changing mat is usually marketed as an item you can keep in your diaper bag so that you always have a place to change your baby when you're out and about. However, if you don't want to buy a conventional changing table, then you could use a travel changing mat in your home.
These are usually lightly padded mats which are large when folded out but can be rolled up quite small and secured with a clip or other type of fastening. They can be used on almost any flat surface, such as a bed, a table, or on the floor.
The advantage of using a travel changing mat at home is that they are compact and easy to store. They are also easily portable and so can be moved around and used anywhere within the home. You can also pack it in your diaper bag to take with you when you go out.
Crib-Top Changer
A crib-top changer is an additional piece of furniture that you can fix on top of the crib bars for changing your baby on. Some crib top changers can be easily removed and stored underneath the crib, while others can be screwed on at the opposite end to where your baby sleeps so that it isn't overhead and blocking their view.
These are a good alternative to a changing table in the nursery because they provide a designated place for you to change your baby without sacrificing any additional space. They are solid and safe and are usually used in conjunction with a changing pad, so the baby is comfortable.
Many parents like the peace of mind that knowing if an accident were to occur and the baby fell from the changing surface, they would fall right into the soft mattress of the crib. The main drawback is that if you have a substantial spill while changing the baby, it might leak through onto the crib and result in you having to put the crib sheets through the laundry.