When you're trying to secure cozy family living, there may be one major problem, especially if you are a city dweller.
Let's face it, costs of living are rising across the world – especially in the major Western melting pots like New York, Vancouver, or London, but in other places too. It is getting harder for an average 4+ person family to find a comfortable and spacey home.
Luckily, clever interior design can help you achieve much-coveted cozy living in a relatively small space.
And this is precisely where an old ally of compact comes into the picture to save the day.
Ladies and gentlemen, introducing His modest Majesty – the bunk bed!
Why Were Bunk Beds Invented?
Why are bunk beds all the rage when it comes to maximizing a small living space?
The rule of the thumb is when you miss square footage – you go vertical. By utilizing plains above the floor plan, you are naturally increasing your living space – and especially the bedroom space. That is precisely the way that bunk beds allow you to have more freedom in your living quarters.
To put it as a joke, a bunk bed has the same function as a shelf, only for sleeping people.
Since it is easier to pack little people on those shelves, bunk beds are a classic kid's room standard in homes with multiple children.
Also, bunk beds are much-favored solutions in hostels and other types of collective accommodation.
Another great thing about bunk beds is that – believe it or not – they are relatively easy to build on your own!
There is a range of quality bunk bed projects that are just waiting for you to find them and give them a go.
Today, I am going to help you find the best ones.
Let's take a look at these 12 high-quality DIY bunk bed plans you can build on your own (or with the help of a few friends). Yes, you will need some tools, some experience, and a lot of measuring and fitting, but don't worry; it's not rocket science.
Not only will you learn how to make your own bunk beds, but you will discover a thigh or two about pocket hole screws, pilot holes, using saws, the importance of right angles, and how you can get free (or very affordable) material. That's the free know-how you get from the generous makers who created these tutorials.
A word of caution. Since there will be real people (especially the little people, e.g., kids) sleeping in those beds, make sure you make everything extra safe and sturdy. I have picked only the very solid projects.
Let's roll.
Double bunk beds
Double bunk beds are what everyone means when you say "a bunk bed." It has a lower bunk and an upper bunk, both intended for sleeping.
There are also triple bunk beds, but they are not covered in this article.
Easy double bunk beds by ILikeToMakeStuff
Credit to ILikeToMakeStuff
This awesome and pretty simple bunk bed is ideal for kids' rooms if you have two (or four) of them. These double bunk beds are lean, neat, and go right in the corner and against the wall (in fact, they are fixed to the walls).
The only slightly complicated thing is the ladder plus guard rail is made out of many pieces of black iron piping. As the author admits, the assembly turned out to be much more complicated and time-(and money-) consuming, with the need to modify the ends and to clean all of the pipes. However, the final effect might as well be worth it – especially if you like a touch of industrial aesthetics.
Also, the beds feature little shelves and offer an exciting way to add some color to them (but I don't want to spoil it for you now).
The video tutorial is honest, straightforward, and nicely put together. You can also buy the bunk bed plan from the author for five bucks.
Pros: Easy, minimalistic, and space-saving bunk beds with finishing touches that make them look outstanding too.
Cons: The iron piping ladder and bed rail may be expensive, plus a bit of a drag to make – and the project doesn't offer an alternative
Difficulty level: Intermediate (Easy/Intermediate if you have everything pre-cut)
Rustic Modern Bunk Bed by Ana White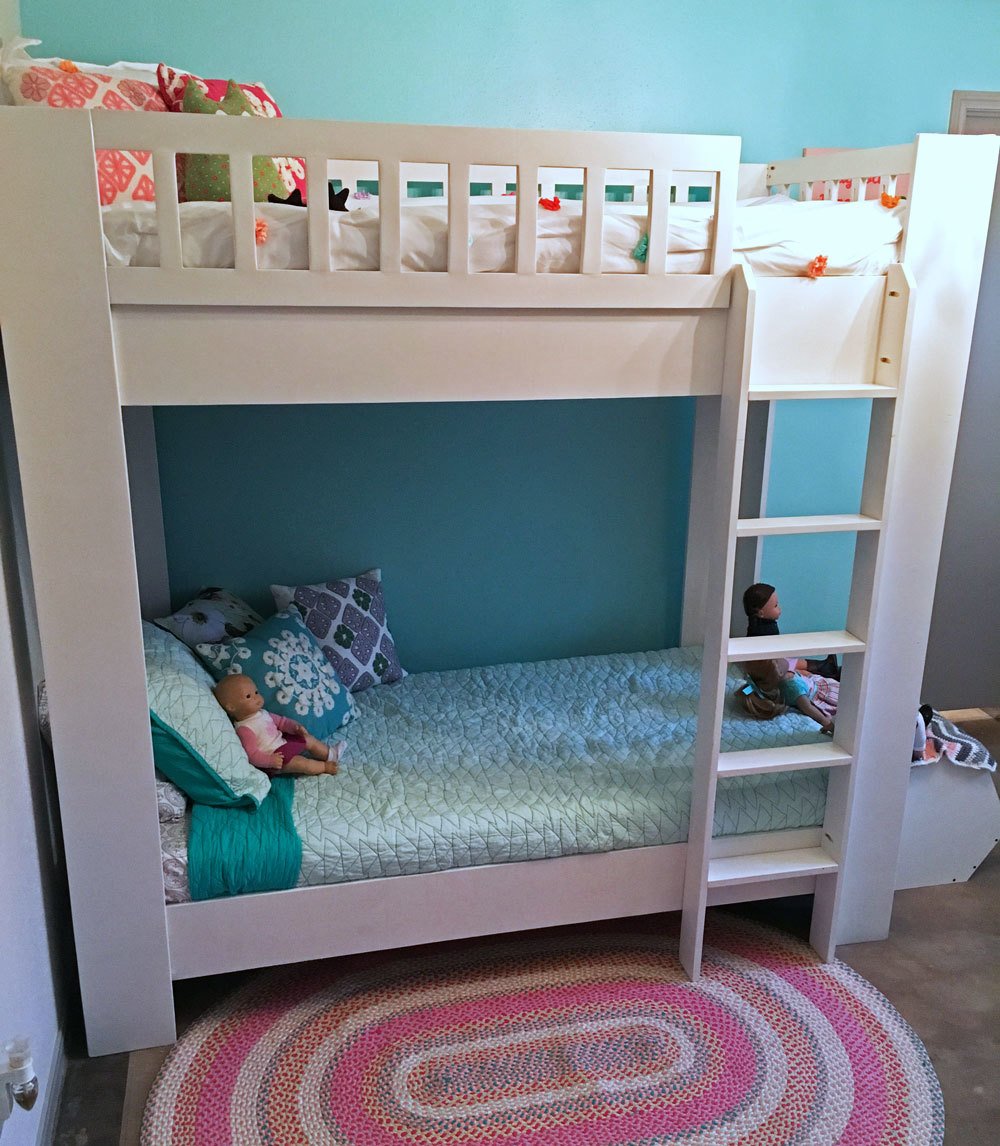 Credit to Ana White
The Rustic Modern Bunk Bed is a true classic – straight, clean lines, wide planking, white finish (although you can paint it any way you want). Those who grew up in the 1970s and the 1980s will probably get a nice fuzzy flashback when looking at this project.
What I like about the ladder is the wide footing, so climbing is not only safe but more comfortable too.
As always with Ana's projects, the free plan includes detailed instructions – step-by-step diagrams, a cut list, and a shopping list. Dilemmas are resolved in the comment section.
Difficulty: Intermediate
Pros: Classic, elegant, compact, clear instructions
Cons: None. The only thing that can turn you off is that you don't like the particular style, but Ana White has many other bunk bed projects to check out.
Minimalist (but not simple!) bunk bed by seamster
Credit to seamster
The creator of this $130 double bed wanted to create a minimalist and sturdy design that lacks a space beneath the bed.
You may wonder why someone would want no space instead of more space – after all, space under the bed is traditionally used for storage. However, if you have many kids plus pets, you know that the space under the bed can get pretty nightmarish. It collects dust, hair, and debris, as well as all the stuff missing from all around the house. Oh, and yes. No space beneath the bed means no monsters under the bed!
The tutorial is quite detailed; however, although the project looks easy when you look at the final product, it is actually intermediate. You have to get a lot of right angles, really… Well, right. Plus, ensure the sturdiness of this one with diligence.
Level: Intermediate
Pros: Elegant, minimalist, can possibly be split to create two single beds, no junk can collect under the bed (finally!)
Cons: The fact that the lower bunk is so close to the floor will not be ideal for everyone, especially if you have a cold floor in the winter or venomous critters running around (e.g., some parts of Australia).
Princess Castle Bunk Bed by bennelson
Credit to bennelson
Now here's something extraordinary. Isn't it every little girl's dream to live and sleep in a princess castle? The bunk bed project by Ben Nelson allows just that. It uses a very basic, thrift-store-bought bunk bed "dressed" as a cozy and private white-and-pink castle.
Although the project doesn't teach us to make the bed itself, it does teach us that when you get the basic construction of the bed right, you can customize it with various plywood add-ons and incorporate them into your design.
Difficulty level: Advanced
Pros: Highly creative, unique, play-friendly.
Cons: The project doesn't offer instructions on building the bed itself; a complete set of professional woodworking tools and machines is required for the project (since it's a customization, it is not very practical to have someone else do the cutting for you).
Loft beds
In the introduction, I said that bunk beds are ideal for families with children, but even a single child or an adult can benefit from a special kind of bunk bed.
Loft beds are single beds that are raised high and commonly fixed to the wall, again utilizing an extra plain within your living space. That means that the space below the loft beds remains free and can host a table, storage area, or whatever else you need to put in there.
Because of their intelligent design and the ability to help merge sleeping and living space, loft beds are also known as college beds.
Here are several cool loft bed ideas for adults and kids alike.
Painter's Tape Blue Kids' Loft Bed out of 2x4s by Fix This Build That
Credit to Fix This Build That
This good-looking twin-sized kids bed is sturdy, symmetrical, and constructed exclusively out of 2×4 boards. It lacks classic ladders and instead uses bed rails as footing. This should increase the bed's sturdiness and also adds to the minimalist approach. However, in moments when you want to prevent your children from climbing (for example, the younger kids that are too small for it), having a removable ladder is quite useful.
As for the material, since Brad is one well-equipped carpenter, he bought 2x12s and then cut them into 2x4s. Hypothetically, if you buy 2x4s for the project, you should need less equipment for cutting.
It is worth noting that his cost of the 2x4s material is just 75$, but by buying 2x12s, he saved 15 bucks and has paid 60$ for all the material. That is something worth considering if you own a table saw (although cutting up all of the boards is sort of a drag, as you'll see in the tutorial).
Brad also uses pocket holes to hide the screws, which adds to the project's clean aesthetic.
Difficulty: Intermediate/Advanced
Pros: Sturdy, elegant bed, and pretty cheap to make too.
Cons: You need pro machines and a lot of pre-prep if you want to cut the boards yourself the same as in the project; Not everyone will find rail footing more comfortable than typical ladders.
VW Micro-Bus Bunk/Loft bed by Uptonb
Credit to Uptonb
I am yet to meet a person, young or old, male or female, who doesn't like the classic VW Van or Micro Bus. Due to its appealing toy-like shape, children are especially fond of the iconic vehicle.
This loft bed has a play zone inside the bus, while the child sleeps on the van's roof. I imagine it can also be turned into a double bunk bed if the play zone is remodeled a bit and equipped with a mattress.
Sadly, the author didn't start documenting the process from the very beginning, so photos of the van building are mostly missing. Still, he made up for it by providing detailed technical drawings, which may be even better. The microbus-beds made by other users by using this instructable prove that it is perfectly do-able.
By the way, this is one of the more expensive projects on this list. The author paid around 500 bucks for all of the material. However, this price is still more than twice cheaper than commercial ready-made bus beds.
Difficulty: Advanced
Pros: I think there is no child that would not want a loft bed like this one.
Cons: Complex and pricey project (but still a lot cheaper than a store-bought version)
DIY Lofted College Bed by evolesky
Credit to evolesky
This project is as basic as it gets – in the best way possible. This loft bed by Instructable user Evolesky is a sturdy, freestanding, and easy-to-make loft that adheres to the certain important standards listed at the end of the tutorial.
The bed frame is 80″ x 36″ and is made to fit in a twin XL mattress. Also, the author says that it can be made in less than $100. Like the previous project, there is a bed rail footing rather than a true ladder.
And don't let that main picture fool you – the project definitely doesn't need to look as basic as first suggested. Scroll down to the end of the tutorial to see the colorful end result – every little girl's dream bed.
Difficulty: Easy/Intermediate
Pros: Simple, sturdy, affordable, well-thought-out.
Cons: Rail footing may be uncomfortable for some, but that is really a minor issue
One Legged Loft Bed by makendo
Almost a floating bunk bed but not quite there, a one-legged loft bed takes on some advantages from floating bunk beds and freestanding bunk beds. Because one-legged loft beds are predominantly fixed to the corner walls, there is obviously a lot of space-saving when you put your bed in the corner of the room. Still, that one leg gives the bed additional sturdiness, so it is perfectly safe for kids and adults alike.
The nice tutorial by Makendo also includes the loft bed plan and the photos, which are super useful and easy to follow.
Because the entire bed is screwed and bolted together and not glued, it has an advantage because it can be disassembled and rebuilt somewhere else if needed.
Difficulty: EaIntermediate
Pros: Sturdy, good plans, moveable when dismantled,
Cons: None that we can think of
Loft Bed From Reclaimed Lumber by poza
Credit to poza
There are several reasons you would want to use reclaimed (upcycled) lumber for your bunk bed project.
You can get the material either foinstructables.com/Loft-Bed-from-reclaimed-lumberr free or extremely cheap.
You are contributing to saving our forest and dealing with the global waste problem by repurposing unwanted materials that are usually perfectly fine except that they are redundant to workshops or businesses that source them.
These materials sometimes have a vintage, weathered look which many people find appealing.
Woodworking, carpentry, and other workshops are perfect places to source reclaimed wood. The author got these from window manufacturers in his area who use a lot of wood to safely transport window panes. He has other interesting ideas and tips on where and how to source wood.
Difficulty: Intermediate
Pros: Giving new life to old wood, sturdy, interesting looks.
Cons: The tutorial could be a bit easier to follow, or at least provide the full loft bed plan. The design may seem a bit chunky for some, but that depends on the materials you're able to source.
Cloud Loft Bed With Bookshelf Ladders by makendo
Credit to makendo
Here's another project from makendo, perfect for all of you dreamers and book lovers. Behold, the loft bunk that looks like a floating cloud and features bookshelves!
The basic design is similar to his one-legged loft bed described above and uses walls as part of the bed frame, but it also incorporates a 'heavy-duty combination ladder/bookshelf for support' instead of a single leg.
The cloud is made out of plywood and serves instead of a bed rail.
Difficulty: Intermediate/Advanced
Pros: Really sturdy, original,
Cons: Needs a bit more space than a regular bunk bed (but again less space than a regular bed plus a regular bookshelf)
Bonus: Upcycled Kitty Bunk Beds
Why would only kids be the ones to enjoy the advantages of bunk beds – watching the world from up high or being snuggled in the lower bunk? That is why innovative makers have designed cat bunk beds.
Sure, you can buy different cat beds, caves, and towers, but the point of these DIY projects is to repurpose discarded materials or make a finely custom cradle for your beloved pet that commercial stores can't provide. As we will see, some makers testify that their cats prefer the DIY beds more than store-bought ones.
Old Tires Kitty Bunk Bed by Justin Osborne
Credit to Justin Osborne
Justin repurposed one car tire and one motorbike tire that his father wanted to throw away. With some PVC piping, wooden flooring inside the tires, and cushions, he created a mini-nap castle for his picky cats.
As you can see in the tutorial, Justin's son helped him with the making – the project is simple enough to include your kids to work on it. That way, you are teaching them maker skills, plus responsibility towards pets.
The cats will take some time to adjust to their new beds, but the round shape and the cozy inside are usually very attractive for them.
Difficulty: Easy
Pros: Repurposing commonly discarded tires, simple materials, simple project, the round shape is appealing to cats.
Cons: Some people will not find this bed to be aesthetically pleasing; some cats may object to the smell of the tires and/or the tire paint.
Cat Bunk Beds With Old Suitcases by davee930
Now, here is a classy retro-chic upcycling project. This kitty bunk bed is made from 60-year-old grandma's suitcases which were a bit refurbished.
However, the drawback of this Instructable is that it doesn't offer actual instructions. Although the project is a relative no-brainer, newbie makers could use a bit of guidance when it comes to using tools and just the general manipulation of the materials.
Difficulty: Easy
Pros: Lovely upcycled bunk bed for cats that actually looks nice
Cons: The tutorial doesn't offer instructions other than a couple of sentences.
Conclusion
Bunk beds are a classic furniture piece for a good reason. By going vertical, this compact type of bed will let you save a lot of space, making your living much more comfortable.
Making a DIY bunk bed or a DIY loft bed has several advantages. First of all, you will get better quality for less money since sturdy commercially made bunk beds are usually expensive. You can fine-tune the design according to your exact needs and get creative as much as you want.
Lastly, you will create a furniture piece that can stand the test of time and that you can take pride in.
Although it may seem intimidating, taking upon the adventure of making a bunk bed is not as hard as it seems. Just make sure you get quality materials, appropriate tools, and – very important – to get those screws tight and angles right.
Did you ever try to make a bunk bed by yourself? What problems have you encountered? Which project do you like the best? Let us know in the comments!