Bathroom stall dimensions are likely to be the least of your concerns if you're a homeowner. But if you are managing a commercial establishment or a building with a public restroom, you would need to be aware of bathroom stall dimensions.
Knowing the dimensions of bathroom stalls would guide you in ensuring that the restroom stalls under your management or custody can be used comfortably and safely by the public.
You can find the straightforward dimensions below.
For bathroom stalls that comply with the ADA, they should be a minimum of 60 inches. The door width should be between 34 – 36 inches. The standard height of a divider or stall wall is 58 inches. The divider and door should be 12 inches high above the floor. A grab bar is required to comply with the ADA and should be a minimum of 36 inches long, and no more than 6 inches from the back wall corner. Grab rail height is between 33 to 36 inches from the floor.
What Is a Bathroom Stall?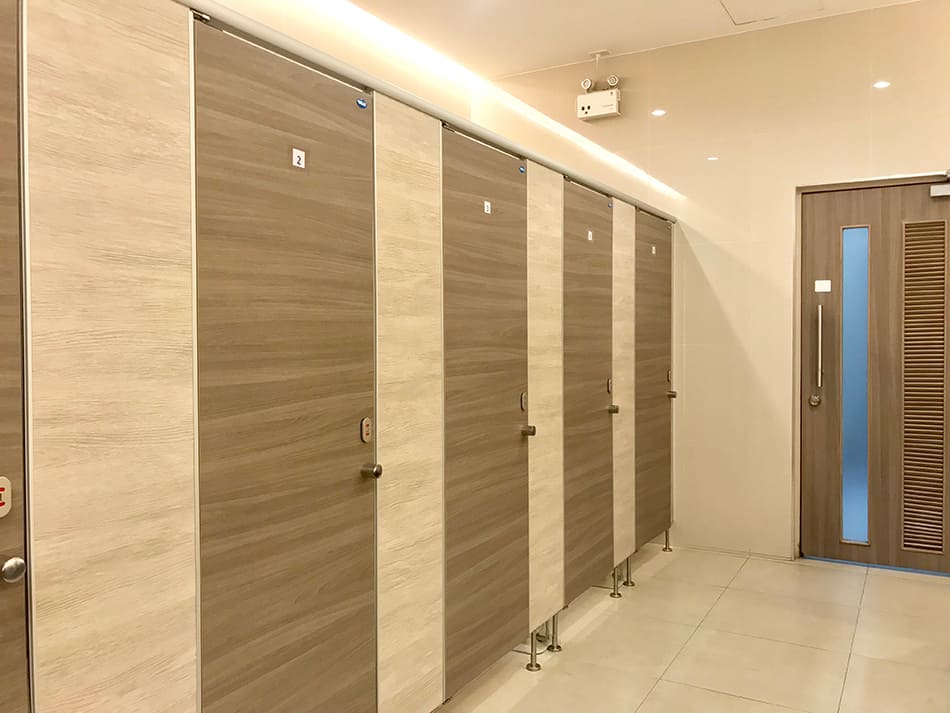 Before tackling their recommended dimensions, let's take a closer look first at bathroom stalls.
By definition, a bathroom stall is an enclosed space with a urinal or toilet for use by the general public. It is believed that bathroom stalls were first introduced in ancient Rome.
Aside from the toilet paper, other additional accommodations of a bathroom stall include a trashbin, coat hook, and toilet seat covers.
These days, bathroom stalls are widely found in public restrooms. These are separated into female and male facilities. It is also common to find bathroom stalls that are accessible for wheelchair-bound users. Familiar features include grab bars, wider doors, and enough space for users to turn within the stall. Squat-type toilets are more widely used in many Asian and African countries as these are considered to be more hygienic.
What Are the Standard Bathroom Stall Dimensions?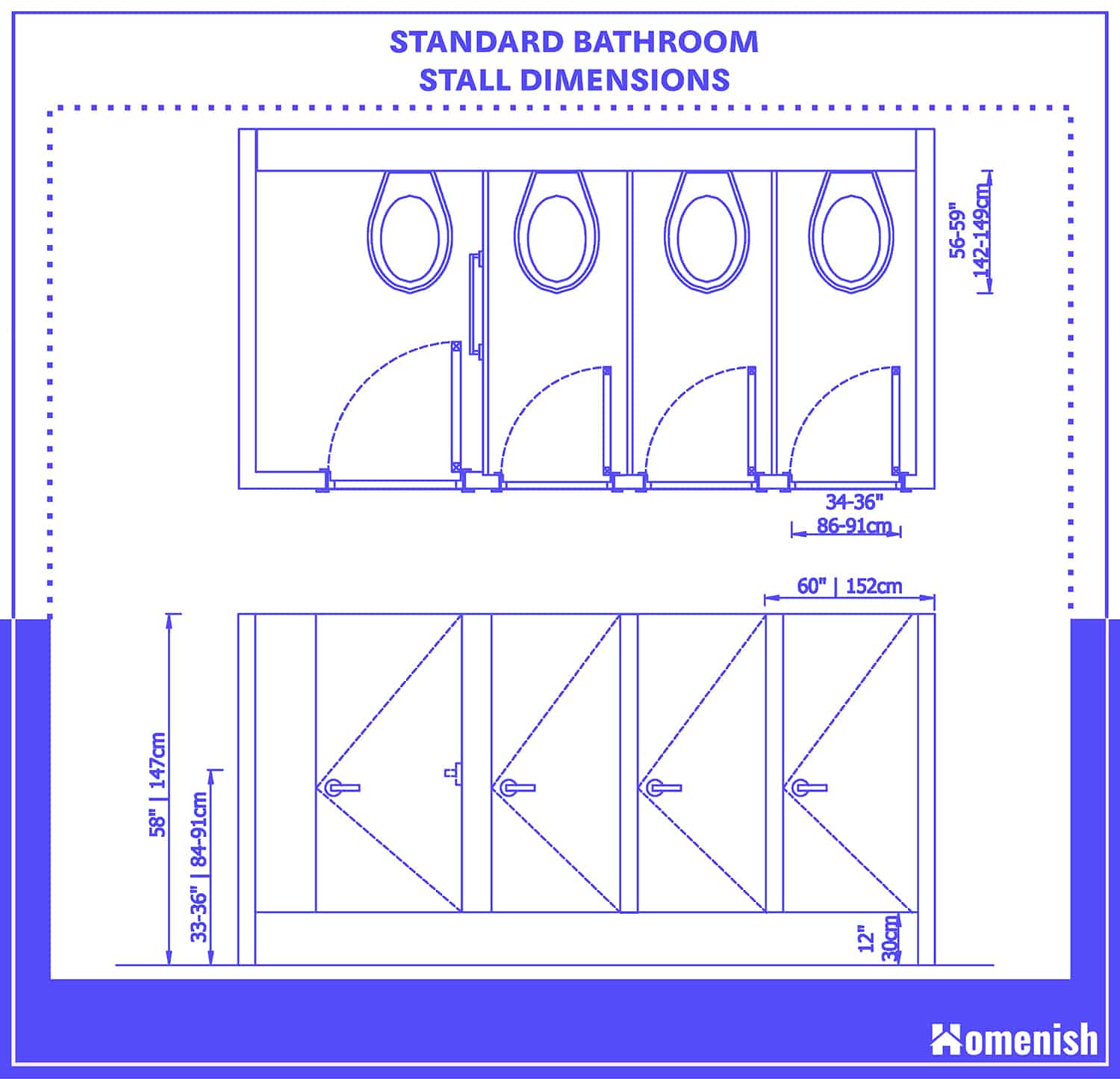 Bathroom stalls must comply with the Americans with Disabilities Act (ADA) passed in 1990. This law requires all business establishments to modify their facilities in order to accommodate people with disabilities. This covers not only bathroom stalls but also other public areas such as building entrances and access to various surfaces.
According to this ADA legislation, bathroom stalls should be at least 60 inches or 152 centimeters wide. For the door, the width should be between 34 and 36 inches to provide enough space for a wheelchair to pass through it.
The standard depth for a wall-mounted toilet is 56 inches. On the other hand, if the toilet is floor-mounted, it needs to be at least 59 inches deep.
The divider or stall wall has a standard height of 58 inches sans pilasters. Both the dividers and doors should be 12 inches high above the floor. Adding 12 inches of free space would also be beneficial as far as cleaning and sanitizing are concerned.
In an ADA bathroom, a grab bar is a must-have as this can prevent injuries and accidents. This part of a bathroom should be at least 36 inches long. It should be no more than 6 inches away from the corner of the back wall. The average grab rail height ranges from 33 to 36 inches from the floor. This way, the rails would be on the safe side from the floor.
Kinds of Stalls
You may not notice it, but there are differences in restroom partitions in terms of designs, materials used, and installation. In terms of installation style, there are four types of bathroom stalls in the United States. Regardless of the model you choose for your business establishment, it must be in regulation with ADA as well as standard bathroom stall dimensions.
First of these types is the floor-anchored or overhead braced stall. It has pilasters that are 82 inches or two meters tall, and as indicated by the name of the stall, it must be mounted or anchored on the floor.
The floor-anchored stall also goes up to the ceiling. A rail is likewise installed as this is necessary for connecting with the pilasters. Moreover, it needs to be 12 inches over the top of the door.
The ceiling bar provides security and support for areas that have heavy foot traffic, especially those bathrooms found in malls and business establishments in urban areas. This is the type of bathroom stall that's most common and, at the same time, the least expensive.
There are also ceiling-hung stalls. This type of stall has no floor pillars, with the entire construction hanging from the ceiling. The distinct advantage of this type of stall installation is that it has no floor obstacles. This makes them easy to clean and maintain.
This type of stall installation offers a modern and levitating look. It can bring a futuristic look to your space. The downside, however, is that it would cost you a bit more because of the need to mount an extra ceiling steel support for the construction. However, it can be argued that you can get back the extra cost by having to spend little on maintenance costs.
Then there are the floor-mounted stalls which are a cost-effective option. It has columns with a standard height of 70 inches, stretching from the floor. The stalls kind of lean on the floor while the over-the-top area is clear. Another advantage is that this type of stall is easy to install, needing a mere 12 inches to penetrate the walls. Although the cost is low, the installation of floor-mounted stalls is considered outdated these days.
Lastly, there are the floor-to-ceiling anchored stalls. This is considered the most durable type of stall installation. It boasts floor and ceiling support. Because of these qualities, it is the most practical and suitable solution for public areas.
The resistant panels and doors of this stall are 12 inches away from the floor. Because of its durability, this is the prime choice or installation style for commercial establishments. But it may not be ideal for use or installation in schools where vandalous behavior is prevalent.
Conclusion
Standard bathroom stall dimensions have been determined for a reason. With populations growing, especially in the urban areas, the need for public restrooms also grows.
Knowing the standard stall dimensions is just the beginning for a property manager or business owner in as far as complying with government requirements. Naturally, you should comply with local and federal requirements if you are to put up public toilets or bathrooms in your business.