Rooms that feature a fireplace can take on various styles, from traditional to classic, through to modern. The way you dress your fireplace and the layout of the items you set around it will make all the difference between a stunning focal point and a drab waste of space.
When a fireplace is centered on a wall, to some extent you will have to base the furniture layout around it. For a balanced and slightly more formal look, use matching pieces on either side of the central fireplace, or for a more casual, laidback style, choose objects of different heights and shapes for either side of the fireplace.
Here we explore the various accessories and items of furniture you can set at the sides of a fireplace to pull a style together or draw attention to the fireplace as the main feature.
Should Furniture Next to Fireplace Match?
Matching furniture next to a fireplace can create a cohesive and harmonious look, but whether or not you choose matching furniture for each side of your fireplace depends on your personal style and the overall look you're trying to achieve.
Matching furniture is great if you want to create a symmetrical and balanced look, and this can be particularly effective in larger spaces with grand fireplaces. It can also help to draw attention to the fireplace itself, making matching furniture a good choice if you're trying to highlight the fireplace as the focal point in the room.
For example, you might place two identical armchairs on either side of the fireplace to create a cozy seating area or use two identical bookshelves on either side of the fireplace for balance and extra storage. However, the furniture you position on each side of a fireplace does not always have to match, and in some scenarios, it can be more effective to use a variation of heights and shapes of furniture.
Mixing and matching furniture on either side of a fireplace can create an eclectic and interesting look, which is well suited to less formal decor styles. For example, you might pair a velvet accent chair on one side of the fireplace with a modern side table on the opposite side. This can create a more dynamic and visually interesting look, particularly in smaller spaces where you want to add some variety.
Best Ways to Fill Sides of a Fireplace
The types of items you position on either side of a fireplace are going to be affected by a number of factors. First of all, you'll want to choose items that fit comfortably into the space. If you're furnishing the sides of a fireplace with chairs, these need to have several inches of space around them on every side so that they don't look squashed in.
By comparison, if you are installing bookcases on either side of the fireplace, a snug fit will be best because this will create a more custom, built-in effect. The items you are using should balance nicely with the fireplace itself. Don't use oversized lamps either side of a small fireplace because this will make the fireplace look out of proportion.
However, oversized lamps on either side of a large, grand fireplace will help to highlight the magnificence of the fireplace. Avoid pieces of furniture that are a similar height to the fireplace because this lacks contrast and makes the room read as flat. Instead, go for furniture which is significantly taller or shorter than the fireplace. This could include a low-side table, a tall bookcase, or a tall standing lamp.
Built-ins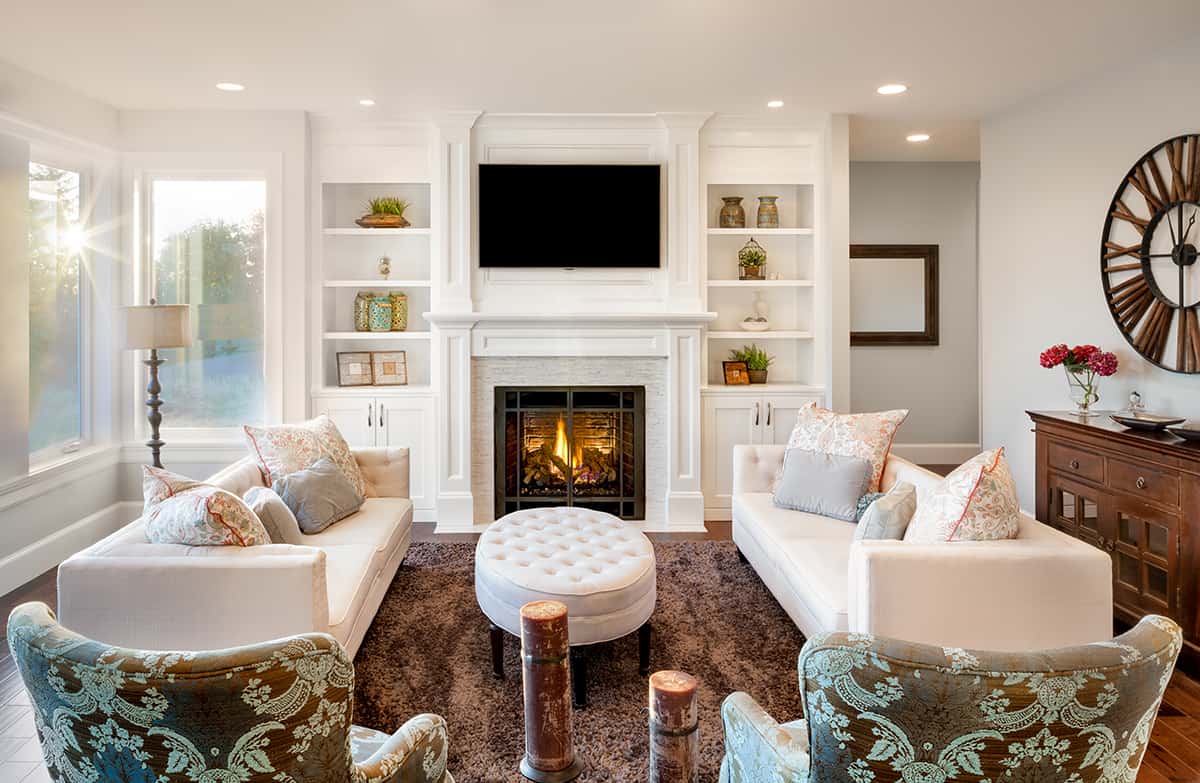 If you have recessed space on either side of your fireplace, then this is a great opportunity to have some custom-made built-in units installed. Built-in units come in a wide range of variations, and you can have them designed exactly to suit your taste and storage needs. Traditionally, built-in units beside a fireplace will have cabinets on the lower half and shelving units on the upper half.
This is great for combination storage, allowing you to keep items such as family board games hidden from view in the cabinet while you can display your favorite ornaments or houseplants on the shelves.
Paint the built-in units the same color as your walls to help them blend in, or paint them in a contrasting color to add some drama to the fireplace. If custom built-ins are beyond your budget, you can get a very similar look by choosing flatpack furniture sized to fit your space. This gives you the look and functionality of built-ins but with a much smaller price tag.
Side tables
Matching side tables on either side of a fireplace can work well if you have limited space. They are also a great place to position matching table lamps, creating a warm glow around the fireplace when they are turned on in the evening. You could alternatively place just one side table next to a fireplace and choose an armchair or small bookcase on the opposite side.
This slight variation in height creates some additional interest in the room, which can be needed in more compact spaces. Avoid using a very tall item, such as a ceiling-height bookshelf, on the opposite side of a fireplace to a side table, as the extreme height variation can make the space feel off balance.
Light fittings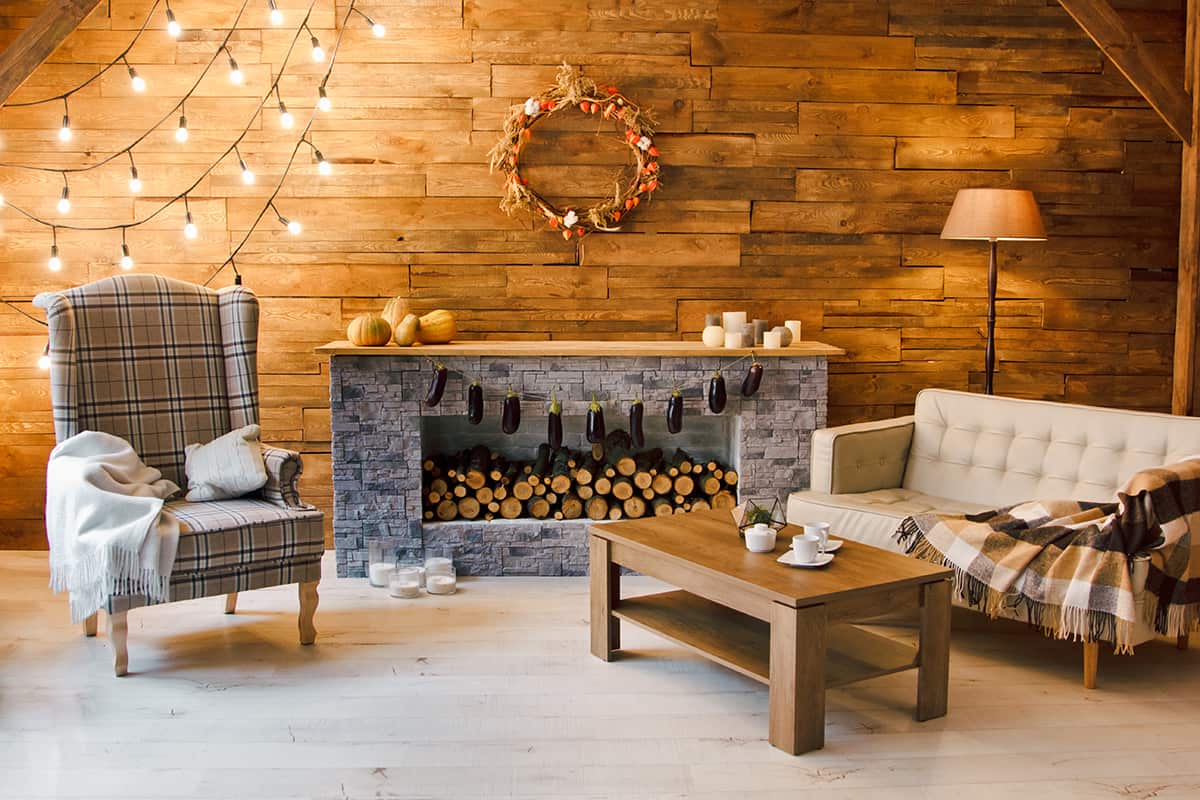 Furniture is not the only option when it comes to dressing the space at the sides of a fireplace. Choose a more minimalist look by leaving the floor space vacant but creating interest and depth with the addition of light fittings on the wall. Wall sconces can help to create an atmosphere, while floor lamps add style and height.
Artwork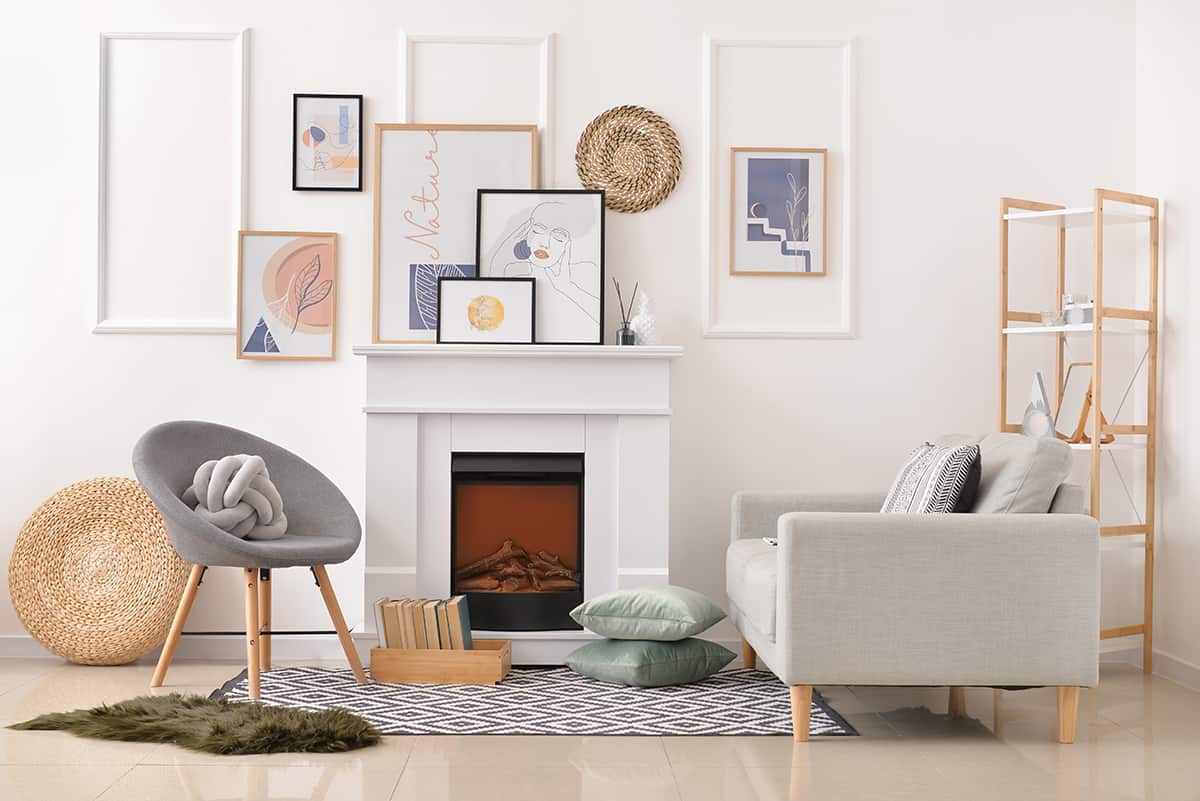 Another way to add interest to either side of a fireplace without installing more furniture is by fixing artwork to the wall.
Matching artwork on either side of a fireplace will look balanced and formal, while mismatched artwork will create a more eclectic vibe. Choose pieces that resonate with your style while also fitting in with your color scheme.
Houseplants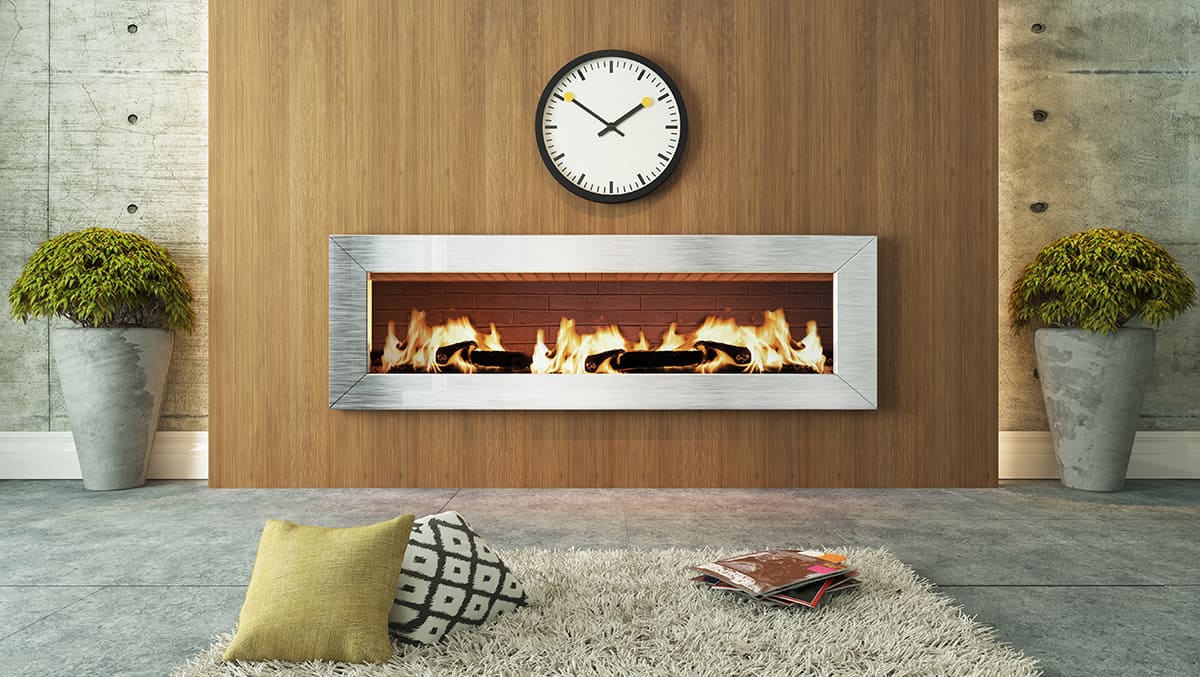 For compact spaces on either side of a fireplace, where furniture isn't an option, decorate the area with houseplants. To create some height, set houseplants on a plant stand, or choose tall houseplants situated in pots on the floor.
Smaller houseplants can also look stylish when grouped in sets of three, with each plant having a slightly different height. Choose varieties with large leaves if you want to fill the space, or more slender, architectural plants such as snake plants to add interest.
Armchairs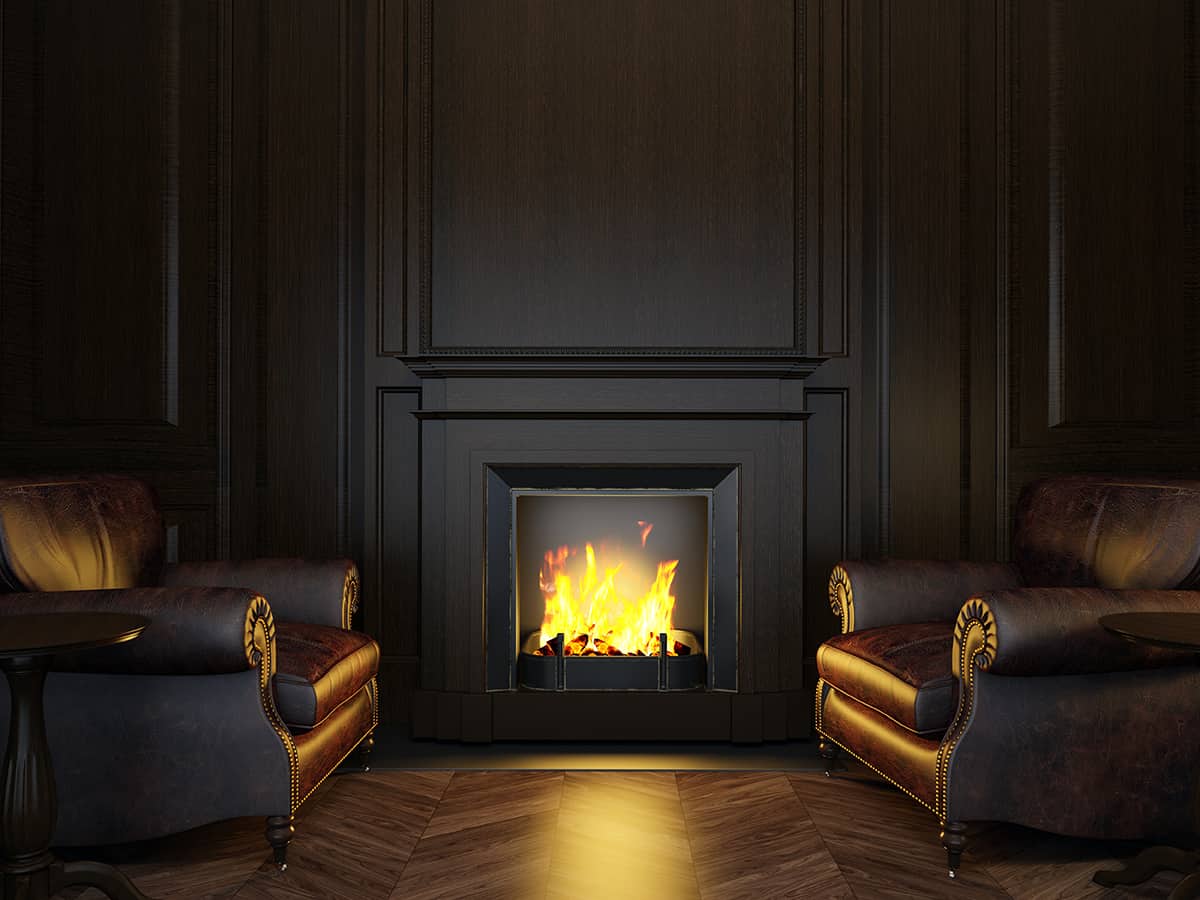 One of the more traditional ways to style a room with a fireplace is to position matching armchairs on either side of it. This will create a cozy ambiance reminiscent of old stone hearths that you would expect to find in a traditional British pub.
If you want to maintain a formal look, opt for high-backed or winged armchairs in identical fabrics. For a more modern or casual style, mismatched armchairs will work well. Opt for colors and fabrics which complement each other so that the overall effect is pleasing to the eye while injecting a sense of personality.
Wallpaper
If you want to make a fireplace stand out as the focal point in a room, you can achieve this without using any furniture or accessories at all.
Instead, cover the nooks on either side of the fireplace with wallpaper, and paint the fireplace in a contrasting color. For example, use a pale gold striped wallpaper on the walls, and paint the fireplace in glossy black.
Shelves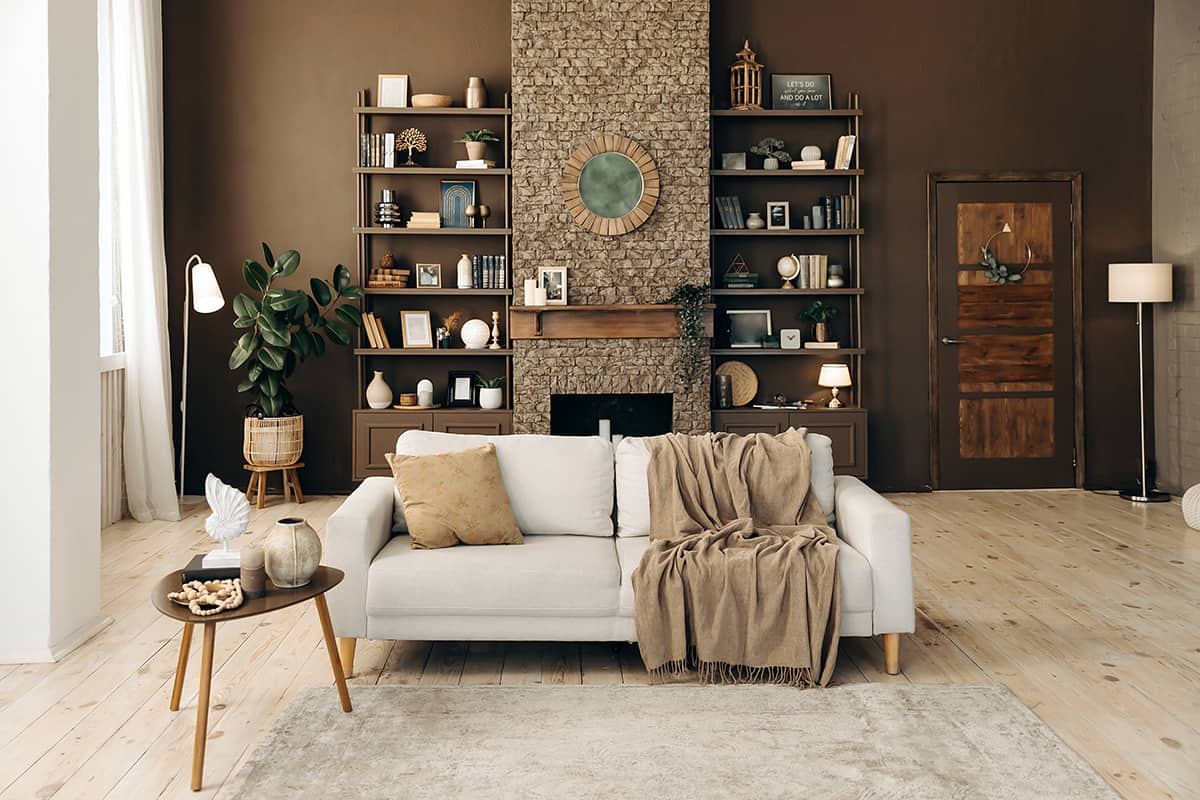 Shelves are a great option on either side of a fireplace because they provide storage or a place to display your favorite treasures. Since the sofas in a room will usually be facing the fireplace, having your most loved ornaments on the shelves beside a fireplace makes sense, because they will be located in a spot where they can be most enjoyed.
Floating shelves are a good option if you want to keep the space quite minimalist, or opt for low matching bookshelves on either side of the fireplace if you want to create a cozy reading nook. Glass shelves can also work well beside a fireplace, especially if the room is small and you want to extend the eye line to avoid making the space feel even more compact.
Mirrors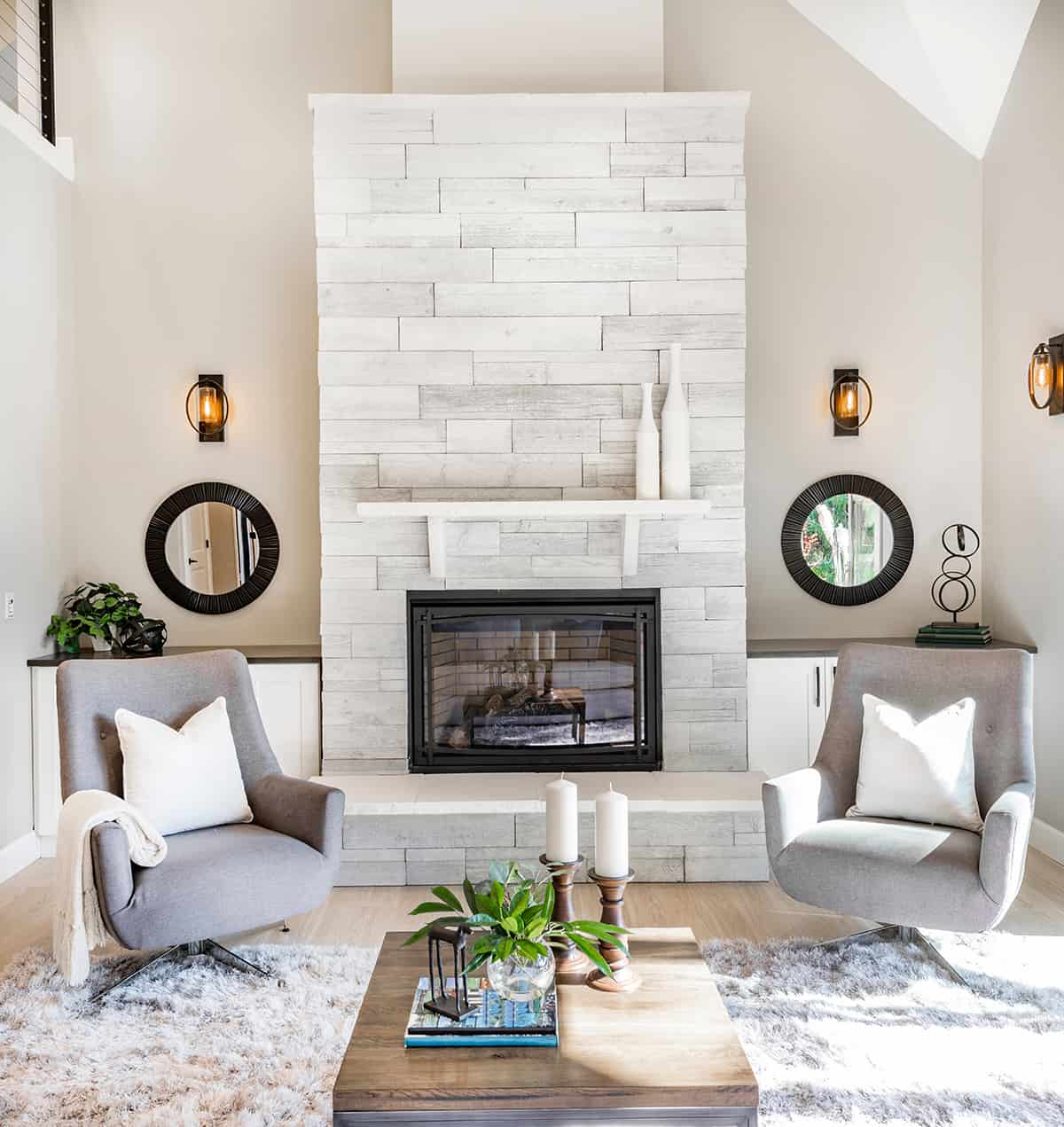 Many designers choose to position a mirror directly over a fireplace, but matching mirrors on either side of a fireplace can work equally well. Mirrors reflect light, so the more mirrors that are in a room, the more spacious and airy it will feel. Mirrors also help to create a sense of depth, making them an ideal choice in compact rooms where you want the illusion of more space.
To ensure the fireplace remains the focal feature in the space, choose mirrors that are around half the overall size of the fireplace, and position them so that one-third of the mirror is lower than the top of the fireplace mantel. This will ensure a sense of balance and help to maintain the focus on the fireplace itself.