Choosing a bathroom ceiling color can be pretty rewarding. There is nothing more satisfying than adding visual interest to your bathroom. However, you must ensure it is done right as the ceiling of a bathroom is a small area that should stand out.
So what color should the bathroom ceiling be? Brighter colors help make the room appear larger, so most homeowners prefer white paint. A bathroom with white walls and a white ceiling in a ratio of 80:20 can make the entire space feel larger. That said, you can select any ceiling color for your bathroom as long as the rest of the room, including the walls and vanity colors, complements your choice.
To give you some ideas on the right ceiling colors for your bathroom, keep reading this article…
Bathroom Ceiling Color Ideas
Bright White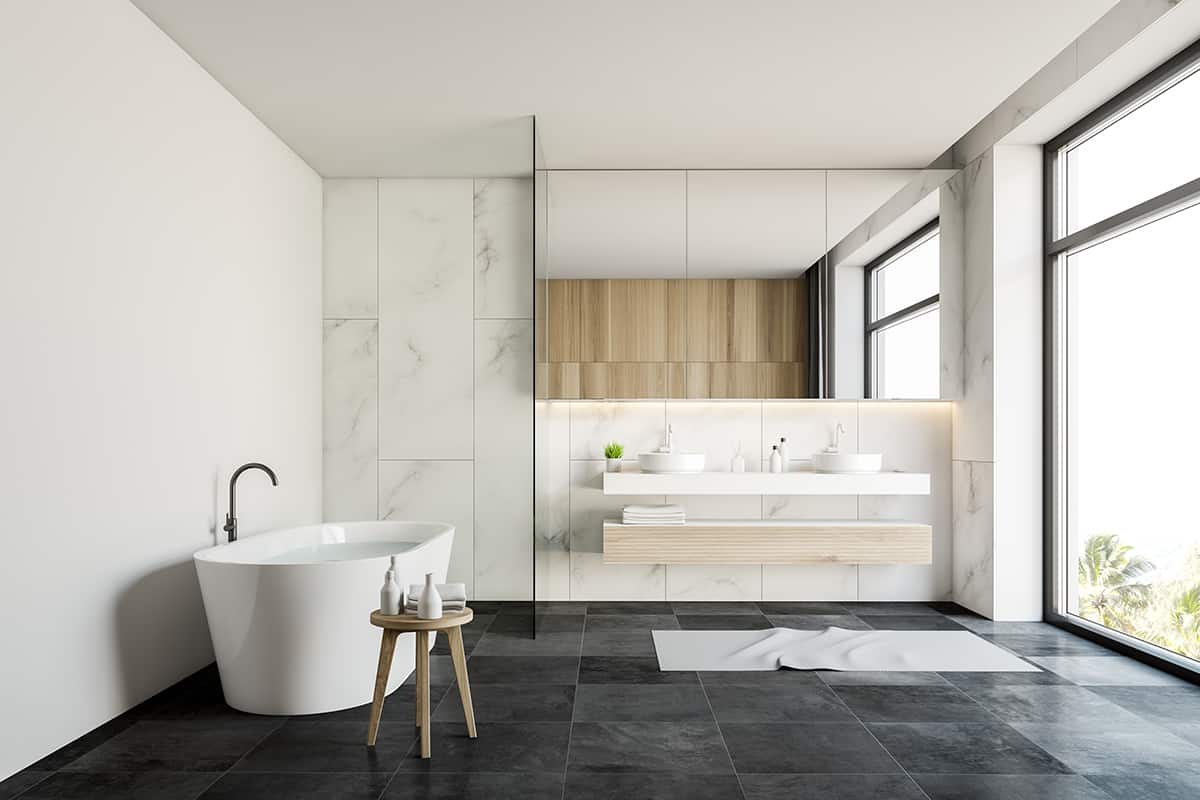 A crisp white bathroom ceiling is the ultimate color choice in a luxury interior. While white tiled walls are a simple concept, they can look very striking when paired with a bright white ceiling. To break up the look, use different textures or try different tile shapes for the floor in the shower.
This can be combined with all-white vanities, white marble walls, and black floors as shown here. If this color combination is too strong for you, try warming it up by adding light wood accents. On the flip side if you want to bring a pop of color to your bathroom, go with warm-toned yellow or green accessories.
Cream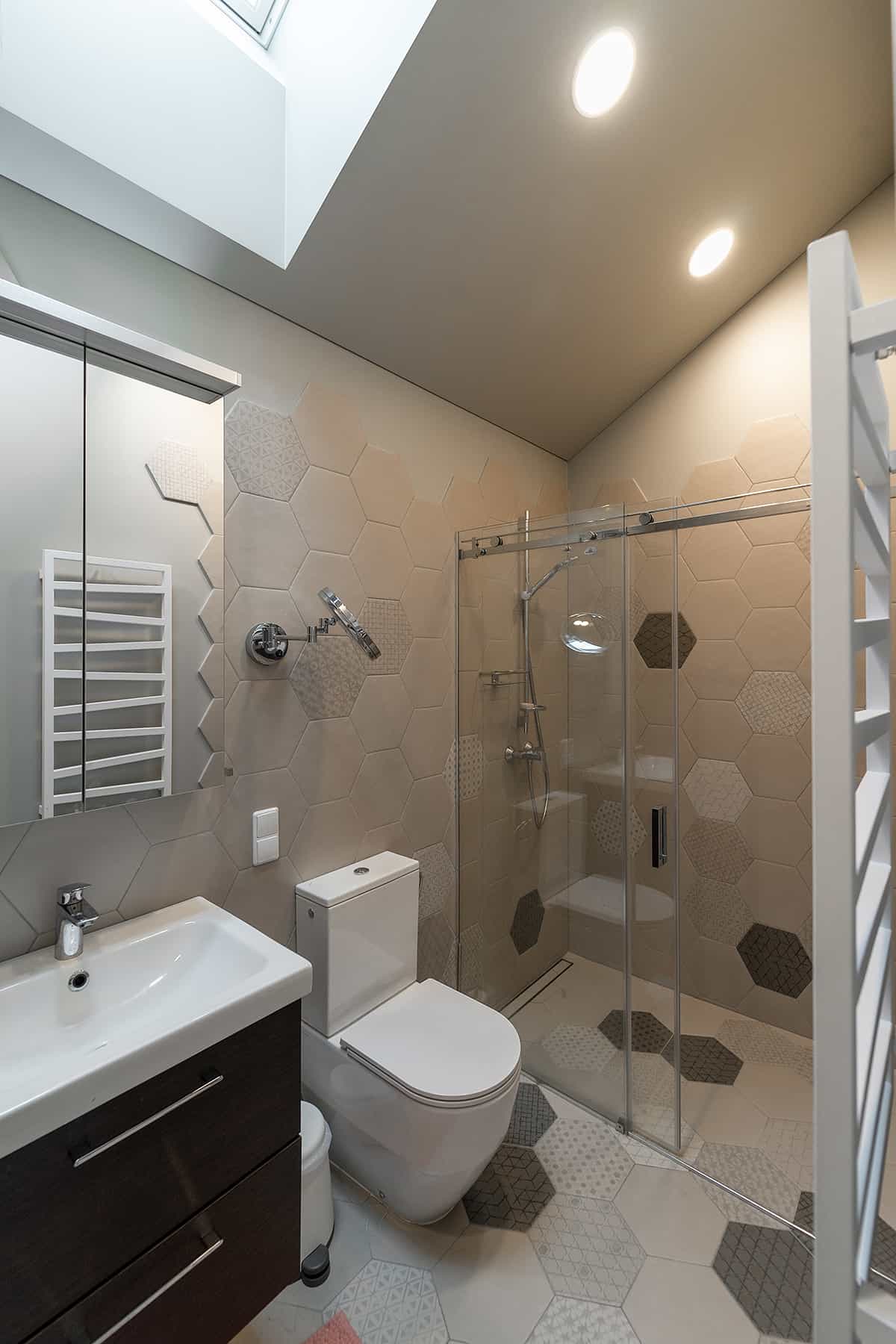 Some people will find a bright white ceiling a little too intense or cold, so why not try cream as a warm-toned alternative? This classic white shade brings warmth to a small bathroom.
You can paint the ceiling cream and keep the walls a neutral tile color together with softer accent colors like patina or dusty pink. The vanities can be bright white so as to avoid making the room appear bland.
Blue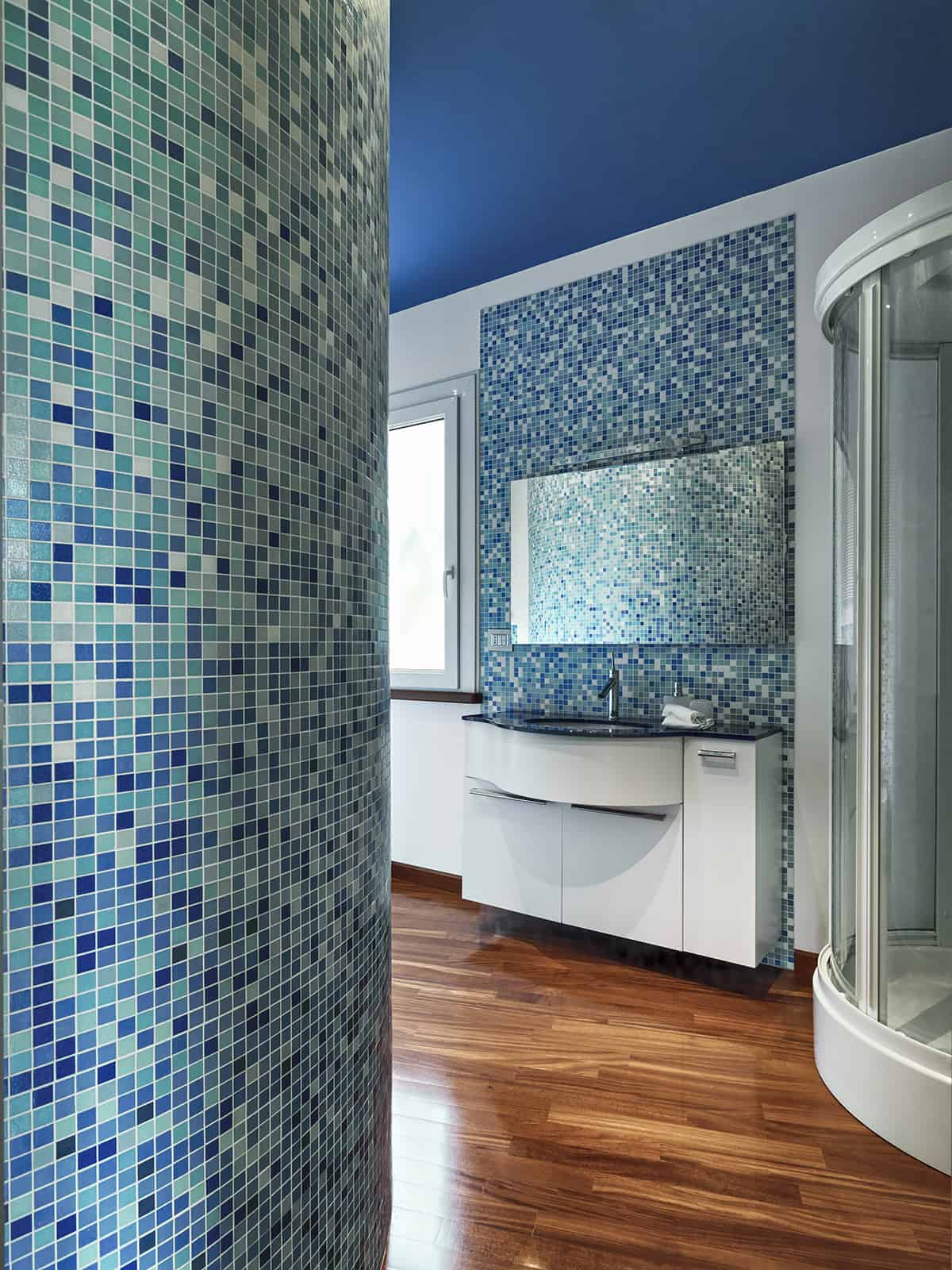 There is perhaps no other color that's more stunning than blue. When you look up at your bathroom ceiling whilst feeling relaxed in the bathtub, you can enjoy this dreamy hue. Whether you choose a light or dark shade of blue, your bathroom can feel like a true spa.
Blue is a beautiful accent color and is perfect with mosaic tiles and white trim details. A rich shade like the one shown here can truly give a tranquil feel to a large bathroom. You can pair it with brown flooring for a combination of cool and warm-toned textures. All in all, there is no doubt all shades of blue can be the perfect bathroom ceiling color as a calming and tranquil choice.
Pale Green
A pale green bathroom ceiling isn't common but it can give the feeling of bringing the outdoors in. This peaceful color has a cooling effect and brightens up a small bathroom. Mix it with earthy vanity tones like brown or taupe.
And as for a shade of green to choose for your bathroom, opt for sage or apple green as bright and fun alternatives to plain white. For the walls, blush pink tiles can add a clean feel. Include wood details to boost the warmth of your bathroom with a green ceiling.
Dark Gray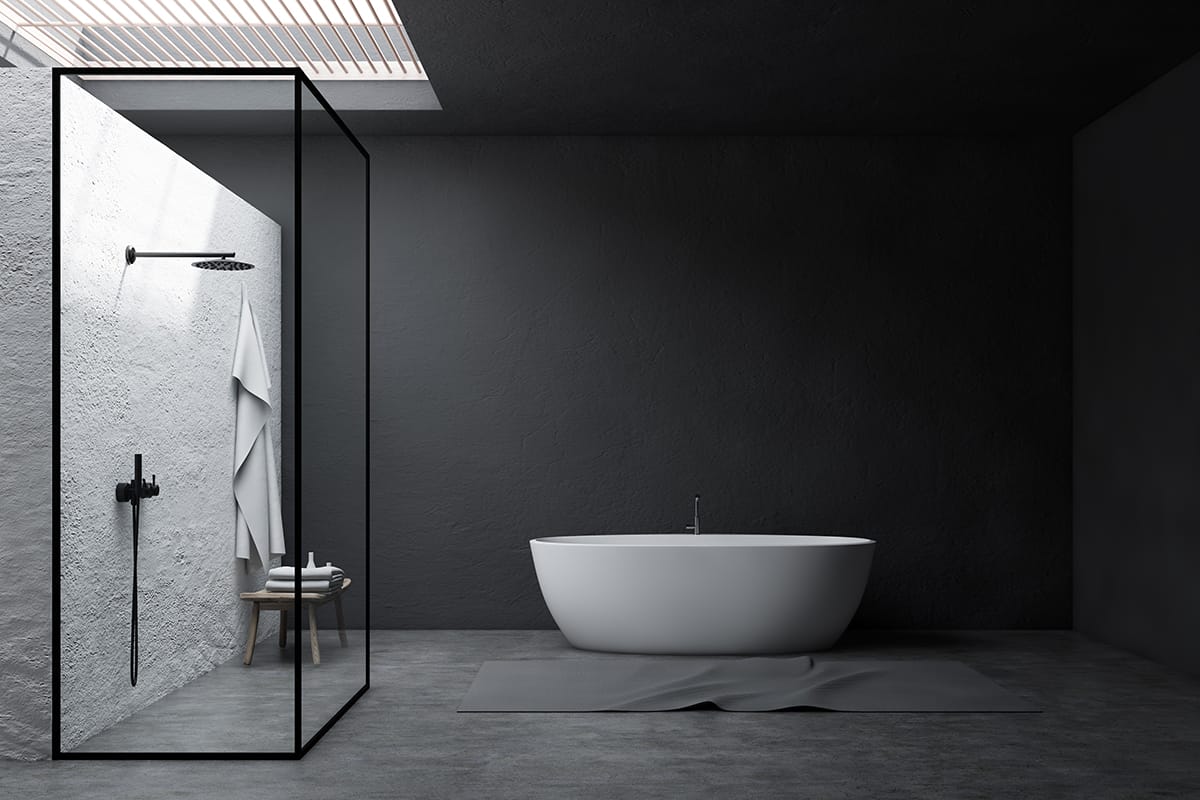 For a more dramatic look, try dark gray paint for your bathroom ceiling. This is a moodier and more sophisticated alternative to pale green. While dark gray may be too intense, it goes perfectly well with matching walls.
To make it versatile, add warm elements together with white vanities in order to keep your bathroom contemporary. Dark gray like charcoal works well with wood or metallic tones as the combination is elegant and still relaxing.
Pale Gray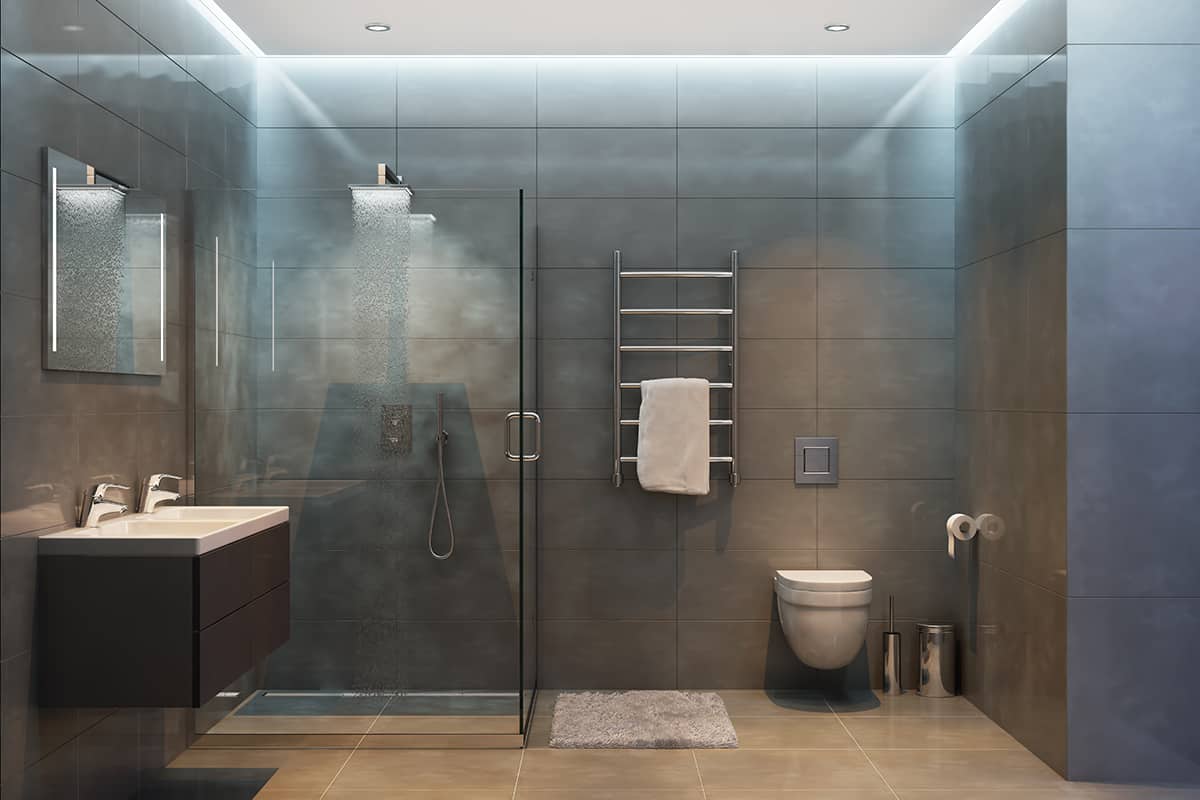 A softer alternative to charcoal gray is pale gray. This neutral shade gives some edge to a large bathroom. In bathrooms with granite or concrete floors, painting the ceiling a light gray shade can be quite soothing. To harmonize this cool tone, try adding wood vanities.
Simple, neutral accessories can be a classic touch, but for a more vibrant finish, add bright-colored towels or a floral shower curtain. Since pale gray goes with pretty much every other neutral and bold color, you're free to design the bathroom of your dreams.
Brown
For those who want to create a very calming, earthy look in their bathroom, painting the ceiling brown is the way to go. A dark brown shade creates a cozy, relaxed atmosphere. This dramatic color looks sleek when paired with plants and metal accents.
A medium tone of brown for the ceiling as a neutral backdrop to other warm-toned accessories like beige or cream towels is a soothing combination in a modern bathroom.
Taupe
Another earthy, warm neutral shade that makes a softer alternative to brown is taupe. This ceiling color gives some warmth to a small or large modern bathroom. Taupe is a gray and brown shade with a contemporary twist.
You can choose several variations that lend a different feel to your bathroom space. A gray-heavy version, for example, tends to give a moodier look than the earthy brown-heavy hue. For the walls, try a light taupe shade with a purple undertone. This combination works perfectly with white vanities and cream towels.
Should the Bathroom Ceiling Color be the Same as the Walls?
If you want to create a monochromatic, uniform look in your bathroom, it makes sense to opt for the same color for the walls and the ceiling. This cohesive look will make your bathroom more visually appealing as opposed to contrasting colors for the walls and the ceiling.
Using the same color for both the walls and the ceiling allows the other features in the bathroom to stand out. When you want a distinct focal point, you don't want the walls and the ceiling color to take the focus away from the unique elements in your bathroom. Instead, let the colors blend with the vanities and accessories.
Just make sure you stick to the same color palette for the entire room. For example, if your walls are dark blue, you can opt for a shade lighter for the ceiling. This idea gives a pleasant and fresh feel to your space.
If you like the idea of a monochromatic look in your bathroom, let us round off the top advantages of painting the bathroom ceiling the same color as the walls:
It creates a clean, uniform look
It adds visual interest to the bathroom
Matching walls to the ceiling color makes a small bathroom appear larger
Vanity colors can blend easier with the walls and ceiling
Lighter colors add depth to a small, low-ceiling bathroom
What is the Best Type of Paint for Bathroom Ceiling?
When it comes to painting a bathroom ceiling, there are generally two types of interior paint you can choose from; latex and oil-based paint. To paint your bathroom ceiling, you should ideally go for water-based latex paint rather than oil mainly because of the strong odor of oil-based paint.
That said, oil-based interior paint is more durable, even if it requires a lot of scrubbing. In addition, oil paint takes longer to dry between coats and releases VOCs (volatile organic compounds). For the best option, paint your bathroom ceiling matte or satin finish.
Satin paint has greater moisture resistance plus it is more durable than matte. But keep in mind you still need to go for water-based latex paint as it dries a lot quicker between coats. This means you won't have to wait for a whole day to finish the painting job. In bathrooms with low moisture and humidity, a satin or matte finish will suffice for the ceiling.
On the other hand, if you prefer taking baths often, then your bathroom ceiling will be prone to high moisture or humidity. In this case, go with a semi-gloss paint as it can prevent mold or mildew from forming on the ceiling.
This paint finish provides excellent protection against humidity and comes with a solid molecular structure to prevent moisture from seeping through. Remember to remove any existing mildew or mold from the ceiling prior to painting it with your chosen color.
Conclusion
As you've realized, there are many bold and neutral ceiling colors that work in both modern and classic bathrooms. You can create a dramatic look with charcoal or brown paint, or keep the space fresh and clean with pure white or blue. Any of our bathroom ceiling color ideas will work with neutral accessories and vanities.