A spacious and well-organized pantry is like hitting the jackpot when it comes to home living. Being that a kitchen is often the most visited room in the house, having it fully functional is of at most importance for multiple homeowners, especially those that love to cook and host. Being able to store kitchenware and foodstuffs neatly is a dream come true.
To find your suitable pantry, you must understand the overall design of your house, the space available, and if you're remodeling, consider cost and creative ways to store items that you hadn't maximized before. Seen those color-coded pantries on HGTV, Pinterest, or Instagram and wondered how they were set up? We'll dive into the different kinds of pantries, together with some of their benefits and downsides.
Freestanding Kitchen Pantry
Perhaps pantry space is out of the question for you since you have no space and budget to renovate and add a pantry to your home. This here is your saving grace. A freestanding pantry can be placed anywhere in the kitchen, be moved around to your liking, and won't break the bank to set up.
This can be customized by a carpenter, or you could buy it from a furniture store and add more space for items in your kitchen. These have been modernized through the years from double-doored to barn-style doors or single doors, so there's more flexibility to match your style.
Pull-Out Contemporary Pantries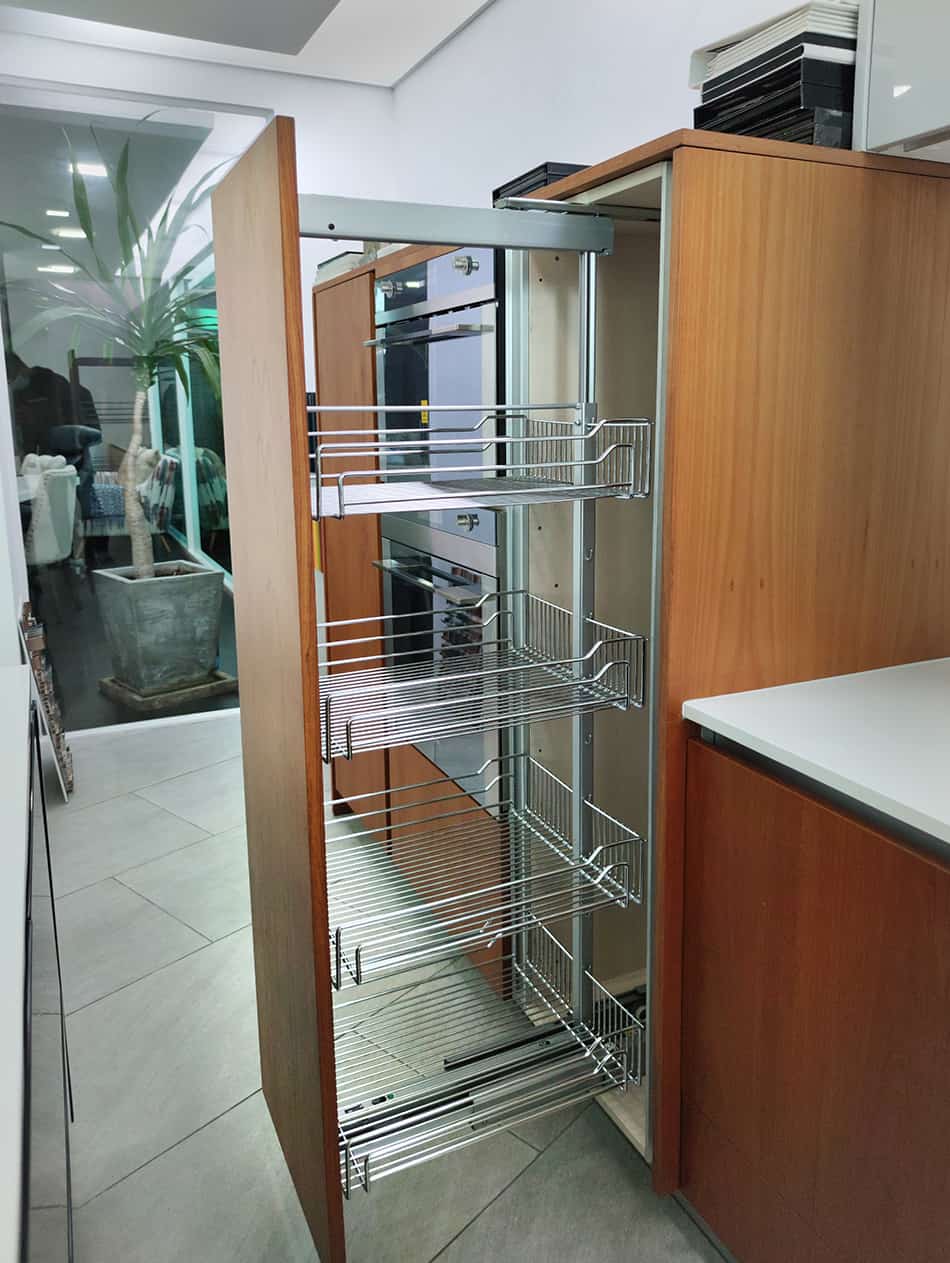 Contemporary and chic homes are drawn like a magnet to these pull-out pantries. They are very exquisite in their design and offer great storage options in minimal spaces.
You'll have to greatly watch out for these because they aren't as strong as the others on this list and thus only permit minimal weighted items. Once you go past the weight restrictions, you may damage the rack and likely the entire system, which will cost you a ton to replace.
Butler's Pantry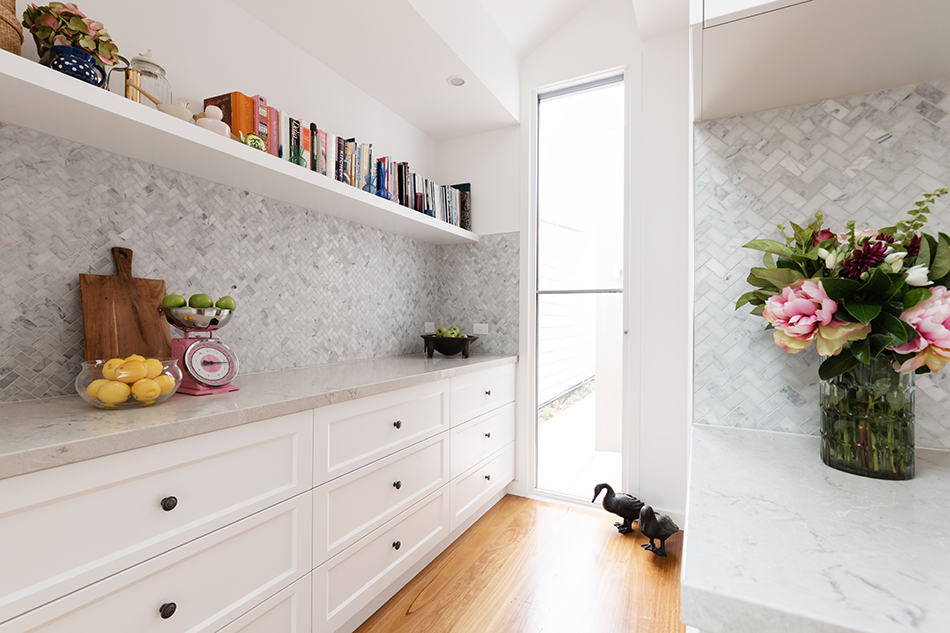 This mini kitchen was a staple for medieval traditional homes of the wealthy. Lords and Ladies' fortresses had a huge number of guests flooding their homes and, as such, a big staff to serve them. A lot of the preparation happened in the Butler's pantry before food was cooked.
Dry foods and wine were stored and preserved in these rooms. Presently, butler pantries are refined but still serve similar purposes. Traditional homes, especially estates passed down to homeowners for generations, still have them in their ancient designs.
Walk-In Pantry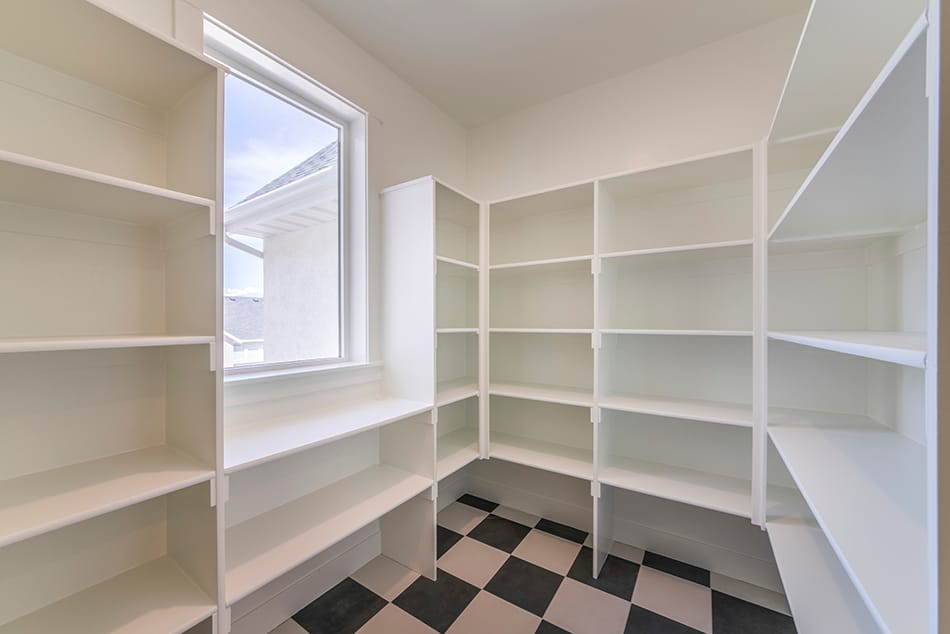 A walk-in pantry has all the charm and convenience of a walk-in closet. This is a dream come true for any homeowner. With shelves stuck on all the room's walls, space is abundant, and also, depending on your kitchen organization skills, everything is easy to find by leaning back on either side and scanning the items on the shelves.
If you're still in the developmental stages of your home, then you must allocate some space adjacent to your kitchen for a walk-in pantry. It's money well spent because many don't have the option or luxury to have one of these. To determine the walk-in pantry dimensions, leave at least 36 inches for the walkway and 14 inches for the pantry depth.
Open-Shelf Pantry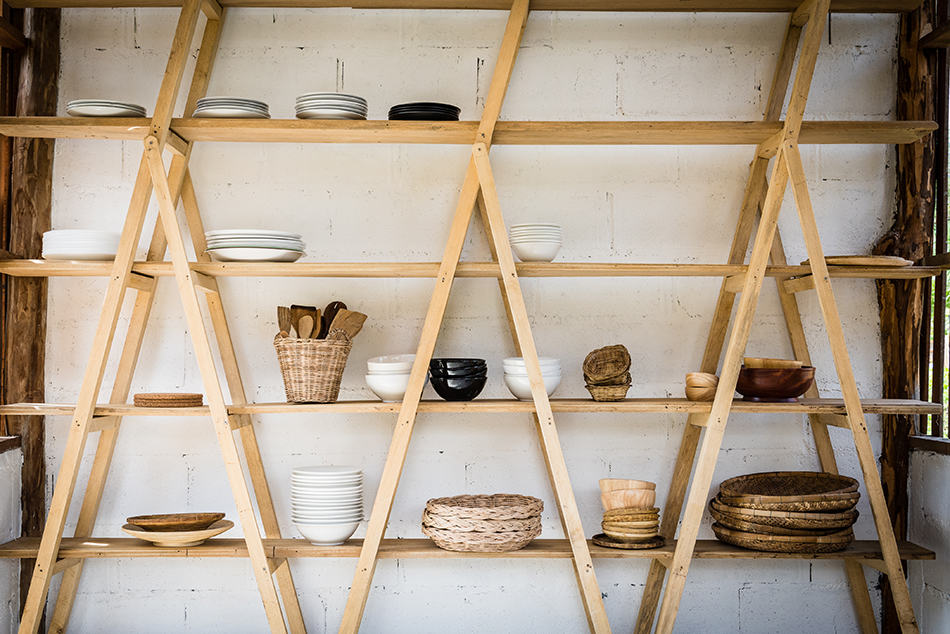 A walk-in pantry is the ultimate homeowner's dream, but its implementation might be farfetched since you have no space or budget for it. Opt for an open-shelf pantry.
You could already have a cupboard pantry but are looking for a little extra space. Utilize any plain walls in the kitchen by installing shelves and stacking items up neatly.
Built-In Cabinet Pantry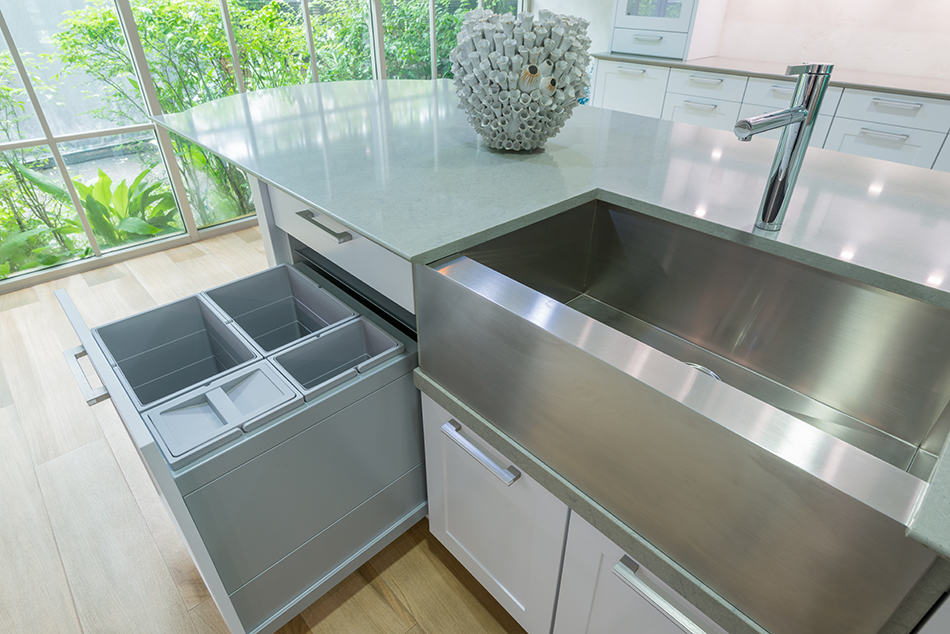 If you are building your dream home or perhaps remodeling your kitchen and looking for a way to maximize the functionality expected from the room, then, by all means, ensure to incorporate a built-in cabinet pantry in your architectural design.
You have the power to design this pantry to the aesthetic of your home, give it as much storage as you might like, and position it in the area of your kitchen that you deem most convenient to you.
Cupboard Styled Pantry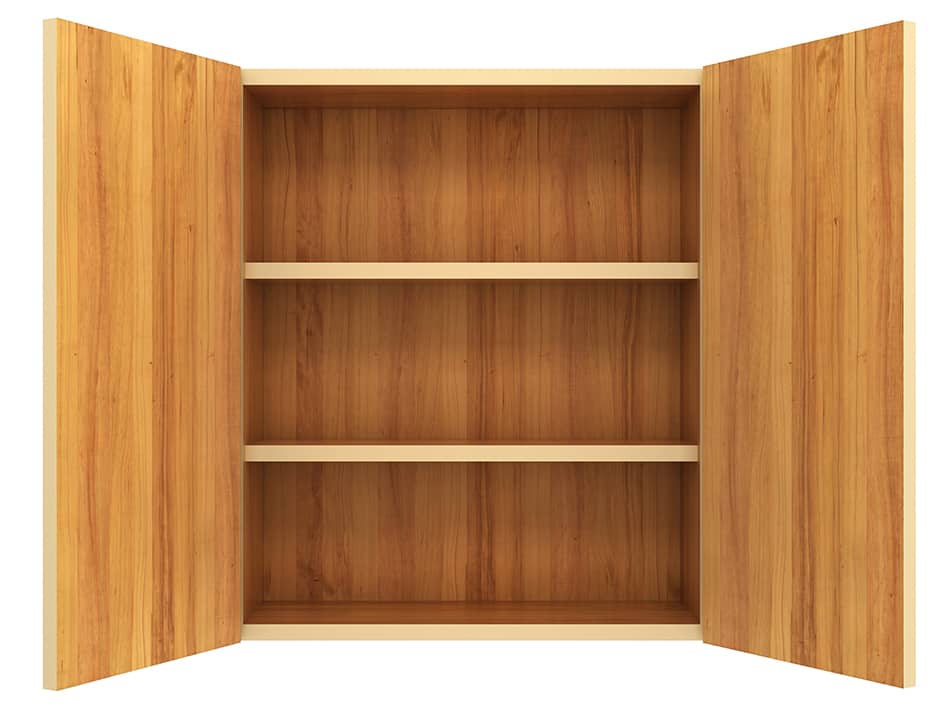 Technically, cupboards are not pantries because cupboards are enclosed, and pantries tend to have an entire room of their own. However, cupboards are nowadays modernized and massive with shelving options, even on cupboard doors, allowing them to function as a traditional pantry.
This is where the pull-out drawers come in handy, as cupboards don't offer enough space but can be utilized with the pull-out mechanism that offers leeway to items at the far back that might not be easy to access.
How to Efficiently Organize Your Pantry
A pantry is just as good as you make it. A built-in cabinet pantry might come across as dysfunctional to one household, yet for another, it delivers and then some more. All this comes down to storage mechanisms and organization, which we'll divulge below.
Pull-Out Drawers
These drawers that slide in and out are the definite lifesaver. Trying to reach items that are at the far back of the shelf is frustrating and can be solved with pull-out drawers that allow you to maximize the depth of the shelf and provide easy access to all items in the pantry. These can be wooden or wired, but ensure to invest in good quality with racks that don't rust easily, which would make them get stuck.
Maximize All Available Space
Leave no stone unturned when it comes to your pantry. It won't matter how much is in the room. As long as it's organized, you'll still be able to use the pantry to its full potential. Perhaps your shelving doesn't go wall to wall, and there's about 50cm space left. You should add a rack to hang pans or serving spoons.
Also, add shelves to the pantry door to stack up spices, canned goods, and kitchen towels. The floor space at the bottom can have rolling carts where you can store even more items. There's always an extra storage compartment you can add to maximize space. You need to be a lot more creative, and when in doubt, seek the guidance of Pinterest.
Use Wicker Baskets, Transparent Containers, and Wire Bins
Piling up snacks or canned foods directly on the shelf can easily get messy, and if the pantry is clustered all the time, then the kitchen will become your least favorite room in the house. Wicker baskets, wire bins, and see-through containers with labels attached to them will make it easy for you to find what you're looking for, but also, your pantry will look like it's straight out of a Pinterest board.
Color and Category Coordination
You need to be intentional with your organizational skills; otherwise, you'll get frustrated with your pantry in no time. You need to arrange items in zones to perfect the color and category form of coordination. Items like cereal boxes or storage containers need more shelf depth than canned goods and spices.
Separate the wheat from the oils and the oils from the snacks. For more visual appeal, color coordinate with your reds, yellows, and blues separated but in similar categories. This will make your kitchen a more lovable space to cook and host guests because it's neat, and you're able to find items easily.
Labeling Containers
Labeling baskets, jars, and containers will considerably reduce the time spent in the pantry. Also, since every family member uses the pantry, labeling will enable everyone to easily find items without disorganizing the room.
Not only is it psychologically comforting to know where everything is, but it helps keep everything in order even when you restock items from the grocery shop since you already know where everything is going.
Install Pantry Doors
Some pantries aren't built with doors to allow easy entry and exit to and from the kitchen. However, during a hosting season like Christmas or Thanksgiving, where there's a massive flow of people in and out of the kitchen, you want the pantry to be secluded so that any mess you left there is not visible to your guests. These can be barn-styled doors, glass sliding doors, or swinging doors.
Store Dry Foods in Containers
Cereal, sugar, spaghetti, and the lot should be emptied from their packaging bags into airtight see-through jars to add more organization into the room and also provide more accessibility to items. These containers and jars are often sold in sets at the supermarket or retail shop and come in different sizes, with those meant for spaghetti and cereal longer than the rest.
Uplifting Wallpaper and Colors
Wallpaper can go a long way in making a dull, lifeless pantry come to life and even make the coordination and neatness stand out more. Look out for vibrant popping colors and watch them give life to your entire cooking experience. Humans subconsciously respond well to bright environments. It makes them more chipper, and up for tasks they ordinarily wouldn't have wanted to partake in.
Chalk-Board Pantry Doors
If you're a parent juggling life and ensuring your babies are fed healthy and right, you'll want a chalkboard in your kitchen. This board will remind you of all the grocery items you need to stock up on, and also, since everyone in the house could have different requests on grocery shopping day, having them write their needs gives the shopper a better advantage at planning and keeping the entire family happy.
Plus, this addition makes the kitchen more domestic and lively. Handwritings of several household members imply that everyone is utilizing the kitchen, and it's serving its purpose, which is to bring everyone together.
Drawers Should Have Containers
Don't simply throw teabags and the like into the drawer because it will get messy, and then you'll not be able to find anything. Place open containers in all the drawers and neatly store items by their categories. Knives should have a container of their own from the forks and serving spoons. This kind of organization gets everything done faster.
Keep Commonly Used Items at Eye-Level
Your cereals, baking products, snacks, and the like should be kept in the middle racks at eye level. Items that are not often used can go to the top and bottom shelves. You could also have a stool available for when you want to reach items at the top.
Stick to the 80-20 Rule
While this rule in sales implies that 80% of sales come from 20% of customers, in this scenario, we are using this analogy in spacing. Don't surpass the 80% threshold of pantry usage. Once you're past this, it's a little too much. Leave a 20% breathing room that will allow you to move around and find items you're looking for.
Design of Pantries
While pantries are primarily storage rooms, they don't have to look lifeless and unsophisticated. Your freestanding pantry can be colored to match the color theme of the kitchen, or you can go bold, for instance, with a bright orange pantry against an all-white kitchen.
You can have barn doors, sliding doors, and swinging doors that will add a little more personality to the kitchen. Additionally, choosing punching colors in the pantry will show off your design styles and elevate the entire vibe of your pantry or kitchen.
For homeowners who are minimalist and appreciate the look of an uncluttered kitchen, pantries can be designed to be hidden behind paneled doors and drawers that look like cupboards but, once opened lead into a walk-in pantry.
To reflect on all that's been covered, pantries are only as good as you make them. Set up and organization is the heart of the room, and a fallback on either will set back the intended resourcefulness of a pantry. If you're looking to DIY your pantry, then you'll have your work cut out for you.
Ensure that you've got your measurements right, take out all the items in storage, and analyze what needs to go where and what containers best suit them. While items are out, you can take this chance to change the wallpaper and install an entirely different pantry concept, for instance, a cupboard pantry to an open shelved pantry.