Alarm clocks have been in existence for hundreds of years and were first created to help farmers wake up early in the morning to begin work.
If you want an alarm clock to wake you up in the morning, there are many clock options to choose from. This list covers the numerous types of alarm clocks available today.
Types of Alarm Clocks
Pretty much all alarm clocks can be divided into one of two groups; tabletop alarm clocks and wall alarm clocks. However, beyond this, alarm clocks can vary in terms of power source, the material they are made from, and the features they have.
Tabletop Alarm Clock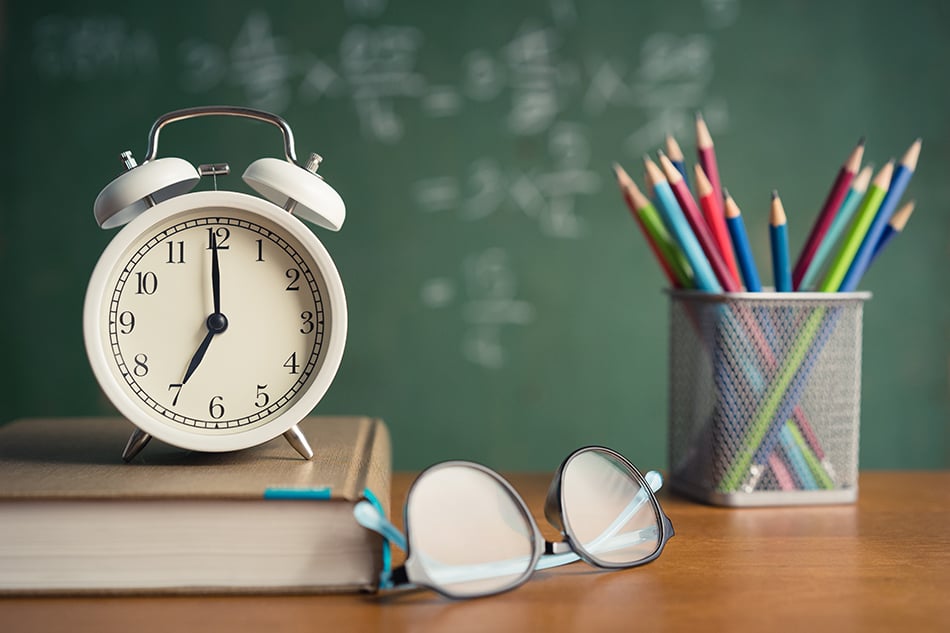 This is the type of alarm clock most people will imagine when they think of a traditional alarm clock. These alarm clocks are designed to sit on any flat horizontal surface, such as a bedside table, a work desk, or a chest of drawers.
They come in various designs but will generally have a chunky design that does not require a stand in order to stand up, or they might have a back stand to lean against. They generally don't take up much space, but if you prefer a minimalist design and don't want additional clutter on your surfaces, then you could always opt for a wall-mounted alarm clock.
Wall Alarm Clock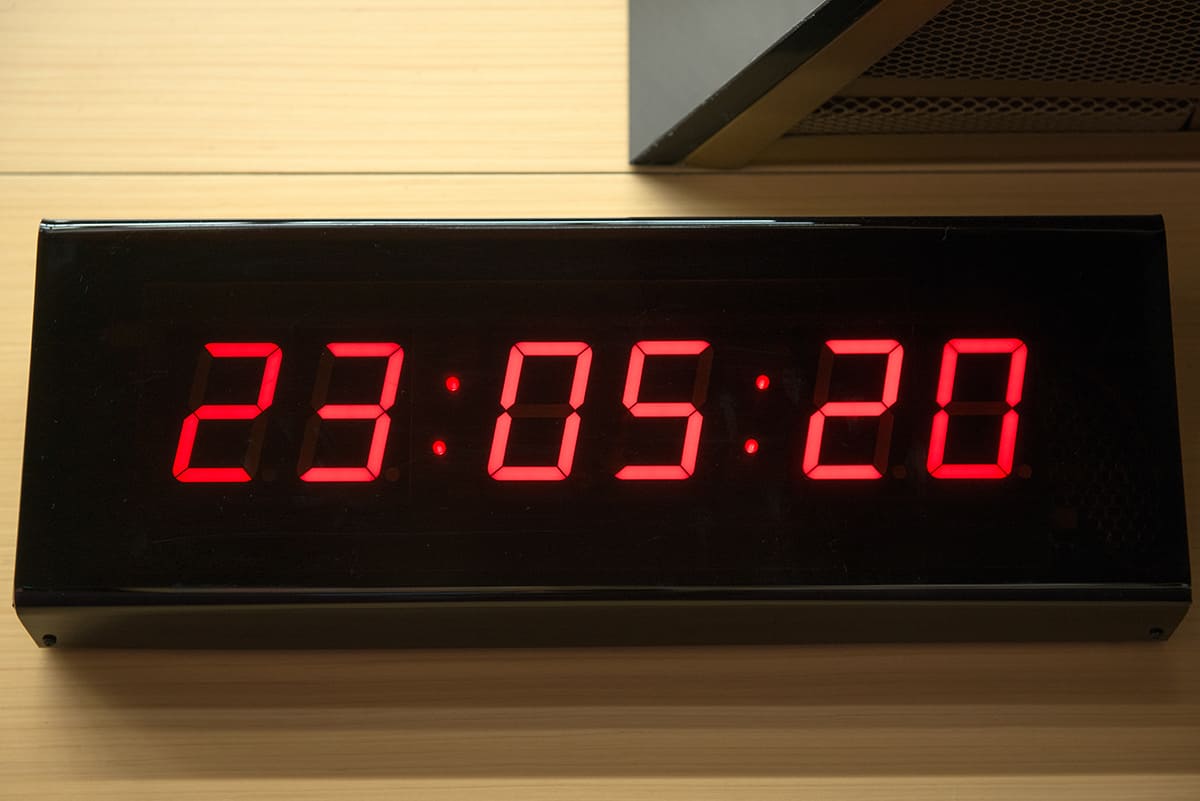 These alarm clocks are mounted on a wall as opposed to sitting on a piece of furniture. They are a good option if you don't have enough space for a bedside table in your bedroom but still want all the features of an alarm clock or if you prefer to keep your surfaces clear.
Be sure to fix your alarm clock to your wall close to your bed so that you can reach it to turn it off when it sends out its alarm in the morning. Having to jump out of bed and run across the room to switch off the alarm first thing in the morning will not be a pleasant start to your day!
Power Source
Battery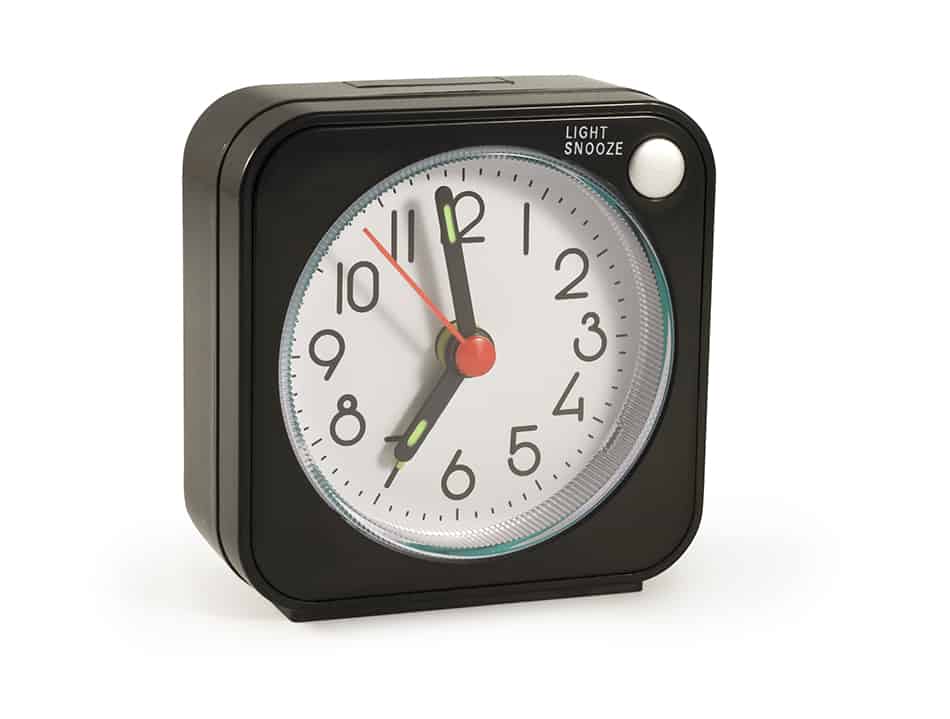 A battery-powered alarm clock is a good solution if you don't have a power outlet conveniently located close to the side of your bed. Being battery-powered will give you ultimate portability, meaning you could take your alarm clock with you easily without dragging wires around if you choose to sleep in a different room.
Battery-powered alarm clocks also won't be affected by power outages, so you can rest in peace knowing you'll still be woken up in time, even if a storm takes down your power supply. The disadvantage of having an alarm clock powered by batteries is that the batteries can run out, and you'll need to remember to replace them.
Fortunately, alarm clocks do not use a lot of power, so one set of batteries should last a long time before you need to think about replacing them. You could also opt for rechargeable batteries if you are concerned about the cost of buying new batteries.
Electric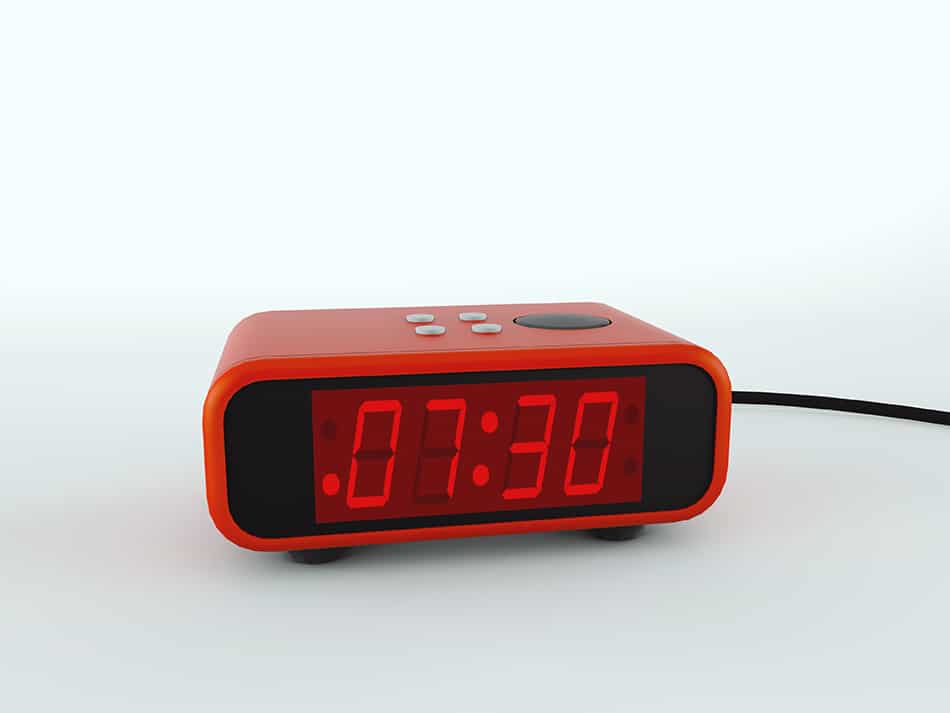 Alarm clocks powered by electricity are typically the most popular choice of alarm clocks when it comes to their power source. This is because of their convenience. They can be simply plugged into a power outlet, set, and then forgotten about. They won't need to have batteries replaced or need to be wound up in order to continue working.
Providing you have a power outlet located close to your bedside, then electric power clocks present an easy option. Their main drawback is that they won't work in the event of a power outage, so if you frequently experience power problems, then you might want to consider an alternative.
Wind-Up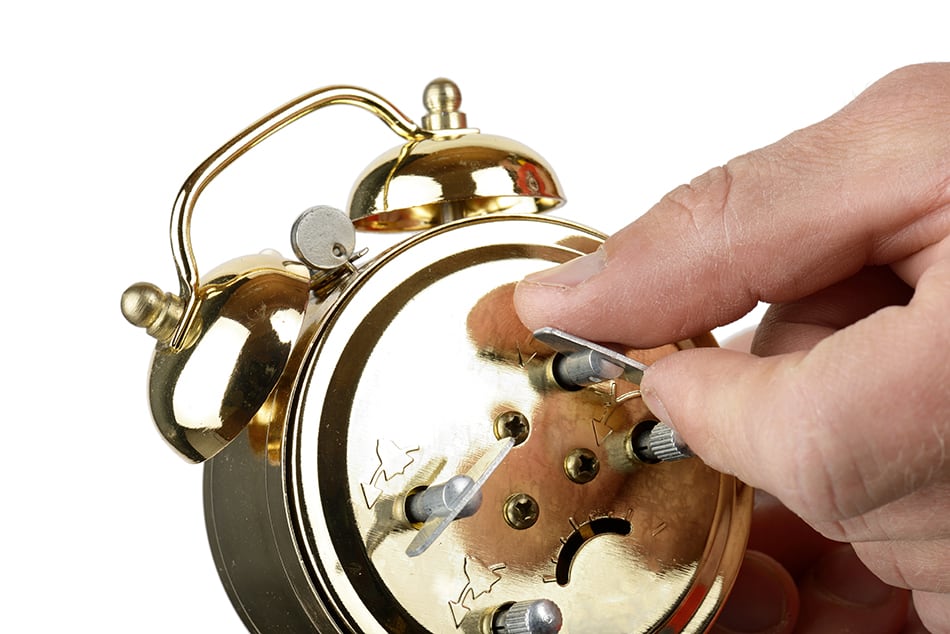 Wind-up alarm clocks are the first adjustable alarm clock invented. They are old-fashioned but reliable. Some people favor them over modern gadgets, while others prefer technology. If your personal preference is a wind-up alarm clock, then you'll need to ensure you don't forget to wind it up. Otherwise, you risk not being woken up at your chosen time.
These clocks don't rely on batteries or electricity, but they do rely on their owner remembering to operate them.
Material
Wood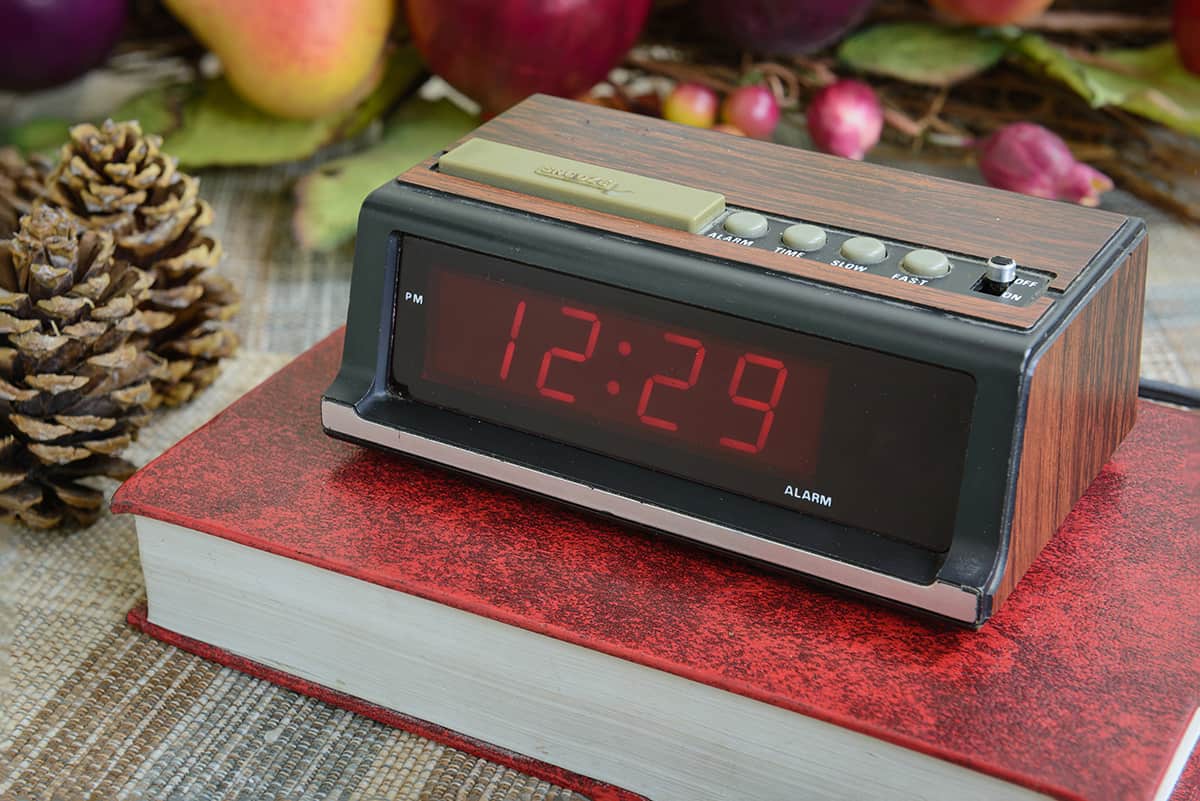 Alarm clocks in the wooden casing can look very traditional or very modern, depending on the type of grain and style you choose. Wood is a sturdy and strong material that stands up well to wear and tear, so it's a good choice of alarm clock if you are prone to knocking things off your bedside table. Unlike plastic or glass, it is unlikely to crack or break if handled roughly.
If your alarm clock has a natural wood finish and is not sealed, then you'll need to be careful that it doesn't get wet. For example, if you live in a humid environment, keep drinks on your bedside table that might spill or water plants on your bedside table. When natural wood gets wet, it can swell or become water stained and damaged.
Metal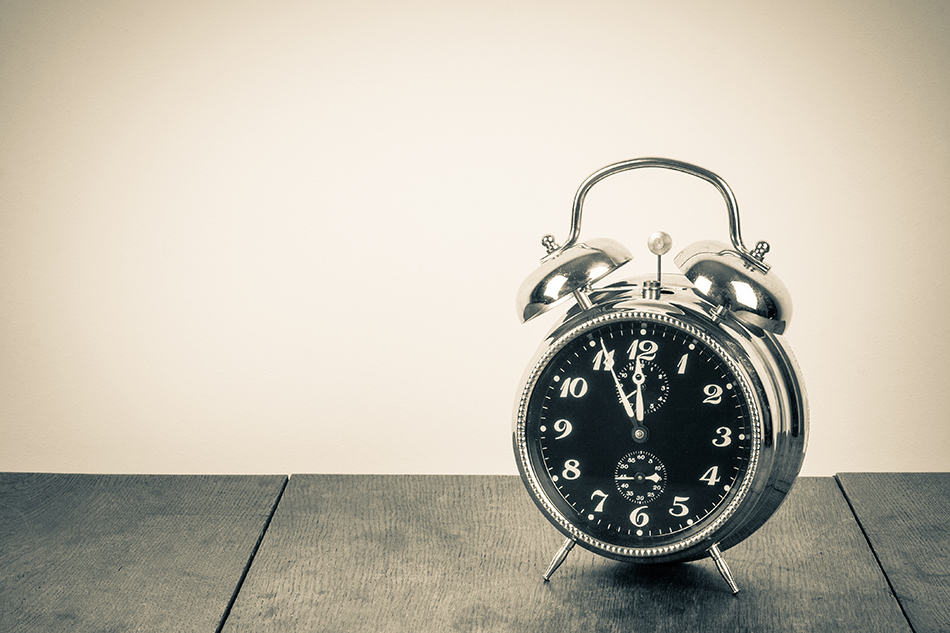 Metal alarm clocks are strong, sturdy, and built to last. They are a good choice of material for a long-lasting clock and are easy to clean and care for. Metal clocks may be more expensive compared to plastic alternatives but will generally have a longer life span.
Plastic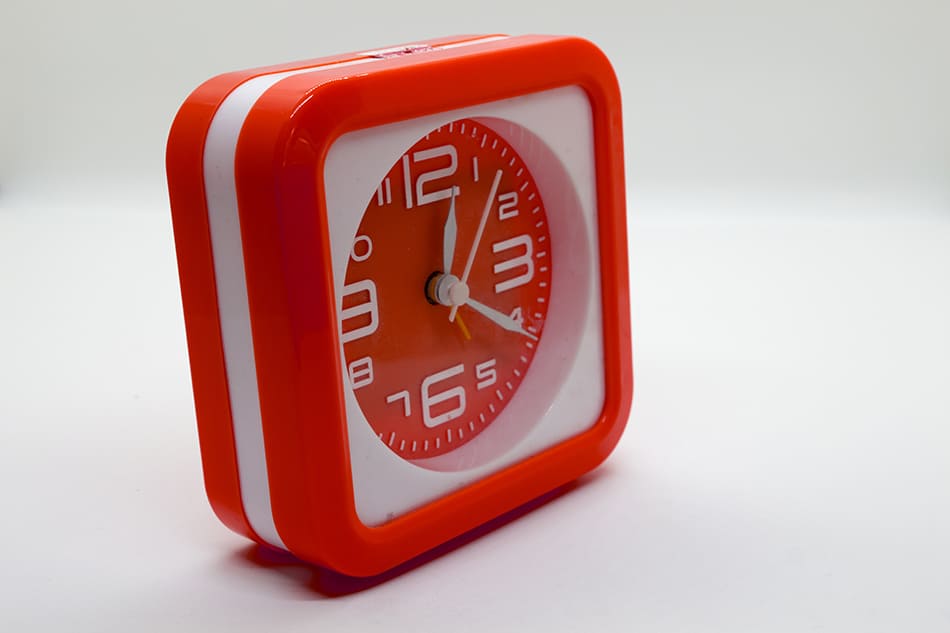 Plastic alarm clocks are popular because they are quite sturdy, inexpensive, and available in a wide range of colors and designs. If you need an alarm clock in a pinch and aren't too fussed about what it will look like, you can usually pick up a plastic alarm clock for just a few dollars.
Though thin or cheap plastic may break if dropped, there are many types of plastic that are very strong and will not be damaged by rough handling, therefore making them a good choice for children.
Leather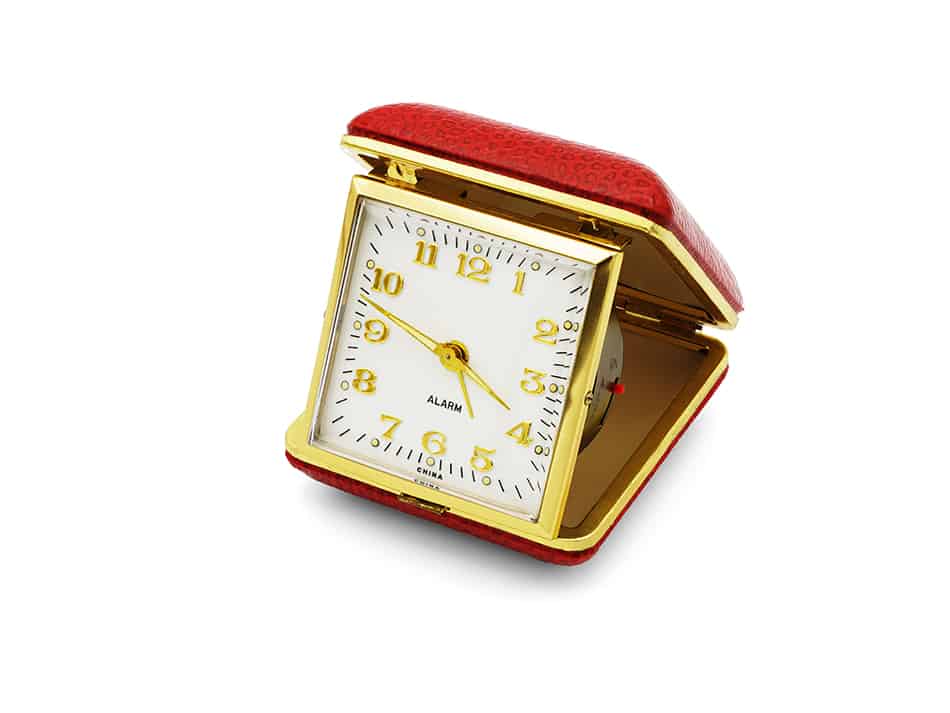 Alarm clocks that are bound in genuine leather are likely to be among the most expensive types of alarm clocks, but they only look better as they age, gaining more character.
A leather alarm clock would make a lovely gift or a keepsake and can look very stylish in any interior design scheme.
Faux Leather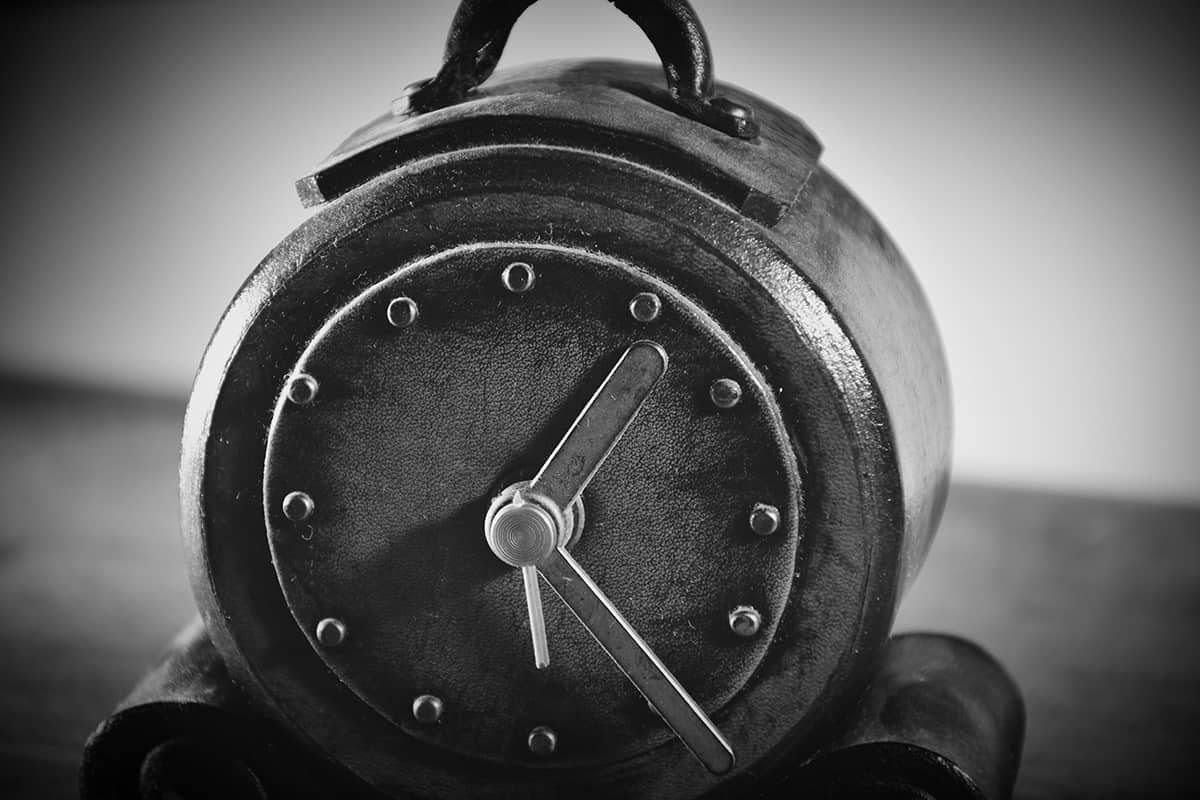 Faux leather alarm clocks offer a similar look to real leather alarm clocks, but the quality will not be as good. Faux leather is a good option if the style of genuine leather appeals to you, but the price tag is out of your budget, or if you are vegan and don't support using animal-based products.
The main drawback of faux leather is that it doesn't age well like genuine leather and can become scratched or scuffed quite easily.
Glass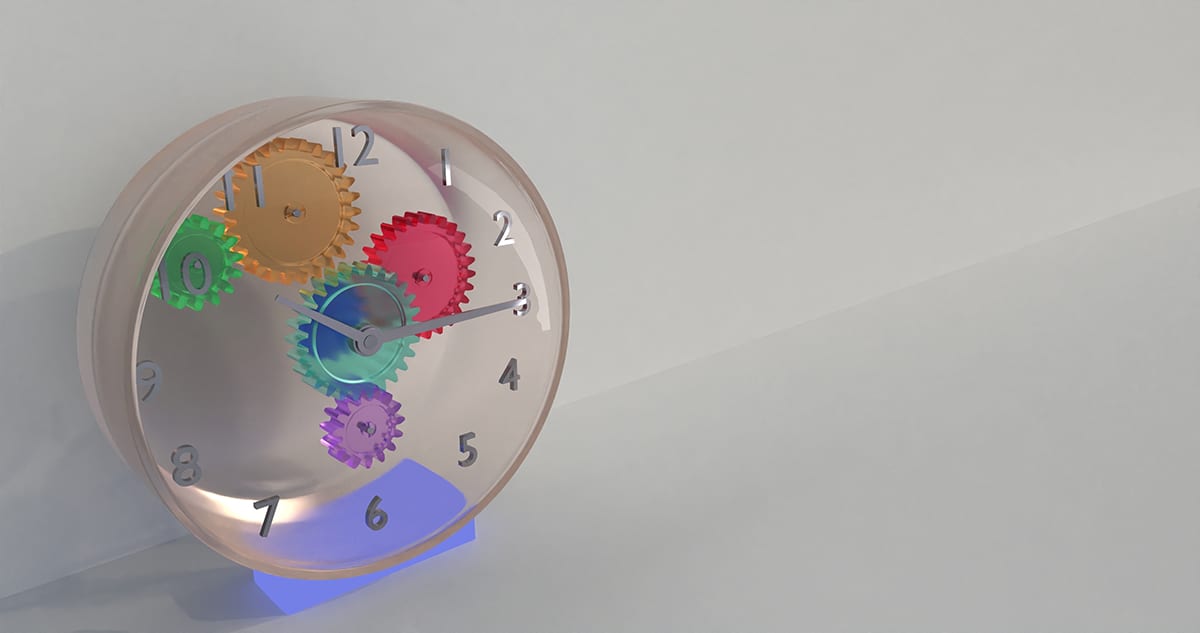 Some alarm clocks may have a glass body, while others, such as wooden alarm clocks, might have a glass screen. Having an alarm clock made from glass will give the clock a high-quality look and will probably also mean the clock is more costly to buy.
Glass alarm clocks can look sleek and minimalist, making them an attractive choice for a minimalist design scheme. The main problem with glass is that it can crack or shatter if struck or dropped. This makes it a poor choice of material if you have young children, as broken glass can be very dangerous.
Features
Digital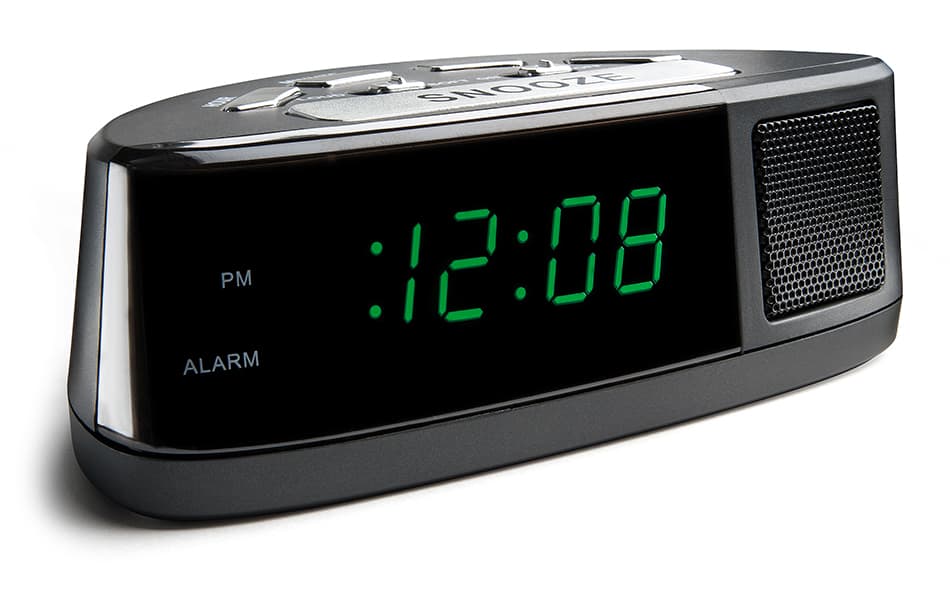 Digital alarm clocks have a digital display as opposed to a clock face with rotating hands. These are a great choice for alarm clocks because they are easy to see and understand if you wake up in the middle of the night.
They are also a good option for children who haven't yet learned how to read the time on a clock face because digital readings are usually easier.
Snooze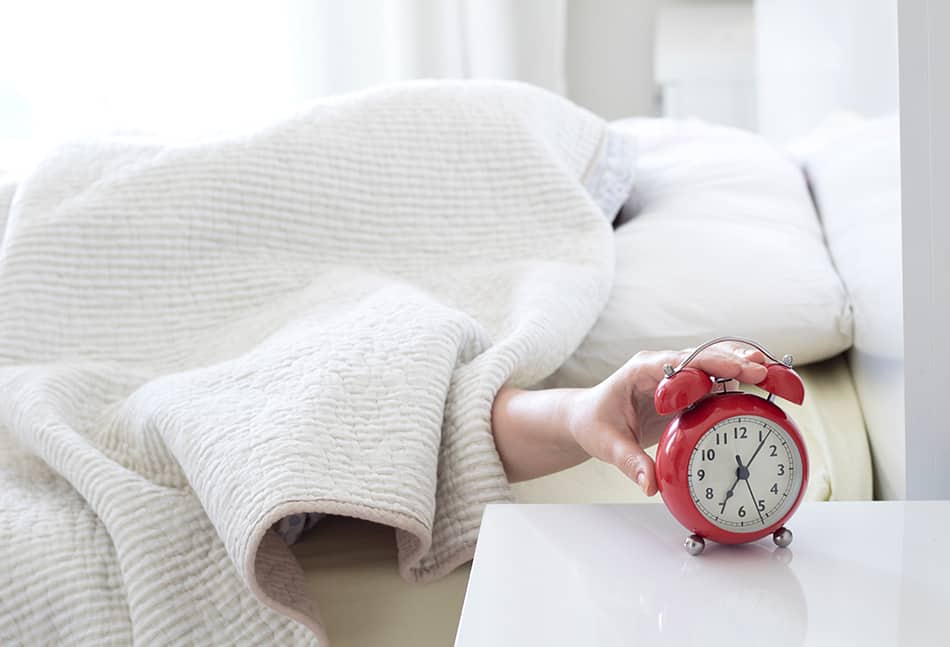 The snooze feature on alarm clocks lets you catch a few extra minutes in bed. Many people like the snooze feature because it allows them to wake up more gradually. The initial alarm will bring them out of their deep sleep, and then they can hit the snooze button and stay in bed a little longer before the following snooze alarm lets them know it really is time to get up now.
Some alarm clocks will only allow you to snooze one or two times each morning, while others can be snoozed over and over again. This might seem appealing but is a dangerous feature if you don't want to be late to work!
Radio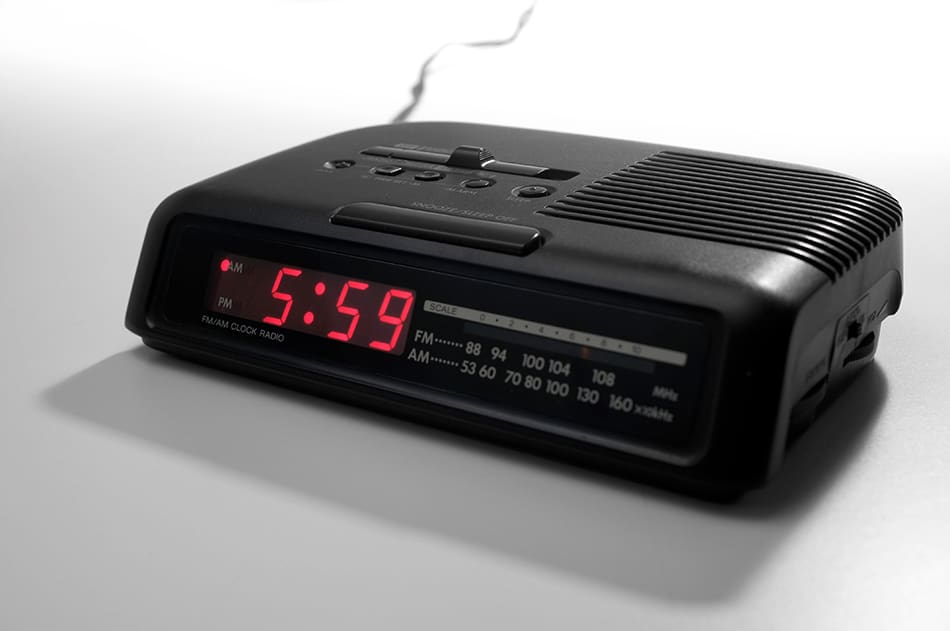 Radio alarm clocks have aerials and speakers that mean they can tune in to your favorite radio station and wake you up with music or news instead of the usual beeping sound. This can be a more pleasant sound to wake up to if you find the beeping noise intrusive or aggravating.
They were invented in the 1940s, and very few young people listen to the radio in this modern era. However, if you're looking for a radio alarm, you can easily find one. Besides radio and alarm functions, modern radio alarm clocks can come with Bluetooth for music listening.
It's also a great decorative item and space saver because you can put your radio on at any time, meaning you don't need a separate radio for listening to music in your room. The one drawback of radio alarm clocks is that their sound doesn't tend to be of great quality, so if you like to blare your music loud, you should invest in a dedicated music player.
Temperature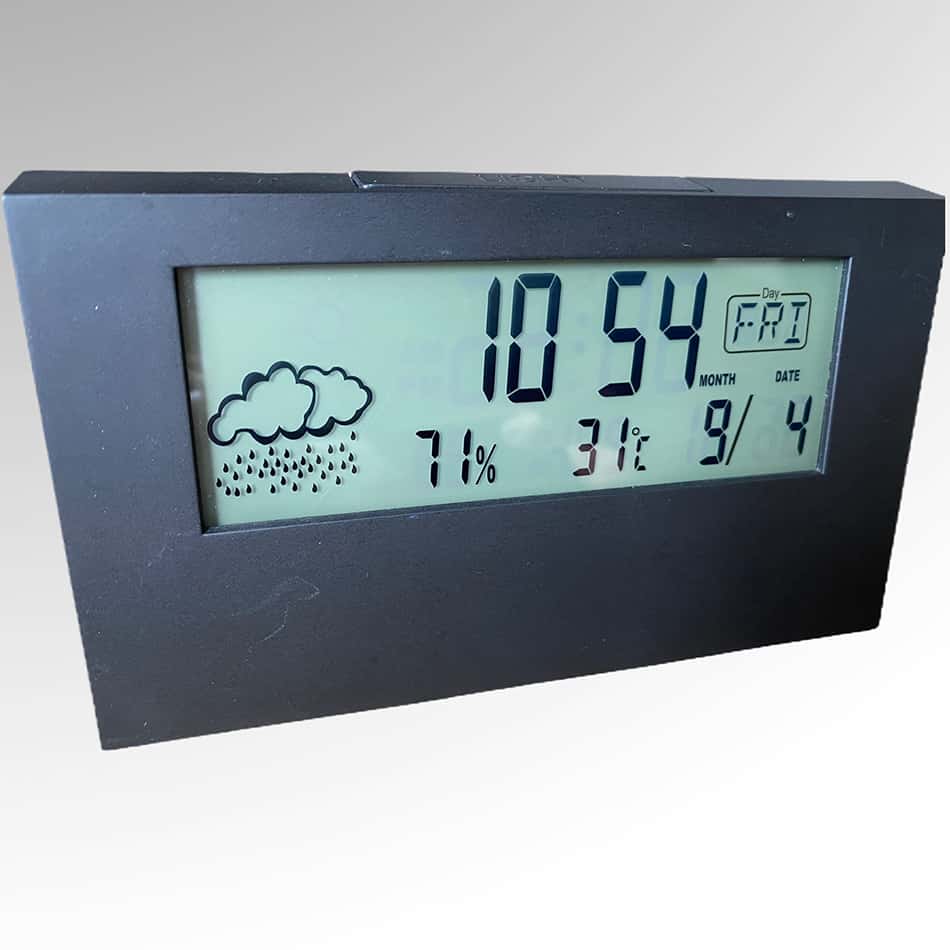 Some alarm clocks also display the temperature. This can be handy in the winter months because you can check the internal temperature of your home, and if it's too cold to comfortably get out of the warmth of your bed, you can turn up your thermostat and make sure the air is warm before you get up.
Glow in the Dark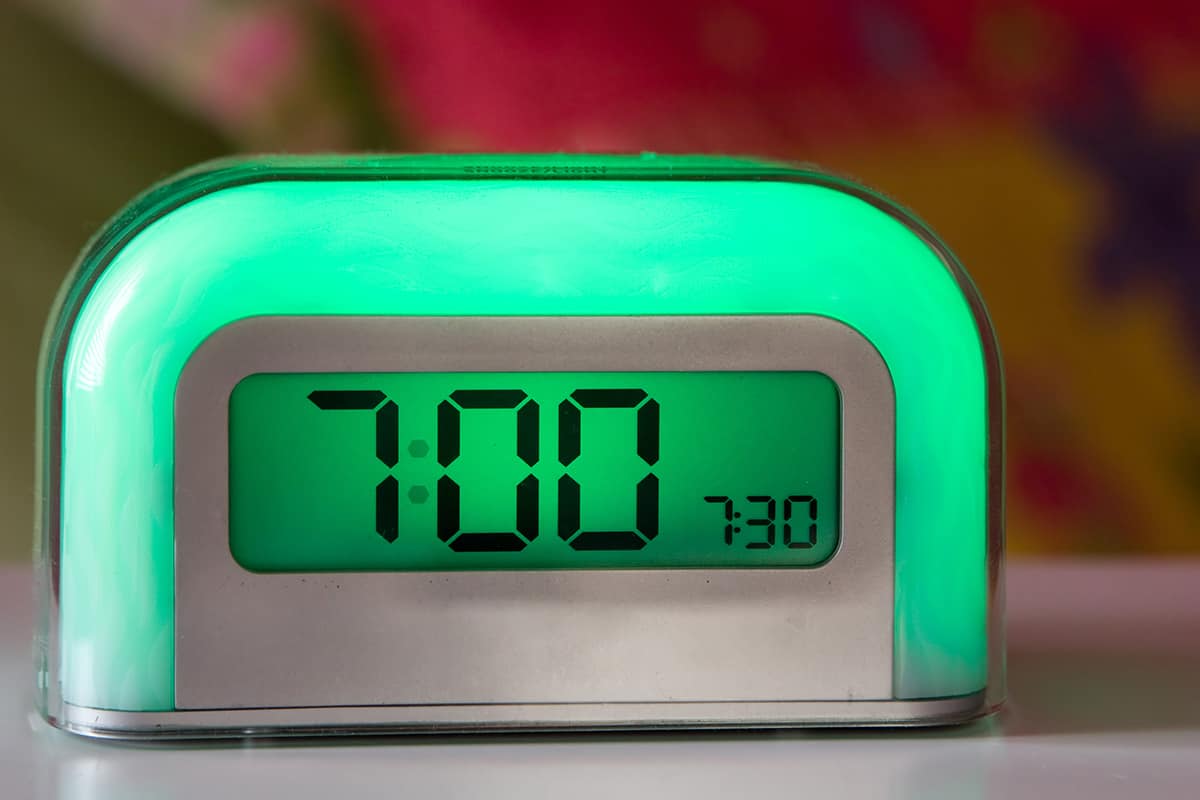 Glow-in-the-dark alarm clocks can be digital or analog. With digital alarm clocks, the digits will glow in the dark so you can easily read the time in the middle of the night. With analog, the hands of the clock will glow in the dark, and the numbers around the clock's face may also glow in the dark.
This feature is useful if you frequently wake in night and like to be aware of the time or if you have to wake up early for work before the sun has risen. It's also a good feature for children to have so they can know the time when they work up early.
Bluetooth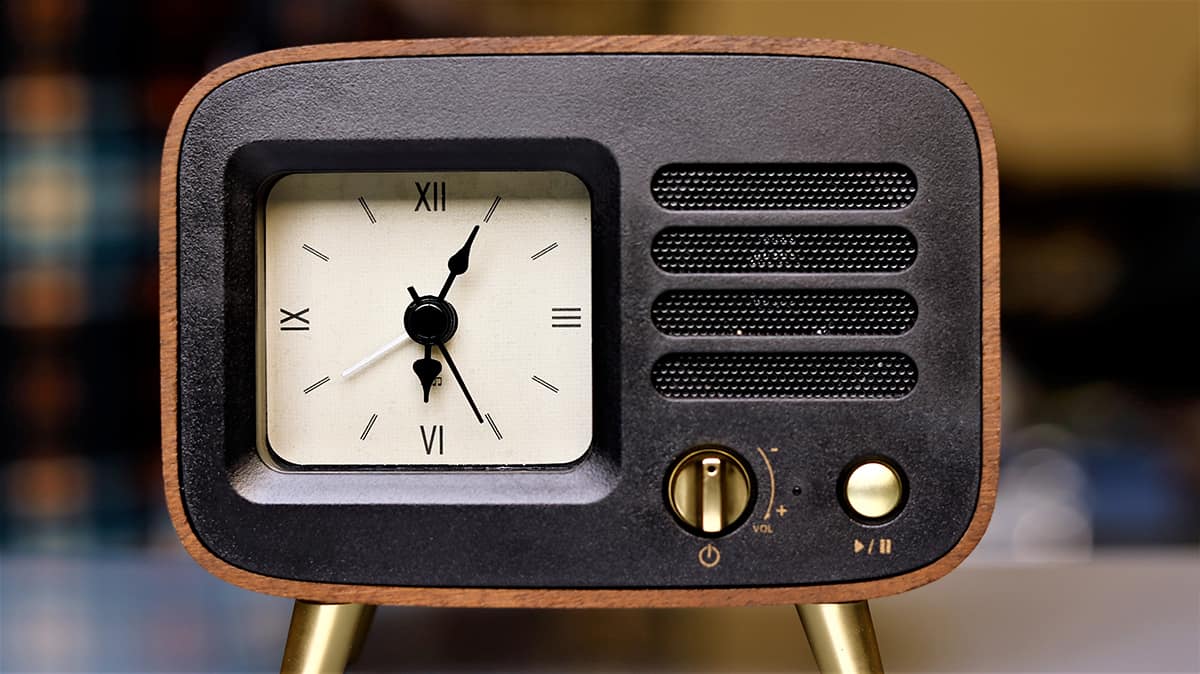 If you want your alarm clock to be multifunctional, then one that has Bluetooth connectivity is a great additional feature. With Bluetooth connectivity, you can hook your phone up to your alarm clock and play music out of it while you get ready in the morning. This can save you from having to have a different product to play music and save space on your bedside table.
Calendar Display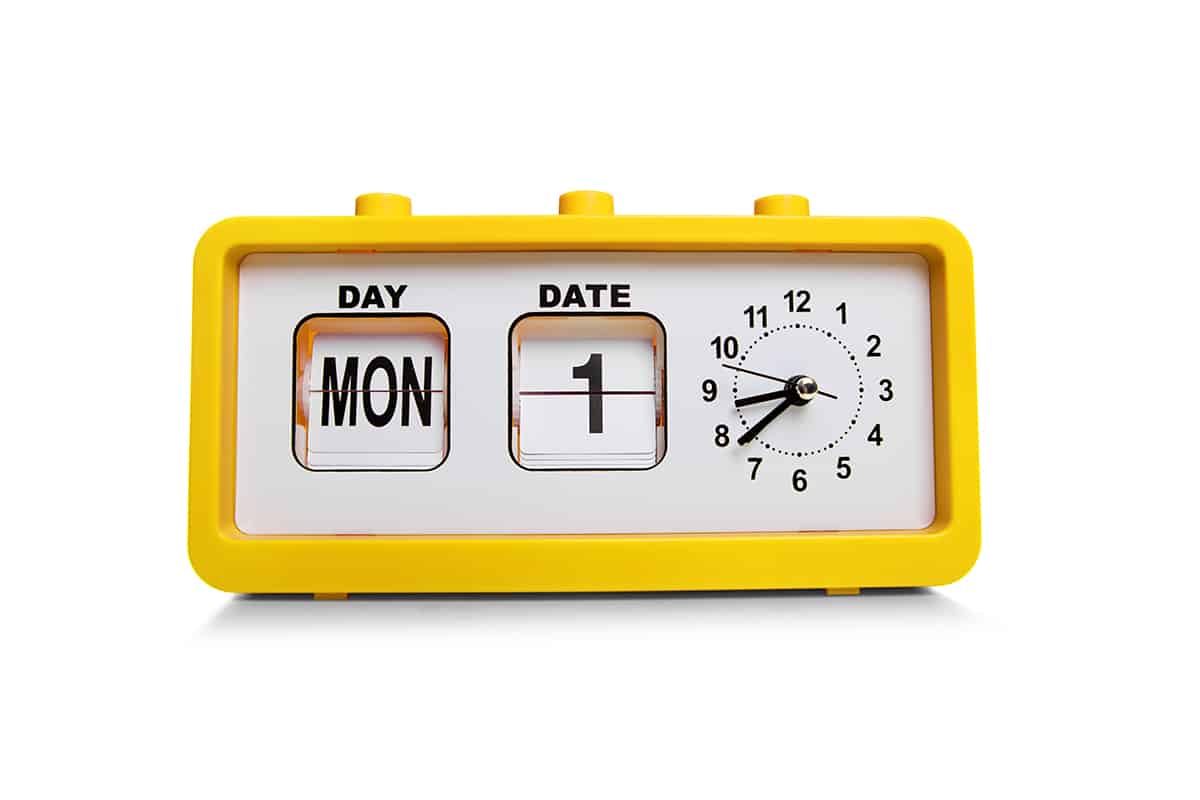 Some alarm clocks also have a calendar display so you can be sure of the date with a single glance. As well as displaying the date of the month, they can also indicate that day of the week it is, which can be especially helpful if you work shifts and sometimes lose track of your days. Alarm clocks that display a calendar are usually digital versions.
USB Port
If your alarm clock has a USB port, then it can double up as a phone charger. This is a great idea because alarm clocks are typically positioned next to your bed, so it's an ideal time and place to charge your phone right next to you while you sleep all night.
Having a USB port in your alarm clock means you won't have to worry about making sure an electrical outlet is free for your charger and means you won't have extra cables trailing along your floor.
Jumbo Numbers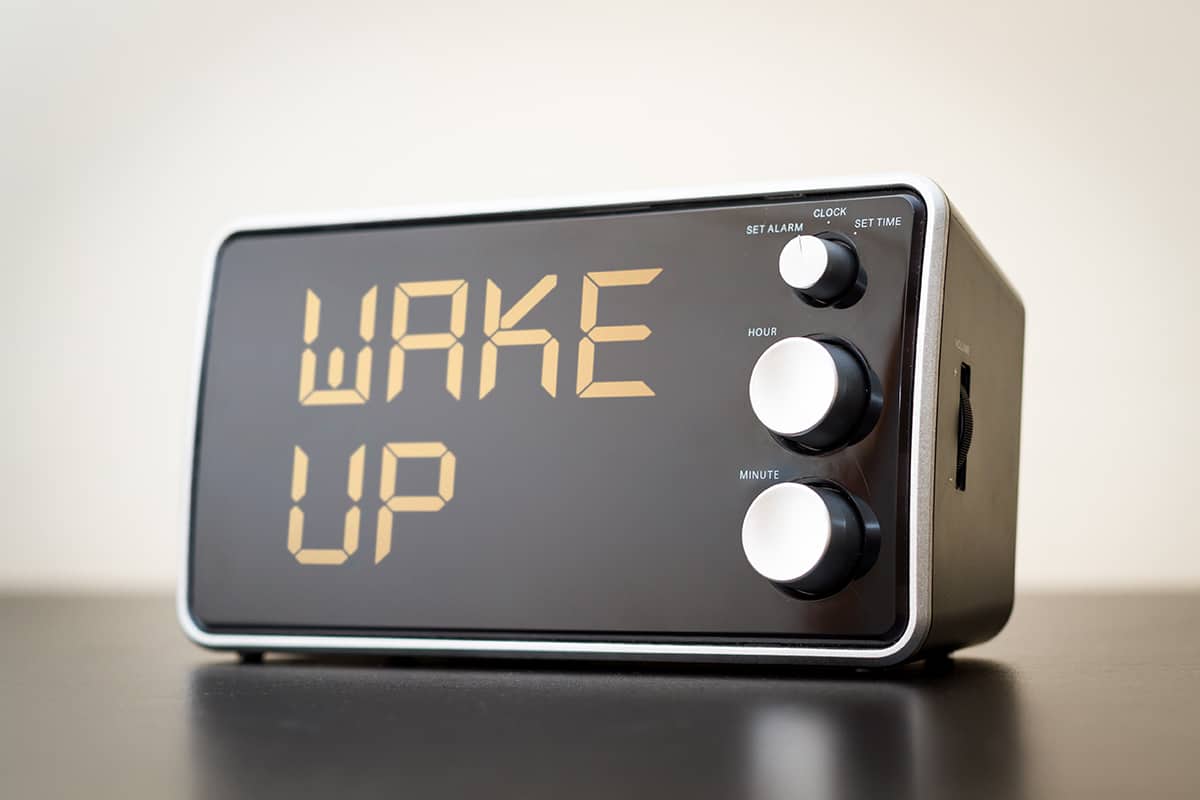 Some alarm clocks have extra-large digits, or you can change the settings to accordingly make the digits bigger or smaller. This is helpful if you have trouble seeing smaller numbers or if the alarm clock is further away from you, for example, on your partner's bedside table.
Having larger numbers can also make it easier to read the time when you first wake up because our eyes can be hazy and find it more tricky to see. Alarm clocks with jumbo numbers might be larger than other alarm clocks to accommodate the size of the digits, but this may not always be the case.