Most people are familiar with a hole punch, which also goes by the names of the hole puncher, and paper puncher. This is a piece of office or stationary equipment which is used to punch holes in paper, typically for the means of binding them together in a folder. In this article, we'll discover the standard hole punch sizes.
The hole punch comes in various standard sizes including the ISO 838 (with 2 holes apart), 3-hole, 4-hole 888, 4-hole legal, and single punch. It typically has a diameter of 6±0.5 mm and there are 80 – 108mm between holes depending on the manufacturer.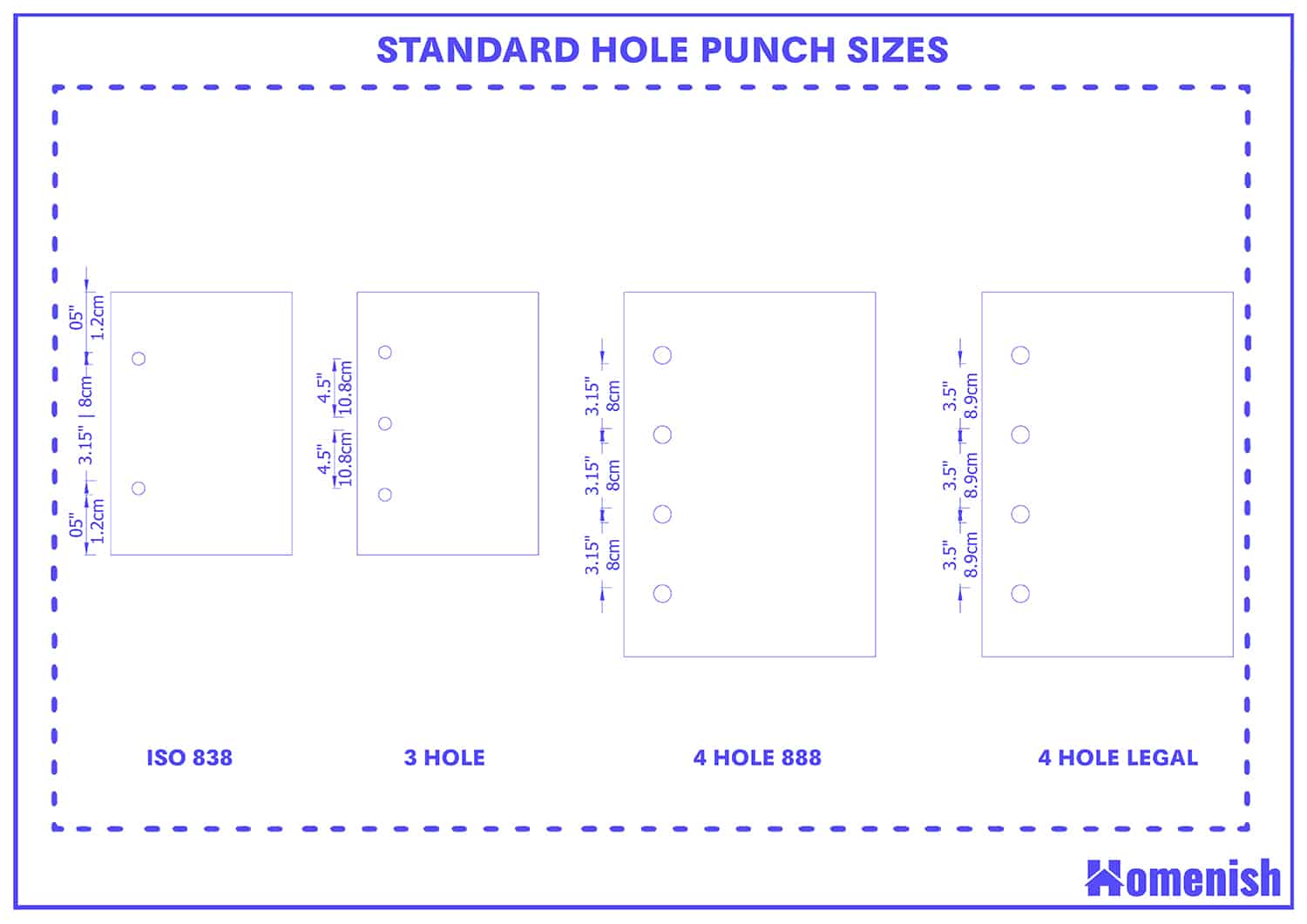 Hole Punch History and Its Use
The hole punch dates back to the 1800s, when a single hole punch was made, which later went on to become known as a ticket punch since it was primarily used for punching holes in ticket stubs to mark them as used.
It was in 1886 in Germany that a patent was filed by Friedrich Soennecken for a multiple hole punch, which he invented as a piece of office supply equipment. The design featured a handle that operated as the lever, pushing two cylindrical metal punches through paper.
The principles of the hole punch have hardly changed since the original invention, and this piece of equipment is still widely used in offices and schools today.
Hole Punch Sizes
Most people find out the hard way that there are different sizes of hole punch. The incident where you punch holes in a stack of papers only to find that the holes don't line up with the rings in your ring binder probably sounds like a familiar scenario.
There are many different types of ring binders, with different amounts of rings and different spacing measurements between the rings, and this means that several different sizes of hole punch are required.
The type of hole punch you need can also be determined by the size of paper you are using since different variations of hole punch are specifically targeted at particular paper sizes, such as letter-sized paper, legal-sized paper, and A4-sized paper.
Most hole punches will have measurement guides on them, directing the user where on the paper to place the hole punch so that the holes will be centrally positioned from top to bottom and so that they will be the correct distance from the edge of the page.
Hole punches are made from metal, and they will have a removable plastic case on the underside which catches all of the tiny pieces of paper which have been punched out of your pages.
Some hole punches will be more heavyweight than others, and these can typically punch through more sheets of paper at once compared with more lightweight models.
ISO 838
This size of hole punch is regarded as the gold standard of hole punches. It punches two holes at a time, which are a distance of 80mm apart, which is the equivalent of 8cm, or 3.15 inches. The holes should be 12mm or half an inch from the edge of the paper. The hole is usually punched at a diameter of 6±0.5 mm depending on the manufacturer.
This size of hole punch is set by the International Organization for Standardization and is therefore accepted as the standard size of hole punch across the world. When using this hole punch on paper, those papers will be compatible to be bound by a two-ring holder.
Two-ring binders tend to be the most inexpensive binders to buy, which is one of the reasons they are so popular; however, they are also the least successful at holding pages in place. The positioning of the two holes on the page means that papers are more likely to tear compared with papers that have holes going further towards the top and bottom of the page.
If you want a binder that is going to be more reliable, choose a binder with more rings and the compatible hole punch.
3-hole
This is a hole punch that is widely used in the US for letter-sized paper and is compatible with standard 3 ring binders designed to hold letter-sized paper.
The holes produced by this hole punch will be 108mm apart or 4 and a half inches apart. The central hole will be positioned in the center of the length of the paper, with the other two holes at relevant measurements on either side.
4-hole 888
This hole punch creates four holes in a page, which are all equally spaced at 80mm or 3.15 inches apart. This size of hole punch is sometimes simply known as the '888' because the four holes are separated by three gaps of 8cm.
This is a versatile hole punch to have because it will create holes in paper, which will be compatible with a 4 ring binder, but the pages could also be used in a 2 ring binder. A 4 ring binder offers more stability for the pages and means they will be less likely to rip or come loose from the binder.
4-hole legal
This is a different measurement of 4 hole punch which is designed to be used with legal-sized paper. It is much less common in the US than the 3 hole punch, though it is still in use.
The holes produced by this hole punch will be spaced 89mm apart, or 3 and a half inches apart. Like the other 4 hole punch, this provides more stability for legal-sized paper when it is secured in a binder, preventing rips and tears.
Single punch
A single punch operates differently from a multiple-hole punch since it can be operated with one hand and doesn't need to be positioned on a hard and flat surface. It is shaped like a pair of scissors, with two handles that are squeezed together to force a spring-loaded metal cylinder to push through paper or card to create a single hole.
These are typically not used as an office or stationery item and instead are used to punch holes in admission tickets to mark them as being used. Single hole punches are also used in casinos to punch holes in playing cards to help cut down on cheating. People who scrapbook for a hobby may also own a single punch hole punch to make creative patterns on paper or as a means of making circular confetti.