Do you want some inspiration for your new bathroom layout? Look no further than these 15 floor plans for master bathrooms to suit spaces of all shapes and sizes.
Luxury Bathroom Layout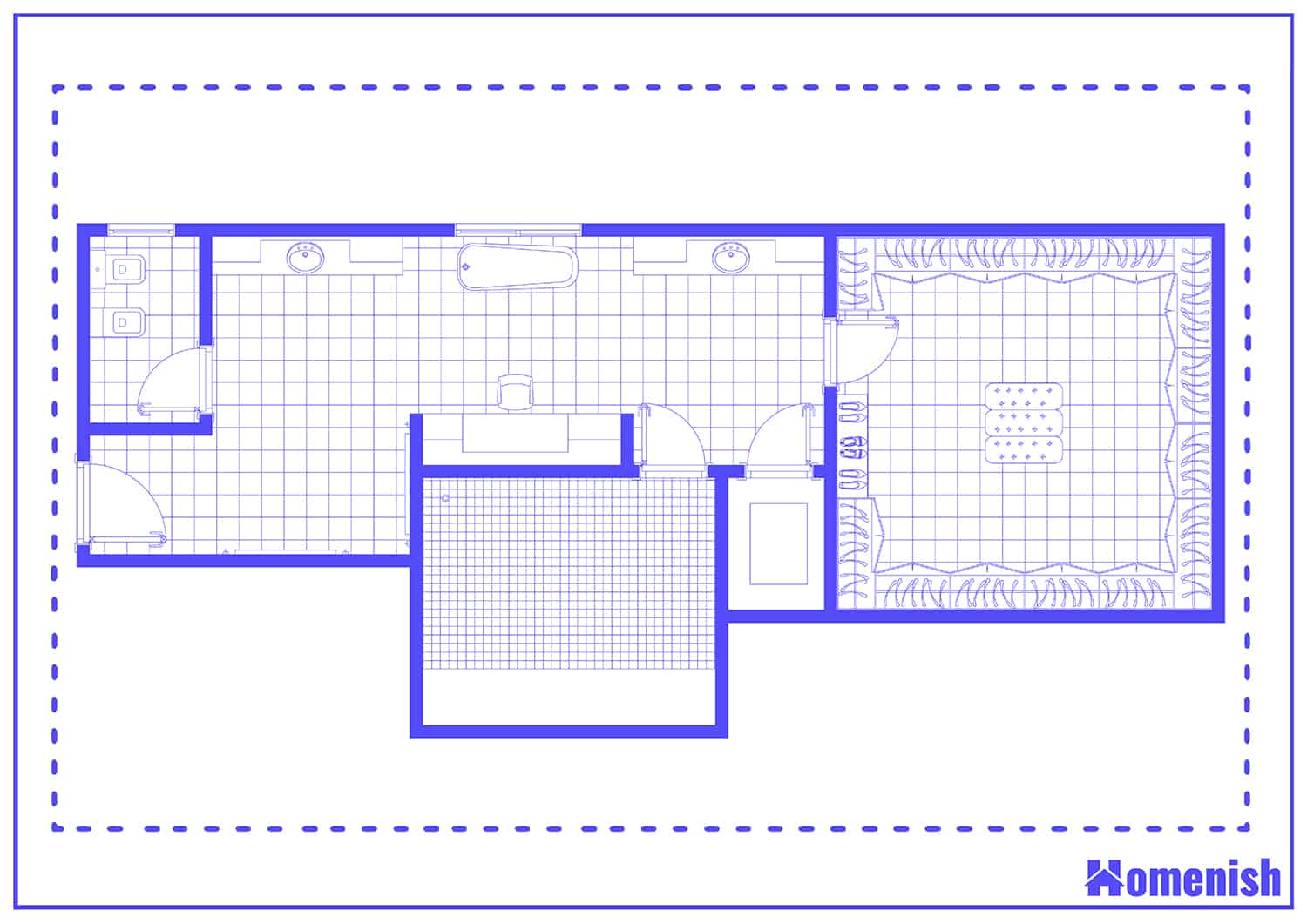 This floor plan is for quite a long and narrow space, but the way the area has been configured makes it feel balanced and functional. There is a large wet room area ideal for quick showers, as well as a bath in front of a picture window which would provide a nice view for a long relaxing soak. The toilet and bidet are enclosed in their own separate area with a door for ultimate privacy, and there is also a very large dressing area.
The walk-in closet benefits from storage along each wall with a central area left empty so that you have somewhere to stand while getting dressed. The bathroom features two sinks and vanity areas, one on either side of the bath, allowing two users to get ready simultaneously.
Furthermore, there is an area equipped with a dressing table and chair for applying make-up, which has been cleverly positioned opposite the window to make the most of the natural light.
Symmetrical Bathroom Floor Plan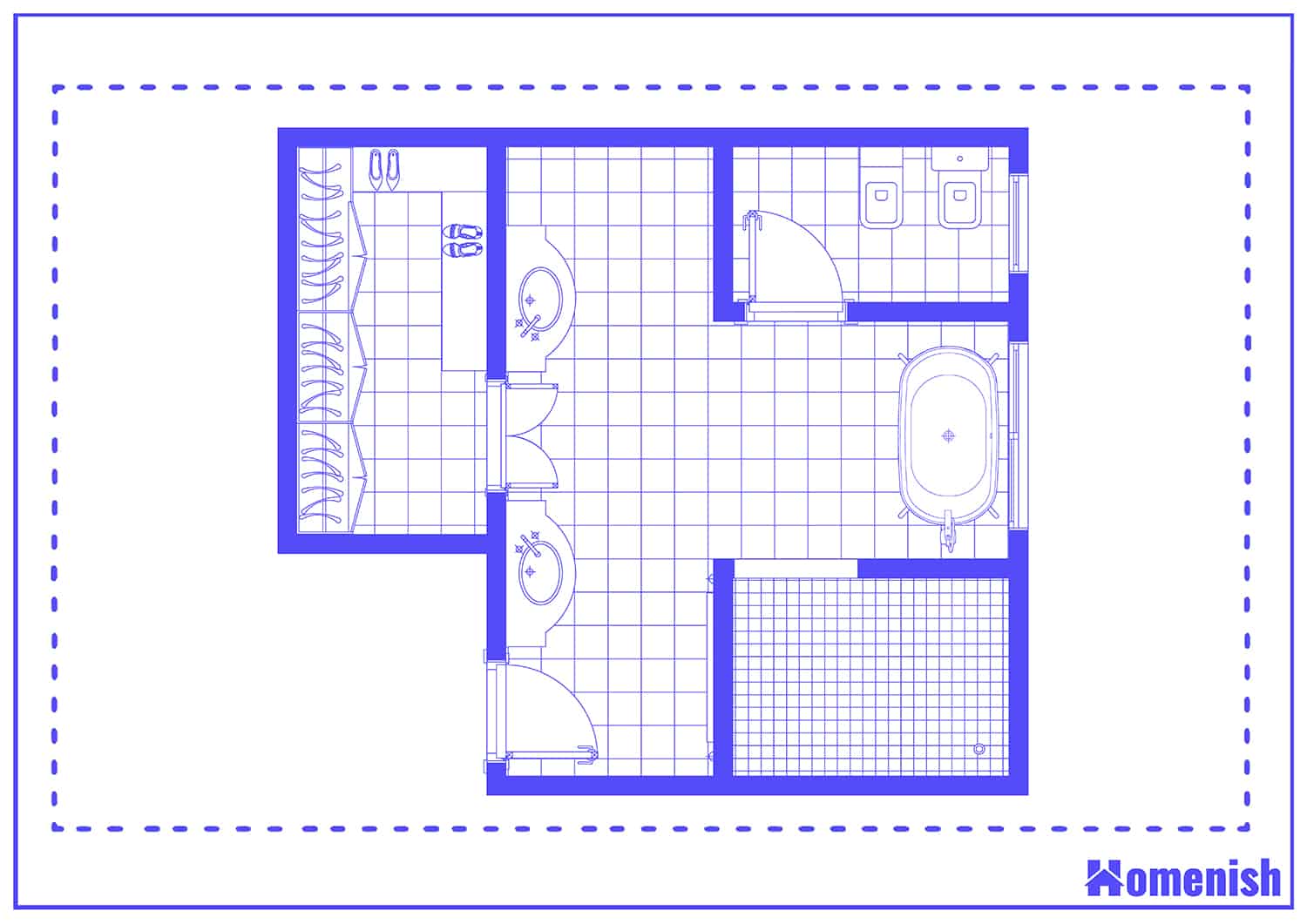 This plan has a nice feeling of symmetry to it, thanks to the his and hers sinks on either side of the walk-in closet door and the toilet room and wet room placed on either side of the bath. In this floor plan, the bath is freestanding, which creates a feeling of space around it and underneath it.
As you will be able to see the floor underneath the bath, this creates the illusion of continuous open space. There is a large window over the bath, which provides plenty of natural light, and a separate dressing room for clothes storage.
Compact Master Bathroom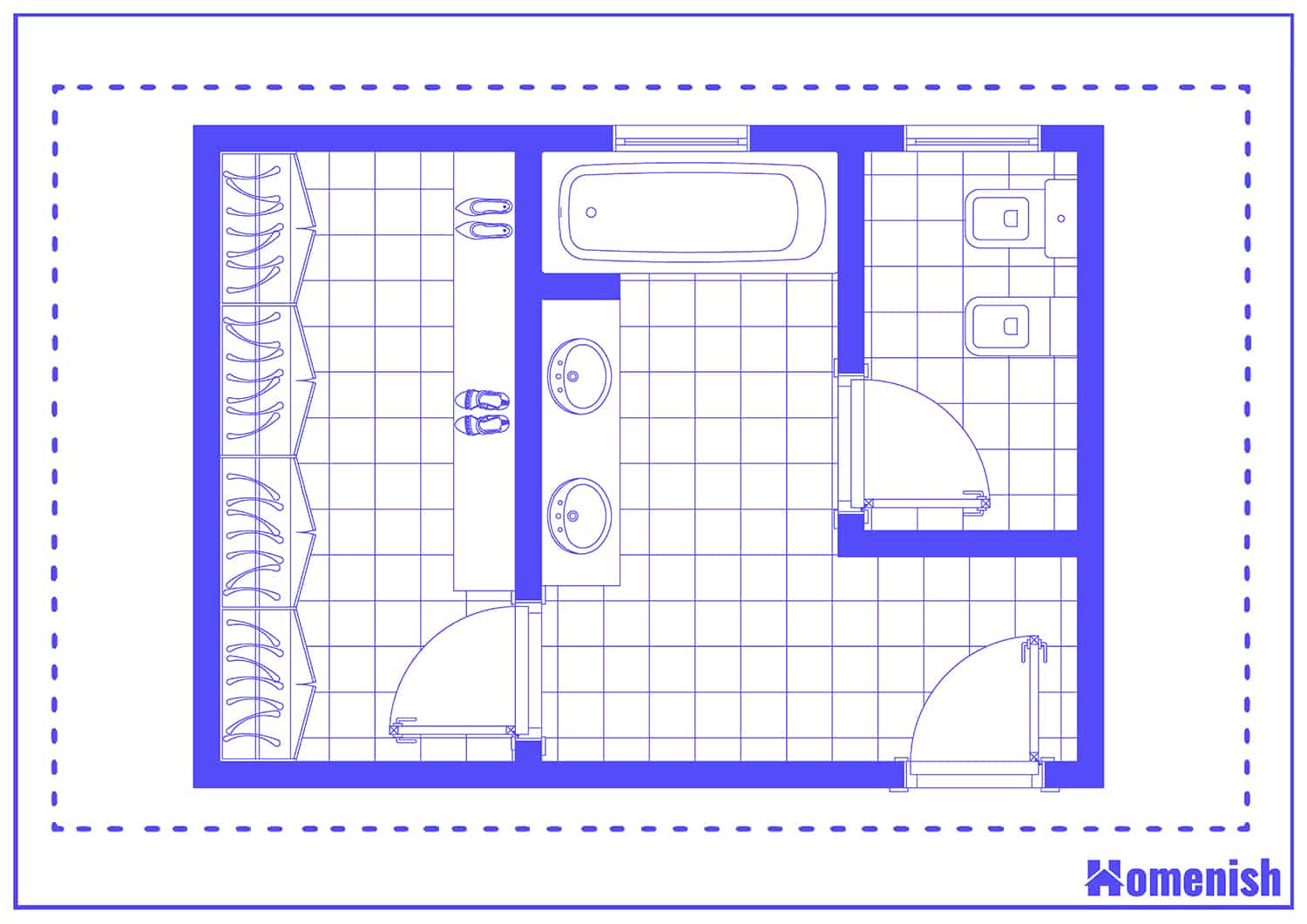 As far as master bathrooms go, this one is on the smaller side, though it is still plenty big enough to accommodate everything you would need, as well as a walk-in closet. The two sinks are fitted on the same piece of countertop, providing plenty of counter space for storing bathroom items. The bath is tucked nicely into one end of the bathroom, making it a cozy and safe space for relaxing in.
Small But Functional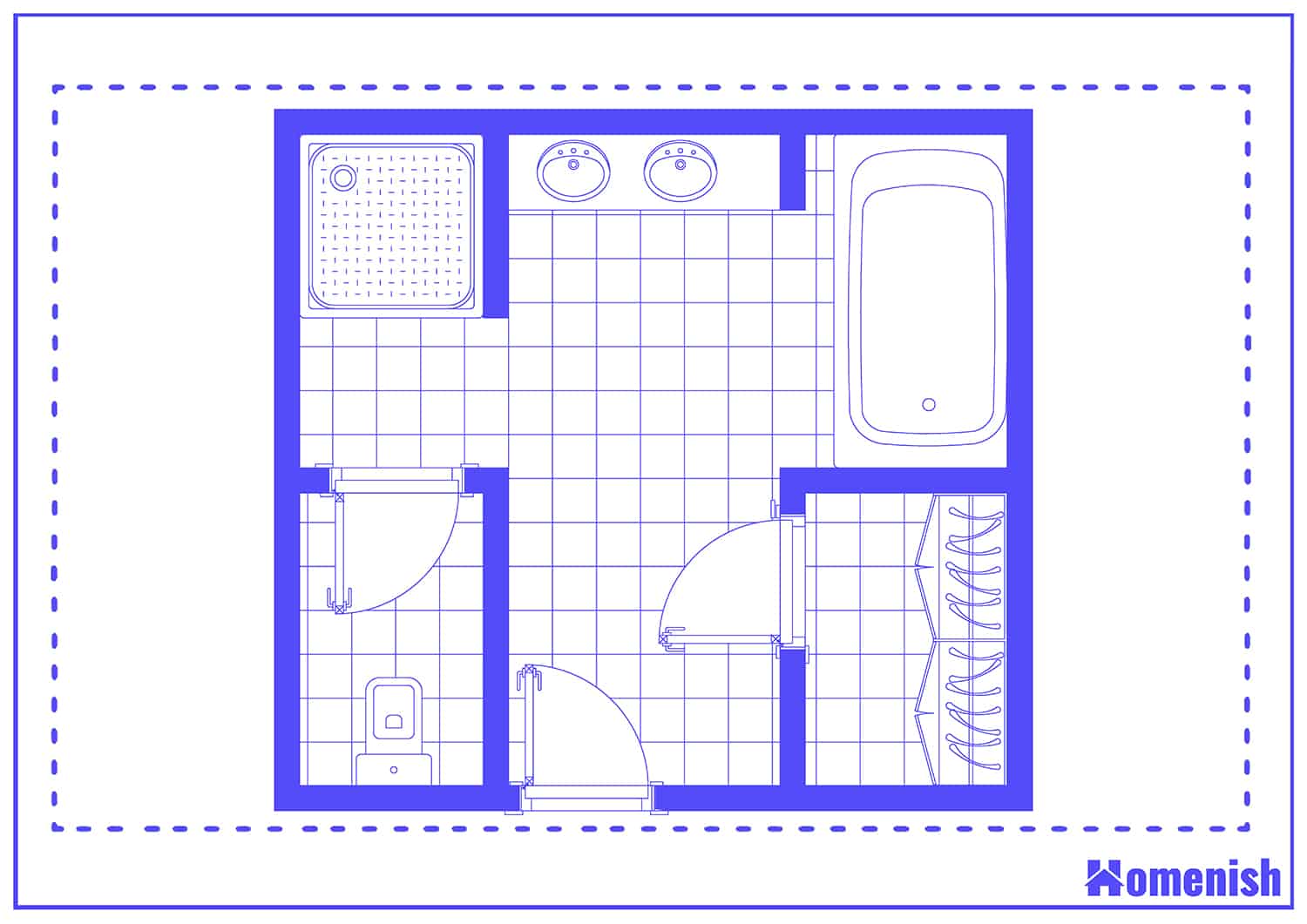 This master bathroom floor plan includes a separate toilet area for privacy, a double sink and vanity area, a bath, a separate shower cubicle, and a walk-in closet. Each area is certainly not huge, but it is plenty big enough to be functional and comfortable.
The walk-in closet has limited storage, and you may find that you need additional drawers in the master bedroom itself. The toilet area has sacrificed a bidet, but many people feel these are not necessary anyway. There is plenty of floor space remaining in the room to allow two people to use it at once without feeling overcrowded. Visit our page on 8 x 8 bathroom layouts for small spaces for more layouts.
Washing and Dressing Layout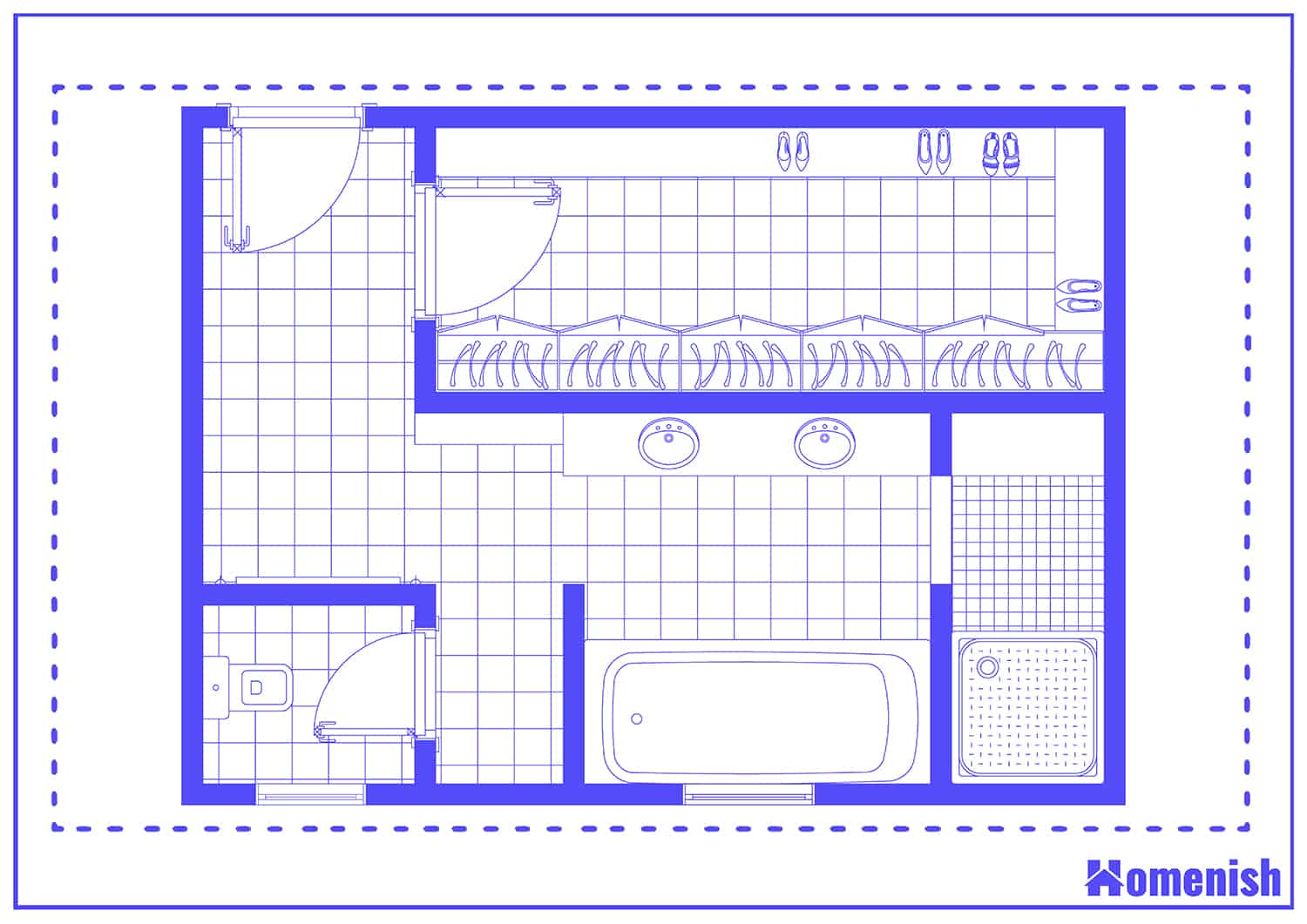 This floor plan is ideal for anyone who has a generous amount of clothing, shoes, and accessories because the walk-in closet takes up almost as much square footage as the rest of the bathroom. This dressing room spans almost the whole length of the master bathroom and would be a very comfortable place to choose outfits and get dressed.
The bathroom features a separate toilet room for ultimate privacy, a bath with a window over it, and a separate shower area with ample space for two users. There is also a double sink area and plenty of floor space to move around freely.
Indulgent Jacuzzi Bathroom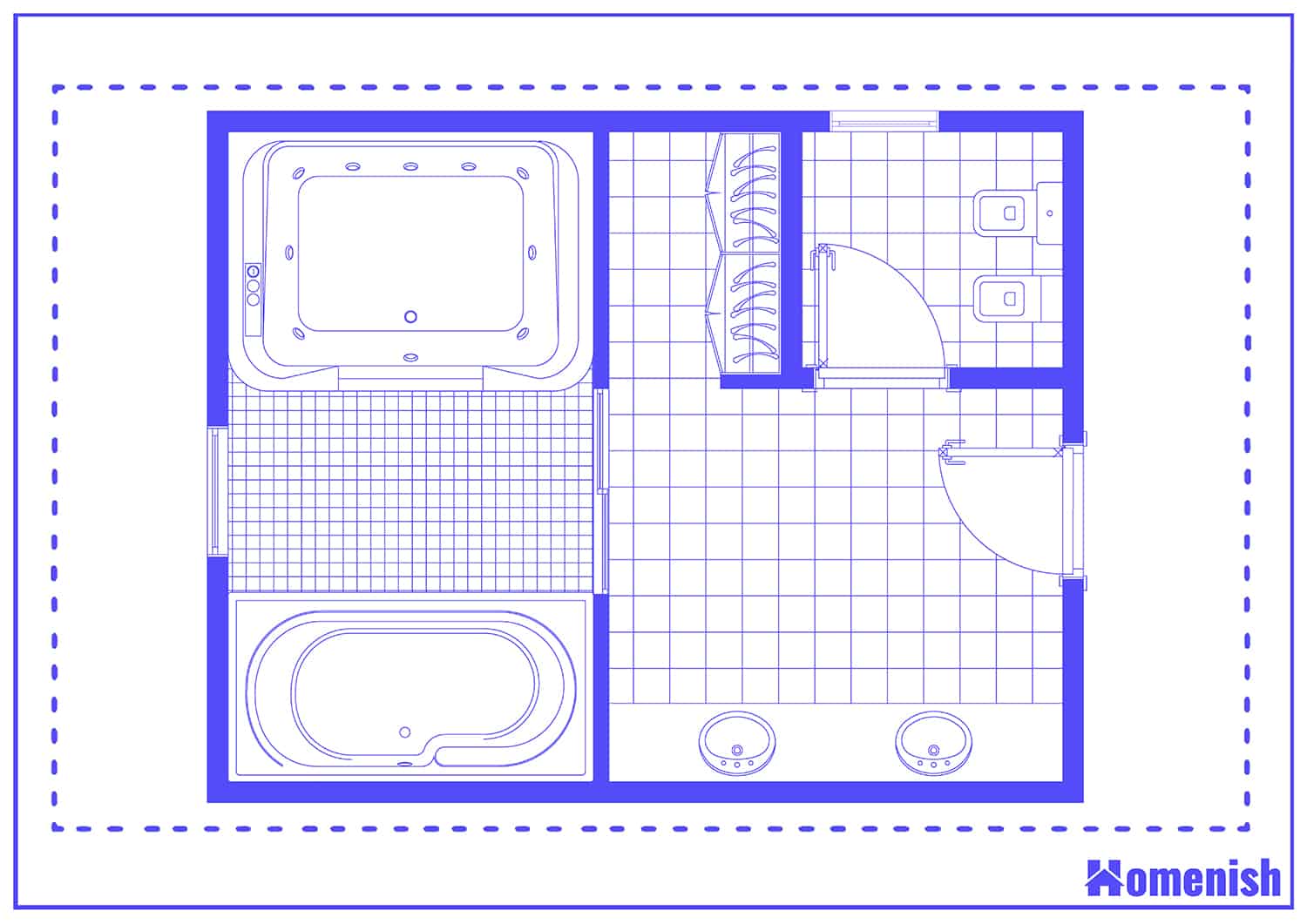 This floor plan will be popular among those who enjoy relaxing in the jacuzzi and hot tub, as it allows you to create a spa-like area to unwind in your own bathroom. This master bathroom features a wet room area with a soaker tub and a separate jacuzzi. It has a double sink area with a large countertop and a separate toilet room featuring a toilet and bidet. The closet area is relatively small but conveniently placed. There is an abundance of floor space, making the room feel open and airy.
Generous Master Bathroom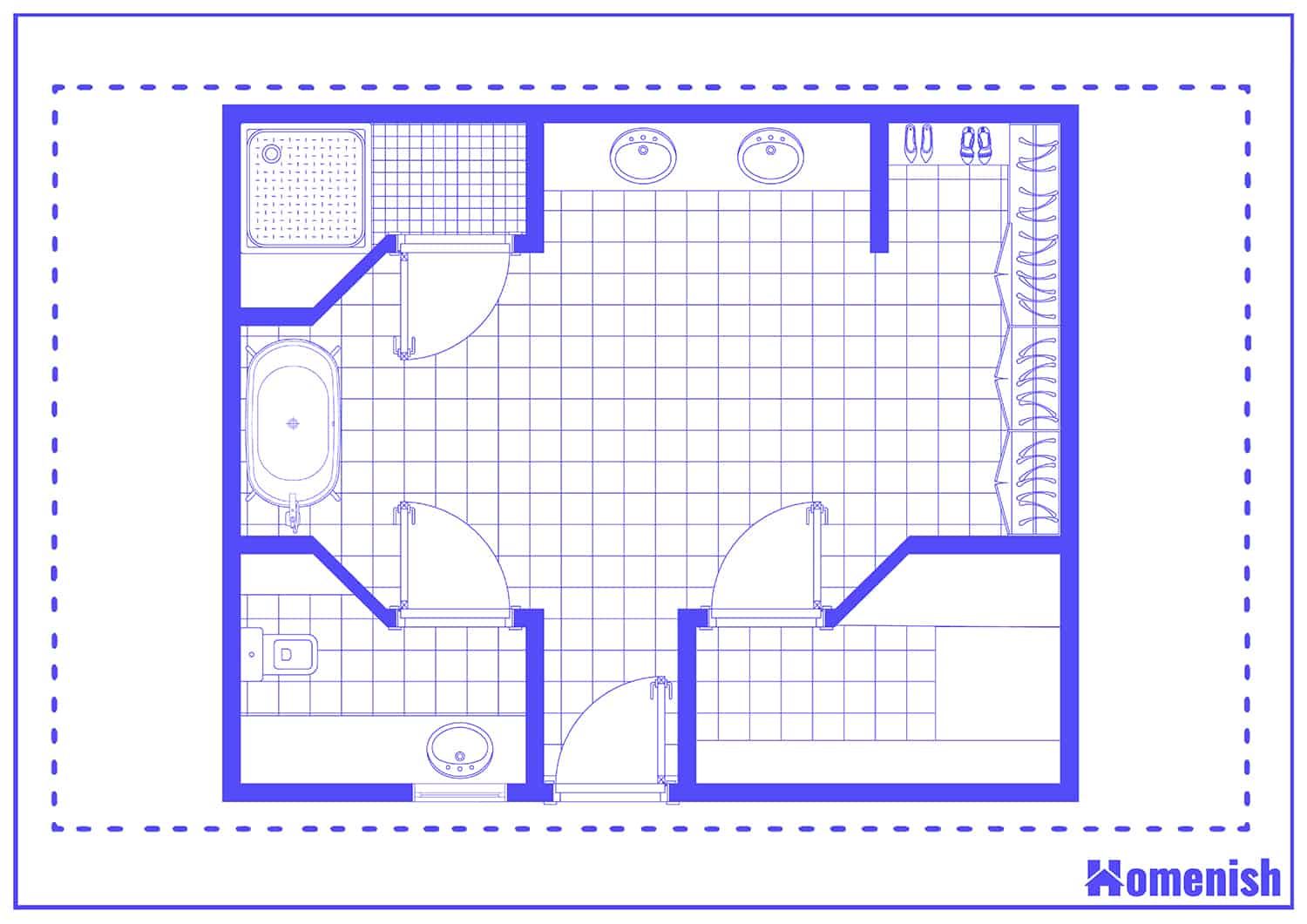 This master bathroom offers everything you could want in a bathroom, including a bath, a separate walk-in shower, a double sink vanity area, and a separate toilet room with its own sink. It all features a large closet that opens out into the main bathroom area, allowing the bathroom to be used as a dressing area. The layout of this room means that there is a lot of vacant space in the center of the room, making it feel spacious and open.
Corner Jacuzzi Layout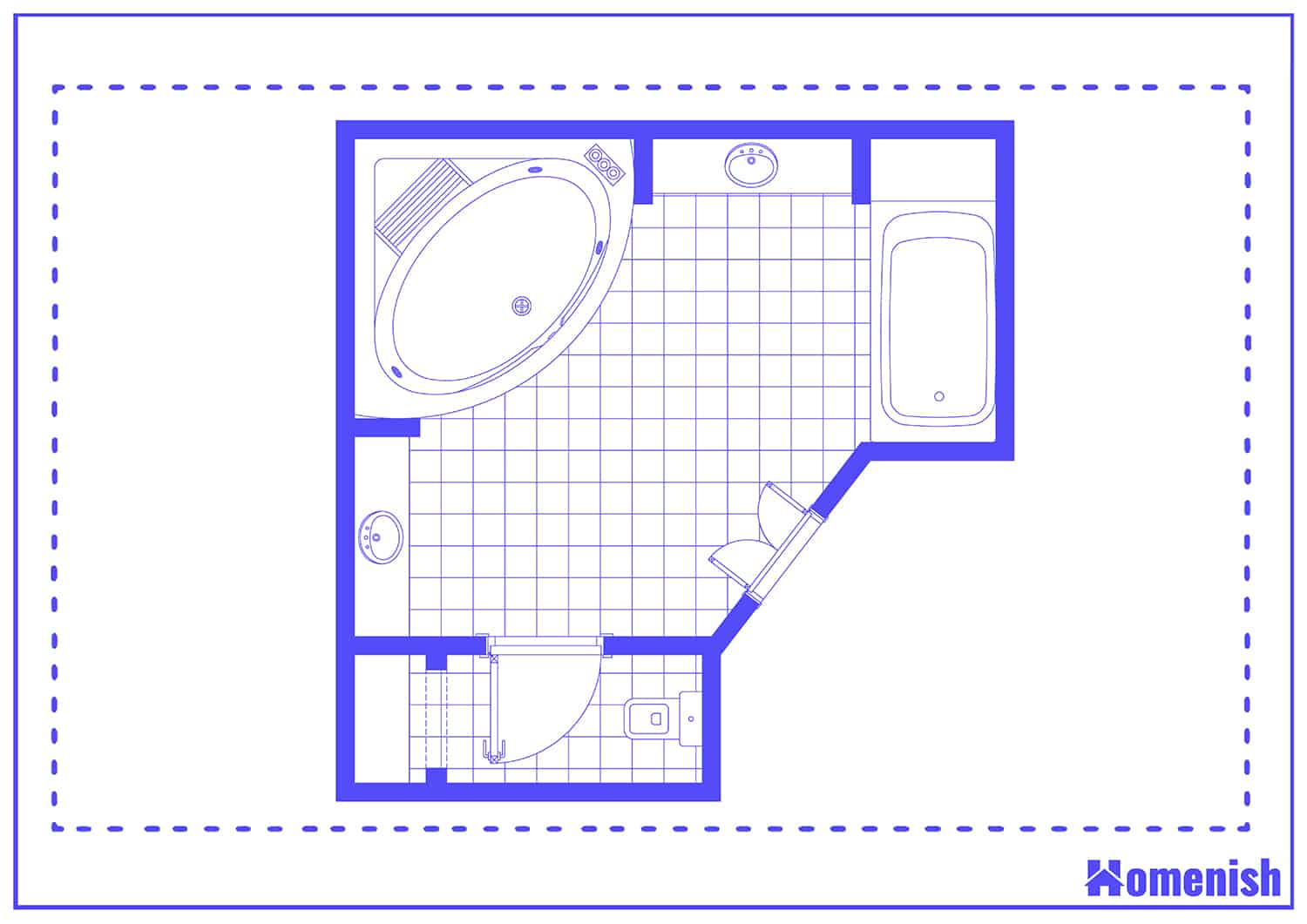 This bathroom features a corner jacuzzi bath as the jewel in the crown. By positioning this in the corner, it utilizes the space best but also makes it the focal point of the room. There is a separate toilet room to ensure privacy and a sink on either side of the jacuzzi to accommodate two users washing or brushing their teeth at once. This bathroom lacks an adjoining walk-in closet, but there is ample floor space in the center of the room for getting dressed if you bring your clothing for the day into the room with you.
Double Bath Floor Plan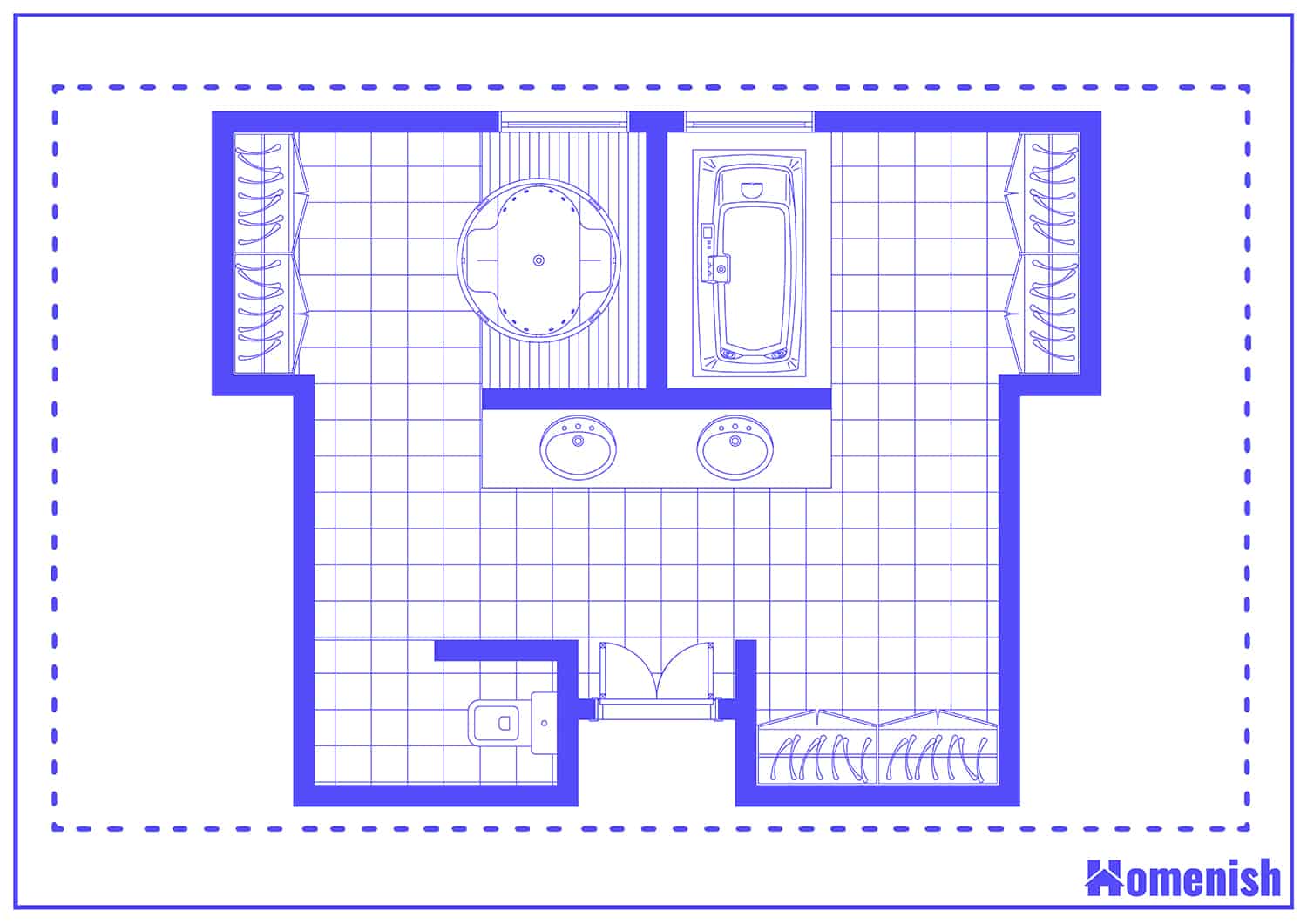 This master bathroom layout benefits from three separate closet areas, making it ideal for anyone who likes to keep their clothing separate from their partners. There are two baths in this setup, both in the middle of the room but separated by a partition wall.
One bath is a jacuzzi bath with jets, while one is a whirlpool spa bath. This layout will allow two users to relax separately in the bath without being able to see each other. Each bath benefits from its own window, bringing in natural light and providing a view for bathers.
L-Shaped Walk-Through Closet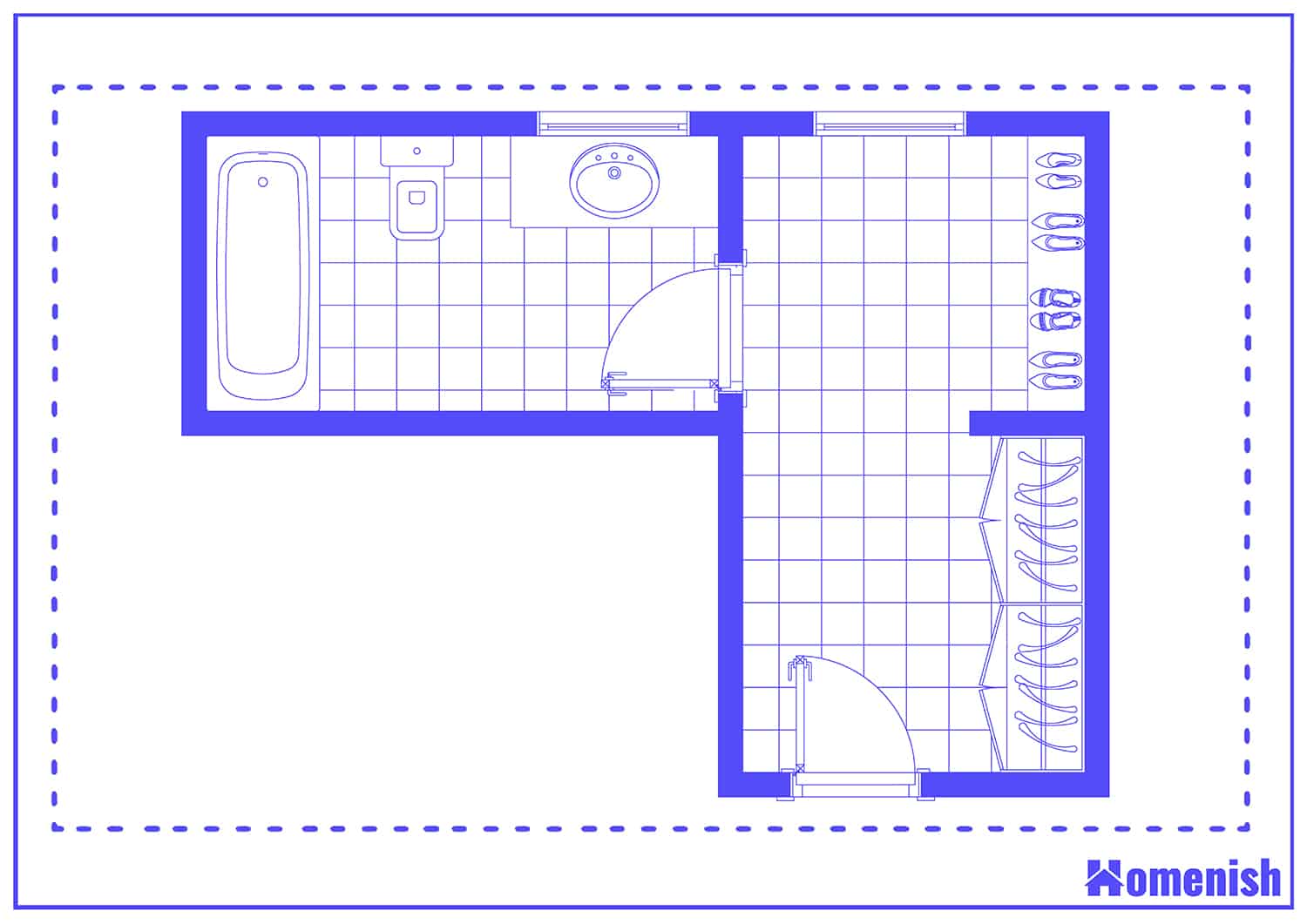 This master bathroom is accessed via the walk-in closet/dressing room, which makes it feel more separate from the master bedroom and offers a greater degree of privacy. The space used is L-shaped, so the entrance door for the bathroom is on the side of the closet.
The bathroom itself occupies less space than the dressing room, making this a good layout for a single person who places more importance on a large closet than a large bathroom. There is only one sink, making it best used for an individual rather than a couple. The toilet is not situated in a separate room, which again makes it ideal for the bathroom to only be used by one person at a time.
Simple and Sleek Master Bathroom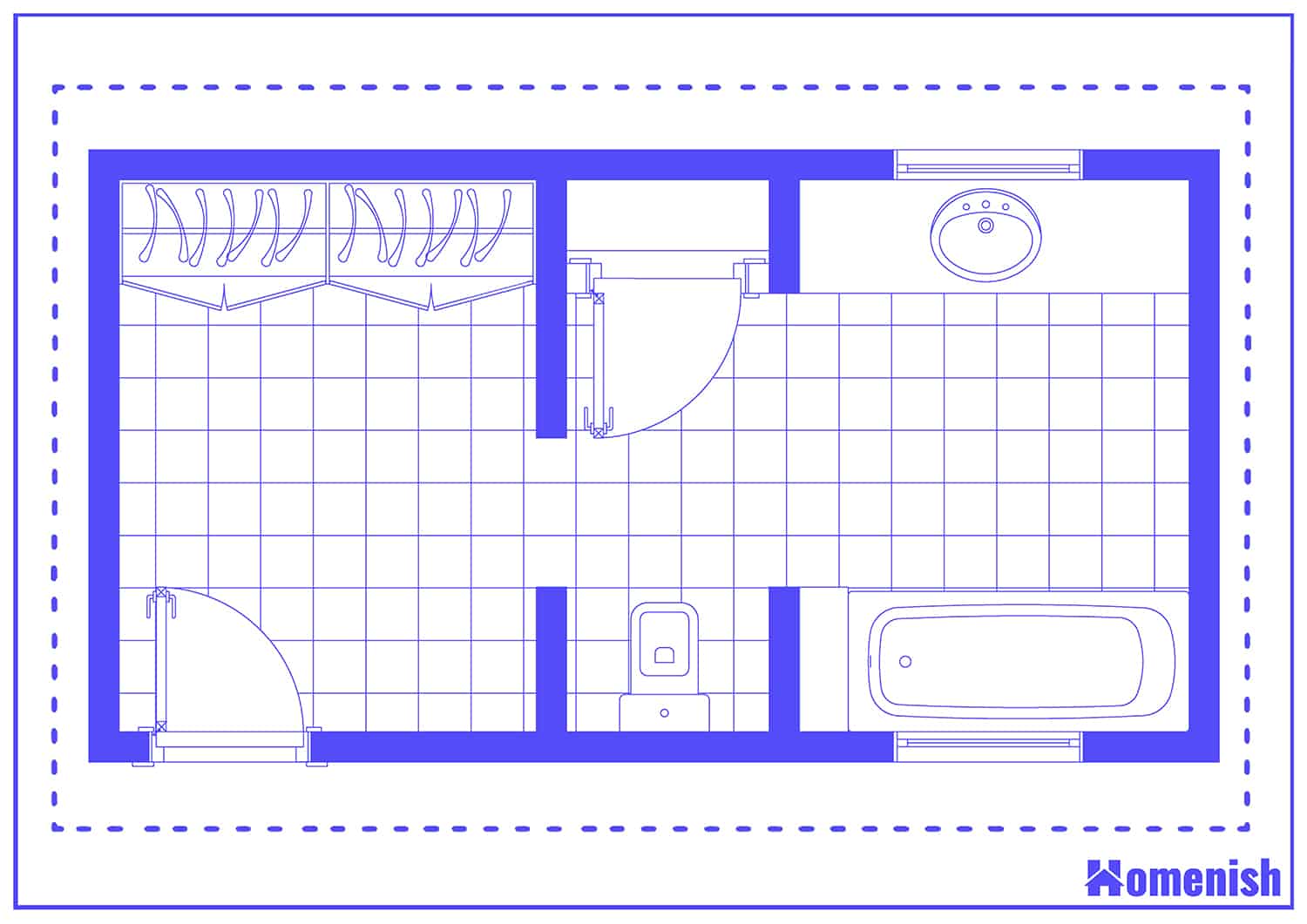 This bathroom floor plan would work well in a bachelor pad. The bathroom itself is accessed via the walk-in closet, making the bathroom feel more separated from the bedroom and meaning that the bedroom won't need multiple access doorways in it.
There is a single sink with a generous span of countertop space and a bathtub with a window over it. The toilet is in its own compartment but is not separated by a door, so it would not work well for people sharing a bathroom who want privacy. The floor plan also benefits from a corner shower cubicle and a large closet.
Couples Bathroom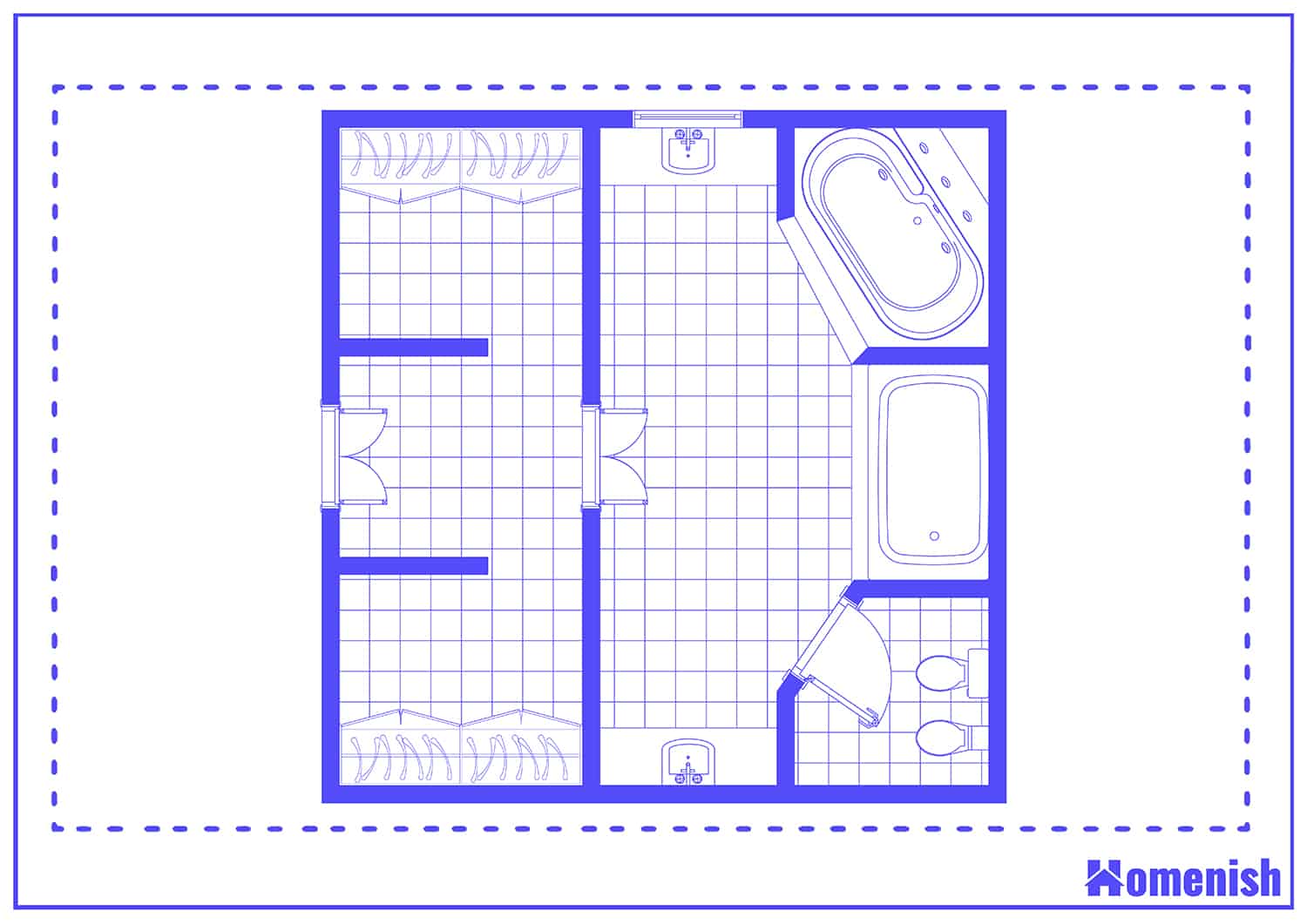 This master bathroom is accessed via the walk-through closet, with the closet itself separated into two areas using dividing walls. This makes it ideal for a couple so they can each have their own personal dressing area.
The bathroom then features two sinks with one at either side, with one of them benefitting from a window. The floor plan allows plenty of empty floor space so that two people can comfortably use the bathroom at one time, along with a toilet in a separate room for privacy, a corner bath, and a shower area.
Wet Room Master Bathroom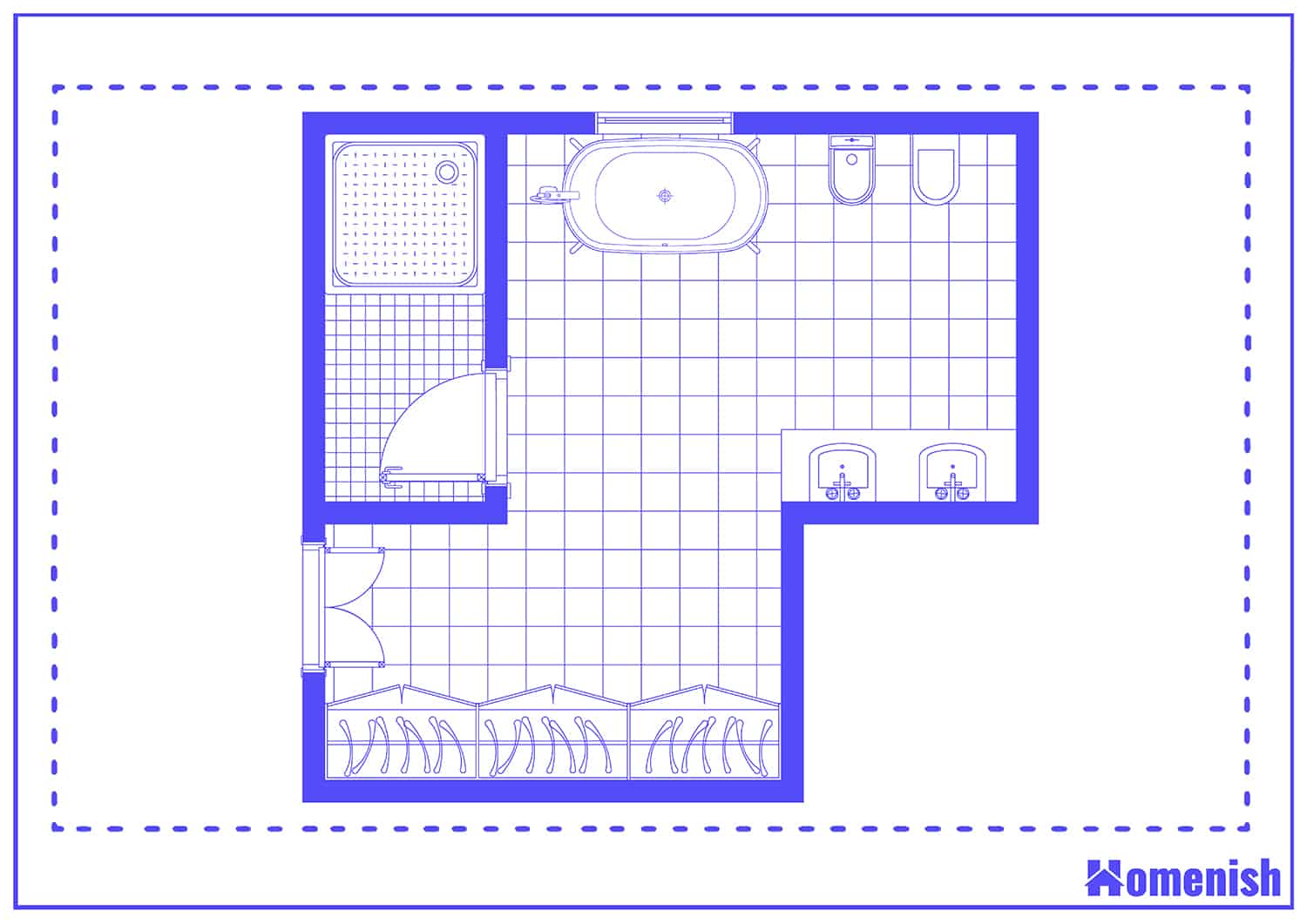 This master bathroom has a greater focus on the bathroom itself over closet space. It does not have a walk-in closet or dressing room but instead has a wall of closets at the entrance to the bathroom. This means that the space could be utilized for a bigger bathroom and the inclusion of a large wet room.
Dressing Room Bathroom Combo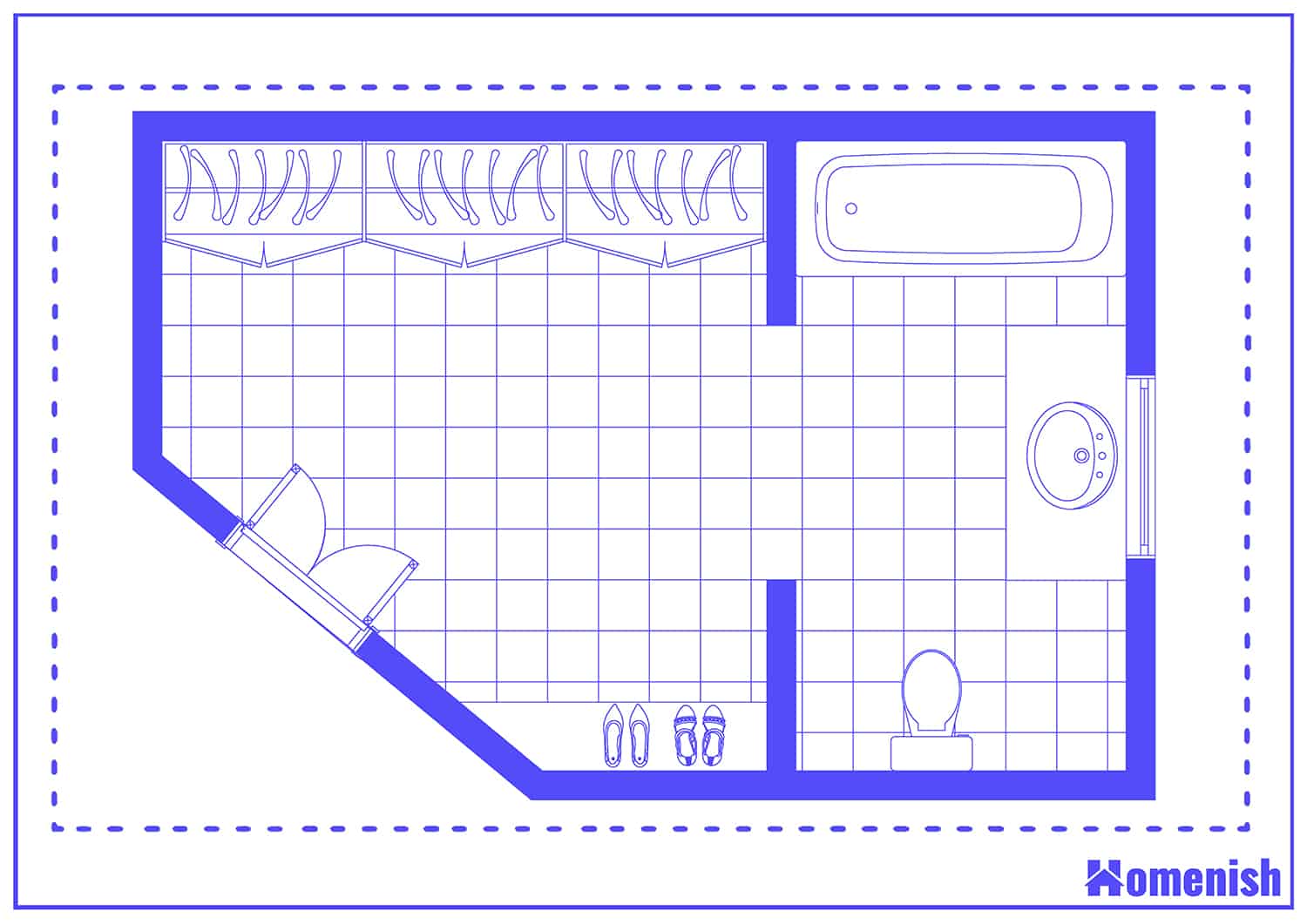 This bathroom features a spacious dressing room closet, which leads through to the washing area with a single sink and toilet. It is an ideal layout for one person to use at a time and benefits from a simple floor plan which will make the room feel open and airy.
Compartmental Bathroom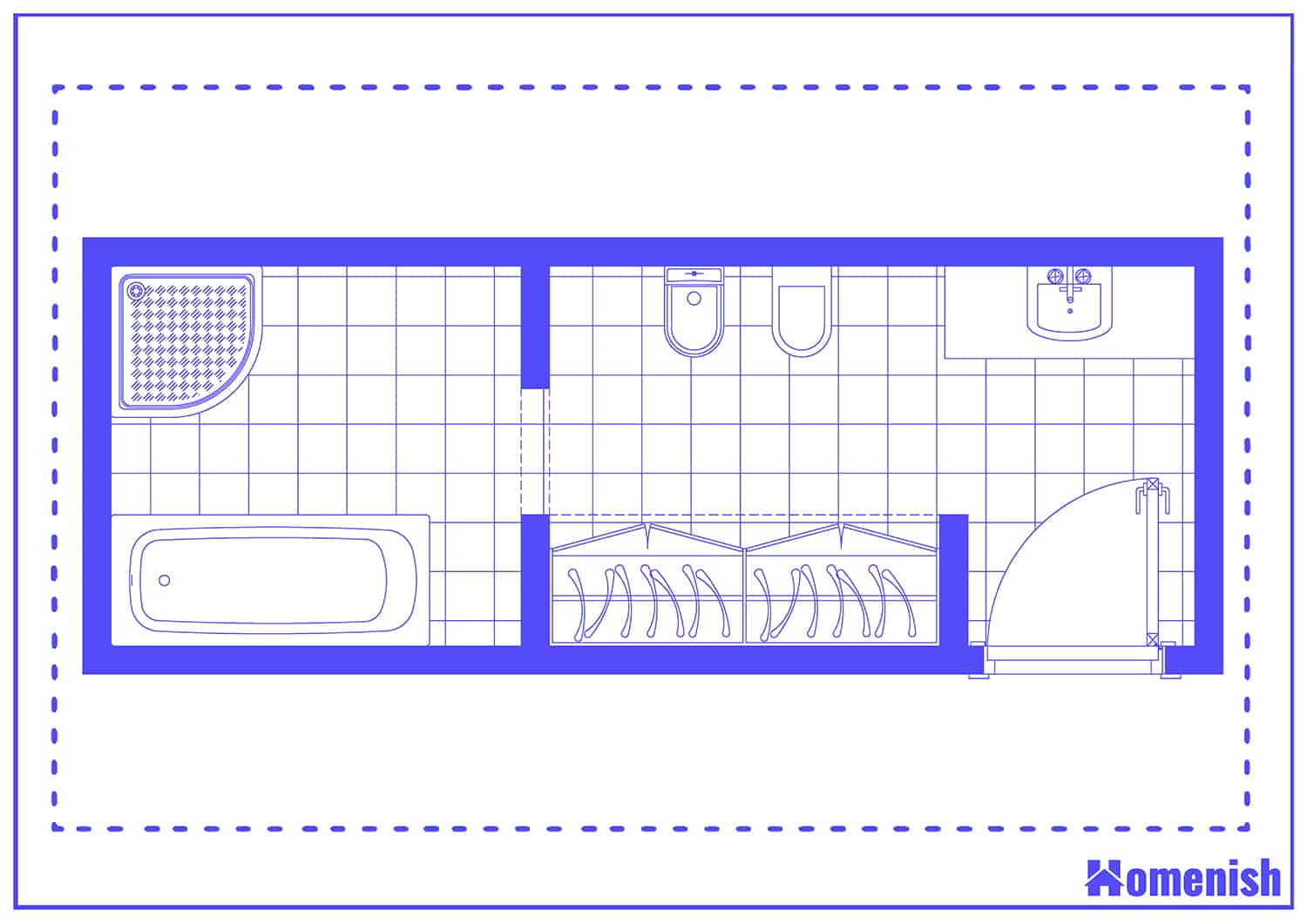 This floor plan is broken up into sections, with the bath and shower in a separate area so that any splashes or drips of water are kept confined. This will minimize wet floors in the other areas of the bathroom. There is a single sink and vanity area, as well as a toilet, bidet, and closet space to provide a person with everything they need to get ready for the day all in one place.