If you're thinking of decorating your empty bedroom walls to make an instant impact, there are hundreds of ways you can brighten up the space and add a pop of personality. Decorating your bare walls is an essential part of the interior design process. After all, you wouldn't want to wake up every day to plain white walls that look unfinished. Attractive wall decor will help you liven up the space, but it doesn't have to break the bank!
To give you some ideas of the most stylish, budget-friendly, and inspiring wall decor ideas for bedrooms, we've rounded up our best selection of bedroom wall decor examples and products right here – Almost all our suggested ideas are easy to pull off and will no doubt make a statement.
Wall Decor Ideas for Bedroom
Hang a Stylish Mirror Above the Bed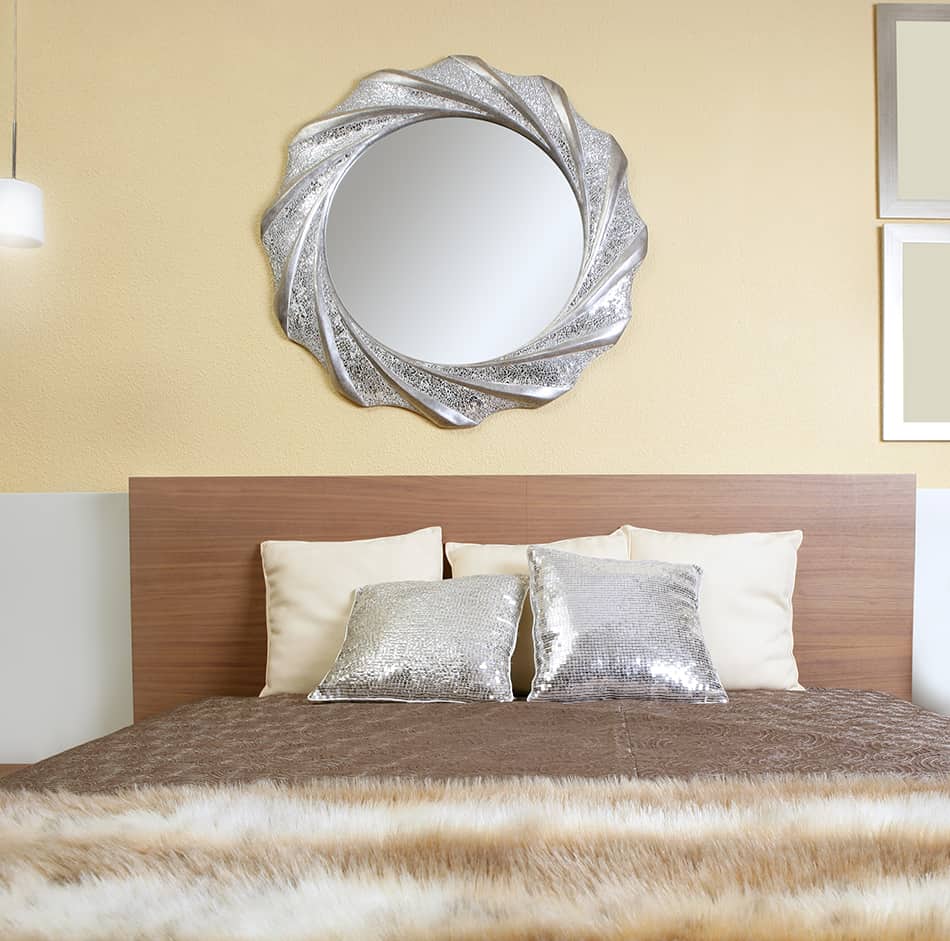 Every bedroom wall needs a beautiful mirror. Elaborately framed mirrors create a dazzling focal point that reflect light and make the space feel airier. No matter what style bedroom you want to create, capture the elegance with soft color palettes and a uniquely shaped mirror for a clean and cozy vibe.
We love the way this silver-framed round mirror has created a visually interesting atmosphere thanks to its sculptural flair. It serves as an eye-catching and functional wall decor piece that works well with soft patterns and hues.
Go for Whimsical Wallpaper
Wallpaper has to be the most statement-making approach to bedroom wall decor. This idea never goes out of style – no matter which pattern you choose. So if you're ready to take the leap in the whimsical wallpaper direction, then we suggest you use it on the wall behind your bed in order to create an interesting accent.
We especially love this dramatic peel and stick geometric pattern wallpaper that will serve as a focal point in your bedroom.
Create a Single Accent Wall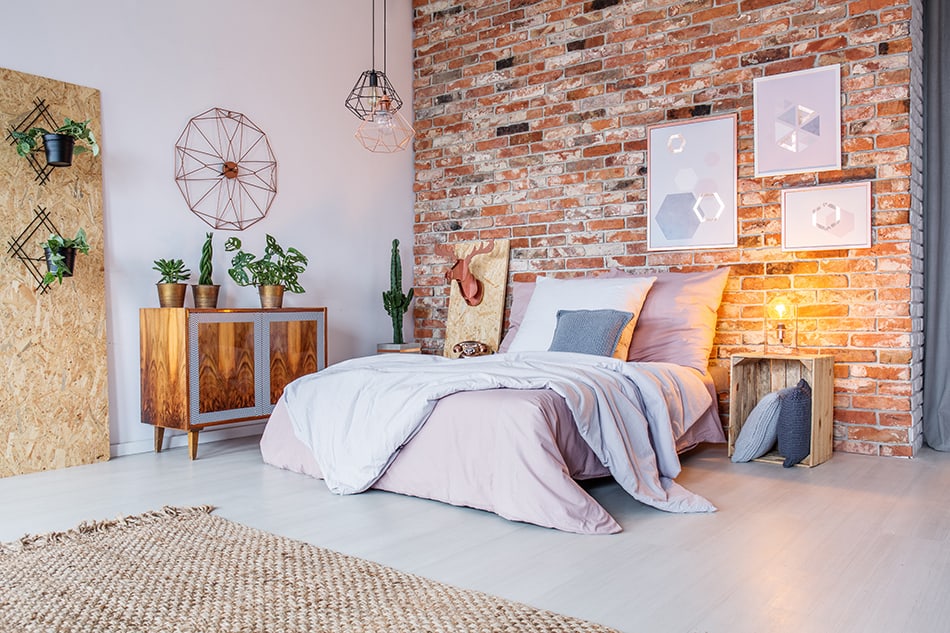 Sometimes, all a bedroom needs is a single accent wall to enhance its attraction. In addition to creating a bold statement, a feature wall highlights the other architectural details of the room. To create a bold accent wall, use the brightest color or pattern. You may even prefer opting for a faux stone or brick wall as shown here. The idea is to make the wall stand out by using bold materials or paint colors.
Hang a Large Print Calendar
An oversized calendar doesn't have to be just for the home office or kitchen. A bedroom wall can also benefit from a large print calendar to help you keep track of your events. Liven up your wall by adding a bold print, modern calendar like the one shown here.
Show Off Your Globe-Trotting Adventures with a World Map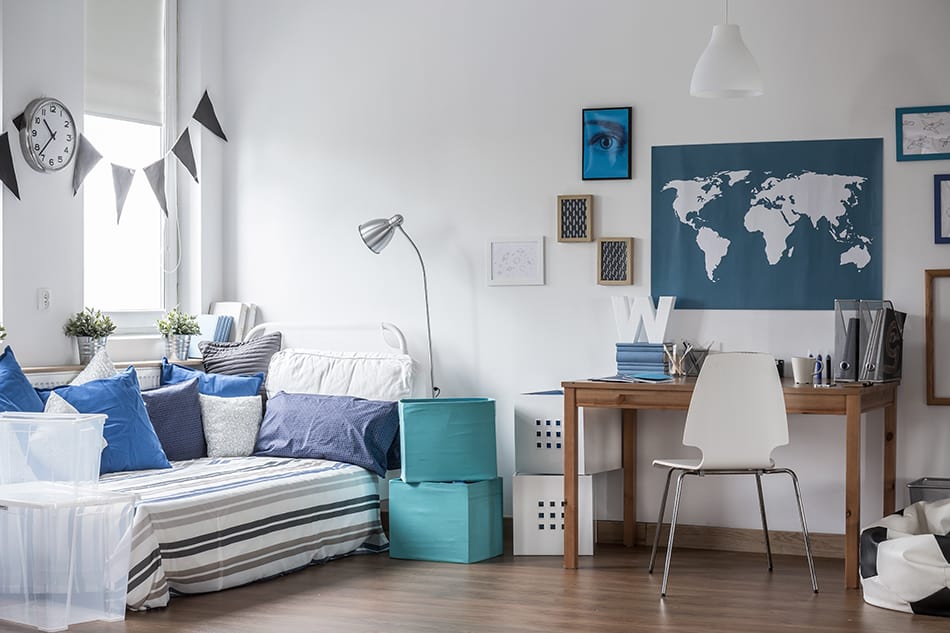 A world map works on just about any color wall. You can make it ultra personalized by adding pins to all the places you've ever travelled to or are planning to visit. In this example, the bedding is color matched with the world map on the wall, so you can easily incorporate the same color palettes with the map of your choice.
Add Your Favorite Black and White Photos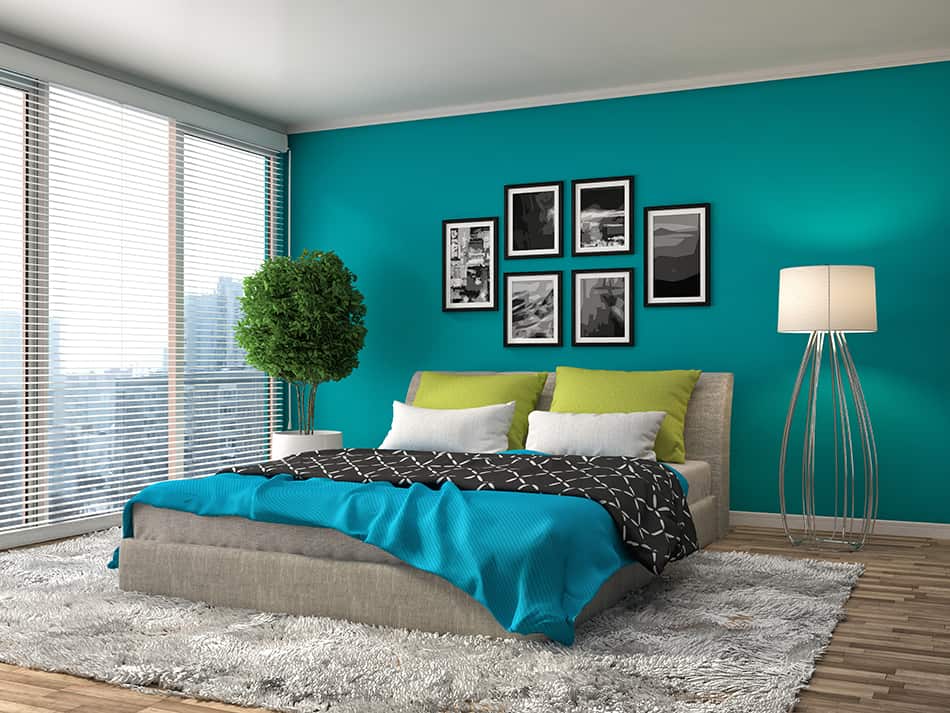 Displaying your favorite black and white photos above the bed creates intrigue in a minimal way. If your framed photos are large enough, you won't have to install additional accents as wall decor.
To make your photos stand out without overwhelming the space, hang them on your feature wall. In this example, the blue wall is accentuated with black and white photos, which both go beautifully with the rest of the room's decor.
A Pair of Floating Shelves is a Must
Floating shelves are the most functional and aesthetically appealing wall decor that can be used in any room. You can incorporate these practical pieces into any color scheme to create a fashionable atmosphere in your bedroom.
These floating faux wooden shelves let you get versatile storage space by displaying your beloved treasures and trophies on the sturdy metal brackets. The shelves are designed using seamless welding technology in the form of gold metallic powder coating. They are especially ideal for hanging on white walls to display your ornaments.
Create a Gallery Wall
A gallery wall is an excellent approach to adding color and personality to your bedroom. Whether it's a collection of your favorite photos or themed wall hangings, you're sure to create a cohesive look using an array of pictures.
Here, the botanic-themed gallery wall has provided visual interest that works beautifully with the rest of the bedroom's decor.
Metallic Art as a Focal Point
Metallic wall art comes in all sizes, designs, and styles. This idea works on rustic, contemporary, modern or farmhouse interior design, so if you want to draw the eye to your bedroom wall, add a lavish metallic piece as the focal point of the room.
To give you an idea, take a look at this nature-inspired wall decor. The layered wire petals of the metal flower add visual depth and dimension. The metallic wall sculpture is super easy to mount using the built-in hanger.
Frame the Window with Curtains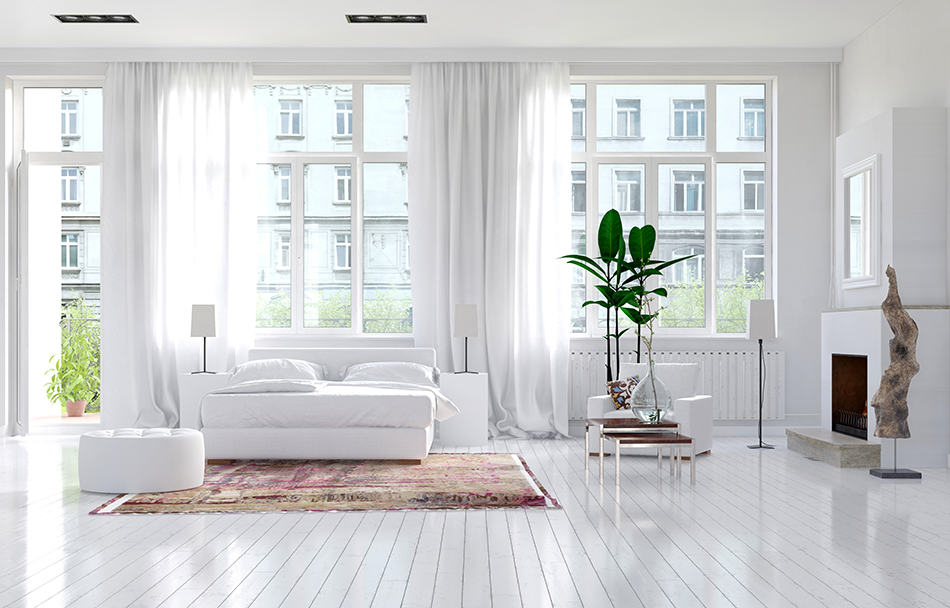 If you're lucky enough to have large windows in the bedroom, you may skip the wall art and place your bed in front of the windows instead. For a monochromatic look, frame the windows with floor to ceiling curtains to create an illuminated focal point. This is the most unconventional bedroom wall decor idea that feels and looks incredibly elevated and sophisticated.
With this approach, you can either go for a modern or traditional look using matching furnishings that have clean lines. Remember to keep the space functional by using easy to match accessories. For example, an upholstered headboard, light-color bedding, a colorful rug and even some indoor plants will enhance your neutral space. And let's not forget that bedrooms with large windows are naturally bright and airy, so there is no need to go all out with artificial lighting.
Shower the Walls with Twinkling Lights
For those whose bedroom windows aren't as large as the previous example we showed you, or there is a lack of window in the bedroom, how about some twinkling lights to brighten up the space?
These energy-saving LED lights consist of 300 small dimmable bulbs that emit warm white for a relaxing atmosphere. The wall-mountable lights are designed with a USB plus so you can easily charge them via your PC and enjoy them at night or even all day!
Embrace the Boho Look with Woven Baskets
When we mention woven baskets, we bet you never imagined hanging them on the bedroom wall. Well, it turns out that bohemian-themed woven baskets make an incredible decorative wall accent. You can hang as many as you like across the wall for texture. With so many designs to choose from, we're certain you won't have any trouble finding the right baskets!
For example, these vintage-style, beautifully sewn baskets will delight your empty bedroom walls effortlessly. They are made from dried seagrass, which means you can enjoy them for many years.
Inspire with Wall Decals
Wall decals can create a positive and inspirational vibe in the bedroom as they allow you to express your personality. Give your empty walls a refreshing look with these easy to apply PVC, environmentally friendly stickers that are designed to inspire. This popular wall decor trend is the perfect way to bring out the beauty of your walls.
Hang Tapestries for an Ethnic Touch
As a traditional wall art, tapestries provide the desired style to an empty wall. When paired with additional elements, you can bring warmth and texture to your bedroom. Hanging a distinct textile above the bed is a simple, and low-cost, alternative to expensive wall art decor. To instantly give your modern bedroom a boho vibe, look for a minimal design for a casual yet cozy feel. On the flip side, if you want to add impact with color, opt for bright tapestry pieces. The idea here is to let your chosen tapestry do all the talking by being the main focus amid your other bedroom furnishings. Light wooden tones, for example, work very well with neutral settings so keep these in mind when selecting a tapestry for your wall.
Display Boho-Inspired Moon Phases to Accentuate the Wall
Whilst we're on the topic of boho-inspired wall decor, why not accentuate your bedroom walls even further by displaying a string of metal hangings. Take a look at these handmade metal moons on iron chains as unique and original ideas. The series of 13 gold banner moons in various sizes range from 2 to 4 inches and make the perfect wall decor in a small bedroom.
Hang Country Style Mason Jars for a Farmhouse Decor
If you are a fan of the rustic design and want to recreate the look in your bedroom, we have chosen this decorative distressed wooden mason jar hanging that is sure to bring a retro look to your room. The mason jar sconce will add a relaxing, glowing effect to your bare walls. But what we most love about these inspirational jars is the ability to control the LED string light using a timer, which turns on or off after 6 hours.
Create a Beach-Themed Look with Canvas Wall Art
A charming wall art in your favorite theme is one of the best ideas to create a relaxing and dreamy feel in the bedroom. This beach-themed canvas wall art lets you dream of the seaside as the rolling waves pop to mind. The dreamy scenery is the perfect wall decor that adds a refreshing, and stylish, feeling to the bedroom.
Add a Decorative Statement Clock
A wall clock may be the obvious choice when it comes to decorating your bedroom wall. But this idea offers the opportunity to reinforce the theme of your space. A decorative wall clock, like the one shown here, can be nature-themed to bring a real sense of refinement to your bedroom. This clock boasts metal leaves made with gold and black beads sprouting from the center of every single leaf. A beautiful design that's not only functional but also highly decorative.
Hang Your Bike on the Wall as Art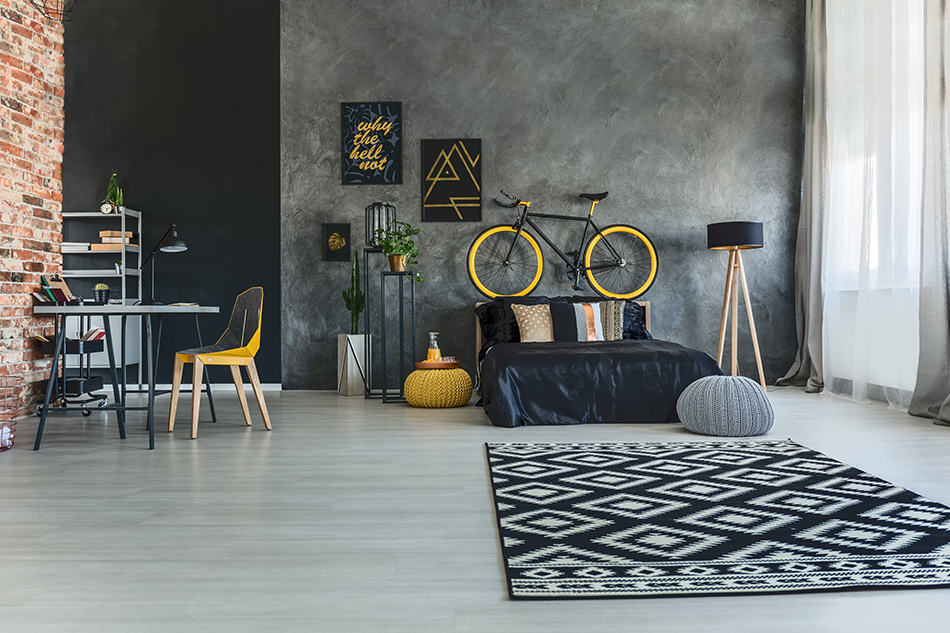 Bikes aren't just used for means of transportation; they are a work of art that can accentuate a bedroom wall. This idea is perfect for apartment dwellers who want to create an industrial look. You don't even have to mount the bike very high on the wall. It is bound to draw attention no matter how you choose to hang it.
Personalize Your Wall with a Chalkboard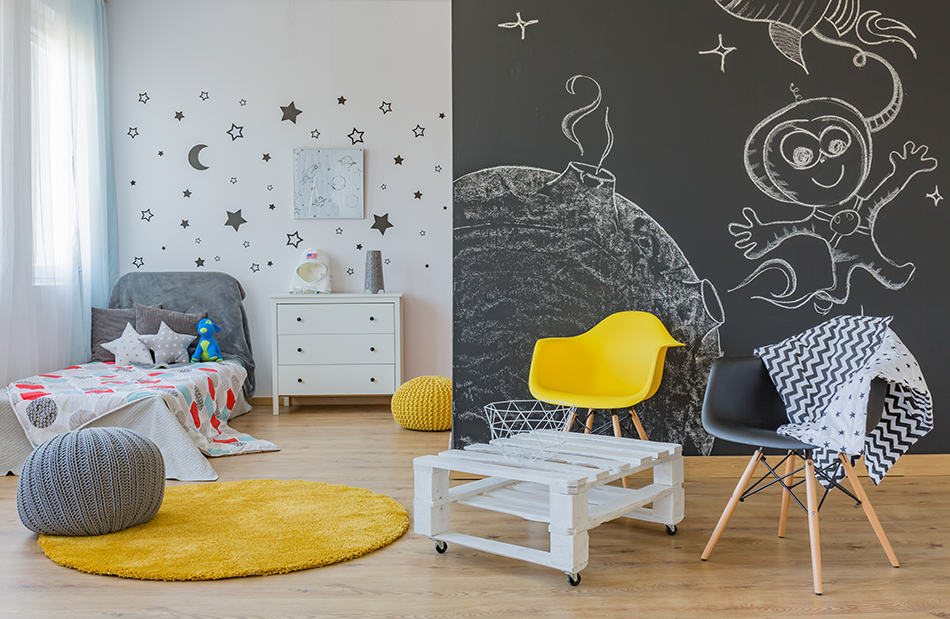 So you want to express your style with a mounted bike, but to showcase your inner artist, consider a large chalkboard as an excellent wall art idea. Chalkboards create a dynamic wall that allow you to do anything you like with them. Whether you write your favorite quotes or scribble funny jokes, a chalkboard is without a doubt a popular bedroom wall decor trend.
Play with Colors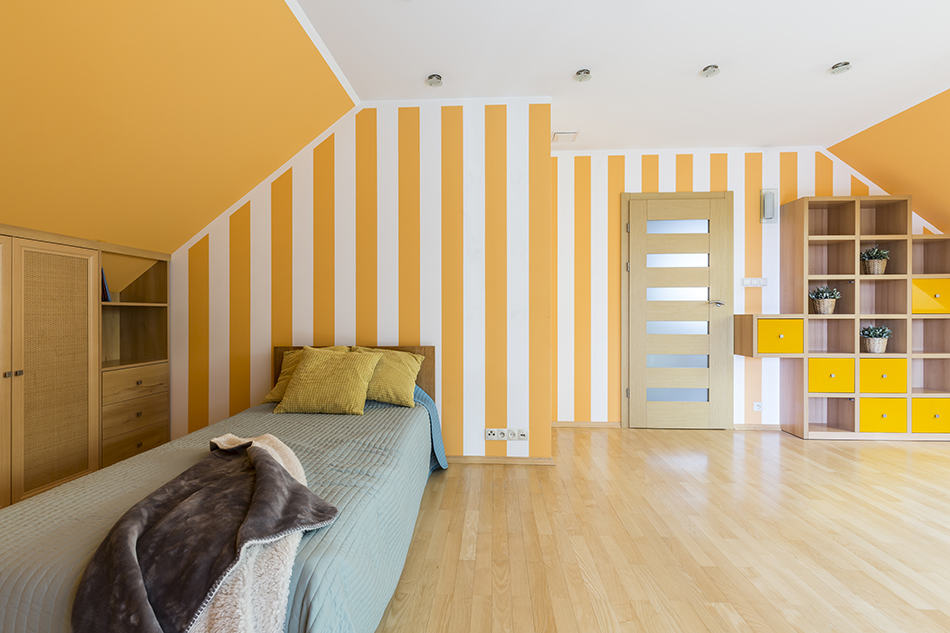 Colors can complement one another as long as they are used correctly. As an example, see how this striped wallpaper has provided warmth and energy to the bedroom space. Combine it with other bright shades of yellow or brown for the perfect look!
Mix with Florals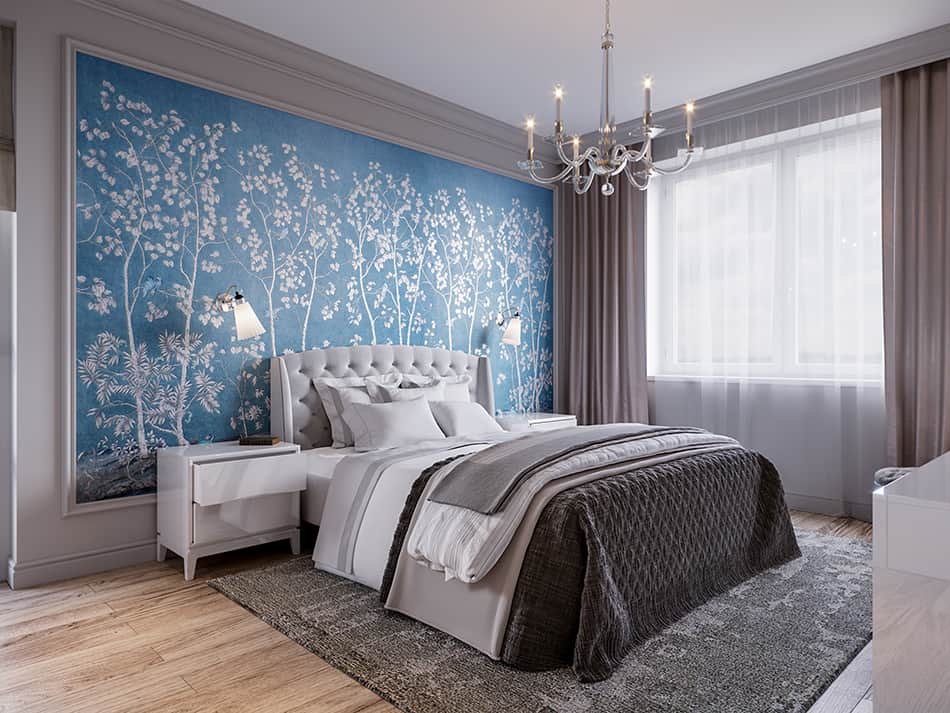 A modern bedroom needs floral prints for some serious statement. A floral accent wall, for example, creates a lovely scheme inside your room, especially if it's combined with mesmerizing artwork.
So as you can see, there are so many amazing options to decorate your bare bedroom walls. And the best part is, you won't have to dig deep into your pockets to incorporate any of our ideas in your own bedroom!