A tote bag is a simply designed bag that typically is made from two pieces of fabric in rectangular shapes, stitched together around three sides, and left open at the top. Two handles will usually be attached at the top of the bag, which will be long enough to sling over a person's shoulders.
The nature of a tote bag is that it is easy to grab and go because they are most commonly made of canvas, so it can be easily stored, laundered, and reused over and over again.
Tote bags usually don't have any sort of zipper or closing mechanism at the top, so they are great for holding various things such as groceries or paperwork that would be tricky to fit into a bag that was limited by closures at the top.
Tote bags can come in a variety of sizes, though when most people imagine a tote bag, they will typically think of the medium-sized tote bag that could be considered as the standard tote bag size. Tote bags can be made from a range of fabrics, though some are much more widespread than others.
Types of Tote Bag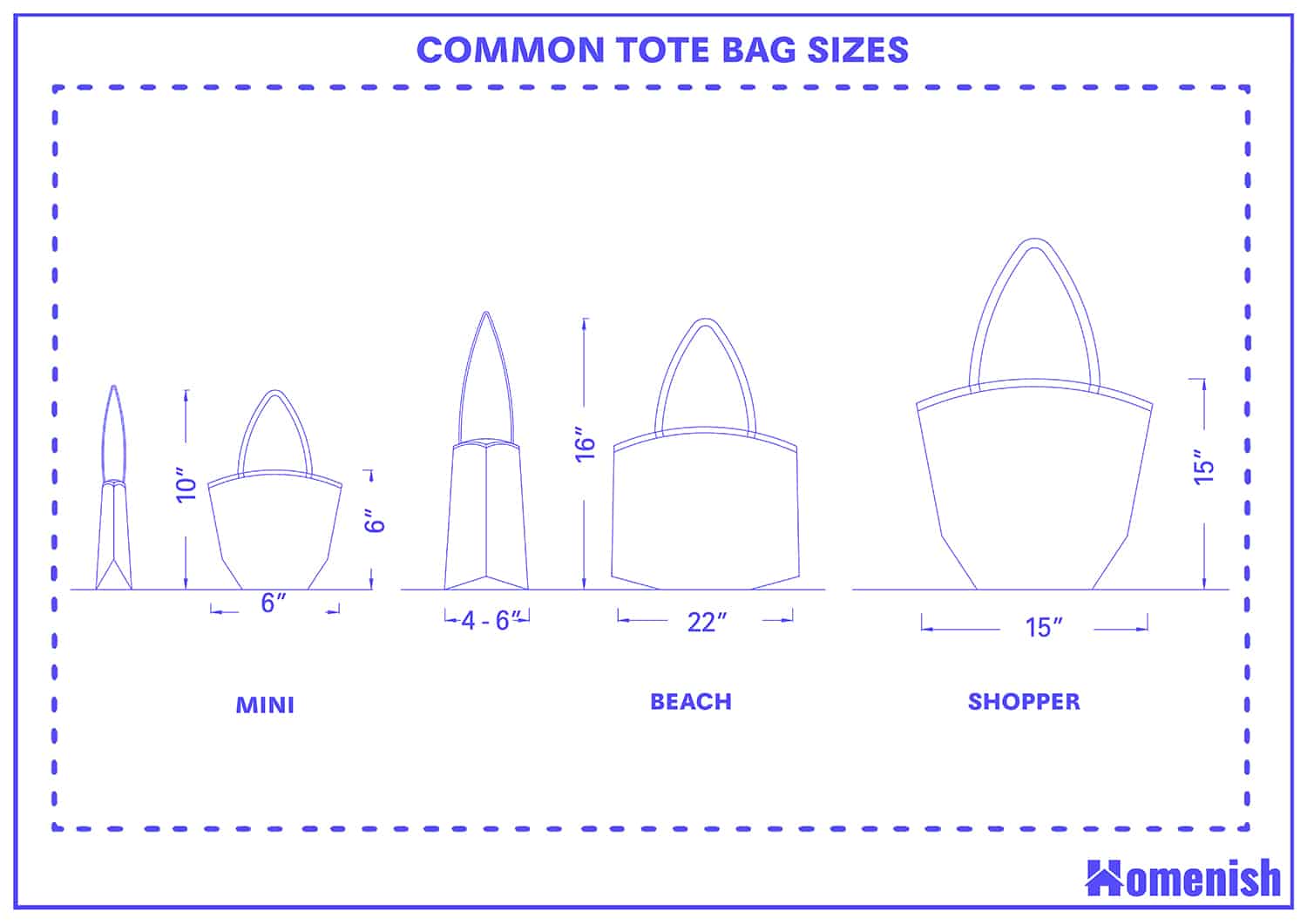 Mini Tote Bag
A mini tote bag is a small flat bag, usually made from canvas. It will consist of a very simple design, made from two pieces of canvas that have been stitched together around three of the edges, with the fourth edge left unstitched so that it works as the opening of the bag.
A mini tote bag will have canvas handles, but unlike regular tote bags, the handles won't be designed to go over your shoulder. This is because the bag is so small that it makes more sense to carry it in your hand or wrap the handles around your wrist.
Mini tote bags can be used for a wide range of scenarios. You might like to keep a mini tote bag folded up in your main handbag so that when you go shopping, you can use it to carry small purchases such as make-up.
Mini tote bags can also be used as everyday lunch bags or snack bags to carry your sandwiches or salad pot to work before you arrive and put it in your office fridge. You could also send children to school with their drink bottle in a mini tote bag to make it easier to carry.
Some people who like to make ethical choices and contribute to a more sustainable environment have chosen to use mini tote bags as an alternative to thin plastic party bags at children's parties. After the children have emptied their party bag with birthday cake and small toys, the bag can be reused instead of being thrown in the bin and added to landfill waste.
A mini tote bag can be considered as any tote bag that is considerably smaller than your average-sized tote bag, but in general, you can expect this type of tote bag to have a total measurement of 6 inches in width and 10 inches in height, including the handle. Without the handle, the mini tote bag will measure around 6 inches by 6 inches.
Beach Tote Bag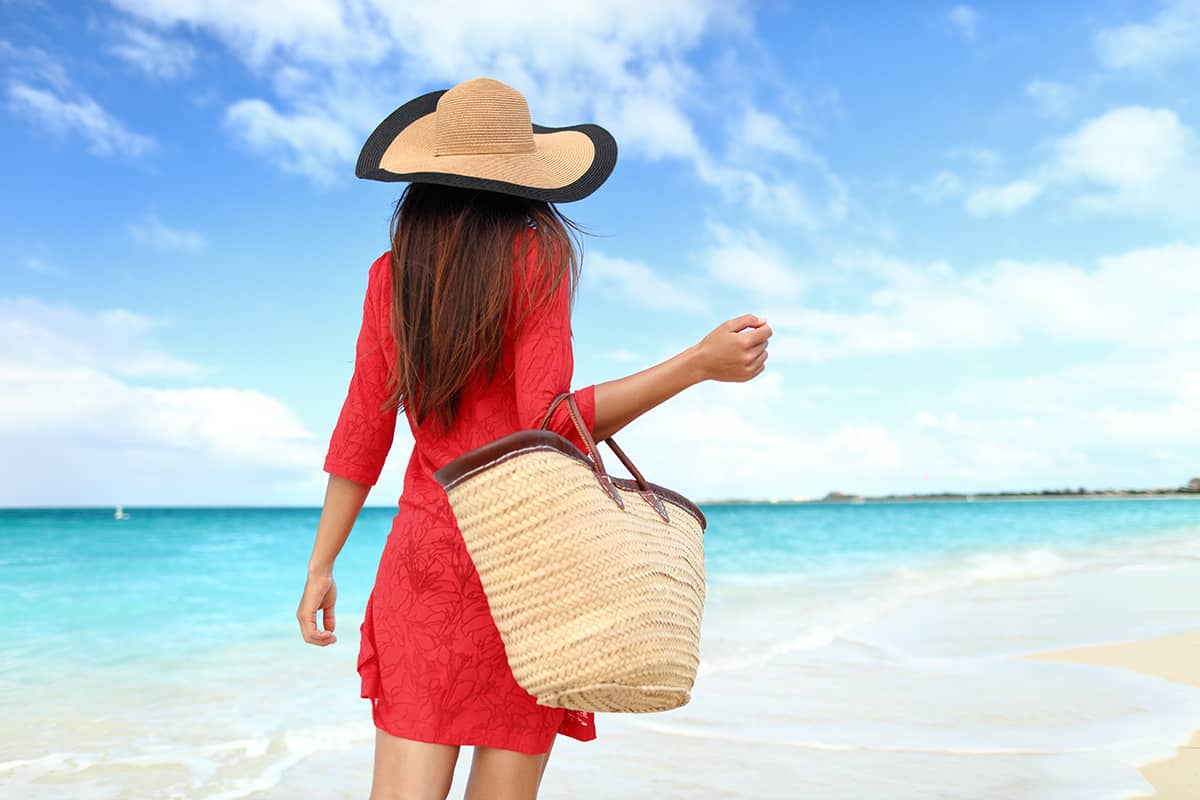 A beach tote bag will have a slightly more complex design than your average tote bag. A beach tote will typically have side panels rather than just front and back panels, which create more space inside the bag. This makes the design ideal for trips to the beach, where you often have plenty of items to carry, such as sunscreen, drinks, snacks, towels, and sunglasses.
Beach tote bags will usually be made from a thicker canvas twill compared to ordinary tote bags, making them sturdier and allowing them to hold their shape. Most types of beach tote bags will have an open top in the classic tote bag style, but some beach tote bags have a zipper attached across the top that is great for stopping sand from getting into the contents of the bag.
Rope handles are popular on beach tote bags to give them a classic coastal look, and they will often be themed with white and blue colors or have bright summer prints on the fabric.
Since beach tote bags need to accommodate a lot of contents, they are a bigger size than most other types of tote bags. Not including the handle, a beach tote bag will usually measure around 22 inches in width and 16 inches in height. The side panels will have a width of between 4 and 6 inches in most instances, and the straps will be long enough to use over your shoulders.
Shopper Tote Bag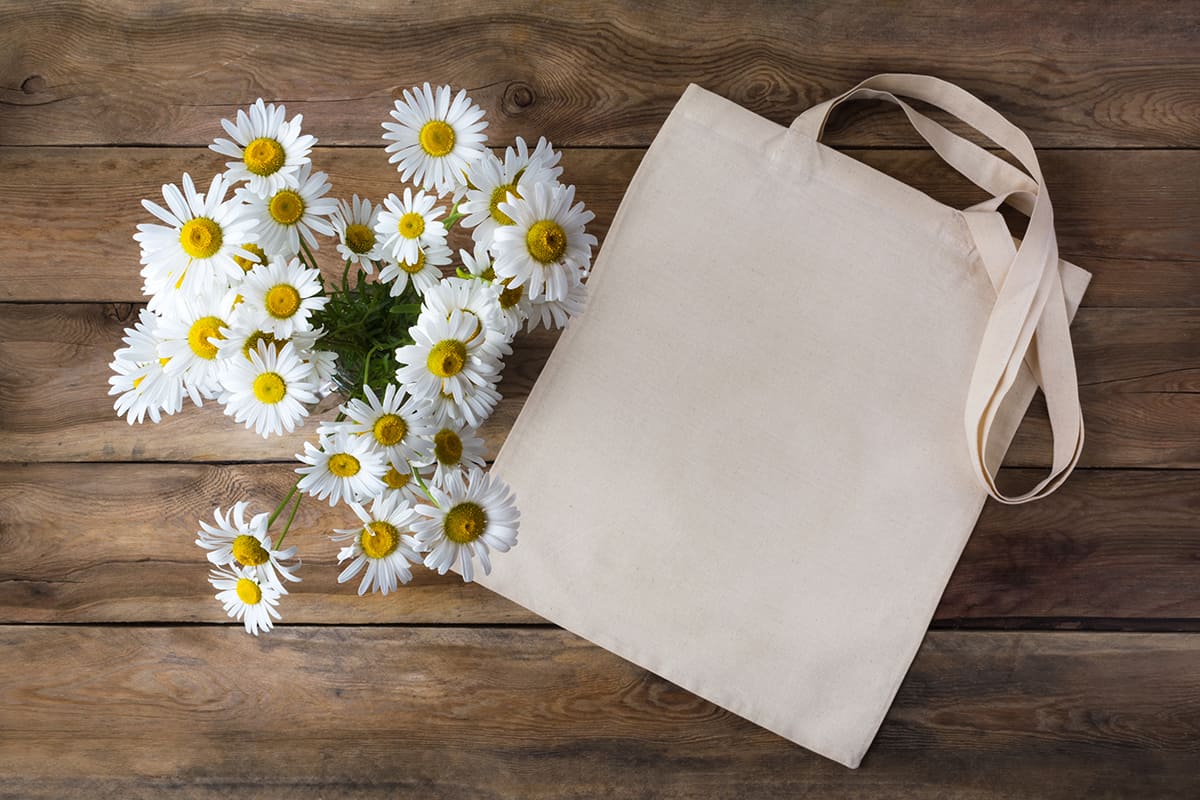 Shopper tote bags are hugely popular, and many grocery stores will sell these types of bags at the checkout as an alternative to the single-use plastic bags. They will generally have the typical flat-lay style, with just two pieces of fabric stitched together and the addition of handles or straps at the top.
These are really great for keeping in your handbag or the trunk of your car because they fold up small and are lightweight, and they come in handy every time you go shopping. You can use them to carry your produce when you make a quick stop at the grocery store, or they will hold other purchases on a trip to the mall.
Students can also use shopper totes to carry their paperwork and folders to keep them separate from the contents of their backpacks, and make them easier to carry. These bags come in various sizes, but the most common size is 15 inches by 15 inches, not including the handle.
Since this is the most common size of tote bag, it is widely considered the standard size of tote bag; however, many other sizes are available to create numerous uses for the tote bag, such as handbag tote bags made from leather or more hard-wearing fabrics that replace ordinary handbags.